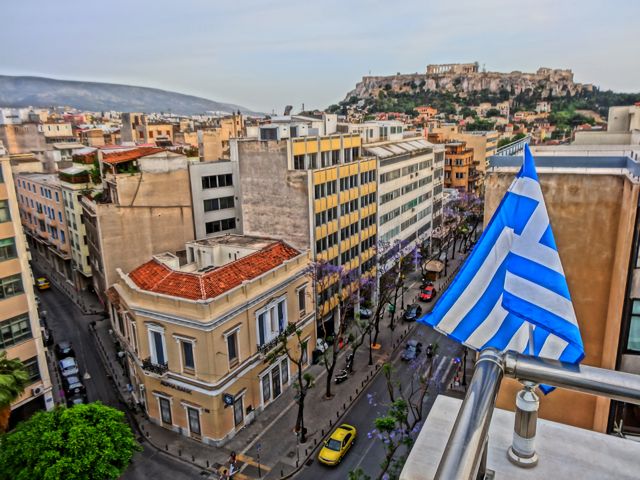 This is the index page for my Athens Survival Guide. It will give you the tools to survive and thrive in Athens, Greece and enable you to have as much fun as I do and feel as comfortable as if you have been here before. You can read about hotels, restaurants, archaeological sites, nightlife, beaches and day-trips to nearby islands and beaches and towns on the mainland. My Athens Guide may not be as high tech as some of the other travel sites but I think you will find it to be the most fun to use and probably find it to be at least as helpful as the popular guide books, except this is free. You can print out the pages you need and when you are done with them leave them for others to find. It also looks pretty good on hand held devices. I began this website in 1995 and I update it continuously. Use the menu below that will lead you to the various sub-menus on this page. This site is entirely hand-made and contains no cookies or sneaky pop-ups or tricks that make you click on something you don't want. I have put ads at the bottom of the pages to not be a distraction and only ads for my own pages or businesses I know and trust. By supporting them you not only support me, but you will probably have a safer and happier trip to Greece.
If you have questions about Athens or Greece or are looking for something and you can't find it you can Contact Matt and I will reply pretty quickly since I pretty much live on my computer. You can also use the same form to Request my Greece E-mail Newsletter for my latest information. Be sure to tell me if you are traveling in the summer or winter. If you like this site please share it with your friends on social media. There are Facebook share buttons on this and other pages. If you need assistance with putting together an itinerary try using my Create-an-itinerary Work Page where you can put together a plan for your Greece trip with the assistance of a Greek travel agent, with no obligation to buy. If you are just here to find hotels see my Athens Hotel Suggestions and remember that booking through my website helps support my work.
Guide to Athens, Greece for 2019

Basic Athens Information

This section will get you started. It includes practical information like arriving at Venizelos Airport and getting into the city, to finding hotels in the best areas of Athens where you can walk to all the sites. It also includes recommended travel agents, using the metro and finding a good restaurant as well as the major reasons you are in Athens, which include the Acropolis, the museums and the most important archaeological sites as well as nightlife. Some of the important pages are duplicated in other sections as well.
Where to Play and Stay in Athens

This section will tell you where to stay, where not to stay and why, and how to make your way through the various neighborhoods and districts of downtown Athens. It also includes important archaeological sites and parks, shopping areas and more. The bottom of each page has recommended hotels and booking information. Booking through my site helps support my work.
Services in Athens

This section includes recommended hotels and travel agents, taxi drivers and other businesses in Athens. The hotel section tells which areas to stay at and which to avoid. I included a few interesting tours as well. These are the people who have supported my work for the last 20 years so please consider booking with them. You won't find better.


George the Famous Taxi Driver
Tours and Transfers



Limousine Service
Tours and Transfers


Billy's Bus Tours
Group Tours and Transfers

Bringing A Group? Helpful work-page for Churches, schools, cultural organizations coming to Greece

Join Matt Barrett's Greece Travel Guides Group on Facebook for comments, photos and other fun stuff. If you enjoy this website please share it with your friends on Facebook and Google+. If you are appreciative of all the free information you get on my websites you can send a donation through Paypal
Getting Out of Athens

Most people come to Athens because they are going to the Greek Islands and this section will tell you about the islands near Athens and how to get to them and those further away. It also has sections on mainland day-trips and overnight trips, and various services who can get you out of Athens. For those of you who are going to the Greek Islands I suggest you visit my Greek Island Guide too.


One Week Sailing Cruises
to Cyclades, Sporades & Ionian Isles
Other Helpful Athens Info


This section has a lot of important stuff, some articles written in a fun and whimsical fashion and other articles quite dry and boring but nonetheless useful. I have also included some of the articles that are featured in the sections above but are just as suited to this section. In fact the stuff I want you to read because I think it is important to you (or to me) I may have listed two or three times in this index.

If you have an idea of what you want to do in Greece use my Create-an-itinerary Form It's fun. You fill out the form and choose the islands and how many days you want to stay, any tours, and what your budget is and click send and in a few hours a travel agency replies with a plan for you.

Questions? e-mail me
Photo Tours of Athens and Other Stuff

These are photos I have taken over the years and several articles that I could not decide where else to put them. Many of these pages are linked to from other pages above but some are not. There are also links to photo albums on some of my other websites. In fact you can see most of my best photos by going to www.greecetravel.com/photos
If you find my Athens Survival Guide useful and you would like to show your appreciation why not let people know about the site on the numerous travel boards on the internet or linking to it from your blog or website. Because I don't have the big advertising budgets of the major travel sites many people don't find me until after they have made all their plans and wish they had found my information sooner. Help spread the word about Matt Barrett's Greece Travel Guides. If you found my guides helpful and want to help me continue my work, please support the services I recommend. Without their help these pages and this website would not exist. You can also help by liking me on Facebook and sharing me on Google +
The way I support my website is through the links to hotels and travel agencies. If you are booking through other sources but appreciate the work I have put into this website or the assistance I have given you by e-mail and want to contribute you can send a donation through Paypal
If you wish there was some simple way you could donate to helping the needy in Greece see www.greecetravel.com/donations
You can keep up with my day to day activities and thoughts in and out of Greece as well as current events and updates at www.greecetravel.com/matt-blog
Links Exchange Page
(Yes I will link to you if your page has value but if it is totally irrelevant please don't bother me)
Return to Top
The Athens Survival Guide is Copyright 1995-2017 and updated continuously by Matt Barrett, most recently probably today!

Visit my Greece Travel T-shirts Page where you can buy your souvenirs before you visit Greece. Not only will you get discounts and gifts from restaurants and shops for wearing them, and not only will you be able to recognize other people who use my websites and become instant friends, but all proceeds go to helping the needy in Greece. And the designs are way better than anything you will see in the tourist shops in Greece. See Greece T-shirts and Athens T-shirts.

Find hotels in Athens by location, price, whether or not it has a swimming pool, and see photos and reviews by using this link to Booking.com. Excellent prices and many hotels you can book and then cancel with no cancellation fee. For those who want to book without using a travel agency this is the best way to do it.