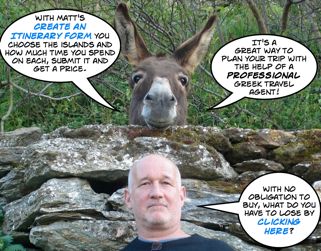 Please Help Support this Guide: When I had to find a way to support my web sites I had 2 choices. I could use modern advertising technology like most sites use with pay-per-click ads all over my pages and spy-ware that collects information and posts the ads each individual reader is most likely to click on. Or I could choose to promote a handful of travel agents, and a reliable hotel booking system and keep my sites relatively ad free. No obnoxious pop-ups, fake news articles, or gathering of information through cookies. I chose the second. If you book through the links on my site I will receive a commission which supports my work. But if you book elsewhere, (like Air BnB for example) but still find my website useful I ask you to send a donation through Paypal or you can use Venmo at venmo.com/Matt-Barrett-Greece
If you prefer to send a check you can email me. Any amount helps. Thank you for your support!
If you find my Athens Survival Guide useful and you would like to show your appreciation why not let people know about the site on the numerous travel boards on the internet or linking to it from your blog or website. Because I don't have the big advertising budgets of the major travel sites many people don't find me until after they have made all their plans and wish they had found my information sooner. Help spread the word about Matt Barrett's Greece Travel Guides. If you found my guides helpful and want to help me continue my work, please support the services I recommend. Without their help these pages and this website would not exist. You can also help by liking me on Facebook and sharing.
If you wish there was some simple way you could donate to helping the needy in Greece see www.greecetravel.com/donations
Join Matt Barrett's Greece Travel Guides Group on Facebook for comments, photos and other fun stuff.
You can keep up with my day to day activities and thoughts in and out of Greece as well as current events and updates at www.greecetravel.com/matt-blog
Links Exchange Page
(Yes I will link to you if your page has value but if it is totally irrelevant please don't bother me)