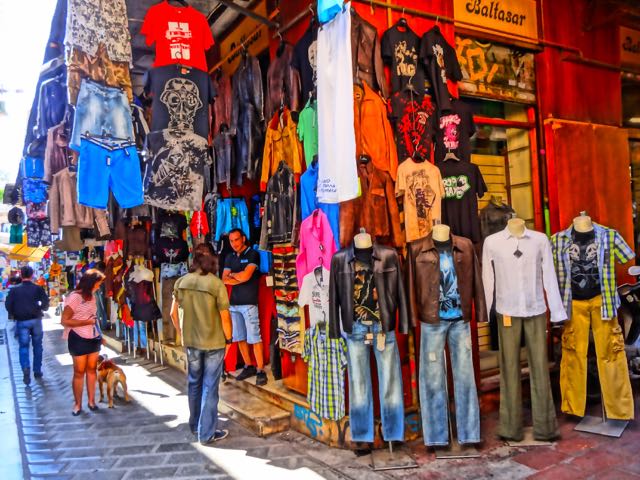 My motto is pack light or not at all. Because of the economy in Greece many shops are selling clothing for very low prices. In many cases much lower than cost because if you have to pay the rent, the gas and electric bills or your taxes, having a lot of inventory and no cash is impractical. So instead of shopping at home for clothes for your trip to Greece just bring the bare minimum and do your clothes shopping in Greece and help out the struggling shops in Athens. You will be surprised at the variety and the styles, and probably find stuff that is nicer than what you can find at home and for a lot less. There are hundreds of clothing shops on Ermou Street, Athinas, Aeolou, in The Plaka and Monastiraki and all around central Athens and what better way is there to get to know a city than by shopping for necessities?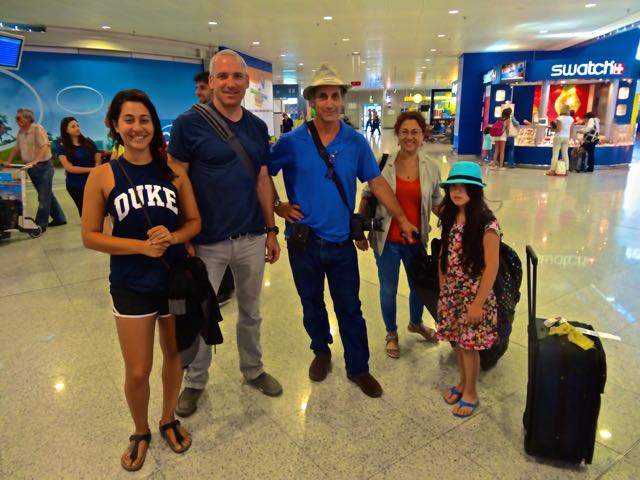 Traveling light in Greece requires no great sacrifice. You don't need lots of clothes, no matter who you are or what your lifestyle is. The heaviest thing you need in the summer will be a wind-breaker and chances are you won't use it. If you need a heavy sweater for early spring or late fall, buy one in Greece. They are cheap and beautiful and they last. You will need a couple bathing suits. 3 T-shirts. 2 pants (one for comfort, one for dinner) a couple pairs of shorts. A couple skirts. Underwear. Towel. Sneakers and personal effects. If you can live without a blow dryer, electric razor etc. leave them behind. Most hotels have hairdryers in the rooms these days and not shaving makes you look cool and relaxed. You can buy flip-flops or leather sandals in Athens and most likely these will be your feet apparel of choice. If you can keep it down to one bag, you will be in and out of the mass of disgruntled baggage seekers before you know it, and you will find traveling to be a very simple affair. Like anything, the more pieces involved, the more complicated the game. If you are coming in the winter buy a capaline thermal undershirt by Patagonia from your local trail shop and bring a parka in case it rains and you will be prepared for the worst Athens weather. If you plan to go into the mountains or be on a boat in the winter you should buy or bring a wool sweater. If you are worried you may be too wimpy even for Athen's mild winters then bring a warm coat but don't get carried away and bring something bulky and more suited to the North Pole. Anyway if you need to buy a coat there are some great shops and in January they have sales all over Athens and also in August. Don't worry about how to dress or not wanting to stand out. People in Greece dress just like we do.
Suitcase, backpack or combination?
Not to endorse a particular company's product but a couple years ago my wife convinced me to buy a bag from Eagle Creek that is both a suitcase and knapsack. The frame zips away. It doesn't have a hard shell like luggage but I have brought back many a bottle of ouzo with it and have not broken one. It's light and when it's on my back I don't even know it's there. Suitcases are cumbersome. To the Samsonite crowd a backpack might seem like sacrilege but there's a reason why they are so popular. They make life easier. Now I have a suitcase-backpack combination with wheels, sort of the best of both worlds, made by High Sierra. Actually I have two. One for short trips and one for the whole summer. Rick Steves has a backpack with wheels too that is a sensible size and can be stowed in the overhead compartments on an airplane. But the most important thing is that you want your luggage to have wheels. Until they invent luggage that defies the laws of gravity and flies or floats, wheels are the best option.
Be sure to visit my website Off-Season Travel in Greece which has winter itineraries and links to other pages of interest. Also speaking of clothing have a look at my Greece Travel T-shirts which will enable you to be recognized by other people who use my website and also get discounts in shops and restaurants.
Help Support Matt's Greece Guides
Do you enjoy using my site? Have you found it entertaining as well as useful? If so please show your appreciation by booking hotels through the travel agencies and the links found on my Hotels of Greece site. The small commission I make on the bookings enable me to keep working and in most cases you won't find them any cheaper by searching elsewhere. You can find hotels in Greece by location, price, whether or not it has a swimming pool, and see photos and reviews by using this link to booking.com which also contributes to my website when you book. If you are appreciative of all the free information you get on my websites you can also send a donation through Paypal or Venmo
Join Matt Barrett's Greece Travel Guides Group on Facebook for comments, photos and other fun stuff. If you enjoy this website please share it with your friends on Facebook and other social media.