Patission Street is one of the major avenues in Athens and an important barometer of the economic health of the city, passing through middle class, lower middle class and immigrant neighborhoods. If all is well on Patission Street then the outlook for Athens is good.
It is also known as 28th of October Street which is Ochi Day, the anniversary of the day the Greek Dictator Ioannis Metaxas said no to the "request" by Benito Mussolini to allow Italy to enter and occupy Greece during the Second World War. In reply Metaxas said Ochi, which means no, and rather than the Italians occupying Greece, the Greek army pushed the Italians back into Albania, the first defeat of the AXIS powers, which caused Hitler to have to divert German troops to invade and occupy Greece. Having said that I am just going to call it Patission Street, mainly because it is easier than writing 28th of October Street, and because this is what most people call it.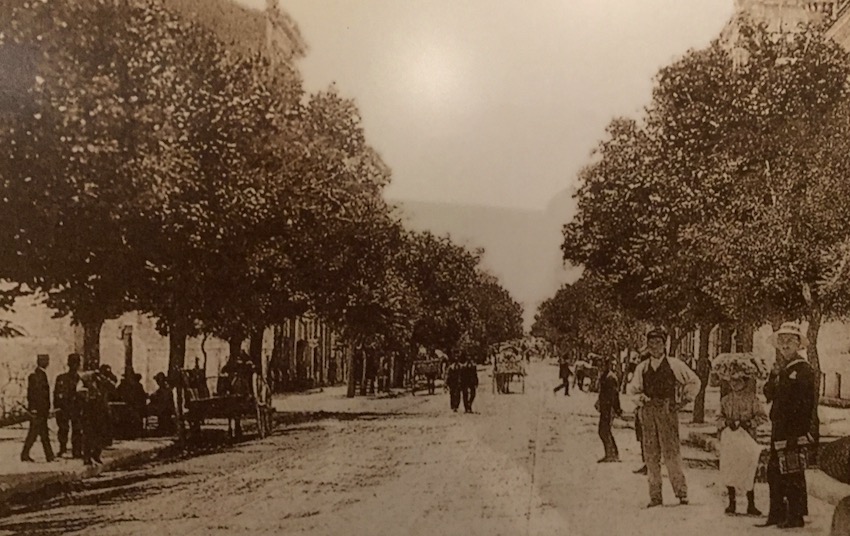 During the reign of King Otto in the 19th century Patission street was a rural road which led to the villages of Upper and Lower Patissia. In 1841 the road as we see it now was formed and in 1882 there was a horse powered tram from Patissia to Syntagma Square. In 1908 the tram became electric.
Alisida was the Patission terminus for the No 3 trolley which started in Omonia and ended there. After that were farms. There was an iron gate with chains there and that's why it was called Alisida (Greek for chain).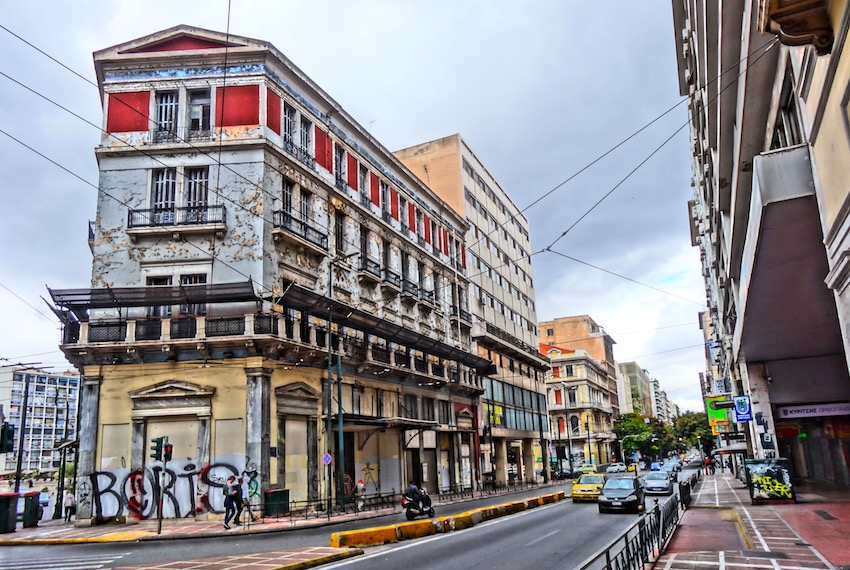 Patission Street actually begins where Aeolou Street ends, at the intersection of Elefterios Venizelos Street, which is also known as Panepistimiou Street and runs north from the center. The short street between Stadiou and Venizelos streets is a strange buffer between Aeolou and Patission where the rules of traffic have been reversed and people drive on the left side of the road like they do in the UK. It is only for a short distance, maybe 50 meters or so, and then everything goes back to normal, sort of. Patission begins as a one-way street and Aeolou ends as a pedestrian street. Yes, it is confusing but it really doesn't matter if you are walking.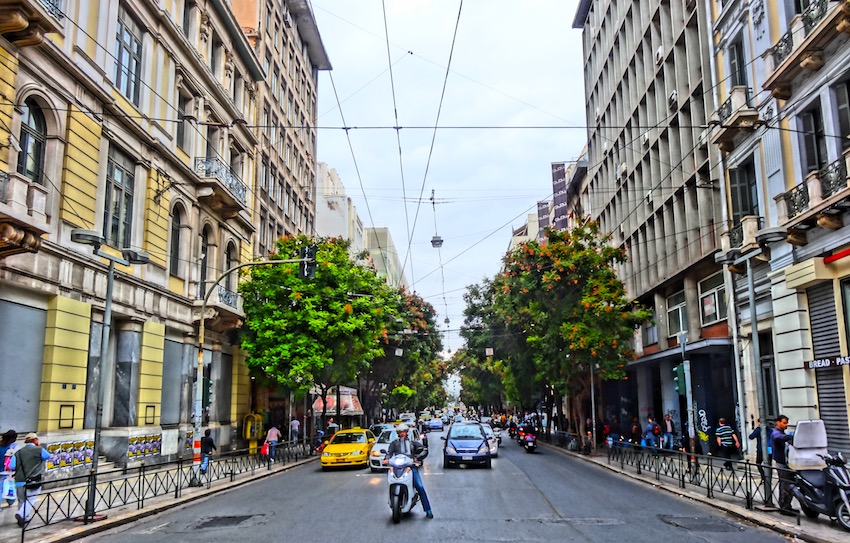 The first few blocks on Patission Street was in the past one of the most important shopping areas with several arcades and some of Athens' first large department stores and a number of beautiful neo-classic buildings, some occupied and others hopefully soon to be again. There are a number of bakeries, fast food and coffee shops in the area and if you take the pedestrian street called Gladstonos which connects with Kanigos and Gamvetta, also pedestrian streets, you will find several nice restaurants, ouzeries and souvlaki shops away from the automobile and bus traffic of the city. Try H Kriti, a Cretan restaurant, at 5 Veranzerou at the back of Platia Kanigos. Chalkodonili Street on the right, which the Melia Hotel occupies much of that first block, leads to Platia Kanagos where it miraculously becomes Akadamias Street which will take you all the way past the University of Athens on your right, and the neighborhood of Kolonaki on your left, ending at Vassilisis Sofias Avenue and the National Gardens.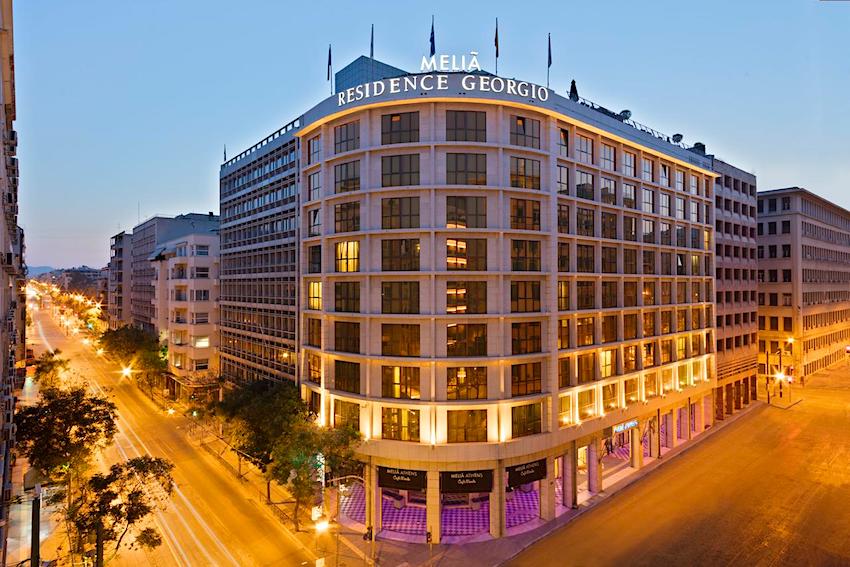 For now the area seems to be coming out of a period of dereliction though there are shops opening and closing on street level and a couple major hotels, the 4-star Polis Grande Hotel and the 4-star Melia Hotel, both excellent hotels though a bit of a walk from the Acropolis and most of the major sites. If you are concerned about your safety while staying in either hotel don't be. Both hotels are on Patission street and there is car and foot traffic day and night, though if you are returning home late after a night in Psiri, Plaka or Gazi I suggest you take a taxi right to the front entrance. The same if you are coming at night from the airport.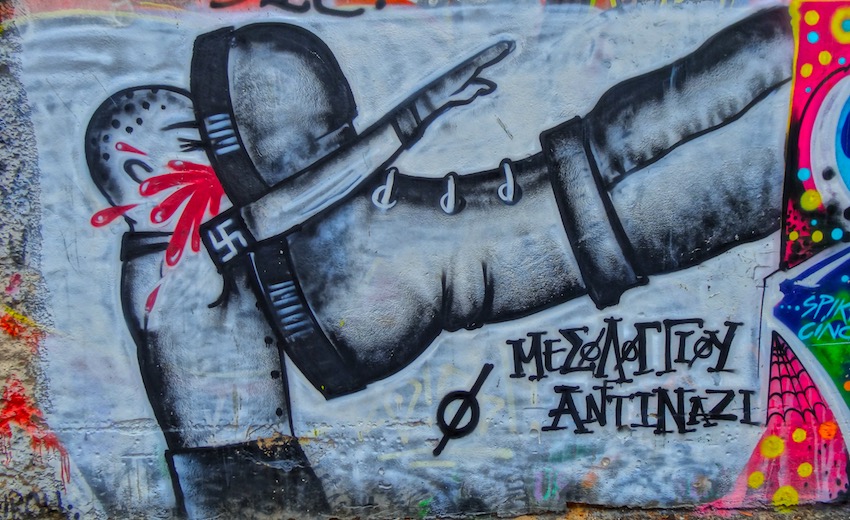 It is a dreary couple of blocks on Patission, unless you love derelict buildings, many historical, until you come to Stournari Street which is the corner of the Athens Politechniou and the edge of the neighborhood of Exarchia, the realm of the Greek counterculture, with its colorful graffiti art, hip record stores, revolutionary book shops, computer shops, clubs, bars, cafes, restaurants, and the center of the anarchist movement. Though the government of Kyriakos Mitsotakis has been taking steps to clean up the area, removing squatters from abandoned buildings and ridding the streets of drug dealers and addicts, the neighborhood is unlikely to change too drastically and the fact that some of the most interesting restaurants are in Exarchia make it a destination for Athenians from other areas, especially the suburbs, and young tourists who can find cheap food to eat and cheap apartments to rent, at least for the time being. Offering a mix of Middle Eastern/Greek/Spanish food as well as some Anglophone staples like breakfast omelettes Jamalís Al-Amore Cafe is right next to the Politechniou University on the corner of Patission and Stournari.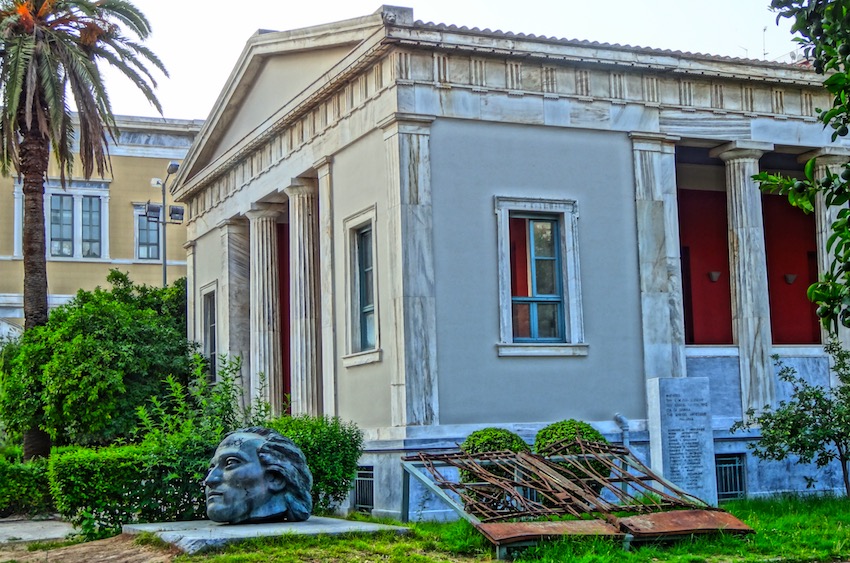 The gates to the Athens Polytechnic University have been closed since November of 1973 when a tank crashed through them, crushing many of the student demonstrators. The twisted gate is still laying there as a memorial. The events of Nov 17th led to the overthrow of the Military Junta, replacing it with another right wing dictatorship, which instigated the botched overthrow of the government of Cyprus, causing the Turkish invasion, which led to the collapse of the second dictatorship and the re-establishment of Democracy in Greece. Unfortunately it was Cyprus who paid the price of Greek democracy and the island remains partitioned to this day. See November 17th, Cyprus and the Fall of the Junta.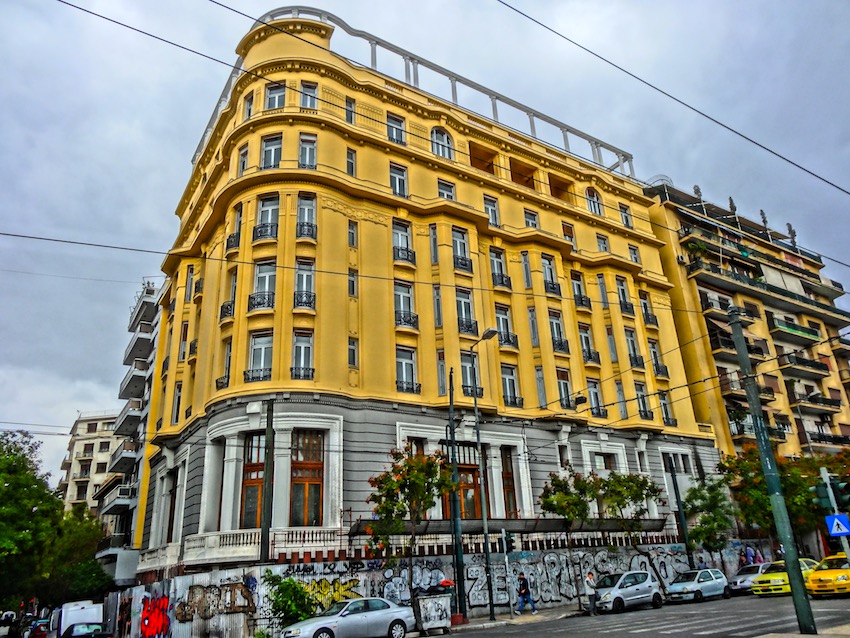 At the corner of Patission and Averoff streets is the Acropole Palace, formerly one of the finest hotels in Athens and recently restored after decades of being abandoned. (Well actually almost restored as of this writing). Completed in 1928 by architect Sotiris Magiasi it is considered one of the finest examples of art-nouveau architecture in Europe. This section of Patission Street is pretty raunchy and you should probably walk on the other side, especially at night. When I read about the economic crisis having finally ended and I walk through this section on my way downtown at night I am not so sure our recovery isn't just wishful thinking. However when the restoration is completed and the restaurants and other businesses move in I would expect to see a transformation of this part of Patission Street.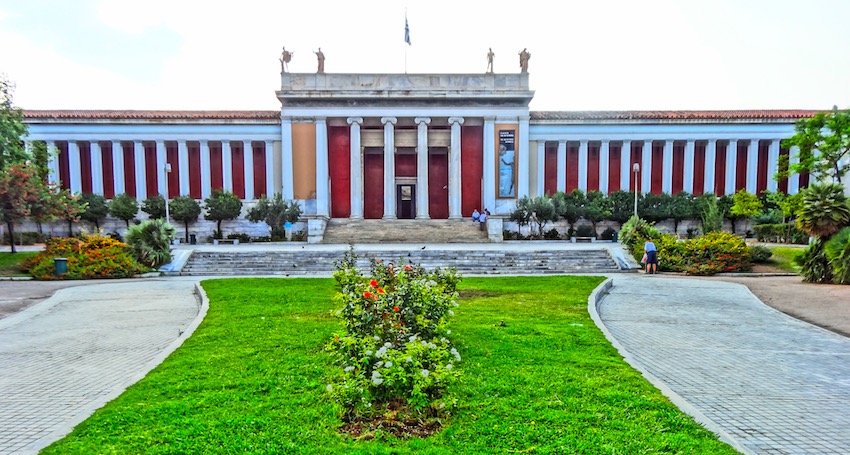 Directly across from the Acropole Palace is Tositsa Street, a small double pedestrian street with a park in between which for years was a no-man's land full of drug addicts, but now cleaned up, as it should be since the street is a vital one, sitting between the Polytechnic University and the National Archaeological Museum, one of the most important museums in the world. If you have not been there yet go. Make sure you see the Anti-Kythira Device, one of the most interesting finds in Greek archaeology. There is a large outdoor cafe/restaurant on the grounds of the museum called Quality, and on the next street at Vasileos Irakliou 2 is the famous Rockwood, a bar that will remind you of your favorite bar in whatever college town you lived in, with beer, mixed drinks, games, food and live music on weekends. If you cross Patission Street and walk down Ipirou, which is the same street as Vasileos Irakliou, just past Acharnon Street is Kytaro, one of the most iconic rock clubs in Greece where you can still see the best Greek and International rock bands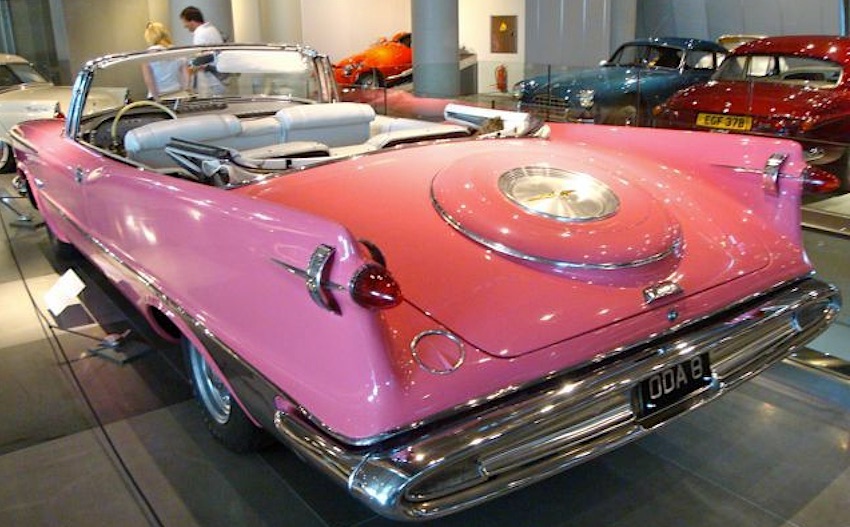 As you continue on Patission Street the commercial life of the area begins to pick up, with cafes, bakeries, boutiques and all sorts of shops that have either survived the economic depression or took advantage of low rents to open. The large mansion at 61 Patission Street is the house of opera singer Maria Callas where she lived from 1937 to 1945 before moving back to the USA. Just before Ioulianou Street on the left through an alley is the entrance to the Hellenic Motor Museum, one of the best collections of antique cars, if not in the world then certainly in Greece. This is actually my favorite museum in Athens. It is at Ioulianou 33. That car in the photo is a Chrysler owned by Robert Plant of Led Zeppelin.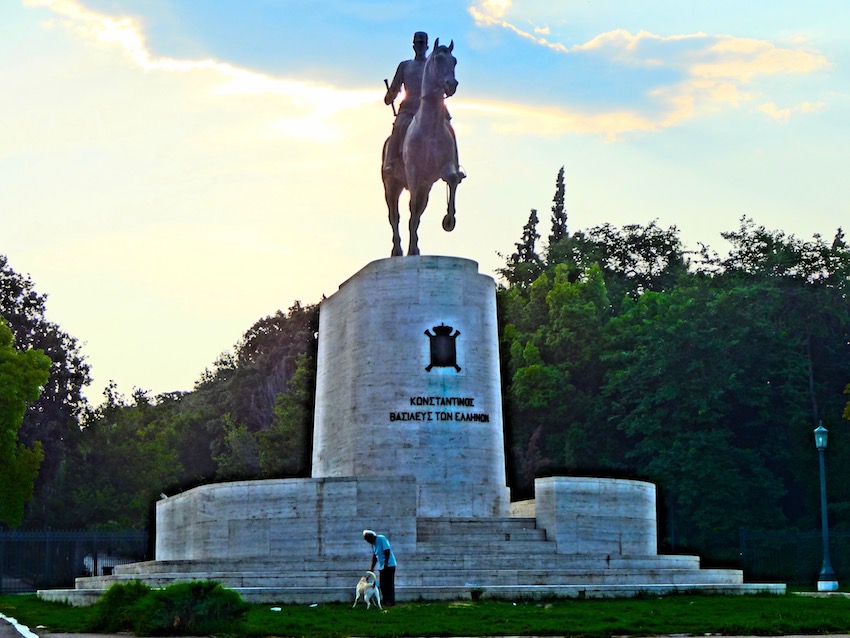 The next block is the beginning of Leoforos Alexandras, another important Athens Avenue that will lead you to Ambelokipi where it connects with Mesogeion Avenue that takes you out of the city towards Rafina, the airport and the National Road to Thessaloniki in the north or Peloponnesos to the south. If you stand on Patission Street and look up Alexandras Avenue, on your right is a small park and on Ioulianou Street is the bus station for KTEL Thessaloniki. Across Alexandras Ave is Platia Egyptiou and the bottom of Pedion Areos, the old military parade grounds, now a park that has seen better days and will hopefully see more in the future. The monument at the entrance is of King Constantine who pretty much caused the Asia Minor Catastrophe in 1922, was forced to abdicate and was sent into exile while the politicians and generals who backed him were shot for treason. And even after all that he still was deemed worthy of a giant statue proudly sitting on a horse which kind of makes you wonder about other statues and who decides who gets one. The park received a multi-million euro facelift, just in time for the economic crisis followed by the refugee crisis so nobody really got to enjoy it. The park is safe in the daytime but I avoid it at night because, well you never know.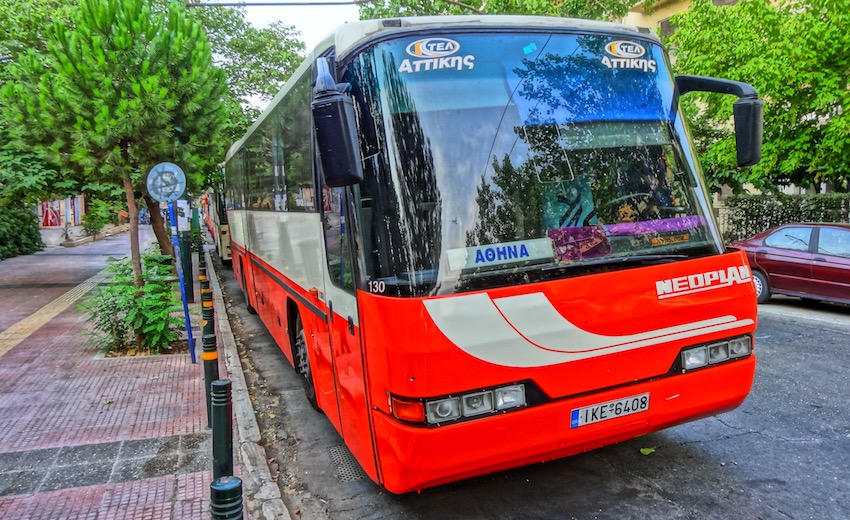 The street that borders the park and runs parallel to Patission Street is Mavromateon and this is where all the KTEL Attika buses are for people who want to go to Sounion, Rafina, Marathon, Lavrion, Markopoulos and just about anywhere on the Attiki peninsula with buses leaving every hour or half hour depending on your destination. This used to be one of the wealthiest streets in Athens and you can see some of the crumbling mansions opposite the park. There was a large cafe here called Green Park which closed around 25 years ago but in it's day it was one of the most popular cafes in the city and there is a rumor that it will reopen one day. My daughter hates this street. She says it is the only one she is afraid to walk on at night. But it is a mixed bag. There are some immigrants who live in the park because they have nowhere else to go but not as many as there were when the crisis first began. And at the end of Mavromateon Street is the Panellinios Athletic Center and Pool, home to one of the oldest sports clubs in Europe, founded in 1891, just in time for the 1896 Olympics in which they won a number of medals.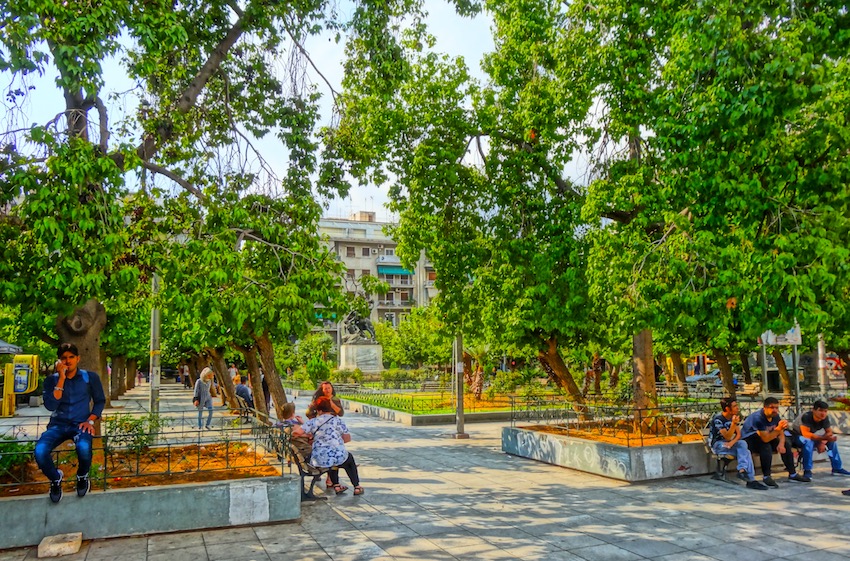 As you continue on Patission you will come to shady Cheiden Street, (I think it is supposed to be Haydn Street after the composer Franz Joseph Haydn) with its giant concrete balls to keep cars from parking on the sidewalk. If you go left here you will get to Victoria Square where the metro station is. One of the most famous clubs during the dictatorship was the Elatirion where bands like Poll, Morka, Nostradomos and others played. It has been closed for at least 40 years but the entrance is the wooden door at #2 next to the Wind Store. If you ask nice they make take you down to see it. Victoria Square is still a hangout for immigrants but not in the large numbers that were here when they actually were living in the square because they had nowhere else to go. There are cafes and fast-food restaurants around the square and on the streets leading into it. The Centrotel is at 11 Paioniou Street between Victoria and Larissa Train Station, not the best real-estate in Athens, but a nice hotel nonetheless. Closer to the square is the Brazil Hotel which also gets good reviews though I would not encourage families or women to stay in this area unless you have a black belt in martial arts or are always home before dark.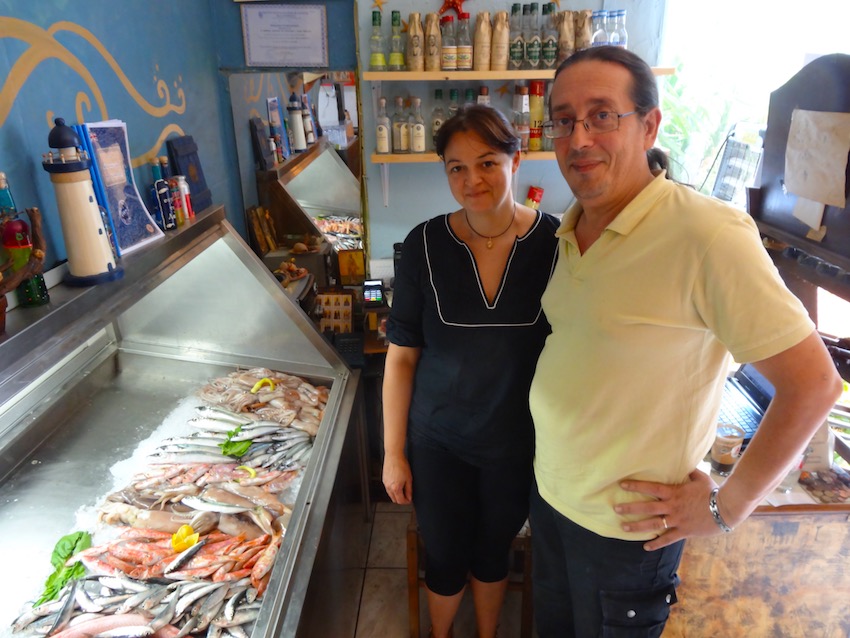 One of my favorite restaurants, Ouzeri tou Laki is on Elpidos Street, a small pedestrian street that is off Victoria Square. It is best to visit in the daytime when there are more people and you won't be as scared walking home. Anyway most people come here for lunch and that is when the ouzeri is the most lively. I think it is the best fish restaurant in Athens. If you are interested in trying Afghani food try the Kabul Restaurant at 84 Acharnon or Herat at 25 Cheiden Street just a block or so beyond Victoria Square, both serving very good traditional food. Closer to Patission Street at Cheidon #7 is Pitulka, a popular neighborhood souvlaki shop with friendly service, large portions and outdoor seating.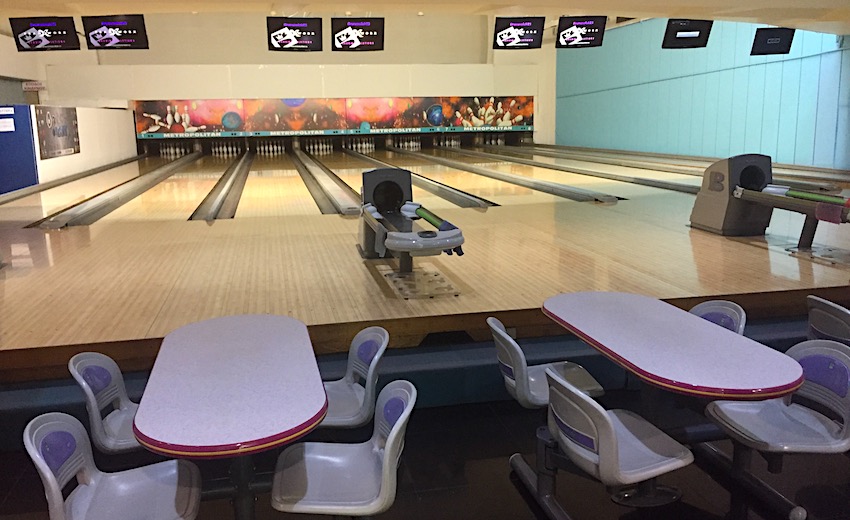 For the next several blocks of Patission Street you will find loads of clothing stores, fast food, cafes, bars and proof that maybe the crisis is over. There is a very nice pandopouleion, more like a gourmet deli with a good selection of cheeses and international foods, called Koukas, on Patission Street between Evelpidon and Troias Streets on the east side of Patission street. At 101 Patission on the west side is the Kazakos Drink Bank, a fancy kava, which is a shop that sells wine and other liquor and in most cases allows you to sample them. The biggest surprise of the area is at 122 Patission Street. It is the Metropolitan Bowling Alley which stays open until 2am. They have leagues, shoe rentals and a cafe-bar and you can almost always find a lane or two free. Tel 21 0674 6333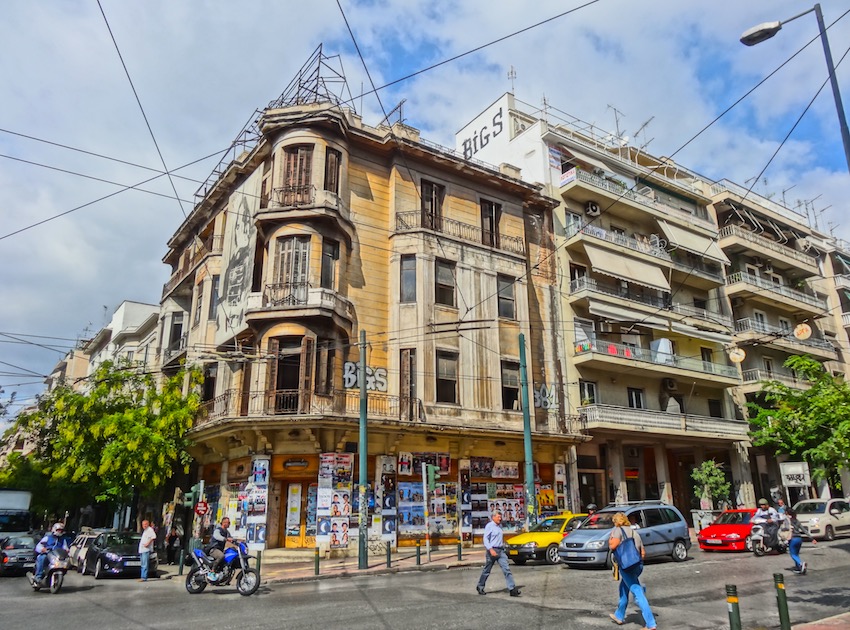 Patission is a sort of border in a way. As you walk away from the Acropolis, on your right (east) is a mix of middle class Greeks, artists and musicians, and established immigrants, some who own their apartments, have businesses or regular jobs, and whose children, regardless of their race are in public school, speaking Greek and are growing up as Greeks. On the left(west) there are several parallel roads: 3rd of September Street, Aristotelous, and Acharnon and this area has the same mix of population but also many more newcomers and a higher percentage of foreigners to Greeks. Because of this it is considered more dangerous, though by American, British and the standards of other major cities it is nowhere near as scary. But with all three major streets the further you get from the center of the city the better they seem economically.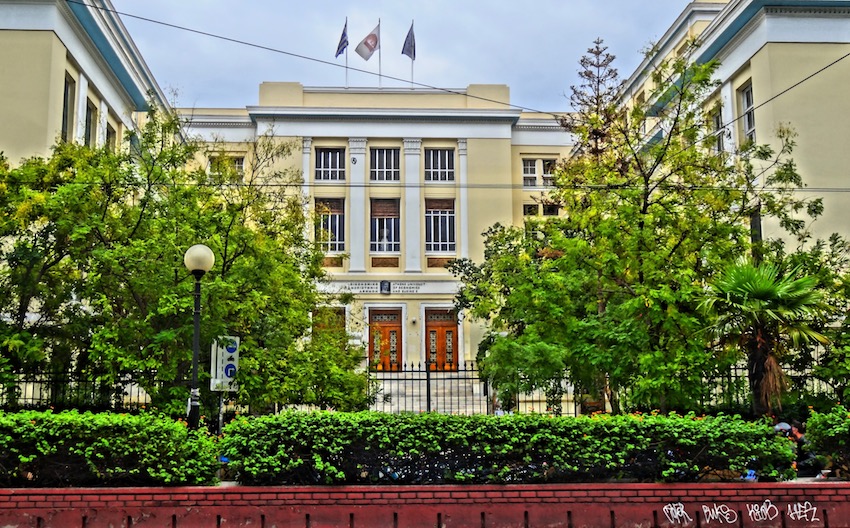 The most impressive building after the National Archaeological Museum is the Athens University School of Economics and Business where immigrants take advantage of the law that prohibits the police from going onto the campuses, by selling their goods on the street right in front, knowing if the cops come they can run onto the school grounds. Drug dealers also take advantage of this law and you can sometimes see money and small packages exchanging hands through the fence. With the rescinding of this law by the Mitsotakis government in 2019 it will be interesting to see if this flea market still exists in the months and years to come. Last time I went by they were gone.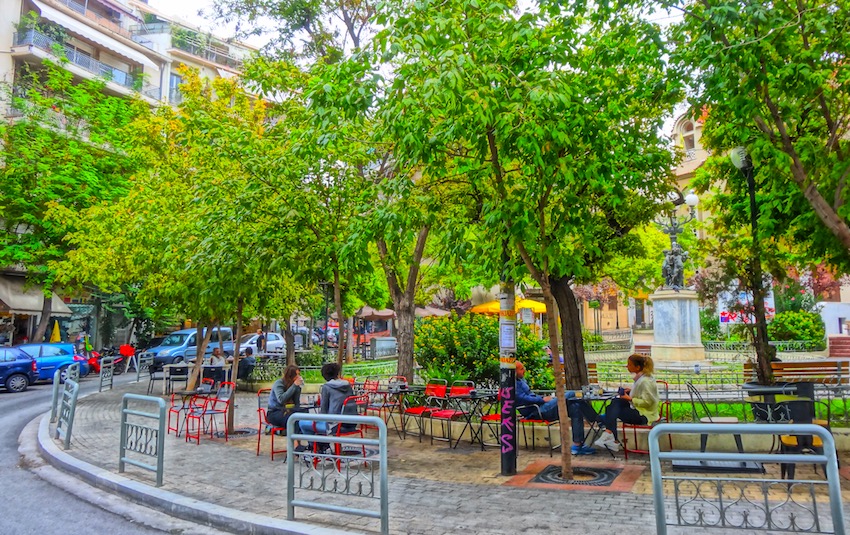 If you turn right on Ithakis Street you will come to Platia Agiou Georgiou, a beautiful tree shaded square, well a circle actually, one of the social centers of the international neighborhood of Kypseli. There are a several great places to eat and drink here including Allotino Jazz Bar (where I hang out) with its amazing collection of imported and domestic liquor and the best in Greek microbrews on tap, wine, and tasteful music (rare in Greece). A few doors down is Villatz, which comes from "It takes a Village" and caters to a younger crowd. H Nostimies tis Maries serves simple home cooking style food with large portions and low prices and is a favorite of the theater people who live in the area, which is known for its many small theaters. Also sharing the platia is Kybele, a very nice ouzeri-mezedopouleion, and To Sxolarxaio, another mezedes style cafeneion and Dionysios, a very good psistaria (grill house). All these places have tables and chairs on the square. Also on the square is my barber Mohammad, a third generation barber who gives me the finest haircuts and shaves I have ever had.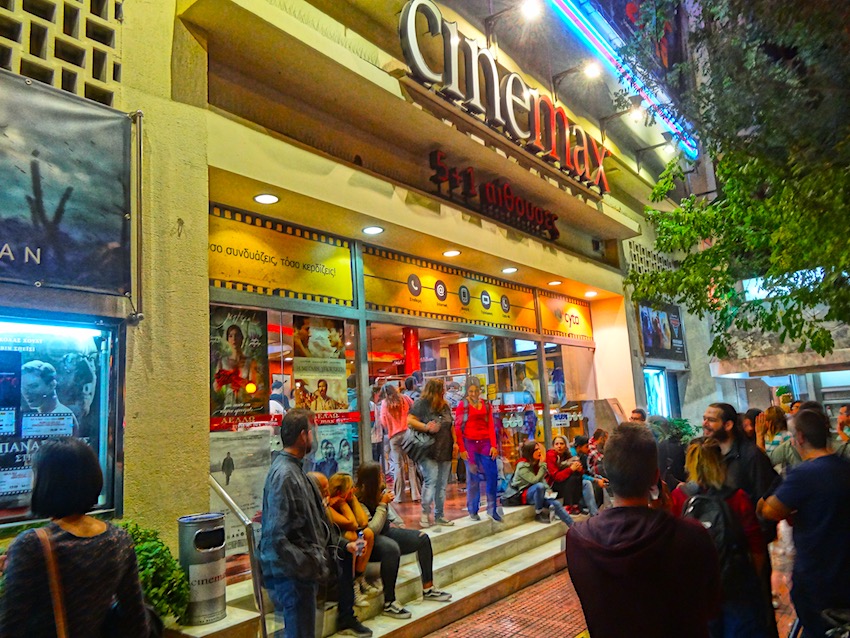 Another few blocks down Patission Street just before the intersection with Kefalinias is the famous old Au Revoir Bar, still open and still going strong. Past Kefalinias is the Aello Movie Theater where you can see first run movies in the original languages with Greek subtitles. It is an indoor theater but they have an outdoor theater on the roof for the summer.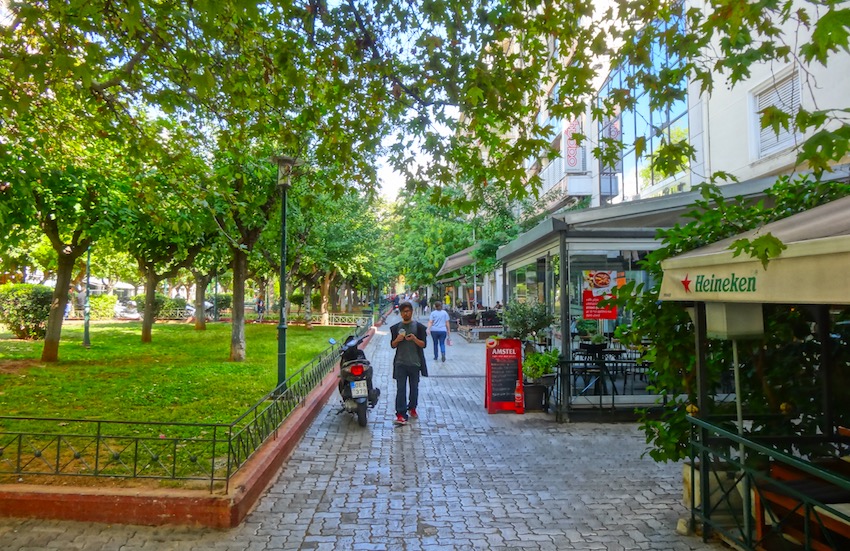 The next block is Fokionos Negri, the famous pedestrian avenue that goes from Patission Street to Platia Kanaris, a long narrow park with restaurants, cafes and bars on each side, almost a mile long, the heart of Kypseli. On the opposite side of Patission Street on the corner is the popular Savas Kebab, clean, cheap and open late. But if you are looking for the best souvlakia walk up Fokionos Negri to #15 and try Rigani. Kypseli is full of good restaurants so see my Kypseli Restaurant Guide.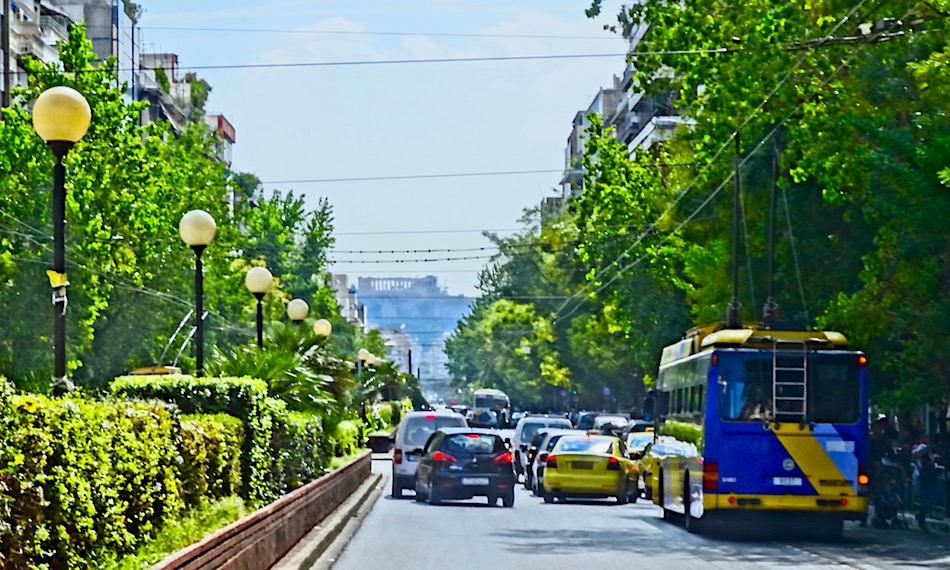 As you continue down Patission Street away from the center you should look back from time to time and notice that the Acropolis and the Parthenon is almost always in sight. After Fokionos Negri you will notice a giant department store looking building at the intersection of Agathoupouleos Street. This was the Hondos Center, the biggest store in Kypseli at one time, which met its fate during the economic crisis. A half block down at 15 Agathoupleos Street in a big old house with a large garden is an ouzeri/mezedopouleion called Tristoixo with lots of ouzos, tsipuros and mezedes and live music.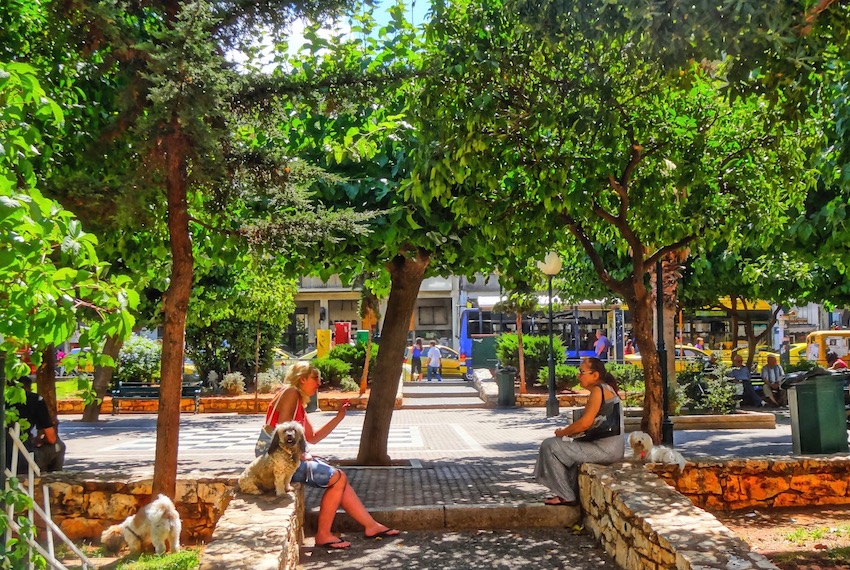 A couple blocks more is Platia Amerikis, a typically small square with a few cafes on the back side and maybe more on the way. For being called America Square it is pretty unimpressive but in this densely populated part of Athens any green area is welcome. A favourite hang out for Africans and other immigrants in the neighborhood is a small restaurant called simply Patission Fast Food at 182 Patission Street, jointly owned by a young Pakistani and Afghan, serving traditional Pakistani/ Indian food, which is probably the best curry house you will find this side of Omonia. A meal plus drinks and naan costs less than Ä5. Donít be intimidated by possibly being the only non-African client there, nobody objects to your presence. At Tenedou #4 which is across the street from the square is Taj Mahal Indian Restaurant for take-out or eat-in authentic Indian cooking. At 222 Patission is the Bissmillah Asian Restaurant which serves Bangladesh, Indian and Arabic food. There is also a fantastic grocery/deli with all sorts of Romanian, Hungarian, Polish and Albanian meats, cheeses and fish called Cosmos Supermarket at 232 Patission Street which I highly recommend. If you walk down Spartis Street which borders the north side of Platia Merkis it will take you to the Studio New Star Art Cinema at 33 Stavropoulo Street, though you may want to call and see what is playing, what language it is in, and what language the subtitles are in. Tel 210-8640054 or 2108220008. You can also check their facebook page. Also if you cross the street at the square and walk up Tenedou about four blocks you will come to another art theater the Cinema Stella, which is a summer outdoor theater, one of the few remaining from the sixties when there were over 600 in Athens. They play mostly European independent films. It is at 34 Tenedou, Kypseli, tel 210.865.7200.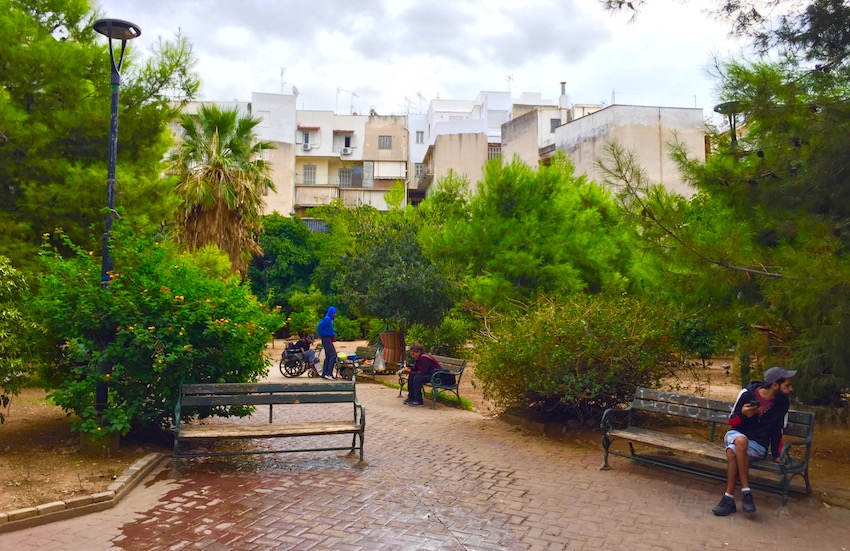 At the intersection of Patission and Kyprou streets is the Kyprou & Patission Park which was an empty lot that had become an unofficial park when in 2008 the City of Athens decide to make a parking deck there and hastily cut down all the trees when they thought nobody was watching. They had meant well, the plan was to have a green area on the deck, or so they said after the people of Kypseli seized the park, battled the riot police, and replanted trees and created pathways. It is still a park though mostly used by immigrants and some homeless people. But when the city first tore up all the trees and it was just a big empty lot the young Pakistanis in the neighborhood immediately created a cricket field and began having daily matches there.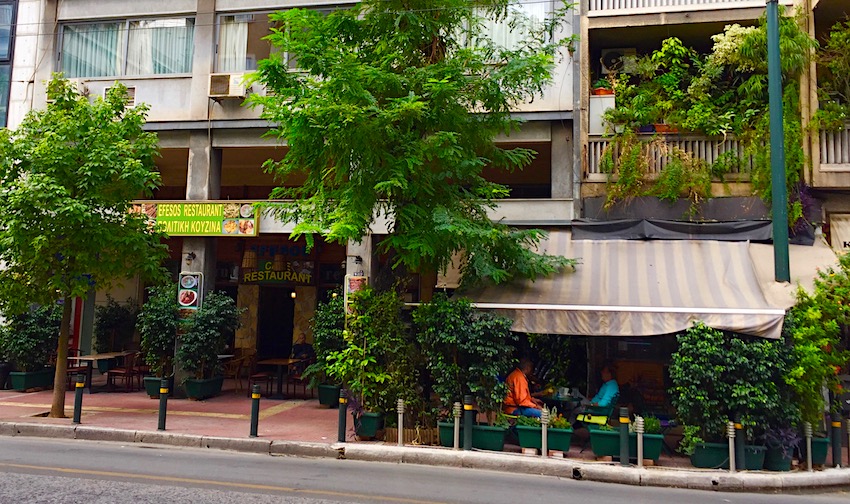 At 207 Patission Street is Efesos, a Turkish/Anatolian restaurant, similar to a souvlaki shop but with a large selection of dishes and sandwiches from Asia Minor. This area is loaded with small restaurants owned by Africans, Asians and people from the Middle East and there are several really nice ethnic grocery stores and delis. There are also lots and lots of bakeries.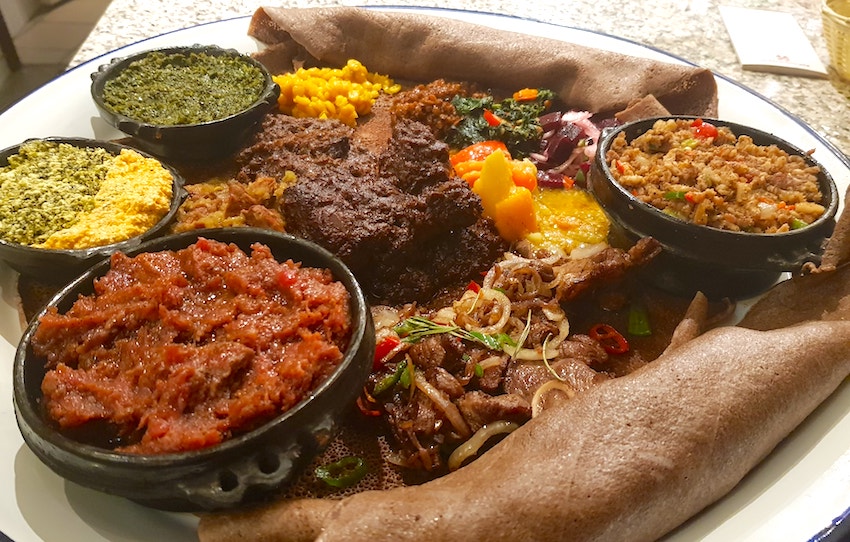 The 4-star Athens City Hotel is about as far as you can get off the beaten path, especially for a 4 star hotel. But because it is right on Patission Street and there are a number of trolleys and buses that go downtown from there, it is not a terrible location and if you want to be somewhere you won't see many tourists then this would be a good place to stay. A couple blocks up Anafis Street behind the hotel at 28 Naxou Street is the famous Lalibela Ethiopian Restaurant known for it's traditional meat and vegetarean dishes served with injera bread and friendly service. If you plan to go it is best to call and make sure they are open. On the first Saturday of every month they have a buffet special with 15 different dishes and also live traditional music. You need to book in advance. Tel. 21 0865 2495. The owner Elizabeth is a talented painter and her works are for sale in the restaurant or through the Lalibela website.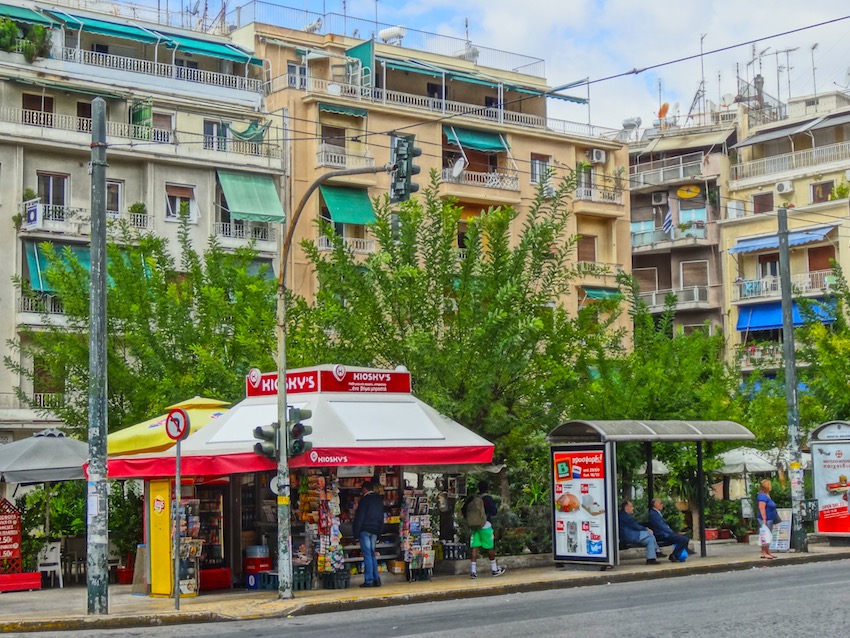 The next square you come to is Platia Koliatsou, another small piece of park area with the Merlin Cafe in the rear and not much else besides a periptero and a bus stop, notable for its un-notable-ness. But the little fish market on the corner is one of the last remaining houses from when this area was out in the country. Be sure to check out the giant iguana at the pet store on the corner of Patission and Galvani Streets. At 292 Patission you will come to the Elektra Outdoor Cinema which shows first run movies in the original language with subtitles, and as all outdoor movie theaters is not open in the winter. If you cross the street from Platia Koliatsou and walk up Keas Street and take a right on Drossopoulou Street you will find Axum which is listed as a restaurant but is one of the most popular African clubs in Athens.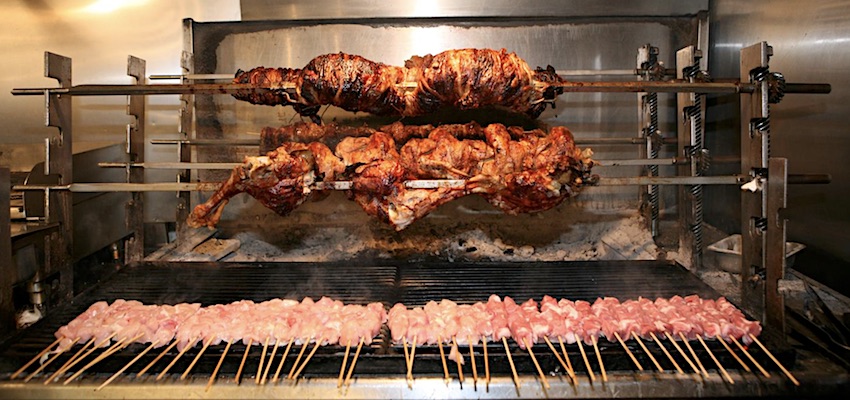 One block more and you will come to Platia Ag Louka and the large church of the same name and right next to it one of the best old restaurants in Athens, Martinis Kouzina. They feature oven cooked dishes, grilled meat, fish and on weekends entire roast lamb, pork, kokoretsi and kondosouvli on a spit as well as souvlakia me pita and just about everything you would find at any type of restaurant including vegetarian. There is a large outdoor seating area and several big rooms indoors with historic photos of Athens. They serve large portions and this restaurant is better than anything you will find in the more touristy areas of Athens.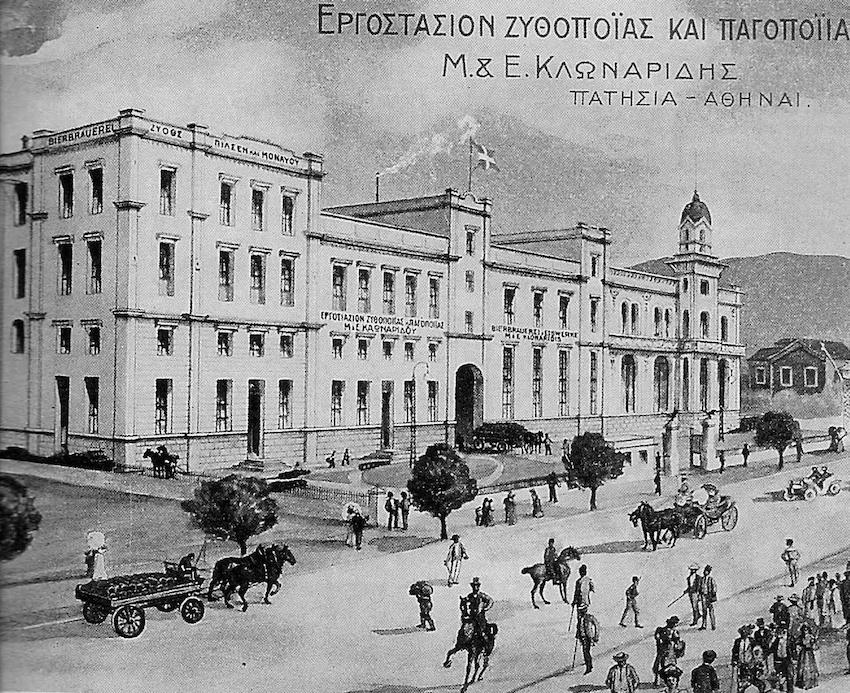 Eventually you will cross Galatsias Avenue into Ano Patissia and come to another platia, one that can actually be called a park: Parko Klonaridi Fix, popular with people walking their dogs, joggers, immigrants, homeless people and drug addicts. This was the location of the the large brewery built by K Klonaridis in 1900 and bought by Fix Beer in 1930. The historic building was demolished in 2000 by mayor Dimitris Avramopoulos (him again?!) despite the people of Athens wanting to preserve it and restore it and turn it into something useful for the neighborhood like a cultural center, gallery, beer museum or anything. But the mayor got his way and it is now a rather large green space, though not one that anyone seems to care that much about except the old guys who gather to play cards on one of the remaining unbroken park benches.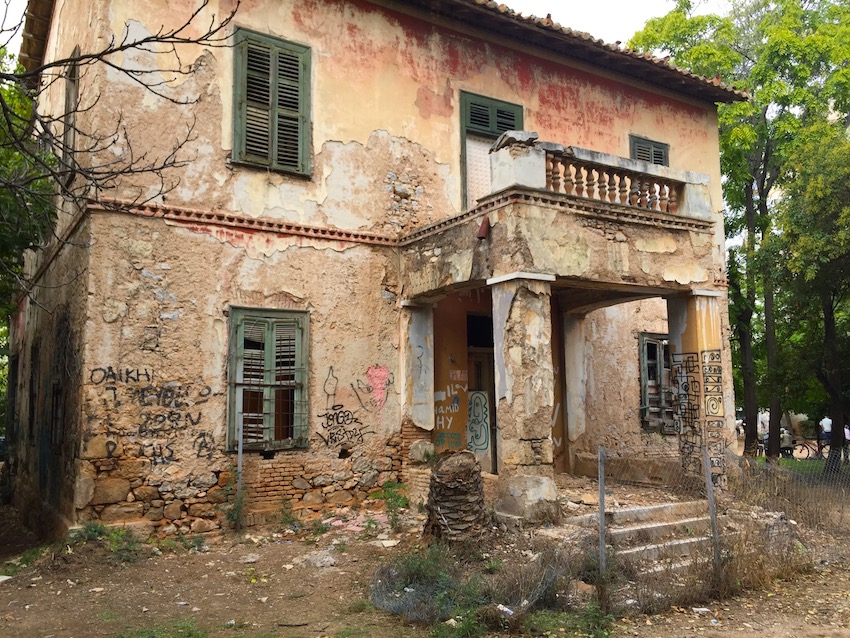 In even worse shape is the Villa Klonaridi which was the home of the original owner of the brewery and is now a wreck of a house where homeless people can get out of the rain and junkies can go to shoot up. I am hoping that once Greece turns the corner and gets out of the crisis they will make plans to do something with this house and maybe even carry them out.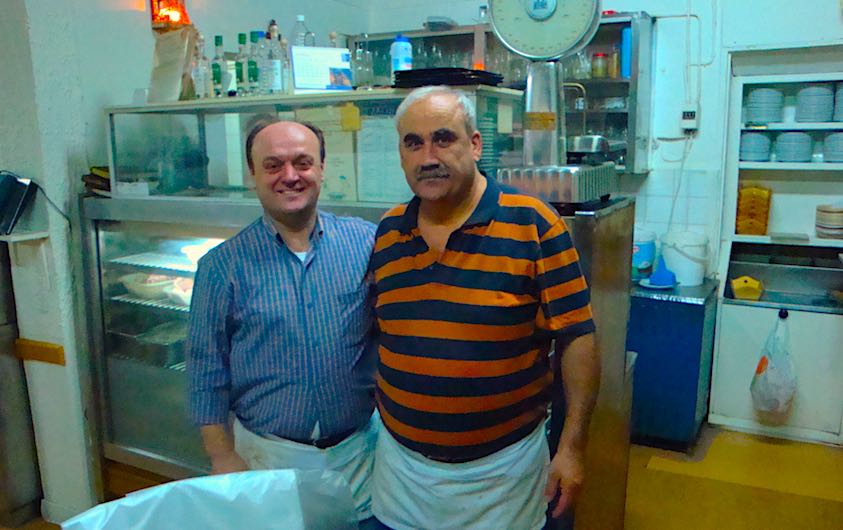 When you cross Galatsiou Avenue the neighborhoods of Kypriadou and Lamprini on the east side of Patission Street are a mix of large old houses, apartment buildings, ruined factories and warehouses and lots of restaurants and cafes. It is almost as if the city ends at Leoforos Galatsiou and the suburbs begin here and it is a nice place to wander around since this is where the streets end their grid pattern. The famous Spiros & Adonis is at 24 Gavrilidou Street, a truly authentic old style taverna, the kind of place you will only find Greeks, mostly from the neighborhood, and a handful of foreigners lucky to stumble upon it. Dia Xeiros is a psistaria/estiatorio with imaginative dishes, lots of salads and mezedes, in a big old mansion at the intersection of Laskaratia and Polilou Streets. They have live rembetika-laika music and dancing on the second floor. H Vasiliki at 25 Markora in Platia Papalouka is a really good psistaria with a large menu all in Greek, but there are photos and the waiters can assist. Order the mixed grill for however many people you are, a salad, sadziki and a few appetisers and you won't have to eat for a couple days.
Around Platia Papadiamanti is the original Tsitsikas & Mermigkas which you have probably seen on Metropolis Street near Syntagma. They are supposedly the first to introduce the style of making the interior of the restaurant look like an old style bakaliko-grocery store. Right across the square is To Pithari, a mezedopouleion with lots of salads, meat dishes and of course meze and live music on weekends.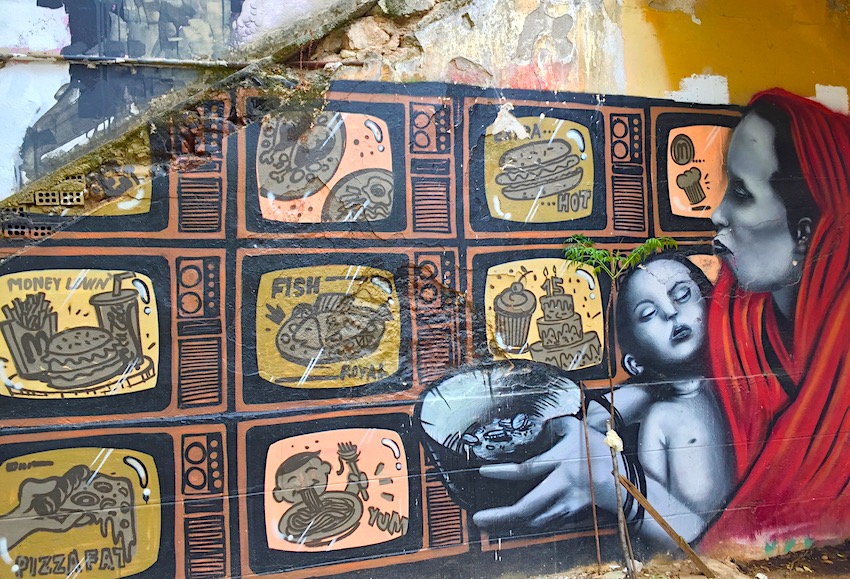 Patission Street passes Drakopoulos Park, pretty much abandoned by everyone except a few old people who still sit on the park benches to talk or those hanging out at the popular Accro Cafe which is on the northern edge of it. There are some interesting murals in the park though you may be a little nervous about viewing them because they are in part of a run down building on the edge, I assume what is left of the Drakopoulos Estate. If you walk through the park you will come to Tar Beer Restaurant in Irakliou 34, one of the first beer bars to open in Athens. They also have food, and live music on weekends.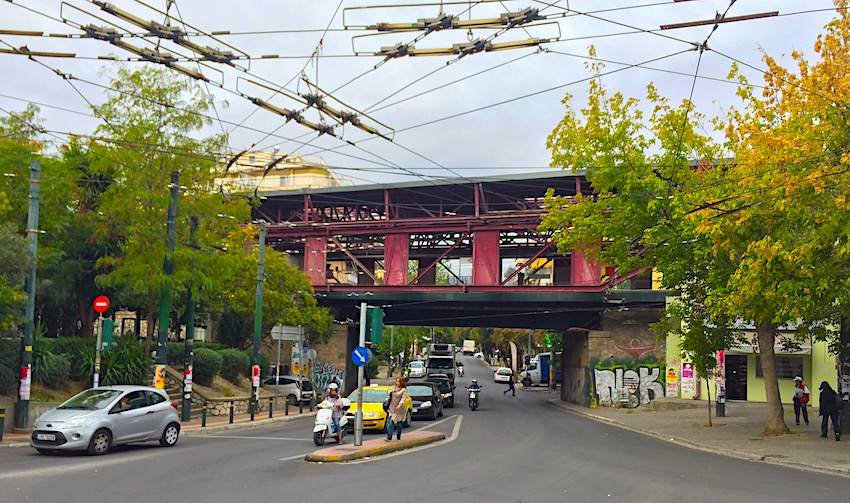 A few blocks later Patission street suddenly ends. If you turn right on Agias Lavras and follow the signs you will come to the Second Cemetery of Athens. If you follow the trolley wires and go left on Chalkidos Street and pass under the tracks of the old metro and the Ano Patissia station you will go through a park before crossing the Podoniftis River which will bring you to the towns of Neos Chalkidonas and Nea Philadelphia, where refugees were settled in the 1920s and are now thriving residential areas with lots of restaurants, bars, cafes, single family houses and parks, not to mention the new AEK Football Stadium. But this is a whole other story.
So that is Patission Street for those who want to venture beyond the areas were most tourists go. I am not saying you should go there. If it looks interesting then by all means follow it to the end and you can catch the metro at Ano Patissia back to wherever you are staying. If you are staying in the area then you will probably find this page pretty useful. If you are living here I hope I have told you about something you did not already know. If you have something to add please e-mail me.