Kolonaki is the neighborhood that the elite of Athens used to live before many of them moved out to the suburbs. It is an area full of high end shops and ritzy cafes at the base of Mount Lykavettos.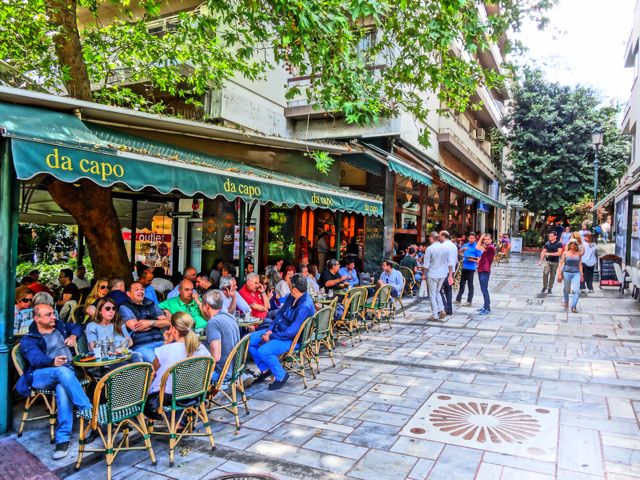 From the National Gardens , if you cross Vassilias Sophias street and continue up the hill from Irodou Atikou past the beautiful mansion that houses the Benaki Museum , you will be in Kolonaki Square, one of the most famous and enjoyable places to sip coffee, watch people and eat in the cafes that line the street and remind many people of Paris. The neighborhood is full of cafes and expensive shops, fancy restaurants and fancy people and shopping in this area is like shopping in the finest areas of New York or Paris. In the winter giant heaters are placed outside and during the summer they have some kind of hook-up that blows cold air through some tubes into the covered area on the street. During the Greek Civil War Kolonaki and Syntagma were the only parts of Athens not under the control of the communists. Now their closest neighbor is the leftist/anarchist/student neighborhood of Exarchia. But that is really not so strange because in the early seventies the first cool record stores in Athens were both in Kolonaki: Pop 11 and Blow-up.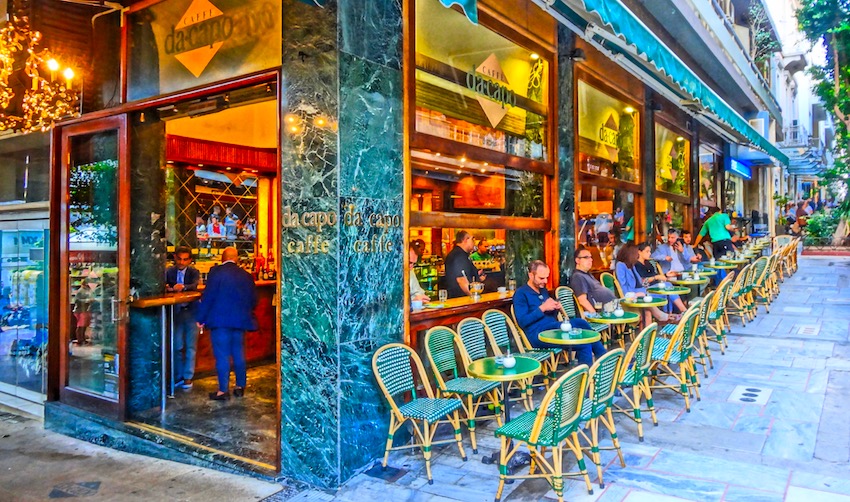 Walk past the cafes and turn left up Anagnastopoulo Street at the top of the square and go right on Iraklitou, then up the steps and through the small park. If you have kids you can leave them in the playground while you take a seat at the Ouzerie in Platia Dexameni. This is one of the best spots in Athens, high enough to be breezy and cool, with excellent food. Very nice place to go for lunch and one of the few places in Athens where you can share your lunch with a rooster and some chickens. You can get an ice cold beer here and a plate of shrimp. Excellent sausages, salads and very friendly service. One of my favorite places for ouzo too. And where else in Athens can you be entertained by a goat? A live one anyway.
Dexameni means cistern which is what the square sits upon. It used to be the water supply for all of Athens and was actually built by the Emperor Hadrian and the ancient walls are still there. On Friday there is an organic market here from 9am to 1pm. There is also an outdoor movie theater that shows mostly English language films. One day when a friend of mine was sitting in the square he saw some city workers digging up all the bushes on one side of the square. They replaced them with beautiful flowers that were all in bloom and in front of it they put a podium with microphones and a public address system because the mayor at that time Dimitris Avramopoulos was coming to give a speech. The mayor showed up and gave his speech with the beautiful flowers as a background. When he finished the city workers packed up everything, including the flowers and left, without replanting the bushes which lay in a corner of the square until someone eventually threw them into a dumpster. My friend who witnessed this died so I don't have anyone to back up this story but I have no reason to believe he made it up since he had no reason to and it sounds like something that they would do in Athens.
Right across the street from the park is the Hotel Saint George Lycabettus, one of the best hotels in Athens. Great views, a swimming pool and excellent rates in August make this a hotel a favorite of regular travelers to Greece especially in August when they have really low rates.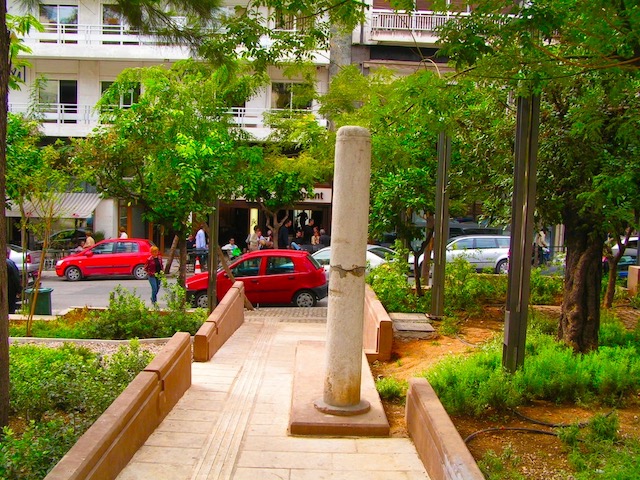 Kolonaki is named for the small column which sits in a corner of Kolonaki Square, which is actually called Platia Filikis Eterias, though few people call it that. It is one of the most under utilized platias in Athens since most people prefer to hang out in the cafes, which have so much sidewalk space that they don't need to expand across the street and into the square. But they spent a lot of money to remodel it and make it more people friendly. It is also one of the few places in Athens where you will find Astroturf. The Zoumboulakis Gallery at Alopekis 20 at the bottom of the square is a contemporary art gallery which features works by Greek and foreign artists and exhibits which change once a onth or so. It is one of the oldest galleries in Athens, originating as an antique shop in 1912.
The Benaki Museum and the Goulandris Museum of Cycladic Art are two of the best private collections in Greece and both are located in Kolonaki. The Museum of the History of Greek Costume and the Theater Museum are also in the neighborhood and all you have to do is cross Vasilissis Sofias Avenue to visit the Byzantine Museum, and the War Museum of Athens. The National Gallery is just a few blocks further though it is pretty much a construction site. (See museums) Also while in the area have a look at the newly discovered Lyceum of Aristotle.
The Gennadeion Library, across from the American School of Archaeology following Dinocratos street, contains the best collection of Hellenism in the world as well as the notebooks and letters of Henrich Schleiman, the records of Ali Pasha, the despot of Epirus, and the papers of Nobel Prize-winning poets George Seferis and Odysseus Elyetis. I usually don't go any further but if you are adventurous keep walking uphill on Ploutariou street until you reach the tree-line. You are now in the wilds of Mount Lycabettus. You can take the Funicular Railway to the top or you can walk. Whatever you do it's worth it because at the summit is a church with a spectacular view of Athens, the Acropolis, and the mountains surrounding the city.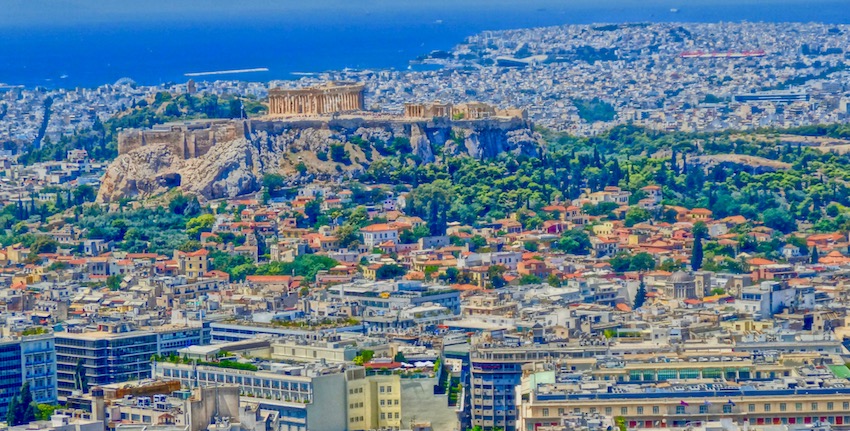 From Mount Lycabettus you can see the ships in Piraeus, the Aegean sea, and on a clear day the islands beyond, all the way to the mountains of the Peloponessos. It's worth being here for sunset and there just happens to be a cafe-ouzerie up there too. On the back side of the mountain is an outdoor amphitheater. Read the back page of the Athens News to find out if anyone of interest is playing or check Athinorama, the weekly entertainment magazine of Athens. Yes it is in Greek but if someone famous is playing the ad will be in English too. Lykavettos is one of the finest places to see a concert and you never know who will be performing up there. Anyone from Leonard Cohen to Peter Gabriel. I saw James Brown there one summer! You can also take a taxi and for those doing the Athens tour with George the Famous Taxi Driver, Lycabettus should be included.
See my photos at Lycabettus: The View from the Top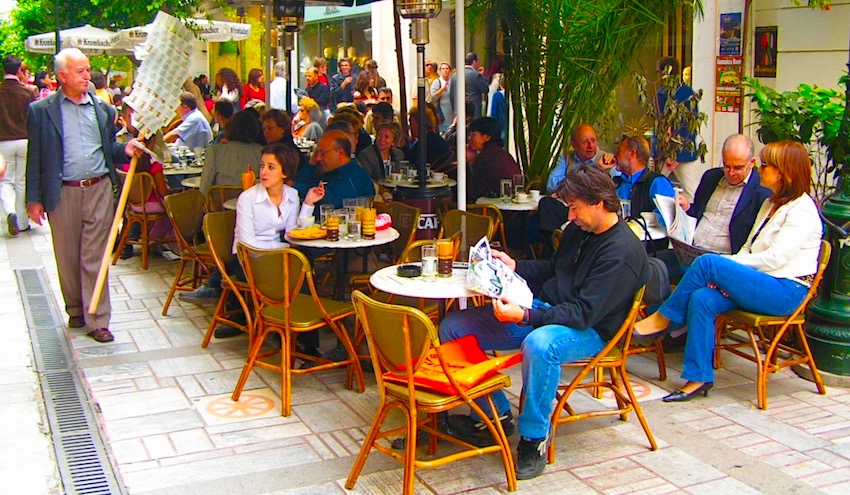 In Edmund Keeley's excellent book Inventing Paradise: The Greek Journey 1937-47 he describes Kolonaki:

One neighborhood that almost every Athenian knows to a degree is Kolonaki, or little column, named for the column once standing alone on the edge of town but now in a busy square close to the city center. Kolonaki used tobe regarded as the ritziest if most conservative part of Athens to live in, until too much traffic and polluted air bagain to tarnish its upper-class image, though it always had a bohemian fringe around the slope of Lycabettus, where writers and artists, both foreign and domestic could find fairly cheap, congenial homes in the few two and three story houses left over from the early days when the streets were unpaved. The square that used to provide open-air tea and coffee for the elite in a paved figure-of-eight island known affectionately as "the Kolo Bidet" (the Ass Bidet) has now been cleared away to make room for the young who cruise in on motorcycles to eat pizza at the new mall or hang out over a drink to see who else may show up for a revved-up move into some serious nightlife elsewhere. And very recently some Athenians on the rise who chose to live in the distant suburbs where the air is cleaner and the parking easy have begun to come back to Kolonaki because they miss the sidewalk cafes and restaurants, however upgraded, where the talk about politics and films and trips to the islands still has some wit in it, and where the boutiques that have taken over the ground floor apartments on street after street are as classy as any in Europe.

(For more about Edmund Keeley see books)
Where to Eat and Drink in Kolonaki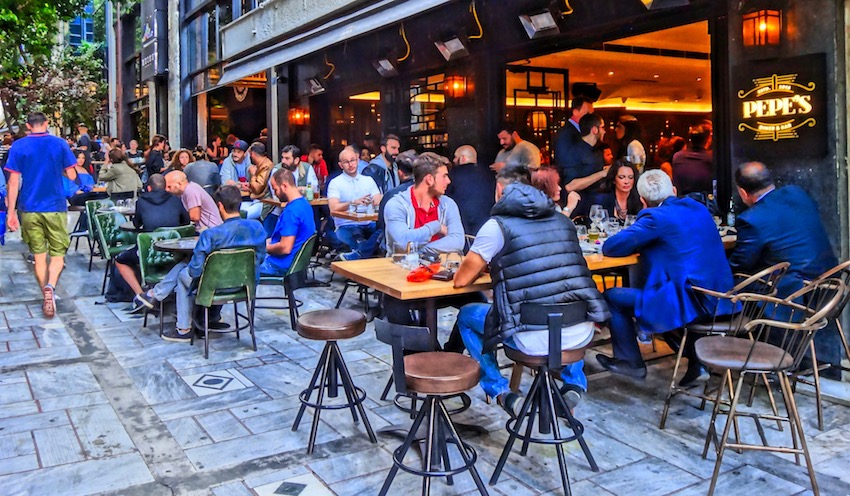 If you are looking for something bistro-like the neighborhood is full of them. Try Cafe Boheme at 36 Omirou Street in Kolonaki. This small bistro/bar has more fun per square inch than just about anywhere in Athens. Come early if you want to eat because at night it becomes the smallest big party in the city and is a popular hangout for x-pats, journalists, artists, musicians, models, dancers and you get the idea. Open since 2007, Café Boheme has become a favorite meeting place and cozy hangout with loyal fans due to its unique atmosphere and delicious food. You can come in the morning for coffee or brunch, and stay until late at night for food and drink with plenty of music. A delightful surprise awaits lovers of both wine and fine cuisine, since the all-day-café bistro-restaurant Café Boheme has a series of ever changing menus by chef Alkis Caro and his lovely partner Cassandra Wagstaff. They are open every day from 9:30am to 3am. Come for Bohemian Pizza and lots of interesting entrees, salads, deserts and exotic drinks.
Or how about a Greek meze bar, an Italian apperitivo cafe, a Spanish tapas bar, an english pub and a French bistro all in one! Well, it exists on 51 Skoufa Street in Kolonaki and appropriately named CITY. The first gastro pub in the area to enjoy various beers, raki, tsipouro with an extensive wine list. Alive, daring, original, with tasty plates to enjoy, as well as the sounds of rock and roll, jazz, country and mainstream. Let them know you found them on Matt's Athens Survival Guide for a special welcome. (Not sure what that means but it sounds like free drinks or something. If not for you maybe for me.)
Also recommended are Taverna To Omorfo ... great cheap eats on Xenokratous Street and Fillipou, a very traditional and good restaurant since about 1920, also on Xenokratous Street. Oikio is a Greek bistro on Ploutarchou Street and another Greek bistro, Cafeneon, is on Loukianou Street. If you are in the mood for breakfast, or even lunch or a hearty desert, Melinikon is owned by a Greek-American who left a successful career in New York City to open the first pancake house in Greece. It is located on 37 Skoufa Street which runs parallel to Akadamias Street. Jazz in Jazz is a cozy bar at 3 Deinokratos Street in Kolonaki, that plays classic jazz (obviously) and blues and has a nice selection of whiskeys. If you are staying in the area and have a kitchen there are many places to buy food and wine. Check out Cibo & Vino at 10 Kapasalis street which is a gourmet deli lovers dream come true. Cake at Irodotou 15 is of course a pastry shop. It is famous for its New York Style Cheesecake if you get a craving.
Hotels in Kolonaki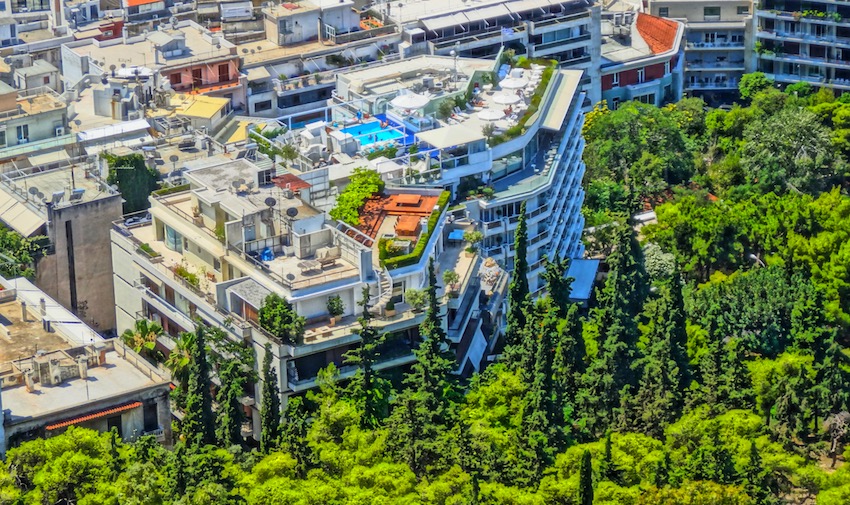 Despite being some distance from the archaeological sites Kolonaki is actually a pretty good place to stay. First of all there are plenty of restaurants, cafes and shops in the neighborhood and if you want to go for a walk in the woods or reach the higher elevations Lykavettos is right there. Plus you can walk to all the sites because they are downhill and you can just take a taxi or the metro back. The nicest hotel in Kolonaki is the 5-star Saint George Lykavettos (above photo) which has one of the best views of Athens you will find. After that there is the 4-star Hotel Periscope just a couple blocks up from Kolonaki Square. The 4-star Athens Lycabettus Hotel is centrally located within walking distance from the business, cultural and shopping districts of Ermou Street, Syntagma and Kolonaki square and of the three is the closest to the sites and museums of central Athens. Coco-Mat Hotel Athens offers elegantly designed units, with the famous Coco-mat matresses and pillows of course, close to major touristic attractions and vibrant areas of the city. Free WiFi is available throughout the entire property. The Lion Hotel Apartments have free WiFi, spacious living rooms and city views. Each spacious apartment has a kitchen with tea/coffee maker and free filter coffee. Some rooms have views of the Acropolis and the Lycabettus Hill.
You can also find apartments and Air BnB style accommodations by using my Villas and Vacation Rentals Search Page and typing in Kolonaki.