Welcome to Exarchia
When the United States Embassy in Athens put out a warning for travelers to avoid the neighborhood of Exarchia it prompted a number of e-mails to me from people asking if their hotel was anywhere near this area. Since there are few hotels in Exarchia and only a handful even close to it these people were easily reassured. The neighborhood strikes fear into the hearts of many Athenians, particularly those who would proudly call themselves 'establishment' who have seen televised images of masked and hooded anarchists battling the police on the back streets and even the main squares of Exarchia, tires burning to counteract the tear-gas, broken windows, torched SUVs and older folks complaining to TV news reporters about the lawlessness of their little corner of the city. It wasn't always like this, but it has been for a long time even though few people had ever heard of Exarchia until December of 2008 when policemen shot and killed a 15 year old boy and set off an orgy of violence, looting and burning that was captured by television cameras and beamed around the world for all to see. Exarchia had made the big-time.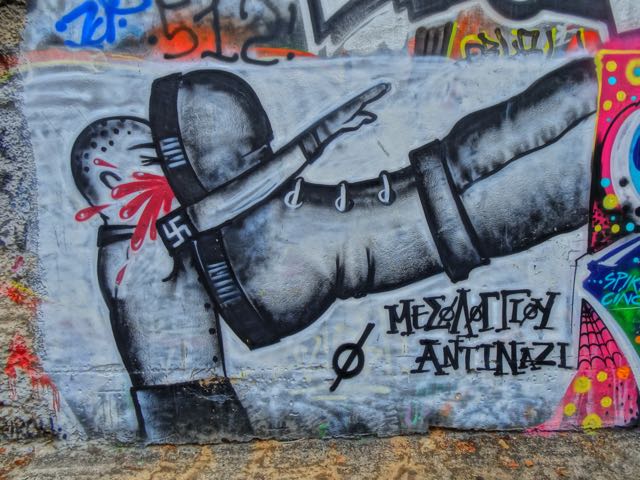 But lets take a look and see if we can discover the truth. What is Exarchia? Is it right to portray the area as an evil den of anarchists and criminals living in a neighborhood that is beyond the law, something like the town of Deadwood in the HBO series? Actually it is more like a college town within the city of Athens, similar to the East Village of New York BG (Before Guiliani). Exarchia sits between the University of Athens and the Politechnion and is home to students, immigrants, Greek families of different economic strata, restaurants, cafes, computer shops, used vinyl and CD shops, terrific guitar shops, used bookshops, boutiques, clubs, bars, anarchists, drug addicts, stray dogs and just about every kind of person, except cops. The police don't really go to Exarchia except in extreme situations because for them just to enter the neighborhood creates trouble. So on many weekends in downtown Athens you will see police and soldiers stationed strategically on corners around Exarchia, not to keep people out, but to keep large groups of anarchists or troublemakers in. Of course when you have an area of rock clubs, cafes and restaurants in a sort of cop-free zone it attracts young people, many of high school age, and other counter-culture types. This creates something of a scene, where you can go for your nighttime entertainment never sure of what is going to happen.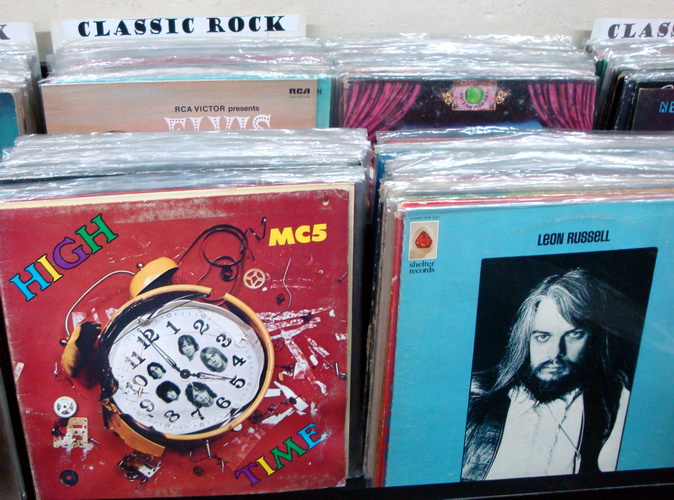 Exarchia is not for everyone. I don't think I would bring a friend there for dinner who would impede my own ability to avoid trouble. You never know when you are going to turn a corner and be met by a crowd of people running from police in riot gear and as long as you retain the ability to run there is no reason to ever get caught up in a battle between youth and police. For this reason if you are a happy tourist family visiting Athens and exploring the city, maybe you should stick to the Plaka and Monastiraki and the archaeological sites and museums. But if you are of college age and mind-set and are looking for an alternative area where you can find cool rock clubs, cheap tavernas, excellent used CD and record shops and a couple of the best rembetika clubs in Athens, then Exarchia is worth a visit.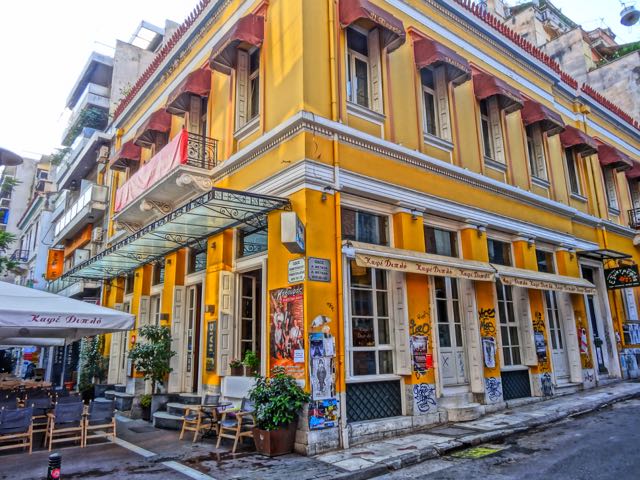 The center of the neighborhood is Exarchia Square which is at the intersection of Themistokleous street which comes from Panipistimiou (Venizelos) street near Omonia, and Stournari street which comes from Patission street by the Polytechnion. It is a seedy little square with a number of cafes and fastfood restaurants, some ornery stray dogs (the only time I have ever been bitten is in Exarchia-OK he just nipped me but I am still nervous when I walk through the square), a few mangas and a large number of people who are just passing through. At the top of the square is the famous 'Blue Building', one of the first, most admired and most well built apartment buildings in Athens. At the beginning of the Greek Civil War, at the end of World War II the communists attempted to blow it up because the British had a machine gun emplacement on the roof. Though apartments on the lower 2 floors were destroyed the building did not fall down, a testament to the work of architect Polyvios Michailidis, a Cypriot who later became a professor at the Athens Polytechnic School of Architecture.
Most of the really cool stuff is on the small streets around the square. At first passing it just looks like a confusing mess of shops, posters, graffiti and weird people but that is all part of being in a strange place for the first time and not feeling comfortable. If you wander around you will certainly find something that interests you, maybe something that you thought would not interest anyone but you. If you consider yourself counter-cultural you are home. The residents have recently kicked out the junkies and taken the square back. It now has table football and a basketball hoop and is much more pleasant to just hang out at.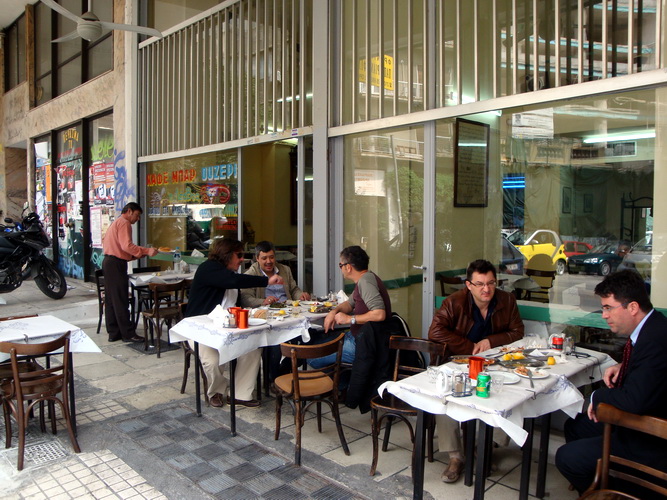 But lets begin with the basics which for me is eating. On the pedestrian street of Valtetsiou which enters Exarchia Square from the southeast if you have your compass with you, is the classic taverna Rozalia with its outdoor garden and indoor seating for winter in an old neo-classic house. I came here for the first time twenty years ago with my best pal Dino Nichols, may he rest in peace, and it is still going strong. On the same colorful little street is another classic taverna called Vergina famous for its stuffed cabbage and Giantes, a modern taverna with organic food. Ouzadiko is a mezedopoulion at 72 Themistikleous street that has live music on Friday and Saturday nights as well as Sunday afternoon. On Emanual Benaki #38 is one of my favorite hangouts, the tiny ouzeri-fish restaurant called Lesvos (photo) which will make you think you are on that island. It's open day and night and can get very festive as often happens in places where people from Lesvos gather to drink ouzo and eat fish. It's just on the fringes of Exarchia, close to Akadamias Avenue for those who fear venturing too far into the neighborhood. My daughter raves about OXO NOU at Emmanouil Benaki 63. It is a block up from Exarchia Square and it is a Cretan restaurant that she says is the best in Athens. She eats there all the time. Also another of my favorite restaurants Cafe Boheme just reopened at their new location on Emmanouil Benaki 94 which is a couple blocks after Oxo Nou. Great food, drinks, pizzas and deserts and a really nice outdoor/indoor place to hang out and make friends with locals and X-pats.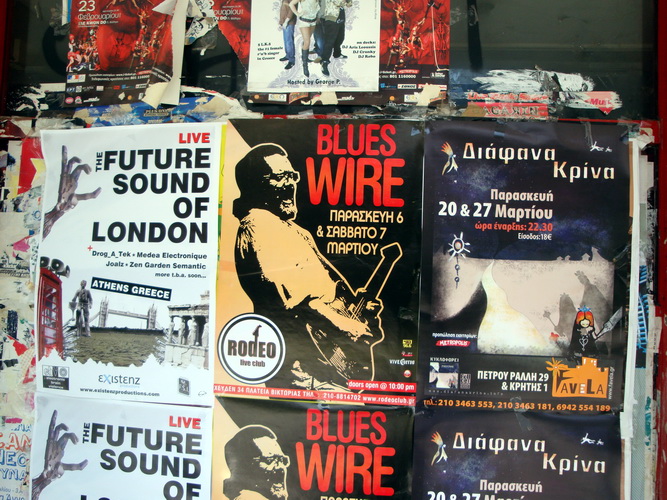 Exarchia is home to a number of rock clubs including In Vivo at 79 Harileos Trikoupi and Methonis street which has live jazz, rock and blues bands on weekends. At the intersection of Themisticleous at 5 Gamvetta near Omonia Square is the Texas Necropolis Club that plays goth, industrial and metal. One of the oldest and best rock clubs in Athens is called An on Solomou street near the intersection of Soultani which features name bands and local groups and will remind you of your favorite rock club from anywhere you live in the USA or probably in any country. I actually played here in 1986 and the concert was recorded and put out by a Thessaloniki record company. I have it on Cassette and one of these days I will get around to digitalizing it and maybe put it on my website. After Dark at 31 Didotou and Ippokratous Street is just a short walk from Panipistimiou Street and has the best bands for the money according to knowledgeable rocker-journalist Perri Pagonis of the Athens News. At # 87 Benaki is the historic rock bar called Kypos Tis Kalasnikof (Garden of the Kalashnikof). For lovers of classic rock there is the Recital Bar near the intersection of Eressou and Themistikleous streets just off the square. For Goth, industrial and alternative on 2 stages go to Underworld Genesis at Ippokratous 56. There are a number of cafe-bars that play pop and jazz, open day and night, some with DJ's and some with owners who know what they like and play it. For those who want a night of live Rembetika and Laika music there is Mpoemissa (tel-2103843836) at Solomou 17-19 which is open weekends, Kabouras (tel-2103810202) at Themistokleous 64 and the well known Rembetiki Istoria (tel-2106424937) which features a good band, good food and is open every night except Mondays at 181 Ippokratous Street. These clubs, like most live music clubs in Athens are seasonal, starting in October and closing sometime after Easter when much of the city nightlife goes to the islands and the clubs on the coast. If you get a copy of Athinorama when you get to Athens you can see who is playing where, that is if you read and understand Greek.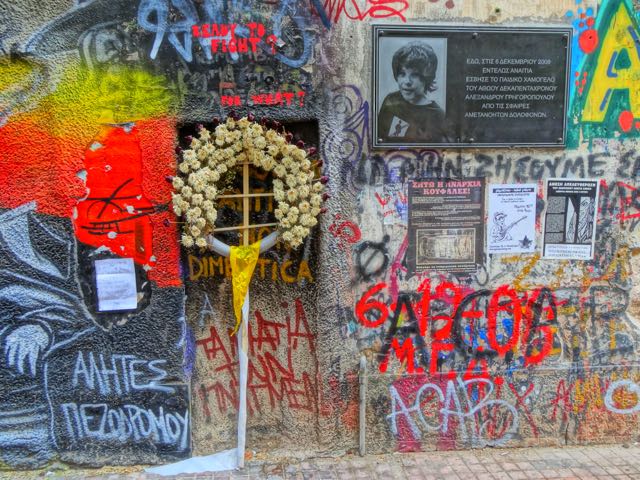 For those who want to pay their respects or are just curious you can visit the Shrine to Alexander Grigoropoulou, the boy who was shot by the police which set off the riots of December 2008, on the corner of Mesolongiou, now unofficially renamed Alexander Grigoropoulou Street and Tzabella street. The wall has some of the most intense graffiti and art of anywhere in the city and people are always leaving flowers and personal things in memory. Nearby is one of several 'people's parks' that were squatted by locals to thwart the city's plan to turn them into parking lots. There is a sort of cafe in the middle where you can get a coffee cooked on a fire or gas burner or maybe an electric burner that uses an extension chord that goes to someone's apartment down the street. It's safe, friendly, and althought not a place for families or children, I would suggest anyone who enjoys a beer from the periptero, a smoke (whatever you smoke) and a good conversation in English, Greek, French, German to drop by.(Or you may come here and wonder what I am talking about because the squatters went home and the city took advantage of their indifference and built their parking lot anyway).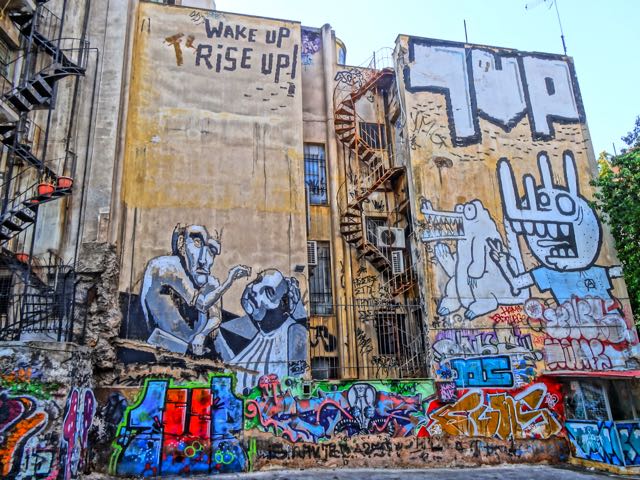 If you love wall art and graffiti or even if you can't stand it, you will find plenty of it in Exarchia where every building is considered a canvas and nothing is sacred, not even good graffiti art which is often defaced by teens who come from the suburbs, spray-cans in hand, to tag every last inch of Athens in a mindless plea that someone, anyone, recognize that they exist. Political posters announcing strikes and demonstrations compete with music posters for space and any empty storefront is fair game. With rents for shops cheaper than in most areas, because what respectable business would want to be in Exarchia, there are plenty of alternative music shops, one on almost every block it seems, some specializing in heavy metal, others in rare and used vinyl. Low rents attract artists and there are several galleries in Exarchia including Cheap Art at Themistoklkeous and An. Metaxa streets, Polixoros Metaixmio at 118 Ippokratous, Pro-Art/M. Lagaki at Kallidromiou 30 all which feature exhibitions by Greek and foreign artists. Head shops, herb shops, health food, fast food, and many computer shops as well as the grocery stores, framing galleries, markets, pharmacies and the kind of shops you will find in any section of Athens can be found in Exarchia. For those with an interest in architecture the neighborhood has its share of neoclassical and art-deco buildings but the jewel of the crown is the big blue building on the west side of the square, one of the very first apartment buildings in Athens.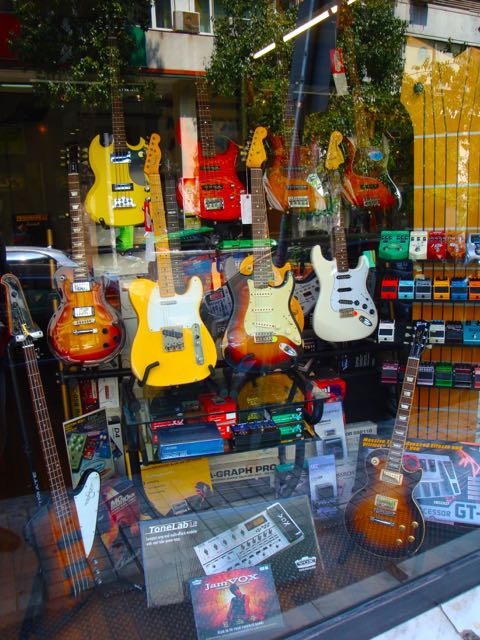 If you continue uphill from the square on Thimistokleous street, the apartment buildings give way to houses as you climb Strefi Hill, finally giving way to a park and pine trees after a few turns. The neighborhood has a few small cafes, restaurants and some interesting little shops in something of a village setting. There are fewer cars, well not including the parked ones, but the streets are quieter than below. If instead you zig-zag your way towards Kolonaki as you get closer to the University of Athens you will find more bookstores, big and small, some very specialized and most if not all with at least a few in English, if they don't have an entire section. Pirinos Kosmos on the corner of Solomos and Ippokratos is an esoteric-spiritual-new-age-occult bookshop with an upstairs full of English language books of the same genre. Some of the biggest and best guitar and instrument shops are in this same area. If you are coming to Athens to play a show and need guitar strings, a new amp or want to know where to rent a decent sound system then this is the area to start looking. There are many new and used several guitar stores scattered around Exarchia where you can pick up a used Gibson SG or a vintage Telecaster and even an EKO 12-string, the first guitar of many Greek musicians. Are you looking for rare comics that you might not come across at home. You may find them in Exarchia.
There are those who would say that encouraging tourists to go to Exarchia is irresponsible and some things are best left unwritten. A traveler with limited time in Athens can be quite happy in the center of the city walking the pedestrian streets of the Plaka, Monastiraki, Thission and Gazi. There is no need for them to even know the existence of places like Exarchia just as someone sight-seeing in New York City does not really need a tour of the Bronx. But I see Athens as the sum of its parts and Exarchia is an important part of the city, maybe more so today because of the unrest of the youth and their frustration with this mess of a world that we have created and are leaving to them to try and figure out and make the best of. So if you are anti-globalization, love Che and Chomsky, think the Clash and Bad Brains were the godfathers of revolutionary music, and are not in Greece to dance on the islands to techno-pop but to meet kindred spirits, then maybe a visit to Exarchia is in the cards. You may learn something. It might not be about urban warfare. It might just be the realization that nowhere is as scary as people say and that there people just like you and me trying to make a life that works for them in Exarchia. Or you can go to Exarchia for the same reason that I would take the time to make a webpage about Exarchia. Because you have nothing better to do.
As long as you are in the area be sure to visit Kypseli too!
Hotels in Exarchia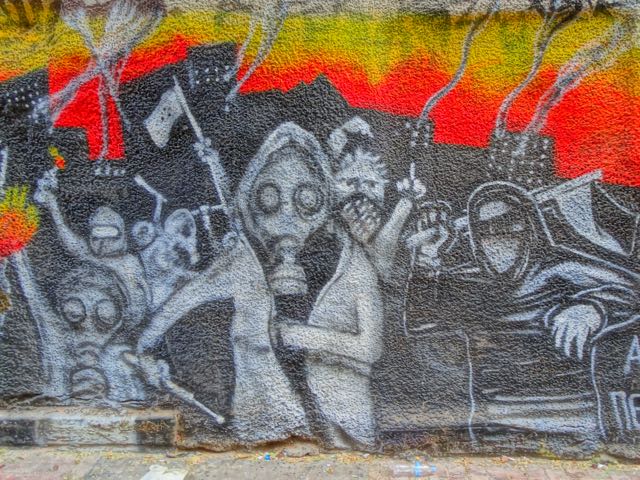 For those who want to stay in Exarchia the economical Dryades Hotel is situated in a quiet and relaxing spot near Strefi Hill. Featuring a 24-hour reception, a TV lounge and a roof garden, Hotel Dryades offers affordable accommodation with free Wi-Fi in the centre of Athens. Rooms with Acropolis view and rooms with view to the Lycabettus Hill are available. All are equipped with air conditioning, tea/coffee maker and fridge. Guests have access to a fully equipped shared kitchen. The 3-star Exarchion Hotel is located on Exarchia Square surrounded by shops, restaurants, café, bars and whatever live music is being played in the square. The air-conditioned rooms are recently renovated, and equipped with TV and free Wi-Fi internet access. Free internet corner is also available. Guests may enjoy a good cup of coffee at the roof terrace with amazing views over Lycabetus Hill. The friendly staff are at hand 24 hours a day. The 3-star Acropolis Museum Boutique Hotel is next to the National Archaeological Museum and within walking distance of Exarchia square and downtown Athens. It offers sound-proofed rooms with free Wi-Fi and American breakfast included. The modern guest rooms are en suite and air-conditioned. Each also includes hairdryer, in-room safe, fully stocked minibar and satellite/Pay TV. Guests also enjoy a free welcome drink, as well as free orange juice throughout the day. The hotel wins quality awards every year and can be difficult to find availability buy you can Book Directly with the hotel and probably have better luck. Best of the bunch is the 5-star Radisson Blu Park Hotel overlooking Pedion Areos Park which has a rooftop pool, fine dining restaurant, free Wi-Fi and is 5 minutes' walk from Exarchia, Kypseli, Victoria Metro Station, the National Archaeological Museum and the Hellenic Motor Museum. Just a short walk from Exarchia, the luxurious 4-star Hotel Melia Athens features a rooftop restaurant with stunning views of the Acropolis, health club, outdoor pool and hot tub. You can find more hotels and hostels in the area on Matt's Budget Hotels page.