Kypseli Restaurants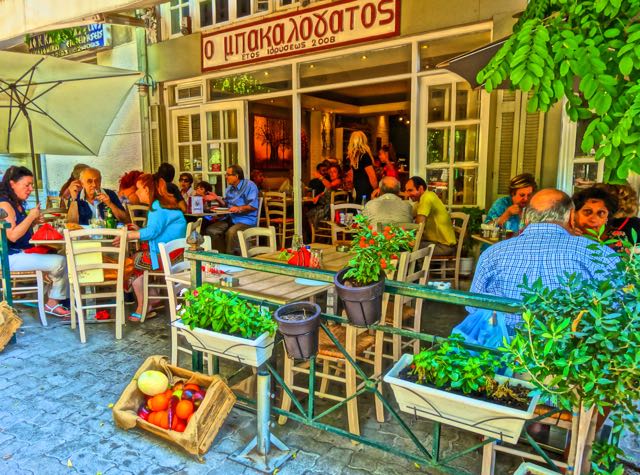 As I mentioned on the Fokionos Negri page, the first restaurant you visit should be O Bakalogatos because not only is it the best restaurant in the neighborhood, it may be the best in all of Athens as some of the most well known chefs who eat there would agree. They have a large menu, in Greek and in English, and the staff does speak English. Order the mussels, either from Limnos, or Mytilini which come in a delicious broth suitable for dunking their whole wheat bread and paximadia. Save some for their white taramasalata which will make you forget the pink stuff. Order the makaronades with cheese and crispy onions, order the pasta with shrimp, order the sausage, order the sikotaria (liver and stuff in wine sauce), order the best dolmadakia (stuffed grape leaves) you have ever eaten, the grilled vegetables are amazing, the Kykladiki salad, or any of the meat dishes. I could go on but start with these and then ask the waiter or owner to suggest something. Oh, and save room for desert, especially the chocolate soufle with home made ice-cream.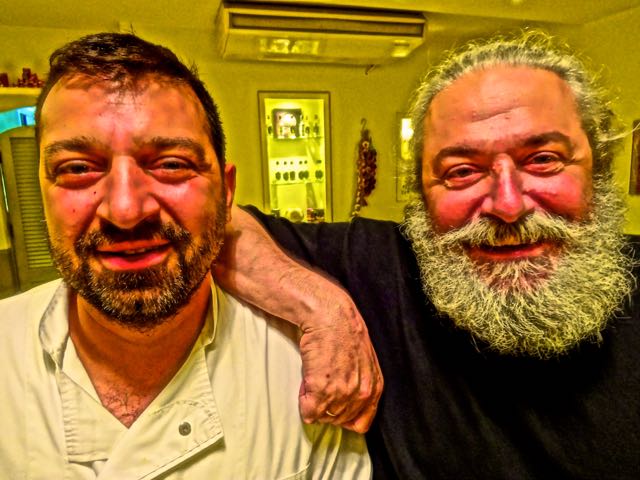 The chef-owner is Giorgos Kantelis, disciple of Panayotis Papanicholaou, who is as close as you can get to being a genius in Greek cooking, drawing his inspiration from traditional dishes from all over Greece as well as the years he spent in Chicago. Pick an island and there is probably a dish from there. You could eat here every night and never grow tired of it and come away with a whole new understanding of the depth of Greek cuisine. If I had the money I would take this restaurant and move it to my town in the USA or even in New York, because this is how modern Greek cuisine should be done. Great selection of good tsipuro, raki and ouzo as well as nice local wines by the carafe and fancier stuff by the bottle. Try the organic tsipuro from Limnos. They have also added some Greek micro-brews. Bakalogatos is at #72 Fokionos Negri and you can call +302108216598 or visit their Facebook page. I eat here as often as I can.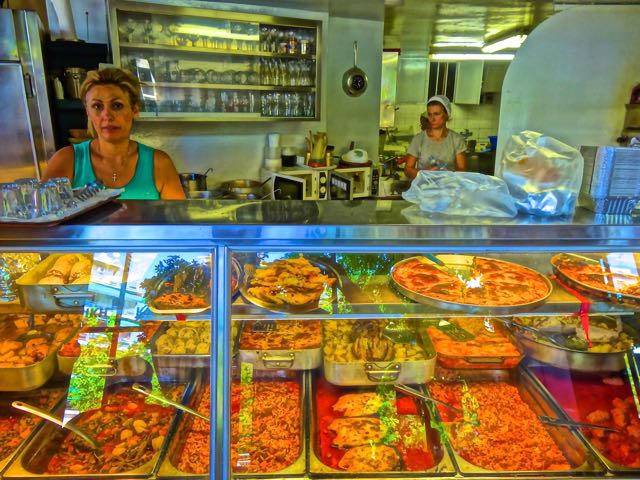 For those of you who are traveling on a budget or live in Athens and want to go out to dinner regularly and not spend much more than what it would cost to eat at home there is a terrific choice and though it is off the beaten path you can easily have a nice meal here for under ten euros whether you come for lunch or dinner. The restaurant is called H Nostimies tis Mary's and it is a family run restaurant that serves Greek traditional food that is as close as you will find to village or island home-cooking. Run by the lovely Mary, with lots of help from her mother, her husband Christos and her three sons, Nikos, Lefteris and Giorgos, who wait tables and deliver take-out, the clientele are a Kypseli mixture of working-class, poets, artists, pensioners, businessmen, famous actresses and people looking for large portions for prices that are a notch or two above a soup kitchen.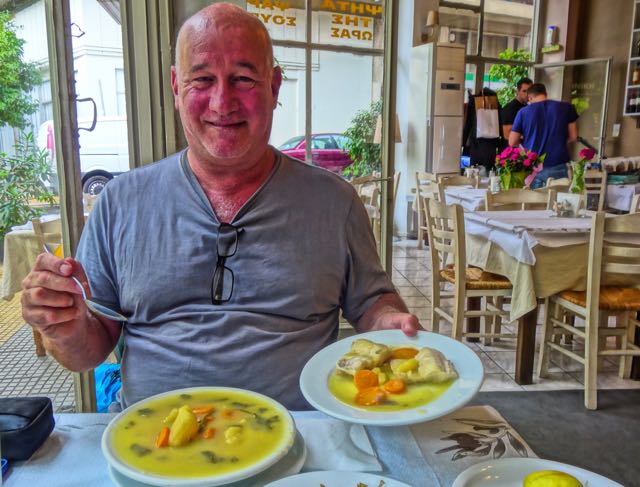 I eat lunch here almost every day that I am working at home. They also make their own pizza and pasta dishes. Mary makes the best bakaliaro with skordalia I have ever eaten and the best fish soup. Great everyday restaurant if you need one. Actually with places like Mary's it seems silly to go through the trouble of cooking and eating at home. For 10 euros I can have a two course dinner with wine. I also want to recommend both her tiropita and her spanakopita which are large and filling. Order those for lunch along with a horiatiki salata or some vleeta or whatever other seasonal greens she is serving and you will probably be fine until dinner. Or try her aginares (artichokes) and potatoes. At night time they serve grilled meats too. The restaurant is in Platia Agios Giorgiou which is where Ithakis, Eptanisiou and Ydras streets all converge. You can also order by phone and they will deliver: 210 8229239. But really you should come in because all the food is on display in Greek estiatorion style and it all looks so good you probably won't know what to get.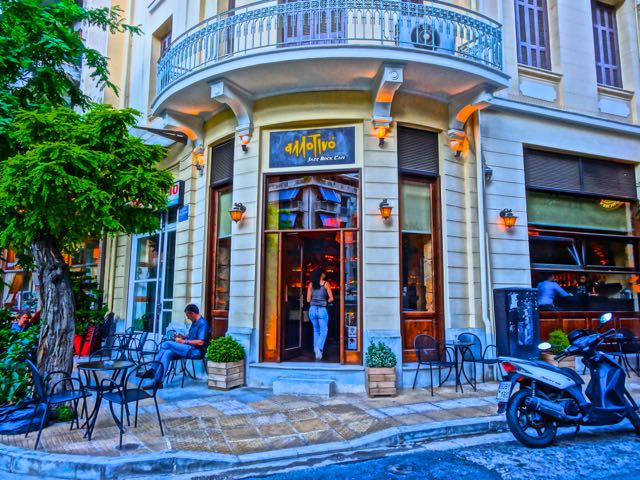 The small square (a circle actually) in front of the Agios Giorgiou church is an interesting one, sort of a village within a village with a couple psistaria-souvlaki shops, a mezedopouleion, a beautiful bar, an old-man cafeneon and a Dodoni ice-cream shop and maybe the best zacharo-plasteion in Kypseli. Afterwards go next door to Allotino Jazz Cafe for drinks or coffee. Or go there before dinner for a beer, wine or probably the best top shelf liquor you will find anywhere. Andreas is a connoisseur of fine wines, beers and liquor and searches far and wide for the best. He also serves snacks and salads with his drinks. Allotino is right next door to Oi Nostimies tis Mary's and they both have tables and chairs across the street in the square. Another great restaurant is Kybeli, right across the street from Allotino. It is a traditional, yet modern mezedopouleion-ouzeri with an extensive menu and a friendly, young English speaking staff. They have tables and chairs in the square as well and an air-conditioned interior for those extra hot summer days. Right next door is a similar restaurant called Scholarchaiou, no relation to the famous one in the Plaka but probably better. Villatz Cafe is a very popular hangout and they have coffee and some food too and you can even get an ouzo and meze here.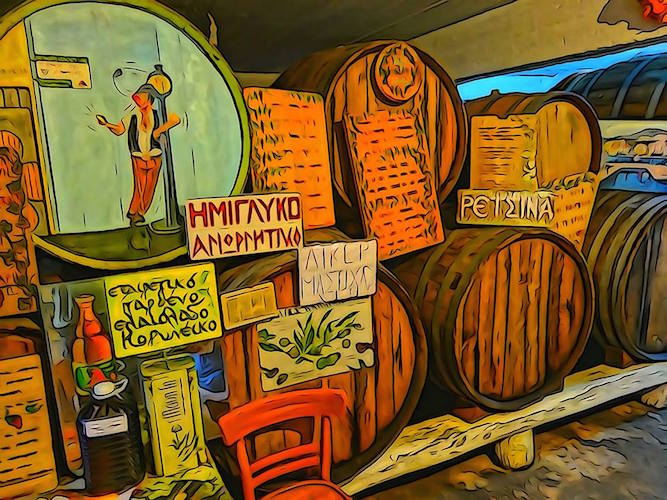 Across Fokionos on a tiny street called Xanthis which is just a block long and connects Lelas Kardiayianni and Tenedou streets is an old kava called H Pigi Tou Dionysou (The Spring of Dionysious). Their retsina is excellent, and as many people have noticed, now that Greece has become a respected exporter of bottled wine, finding good retsina is like.... well, finding a good taverna actually. This kava is certainly worth stopping in to stock up if you are in the neighborhood and some of their wines are worth going out of your way for. You can come in for a taste and they also have raki, tsipuro, cognac, and just about every Greek spirit in bulk, sold by the liter and as good or better than anything you can get in a bottle. To find it, find Ag Zoni Street and make your first right and your first left (by the Cinema Stella open air movie theater!) and it is on the end of the block. For more fancy bottled wines visit Kaba Isa Wine Cellar, which is not a wine cellar but has a large selection of good wines for such a small shop.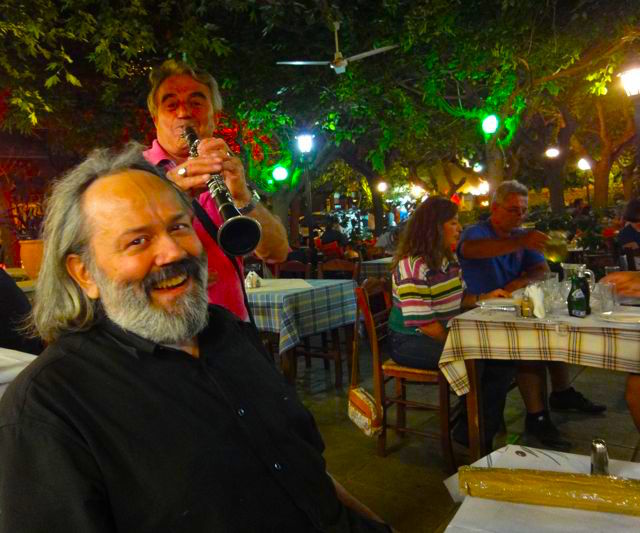 If you want to walk a little farther go up Agia Zoni, another pedestrian street that starts near the middle of Fokionos Negri and you will pass several ouzeries and souvlaki shops as well as a mental asylum and the famous church of which the street is named, before you come to a small square called Platia Platanos where there is an excellent neighborhood taverna called of course Platanos Taverna. The action is indoors in the winter but when the warm months begin the tables and chairs on the platia give you that island feeling in the middle of Athens, or sort of like Plaka but without the tourists and better food, the way it used to be. Platanos was recently sold and is now more of a traditional yet modern cafe-mezedopouleion. Across the street is Meraklides Grill, a popular and highly rated psistaria (grill house) at #60 Agias Zonis. This is probably the most popular place on this side of Kypselis.
There are a couple other interesting restaurants on Agia Zoni including the multi-cultural A One Food. A few doors down, Wisdom Kitchen is an authentic Nigerian Restaurant with a large menu and for those not familiar with African cooking, lots of photos so you can choose your meal by what it looks like, though that does not mean it will taste like it looks. We liked everything except the Nkwobi which unless you are in the mood for a cow's foot you may not be happy with. Kypseli is full of small African, Middle Eastern and Asian restaurants. Some of the African restaurants are more like cafe-bars with food but since their clientele are mostly (if not totally) African, they do it well or as has been described by more than one customer at Wisdom Kitchen, "I feel like I am at home". The most famous and maybe the best is Lalibela Ethiopian Restaurant at 28 Naxou street close to... well not close to anything you know but don't let that stop you from going there. They have been open since 2000 and are open every day from 2pm until midnight. (closed Tuesday) Call for reservations though I am not sure you will need them except on weekends. 6948 473949. See their website.
Closer to Fokionos Negri the smallest bar in Athens Bateau Ivre Athens, is now one of the smallest bistros in Athens, with coffee, cocktails and a simple but surprising menu and lots of outdoor space on the pedestrian street.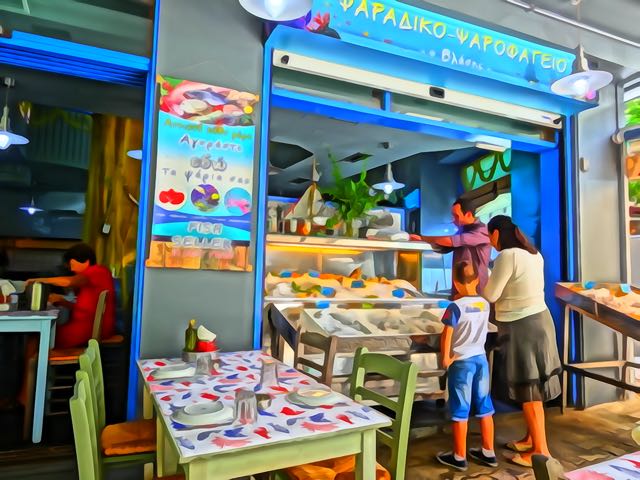 If you are looking for a fish taverna and can live without a view of the sea the popular fish restaurant Blasis Psaradiko-Psarafago on Fokionos Negri is a combination fish market/fish restaurant with a great concept. You buy the fish by the kilo and you pay them to cook it. They also have salads, vegetables and even some meat dishes and a variety of tsipuro and ouzos. The waiters are friendly and speak English. It is always good to have someone who knows what fresh fish looks like when you order at a Greek fish restaurant. If in doubt get the grilled sardines, fried gavros, or grilled or fried fresh kalamari and you usually can't go wrong. Further down check out Roka & Rodi which is a very cool burger and pasta restaurant at 31 Fokionos Negri. They have very nice salads and a big selection of appetisers too. They partner with the gelato cafe next door and both places are nice for getting coffee too. Next door is Geia Kalamaki, which is a souvlaki shop/psistaria with lots of inexpensive meat dishes. Walk down another block and you come to Orpheas which is a music bar and restaurant with an international menu. They have live music on weekends, usually rock, jazz or blues.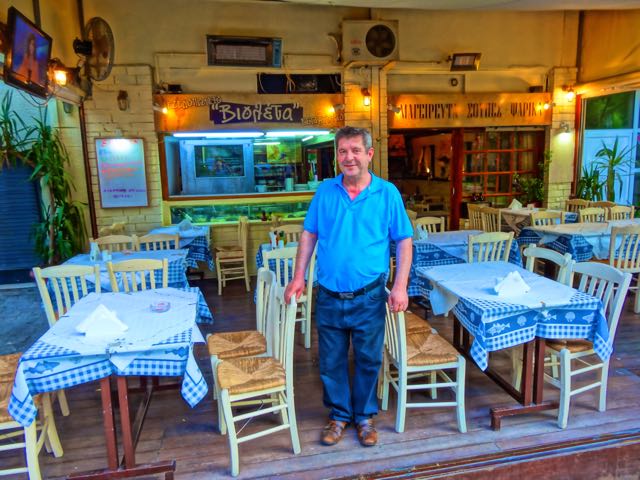 One of my favorite places in Fokionos Negri was Bioletta. It was a Mezedopoleo-Ouzerie that specialized in fish but had a very wide menu and delicious food. If you are inside you felt like you are in a cozy Greek island fish taverna on a cold day. Outside you could watch the parade of people walking by and enjoy fried gavros, grilled octopus, boiled beets, and so many varieties of fish you would start looking around for the fishing boats. They also had a large selection of grilled steaks, chops and salads. This restaurant had been here since 1961 and it was run by two brothers, one who cooked and the other who waited tables. It was the first Kypseli restaurant to be on my website, probably the first to be on any tourist website. In 2018 one of the brothers, Panagiotis, died and the restaurant closed. But I love this photo so I guess I will keep it up in memory.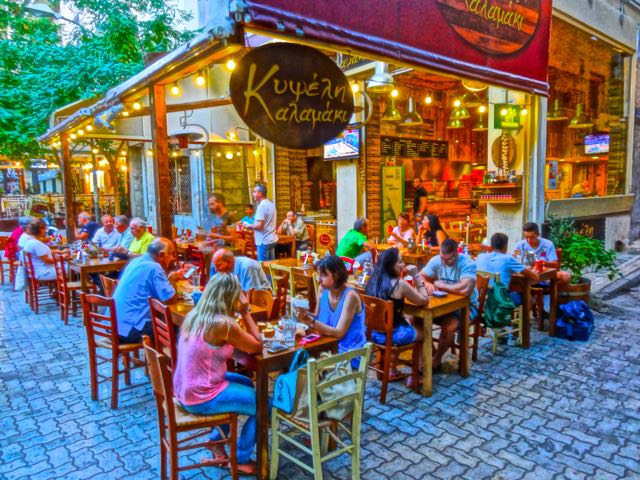 Another good restaurant on Fokionos that is similar to Bioletta is called Mezedomaxies. With an emphasis on fresh fish and grilled meats as well as a large selection of salads and mezedes this combination mezedopoulion-estiatorion is a great place to come on a sunny afternoon to have a lingering lunch with some wine, beer, ouzo or tsipuro. (My daughter says this restaurant and Kot-Kot are the best on Fokionos). The people who own Mezedomaxies also own Blasis Fish Restaurant, a souvlaki shop/psistaria called Kypselis Kalamaki, and a sort of tsipuradiko/ouzeri called Pame Tsipuro-Pame Kafeneion or something of that nature. It is not strictly a mezedes place and you can order stuff that looks like it comes from one of the other restaurants they own. It probably does because they are all next door or across the street from each other. The food is not bad, though slightly formulaic but any of the above restaurants in this family will have better food than just about anything you will find in the Plaka. I came once for a meze and they gave me so many potatoes with my meze I could not even think of having dinner.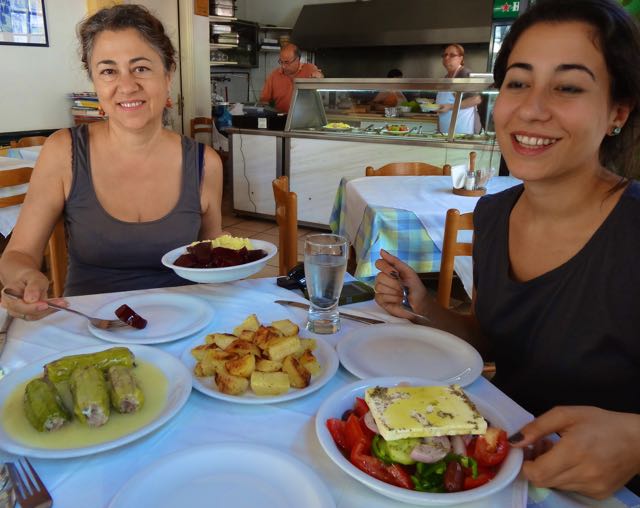 Another good bet is the estiatorio on the corner of Odos Kypselis and Skyrou that is so well known it does not even have a sign that is immediately visible, but it is called H Geitonias (the Neighborhood) and they have excellent food. Like Mary's it is the kind of restaurant you can choose what you want to eat by pointing at it through the glass, though they also have grilled food made to order. It is a typical working class neighborhood restaurant and it is not open at night. But the food is great and the couple who have owned it for ages are very nice too. If you can find it Ambelofila Paradosiako Taverna at 3 Samothrakis Street is one of those old winter tavernas where the clientele are in their 80's and have been eating there since their parents took them there as children. It is off Lelas Karagiani Street. Another old fashioned place so far down Ag Zoni it is almost out of Kypseli is O Thanasis Taverna at 80-92 Ag Zoni.
Ouzo and Meze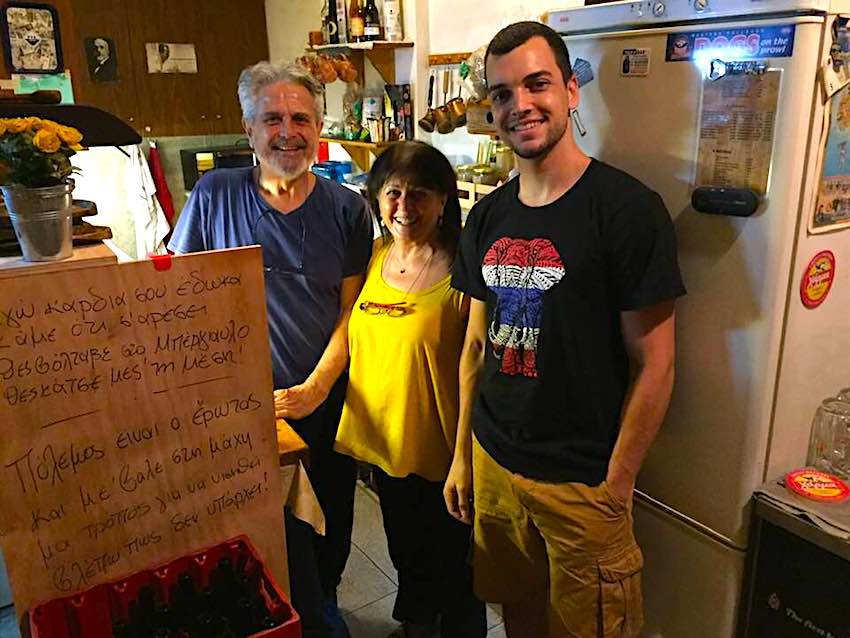 For those who prefer raki and Cretan-style mezedes there is a little hole-in-the-wall Cretan raki place called To Mpergiavlo at 25 Kypselis Street. Very small menu but thatís ok because that means less decisions to make and everything is good. Owned by a nice family from Rethymnon, they have 2 different kinds of loukaniko (sausage), apaki, the world's best potato salad, Cretan cheeses, dakos and a few other dishes in an unspoiled environment that will make you feel like you are in a back alley in Chania, Rethymnon or Heraklion. The menu is in Greek but it does not matter because the waiter speaks English and can tell you what they have and whether there are any specials. It is easy to find too because all the buses that go to Kypseli go right past it. It is between Ithakis and Hydra streets.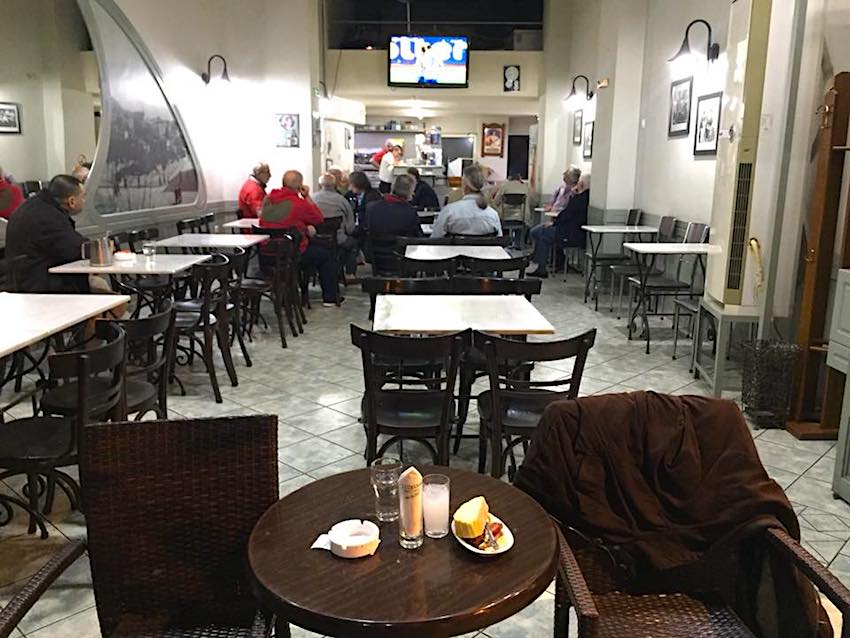 Another of my hangouts for ouzo and meze is the Kosmikon, an old style cafeneon at the very top of Fokionos Negri, right where it meets Platia Kanaris. This is the typical kindf of place that seems to be disappearing from the landscape, where old men go to escape their arguing wives, play backgammon, watch the big game or argue with other old guys escaping their arguing wives. But they have a nice menu posted on the chalk board of enough dishes you can have a decent meal if you like, though I usually just go for the simple meze that you can order with the ouzo, usually consisting of a tomato, cucumber, olives, feta. sausage, meatball, tiropita, gigantes and if I am lucky a piece of octopus or a grilled sardine. I come here for coffee too sometimes when I want a Greek coffee instead of an espresso. If you explore Spetson street there are several old man Kafeneions that have ouzo and meze around Zakynthou Street.
If you want something more sophisticated than ouzo and mezedes go to Fabrica di Vino at 57 Fokionos Negri, a true wine bar, maybe the only one on Fokionos, with over 200 Greek and International wines and actually moved to Kypseli from a downtown location. People say it is the best wine bar in Athens and they serve food too. Another place for wine is the Eprepe Bar on the corner of Ag Zoni and Mithimnis Street just off Fokionos Negri which also serves cocktails and has a modern menu to go with it.
A little further away though technically still in Kypseli, Argiris Argiriou and his father run the popular ouzeri-estiatorio Ippokampos (Seahorse) which serves mostly fish, in fact it feels like you are at a restaurant on the sea if you have a good imagination. They are at 83 Evelpidon, right across the street from the Athens Courts where all their customers come from. For this reason they are open only for lunch, staying open until 5 or as long as there are people there. They are closed weekends. It can be a pretty festive place depending on whether the lawyers and their clients who eat there have won or lost their cases. One of the best, if not the best, places for ouzo and mezedes. The area around it is a small park so like Fokionos Negri you can eat and drink and not be bothered by Athens traffic. The #15 Trolley from Amalias Ave in front of the National Gardens will take you right there if you get off at the Dikastirion (courts).
Also you can get ouzo and meze at any cafe, cafeteria or restaurant on Fokionos Negri. Just ask.
Souvlakia and Psistarias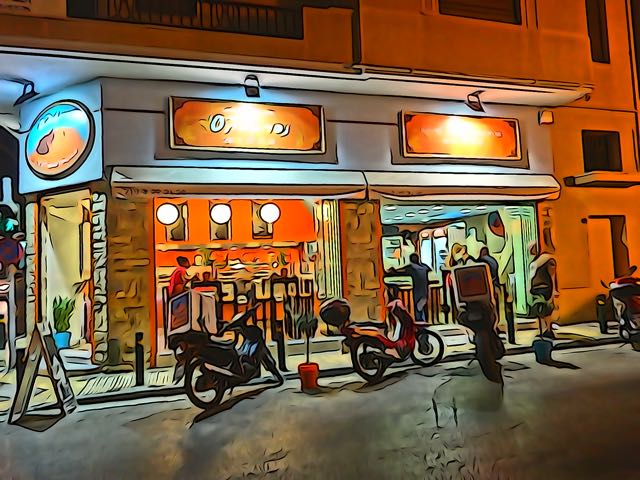 Anyone who loves souvlakia, rotisserie chicken, kokoretsi, kontosouvli, gyros, kalamaki, beefteki, loukaniko, or any other meats that they sell in fast food places, Kypseli has more than its share, and with the slow economy these seem to be where everyone is eating, whether it is to-go or standing only, or an actual sit-down souvlaki shop-psistaria with tablecloths and even wine from the village and a half dozen oven-cooked dishes. You can live on 5 euros a day if you have a tiropita for breakfast, and a souvlaki for lunch or dinner. In fact there are probably a lot of people in the neighborhood who do just that. And almost every restaurant delivers. There is an army of guys on motorcycles bringing take-out from the restaurants to apartments and houses all over Kypseli. Olympos, the souvlaki shop closest to my apartment is AWESOME. They have about 50 different types of souvlaki, plus kontosouvli, kokoretsi, roast lamb, roast lamb heads!!!, rotisserie chicken and whole grilled chicken, ouzo, wine, tsipuro and magerefta. And it is owned by the butcher shop next door that has the reputation of being the best in the neighborhood! It is at #60 Kypselis Street. Try the Fegaropita which is like a souvlaki quesadilla, stuffed with souvlaki ingredients and grilled so the cheese melts all over it. Haris, the owner, is a former professional soccer player and speaks English. They also have magerefta (oven dishes) and will make paidaikia (lamb chops) and provatina (sheep chops) on the grill. They serve wine and beer and you can get a table on the street and watch the neighborhood go by.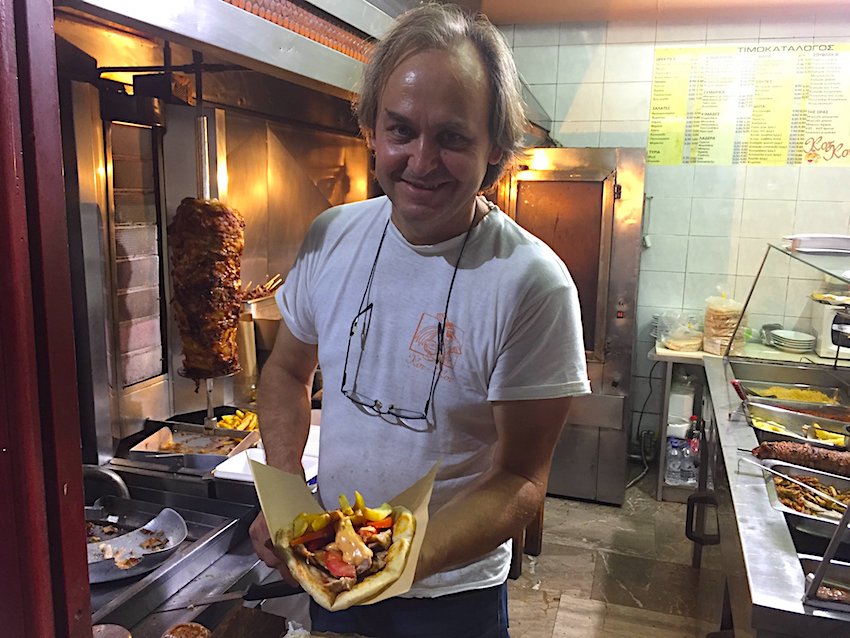 At the top of the square next to Kosmikon Cafeneon is a new laxmatzoun restaurant which sells Syrian and middle eastern style souvlaki, falafel and other yummy stuff when you get tired of Greek food. Next door is Kathygitis tis Pitas which has all sorts of souvlakia, rotisserie chicken and other meat dishes and an old mural of Kypseli that is worth seeing if you are nearby.
From the bottom of Fokionos to the top of Platia Kanaris there are at least a half dozen other souvlaki shop/psistarias. The best among these is called Rigani, a small souvlaki shop which is at the very bottom of Fokionos Negri which is in the running for best souvlaki in Athens. A few doors away is Tastes of Damascus, a small falafel restaurant with a number of other dishes suitable for vegetarians and vegans.
If you are poor and want a souvlaki for even less there is good news for you. Right at the Zakynthou bus stop between the Rialto Theater and the Kypseli high school is Mr Euro. Souvlakis cost 1.30 euros and they have outdoor seating at the pedestrian street next to the restaurant. You can get a rotisserie roasted half chicken for 3 euros.
Coffee and Breakfast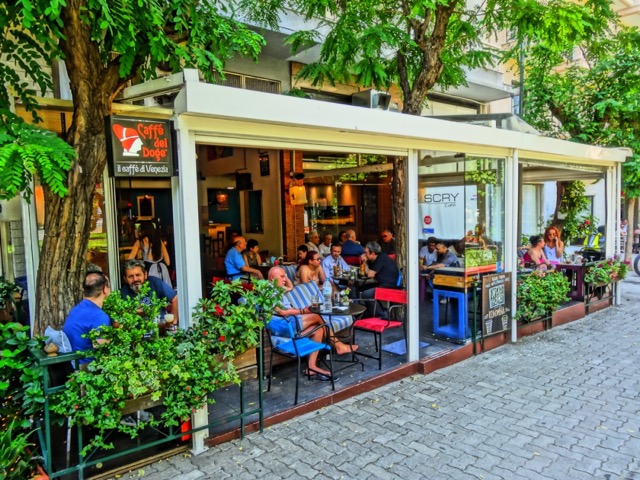 If you like coffee then you came to the right place. Fokionos Negri has at least a couple dozen coffee shops that double as bars or triple as cafeterias, which is what they call cafes that serve food and drinks. If good coffee is important to you the best I have had is at SCRY at #34 Fokionos Negri and at Conito which is on Odos Kypseli (Kypseli Street) right across the street from the 15th Lykeio (High School) and the Church of Agios Dimitrios. Both places specialize in fresh ground high quality coffee which they advertise proudly. They also serve simple toast and a few things that could pass for breakfast though if you are looking for a hearty meal you may have to sacrifice coffee quality. Right by the old agora on Fokionos Negri is the After Crepe and they have waffles, omelets, crepes and a lot of other things that could pass for breakfast. All the cafes have food of some sort and if your idea of breakfast is some kind of sugary cake then you can go just about anywhere. There are also several big name bakery cafes at the bottom of Fokionos which have all sorts of stuff. Plus if a place does not have anything that appeals to you, be patient and a guy will come around who sells koulouria from his motorcycle and you can have a real Greek breakfast. If you want bougatsa, spanakopita, tiropita and other traditional Greek fast-food breakfasts I recommend Vadaris Cafe at 56 Kypselis street, a Thessaloniki style pita place where everything is made on the premises. They have a small table outside where you can drink your coffee and watch the traffic of Kypselis pass by.
A couple more of my favorites are The Bee Hive which is across the street from Conito and reminds me of a cafe in an American college town. They have lots of food that is suitable for breakfast, and there is a Thessaloniki style bougatsa place that has lots of pitas and as most people know bougatsa is the perfect breakfast, full of carbs and sugar. It is at 55 Kypselis Street. If you want coffee without food go to Coffee Island in Kanaris Square. Also on Zakyntho 13 Morning Sweetie specializes in high grade African coffee, pastries and a large well lighted room with lots of plugs, perfect for travel bloggers and academics who want to work but not in their apartments. Several new coffee shops have opened and all specialize in high grade, high octane coffees. Morning Sweetie at 13 Zakynthou serves, coffee, cakes and snacks in a well lit atmosphere perfect for digital nomads. Across the street is Cultivos Kypseli which is similar but has a big outdoor area in the back and serves food and drinks as well. On the corner of Zakynthou and Syrou is Kapu which serves coffee and snacks and cocktails. Dope Roasting Company has two locations, one in Kypseli at 49 Fokionos Negri and the other is in Psirri. There is also a Coffee Island in Kanaris Square and Il Toto Boutique Roastery at 59 Kypselis Street. All these places make excellent, if not amazing coffee and sell it in bulk ground or whole bean.
Bakeries and Zacharoplasteions (Pastry shops)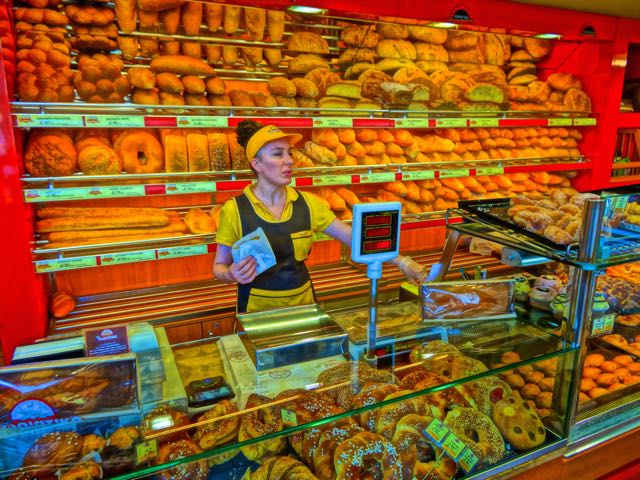 Kypseli must have more bakery-zacharo plastions (sweet shops) than anywhere else in Athens if not the world. At the intersection of Kypselis Street and Agiou Melitiou there are at least five within a block of each other. These shops have amazing looking pastries on display in the window or in glass cases inside and of course they have baklava, kataiffi, tiropitas and spanakopitas of all different shapes and styles. They also have several different breads, from your every day horiatiko (village-style)to dark brown whole wheat of different sizes and textures. Gone are the days when you only had to choose between two types of bread. Now the morning visit to the bakery requires decision making. Many of these bakeries are Albanian owned and stay open until 2 or 3 in the morning. Even when they are closed there seems to always be someone working hard in the back and the smell of baking bread and cake fills the air in Kypseli. Several, including one on Agia Zoni still used wood-burning ovens. My friend Anastasia swears by the small bakery of Afoi Mandelou on Hydras street between Spetson and Odos Kypseli. They have wonderful little apple and cherry pies, whole grain breads and loads of cakes, cookies, spanakopitas and pastries.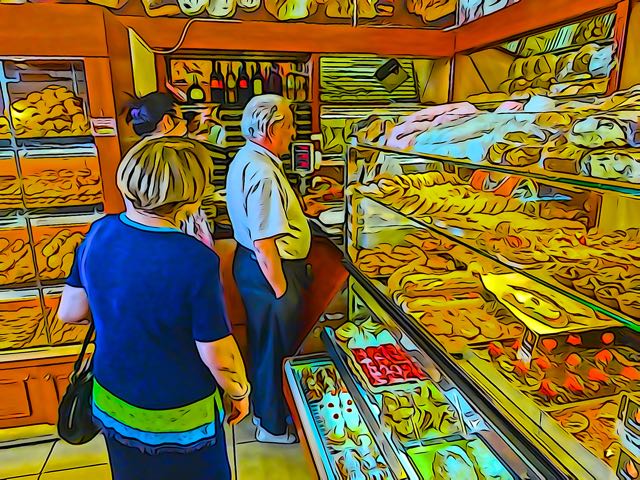 The brightly colored Bardaris at 54 Kypselis Street features bougatsas, tiropitas, spanakopitas and other specialties from Thessaloniki and really only lacks more outdoor seating to be a cool place to hang out and watch the people get off and on the buses. Still I come here for morning coffee and some of the best spanakopitas and tiropitas in Athens, made fresh every morning, and sit at their one table and get to know the neighborhood. A couple doors down on the corner of Zakynthou is a large bakery-zacharoplasteion with a huge selection of baked goods and some of the most amazing pastries you will ever see or eat. And in Platia Georgiou, Skafaidis zacharoplasteon is known throughout Kypseli for their fancy pastries and galatoumbouriko-kataiffi and the amazing seasonal candy displays they create, especially at Easter. I probably don't need to mention that like most cafes in Athens, those on Fokionos Negri have amazing traditional deserts, ice-cream and fancy pastries. And for those with a super sweet tooth will be happy to know that along with the usual cafes on the lower part of Fokionos, there is a big Max Perry Chocolate Factory.
Grocery Stores and Markets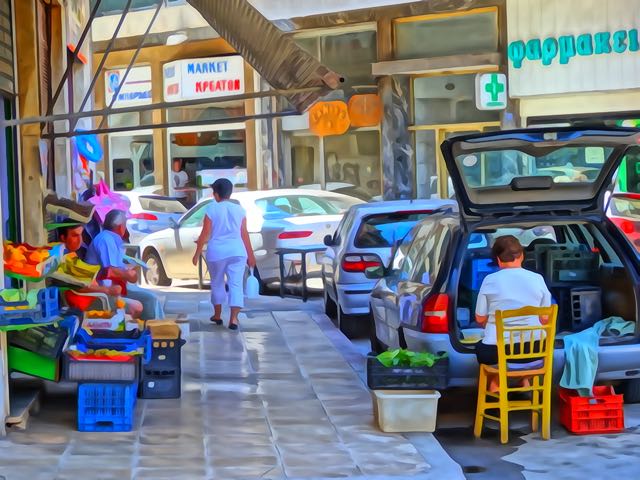 Kypseli is dotted with ethnic grocery stores that serve the needs of its large African population as well as Albanians, Pakistanis and Russians. Some of these shops carry only a few items and you wonder how they stay in business, but they are supported by the people from the country or village of the shop's owner. They usually stock normal everyday items that you would find in any small grocery store in Athens plus products from their home country and each is somewhat unique. Of course there are a number of small Greek grocery stores like the small fruit and vegetable shop on Zakynthou Street. There is a herb shop, fish market, meat market and other shops within a stone's throw of the Demotiki Agora and scattered throughout Kypseli. The most interesting food shops are the Polish Deli-Pantopoleio (everything store) which have popped up and sell items you might find in your local gourmet store. Kielbasas and various smoked meats and sausages, different types of pickled and smoked herring and other fish, sauerkraut, pickles, soups, frozen pirogis, vodka, Polish beer and hundreds of canned items. My favorite places are the shops that sell nuts like the one at 54 Kypselis street where you can get fresh pistachios, roasted almonds, peanuts, cashews, sunflower and pumpkin seeds and all different kinds of chocolates and liquors. There is also a great 24 hour market at 55 Kypselis Street which reminds me of those Korean markets in New York City.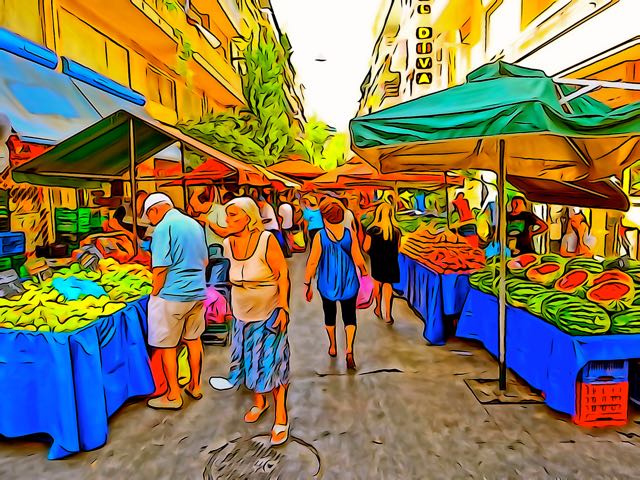 Along with the various ethnic and Greek markets and vegetable shops there are several chain supermarkets in the area. There are also three very large laiki agoras (people's markets or farmer's markets) which go for blocks on different streets on different days of the week. On Thursday the market is on Sporadon and Tinou streets for 4 months and then moves to Hydras street starting at Platia Georgiou for the next four months. On Tuesday the market starts at the top of Fokionos Negri and goes down Lelas Kardiayianni all the way to Patission, and of course on Saturday there is the Organic Market in the Demotiki Agora. Altogether you have plenty of opportunities to buy fresh in season fruits and vegetables, eggs, olives, fish, plants and other edible and non-edible goods if you live in the neighborhood. For those who are just visiting Athens these markets are as fine an example of the laiki markets and worth coming to see at any time of year. Fruits and vegetables seem bigger, better and healthier looking than your normal supermarket variety and they are a lot cheaper too. Bargain hunters come at the end when the prices drop because no farmer wants to bring his vegetables back home with him.
For those who need to know whether there is a health food store nearby there are several including Miravilis at 42 Sporadon and Natural House which is more of an herb shop at 43.
See Kypseli Market Photos and for those of you who are confused by the names of all the dishes served in the above restaurants you can read more at www.greecefoods.com