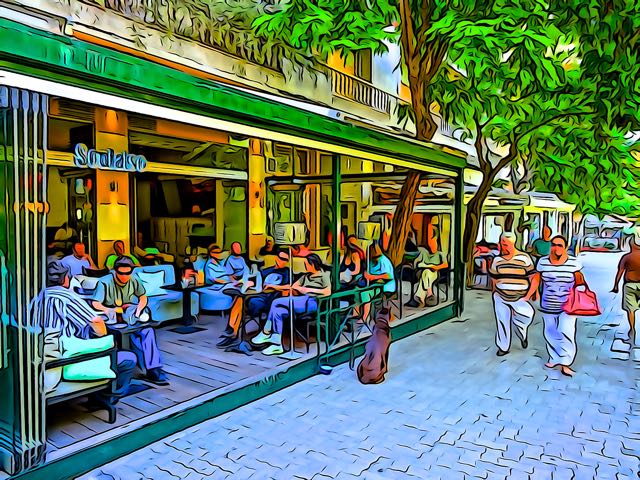 The centerpiece of Kypseli is a wide avenue that follows the course of a river, or what passes for rivers in Athens but what you or I would call a stream, brook, creek or ravine where rainwater runs down. The 'river' that comes down from Toukovounia was covered, paved and called Fokionos Negri. In the seventies, in one of the smartest moves ever made by city planners in Athens they closed it to traffic, tore up the concrete and asphalt and turned it into a long park with stone sidewalks on either side. Both sides of the pedestrian avenue are lined with cafes. Some are very modern with room for hundreds of people and pop music playing all day long for young patrons drinking espressos and frappe, served by beautiful young waitresses, which open at 9am and close whenever the last customer leaves, usually well after midnight. Others are smaller, some former cafeneons which have been turned into cafe-bars with just four or five tables outside and not many more inside. All the cafes have their own distinct personality and colorful names, some are popular and some you wonder how they stay open. They all have tables and chairs outdoors and in the spring, summer and fall it is the kind of scene that people go to Paris looking for. No cars. (Okay, the occasional motorbike but what can you do if the police won't stop them?) Just grass, trees and people passing by, on their way to work, home, to shop, or walking their dogs.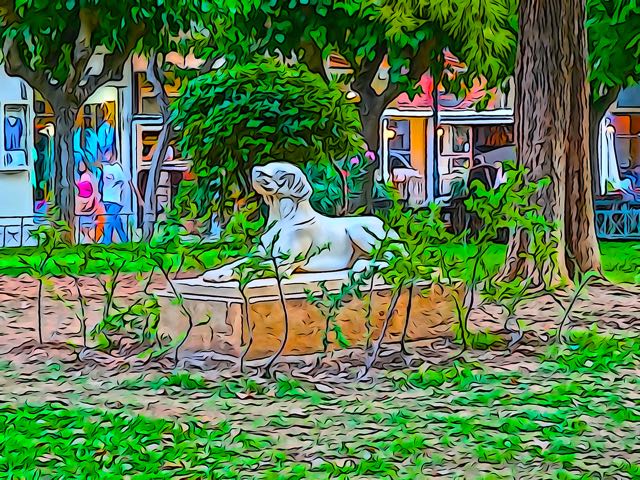 If I was going to choose one character to represent Kypseli on the neighborhood flag or emblem it would be a woman walking her dog on Fokionos Negri, probably in her mid thirties, pretty, single, bohemian and independent. Near the top of Fokionos is a statue of a large dog, sort of the Patron Saint of Fokionos. The Kypselians love their dogs and you could create a calendar of the different dogs and their owners and have a unique photo for every day of the year. Of course their love of dogs makes for difficult walking on some of the sidewalks of the back streets and I would not roll carefree in the grass of Fokionos on a beautiful spring day. Once pooper-scoopers become law things will get better though probably because at that point some people may decide it is too much of a drag to have a dog. Until then the dogs own the lawns and the kids play football and ride their bikes on the paved plazas of Fokionos Negri. But Kypselians who walk their dogs on Fokionos do seem to be responsible and clean up after them.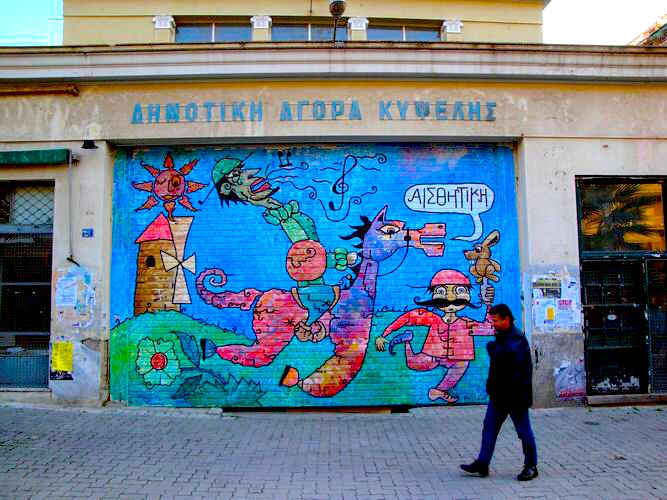 Half way up Fokionos Negri is the old Demotiki Agora built in the 1930s and which was at one time a smaller version of the central market on Athinas street. For those who saw the seventies film 'For The Love of Benji' the Agora has been immortalized as the place where Benji the dog steals a string of sausages and runs down Fokionos (when it had cars) and magically appears in the Ancient Agora below the Acropolis to share his bounty with one of the Athens street dogs, who even back then were large, lazy and full of personality. When Benji returns to try it again he is captured by the locals and..... well I don't want to spoil it for you. But the Agora closed and as usual the city wanted to tear it down to make a parking garage, not a bad idea but too little and too late, and in the wrong place. There were protests and the building was occupied by the people of Kypseli and turned into a venue for community activists and other sensible Kypselians. There was a cafe, several small gallery spaces with photo and art exhibitions, a library, and a school that gave free Greek lessons for foreigners The central area of the market was used for showing documentary films, discussions, lectures by visiting scholars, environmentalists, city planners, and other community events. They even had dances here with live music. On Saturday the Demotiki Agora hosted an Organic Market where you could buy seasonal vegetables and fruits, home made bread, olive oil and even organic wine. The shops that were displaced when the market closed are now located on the small streets around it. Recently the city took over the market again and put in a KEP which is a government organization that helps citizens make their way through the Greek bureaucracy and brought in shops and organizations and has turned it into a sort of community center. Now it has become the cultural center of the multi-cultural Kypseli with organic markets, food fairs and ethnic festivals and all sorts of musical, artistic and social events.
Most of the cafes on Fokionos are at the bottom, a block from Patission Street. Some cafes costs millions of euros to build and seat several hundred people on a good night or afternoon and some are small and intimate like Foibos at #19. Which place you prefer will probably depend on how old you are and what kind of music you like. Most crank out mindless pop but several show good taste in music selection and volume. Foibos for example caters to an older crowd of writers, musicians, poets and people who read books instead of fashion magazines and their music reflects this, playing jazz, blues, classical and sophisticated pop and rock music. Several of the larger cafes have live music or karaoke on weekends. Orfeas also features live music on weekends and special occasions and they also have the biggest and best bar.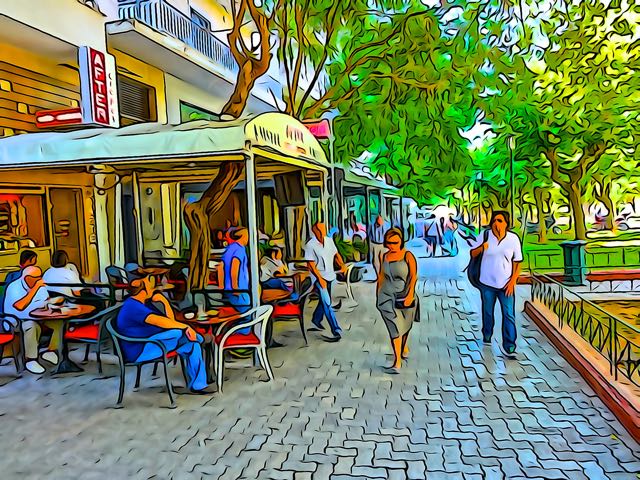 Most of the other cafes are strictly coffee, alcohol and deserts but they all serve food of some sort and some of them have an actual chef and an international menu. The others make up for what they lack in nutrition with many page menus of fancy cocktails, coffees and amazing looking deserts. On Sunday they fill up with families and couples who come to talk, drink coffee, eat sweets and read the paper while watching the parade of people who walk up and down Fokionos all day long. On weekday and Saturday morning the cafes and sidewalks belong to the elderly. By afternoon the young people are moving in and by evening many places are full. If there is a big game on it will be on the big screens of every cafe, and as in most places in Athens the Bangladeshi selling their flowers make their rounds among them. My current go-to place is SCRY, which has some of the best coffee on Fokionos, as well as a large assortment of teas, a nice beer list and a couple German beers on tap. I also go to The Happening for the same reason. But to tell you the truth I could probably have picked any cafe at random and that would have been my favorite. However, if you like good music (jazz, blues, soul etc) with your coffee I think your best option is Foibos unless you want to walk to Allotino in Platia Georgiou. Most of the other places play Greek and American modern pop because the clientele is mostly young people and the old people don't seem to care what is playing. Beetle is probably the coolest place to go at night to hear a variety of good recorded music, but these cafes come and go so if you come for the nightlife listen for music you like and look for comfortable chairs.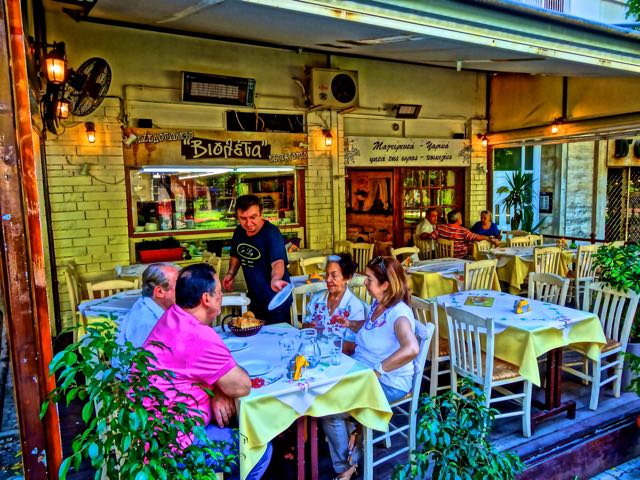 There are several souvlaki shops, and some tiropita places as well as a popular zacharo plasteon (pastry shop) at the bottom of Fokionos, but the restaurants begin after the Demotiki Agora. There are several good ones, even the worst is better than most of what you will find in the Plaka if you are in search of good food and wine in a non-tourist atmosphere. At the very bottom of Fokionos is a tiny souvlaki shop called Rigani, one of those that some people will tell you is "the best souvlaki shop in Athens". I can certify that it is a good one. The best? Possibly. Next door is the Syrian Falafel restaurant Taste of Damascus. Mezedomaxies is a combination estiatoria-mezedopoulion where you can get anything from fresh fried or grilled seafood, grilled meat, oven roasted dishes, salads and fresh vegetables and lots of stuff to go with ouzo if you choose to go that route. It is an established place that has been there for years, friendly, clean and comfortable, with tables outdoors for nice weather, and covered and heated outdoor areas for the coldest days and nights of winter. Blasis Psaradiko-Psarafago on Fokionos Negri is a combination fish market/fish restaurant with a great concept. You buy the fish by the kilo and you pay them to cook it. It is best to know what good fish look like before you choose. Look for clear eyes. Across from the old market is Roka & Rodi which is a very cool burger and pasta restaurant at 31 Fokionos Negri. They have nice salads and a big selection of appetisers too. R Blank Wall Gallery at 55 Fokionos Negri,is one of the few photography galleries in Athens. Owned by professional photographers, their exhibits feature Greek and international artists, some well known, some not so well known. Every show I have been to I have been amazed at how good the photographs were.
There are several other restaurants on Fokionos including a psistaria (grill house), a couple doors up from the Demotiki Agora where you can go for an inexpensive meal of souvlakia or splurge and spend 6 to 8 euros on a plate of roast chicken, pork or lamb. Towards the top of Fokionos at #72 is O Mbakalogatos, owned and run by chef Giorgos Kantelis who you may have seen on TV. This is one of the first and best of the traditional-modern mezedopoulions in Athens. They offer a large selection of mezedes for ouzo, tsipuro, raki and wine drinkers as well as a number of interesting entrees including several traditional Greek pasta dishes, grilled meats and fish and other specialties, cooked and presented in a neo-Greek style that is fashionable without being too pretentious and yet is totally traditional. This is one of the best restaurants in Athens with many dishes created by Giorgos' mentor Panayotis Papanicholao one of the most well known and respected chefs in Athens, who often drops in to cook or just talk food. It is well worth going out of your way for even if you have to take a taxi here and back. (The restaurant will call a taxi for you when you want to go home).
Among the many cafes, restaurants, and fast-food places on Fokionos Negri you will also find several boutiques and men's clothing shops, a vintage clothing shop at #60, an elementary school (which I would not even mention except for the fact that it is so cool to see Greek, Albanian, Arab and African children all playing together).
About half way up Fokionos Negri there is a small pedestrian street called Ag Zoni named for the large church a couple blocks up. There are several interesting restaurants and cafes including Eprepe Bar on the corner of Ag Zoni and Mithimnis Street which serves wine, cocktails and food, and Bateau ivre Athens, which is similar, trendy, small, crowded and fun. If you continue down the street you will come to A One Food which is like a souvlaki shop for every country in the world that has anything resembling a souvlaki as part of their cuisine. A few doors down is Wisdom Kitchen, a Nigerian restaurant so authentic that Africans from all over Athens come here to eat. If you keep walking you will come to Platanos Square where you can eat or drink in a village atmosphere at one of the cafes or at the Mezedopoulion Platanos, owned by the excellent, and famous psistaria across the street: Meraklides Grill. Along with several new small bars and cafes opening on this up and coming street is the Georgian Bakery Marili at Ag Zoni #26 which has all sorts of stuffed pitas, pastries, cakes and other dishes.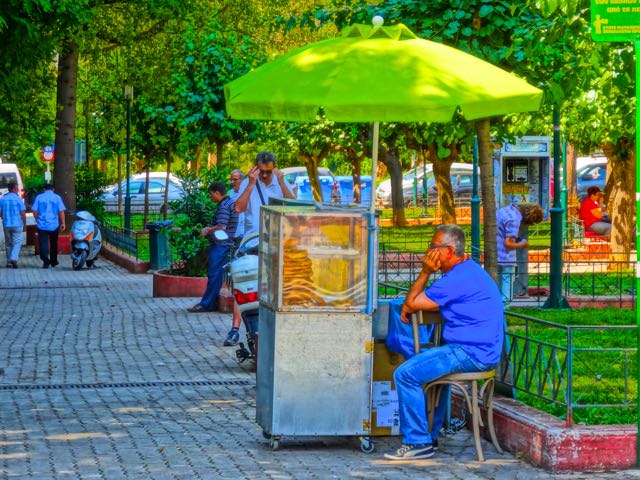 At the top of Fokionos is Platia Kanaris (currently a construction site while they extend the metro.) There are several small cafes and fast food joints and one of my favorite hangouts, a typical old guy cafenion called Kosmikon with tables and chairs outside and in, excellent Greek coffee and espresso in a no-frills atmosphere where old men talk loudly and play cards and tavli (backgammon). It is the kind of place that you can find all over the city but which are slowly dying out or moving to the back streets where rent is cheaper. Like many others Kosmikon serve nice simple mezedes with ouzo and even serve meals to their customers, many who have been coming for 50 years or more.
Platia Kanaris (also known as Platia Kypselis) is where you can catch the 2 or 4 trolley back to central Athens. (If you are staying at the Hotel Attalos the easiest way to get to Fokionos Negri is to cross Athinas street and take the small 035 bus and get off at Platia Kypseli.)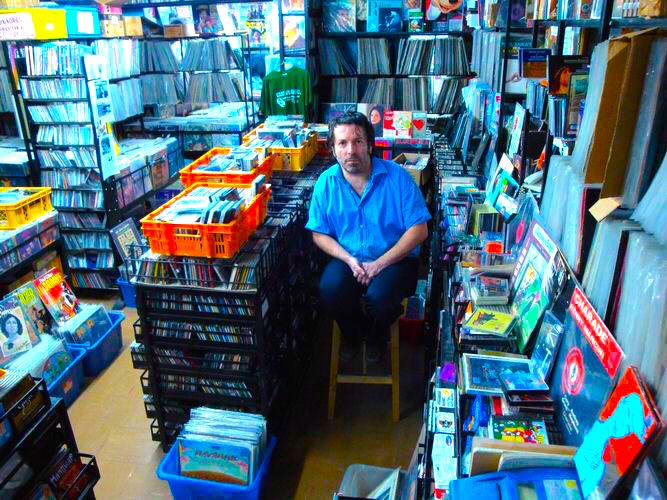 Of special interest is a vintage record shop on the square, right by the bus stop. Aris is the owner of New Sound: Fokionos Records and CDs on Platia Kypseli. Not only does he bare an amazing resemblance to John Cusak in the movie High Fidelity, but he has just as many albums. If you are a vinyl collector then this place will be like paradise for you. He has over 180,000 albums, CDs and DVDs. If you are looking for something in particular call him at 210 8811662 or e-mail him. In the square parents bring their children to play on the swings and feed the pigeons, older kids play football and ride their bikes, and old men and women share the park benches, talking or even playing a game of tavli. If you hang out in the square for an hour or so a day you will see the same people and you will realize that this is more than a hive of activity. It is a community, a neighborhood like you would find anywhere in Greece whether its a large town, small city or even a village on an island. It just happens to be in the center of Athens.
Eric Clapton in Kypseli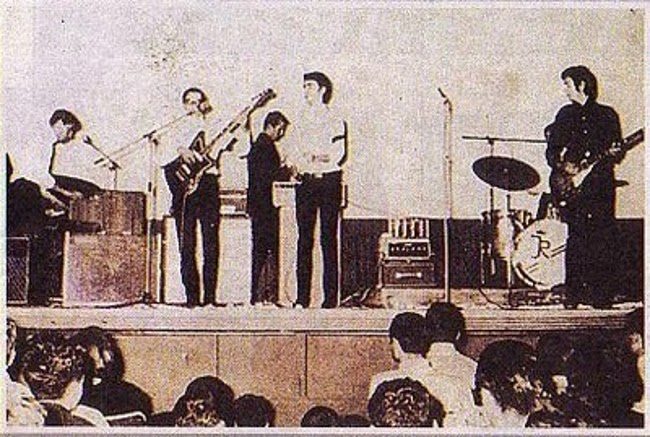 There is a little known story from the annals of Rock and Roll history that in 1965 a then twenty year old Eric Clapton and some British musical friends formed a band and came to Athens where they auditioned and got a job at The Igloo Club on Fokionos Negri, at the intersection with Drossopolou, owned by a gentleman by the name of George Karamousalis. When they got the job they called themselves The Faces and played covers of Chuck Berry and Rolling Stones songs among others. (Not to be confused with the Small Faces who later became The Faces when Rod Stewart joined). They were the opening act for a popular Greek band called The Juniors. When a car accident killed a member of the Juniors and injured their guitarist, Clapton filled in and was playing in both bands, sometimes ten to twelve hours a night. When a rival club owner turned in The Faces for not having work permits, and the hotel they were staying at demanded the money that the club was supposed to be paying for them, the band decided to get out of town. Only by now the club owner realized that Eric was a former member of the Yardbirds and worth keeping around. The band decided to escape and after a concert at a movie theater, as they used to do in those days, they were able to get all their equipment into and on top of a taxi and drove to the train station and got out of the country. The photo is from a memorial concert in Pireaus at the Terpsithea Theater on October 10 1965, with Eric Clapton on the right, playing with the remaining members of The Juniors. Eric was able to retrieve his guitar but his Marshal Amp stayed in Greece and what happened to it is one of the unanswered mysteries of Rock and Roll.
Eric Clapton Statue Initiative
What if the community of Kypseli put a plaque commemorating the club and a statue of Eric Clapton in Fokionos Negri? Would you come to visit it? Do you think it is a good idea? Let me know by e-mail.