The Matt Barrett Cure for Jet lag and Insomnia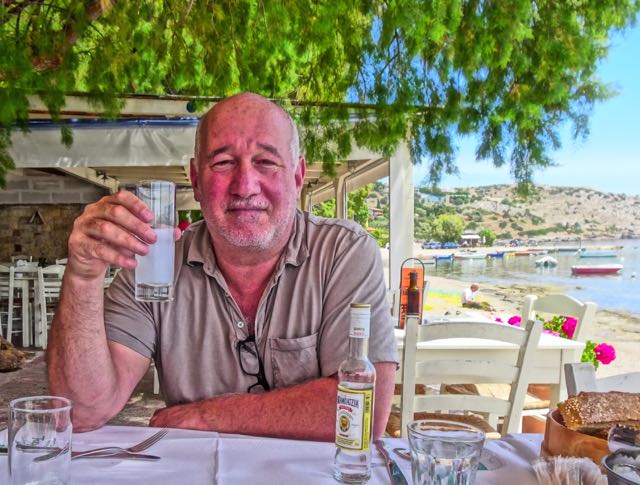 Everyone who travels regularly to Greece has their own method of coping with the time change. Here are some of the things I have done that have helped:
Don't get drunk on the flight. Yes you may fall asleep but if you don't you will feel lousy when you land.
Drink lots of water.
Try to sleep on the flight or stay relaxed. Some herbs are great. One flight I took kava-kava which made the whole thing bearable and I actually dozed for a couple hours. Valerian can work too and everyone has their favorites. Some drugs are nice too but make sure you are under the supervision of a doctor or at least a friend who takes a lot of drugs.
Don't take LSD or hallucinogens on a flight. It is not really the right environment and you will probably end up annoying your neighbors.
Get a flight that has individual TV screens so you can watch a movie or several. If the movies are good you may even want the flight to last a little longer. If you have an ipad download a few movies.
Take a shower when you get to Athens. If it is morning or early afternoon take a walk and check out the city. In other words hit the ground running. Come back when you get tired and take a nap for a couple hours. Have dinner and sleep at a reasonable hour (before 4am).
If you take Melotonin or valerian use it that first night. The sooner you get into the normal sleep patterns that everyone else is on the more you will begin feeling like yourself again.
Take ferries. If you have a cabin that is great. If not bring a sleeping bag or a mat that you can lie down on. The movement of the ship and the sound of the engine is like a lullaby. If I am laying down on a boat I can read about 2 pages before dozing off. When the engine stops or even slows down when we enter a port I automatically wake up.(usually)
Once you get to an island jet-lag becomes a non-factor and can often work in your favor.(You can party longer)
A Very Good Plan for Post Flight Trauma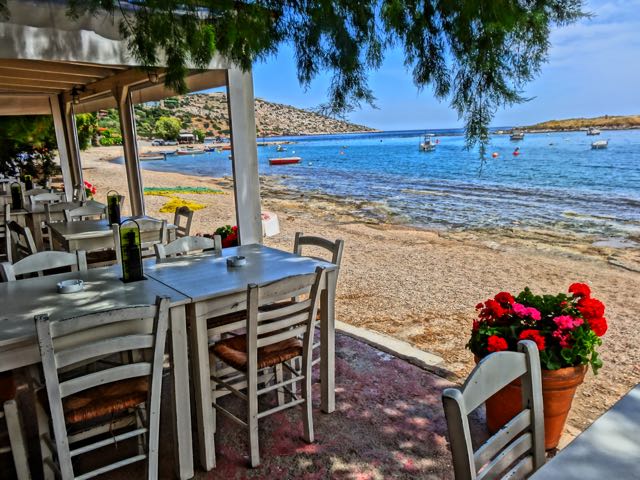 The last two summers I have come upon a great way to enter Greece and not suffer jetlag or any ill-effects of the flight. Because I come direct from the USA my flight usually arrives early in the morning but even if you arrive in the afternoon this will work. I have George the Famous Taxi Driver meet me at the airport but I don't go straight into Athens to my hotel and fall into bed just because I am exhausted and it looks so comfortable. I have George take me to the beach. Any beach will do but we go to one close to the airport called Daskalio because it looks and feels a lot like a beach on a Greek island. I pack my suitcase so that my bathing suit is right at the top and easy to get to and I ask George to bring me a towel, which he is happy to do. As soon as I dive in the sea the flight is forgotten. No matter how tired I was I feel revived and rejuvenated. (Andrea refuses to jump in the sea but she is happier when she is miserable). Then after twenty minutes or so of relishing the fact that not only am I in Greece but an hour after getting off the plane I am actually swimming in the Aegean we go to a nearby taverna for lunch. In Daskalio we went to Litsa's Psarotaverna (photo), which is a quiet little family run fish taverna right on the sea. (Kostas Psarotaverna a few feet away is a little bigger but it is really good too.) After a nice meal of fried barbounia (red mullet), grilled sardines, vleeta, horiatiki salata (Greek village salad) and maybe a glass or two of ouzo I feel like I never left Greece. I am in the groove.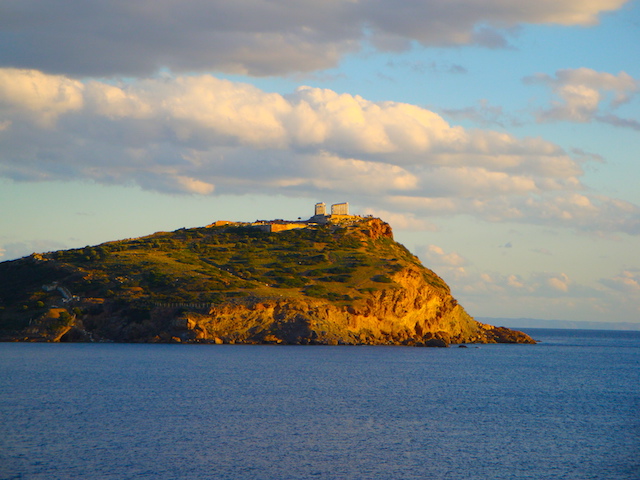 A variation of this for someone coming to Greece for the first time might be to go for a swim and then go to see the Temple of Poseidon at Cape Sounion and then go and have lunch or a snack at one of the fish tavernas around there. Then continue on your journey into Athens, check into your hotel and if you want to take a short nap that is fine. When you wake up you will be ready to go. Usually when you have jet lag your sleep cycle is messed up and the third day is the worst and then it gets better. But the last two trips to Greece I have not suffered from jet-lag at all and I really believe it is because of taking that first swim and having a nice lunch rather than going straight to the hotel. I also discovered that I did not start dragging after dinner either and was able to hold my own in the tavernas til the wee hours of morning, go to sleep, and awaken feeling great. Maybe it is just me and you are made up differently. But it is worth a shot don't you think? And it makes the flight so much easier knowing that you won't have to wait a day after getting into Athens to be swimming. If this sounds tempting contact George the Famous Taxi Driver and if you don't feel like packing a towel ask him to bring one for you.
A Typical Story of Insomnia...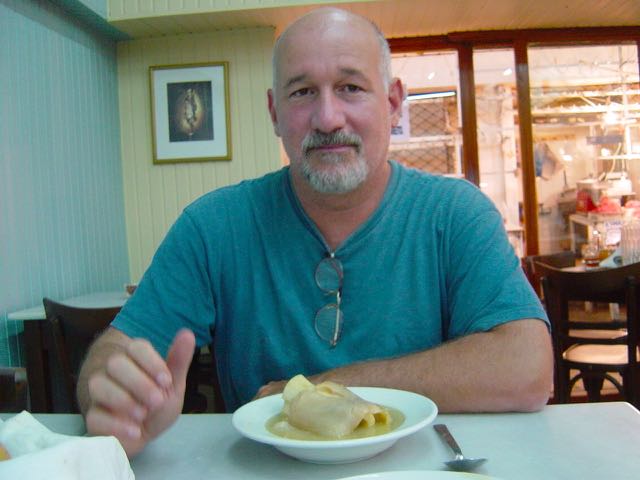 It's four in the morning and I'm wide awake. Too late for Melatonin. I can read ZORBA THE GREEK but Andrea is asleep and I don't want to wake her by turning on the light. So what can I do besides lie here and listen to the early morning sounds of Athens. I get dressed and leave the hotel heading in the general vicinity of the giant church on Metropoleos Street which runs between Syntagma and Monistiraki square. When I find the church and the large platia, I walk down Metropoleos until I get to Monastiraki. I turn right on Athinas street and walk away from the Acropolis and past the Hotel Attalos (where I usually stay but it is booked full) towards Omonia Square. Strange people walk by me but they seem more nervous then I am. After a few blocks I come to my destination, the Athens Market. I turn into the meat market where small trucks are unloading carcasses of beef, lamb, chickens, rabbits, pigs and even an occasional wild boar that looks like a small woolly mammoth. The market is actually several streets of shops covered by a large roof.
When I reach the end of the street I walk into the restaurant on my right called Ipirus. There's another on the next corner equally as good called Papandreau. Even at this hour it is full, a mixture of workers and people who have stopped for a late meal after a night on the town. Women in mini-skirts and high heels next to butchers in blood-splattered aprons and fishermen in overalls and boots. On stoves giant pots of beans, chickpeas(rivithea), beef, lamb, peas and potatoes are simmering or boiling. Most people are eating patsa, a tripe soup endowed with mysterious life- giving properties that the workers swear by. At this time of night this is the center of activity in Athens and patsa (or podi-which means foot) are the elixir of life. Feeling a little under-the-weather? A hearty bowl of patsa will fix you right up. Hung-over? No problem. Make sure you eat all the strange pieces of meat even though some of it resembles indoor plumbing. You're sure to feel better and it tastes better then it looks, providing that the intestines were cleaned properly. There's no better way to start the day or so they say. Men yell back and forth and greet each other heartily, then go off to open their stalls for the customers who will be arriving soon. I love the Fish market. It's my favorite place in Athens, and at six in the morning it's really happening. In a few minutes I have walked through. Andrea will sleep until ten. What shall I do until then?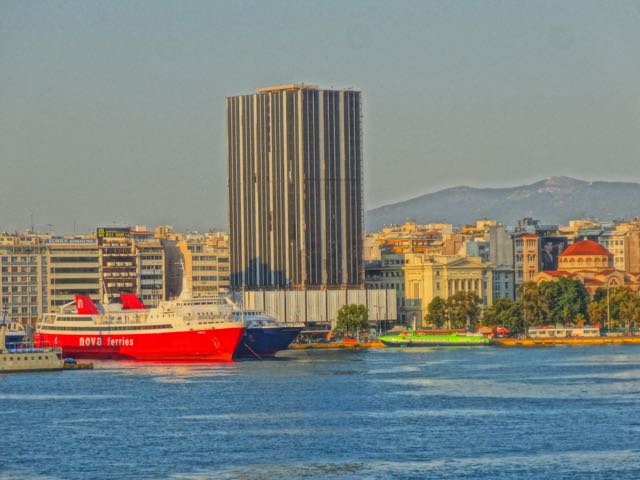 I could climb the Acropolis since it is early and won't be hot or crowded. But since I have done this a hundred times already I walk back to the Monastiraki train station, buy a ticket and walk to the right side of the tracks and take the subway to Pireaus. The train is full of people on their way to catch the boats to the islands. I get off at the last stop and cross the street. Ships are coming and going. The docks alive with activity. The sun is rising over Athens. Passengers are boarding ships. Port policemen and merchant marine are blowing whistles and guiding large trucks up the ramps of the ferry boats. Ice-cream for the Western Cyclades, fruit and vegetables for Santorini, cinder blocks, orange juice, everything you can imagine being loaded in trucks to be distributed to shops and restaurants on the islands. Ships and boats of all sizes. Giant ferries to Crete and Lesvos, just now arriving from their nightly journey, are to the right. In front of me the mid-sized boats to Mykonos, Ios, Santorini, Sifnos, Milos, Kithnos, Serifos, Paros , Naxos, Samos, Ikaria, Tinos and Syros . To my left are the smaller boats that go to Aegina, Poros, Hydra , Spetses, Salamina and Angistri. Beyond are the ships to the Dodekanese, Kalymnos, Kos, Rhodes, Leros, Patmos, and Symi. Beyond these are the cruise ships, just in for the day or night before leaving to hit every heavily touristed port in the Eastern Mediterranean. I would love to be on one of the ferry-boats right now, and in fact I could probably be to Salamina and back before Andrea wakes up. Instead I walk to the train station and home to the hotel to help my family greet the new day.
Help Support Matt's Greece Guides
Do you enjoy using my site? Have you found it entertaining as well as useful? If so please show your appreciation by booking hotels through the travel agencies and the links found on my Hotels of Greece site. The small commission I make on the bookings enable me to keep working and in most cases you won't find them any cheaper by searching elsewhere. You can find hotels in Greece by location, price, whether or not it has a swimming pool, and see photos and reviews by using this link to booking.com which also contributes to my website when you book. If you are appreciative of all the free information you get on my websites you can also send a donation through Paypal or Venmo
Join Matt Barrett's Greece Travel Guides Group on Facebook for comments, photos and other fun stuff. If you enjoy this website please share it with your friends on Facebook and other social media.