A Carefree Journey Through Piraeus, the Port of Athens
Most travelers to Greece are exposed to Athens port of Piraeus only as long as it takes to get from the metro to the ferry boats, anywhere between 5 minutes and twenty minutes depending on how long it takes to cross the street. One sunny winter day which was more like summer I decided to explore Pireaus myself. I was in Athens because Andrea's aunt was sick. She was in fact dying and was on life support and we were just waiting for her to draw her last breath (with the help of a machine) so the poor woman could be finished with her ordeal. She had been sick for a couple years with cancer and in a coma for a month and her organs were beginning to fail. But the doctors at the private hospital were desperately trying to keep her going as if she were cut down in the prime of her life and they were heroes working on a miracle. Every day Andrea would go twice a day to the hospital while I would look for things to occupy my time until she returned and I could remind her of the world of the living that exists outside of hospitals by going out to dinner and meeting our friends.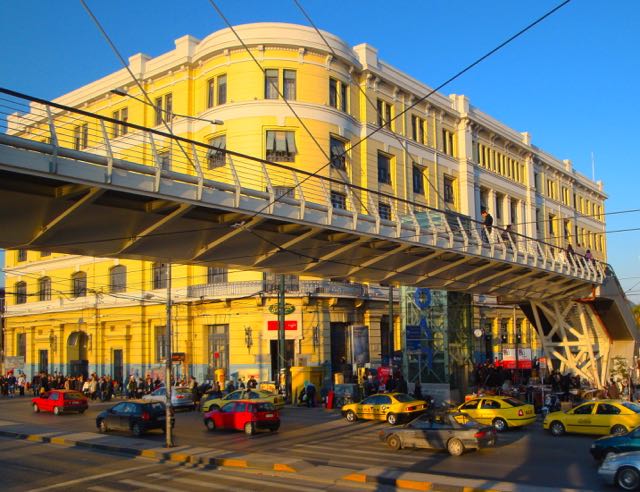 It was one sunny day when I decided I would do one of two things. I would go to the island of Aegina and visit an organic pistachio farm that had been written up in the Athens News that weekend, or if the boat schedules did not support this I would walk around Piraeus and make a nice little guide for people stuck there waiting for their ferry or people on cruises who want to explore the surrounding area before venturing into Athens. So after a couple cups of espresso I walked to the Monastiraki metro station and got on the train to Piraeus. As always I was there in about 15 minutes and I expected that it would take me another 15 minutes to cross the street. For 20 years I have been wondering about this. In Piraeus you have the ferry boats and the metro station separated by a street where the traffic never stops and yet there are no crosswalks. The light that tells pedestrians when to cross seems to never favor them and when the little man does turn green you can only get half way across the street and are stuck on a traffic island that is about a foot wide with a hundred other people and traffic whizzing by from both directions. How difficult would it be to build a bridge from the metro station to the dock so people can reach the ferry without risking their lives? And how is it that nobody has thought of this? Well the good news is that somebody had been thinking about this. It was just that they took awhile to execute the plan and there is now a pedestrian bridge that enables you to cross the busiest street in Pireaus in safety and also to stop at the top and have a pretty good view for taking photos.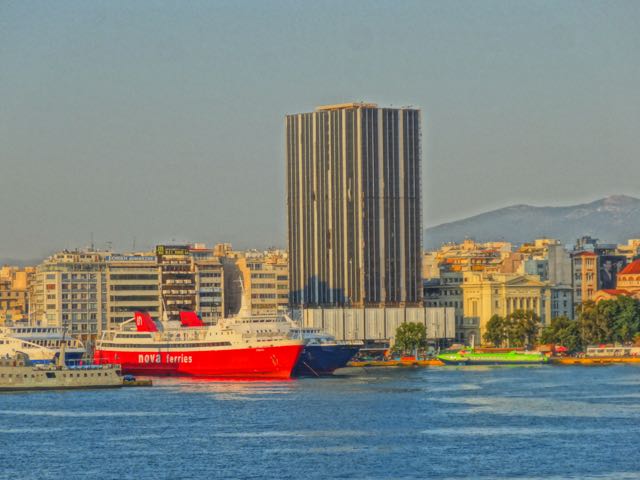 The boats to the nearby Saronic gulf islands are to the left when one is able to cross the street, whether by bridge or the historic land route that some people still use for some strange reason. The boats have their times posted across the bow or stern, wherever the entrance ramp is, but the soonest ferry to Aegina was about an hour and a half away. There was a dolphin in an hour but because it was January I was not sure I wanted to be out at sea on a hydrofoil so I began walking up the Akti Miaouli, the street that borders the harbor, in search of something to put in my guide that would make travelers happy to be in Piraeus. But the only thing of even partial interest was that they had Uzzis on display in the window of a shop that sold radios and heavy weapons. I wandered around the back streets and saw a couple strip clubs and some shops and many offices of shipping companies.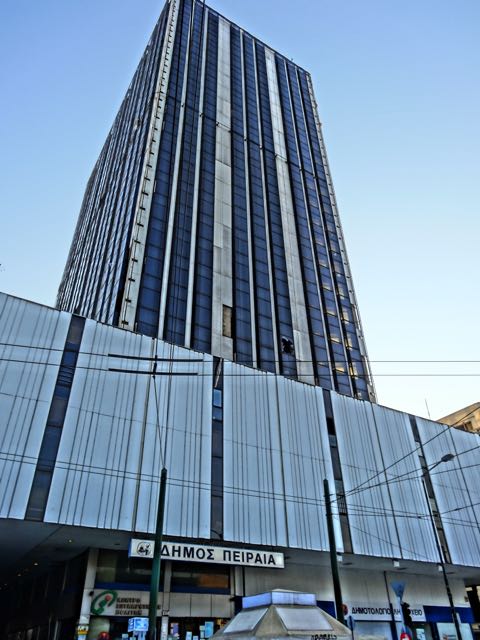 It was pretty boring. So I decided to go back to the main road and follow it along the harbor and maybe I would come to a park or a Byzantine church, or anything of interest. I did find the cruise terminal but when I continued past it I found myself at a dead end with no escape except to walk back past the half mile of garages and warehouses that were beneath the main street. This whole tour seemed pointless so I decided to go back to the boats and go to Aegina, but when I got there the boats had just left and my only choice was to go to Salamina in an hour.

I looked up at the giant skyscraper built during the Military Junta and the proud symbol of the new Pireaus. Few city skylines are dominated by a single building the way this dominates Pireaus and while one might think that it symbolizes prosperity and the economic future of the city, in truth the symbolism goes much deeper and is a little sadder. You see, the building is incomplete and has been for over twenty years. It was such an embarrassing site that they covered the concrete foundation in windows to make it look like a real building. But inside there are no happy secretaries typing away in offices with wonderful views, just empty cement floors dangling cables and perhaps some garbage left over by homeless people. They say the architect committed suicide. I guess you can't blame him if he did. It would be tough to go through life looking every day at your own personal 50 floor monument to failure.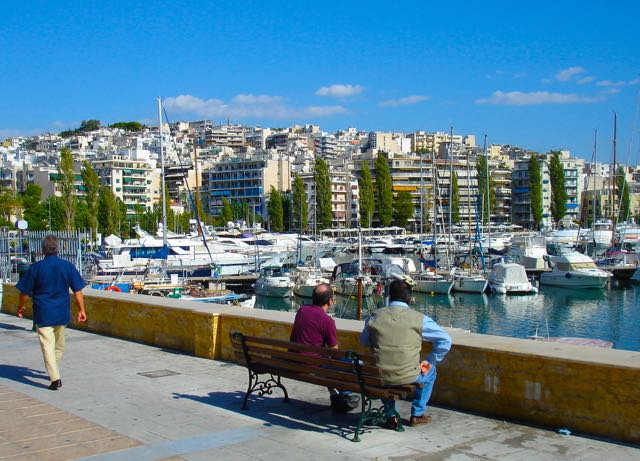 This was not working out the way I had hoped and I was getting depressed. I needed a new plan. I just began walking aimlessly through the busy streets, packed with taxis, cars and buses until I could take it no longer and flagged down a cab. "Zea" I told the driver thinking that perhaps a walk around the yacht harbor and the former home to the fleet of flying dolphins would be more interesting then what I had been doing. Surely the small harbors of Zea and Microlimano have redeeming qualities. The taxi driver was great. He was actually English of Greek extraction and told me a little about Piraeus. Most of the young people hang out in Kastela, the hill between the two small harbors where there are some cafes, nightclubs and discos. He didn't know Athens at all. Piraeus was his scene and I respected him for it. But at the moment I did not want to trade places with him.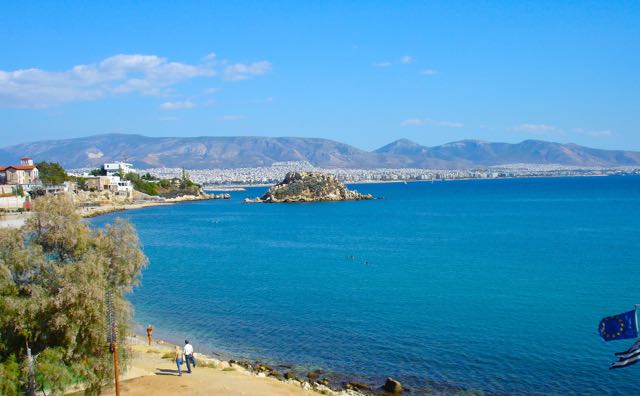 He dropped me off at Platia Alexander which juts out on a small peninsula at the entrance of Zea marina. The square was in need of care but the outdoor cafes and restaurants were open and people were taking advantage of the beautiful sunny weather, drinking frappes and deep in conversation. I wandered around taking pictures and feeling purposeful. Life was beautiful once again. No shops selling guns. Just happy people talking and drinking coffee while sailors fixed their boats, taking advantage of the weather. Just beyond the square, Akti Koundourioti follows the shore of Piraeus above a small beach where there were actually several people swimming. The sea was still and in the distance I could see the planes landing and taking off from the airport and it may as well have been summer instead of the second week of January. It felt good to be alive and I realized that this side of Piraeus had a lot more to offer then the main port. It really is a beautiful place.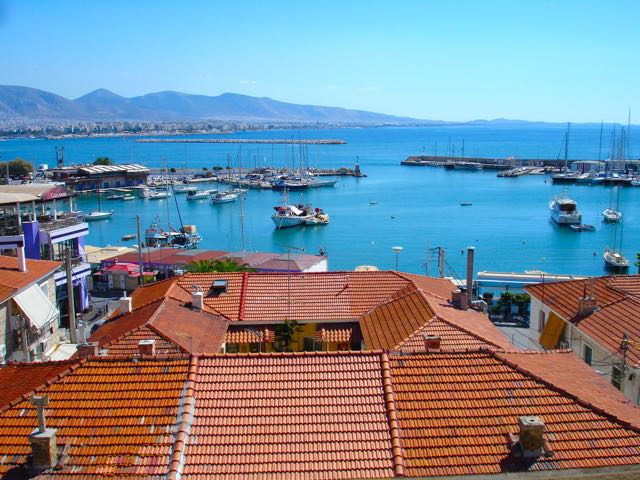 I continued walking past Kastela on my left and then followed the small roads down to the harbor of Microlimano, which means small harbor. It was formerly called Turkolimono which means Turkish harbor but after the invasion of Cyprus they renamed it. They also renamed 'Turkish coffee' to 'Greek coffee', but they left the name 'Turkish toilets' as the last remnant of the 400 year occupation. The harbor is similar to what you would find on a Greek island and is surrounded by restaurants and cafes which are always full when the weather is nice, especially at night during the summer. I looked at several of the menus posted at the entrance to the seating areas of the restaurants and finally found one that seemed unpretentious and inexpensive called the Argos. The maitre de was a nice man with an honest smile so I sat down and ordered a salad and some friend kalamarakia and enjoyed the sun. Within a few minutes I was serenaded by a street violinist and a bouzouki player and an old gypsy woman tried to sell me a blanket. But everyone was in a good mood because of the weather and the food was delicious. After I finished I was invited into the restaurant where everyone posed with giant fish and let me take pictures and they invited me back for a free meal anytime I was in Greece.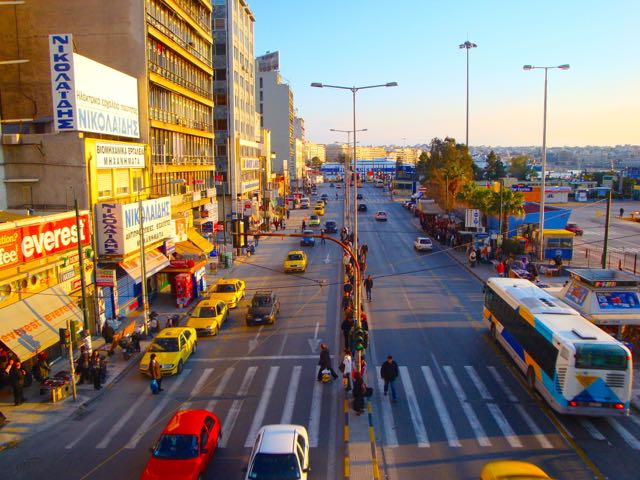 Further along the coast I came to an encampment of gypsies and a small marina that followed a small tree-shaded river at the beginning of the area known as the Faliron Delta. Crossing the street to get to the Faliron train station would have been difficult with the traffic on the coast road, but they have built a pedestrian underpass that would have been scary except it was filled with gypsies and Pakistani refugees selling anything from fruit to cigarettes and I felt that feeling of safety you have when you are in a crowd though it was a strange place for a crowd to be. It was not until I was back on the metro that I realized what a crummy walking tour this would have made and that unless I could come up with something interesting to say to go with the nice pictures I took then it was pretty much of a wasted day. But at the same time I realized that by taking this little journey I could inform travelers that if they want to see Piraeus, just take a cab to Platia Alexandras or to Microlimano and walk around there, or even follow the coast road of Akti Themostokleos in Pireaiki and find a cafe or fish taverna and watch the ferries leave the port. But unless you really love watching ferry boats or are looking for a used Uzzi, until they complete the facelift they have begun on the Drapetsona side of the port, for a tourist at least, the main harbor of Piraeus is the pits and unless you are a total masochist or love traffic there is no point in 'getting to know' the area. Go visit the Acropolis instead. Even if you have already been there.
Next Week: Finding Beauty and True Love in Elefsina
Actual Tourist Information about Piraeus
The Archaeological Museum of Piraeus contains mainly sculptures discovered in Piraeus and in the area of the Attic coast from Bronze Age to Roman times and is located at 31 Harilaos Trikoupi, close to Zea harbor. Other museums in Pireaus include the Hellenic Maritime Museum, the Merchant Shipping History Institute Exhibition, the Panos Aravantinos Decor Museum, the Museum of Electric Railways, located in the Piraeus station. The Municipal Art Gallery is also worth a visit. The Municipal Theater hosts theater, dance and music events. The open air Veakeio Theater in Kastella hosts concerts, folk music bands both Greek and foreign.
For Hotels in Pireaus that are convenient to the ferries see Pireaus Hotels
For info on taking the ferry from Pireaus see Pireaus Ferry Information
See my page Eating Seafood in Pireaus