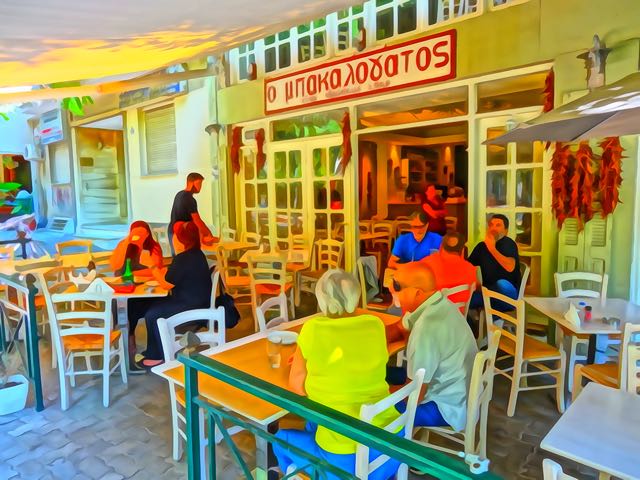 There are loads of restaurants in the Athens Plaka, Psiri and surrounding area. If you try these out you will know what a good restaurant should look, taste and feel like, and be less likely to get a disappointing meal in one of the tourist joints. Remember that if you order fish it is often sold by the kilo so before you choose make sure you know the price since it can vary greatly from one fish to another. House wine (hima) is cheaper than bottled wine and is often better, as it should be. Vegetarians can find plenty to choose from even in the meatiest restaurant. The restaurants marked as Matt's Favorite, are the ones I go to regularly or every chance I get. Tourists should keep in mind the following: Many restaurants in Athens do the cooking in the morning of the dishes they call mayerefta which are the dishes made in the oven and those you may be most familiar with like mousaka, pastitsio, stuffed tomatoes, roast lamb and potatoes etc. These are eaten at lunch. In the evening people order 'tis ores' which are things made right then and there like grilled meats and fish. If you go to a popular restaurant and order mayerefta at night you may be disappointed. As for tipping I will leave anything between 10-20%. After paying the bill and giving the waiter the tip I also leave some extra change for the guys who clear the tables who are often refugees and can really use the money because they are paid practically nothing. After you read this you may want to print it out and take it with you to Greece. Also take a look at my Guide to Greek Food which has a lot more information on eating and drinking and cooking too.
Most of these links will take you to sections on this page and you can either scroll up or click the return button to come back to this menu. If you like this page please share it with your friends on Facebook or whatever social media you are addicted to. If you are appreciative of all the free information you get on my websites you can send a donation through Paypal or Venmo
Restaurants In The Plaka
Plaka restaurants are touristy by nature which does not always mean bad food. What it does mean is a transient clientele and some restaurants have reputations for serving food that a true Greek would send back. The restaurants I have reviewed are the ones that the people from the neighborhood eat. It does not mean you won't get a bad meal because that can happen anywhere. But a bad meal is far less likely if you stick to the places that the locals eat at too.
Eugenia's Paradosiako Cafeneion
Matt's Favorite!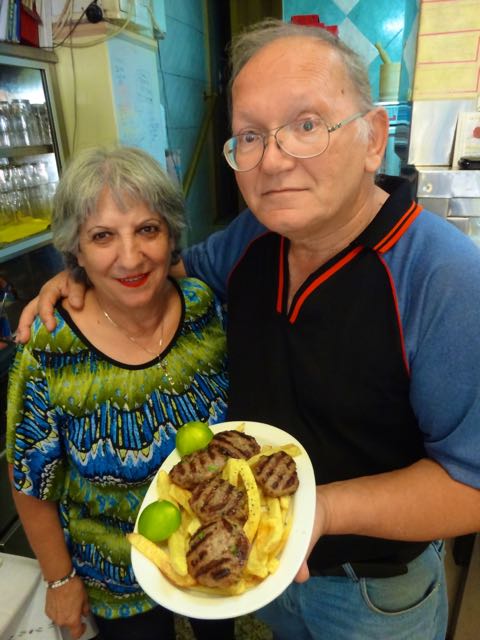 This combination Ouzeri-taverna on the corner of Voulis and Nikodimou is not exactly quiet, in fact its a lot like sitting in the middle of a traffic jam. But the food is great and the people who own it, Dimitris and his wife Eugenia are entertaining and fantastic cooks! Well, actually she is the cook and Dimitris is the waiter. Try their always fresh seafood, octopus, fried kalamarakia and galeos. Food-wise this is the best restaurants in the Plaka. They have daily specials and pretty much everything here is good. They have a special sausage called soutsouki that has a curry flavor and this is what I get often. If they have fresh fried gavros (anchovies) go for that. In fact that is the fish of choice for many people because it is usually the freshest. The place is small and there are not many tables but they make use of what little space they have and you are close enough to your neighbor to easily make friends. I could eat here every day. Maybe the best Greek salad in Athens. One of the few places that serves really fresh grilled sardines when they are in season. Most people come here for meals but if you get here during off hours there is no better place to drink ouzo and eat seafood mezedes in the Plaka. Keep in mind that lunch is the big meal here, like many downtown restaurants, and they do their cooking in the morning so at night it is mostly grilled meat, fish and stuff made right then and there. In other words don't order oven cooked dishes at night. Or follow my rule and only eat there when Dimitris and Eugenia are working. The good news is that he is now working in the day and she is working at night.
Byzantino Taverna-Estiatorio-Restaurant (closed until 2023)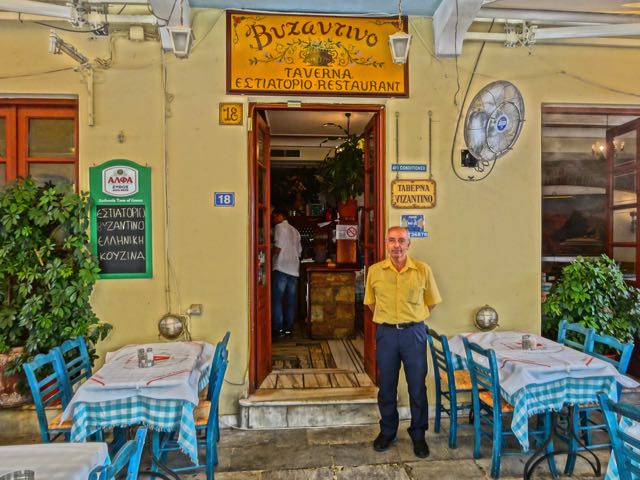 This is the restaurant of choice for many locals in the Plaka as well as tourists. From the outside there is nothing to distinguish it from the other tourist-type places except for the great location in the small park on Kydatheneon street, but the food is better and influenced by the Greek clientele who eat there year-round. Make no mistake that this is a tourist restaurant. I like their fish soup (psa-row -soupa) which you can get it with or without a plate of fish. Of course they have the Greek salad (hor-ee- ah -tiko), eggplant salad (mel-eetsana salata), yogurt dip (sa-tzi-ki), and all the tourist standards. It's not cheap but it's not expensive either. I love their roast potatoes (fourno pahtahtes) and chicken (kotopoulo). They have house and bottled wine and cold beer and ouzo and mezedes. The menu is in several languages including English. You can walk right in and see the food. Either ask the cook or waiter how to pronounce whatever it is you want, or drag your waiter in and point to it. It's perfectly acceptable behavior. These are some of the best waiters in Athens too. Very attentive, fast and they all speak English and have worked there forever. If you go at night you may be disappointed because most of the oven-cooked dishes they make in the morning and serve at lunch are gone (or don't look as appetising or taste as good if you make the mistake of ordering them). At night your best bet is getting something from the grill or salads. Fried calamari and potatoes are hit or miss. Your best bet is coming here for lunch when the choices are plentiful and you can spend the rest of the day people-watching. After lunch you can buy a newspaper at the kiosk across the street, or pull out your mobile device and have a coffee at the Oinos Cafe on the square while reading about what's going on in the rest of the world or plan the rest of your day. When I met super-star travel writer Paul Hellander of Lonely Planet for the first time in Athens a few years ago he wanted to take me to a special place he thought I would like. I was very excited thinking Paul was going to reveal a new secret taverna that only the most knowledgeable Greco-files knew about. To my surprise we came to Byzantino where I had been eating for the last 20 years. But we had a fun time and drank lots of wine that afternoon and the photo he uses on his books was one I took in Byzantino. Paul likes the giovetsi which is excellent. Lately I have been eating the roukforte salad, and the lamb fricasse is good and as healthy as it gets for carnivores. This restaurant and also Plaka Taverna next door which is also good for a tourist restaurant, work with tour groups which means in the summer they are very busy and maybe not as good as winter when their customers are mostly locals.
Saita Bakaliaro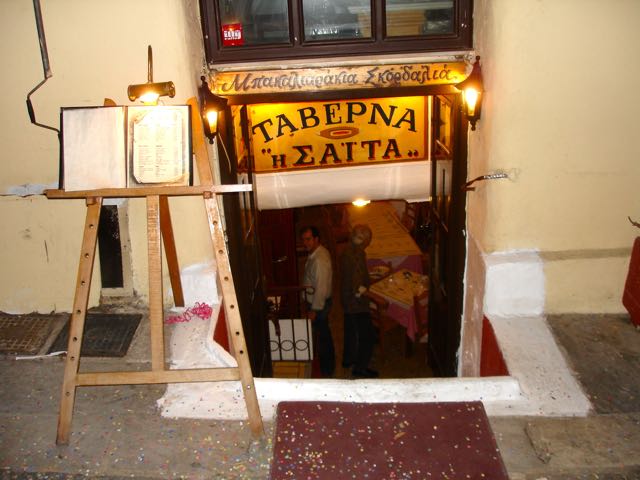 If you should be lucky enough to be here before the weather gets too hot you may notice several basement restaurants. These are called Bakaliarzidikos and they specialize in fried codfish. The reason they are not open in the summer is because with all the ovens and fryers it's just too hot. But these restaurants generally have some of the best homemade wine (khee-ma) and the codfish (bakaliaro) served with garlic dip (skordaya) is out of this world. The tables are cramped and you can tune in to the conversation next door as easy as your own. It's very friendly and full of local Athenians, expatriates and smart people. Just about anything on the menu is good and your clothes will smell of codfish for days to come. The best Bakaliaro place in my opinion and the one I usually go to is Saita located a block from Nikis street on the corner of Kydatheneon and Sotiros owned and run by George (photo) who comes from a small village in Arkadia in the Peloponessos. They also serve steaks, chops and other Greek specialties and have perhaps the barrel wine that will remind you most of retsina without being retsina. In other words you either love it or hate it. Get a tetarto (small carafe) and taste it. The order the excellent bottled wine and leave the tetarto to the one person in your group who liked it. They play good old Greek music and have an authentic atmosphere that you won't find in other Plaka restaurants. This is my primary winter hangout in the Plaka. I always start with their smoked rega (herring) and several liters of wine from the barrel which like retsina needs some getting used to. They now have outdoor tables and are open year round and have become something of a tourist restaurant but I still recommend them. Especially if you are a tourist. But I prefer it in the winter. And the guys I know who own shops in the Plaka get takeout from here.
Platanos Taverna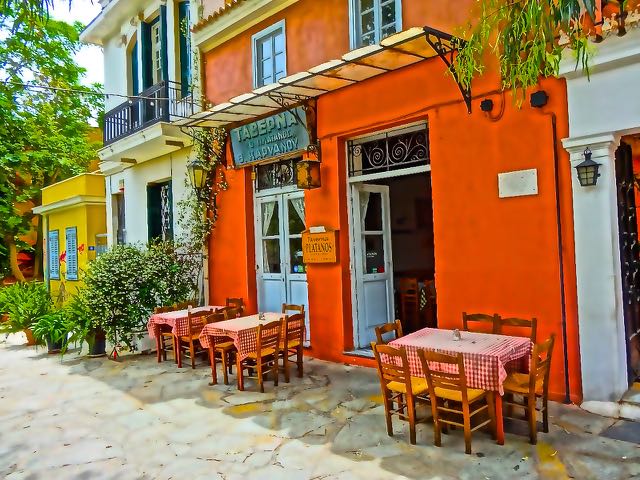 There is another old restaurant worth going to in the Plaka called Platanos. To find it walk down Adrianou towards Monastiraki. Turn left on Mysicleos street and then take your first right which is Diogenous street. It's in the platia. Go inside and see what they have. Great place to eat at night though to be honest I have not eaten here in years. My friends say it is still ok but not like it was in the old days. Be sure to sit outside unless it is cold. This taverna is popular with both Greeks and foreigners who live in Athens as well as those who come year after year. Next door is the Greek Music Museum which is my favorite museum in the city. Each display has headphones so you can hear each instrument in context and in a variety of styles. Sometimes they have concerts in the courtyard and when they do that is the background music for your meal. If you continue walking you will come to the famous Tower of the Winds, right around the corner.
Taverna O Psaras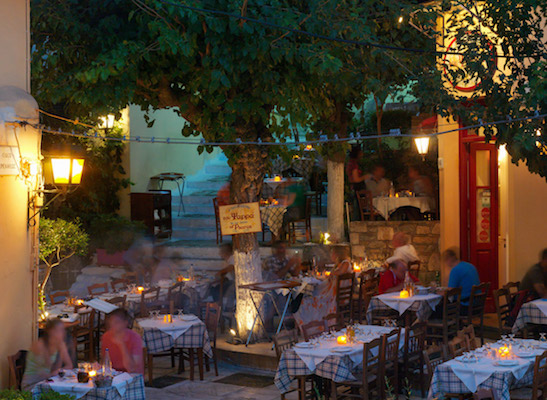 Though it is difficult to find, the Taverna O Psaras is a famous old fish restaurant that opened in the late 1800's, where me and many of my friends used to go almost every night. The family who owned it got old and died and the restaurant was taken over and spruced up and is now a popular restaurant that has fish but has expanded beyond its original menu not to mention it's original hole-in-the-wall location, having taken over the little square in front of the restaurant and several other buildings around it. The food is good as is the atmosphere though it is a little more high end than the original, though not expensive. To be honest with you I went a few times after the new owners took it over and stopped going, but it has remained popular and not just with tourists. But one of the dishes that we always ordered they have kept on the menu, the grilled large squid (or thrapsala) and it looks just as good on their fancy website as it did back when there was not even an internet. Finding this restaurant is another story. It is located in the upper part of the Plaka at 16 Erokritou Street. The easiest way to find it is to frind Tripodon Street, which begins at the Monument to Lysikratus and walk with the Acropolis on your left, past Scholarchaou Ouzeri and make a left on Erotokritou Street and you will come right to it. Better yet, e-mail for directions and maybe make a reservation while you are at it. It can get quite busy at night in the summer. If you are looking for a romantic place for dinner this is a good one. No view of the Acropolis but that is because you are practically on it.
Barbounaki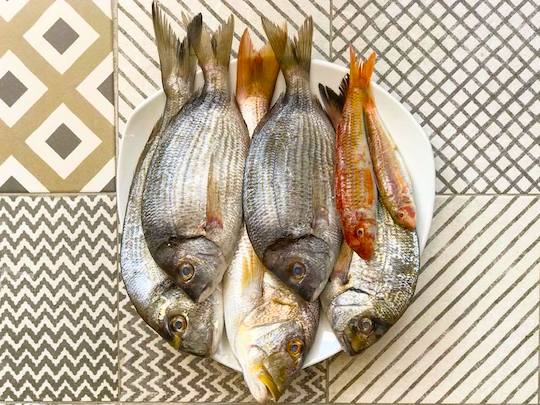 If you want to go to an actual good fish restaurant in Plaka, something almost non-existent in the Plaka until the summer of 2019, go to the square of the main cathedral on Metropolis Street and look for Barbounaki. It is a chain, a small one, they have one in Glyfada, Kolonaki, Halandri and one in Kifissia that I know of, but the service is good, the fish is excellent, and unlike the other "fish restaurants" in the Plaka they are not stooping down to tourist whims with mousaka, stuffed tomatoes and souvlaki. It is a real fish restaurant, as if it was located in a non touristy neighborhood and had to be to survive on locals. Hopefully they will keep it this way and the restaurant will live up to the standards of the one in Glyfada which is one of my top 10 restaurants in Athens and one I would go out of my way to eat at. So far so good. I ate here in May of 2019 and it was fine. They have inexpensive fish like grilled sardines and whatever is in season and you can get the expensive fish by the kilo with the same prices you will find at most fish tavernas or by the serving. I love their white taramasalata. They have a nice selection of pastes: pickled or smoked fish, as well as some great salads and lots of appetisers, pastas, steamed mussels, clams and other shellfish. I am fairly certain this place will be around for awhile. Probably you weill have to make reservations eventually though if you have to wait for a table this is not a bad area to wait. Their phone number is 21 0324 7700. Tell them I sent you so I can get a discounted price on the barbounia.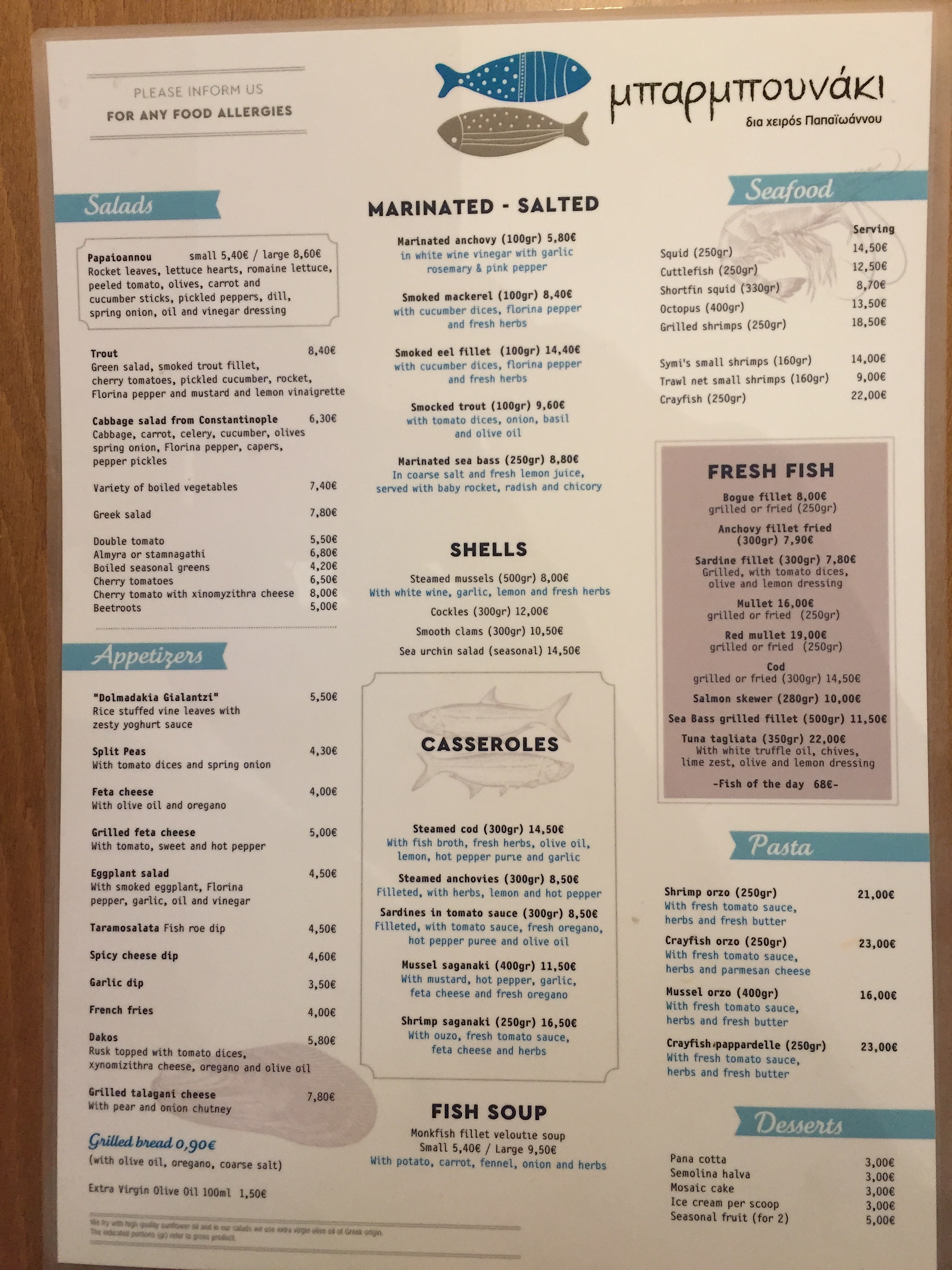 See menu
Downtown Tavernas with Live Music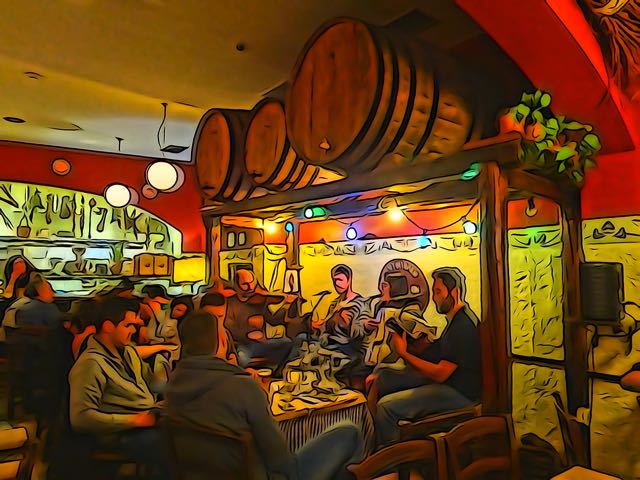 I don't want you to get the impression that I am not a fun person but generally with restaurants with live music you sacrifice food quality for music especially in the tourist areas. However in many restaurants and ouzeries you can find one or two guys playing bouzoukia which when you are eating is probably more enjoyable than a whole bouzouki orchestra with amplified instruments.
One good choice is Climataria Taverna in Platia Theatrou behind the central market which has good food and good music during the weekends though its location may be out of your comfort zone. But if you have a sense of adventure walk down Theatrou Street at the bottom of the fruit and vegetable market and when you get to the square it is on the left. Definitely worth going and it may be the best taverna food downtown and the place is usually full of young, hip Athenians so how dangerous can it be? Their specialty is a slow cooked pork shank and a a lamb shank done the same way. It is a very nice family run restaurant and the people who work there speak English and are very friendly. Generally the live music is only on Friday and Saturday nights and on Sunday afternoons. The best taverna with live music on weekends is Oinopoulion Taverna in Psiri which I write about below. They have authentic rembetika style bands and amazing food. Also in Psiri at 5 Katsikogianni Street which is sort of in front of the Church of Agion Anargiron there is a mezedopouleion called Pame Psirri which is famous for its nights of lively dancing. If you walk around Psiri and Monastiraki on just about any weekend night you will hear live music coming from many of the restaurants.
I have not eaten here but my friend George at Fantasy Travel recommends the Old Taverna Stamatopoulos on the corner of Lissiou and Flessa streets just above Adrianou street. In the summer time they have a roof garden and in the winter the fun moves inside. Places like Stamatopoulos you can expect to hear several singers and see lots of dancing and most likely if you are with Greeks or are an attractive woman, you will be dragged on to the dance floor as well, which is probably one of the reasons I don't go there. If you are going with a group you should probably make reservations. They speak English. 210 322 8722. It's been there since 1822 so chances are that it will still be there when you come to Athens. You can also go up Mnisicleous Street which climbs the north side of the Acropolis from Adrianou Street in the Plaka and as you reach the steps there are a number of 'tavernas' that feature live music. You probably won't be able to get to the top of the steps without being dragged in to one of them. Which is the best food I could not tell you but most likely if it is not too expensive and you drink enough it won't matter and you will have a good time. (Oh, and Kritikos Taverna is my friend Mary's favorite, has a rooftop garden and has been around forever. No live music though.)
My friends in the Plaka rave about a restaurant called Kotil at 41-43 Adrianou behind the Monastiraki metro station which they say has excellent Greek/Mediterranean food, a good band and people really do get up and dance. They have a large menu of grilled meat and fish, oven cooked dishes both meat and vegetarian, lots of mezedes from all over Greece and at least a dozen different salads. Is it any good? I have no idea. It is not my kind of place and I will probably never go there. But if you want to get up and dance then it is worth a visit.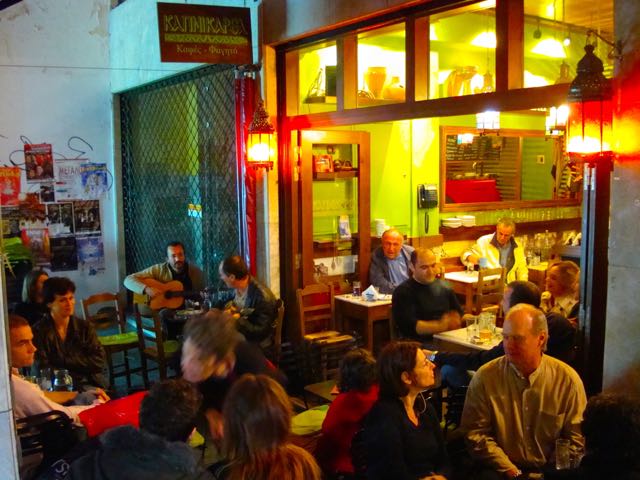 Between Metropolis street and Ermou street right by the small church of Kapni Karea is a tiny cafe ouzerie called Kapni Karea tucked in a little side street that is more like an alley. They make great mezedes and it is a fine place to hang out and drink ouzo especially in the afternoon when they have a couple guys playing bouzoukia and singing old Rembetika songs. Often you will come here and the whole cafe will be singing along. They also make sandwiches, have nice salads and is a good place to come for coffee. It is really more of a snack bar than a traditional ouzeri but the atmosphere here is like the back streets of Pireaus in the thirties and forties and an afternoon here is a must for any fan of rembetika music. Order one of the pikileas (variety platter) for starters and a bottle of ouzo and plan to spend the rest of the day. By 8pm they are usually closed but if people are still eating, drinking and singing the band will keep playing. And by the way, the musicians here are excellent. As good or better as those you have to pay to see at night.
Matt's Favorite!
Lower Adrianou in Monastiraki Restaurants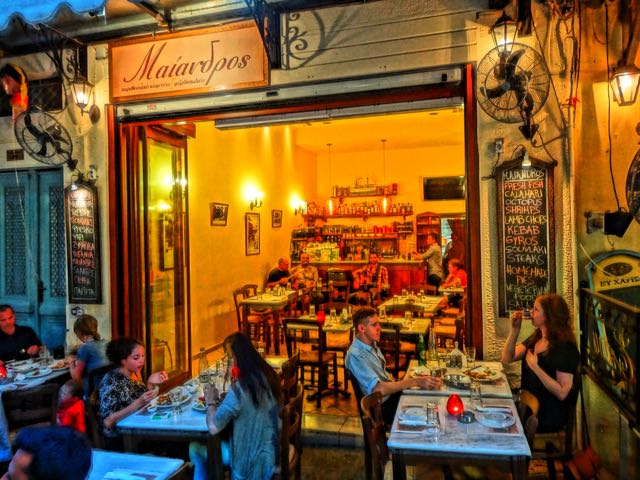 If you walk down Adrianou street it stops abruptly at the ruins of Hadrian's Library. But if you go around the ruins it begins again just behind the Monastiraki metro station and there are a number of restaurants and ouzeries facing the Ancient Agora and the Stoa of Attalos. Most of them have a mixture of classic Greek dishes and mezedes (ouzo snacks) and many of them serve pasta and some interesting salads. I like Dioskoro with 2 locations right next to each other and they serve a really nice seafood and meat pikilea. In the summer this is a good area to eat because it is open and there is usually a breeze. Plus its a great place to people-watch if you don't mind having to pay the street musicians to leave you alone every 5 minutes or so. Most of the cafes and restaurants on lower Adrianou serve ouzo snacks, and some have pastas, and all have Greek food. The restaurant called Mouses (I think they mean Muses) on the corner of Adrianou and Ag Filipou has a large menu and everyone speaks English there. My friend Leigh likes this place. I think its OK. No better and no worse than some of the others. They are all pretty touristy but many are frequented by Greeks too and once you can tell the difference you should be able to find the best food.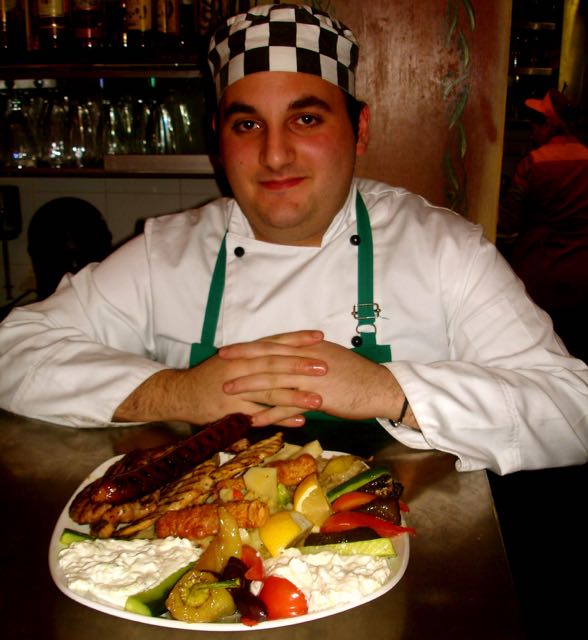 One of the best of them is Diodos (photo) which is right between the Stoa of Attalos and the Temple of Hephaestos near the entrance to the ancient agora. They serve a couple nice pikileas (mezedes assortments) for drinking ouzo that feature either fish, meat or both. It's one of the few places on lower Adrianou that uses the old style cafe tables and chairs. Delicious grilled sausages, Barbayannis ouzo and good service with friendly English-speaking waiters. Their efficient gas heaters make you able to eat outdoors any time of year. I would have to give them good grades for their location, (view of the Acropolis), the giant pikileas I mentioned, and the service. Its also my brother's favorite restaurant so I go here a lot. Meandros is one of the more famous places and has live music and guys who try to drag you in, but in a nice way. Probably the main reason to mention this area is that if you are on the Acropolis and you walk down through the Ancient Agora, this is where you will end up. To be honest with you I almost never eat in these places unless someone wants me to meet them there. But I met a Dutch guy at the Hotel Attalos who was in Athens for 2 weeks and ate at Meandros every night, and he told me he comes every year and does the same.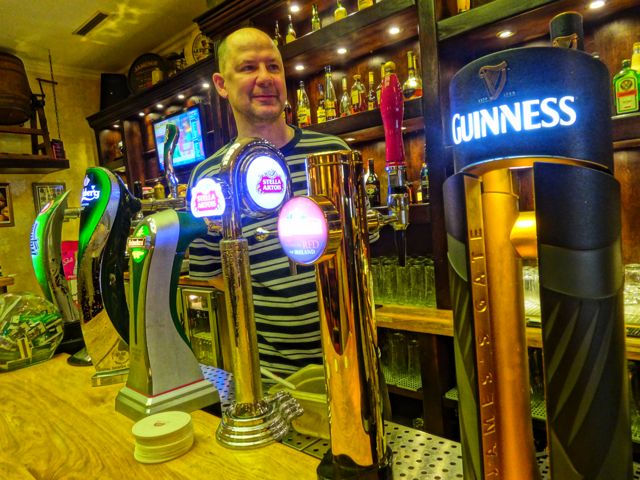 One of Athens best kept secrets is the food at the James Joyce Pub on Astiggos Street #12 in Monastiraki, one block behind lower Adriannou. The pub is an authentic Irish Pub full of authentic Irish people as well as Greeks, Americans, Brits and people of all nations. If you long for classic American style buffalo wings, stuffed potato skins (great beer food), stuffed mushrooms, grilled veggie wraps, smoked salmon plate, and traditional Irish dishes (I assume) like Steak and Guiness Pie (amazing), Connaucht Lamb Chops, Fish and Chips, Galway Bay Grilled Salmon and Molly Bloom's Sausages and Mash. They also server burgers, pastas and a variety of salads and most importantly lots of beer. They open at noon daily and stay open late. Their big-screen TVs show sports from all over the world including NFL Football, Major League Baseball and NBA Basketball as well as Cricket, European Football and whatever else happens to be on. I have included it in the restaurants section but to be honest with you this is the best bar in Athens so check it out whether you are hungry or not. Introduce yourself to Martina and Tom (photo) and settle in for a night of beer and conversation with whoever happens to be sitting next to you since they will most likely speak English. To find it from Monastiraki just walk down Hepheston or Iphestos (next to the old metro station) to the end. Turn right and then left and it is half way down the block across from the big hole the American School of Archaeology left. Matt's Favorite!
Ouzo Cafeneons-Mezedopoulions

Kouklis (or Scholarchaiou)
Where Tripodon, (the road that goes around the Plaka side of the Acropolis) connects with Epiharmou is an ouzerie known locally as Kouklis. You will see a building with a people-packed balcony covered with vines and above in the 2nd floor windows, even more people. Order a small carafe of ouzo or their terrible red wine, a cross between Welch's Grape Juice and Manachevitz. The specialty here is flaming sausages (loo-kah-niko). Wait until the fire is out before eating. Also try their trout (eh-pes-tropho), giant beans in tomato sauce( yee-gen-des) and anything that looks good on display inside or what one of your neighbors is eating. It's a popular place for both young Greeks and adventurous tourists and their tables can spread out down steep Epiharmou street. The food is just OK. Most people come for the atmosphere. It must be listed in every guidebook so obviously the travel writers like it, but what do they know?

To Kafeneon
Just below Kouklis on Epiharmou street is one of my favorite ouzeries. Though Kouklis has always been popular I have preferred To Cafeneon's menu and ambiance, though there is not much difference between the two in price. If you are sitting on the street be aware that you are at a serious angle and maybe not as drunk as you think, though you will notice that things on the table with high centers of gravity tend to fall over easily. The same may go for you after an ouzo or two. On cool evenings it is one of the nicest places to sit indoors. This is a great place to come in the winter with a fireplace and tsipuro that will warm you inside and out. A great menu of traditional mezedes, many from northern Greece. This place is more for Greeks, in comparison to Kouklis which is more for tourists and travel-writers. This is where Jamie Oliver filmed the mezedes segment during his trip to Greece in 2009 for those who are Jamie fans and saw it. We had a big dinner here for Jamie with lots of food, ouzo, live music and dancing and we all got to hang out and talk to Jamie. You probably won't run into Jamie but if you come get the seafood meze you see in the photo. In fact just print the photo and show it to the waiter and say "I want this!" because they took it off the menu and it was the best thing they made. It has become pretty touristy lately but is still better than most Plaka restaurants.

Another ouzeri in the Plaka is O Glikos which is kind of difficult to find but if you walk down the alleyway between Byzantino Taverna and Plaka Taverna you will come to it.

Ouzeri Lesvos
For those of us who can't make it to the island of Lesvos as often as we would like there is salvation in the form of a small ouzeri-mezedopouleon owned by Yiannis Karantanis, from the town of Polychnitou. This un-pretentious little place between Omonia square and on the border of Exarchia is as close as you can get to the real thing and you may feel like you are on a side street in Mytilini town after a couple ouzos and some grilled sardines and octopus. Imagine that in July and August you can get fresh sardelles pastes from Kaloni! He also has a nice selection of clams, mussels, lakerda, fried and grilled shrimp, loukanika (sausage) from Polychnitou, koutsomoures, kakkavia (fish soup), fried peppers, keftedes (meatballs), delicious salads and horta (wild greens) and lots more meat, fish and vegetable dishes to go with a couple dozen varieties of ouzo from Lesvos, or wine by the carafe. Lesvos is easy to find if you don't mind walking a bit. It is at #38 Emanual Benaki Street which you can find by walking up Panapistimiou (Venizelos) Ave and turning right a couple blocks before you reach Omonia (just past the Hotel Titiania). Its open daily from noon til late at night but closes at 7pm on Sundays which is a fun time to be here. Matt's Favorite!

Oxo Nu Cretan Restaurant
If you continue walking up E Benaki Street from Ouzeri Lesvos, away from the center and into the neighborhood of Exarchia you will come to a number of restaurants, ouzeries and cafes, traditional and Bohemian and inexpensive. One of the best is Oxo Nou at E Benaki 63, a restaurant where they greet you with raki and fill you with amazing mezedes and dishes from the island of Crete. If you have some time in Athens this is one restaurant you will probably come back to. If you just want to eat light and get a good idea of what they have to offer get one of the pikileas-mezedes plates, assorted appetisers. Go for the large one that has the most items. It is only 15 euros and that with a main dish or a couple small ones should be enough food for two people if not three. Be sure to order the Saligaria- snails, fried in rosemary because it is probably something you have never eaten and you will always want to eat again once you try them. Unless of course you simply don't like snails. If you want to eat heavy you can order the mezedes ala carte and you really can't go wrong. Like of my favorite mezedopouleions and tavernas the more people you come with the more different dishes you can try. This is one of my daughter's favorite restaurants. Maybe her favorite since she comes here from Kypseli at least once a week. And she always gets the snails.

Restaurants Near the Plaka

Epeiros in the Meat Market

Best time is late at night. A mixture of workers and people who have stopped for a late meal after a night on the town. Women in mini-skirts and high heels next to butchers in blood-splattered aprons and fishermen in overalls and boots. On stoves giant pots of beans, chickpeas(rivithea), beef, lamb, peas and potatoes are simmering or boiling. Most people are eating patsa , a tripe soup endowed with mysterious life-giving properties that the workers swear by. A few summers ago we had to spend a lot of time in Athens and Amarandi and I would go to Epeiros restaurant every day for a sort of combination breakfast-lunch. I became very acquainted with the food and I have to say that some of the best I have eaten in Athens has been here. In particular I like their mayeritsa which is a tripe soup made with greens and an egg-lemon sauce. Amarandi had roast lamb and potatoes and I thought it was the tastiest lamb I had ever eaten. One day I had pothi which is a sort of marrow soup made from the foot of a cow which is considered medicine for a variety of ailments. The broth is sort of gluey but tastes really good and actually made me feel pretty good. The meat was of a weird texture. The word fatty comes to mind but the cook told me there was no cholesterol. It just looked and acted like fat and I had trouble eating it but Amarandi loved it. Anyway they have a huge selection and they are cooking all day and night. It is also cheap. If you are on a budget and want a lot of food for not much money then go to the restaurants in the meat market. Matt's Favorite!

Patsa and Podi: The Wonderfoods of the Greek Working Class. Half the people in Epeiros are eating either Podi or Patsa and many of these people look like they walked right out of the fifties. If you are feeling a little under-the-weather a hearty bowl of patsa will fix you right up. Hung-over? No problem. A big bowl of podi will make you good as new as only eating the foot of a cow can. Make sure you eat all the strange pieces of meat even though some of it resembles indoor plumbing. You're sure to feel better and it tastes better then it looks as it cleanses your blood and restores your body. There's no better way to start the day or so they say. Men from the butcher shops yell back and forth and greet each other heartily as they eat their podi and patsa and then go off to open their stalls for the customers who will be arriving soon. My friend and I did the Patsa test after a night of heavy drinking. I felt better. He felt worse. For more on Patsa see my Guide to Patsa

God's Restaurant and Arkadia

God's Restaurant on Makrianni Street, right next to the Acropolis Museum, has a big sign that says it has been recommended by Lonely Planet and Rick Steves. It is a typical tourist restaurant except for one small difference. It has really excellent food. We had the sausage platter which had a half dozen different kinds of sausage, how many of them Greek I don't know, nor did I care since they were all good. The feta-stuffed mushrooms were so good we ordered more. The roka salad had cheese from Mytilini. The octopus salad was excellent, as was the fava. Probably the best thing were the tomato-keftedes which are similar to what you get in Santorini except I thought they were regular keftedes (meatballs) until Andrea informed me that they were made from tomatoes. We went back the next night and had them again, along with the mixed grill.The house wine was better than the bottled wine we ordered first. Not that the bottled wine was bad, the house was just better. It is a family run restaurant, with two sons and their father who bears an amazing resemblance to God, or at least how many of us who tend to anthropomorphise God probably imagine him to look, you know, long white hair and a beard, like Santa but not overweight. Anyway theology aside this is a very good restaurant. It is small though you may not find a table but that's OK. Go next door to Arkadia which specializes in food from the Peloponessos and eat there and you will be just as happy. The waiters at both places are young, friendly and speak English.

The Strofi Taverna at 25 Roberto Galli has a rooftop garden with a spectacular view of the Acropolis and the food is good too. (Call because you may need reservations: 210-921-4130). The best restaurant in the neighborhood that I have been to is Aglio, Olio & Peperoncino which is on Porinou street right around the corner from entrance to the Acropolis metro station which I have written about in the Italian Restaurant section below. Also in Koukaki is Skoumbri, an attractive, though inexpensive fish restaurant at 12 Drakou Street right up from the FIX Metro station. A good choice for those who want seafood on this side of town and they have a large and varied menu. If you want meat then try Ambrosia right down the street at #3. It is a souvlaki shop/psistaria (grill house) like you will find in just about any neighborhood in Athens but the customers are a mix of Greeks and the Air BnB tourists who have taken over the neighborhood. It is a grill house so keep in mind that this is what they do best.

The Secret Underground Taverna and Meidani
Matt's Favorites!
For a fantastic eating experience, not for the fainthearted try the basement taverna near the fruit and vegetable market. Don't be afraid. It just looks a little rough. There are no menus but you can look around and see what everybody else is eating. Most of the customers are men. It's almost like a private club and it is a little intimidating, but worth it. The wine is great. It comes without even asking for it. The grilled fish ( psa- ree psee- toe )incredible. If you want to play it safe order yellow split pea( fah -va), with bread (psoh- me ), soup( soup -ah) and whatever looks good at the next table. If this place is too intense for you there are always the restaurants in the meat-market. Another traditional estiatorio at # 3 Sokratous Street is the brand new Meidani right by the corner of Evripidou Street. Really nice red wine and a very large menu which includes just about every Greek oven dish you can think of plus bakaliaro me skordalia, podi, and some really filling salads. Unfortunately it is only open in the daytime. But if you are looking for a clean, air-conditioned restaurant with a large traditional menu and a few interesting entrees that will satisfy someone in the family who has tired of Greek food, this is a good solid choice. Very friendly staff too. Also on the same corner try Ta Karamanlidika tou Fani which specializes in souzouk, loukanika, pastourma and other meats from Armenia and Asia Minor. They just opened an even bigger one on Ermou just below Monastiraki Square.

Cafe Boheme

Matt's Favorite! Cafe Boheme at Emmanouil Benaki 94 in Exarchia is a bistro-style restaurant with a great bar, interesting patrons and a DJ. Listen to cool traditional jazz and blues as well as stuff like Frank Sinatra, big bandand music that your parents might have listened to if you don't. Cassandra Wagstaffe is the owner and host (and is the daughter of Wishbone Ash drummer Dave Wagstaffe). If you are looking for a bar to make your home this may be it. As a restaurant it is the perfect place for a romantic evening or a special occasion, provided you get there early. Let's face it. Most neo-Greek restaurants in Athens pale when compared to their cousins in New York City like Molyvos, Pylos, and Ithaki. They can be a little pretentious. Not Cafe Boheme, which in my opinion would be a hit in whatever city you placed it, whether it be NY, San Francisco, Paris or even Athens. Nice mixture of healthy salads, Italian pastas and Greek entrees and mezedes. Try the rouqufort filled mushrooms, seafood salad, bruschetta, and maybe the best horta in town. Grilled steaks and seafood and a pageful of daily specials may have you wishing you lived in Athens so you could eat here more. Visit them at their new location in Exarchia where they have loads of outdoor seating. Just follow E Benaki Street from Panapistimiou Street about 5 blocks up. Or take a taxi.

Japanese, Indian and Asian Restaurants

My inclination was not to include a Japanese restaurant in a Greek Travel guide because who wants to eat Japanese food in Athens? Then I thought about it. Would I eat Greek food in Tokyo? Yes, I would. Then my friend Ana kept trying to get me to eat at Furin Kazan, one of the first sushi restaurants in Athens, but I was either never hungry or "not in the mood for sushi". Finally I relented and went with her to the tiny restaurant on Apollonos between Voulis and Nikis. The place was packed with Japanese. There were no tables available and everyone looked like they were having a great time. So I never got to eat there and now it is gone with another Japanese restaurant in its place called Gaku. I have not tried it yet but my wife and daughter went and say it is fantastic. Jing Restaurant at at 8 Platia Eleftherias at the beginning of Evripidou Street in Psiri prides itself in being the most authentic Szechwan restaurant in Athens. The Korean place on Voulis Street called Dosirak is pretty good too and serves sushi and other Japanese dishes as well. In fact Apollonos street has taken on a new persona with the addition several Asian restaurants including Indian Kitchen at 6 Apollonos Street and Babaji Indian restaurant around the corner at 11 Nikis Street. Koi is a really excellent sushi restaurant according to Andrea, cheap and full of people, and it is right at the intersection of Apollonos and Nikis Street. A few steps awat at 17 Nikis Street is another good sushi places called Shiraki which will probably be easier to find a table at than the others. The Noodle Bar is at 11 Apollonos Street and has inexpensive Asian food. There is a tiny Japanese supermarket called SOYA at 33 Apollonos Street where you can buy all sorts of Japanese and Asian food products. Sushimu is supposed to be the best sushi in Athens but good luck getting a seat. Maybe make a reservation when you book your flights to Greece. Pink Flamingo is a little Dim Sum place at 2 Skoufou, right off Apollonos. Right next door is Birdman which specializes in skewered meat, fish and vegetables and Japanese liquors and beers. People have been telling me The Sushi Bar in Pangrati is also very good. I have not been there yet but I will go one of these nights.

Royal Curry House is more than just an Indian restaurant. It is an Indian-Bangladesh-Pakistani-Chinese-Arabic-Thai Cuisine & Cafe on Pireos & Voulgari street near Omonia Square. Committed to serving the highest quality dishes and drinks at fair prices they serve traditional and Oriental Halal food for Vegetarians and non vegetarians. You can eat in, take out or call 215 535 9222 for delivery, and they give a 50% discount for the unemployed and students (with ID Cards). They also have discounts for groups. They will provide food for all kinds of special occasions like wedding, birthday, parties, conference or catering for any event. Every Saturday and Sunday they do a buffet from 11am to 5pm for 10 euros. Entrees are priced between 6 and 8 euros. There are also two interesting Indian restaurants at the bottom of Ermou, a fast-food place called Mirch at #109 and Indian Masala at 129. In May 2019 we ate at Namaste in Koukaki on the corner of Lempessis and Syngrou. I'd go back anytime.

Laxmatzoun

With the war in Syria causing millions to leave the country in search of safety, many of them ending up in Greece, they have brought with them some of the foods they know and love. Among them is something called laxmatzoun which is something like a souvlaki though instead of being big chunks of meat inside a sort of pita bread, it is ground beef or lamb and a number of other things including a healthy amount of vegetables. The bread itself is similar to a pita though it is thinner and crunchy. The seasoning is spicier than anything in the souvlaki world outside of Constantinople. Where can you find this wondrous new addition to the Greek way of eating? Right off Aeolou Street in downtown Athens, close to Agia Irini Square is a small street called Odos Karori. There you can find the famous Feyrouz, a Greek-Syrian owned laxmatzoun shop where you can eat what is to Syrians as souvlaki is to Greeks, either with meat or vegetarian, and a number of other Syrian dishes. Another of my favorite places on Aeolou Street is the Pera Cafe at #57 on the corner of Bissis Street. It looks like just another cafe but it is owned by a family from Istanbul and besides having excellent coffee, teas, deserts, breakfast and the usual salads and toasts you will find in a Greek cafe, they have a varied menu of Middle Eastern dishes including laxmatzoun, tabouli, hummus and deserts. Laxmatzoun is sometimes called Armenian Pizza and is also a popular dish in Lebanon and Turkey. Though it has existed for thousands of years it is just now becoming popular in Greece and anywhere immigrants from the Middle East settle. Laxmatzoun is the silver lining in the immigrant crisis as you will probably agree when you eat one.

Ariston Pita Bakery
Matt's Favorite!
Where else in Athens can you get not only tiropita (cheese pie) and spanakopita (spinach pie), but aginaropita (artichoke pie), kolokithopita (zuchini pie), kototopita (chicken pie), prassotopita (leek pie), melitzanotopita (eggplant pie), loukanitopita (sausage pie), manitaritopita (mushroom pie) and just about any pie you can imagine. In fact the one pita they don't have is the infamous tipotapitopita (or zeropita)which are found in many places in Athens and have more pita than they do filling. Ariston is generous with their fillings and one makes a meal, two make a feast. For people on a budget this is a great way to save money and you will want to thank me for telling you about it. The store has been open since 1910 and also has a wide assortment of pastries. It's easy to find at # 10 Voulis street, two blocks down from Syntagma (Constitution Square) right around the corner from the Hotel Astor. Some people say Souvlakis are the national fast food dish of Greece, but I have always been a fan of spanakopita. So it's not a restaurant but you can certainly get a decent meal here and a cheap and healthy one at that. If you are on a budget you can get one of these for less than 2 euros. Two of these is a full meal. Actually for most people one of these would be a full meal.

To Triantafilo Tis Nostimias-Paradosiako Cafeneon
Matt's Favorite!
This little hole-in-the-wall is a gem of a restaurant and to be honest with you I would never have discovered it myself. Elias at Swift-Rent-A-Car took me here, one of several great restaurants he has turned me on to, among them the Paradosiako Cafeneon on Voulis (above) and the amazing fish taverna in Neos Chios near Nafplion called Tsakiris. The guy knows good food. Finding this restaurant may be a bit of a problem for those unfamiliar with Athens but it is in a small arcade at 22 Lekka Street right across the street from the Achileos Hotel. The owner, whose name is Triantafillo, which means 'rose' comes from the town of Petra in Lesvos and serves only fresh fish which he picks out daily from the central market just a few blocks away, oven baked dishes, fresh meat and lots of salads and dips. There are specials every day depending on what looked good at the market and what is in season. Try the thrapsala (cuttlefish) grilled or fried, or the koutsoumoura or barbounia (red mullet) fried. Or best of all the fresh grilled sardines already deboned for you. Delicious fava (yellow split pea dip), horta (boiled wild greens), broccoli, and incredible bean soup with a little bit of a kick to it though not so spicy that even timid eaters can't handle it. Its only open until 6pm but if there are people enjoying themselves he will stay open as long as they are having fun and people do have fun here. Great place for ouzo and mezedes on a rainy day. One of the few restaurants that carries Psaropoula Ouzo from Mytilini. Good wine too. Triantafillo speaks English and you can call for directions. 210 322 7298.

Restaurants in Petralona

The neighborhood of Petralona is known for its restaurants, ouzeries and cafes. It is a healthy walk from the Acropolis area but you can get there easily on the metro or the number 15 Trolley.

If you are looking for a typical working class taverna in an almost typical working class neighborhood journey to Ano Petralona to the Oikonomou Taverna on the corner of Troon and Kydantinon Streets. Located in an old neo-classical house, with outdoor seating right on the street, this restaurant specializes in cooked dishes like stifado, roast lamb and even baked potatoes plus a variety of meat and vegetable dishes in an atmosphere that is unpretentious and friendly. The wine is excellent, in fact it is so good that the first time I went to Oikonomou Taverna I left my camera on my chair. That would have been bad enough but Andrea had asked me to pick up some earrings that were being repaired for my mother-in-law and they were in the camera case.

When I woke the next morning and realized I had left it in the taverna I walked from the Attalos all the way to Ano Petralona. (I ran actually) But the only person there was an Albanian cleaning lady. She told me to come back later. I came back later several times. Finally I spotted the owner coming back from the market with bags of fresh vegetables (good sign right?). He asked me to wait in the foyer while he went into the kitchen. I was really sweating it out too. He returned with the camera and a big smile on his face, though not as big as the smile on mine. I was almost weeping with happiness. Not over the camera but the earrings. I had spent hours rehearsing how I would tell Andrea I had lost them. When I was able to admit what happened she told me they were worthless. Oh well. At least I had my camera. The Taverna is popular and reservations are a good idea. You can call 210 346-7555. You should just write the name and address on a piece of paper and give it to a taxi driver. But if you are adventurous do this: Take the metro towards Pireaus and get off at Petralona. Cross over the tracks and walk up the hill to Troon St and make a left. Don't make the mistake of turning on Troon Ierarchon. That's not the right street. Troon is a couple more blocks up.

If they are full don't panic.... Just go next door to Tsipuradiko tou Apostolis and spend the rest of the day drinking ouzo or tsipuro and eating mezedes or cross the street to Chez Lucien.

The Aschimopapo (photo) is an old style taverna that has been open since 1968 and features live rembetika music on Sunday afternoons. It is located at 61 Ionon Street a couple blocks up from Troon Street towards Filopapou Hill. For reservations call 210 3463282 or e-mail them. The whole neighborhood is full of cafes and restaurants that few tourists ever see. Check out Chez Lucien Rotisserie and French Cuisine, probably the best small French restaurant in Athens and it is definitely small. They have a large communal table that seats about 8 to 10 people and a couple smaller tables and that's it so try to get there by 8pm if you want a table. Also rumor has it that Stratos, the owner-chef of a couple of my favorite Psiri restaurants has opened a place in the neighborhood called Rontevous. And finally check out the ouzerie-mezedopouleion-cafeneon To Lampori at Alkminies 23-25 on Sunday for great food and live rembetika-laika music. It is not exactly easy to find but if you are Greek and love good food and good music you will find a way. (It is right by the Benaki Museum on Pireos Street).

Psiri Restaurants and Ouzeries

There are a number of restaurants and traditional ouzeries in Psiri and the area really jumps on Friday and Saturday nights. But any night you go there are bars and restaurants and cafes that offer mostly traditional Greek food, but not exclusively. The area of Psiri begins where Ermou street and Athinas streets meet in Monastiraki. If you are walking down Ermou from Syntagma it will be on your right past Athinas street. If you are walking down Athinas from Omonia it will be on your right before you get to Ermou and the square at Monastiraki. If you are staying at the Hotel Attalos or Cecil Hotels you are right on the edge of Psiri. When you first enter the area you will wonder if you are in the right place and whether you will come out alive. There are closed shops and graffiti everywhere and if you are a naturally timid person you may be quite frightened by your surroundings. But if you push on half a block or so you will be rewarded and by the end of the night you will feel quite comfortable here. If you are worried, many of the restaurants are open in the daytime too.

If you are walking down Ermou and make your first right after Athinas Street and walk up Maioulis Street you will pass a number of cafe-bars, often full of people creating this sort of buzz as voices reflect off the buildings in the narrow streets of Psiri. The first place that opened was Rebecca, one of my favorite hangouts, but as they got more and more popular the food became less important and eventually I stopped going there. The pikilia even when at its best was a messy pile of different mezedes, some good some not so great that by the time you are half way through it you don't want to eat anymore and you start offering it to the gypsies who come to your table to try to sell you flowers or the Africans wth their CDs. We usually came here to drink and talk and the food was to keep us from getting too smashed on the ouzo. But it was the most happening place in Psiri and because of it, one similar place after another opened up and now you have a whole scene. Rebecca actually began as a small shop that brought coffees to the workshops in the neighborhood back in the days when Psiri was still primarily industrial. The kids have pretty much taken over this street so if you are an older person you may feel out of place. If you are young you will probably love it, if not for the food then for the atmosphere which buzzes at night. I used to walk by and there were people with hookahs and not many eating at Arodou which is on the corner of Maiouli and Protogenous Street so I dismissed it as just a hangout for kids. But over Easter they were grilling octopus outside and I could not resist so I stopped in for an ouzo and it turned out they had very good mezedes and salads. For very nice food in a less underworld atmosphere try Iliosporo a couple shops down and right by the square, also known as Katerina's. In the winter have a glass of their rakimilo, which is hot raki mixed with honey. They make a fantastic Cretan Salad called Dakos. Delicious marinated anchovies, salads and mezedes.

If you walk from the square up Agion Anargyron street to the next square there are two or three more ouzeries. Nikitas opposite the church is as reliable, friendly and cheap as ever. One of the last such in Psyrri. Nikitas calls itself a psitopolío but they're really a proper oinomayerio, always with several dishes of the day. Their biftekia aren't bad either. They usualy have a good eggplant dish on offer. The outdoor tables are much in demand in fine weather. Around the corner on Aisopou street is a restaurant called Oineas which is decorated with colorful cans and bottles and has a nice selection of mezedes, salads and main courses and an extensive wine list. It is Psiri-priced which means you will pay a little more than restaurants in other parts of Athens but unless you are a frugal traveler trying to get by on your parents battered copy of Greece on $5 A Day who does not normally go out to dinner, even at home, the cost of meals in most Psiri places will be about 70% of what you would pay in a good restaurant anywhere in Europe or America.

Long time Greece Traveler Kathy Pearson says "Lithos (next to Oeneas) was a place I liked 20 years ago, and still loved on this trip. They too have a great wine list, including the Papaioannou Nemea Red that is better than anything I had in southern France and reminded me of the big southern Italian reds I like to drink here at home. They also have a great lamb shank cooked with honey and thyme and coriander seeds that was the single best dish we ate. Waiter Marco was terrific."

If you walk a little further down Takis Street it becomes N Apostoli street and there is a very colorfu place called Boliotiko Tsipuradiko stou Psiri which as the name tells you it is a restaurant which specializes in cuisine from Volos which is famous for its tsipuro (like ouzo with or without the licorice flavor) and the distinct mezedes they eat in that city, mostly fish. I have yet to eat here but it keeps expanding so somebody likes it, and not just tourists.

Cafe Evi
Matt's Favorite!
For ouzo and simple mezedes this is my favorite place in Psiri. It is a little difficult to find but I am going to try to give you some directions. It is on the corner of Evis and N Apostoli street and we call it 'the BabaTzim place' because they were one of the few places that carries Ouzo BabaTzim from Serres, one of the best and purest ouzos. Now you can get it just about anywhere. They have a really nice selection of meat, fish and vegetable mezedes. Its a limited menu that changes weekly though there are a few staples that you can usually count on like fried shrimp, grilled soupia (cuttlefish), rokka-tomato salad, hummus, souzoukia (spicy sausage) and a few other things. The easiest way to find it is to walk from Monastiraki down Ermou (away from Syntagma) and take a right on N. Apostoli where it connects with Leokourou. It is about a block up. You will recognize it because there will be a guy with glasses who looks like Elvis Costello cooking and if you go inside they will have a shelf with ouzo. If one of the ouzos is Babatzim you are in the right place. You can also find it by going down Takis street and turning left on N Apostoli. The real name is Cafeneon Evi and when I am in Athens I am here most nights. Chances are you won't find a seat because there are only about a dozen tables.

Atlantiko
Matt's Favorite!

This seafood meze place was opened by Stratos, the owner of Cafe Evi and is right around the corner in a small alley that you will never find unless you happen to find Cafe Evi and ask there. If you are looking for an authentic, no frills place to enjoy your ouzo or raki, beer or wine, along with fresh fish, including grilled sardines, grilled skoumbri (mackerel), fried little shrimp, and whatever they could find in the fish market for a good price and fresh. There are two menus. The printed one and the one they write out by hand every day. Lately I have been using Atlantiko as my meeting place for business much to the pleasure of the people who meet me here and leave with a belly full of fish and a head swimming in ouzo and probably not sure of what they actually accomplished. Order the sardines. When you finish them order some more. They are the healthiest thing you can eat in Athens.

Taverna Tou Psiri
Matt's Favorite!
The best taverna in Psiri is the oldest taverna in Psiri and that is the Taverna Tou Psiri. Owned by Manolis, this traditional working-class taverna was not on my website until now because I had taken an oath of silence from my friend Ana who promised to take me to the best taverna in Athens as long as I did not put it on my website. The best paidakia (lamb chops) in Athens, some say, and delicious keftedes (meat balls) Kolokithea keftedes (fried zucchini balls), broccoli and cauliflower salad, strong sadziki, great music and the best atmosphere. This is where I had my 49th birthday party and many other big get-togethers. Because the restaurant is slow in the summer and because Manolis added an outdoor garden, Ana told me it was OK to include the restaurant on my website. Finding it won't be easy though. It is on Aiskilou 12 just up the street from Platia Iroon. One more thing. Go easy on the wine at Taverna Psiri. It tastes good but it packs a punch. The day after my birthday I could barely get out of my bed. Now I mix mine with 7-up or soda-water. But taverna Psiri is the kind of place where anything can happen. For those staying at the Hotel Attalos this is the closest good taverna. Tourists may go here but this is not a tourist restaurant.

Oinopoleion Taverna
Matt's Favorite!

Right next door to Taverna Psiri is another similar restaurant that serves grilled meat and fish as well as oven cooked dishes. Oinopoleion was actually a taverna in the town of Spata (where the airport is) that opened in 1928 in its current location, left for several decades and moved to the space abandoned when Taverna Psiri moved to its new building next door. The servings are large and not expensive. Try the politiki salata which is a spicy slaw style salad from Thessaloniki. Their grilled sausages are great as is the tigania, a spicy sauteed pork and their paidaikia are good too. The best thing I have eaten there is the giant porkchop brizola which looks like it is a cut from a dinosaur. The small Mixed Grill is a mountain of meat and potatoes. I can't imagine the large one. They have their own xima: wine from the barrel, including retsina which I think is pretty good. I like the stronger retsina, the more vulgar the better, but this is subtle and probably a good introduction for people who want to try it. It's not really from the barrel. Most likely from a box or plastic jug but it is still decent. That is because the restaurant is owned by Markou Winery and if you go into the basement there is a selection of their bottled wine for sale. On Thursday through Saturday nights they have live music and people get up and dance and keep dancing until 3 or 4am. There are also tables out front if you like to people watch and a garden with tables in the back. If you have only one night in Athens and are in the neighborhood then this is where I recommend you go. It is located at Aisxilou 12 just up from Iroon Square.

Krasopoulio tou Kokora
Matt's Favorite!

Krasopoulio tou Kokora is one of the oldest restaurants in Psiri, one of the first five or six that opened in the nineties and the restaurant space itself used to be an historic music taverna, dating back to the mid nineteenth century. It is a small cozy restaurant with outdoor seating and the inside looks like a museum, full of antiques and old advertisements. The food is excellent and inexpensive. For meat eaters try the meat pikilea which for 17 euros will easily feed two people, three if you order an appetiser or one of their giant salads. The grilled plevrota mushrooms are really good as are any of the grilled meat and vegetable dishes. Be sure to order at least one bottle of Kexrimpari Retsina from Thessaloniki, the only restaurant that I have found that serves it. If you have yet to try retsina this might be the one to start with. It is mild and delicious, though still definitely retsina. If you don't have the courage there is a large wine list to choose from as well as ouzo and tsipuro and plenty of mezedes to go with them. To find it just walk from Iroon Square down Giorgiou Kariaskaki Street and take your second right. You can't miss it. That's Yiannis, the owner. My only complaint is that sometimes they play the radio and instead of listening to cool jazz or rembetika music I am eating my brizola, drinking retsina and listening to rap and hip-hop. Just ask the waiter to change the music if it bugs you.

A few steps further and you will come to Gostigo which is Athens only kosher restaurant. A little more elegant looking than the other Psiri restaurants the prices are reasonable and there is even a small kosher shop inside. If you continue on to Takis Street and make a left you will come to a small hole-in-the-wall ouzeri with very good food, called Mavros Gatos. Great place for ouzo or tsipuro and meze. Try their regasalata (herring salad), the keftedes (meatballs) and the marinated octopus. Actually try everything. It is all good and it is one of the nicest little ouzerie-mezedopoulions you will find in Athens. I shouldn't say little because they have movved across the street and expanded. On the far side of Psiri near Platia Koumondourou on the corner of Evripidou and Epikourou is a restaurant that few tourists have seen. It is called Telis and their specialty is grilled pork chops or in Greek: hirino brizoles. In fact except for salad and fried potatoes that is about all they serve. But people come from all over to eat here during the day. If it is closed or full you can go next door and they serve nothing but hirino brizoles too. So if you are in the mood for pork-chops this is where to come to. This area is also known for its Indian restaurants but most people are a little nervous because the streets are dark and seem scary. They are not as scary as they look but if you want to feel safer come down here in the daytime. There are also lots of Chinese, Indian and Arabic food and clothing shops.

Po' Boys Slow Cooked BBQ

From Chef Vassilis Sporos and musician-owner John Higgins, the guys who gave us Mama Roux New Orleans, Mexican, Middle Eastern, fusion whatever restaurant on Aeolou Street, we now have authentic Southern BBQ and the low and slow smoked meats of the southern USA. The authentic slow smoked pork BBQ, Beef Brisket, Short Ribs, Spare Ribs, Crispy Pork Belly and Pulled Pork in burgers or platters with all the accompanying side dishes are slowly smoked in the custom offset smoker at 250F for at least 8 hours. The traditional handmade Andouille sausage - with a secret recipe brought by Vassilis from his family, the crispy Buttermilk Fried Chicken Burger, the famous Gumbo, starring along with the delicious Mac'N'Cheese, Beignets, sweet pies and tarts. If you miss Southern Style home cooking or you don't even know what that means come and check it out. They also support the local craft beer industry with over 40 different microbrews from all over Greece. They are located at Agatharchou 12 & Lepeniotou in Psiri which is off Navarcho Apostoli where it becomes Takis Street. You can call them at 210 3234672 if you want to make a reservation or need directions and I pretty much guarantee they speak English.

Right next to Cafe Evi is a cool Spanish Tapas bar/restaurant called Dos Gardinias which is known for making excellent cocktails and delicious tapas, which if you don't know is Spanish for mezedes. Great menu of all sorts of salads, meat dishes, cerviche and lots of original cocktails. They have at least 20 different tequilas and rums and lots of whiskies. They have live Cuban music and dancing so if you want to take a break from Greece one night stop in here. Chances are you will stay longer than you expected. The restaurant is at 17 Navarvhou Apostolis right at the intersection with Evi Street. Great food, terrific staff and a great atmosphere mean it is pretty much always busy so you may want to make a reservation if you are a large party. Tel. 2103235349 or e-mail them. If you walk by you will probably see someone making the Paella which they are famous for.

Gazi

If you follow Ermou Street down past Monastiraki Square it comes to an end at a small church called Ag Asomaton. From that point on it is a pedestrian street/park that continues down past the Keramikos Archaeological site on your right, ending at Pireos Street and the old Athens Gas Works. If you go left and then make an immediate right you will come to the area known as Gazi (You can also take the metro and it is the stop after Monastiraki on the #3 Metro line.) Wander around and you will find a large variety of restaurants, ouzeries, cafes, bars and hangouts.

If you want to go to a nice little ouzerie-cafeneon with good mezedes and a young bohemian clientele check out Gazochori on the corner of Persephone and Dekeleon right by the metro station.

One of the best restaurants in Gazi, if not all of Athens, is A Little Taste of Home, opened by Ahmad Alssaleh from Palmyra, Syria and a perfect example of why you DO want Syrian refugees moving to your town. With dishes from Turkey, Morocco, India, Italy and Greece, as well as Syria this is like a restaurant you might find in cosmopolitan Istanbul. Try the Damascene Baba Ganoush, Lamb Shank with Mashed Potato or the Sultan's Delight, a smokey eggplant puree with beef stew; or the Lamb Tagine with apricots and prunes on couscous. The accolades for this restaurant keep pouring in, not only for the food, which some people say is the best they have eaten anywhere, not just Greece, but for the owner and staff who are friendly, attentive, efficient and are eager to inform customers of everything from the ingredients of each dish to the various cuisines the restaurant features. A Little Taste of Home is located at Dekeleon 3 right by the Kerameikos metro station at Persephone Square and the intesection with Persephone Street. You can call 30 21 0341 0013 for reservations and directions if you are lost, though it is pretty easy to find. It is currently open only for dinner.

Restaurants with Acropolis Views

Since 1975 Strofi Taverna has been a favorite restaurant of politicians and movie stars as well as the rest of us and serves a traditional Greek menu with a touch of class but not so much as to be pretentious. It has always been considered a very good restaurant and the view just makes it a little more special. It is open from noon until late and is closed on Monday. You will need reservations.

Many of the restaurants with views of the Acropolis are in the luxury hotels which usually means you are paying for the view. The Grande Bretagne, King George, Electra Metropolis, Electra Palace, Athens Was, Ziller's Boutique Hotel, Herodion, Hotel Centrel, A is for Athens (photo), 360 Degrees, Saint George Lykavettos, Royal Olympic and several others have spectacular views and a mix of modern Greek and Mediterranean food with a little Asian thrown in by creative chefs, many with diplomas from some of the best culinary schools. The hotel restaurants are all or mostly on the high end of the price spectrum but if you are staying at one of the hotels you should at least try it out. You don't have to be a guest of the hotel to eat or have a drink though so if you wanted to you could make your way through the hotel restaurants of Athens admiring the Acropolis every night from a different angle. But you may go broke before you come to the realization that the best food in Athens may be on street level.

If you want to take the funicular to the top of Lykavettos there is the famous Orizontes where you will not only get a view of the Acropolis but most of Athens, Pireaus, Aegina and the Saronic Gulf. I have never eaten there and probably never will unless someone convinces me that I should and pays for it too. If you don't want a whole meal there is a cafe up there too. But then what? You are sitting on top of a mountain and all the fun is down below.

Fokionos Negri Restaurants

Fokionos Negri is a long pedestrian street in Kypseli with many cafes, lots of young people and a couple restaurants that I really like. Any one of these is a Matt's Favorite! In fact I probably eat out in Kyspeli three or four nights a week. The best of them is Mpakalogatos if you have to choose one.

Bioletta on Fokionos Negri was a Mezedopoleo-Ouzerie that specialized in fish but had a very wide menu and delicious food run by 2 brothers, one who cooked and Panagiotis who waited tables. This restaurant had been here since 1961 but in 2018 one of the brothers, Panagiotis, died and one of my favorite restaurants closed. I feel bad about removing the photo so I think I will just keep it up as a memorial for awhile. However there is another Bioletta at the top of Fokionos Negri, above the square, which is a very good traditional ouzeri-mezedopouleion with a great chef named Alex who was a private chef on Mykonos for many years. Great food and music too. Another restaurant similar to the original Bioletta on Fokionos is called Mezedomaxies which an emphasis on fresh fish and grilled meats as well as a large selection of salads and mezedes. This combination mezedopoulion-estiatorion is a great place to come on a sunny afternoon to have a lingering lunch with some wine, beer, ouzo or tsipuro. My daughter claims it has the best beefteki she has ever eaten.

O Mpakalogatos

My favorite restaurant in Kypseli, maybe all of Athens is O Mpakalogatos, one of the first and best of the traditional-modern mezedopoulions in Athens. Their new restaurant offers a large selection of mezedes for ouzo, tsipuro, raki and wine drinkers as well as a number of interesting entrees including several pasta dishes, grilled meats and fish and other specialities, cooked and presented in a neo-Greek style that is fashionable without being pretentious. O Mbakalogatos is one of the best restaurants in Athens. Maybe THE BEST. They have a large menu, in Greek and English. Order the mussels, either from Limnos, or Mytilini. Order the makaronades with cheese and crispy onions, order the pasta with shrimp, order the sausage, order the sikotaria (liver and stuff in wine sauce), the grilled vegetables are amazing, the Kykladiki salad, or any of the meat dishes. I could go on but start with these and then ask the waiter to suggest something. The chef is Giorgos Kantelis, who is a disciple of Panayotis Papanicholaou, who is as close as you can get to being a genius in Greek cooking, drawing his inspiration from traditional dishes from all over Greece as well as the years he spent in Chicago. Pick an island and there is probably a dish from there. You could eat here every night and never grow tired of it and come away with a whole new understanding of the depth of Greek cuisine. If I had the money I would take this restaurant and move it to my town in the USA or even in New York because this is how modern Greek cuisine should be done. Great selection of good (and organic) tsipuro, raki and ouzo as well as nice local wines by the carafe. Tel. 210 821 6598. Take a taxi to Platia Kanaris and walk down Fokionos Negri a block and a half and it is on the right. A taxi will cost about 5 euros and they are always available at the platia (square) when you want to go home. It is at 72 Fokionos Negri. They are closed on Monday.

Blasis Psaradiko-Psarafago on Fokionos Negri is a combination fish market/fish restaurant with a great concept. You buy the fish by the kilo and you pay them to cook it. They also have salads, vegetables and even some meat dishes and a variety of tsipuro and ouzos. The same owners have Mezedomaxies, a souvlaki shop-psistaria called Kypseli Kalamaki, and a sort of tispuradiko called Pame Tsipuro Pame Kafeneion which is so popular they opened one on Aeolou Street at Agia Irini Square near Monastiraki. Another taverna or mezedopouleion for outdoor spring-summer-fall eating is To Platanos which is down Agia Zoni, a pedestrian street off Fokionos Negri, in a small square called Platia Platanos at the intersection with Kalifronia street in a setting that will make you feel like you are on an island. Though the neighborhood was not the best in Athens, recently other small businesses and cafes have been popping up. Anyway it is open in the daytime too if you are worried and if you are just take a taxi and tell him Platia Platanos, Agia Zoni. Across the street is Oi Meraklides, a popular psistaria-souvlaki shop where many of the locals of this area eat that has what may be the best kondosouvli in Athens. Some people say that the souvlaki at Rigani at Fokionos Negri 15 is the best in Athens. It may be. It is pretty good as is all their food. Fabrika di Vino at 57 Fokionos Negri was Athens' first wine bar at its location near Omonia Square. Now it is in Kypseli with hundreds of Greek and international wines and really good food too. In Kanaris Square at the top of Fokionos there is Kot-kot, a psisitaria with tables on the square and a cozy back garden. The old man cafeneion Kosmikon serves simple food and it is one of the places I go for ouzo and meze and sometimes stay for dinner. Great keftedes and fried fish. They even have saligari sometimes. If you can find it Mr Falafel at Lelas Kariagianni 66 has lots of Syrian pitas, sandwiches, salads and other dishes, huge servings and super low prices. You could eat lunch and dinner and spend under 5 euros a day! And the owner is super nice.

For those of you who are traveling on a budget or live in Athens and want to go out to dinner regularly and not spend much more than what it would cost to eat at home there is a terrific choice and though it is off the beaten path you can easily have a nice meal here for under ten euros whether you come for lunch or dinner. The restaurant is called Oi Nostimies tis Mary's and it is a family run restaurant that serves Greek traditional food that is as close as you will find to home-cooking at least in this area. Run by the beautiful Mary, with lots of help from her mother, her husband Christos and her three sons, the clientele are a Kypseli mixture of working-class, poets, artists, pensioners, businessmen and people looking for large portions for prices that are a notch or two above a soup kitchen. I eat lunch here almost every day that I am working at home. Its in Platia Ag Giorgiou which is where Ithakis, Eptanisiou and Ydras streets all converge. They also make their own pizza. Probably the best bakaliaro with skordalia I have ever eaten. Great everyday restaurant if you need one. In the same square are a couple other restaurants worth a visit, especially if you are staying nearby. Kyveli is a very nice ouzeri-mezedopouleion with indoor seating as well as tables on the square. Like Bakalogatos their menu is a mixture of traditional dishes with a modern touch as is Scholarchaio right next door. Dionysios is a psistaria-grill house which serves kokoretsi and other rotisserie meats on weekends as well as souvlakia, paidaikia, and more daily. For a drink before dinner go to Allotino, also in the square, which is my favorite bar, or for younger people It's a Village which seems to be everybody else's favorite and has really good sandwiches, salads and other dishes.

Fokinos is quite a walk from the downtown area but a taxi there will only cost you about 5 euro. Also the #2, #4 and #9 Trolleys will take you right to the top of Fokionos which ends at Platia Kypseli. From Athinas Street you can take the small blue #035 and like the trolleys get off at Platia Kypseli. If you have a big meal you can walk it off by walking back to the center in about 45 minutes. Just find Patission Street at the bottom of Foikinos Negri and turn left. There are also a number of trolleys on Patission that will get you back to Syntagma, the 5,11 right to the square and the 3 and 13 to the National Gardens on Vas Sophias Ave. See also Eating in Kypseli

Beyond the Realm of Central Athens

The first thing that happens when you sit down at the small Xoxlidaki Ouzeri in Nea Psyhico is that a smiling waiter brings you a small carafe of tsikoudia from Crete and a tiny meze, and leaves the menu for you to explore. Its a fascinating menu too, with mezedes and dishes from all over Greece and even some dishes from Smyrna. But before you get completely overwhelmed by the descriptions he returns with a giant tray of small dishes which you can choose from. Long red Florina Peppers stuffed with cheese and grilled, calves tongues, caper salad, potato salad with onions and capers, Cretan dakos salad, sadziki, fava, humus and the typical Greek dishes too. But its the entrees that really show a fusion of traditional mezedopoulion fare and neo-Greek cuisine. Try the pork loin in yogurt and apricot sauce, a dish from Smyrna, or the fried baby squid. Grilled sardines when in season have to be the best you will find in Athens. They have several types of kokoretsi, baked in the oven. For those who don't know, kokoretsi is the liver and other organs of lamb, stuffed into or wrapped in the intestines and served sliced. But if this is still not weird enough for you try the beef testicles. Yes. This is not a misprint. They also have about 30 different varieties of ouzo and several different rakis and tsikoudia including the excellent house variety which I mentioned before and is probably sent in unmarked bottles from some farmer in Crete. Lots of salads and dishes for those people who don't care for testicles and spleens and many other meat and chicken dishes. Oh yes, the best fried potatoes I have had yet in Athens. This is one of the best ouzeri-mezedopoulions in Athens. For the more adventurous walk up Vassilias Sophias from Syntagma Square until you pass the flower shops and come to a bus stop. Take the #13 trolley to the last stop which is the platia of Agia Sophia. Walk back a couple blocks and turn left on Adrianeiou and it is another block on the right. You can also take the metro from Syntagma or Monastiraki towards the airport and get off at Ambelokipi and catch the #14 trolley to the same place. For the less adventurous take a taxi to 31 Adrianeiou in Nea Psyhico. Tell the driver it is near Agia Sophia. To get home walk back to L Kifissias and use the underpass to cross and you can catch the 13 back to Syntagma or flag a cab. Tel. 210 6746551. Matt's Favorite!

A couple doors down in a two-story house, open only for lunch is another Matt's Favorite called "o Takis". It is a family run home-cooking restaurant with a menu that changes daily, served by Takis himself, a blur of a human who never stops moving from the kitchen and from table to table. Anything you order is good and if you come around 2pm and spend the afternoon sitting in the garden it may be your best meal in Greece. Takis speaks English, as does his daughter and I can't think of anywhere I would rather eat, any time of the year. By 7pm they are usually closed unless there are still people enjoying themselves. You can call them at 210 6747237 to make sure they are open or in case your taxi driver gets lots and wants to know where it is. If you get there and it is closed just go to the Chinese Restaurant next door, one of the best in Athens, or the souvlaki shop around the corner, also good. But nothing beats Takis for Greek food.

Want some more places that tourists usually don't stumble upon? Take the metro blue line towards the airport and get off at Panormou Station. Walk towards Kifissias avenue one block and you will come to Doukisis Plakendias Street (not to be confused with the metro station of the same name). You will find there an assortment of small neighborhood tavernas which serve seafood, meat and mezedes and some of which may even feature live rembetika-laika on weekends. If you walk down Panormou away from Kifissias Ave to Evritanias street you will find the excellent little basement taverna called To Koutouki 54. Or take the metro to Maroussi and walk down Ermou, the main pedestrian shopping street until you get to the end and take a right and then a left into the square and you will find a famous old cafeneion which has now been turned into a mezedopouleion-ouzeri by Thanasis and Vagellis the two sons of the original owner. Kastalia is the perfect place to spend a rainy afternoon indoors or a sunny afternoon or evening outdoors since they have tables on the square. Great food and a good reason to visit Maroussi.

Seafood Restaurants on the Sea

The small port known as Microlimano is known for its expensive fish restaurants. In fact there is a popular scam going on where a taxi driver takes you to one of these restaurants and you end up paying a fortune and he makes a commission. Of course he does not make his commission unless you actually eat there so instead of sitting down to eat, look at the menu, then take a nice stroll in the newly renovated picturesque harbor and look at the menu of some of the other restaurants and if you find that the one your driver took you to seems the best then go back to it. If it is good and you enjoy your meal then he has earned his commission. And you visited somewhere very nice that you may not have found otherwise.

Remember that in Greece some sea food is very expensive and in many restaurants those are the fish they push. If you do want to go to Microlimano, since it is a pleasant place where you can have a fish meal surrounded by fishing boats, the Fish Taverna Botsaris is one that was not over-priced and the food was good. And according to the business card I got from them "the Chef is the Captainhimself". Varoulko at Akti Koumoundourou 52 is a Michelin Star fish restaurant owned by celebrity chef Lefteris Lazarou. It is diverse and affordable and probably your best bet in Microlimano. If you do go to one of these Microlimano places and order fish try to be present during the fish weighing ceremony and if you are smart you will come with someone who knows what a fresh fish looks like. Some tourists have complained about being 'ripped off' in Microlimano and that may be true in some cases. But a large A category fish will cost you over 100 euros and when the bill comes you may have sticker shock. If you are on a budget then a)What are you doing in Microlimano, and b)Order the cheap fish: sardines, gopes, mackerel, kalamari, gavros. You get the same view whether you eat expensive or inexpensive fish.

Another thing to do is go to the area of Periaki which is where the Greeks go to get good seafood. Try Diasimos which is one of the most popular and one of the best. But there are many along the coast and the area is much more open to the sea than Microlimino where you can't even see the sea until you sit down in one of the restaurants. Also the area near the Hellenic Naval Academy in the neighborhood called Hatzikyriakiou there are several good fish restaurants including the family run Elias at Leoforos Chatzikiriakou 104, and Yperokeanio at Marias Chatzikiriakou 48. See my page Eating Seafood in Pireaus

With the new coastal tram it is easy to get on in Syntagma and get off at a seaside fish taverna. If you get off at the stop called EDEM you can go to the fish restaurant of the same name, right on the beach where they serve fresh (and frozen) fish, ouzo, wine, salads at reasonable prices. In the winter the beach is a little gross because whoever cleans it takes his holiday, but if you don't look too closely you will think you are on an island.


Flisvos Marina

The area of Flisvos Marina in Faliron, where the richest people in the world keep their yachts, has been turned into a walking, drinking and dining area where people come from all over Athens to be by the sea. Nissos is an upscale looking ouzeri-mezedopouleion that has a large and varied menu (it could easily be called a psarotaverna) that if you order sensibly you don't have to spend a lot of money. But most likely one look at the food and you will probably allow yourself a treat or two and worry about the price another time. Besides having all the seafood dishes you would find in just about any good seafood restaurant in Greece, they also have some very imaginative and inspired seafood mezedes and main dishes, pastas, sushi, crabs, lots of ouzos and tsipuro and fine wines too. For sure it is a "special occasion" place though I have friends in the neighborhood who eat here often. If you order the everyday fish, grilled sardines, gavros, fried kalamari, smoked skoumbri, fried bakaliaro, lakerda you can get out of here pretty cheaply. The fish that is sold by the kilo is not much more expensive than you will find in other fish tavernas. They also have amazing salads and you can't beat the view. They have some meat dishes, and the restaurant next door Paraga is a meat place owned by the same people. It is worth going early and wandering around. There are shops and gardens with walking paths, playgrounds and a seaside promenade and perhaps the world's greatest collection of luxury yachts. Not to mention the Battleship Museum Averof and the world's only working Ancient Athenian Tireme. There are also some cool bars and cafes. It is open for lunch and dinner.

There are two fish taverns on the beach at Sounion, just under the ancient Temple of Poseidon where if you have done your research you will probably go since it is one of the essential ancient sites. The taxi drivers say the upper one called Elias is superior. But for me the best place to eat is in nearby Lavrion in any of the small ouzeris right in the fish market. Yeah it smells fishy but after a plate of big fried shrimp and a couple glasses of ouzo you won't even care. If you are here to catch a boat to Kea this is the best way to spend your time and you may even decide to take a later boat. This place can get very festive, especially on a summer weekend. It is mostly mezedes but since you are right in the fish market whatever you get will probably be fresh. Actually in the last couple years many fish places have opened up in Lavrion due to the cruise ships and sailboat charter companies being based here. By the way if you look at the menu and next to the fish it says (kat) that means frozen and applies mostly to kalamari and shrimp. I f you want to go to a nearby beach that will make you think you are on an island instead of eating in town go to Asimakis Beach, which has a nice fish taverna right on the beach. It is on the road between Lavrion and Sounion across from the Hotel Saron.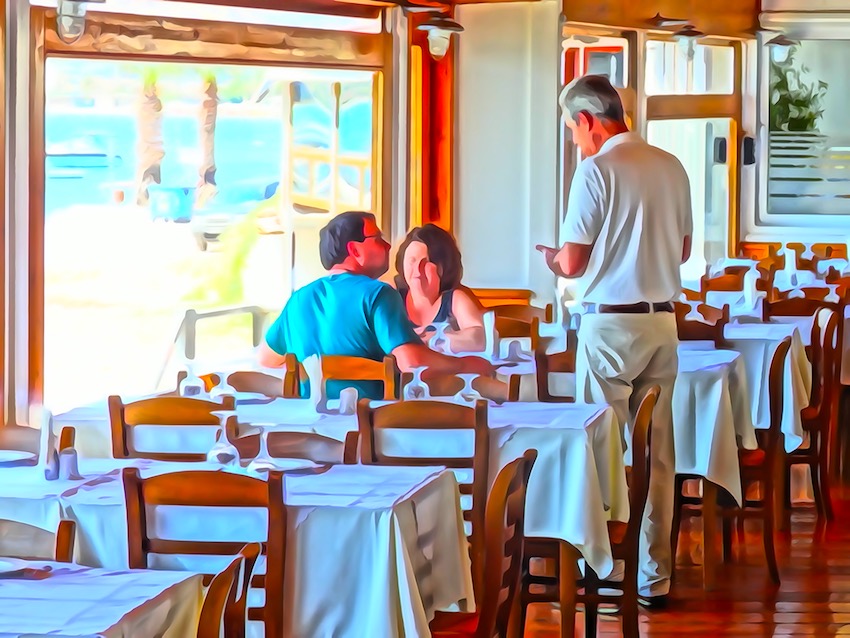 The town of Anavissos is famous for seafood tavernas. It is on the way to Sounion. Try the Akroyiali Psaro-taverna. We eat here pretty often and the food is excellent. This is the restaurant that George and some of the other taxi drivers who do tours bring their clients because the fish is fresh, the food is delicious and they take pride in the cleanliness of the place. If you tell Panayotis, the owner, that you came on my recommendation he will make sure you get the freshest fish and if enough of you go there I may never have to pay for another barbouni (red mullet) again. By the way, barbouni, though expensive is the best tasting seafood in my opinion, better than lobster. It costs from 50-60 euros a kilo though. But two people can be happy with half a kilo. Koutsomoura which is in the same family is cheaper and almost as good. Some like it better. The inexpensive fish are the kolios (makerel), gopa (some kind of bream I think), sardeles (sardines) and kalamari (squid). All can be fried or grilled. When you get kalamari ask for fresh but often it is not in season. Another delicious inexpensive fish is gavros, which are fried anchovies. If you like octopus get it grilled. In fact if you don't like octopus get it grilled and you may change your mind. Matt's Favorite!
Seafood to and from the Airport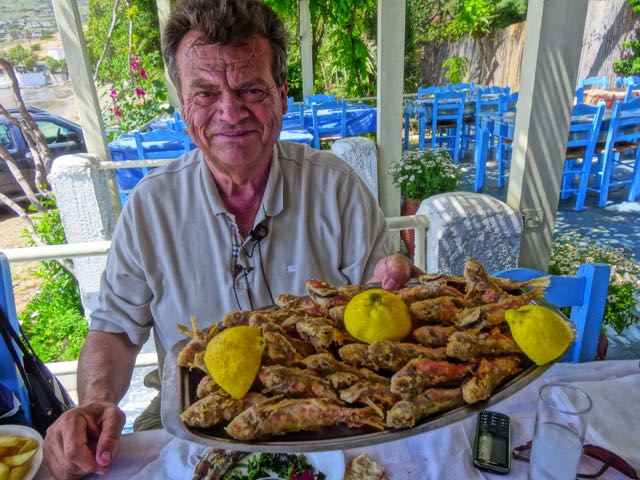 People arriving or leaving from Venizelos airport should make a detour to the small coastal town of Daskaleio for a swim and lunch, dinner or meze at H Litza Psarotaverna which will be as close to a Greek island experience as you can get in Athens. Take the road from the airport to Lavrion and turn left in Keratea when you see the sign for Daskaleio and Kaki Thalassa. Litsa's is a small family run fish taverna right on the beach with good home cooking and a variety of fresh fish. There is nothing better than arriving in Athens and going straight to the beach for a swim and then eating some fresh fish, a salad, some vleeta and maybe having an ouzo or two. If you want one last good Greek meal in a nice setting on the sea this is probably the right place for you, if not just walk down the beach to Psarotaverna Kostas, or maybe it is Nikos. I forget. Whatever the name is it is good too. You can arrange this through George the Famous Taxi Driver. (Shown with a kilo of koutsomoures)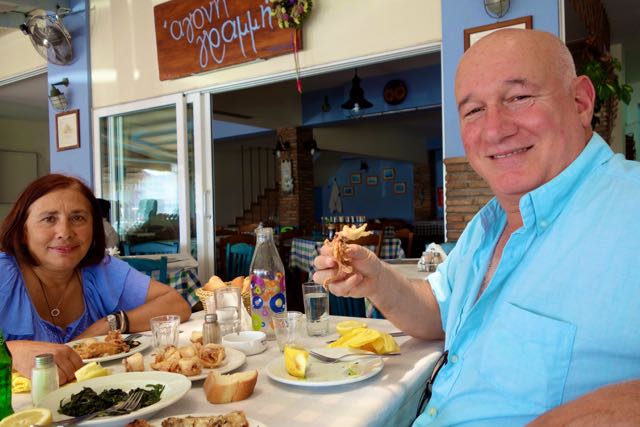 Rafina is full of small fish restaurants and worth the trip if you want that Greek island port feeling without actually going to the islands. Try Agoni Grammi, one of the last restaurants before the entrance to the ferries. Simple, cheap mostly fried seafood as well as ouzo and mezedes and some other interesting things. Ask what is fresh at these Rafina restaurants. If you order a combination they will go heavy on the stuff they want to get rid of if they think you won't notice or care. Kalamari, galeos and bakaliaro are nearly always frozen but usually good, better than something that has been sitting around on ice for several days. But if you go for fried gavros, grilled sardines, kollios (mackerel) or ask for kalamarakia freska and tell the English speaking young woman who owns the place that you came because of my website and want the freshest fish she will oblige.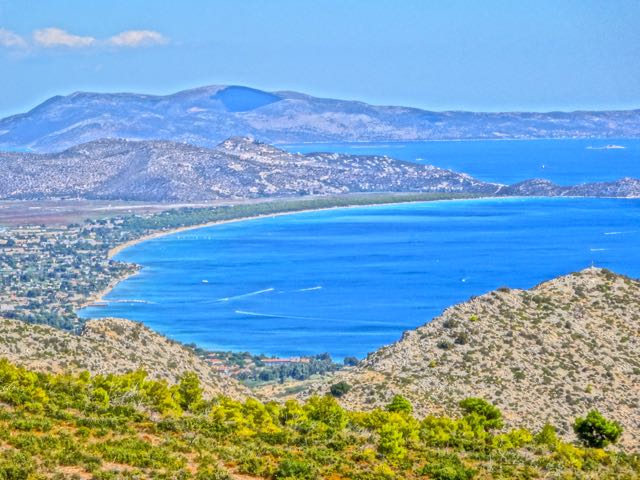 The beautiful pine shaded beach at Schinias near Marathon had a number of fish taverns right on the beach. There was no electricity so the restaurants used generators and had that primitive feel you get on a remote Greek island. They have all been closed but there are several restaurants on the road parallel to the beach, some which serve, meat and fish. In the town of Marathon Beach there are two simple family run down to earth fish tavernas worth eating at. Panormitis is my favorite but it is very small and the last time we went there were no tables so we went to O Braxos which has been open since 1948 and that was really good as well. Cafe del Mare is known for its mezedes but they serve large plates too. Also O Psaras is worth a meal. Like the others you feel like you are a long way from Athens, like on an island and Marathon Beach is very swimable. You can get here by rental car, KTEL bus or taxi and it is about a 35 minute drive from the airport. If you have a car or a driver you are about 10 minutes from the ancient city of Ramnous which would be a pretty spectacular archaeological site to visit to begin or end your trip. Be sure to see the lake at Marathon too on your way here or back to Athens.
The district of Kessariani which is heading up Mount Hymettos and has nothing to do with the sea is known for the seafood restaurants around Anagnesseos Square. These are the closest collection of fish restaurants that are not actually on the sea if you feeling like walking until you find one you like. But just about every neighborhood in Athens has a fish restaurant or at least a restaurant that offers a number of choices of fish, even if it is not exclusively a psaro-taverna. Be aware that sometimes you will flag down a cab and rather then take you to the restaurant you want to go to, he will say he knows a better one and take you to another as I have mentioned above. Sometimes this may be the case, but more then likely he is getting a commission from the restaurant he delivers you to. My advice is to use a radio cab from the hotel. They are less likely to jeopardize their relationship with the hotel if you report them.
Ouzeri tou Laki
Finally there is To Ouzeri tou Laki near Platia Victoria, one of the best and least expensive seafood restaurants you will find, if by chance you do find it. As soon as you walk in you will know that this is the kind of place where you will get fresh seafood in an unpretentious atmosphere, the kind of place they need more of in Athens. To find it you take the electric train one stop past Omonia to Victoria Square and walk to the center of the square and look to your right where you will see a small pedestrian street called Elpidos and Laki's is at the end. Walk in and there is a big case of fish on ice, probably more fish than you have ever seen outside of the market and many you have never seen in Greece before including skate and blue crab just like they have on the Atlantic coast of the US. I recommend their mussels and the skate, both served in a delicious and slightly spicy lemon and oil sauce. You can get just about any fish grilled or fried and they have several different saganakis with mussels and jumbo shrimp. Try their excellent potato salad and gavro pasto (marinated anchovies), their fish soup, soupia (cuttlefish) with spinach, and their Rizotto me Thalassina made with shrimp, mussels and mushrooms. Lots of salads and vegetable dishes, this is a great place for serious vegetareans and for those who can't live without meat they have grilled beef and pork steaks, and some cassarole dishes. They also have a hundred or more different ouzos, tsipuros and tsikoudia and good house wine. Nice music, nice atmosphere and cool clientele. Not really a place for families with young kids, its small, but great if you are young and adventurous which you need to be to find it.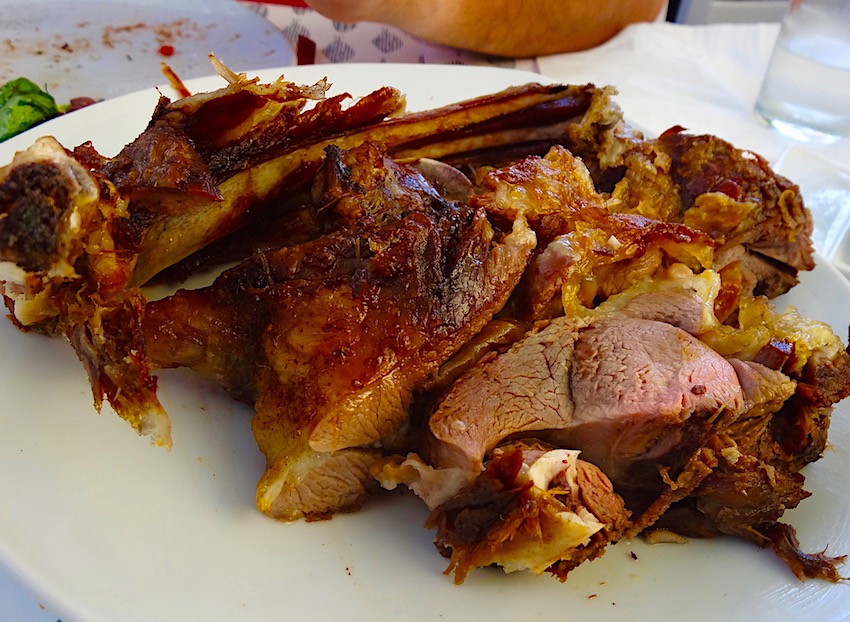 "In America you have your Silicon Valley ", my friend Nikos told me." In Greece we have Cholesterol Valley ". He is talking about the area called Vari which is to grilled meat as Mikrolimeno is to seafood. The town is located near the coastal town of Vouliagmeni on the road to the airport and is famous for it's collection of psistarias which serve roast suckling pig, roast lamb, roast goat, kokoretsi, paidakia all cooked over hot coals. I would consider a visit to Vari essential for anyone who wants to live like a Greek for one night and the more people you can get together for it, the more fun you will have. We went with George the Famous Taxi Driver and a couple of his taxi driving friends and relatives to a place called Tassos that had great wine and delicious food. Tassos is easily recognizable by the fellow dressed like a Greek shepherd in a foustenella and a shepherds stick waving at the cars. Well, maybe not because lots of places have guys like this in Vari. But if you love grilled meat it is tough to go wrong in Vari. Get a group together and call George or just go on your own. There is not a taxi driver in Athens who does not know where Vari is and probably has a favorite place.
The reality is that the best meat restaurants are outside of the Plaka and central Athens, some in working class neighborhoods, some in the suburbs because of the smoke problem. You would need a chimney at least 5 stories tall to not get smoke into all the apartment buildings in the neighborhood. So as Athens grew the psistarias moved out to the country. One of the best nights of my life was spent with George the Famous Taxi Driver and his family on Mount Parnes, just outside the city where there is an entire town of restaurants that serve whole grilled lamb, steaks, chicken, pork, kokoretsi, goat and every appetizer you can imagine. The wine was fantastic! The town of Kalivia, between the airport and Lavrion is famous for its grilled meats and is very popular on weekends. Closer to Athens is Pendeli which you can reach by taxi and there are a number of good psistariasthere.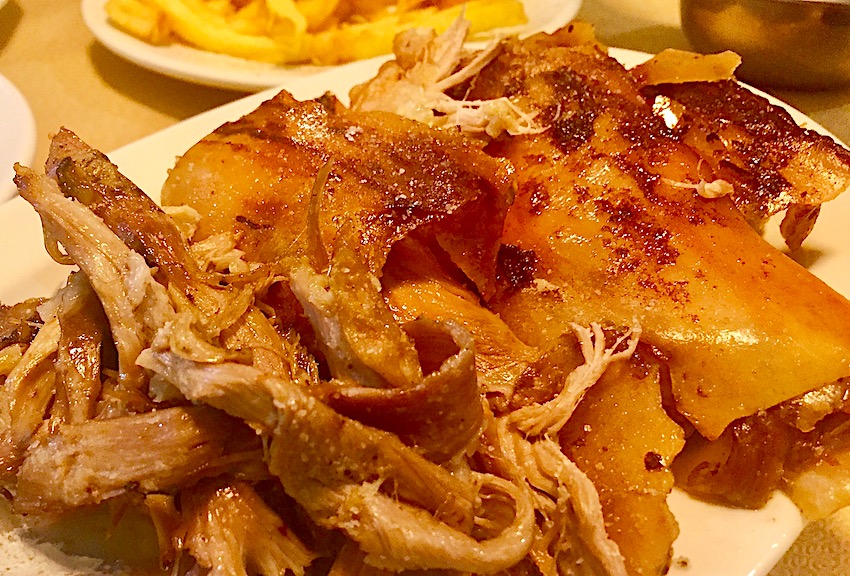 I highly recommend Manginas at Platia Ethnikis Antistasis in Melissia which is on the way to Pendeli, another restaurant George took me to. Grilled whole lambs and pigs roasting on spits, kokoretsi, and all sorts of meats, salads and appetisers and excellent home made wine. The restaurant has been open since 1948. You can call for reservations though unless you are a large group or it is a special meat-eating holiday you probably won't need them because it is enormous. (30) 210-80.46.143 210-61.32.010 210-60.96.487 or e-mail George Manginas.
But you don't have to leave Athens to find goodpsistarias. Every neighborhood has a souvlaki shop that becomes a psistaria on weekends and you can find paidaikia, provatina, roast lamb, pork, goat, kontosouvli, kokoretsi and more on Friday and Saturday nights and Sunday afternoons. I suggest hopping in a taxi and going to Martinis Kouzina at 289 Patission Street, a famous old estiatorio that has a large selection of magerefta (oven cooked dishes) and an even larger selection of tis hores, meats grilled right then as well as various roast meats. A taxi should cost around 7 euros from downtown. You can also take the 3, 5, 6, 11, 13 and 14 trolleys right to it. It is open every day from noon to midnight.
Italian Restaurants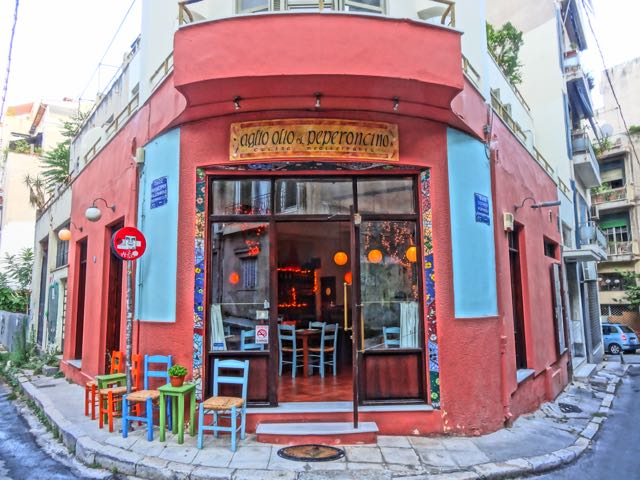 There are a number of Italian restaurants in Athens, some of them actually owned by Italians with Italians in the kitchen doing the cooking. My favorite, and one of the best Italian restaurants I have eaten at anywhere, is Aglio, Olio & Peperoncino, right by the Acropolis Metro Station in Makrianni. It is a small restaurant with a dozen or so tables and does not have a big outdoor space, but the food makes up for this. Try any of their pasta dishes and daily specials, beautiful salads and their bruschetta appetisers and you will forget that you are in Greece. It is easy to find. Look for the entrance to the Acropolis Metro Station on Diakou Street and take a right, and walk past the Wine Point wine bar and you will see it. The address is 13 Porinou street though asking for directions might be fruitless since this has to be one of the shortest streets in Athens. But you can call for directions or to make reservations. 210 921 1801.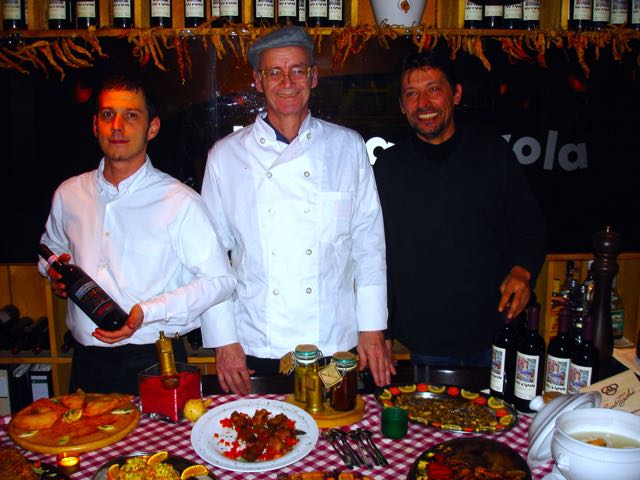 Another example of an authentic Italian restaurant was Tutti I Tavola which was owned by my pal Claudio, from Trieste. But Willie, his chef died (the guy in the center of the photo) and Claudio sold his share to his partner and opened a new restaurant in Halandri which is called Osteria Da Claudio and is even better than his last place. I could not begin to tell you how to get there except that it is on the road from Halandri to Melisia. The address is 26 Barnali in Halandri and the phone number is 210 683-4228. Your best bet is to take a taxi but you can probably call and get directions from the Metro. Another nice Italian restaurant is Anema E Core which was nearly impossible for anyone but an Athenian to find, located at 123 Ag Paraskevis Street in Halandri. But since the Agia Paraskevis metro station opened it should be easy since it is located right by the entrance. Like Claudio's restaurant this too is owned and run by Italians, though they come from Naples and are heavy on pizzas and pastas.
If you get a copy of Athinorama Magazine which comes out every week you will find dozens of Italian Restaurants (if you read Greek) though there are few that are in the downtown area. Most are in the suburbs but there are a couple in Kolonaki. Anyway you can find pizza at just about any tourist restaurant and cafeteria and a cheap fast-food version at any tiropita shop. My daughter says CRUST in Psiri is the best pizza place and it is right behind the Hotel Attalos on Protogenous Street right past Barrett Bar and Syd's Records.
Tipping
They used to say a 18% gratuity was included in the bill but I have heard from waiters that they never see this money and they are very thankful for whatever you can leave. I will leave anything between 10 and 20%. After paying the bill and giving the waiter the tip I also leave some extra change for the guys who clear the tables who are often refugees and can really use the money because they are paid practically nothing. I also tip taxi drivers no matter how short the trip is because they barely get by and are very happy when you tip them. (But I tip at gas stations too so what do I know?) If you want to be generous and leave a good impression then leave a nice tip. I always leave at least a euro per night in my hotel room on the lamp table or desk for the woman who had the misfortune to clean my room every day.
More Greek Food and Travel Information: