Athens is loaded with museums. It seems like there are new museums and branches of old museums opening every week. You can check the Athens News for traveling exhibits and this page will give you information on the main museums that should not be missed. An excellent book to get is The Museums of Athens by Aristidis Michalopoulos which is the most complete guide to Athens Museums that I have found. It contains opening and closing hours, entrance fees, and maps and descriptions on how to get to museums in Athens and Pireaus, the suburbs and nearby islands. Be sure to visit my History of Greece which will make visiting these museums even more meaningful.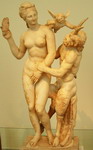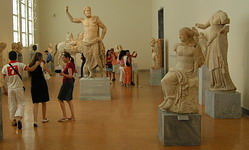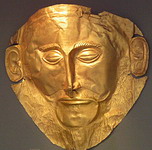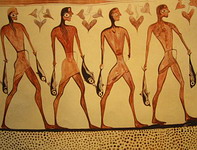 National Archaeological Museum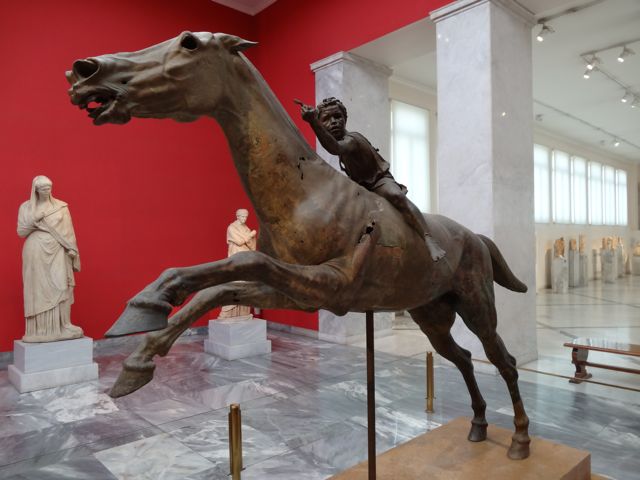 The National Archaeological Museum ranks among the top ten museums in the world. Its impressive collection is housed in a beautiful neoclassic building near the juncture of Alexandras Avenue on Patission Avenue. There is a gift shop, and a cafe in the sculpture garden. Children under 6 and EU students get in free. Be sure to see the Antikithira Device, an ancient computer that will change the way you think about the ancient Greeks.
The museum is a five minute walk from Victoria Station and a 10 minute walk from Omonia. The Trolly #'s 1,2,3,5,6,7,8,9,11,13, and 15 all stop there.
Hours:
Tue-Fri: 8am-7pm
Mon:12:30pm-7pm
Sat, Sun & Holidays:8:30am-3pm

The Acropolis Museum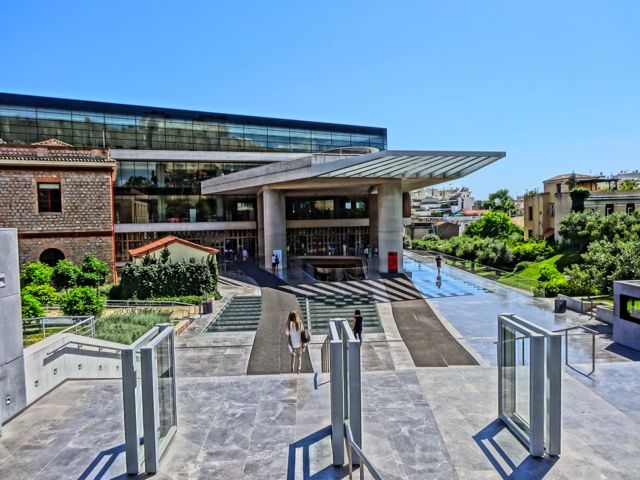 The new Acropolis Museum was designed to offer the best conditions for the exhibition of its exhibits. A walk through its galleries is a walk through history between the masterpieces of the Archaic and Classical periods, but also in the ancient neighborhoods of Athens whose city streets and buildings you can see below when you look through the glass floors of the museum. It was hoped that by building the Acropolis Museum, the British Museum would return the Elgin Marbles, but don't hold your breath. In the meantime there are copies of those pieces to go along with the thousands of ancient stones and statues that finally have a home, worthy of them. Don't miss this museum.
General admission fee: 5 euros.
Reduced admission fee: 3 euros.
Free admission
(Ask if you are entitled to free admission. You have to be a member of parliament, student from an EU country, a child under 5 and a few other types. If you are not allowed to get in free you may be able to get in for the reduced admission if you are a student from a non EU country or a senior citizen from an EU country).
Museum Hours:
Tuesday to Sunday: 8.00 a.m. to 8.00 p.m.
Last admission: 7.30 p.m.
Galleries cleared at 7.45 p.m.
The Museum is open every Friday until 10 p.m.
Monday: Closed.
Closed: 1 January, 25 March, Easter Sunday, 1 May, 25 December and 26 December.
To get here by metro just get off at the Acropolis stop on the red line. If you are walking it is right down from Dionysiou Areopagitou where it intersects with Makrianni Street on the south side of the Acropolis.
The Benaki Museum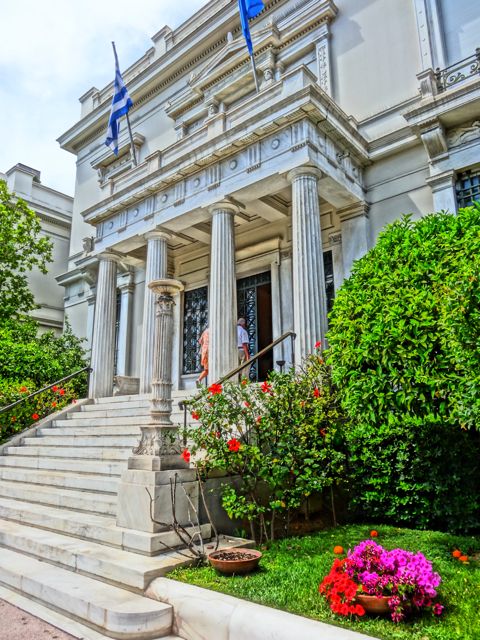 Though the National Archaeology Museum gets all the press, in my opinion it is the Benaki which is the best museum in Athens and certainly the most important in terms of the history of both ancient and modern Greece as well as art and culture. I would also suggest that it is every Greek-American, Greek-Canadian, Greek-Australian and anyone who is of Greek origin or has an interest in Greece to visit the Benaki for a better understanding of the country which is modern Greece. Starting at the bottom floor with the ancient stuff and going up through the various periods of Greek history, my favorite part is the third floor and the heroes of the Greek Revolution and the birth of the modern state of Hellas. Just walk up Vass Sophias from Syntagma with the National Gardens on your right. Then you reach the end of the Gardens look to your left and that is it. The Benaki has opened two more branches in the area around Psiri on Agios Asamaton Street and on Pireaos Street. They also have an excellent gift shop with historic prints, many of which are on display in my home in North Carolina.
Vassilisis Sofias and 1 Koumbari street (between Kolonaki Square and the National Gardens).
Tel 367-1000
The opening hours are:
Weds - Friday - Saturday: 9.00 - 17.00
Monday and Tuesday closed
Thursday: 9.00 - 22.00
Sunday: 9.00 - 15.00

Herakleidon Museum of Art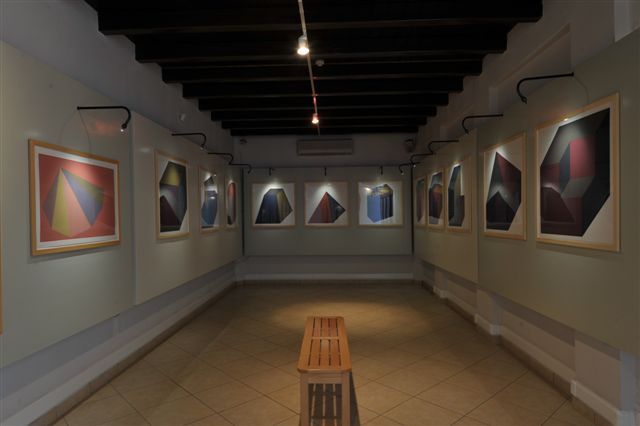 Mr. Paul Firos and his wife Anna-Belinda, collectors and art lovers, were inspired to create this new private museum by their love of neoclassic buildings and their commitment to preserve such buildings. This is combined with their desire to share with others their enthusiasm for the fine arts and thus contribute to the artistic life of Athens. The museum's mission is to introduce visitors to the art of the exhibited artist, to show how the artist has evolved through the various important periods in his or her career, to explain the various techniques used by the artist to express his or her vision, and to help the visitors connect to both the artist's life and work. To accomplish this, not only will works of the artist be on exhibit, but also preparatory sketches, drawings, photographs and personal items.
16 Herakleidon St., Thissio
Tel.: 210 34 61 981
Fax: 210 34 58 225
e-mail
The Hellenic Motor Museum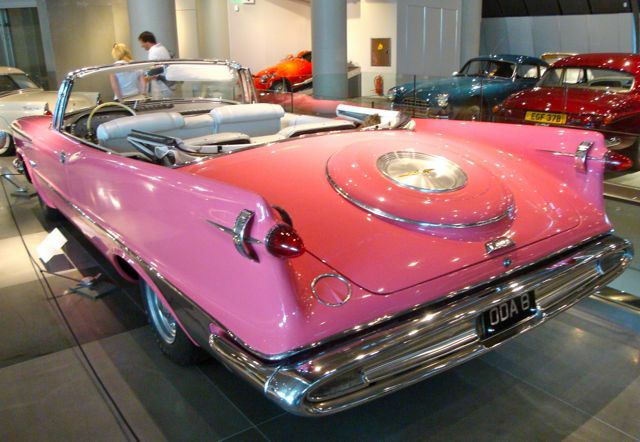 These cars are the collection of Theodore N. Charagionis and they are on display in a beautiful modern building just a couple blocks from the National Archaeological Museum. I may be criticized for saying this but if I had to choose one museum to visit this would be it. But after 45 years of looking at ancient artifacts I may be a bit jaded.
The Museum is open from Tuesday to Saturday from noon to 9pm and on Sunday from 11 to 6pm. The building that houses the museum, the "Athenian Capitol" complex, is a multi-activity center for the Athenian "future", that combines retail, culture and leisure and is located strategically between the National Archaeological Museum and Victoria Station. The address is 3rd September, 33-35 Iouliannou & Patission Streets. If you are coming from the ArchaeologyMuseum turn to your right and walk down Patission Ave for 2 blocks and turn left on Iouliannou. If you are coming from the Victoria metro station, with the square behind you go right on 3rd of September Street and walk 4 short blocks.
See Hellenic Motor Museum (The car in the photo belonged to Robert Plant of Led Zeppelin.
The Goulandris Museum of Cycladic Art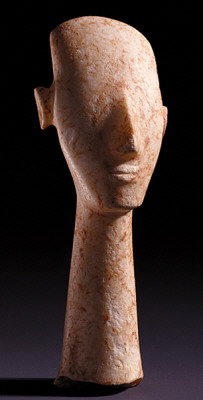 The Museum of Cycladic Art is dedicated to the study and promotion of ancient cultures of the Aegean and Cyprus, with special emphasis on Cycladic Art of the 3rd millennium BC. It was founded in 1986, to house the collection of Nicholas and Dolly Goulandris. Since then it has grown in size to accommodate new acquisitions, obtained either through direct purchases or through donations by important collectors and institutions.
Hours:
Monday - Wednesday - Friday - Saturday: 10:00 - 17:00
Thursday: 10:00 - 20:00
Sunday: 11:00 - 17:00
Tuesday: closed
On Sunday May 6th, the Museum will remain closed due to the elections.
Public Holidays (museum is closed): 1 January, Easter, Easter Monday, Spirit Monday, 1 May, 25 December, 26 December, Shrove Monday, 25 March, 15 August.
4 Neofytou Douka St, Koloniki
Tel 722-8321 or 722-8323
Kerameikos Museum

148 Ermou
346-3552
Tues-Sun:8:30 to 3
Closed Monday

The ancient cemetery of Athens at the bottom of Ermou past the Monastiraki flea market has a nice little museum. The site itself though off the beaten path is one of my favorites. Lots of pottery and tombstones. See Kerameikos
Museum of Greek Folk Art

17 Kydatheneon St Plaka
Tel 323-1577
Embroideries, wood carvings, jewelery, and other traditional folk art. The museums not-to-be-missed collection of ceramics is housed in a beautifully renovated former mosque at 1 Areos Street on Monastiriki Square. Open daily except Mondays from 10am to 2pm.
Jewish Museum

39 Nikis street at Kydatheneon in the Plaka
Tel 323-1577
Before the Nazi occupation and the decimation of Greece's Jewish population, many of Greece's Jewish communities traced their roots back to the Spanish Inquisition and before to Classical Greece. Art and artifacts from Jewish communities through the ages, as well as documentation of the Holocaust makes this museum a cultural treasure. This museum was the creation of my 9th grade history teacher Nikos Stavrolakis. Opening hours: Daily 9.00-2.30, except Saturdays and Sundays 10.00-2.00

See Nikos Stavrolakis Short History of the Jews in Greece
National Gallery

50 vas Konstandinou street (opposite the Hilton)
Tel 723-5937
The permanent collection of modern Greek painters and international contempory artists includes large-scale sculptures. Open daily from 9am to 3pm. Open Sunday from 10am to 2pm. Closed Tuesday.
Municipal Gallery of Athens
Corner of Myllerou and Leonidou St (Avdi Square)
Metaxourgio
The Municipal Gallery of Athens is houses a rich collection of nearly 3,000 works from leading 19th- and 20th-century Greek artists. Its current building was designed in the early 19th century by prominent architect Hans Christian Hansen and is one of the oldest neo-classical buildings in Athens.
The gallery is open Tuesday through Saturday from 10:00 to 14:00 and 17:00 to 21:00 (10am-2pm and 5-9pm), on Sunday from 10:00 to 14:00 (10am-2pm), and closed Monday. Admission is free.
National Historical Museum

13 Stadiou street (in the old Parliament Building)
Tel 323-7617
This museum is perfect for those interested in the Greek War of Independence and it's artifacts. Open daily from 9am to 1:30pm. Closed Mondays. Free on Sunday.
The Gastronomy Museum
If you love food, (and who doesn't?) then this may be the museum for you. Located in a restored late-19th-century mansion off Athinas Street in Psiri, five minutes' walk from the Central Market, the word museum does not tell the whole story since it is also a shop and a restaurant where you can have one of the most educational meals you have ever eaten.
The Gastronomy Museum is shut only one day a week, Monday, and serves coffee from 10 a.m., meals from noon to 9:00, and drinks until after midnight. Some of the activities planned include showings of films with a food theme, such as Babette's Feast or Politiki Kouzina (aka A Touch of Spice), cooking lessons for adults, food-related events for kids, talks and book presentations. They also plan to change exhibitions a couple of times a year, to highlight cooking from different periods or regions.
Agiou Dimitriou 13, downtown Athens
Telephone: +30 210 321 1311
Hours: 10am-late; kitchen open noon-9pm; closed Monday
Lalaounis Jewelry Museum
The Ilias Lalaounis Jewelry Museum is a unique museum devoted to the art of jewelry and the decorative arts. The museum was founded in 1993 and opened to the public, as a non-profit organisation. Today the Museum's permanent collection includes over 4000 pieces of jewelry and micro sculptures from over 50 collections designed by the museum's founder, Ilias Lalaounis, between 1940 and 2000. The permanent collection is enriched with donations including jewelry and decorative arts from around the world. The museum is located on Karyatidon and Kallisperi Streets, just off the esplanade of Dionysiou Areopagitou St. on the south side of the Acropolis, below the Theatre of Dionysos. Visitors can reach the museum by taxi, bus and the subway.
Opening Hours
Thursday, Friday, Saturday: 8.30 a.m. – 4.30 p.m.
Sunday: 11.00 a.m. – 4.00 p.m.
Wednesday: 9.00 a.m. – 9.00 p.m.
Mondays, Tuesdays and National holidays the museum is closed.
General Admission: 5,00 €
Students, senior Citizens, and Groups: 4,00 €
Museum of Popular Musical Instruments

1-2 Diogenes St
Plaka
Tel 325-0198
This is my friend Groves Willer's favorite museum in Athens and I am inclined to agree with him. It is easy to find, right across from the Tower of the Winds in the Roman Agora. You can wander around listening to different instruments and styles of music through headphones at each exhibit.Open daily from 10am to 2pm. Wednesday from 12 to 6pm. Closed on Mondays. Admission Free. Visit John Marlowe's review at www.greecetravel.com/musicmuseum
Byzantine Museum

22 Vasilissis Sofias Ave
Tel 721-1027
A divine collection of Byzantine Icons, Mosaics, Sculptures, Bibles, Garments and more. Easy to find, just walk from Syntagma up Vasslissis Sofias Ave past the National Gardens and go another block. Open Tuesdays to Sunday 8:30am to 3pm.
War Museum

2 Rizari Street and Vass. Sofias Avenue (next to the Byzantine Museum
Tel 729-0543
War implements from ancient times to this century including armor, swords, torpedos, and fighter planes. Photographs of various Greek campaigns and battles. really cool museum if you like war stuff. Open Tuesday to Saturday from 9am to 2pm. Sunday from 9:30am to 2pm. Closed Mondays. Admission free.
Theatrical Museum

50 Acadamias st
Tel 362-9430
Greek theatre History. Photographs, programs, masks, costumes, posters etc. Open Monday to Friday from 9am to 2:30pm. Closed Saturday and Sunday. Admission free.
Greek Historical Costume Museum

362-9513
7 Dimokritou st, Kolonaki
Mon, Weds, Fri:10-1
Thurs: 5:30-8:30
Entrance Free
Frissiras Museum of Contemporary Greek and European Painting

3 & 7, Monis Asteriou str. (at the junction of Monis Asteriou and
Kidathinaion str), 10558 Plaka
tel. no. (00301)3234678, 3316027
Wednesday-Friday 11.00-19.00
Saturday-Sunday 10.00-15.00
The Museum is closed on Mondays and Tuesdays
The Frissiras Museum of Contemporary Greek and European Painting is the only museum of its kind in Greece. It houses a private collection of contemporary paintings and drawings as well as temporary exhibitions of Greek and European artists, in two fully renovated neoclassical buildings of the 19th century.
ATELIER SPYROS VASSILIOU
The home and studio of Spyros Vassiliou (1902/3-1985) is now open to the public as a museum and archive, hence becoming the principal authority on the artist. The Atelier recomposes the artistic progression of one of the most acclaimed, reputed and prolific exponents of contemporary Greek art by displaying a large number of his works in a wonderful setting just across from the Herodus Atticus Odeon, under the Acropolis . Furthermore, the Museum Shop offers a selection of original lithographs, prints, books, etc.
5a Webster St. Acropolis, Athens 1174
Metro Stop: Acropolis
Open Monday to Friday 10am-8pmand Saturday & Sunday 1 0 am-3pm
Admission €4 / €2
Tel: (+30) 210-923-1502
www.spyrosvassiliou.org
Battleship Averof Museum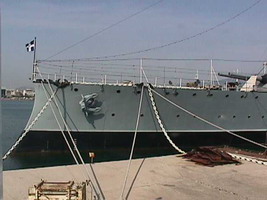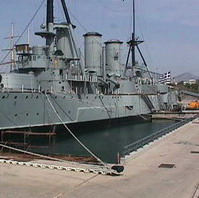 The Averof is arguably the most important ship in Greek history since the Battle of Salamis. This dreadnought cruiser is one of the few left on the planet. The Averof was launched on the 27th February 1910 and arrived at Faliro Bay on the 1st of September 1911, where the Greeks welcomed it with enthusiasm. The ship saw its first action in the First Balkan War of 1912 under the command of Admiral Pavlos Kontouriotis. The ship ruled the northeast Aegean and was an important part in the liberation of Mount Athos and the islands of Limnos, Thasos, Samothraki, Tenedos, Aghios Eustratios, Mitilini, and Chios. The power of this ship and the success in the Aegean kept the Turkish Sultan from challenging the Greek Navy and kept the Turkish Navy out of the Aegean.
S-S and Holidays 10-14:00 and 18:00-20:00
S-S and Holidays 10:00-14:00
Nearby is the reconstructed ancient Greek Trireme Olympias built in 1987. The Averof and the Olympias are both in Palio Faliron Park-Flisvos Marina which you can reach by Coastal Tram or with George the Famous Taxi Driver
The Vorres Museum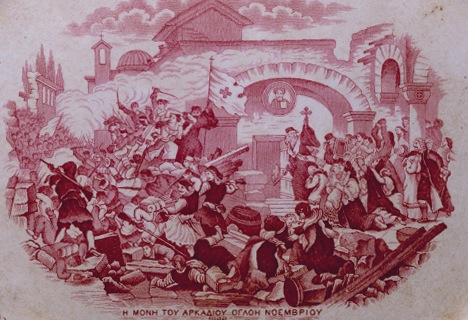 The Vorres Museum is a cultural foundation that was established in 1983, with the purpose of promoting Greek art and culture, through a broad spectrum of activities, from the organization of exhibitions in Greece and abroad, to educational programs for children.
The museum which sprawls over six acres, is divided into two main sections: the museum of contemporary Greek art and the folk art museum, both of which house collections that cover at least 2500 years of Greek history. The whole complex is laid out in a way that showcases the Greek spirit in a unique fashion. In the contemporary part, one of the most important and representative collections of its kind in the world is exhibited, comprising paintings, installations and sculptures by leading Greek artists, displaying a Greek interpretation of most of the international artistic currents of the second half of the 20th century.
The folk art section, is an extraordinary complex of 19th century buildings, courtyards and gardens or rather a re-adaptation and readjustment of traditional Greek architectural features housing antiquities, icons, ceramics, popular artifacts and objects used in daily Greek life centuries ago, in a manner, revealing their inherent beauty and their practical use.
The gardens, wild and consisting almost entirely of Mediterranean flora are an indispensable part.
Hours
Saturday & Sunday: 10:00 - 14:00
Weekdays by appointment only and for groups of twenty (20) persons or more.
1 Parodos Diadochou Constantinou St.,
Paiania, Attiki
Tel. Numbers: +30 210 6642520, +30 210 6644771
email: info@vorresmuseum.gr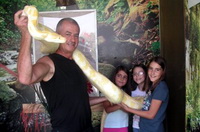 The Greek Reptile Center offers one of the largest collections of reptiles in all of Europe. The center hosts live snakes and lizards from all over the world including 6 types of pythons (up to 6 meters in length!), 3 types of boas, 7 types of rattlesnakes, 6 types of cobras and king cobras, black mambas, anacondas, iguanas, and dozens of other reptiles. The only poisonous snakes in Greece, vipers, are also on display. A trip to the Greek Reptile Center is a special treat for children. The center provides an opportunity for children to experience the world of snakes first-hand and learn from an expert who has been caring for the snakes for over 30 years. The center is located just outside of Athens in the in Antonis Tritsis Environmental Education & Sensitization Park and is open daily from 8am to 10pm. It is kind of hard to get to unless you take a taxi but you could do a half day trip with George the Famous Taxi Driver that goes here and the Attika Zoological Park. For more information and directions call 2102312057, 6937280427.
Antonis Tritsis Environmental Education & Sensitization Park
23 Spyrou Moustakli
13121 Ilion
Athens Greece
Don't forget the Children's Museums on Kydatheneon street and Voulis streets. Especially if you have children. Also the Metro stations at Syntagma and the Acropolis have archaeological displays worth visiting. be aware that sometimes the hours change with the seasons. You can also find the hours in the Athens News.
The Athens Planetarium is billed as being one of if not the best digital planetarium in the world. I don't know what astronomers would say but the general consensus has been one of surprise that such an impressive planetarium is in Athens. Shows are presented from Monday to Friday from 9.30 until 14.30 and 10.30 until 16.30 on Saturday and Sunday. A normal ticket cost 6 euros. The Athens Planetarium is at the bottom of Syngrou on the left just before you get to the sea. You can email the planetarium for additional info on this address: public@eugenfound.edu.gr
Thanks to Odyssey Magazine for help on this page. Their Summer issue contains some useful info. Odyssey Magazine is a wonderful source of info with interesting articles, photos, news etc. I love this magazine and get very excited when it comes. If you are a Greek American it will be like your lifeline home and if you are a traveler you will learn more about Greece than you thought possible. Great pictures. Classy magazine. You can order it at www.greektravel.com/odysseyform
For private tours of Athens be sure to visit George the Famous Taxi Driver who will pick you up at your hotel, the airport, the port or anywhere you like and show you the city in style in his luxury Mercedes visiting as many museums and archaeological sites as you can fit into a day.