Athens is loaded with museums. It seems like there are new museums and branches of old museums opening every week. This page will give you information on the main museums that should not be missed. An excellent book to get is The Museums of Athens by Aristidis Michalopoulos which is the most complete guide to Athens Museums that I have found. It contains opening and closing hours, entrance fees, and maps and descriptions on how to get to museums in Athens and Pireaus, the suburbs and nearby islands. Be sure to visit my History of Greece which will make visiting these museums even more meaningful.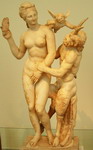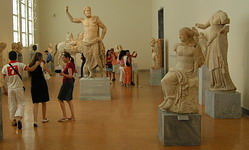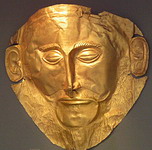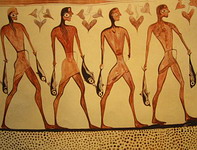 National Archaeological Museum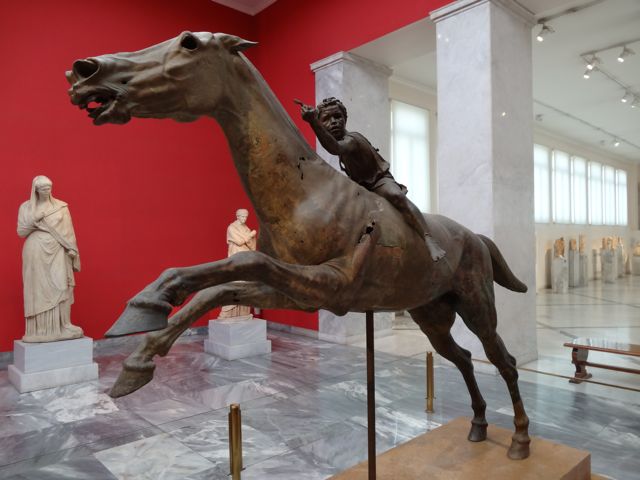 The National Archaeological Museum ranks among the top ten museums in the world. Its impressive collection is housed in a beautiful neoclassic building near the juncture of Alexandras Avenue on Patission Avenue. There is a gift shop, and a cafe in the sculpture garden. Children under 6 and EU students get in free. Be sure to see the Antikithira Device, an ancient computer that will change the way you think about the ancient Greeks.
The museum is a five minute walk from Victoria Station and a 10 minute walk from Omonia.
The Trolleys 1,2,3,5,6,7,8,9,11,13, and 15 all stop there.
Hours:
Tue-Fri: 8am-7pm
Mon:12:30pm-7pm
Sat, Sun & Holidays:8:30am-3pm

The Acropolis Museum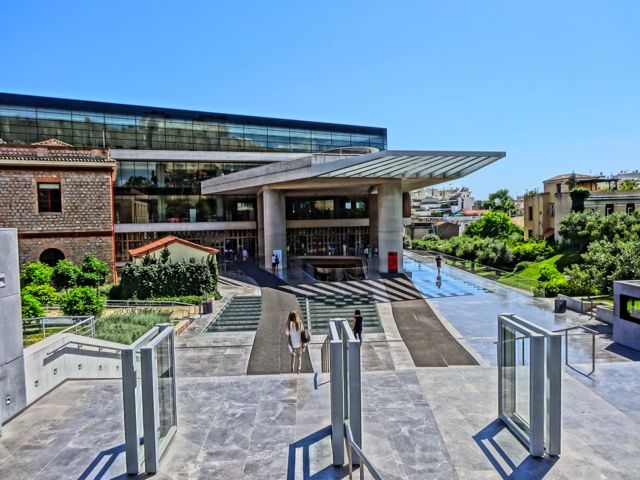 The new Acropolis Museum was designed to offer the best conditions for the exhibition of its exhibits. A walk through its galleries is a walk through history between the masterpieces of the Archaic and Classical periods, but also in the ancient neighborhoods of Athens whose city streets and buildings you can see below when you look through the glass floors of the museum. It was hoped that by building the Acropolis Museum, the British Museum would return the Elgin Marbles, but don't hold your breath. In the meantime there are copies of those pieces to go along with the thousands of ancient stones and statues that finally have a home, worthy of them. Don't miss this museum.
General admission fee: 5 euros.
Reduced admission fee: 3 euros.
Free admission
(Ask if you are entitled to free admission. You have to be a member of parliament, student from an EU country, a child under 5 and a few other types. If you are not allowed to get in free you may be able to get in for the reduced admission if you are a student from a non EU country or a senior citizen from an EU country).
Museum Hours:
Tuesday to Sunday: 8.00 a.m. to 8.00 p.m.
Last admission: 7.30 p.m.
Galleries cleared at 7.45 p.m.
The Museum is open every Friday until 10 p.m.
Monday: Closed.
Closed: 1 January, 25 March, Easter Sunday, 1 May, 25 December and 26 December.
To get here by metro just get off at the Acropolis stop on the red line. If you are walking it is right down from Dionysiou Areopagitou where it intersects with Makrianni Street on the south side of the Acropolis.
The Benaki Museum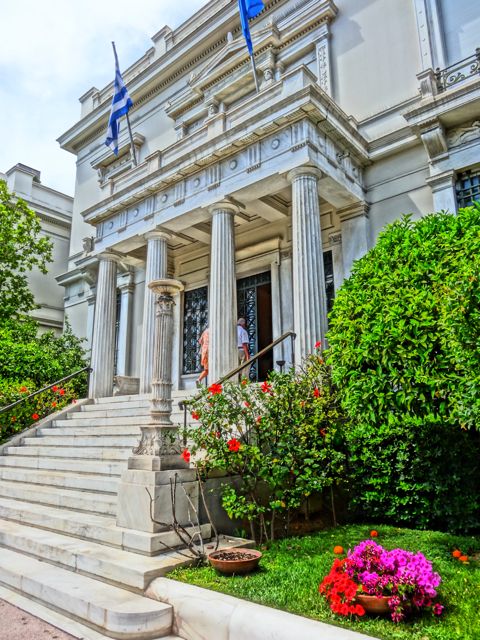 Though the National Archaeology Museum gets all the press, in my opinion it is the Benaki which is the best museum in Athens and certainly the most important in terms of the history of both ancient and modern Greece as well as art and culture. I would also suggest that it is every Greek-American, Greek-Canadian, Greek-Australian and anyone who is of Greek origin or has an interest in Greece to visit the Benaki for a better understanding of the country which is modern Greece. Starting at the bottom floor with the ancient stuff and going up through the various periods of Greek history, my favorite part is the third floor and the heroes of the Greek Revolution and the birth of the modern state of Hellas. Just walk up Vass Sophias from Syntagma with the National Gardens on your right. Then you reach the end of the Gardens look to your left and that is it. The Benaki has opened two more branches in the area around Psiri on Agios Asamaton Street and on Pireaos Street. They also have an excellent gift shop with historic prints, many of which are on display in my home in North Carolina.
Vassilisis Sofias and 1 Koumbari street (between Kolonaki Square and the National Gardens).
Tel 367-1000
The opening hours are:
Weds - Friday - Saturday: 9.00 - 17.00
Monday and Tuesday closed
Thursday: 9.00 - 22.00
Sunday: 9.00 - 15.00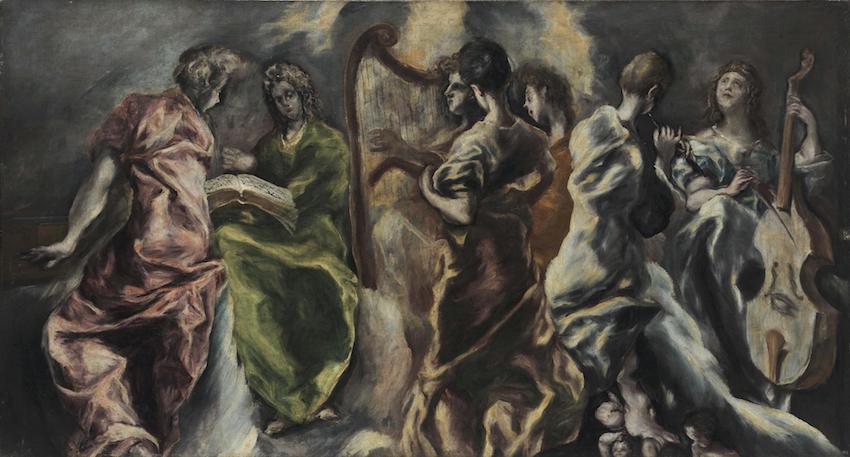 After being closed for renovations for 8 years the National Art Galley (Ethniki Pinakothiki) reopened its doors in the spring of 2021. Established in 1878 as a small collection exhibited at the Athens University. Alexandros Soutzos, a jurist and art lover, donated his collection and estate to the Greek Government for the new art museum which opened in 1900 and Georgios Jakobides (Yes, the famous artist from Xidira, Lesvos where they have Jacobides Digital Art Museum) became the first curator. This is one gallery you should absolutely visit since all the greatest Greek artists (with the exception of Nonda Papadopoulos) are exhibited here, not to mention some of the world's most famous painters, like El Greco, Chagall, Delacroix, Picasso and many others. Check out their website. It is pretty impressive. If you visit please ask for the "Nonda Wing". It is very odd that they would not include one of Greece's most acclaimed artist so ask about his work. Or you can e-mail them.
See more about Nonda Papadopoulos
The gallery is located at 50 Vassilissis Sofias Avenue, opposite the Hilton Athens in Illisia and close to the Evangelismos and Megaro Moussikis Metro Stations.
General admission:10€
Reduced entry ticket: 5€ Students, Citizens over 65
Free admission: Holders of ICOM & AICA cards, Students of Fine Arts, Children under 12 years old and People with special needs and their attendant
Opening hours
Daily: 10.00 – 18.00
Wednesday: 10.00 – 21.00
Tuesday: closed
The Hellenic Motor Museum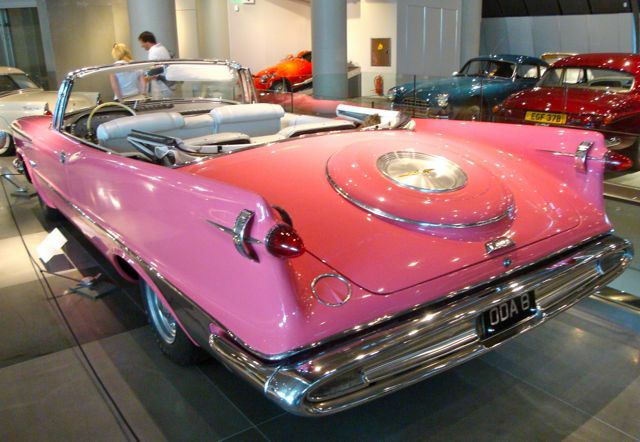 These cars are the collection of Theodore N. Charagionis and they are on display in a beautiful modern building just a couple blocks from the National Archaeological Museum. I may be criticized for saying this but if I had to choose one museum to visit this would be it. But after 45 years of looking at ancient artifacts I may be a bit jaded.
The Museum is open from Tuesday to Saturday from noon to 9pm and on Sunday from 11 to 6pm. The building that houses the museum, the "Athenian Capitol" complex, is a multi-activity center for the Athenian "future", that combines retail, culture and leisure and is located strategically between the National Archaeological Museum and Victoria Station. The address is 3rd September, 33-35 Iouliannou & Patission Streets. If you are coming from the Archaeology Museum turn to your right and walk down Patission Ave for 2 blocks and turn left on Iouliannou. If you are coming from the Victoria metro station, with the square behind you go right on 3rd of September Street and walk 4 short blocks.
See Hellenic Motor Museum (The car in the photo belonged to Robert Plant of Led Zeppelin.
The Goulandris Museum of Cycladic Art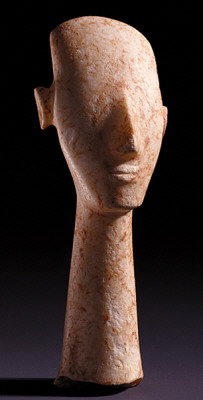 The Museum of Cycladic Art is dedicated to the study and promotion of ancient cultures of the Aegean and Cyprus, with special emphasis on Cycladic Art of the 3rd millennium BC. It was founded in 1986, to house the collection of Nicholas and Dolly Goulandris. Since then it has grown in size to accommodate new acquisitions, obtained either through direct purchases or through donations by important collectors and institutions.
Hours:
Monday - Wednesday - Friday - Saturday: 10:00 - 17:00
Thursday: 10:00 - 20:00
Sunday: 11:00 - 17:00
Tuesday: closed
On Sunday May 6th, the Museum will remain closed due to the elections.
Public Holidays (museum is closed): 1 January, Easter, Easter Monday, Spirit Monday, 1 May, 25 December, 26 December, Shrove Monday, 25 March, 15 August.
4 Neofytou Douka St, Koloniki
Tel 722-8321 or 722-8323

Kerameikos Museum
The ancient cemetery of Athens at the bottom of Ermou past the Monastiraki flea market has a nice little museum. The site itself though off the beaten path is one of my favorites and is one of the best organized and most beautiful archaeological sites in Athens. Lots of pottery and tombstones. See my Kerameikos Page for photos and more information.
148 Ermou
210 346-3552
Tues-Sun:8:30 to 3
Closed Monday


This new museum was designed to house the collection of the Basil and Elise Goulandris Foundation. The collection focuses on modern and contemporary art by Greek and foreign artists, including rare works by masters of the European avant-garde such as Cézanne, van Gogh, Gauguin, Monet, Degas, Rodin, Toulouse-Lautrec, Bonnard, Picasso, Braque, Léger, Miró, Giacometti, Balthus, and others, as well as works by distinguished Greek modern painters including Parthenis, Bouzianis, Vasileiou, Hadjikyriakos-Ghika, Tsarouchis, Moralis, Tetsis and others. Located at 13 Eratosthenous street in Pangratti, just past the Kalimarmaro Stadium.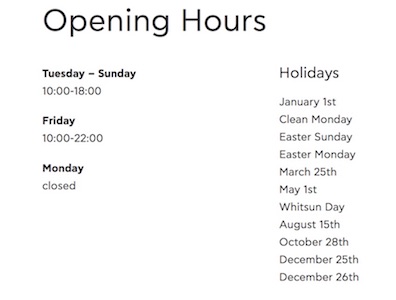 Herakleidon Museum of Art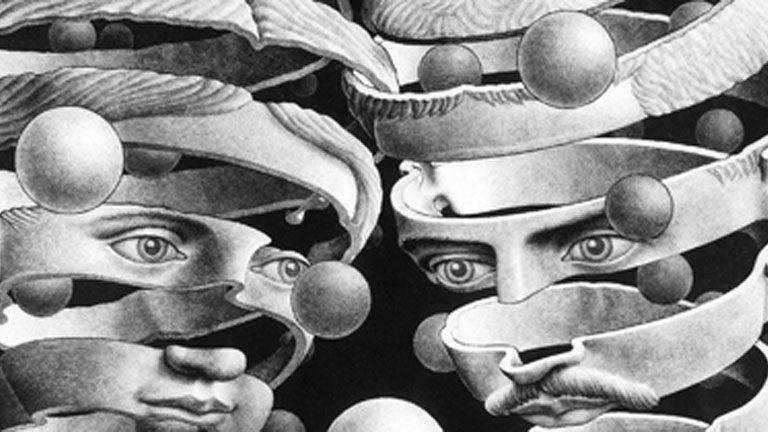 The Museum Herakleidon has been bringing art, education, and culture to the general public since 2004. It aspires to help prepare young people, both intellectually and emotionally, to face the growing demands of our world, both today and tomorrow. The inspiration for this endeavor comes from the founders Paul and Anna-Belinda Firos. Today the Museum Herakleidon has evolved into an interactive center for popularized science. In the framework of this philosophy, the interactive exhibition I Play and Understand, at at the 1st and 2nd floors at its building on 16 Herakleidon Str, Thissio , invites children and adults to come into contact with science, art, and mathematics, through creative play with judiciously chosen and designed interactive exhibits. Based on its philosophy of Science, Art and Mathematics, it continues to provide original educational programs for students, teachers and adults at its building on 16 Herakleidon Str, as well as exhibitions of art and popularized science at its building on 37 Ap. Pavlou 37 Str.
See Herakleidon Museum of Art
16 Herakleidon St., Thissio
Tel.: 210 34 61 981
Fax: 210 34 58 225
e-mail

Museum of Greek Folk Art

Embroideries, wood carvings, jewelery, and other traditional folk art. The museums not-to-be-missed collection of ceramics is housed in a beautifully renovated former mosque at 1 Areos Street on Monastiriki Square. Open daily except Mondays from 10am to 2pm.
17 Kydatheneon St Plaka
Tel 323-1577
Jewish Museum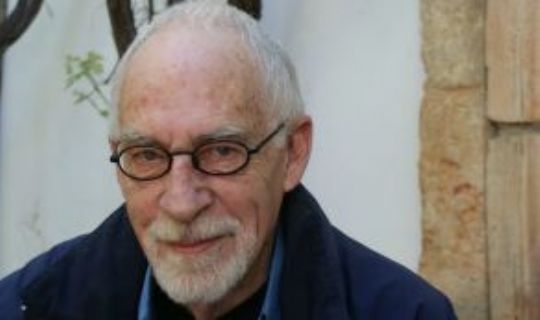 Before the Nazi occupation and the decimation of Greece's Jewish population, many of Greece's Jewish communities traced their roots back to the Spanish Inquisition and before to Classical Greece. Art and artifacts from Jewish communities through the ages, as well as documentation of the Holocaust makes this museum a cultural treasure. This museum was the creation of my 9th grade history teacher and friend Nikos Stavrolakis who was also the founder of the Etz-Hayyem Synagogue in Chania Crete. See Nikos Stavrolakis' Short History of the Jews in Greece

Opening hours: Daily 9.00-2.30, except Saturdays and Sundays 10.00-2.00
39 Nikis street at Kydatheneon in the Plaka
Tel 210 323-1577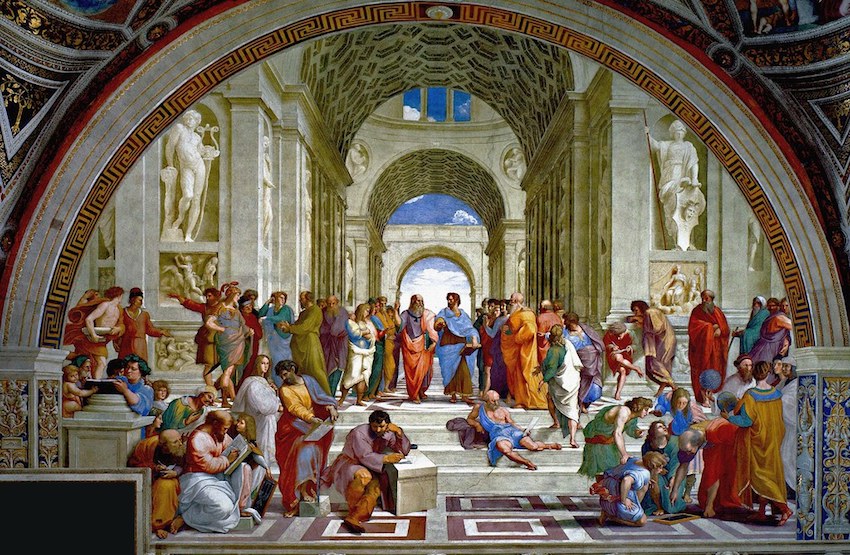 The Plato Academy Digital Museum

A new digital, interactive multimedia museum in the area of the Academy of Plato highlighting the historical and archeological evidence of the Academy and Plato's philosophy and ideas using the latest technologies. The Digital Museum is in a new building in grassy park that was the original location of the Academy of Plato. Through multiple types of information consisting of texts, multimedia material and images, the visitor can explore the area of the Academy of Plato and neighborhood and in the world of ideas of Plato. The presentations are bilingual and admission is free.
Open from Tuesday to Sunday from 9am to 4pm. Closed Monday. Tel. 210 5142138
The museum is located at Alkmeonos 1 in the district of Akadamia Platanos. Take a taxi.
You can also take a Philosophical Tour/Workshop
Blank Wall Gallery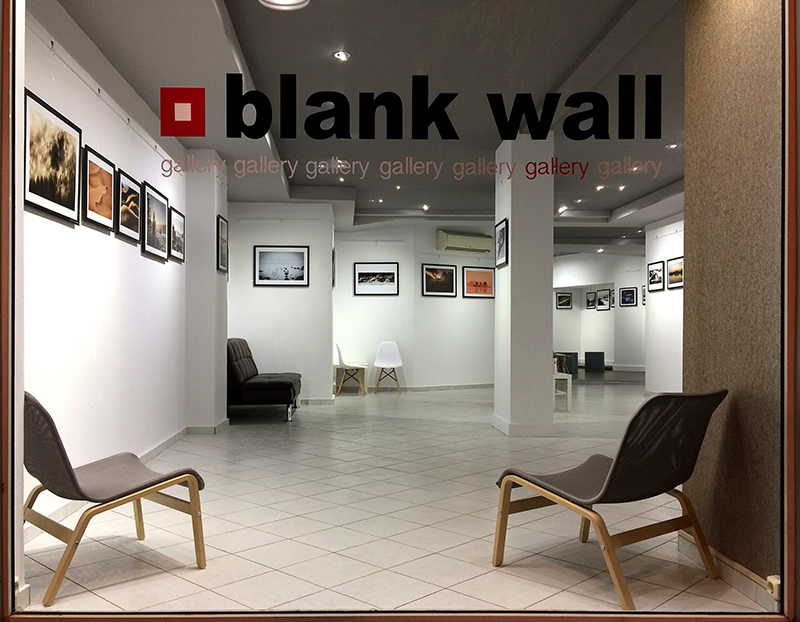 The Blank Wall Gallery is a photo gallery with exhibits by some of the best photographers from Greece and all over the world. I have been to several exhibits and each one I thought that it was the best collection of photographs I had ever seen in one location. The gallery is owned by a group of photographers.
"Being photographers ourselves, we have realized from our own experience that there are very few galleries exclusively addressed to photographers, although there is such a need. So, in 2014, we decided to create a space in order to give photographers, worldwide, the opportunity to present their work and become known to an audience outside their country of origin. Our aim is to organize 1 group exhibition per month, presenting more than 70 photographs with original and inspired work each time. Additionally, we would like to give the viewers the chance to get to know as many photographers as possible through their solo exhibitions. We hope that we will succeed in stimulating the viewers and presenting new trends and ways of expression in photography and that our name will be a synonym to innovation in this area."
The gallery is located on Fokionos Negri, a long pedestrian avenue in the neighborhood of Kypseli. The easiest way to get there is to take a taxi to Platia Kanares (Platia Kypseli) and walk down the right side of Fokionos Negri and it is at #55 (across from Bakalogatos Restaurant). You can also take the buses 022, 035, 036, 622 and trolleys number 2 and 4.
Hours:
Tuesday, Wednesday, Thursday, Friday: 4:30pm to 9:30pm
Saturday: 11:30am to 2:00pm
Sunday – Monday: Closed
Private appointments available upon request


55 Fokionos Negri Street
11361 - Athens - Greece
[p] +30 211 4052138
[m] +30 694 3868 124
info(at)blankwallgallery.com
https://www.blankwallgallery.com
Battleship Averof Museum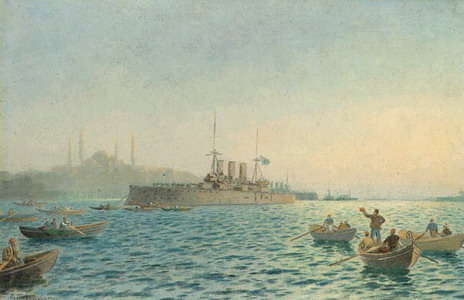 The Averof is arguably the most important ship in Greek history since the Battle of Salamis. This dreadnought cruiser is one of the few left on the planet. The Averof was launched on the 27th February 1910 and arrived at Faliro Bay on the 1st of September 1911, where the Greeks welcomed it with enthusiasm. The ship saw its first action in the First Balkan War of 1912 under the command of Admiral Pavlos Kontouriotis. The ship ruled the northeast Aegean and was an important part in the liberation of Mount Athos and the islands of Limnos, Thasos, Samothraki, Tenedos, Aghios Eustratios, Mitilini, and Chios. The power of this ship and the success in the Aegean kept the Turkish Sultan from challenging the Greek Navy and kept the Turkish Navy out of the Aegean.
June-Sept Open M-F 9-13:00
M-W-F 18:00-20:00
S-S and Holidays 10-14:00 and 18:00-20:00
Oct-May
M-F 9-13:00
M-W-F 15:00-17:00
S-S and Holidays 10:00-14:00
Nearby is the reconstructed ancient Greek Trireme Olympias built in 1987. The Averof and the Olympias are both in Palio Faliron Park-Flisvos Marina which you can reach by Coastal Tram or with George the Famous Taxi Driver
Municipal Gallery of Athens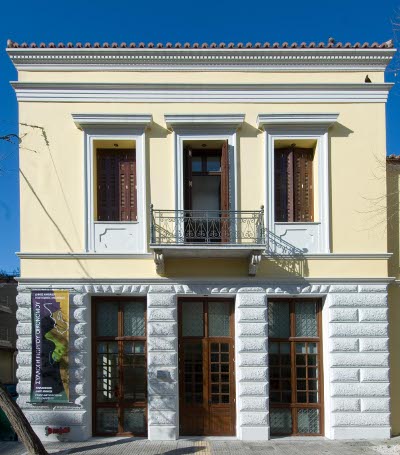 The gallery's collections feature the visual works of 3,000 artists - most of them Greek, with few exceptions - which are representative of the trends, foreign influences and fruitful discussions which have marked the journey of Greek art.
Almost all of the Greek artists who represent milestones in Greek visual creation and contributed to the formation of 20th century modern Greek art are represented by significant works in the Gallery's collection. Among the most positive elements is a collection of engravings showcasing works by great instructors of this art form, as well as its worthy successors and new engravers.
Its current building was designed in the early 19th century by prominent architect Hans Christian Hansen and is one of the oldest neo-classical buildings in Athens. Located on the corner of Myllerou and Leonidou St (Avdi Square) in Metaxourgio
Opening hours: Tuesday to Saturday 10:00-14:00 & 17:00-21:00, Sunday 10:00-14:00, Monday Closed Admission is free.

National Historical Museum
This museum is perfect for those interested in the Greek War of Independence and it's artifacts and every Greek-American, Australian, Canadian or Brit should make it a point to visit. The Museum narrates the history of Modern Greece: the period of Ottoman and Latin rule, the Greek War of Independence (1821), the liberation struggles, the creation of an independent state, the political, social and spiritual development of the Greeks up to the present day.
Open daily from 9am to 1:30pm. Closed Mondays. Free on Sunday.
13 Stadiou street (in the old Parliament Building)
Tel 210 323-7617

Museum of Islamic Art
The Islamic art collections of the Benaki Museum are housed in a complex of neo-classical buildings located in the historical centre of Athens, in the Kerameikos district. The Benaki Museum collection of Islamic art, which includes examples of all its local variations from as far as India, Persia, Mesopotamia, Asia Minor, the Middle East, Arabia, Egypt, North Africa, Sicily and Spain, ranks among the most important in the world. The evolution of Islamic civilisation from the first appearance of Islam up to the Ottoman period and the corresponding development of Islamic art up to the 19th century are demonstrated by more than 8,000 works of art, including ceramics, gold, metalwork, textiles and glass, smaller groupings of bone objects, inscribed funerary steles and weaponry, as well as the marble-faced interior of a reception room from a 17th-century Cairo mansion.
Thursday-Friday-Saturday: 10:00 - 18:00
Sunday: 10:00 - 16:00
22 Ag. Asomaton & 12 Dipilou St
Museum of the Ancient Greek Technology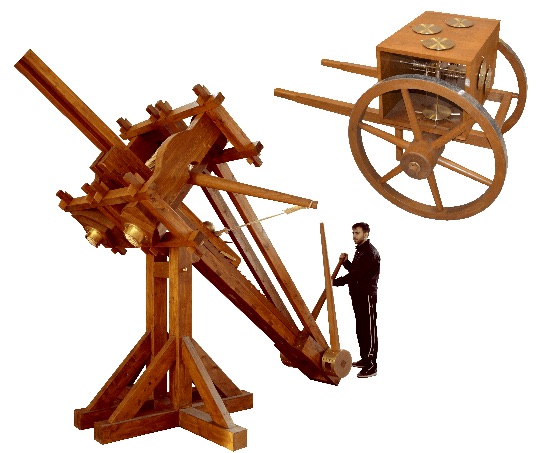 Renowned and without doubt unrivalled to this day, is the contribution of the ancient Greeks to the field of Philosophy and the Fine Arts. Likewise familiar is their contribution to the field of Science. However, the technology of the ancient Greeks is relatively unknown. The Museum of Ancient Greek Technology includes approximately 300 operating models of ancient Greek inventions. The ancient Greek technological marvel (from the robot - servant of Philon to the cinema of Heron and from the automatic clock of Ktesibios to the analog computer of Antikythera) covers the period from 2000 BC until the end of the ancient Greek world. All were constructed by Kostas Kotsanas, through 22 years of extensive research and study without any subsidy from any public or private institution. (Mr Kotsanas also founded the Museum of Ancient Greek Musical Instruments and Toys & Games in Katakolo.)
The museum is located on 8, Pindarou street in Kolonaki(Between Solonos and Akadamias) and is open daily and on weekends from 9 am to 5 pm. Admission is 5 euros (reduced rates for students, children, teachers, and senior citizens) and includes guided tour in Greek and English. Kids under 11, people with disability and army conscripts enter free of charge.

Katakouzenos House Museum
The Katakouzenos House Museum is an historical Athenian of Angelos and Leto Katakouzenos, who belonged to the intellectual elite of their times, the so-called "1930s generation," and functioned as cultural ambassadors of their country abroad and arbiters of international tendencies to Hellas. The Katakouzenos House Museum belongs to a specific group of museums, the house museums. The Katakouzenos house functioned since 1960 as a literary salon; its rooms have hosted many visitors of international fame, mainly artists but also writers and poets; it also contains a representative collection of works by the most important artists of the so-called Hellenic "1930s generation", and by many international artists, too. The house contains an extensive collection of more than 60 paintings, hundreds of drawings and prints, numerous works of art (decorative objects, sculpture) and a good collection of 18th and 19th c. French and Hellenic furniture. The collection of several thousands of mainly 20th century books is scattered all over the house. Manuscripts and letters by both the Katakouzenoi and their famous friends also survive. The collections illustrate life in Hellas in a way that attracts attention, provides knowledge and encourages emotional involvement by the visitors. The museum is at Leoforos Vasilisis Amalias 4 right by the top of Syntagma Square.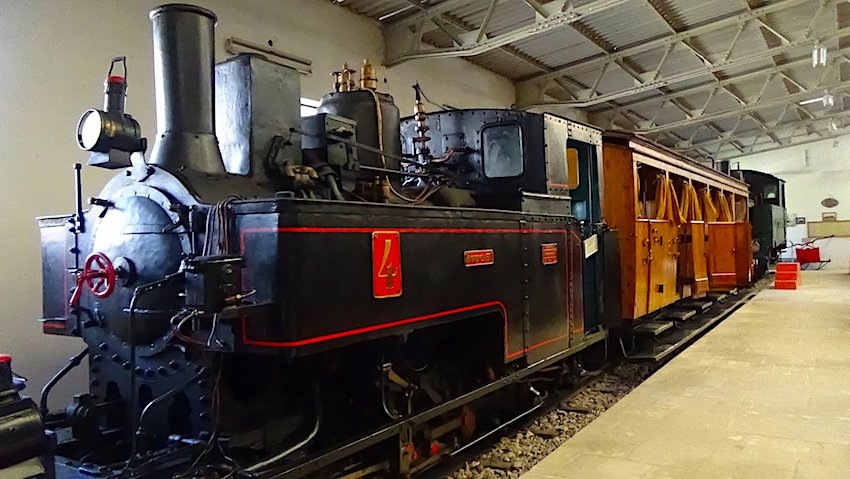 Athens Railway Museum
The Athens Railway Museum (or Greek Railways Museum), was founded in 1979 and is the largest railway museum in Greece. It is composed of two main buildings and a courtyard arranged for outdoor events, including a children recreational train. Entry is FREE and comes with guided tours. The Athens Railway Museum exhibition spans six rooms: In the first hall (ground floor): hand and foot-operated drezines; surveying instruments, drawings, photographs. In the second hall (ground floor): steam locomotives, passenger vehicles, manual fire pumps and fire extinguishers; various rolling stock models, various boards with technical locomotive data. In the third hall (ground floor and first floor): station equipment (clicker ticket machines, manual ticket printing machines, old tickets, maps, timetables, seals, trumpets, lamps, telegraphs and telegraphic material, clocks, telephones), brochures (shares, contracts, operating regulations, pricing brochures), costume and uniform accessories (buttons, hats), historical staff photos. In the fourth hall (ground floor): a workshop with machinery constructed approximately in 1882. Steam boiler, steam water pumps, locomotive lights; various machines (drills, manual presses, etc.); various locomotive instruments (pressure gauges, tachometers, etc.); showcase with regulations and manuals of the rail companies. In the fifth hall (first floor): miscellaneous furniture, drawings, tableware, old royal vehicles etc. In the sixth hall (first floor): rolling stock models, steam coach braking charts. Located at 4 Siokou which is close to the middle of nowhere. Take a taxi. Open Tuesday-Friday from 9 to 13:30 and also every 2nd and 4th Saturday.

There is another Railway Museum in the Pireaus Metro Station.

The Athens Pinball Museum
The Athens Pinball Museum is home to more than 100 fully functional pinball machines dating from the 1950s, where fans can go back in time and play on these historical machines that used to be an important part of any child's and many adult's lives. People of all ages are welcome to visit and play unlimited pinball games with a 10€ one time entrance fee. The museum is 2 minutes walk from Acropolis Metro station at Dionisiou Areopagitou (the road around the Acropolis) & Makri 2 and is open daily from 9am to 11pm.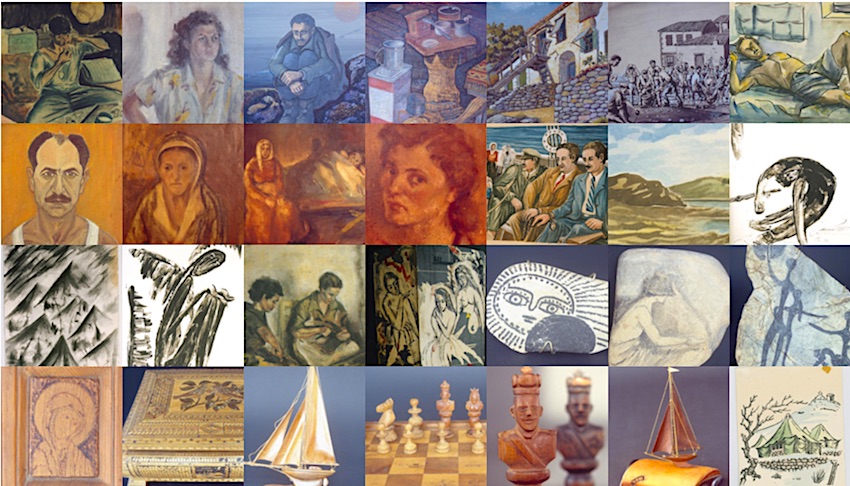 Museum of Political Exiles Ai-Stratis (Museum Makronissos)
Located in Keramikos this museum has a permanent collections of material on places of exile, prisons and political prisoner camps, political refugees, and political persecution in the 20th century. It includes sketches, drawings, engravings, oil paintings, compositions, sculptures, made by exiled artists.
31, Ag.Asomaton St, Kerameikos
Opening Hours: Mon: Closed, Tu-Fri: 10:30-13:30, Sa-Su: 11:30-14:30
Follow Ermou until it turns into a pedestrian street at the bottom of Monastiraki and then vear to your right and it becomes Ag Asomaton Street and the museum is on your left just past the Hammam.

Read more about Makronissos: The Island of Exile
Lalaounis Jewelry Museum
The Ilias Lalaounis Jewelry Museum is a unique museum devoted to the art of jewelry and the decorative arts. The museum was founded in 1993 and opened to the public, as a non-profit organisation. Today the Museum's permanent collection includes over 4000 pieces of jewelry and micro sculptures from over 50 collections designed by the museum's founder, Ilias Lalaounis, between 1940 and 2000. The permanent collection is enriched with donations including jewelry and decorative arts from around the world. The museum is located on Karyatidon and Kallisperi Streets, just off the esplanade of Dionysiou Areopagitou St. on the south side of the Acropolis, below the Theatre of Dionysos. Visitors can reach the museum by taxi, bus and the subway.
Opening Hours
Thursday, Friday, Saturday: 8.30 a.m. – 4.30 p.m.
Sunday: 11.00 a.m. – 4.00 p.m.
Wednesday: 9.00 a.m. – 9.00 p.m.
Mondays, Tuesdays and National holidays the museum is closed.
General Admission: 5,00 €
Students, senior Citizens, and Groups: 4,00 €
Museum of Popular Musical Instruments

1-2 Diogenes St
Plaka
Tel 325-0198
This is my friend Groves Willer's favorite museum in Athens and I am inclined to agree with him. It is easy to find, right across from the Tower of the Winds in the Roman Agora. You can wander around listening to different instruments and styles of music through headphones at each exhibit.Open daily from 10am to 2pm. Wednesday from 12 to 6pm. Closed on Mondays. Admission Free. Visit John Marlowe's review at www.greecetravel.com/musicmuseum
Byzantine Museum

22 Vasilissis Sofias Ave
Tel 721-1027
A divine collection of Byzantine Icons, Mosaics, Sculptures, Bibles, Garments and more. Easy to find, just walk from Syntagma up Vasslissis Sofias Ave past the National Gardens and go another block. Open Tuesdays to Sunday 8:30am to 3pm.
War Museum

2 Rizari Street and Vass. Sofias Avenue (next to the Byzantine Museum
Tel 729-0543
War implements from ancient times to this century including armor, swords, torpedos, and fighter planes. Photographs of various Greek campaigns and battles. really cool museum if you like war stuff. Open Tuesday to Saturday from 9am to 2pm. Sunday from 9:30am to 2pm. Closed Mondays. Admission free.
Theatrical Museum

50 Acadamias st
Tel 362-9430
Greek theatre History. Photographs, programs, masks, costumes, posters etc. Open Monday to Friday from 9am to 2:30pm. Closed Saturday and Sunday. Admission free.
National Gallery

50 vas Konstandinou street (opposite the Hilton except right now it is a construction site)
Tel 723-5937
The permanent collection of modern Greek painters and international contempory artists includes large-scale sculptures. Open daily from 9am to 3pm. Open Sunday from 10am to 2pm. Closed Tuesday.
Greek Historical Costume Museum

362-9513
7 Dimokritou st, Kolonaki
Mon, Weds, Fri:10-1
Thurs: 5:30-8:30
Entrance Free
Frissiras Museum of Contemporary Greek and European Painting

3 & 7, Monis Asteriou str. (at the junction of Monis Asteriou and
Kidathinaion str), 10558 Plaka
tel. no. (00301)3234678, 3316027
Wednesday-Friday 11.00-19.00
Saturday-Sunday 10.00-15.00
The Museum is closed on Mondays and Tuesdays
The Frissiras Museum of Contemporary Greek and European Painting is the only museum of its kind in Greece. It houses a private collection of contemporary paintings and drawings as well as temporary exhibitions of Greek and European artists, in two fully renovated neoclassical buildings of the 19th century.
ATELIER SPYROS VASSILIOU
The home and studio of Spyros Vassiliou (1902/3-1985) was open to the public as a museum, archive, and the principal authority on the artist's life and work but has now closed. Whether it will reopen elsewhere or as a web gallery remains to be seen but you can click on the link for more information. www.spyrosvassiliou.org
The Vorres Museum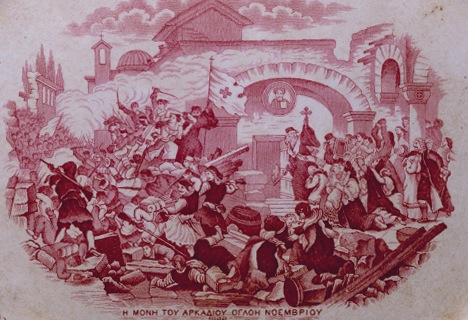 The Vorres Museum is a cultural foundation that was established in 1983, with the purpose of promoting Greek art and culture, through a broad spectrum of activities, from the organization of exhibitions in Greece and abroad, to educational programs for children.
The museum which sprawls over six acres, is divided into two main sections: the museum of contemporary Greek art and the folk art museum, both of which house collections that cover at least 2500 years of Greek history. The whole complex is laid out in a way that showcases the Greek spirit in a unique fashion. In the contemporary part, one of the most important and representative collections of its kind in the world is exhibited, comprising paintings, installations and sculptures by leading Greek artists, displaying a Greek interpretation of most of the international artistic currents of the second half of the 20th century.
The folk art section, is an extraordinary complex of 19th century buildings, courtyards and gardens or rather a re-adaptation and readjustment of traditional Greek architectural features housing antiquities, icons, ceramics, popular artifacts and objects used in daily Greek life centuries ago, in a manner, revealing their inherent beauty and their practical use.
The gardens, wild and consisting almost entirely of Mediterranean flora are an indispensable part.
Hours
Saturday & Sunday: 10:00 - 14:00
Weekdays by appointment only and for groups of twenty (20) persons or more.
1 Parodos Diadochou Constantinou St.,
Paiania, Attiki
Tel. Numbers: +30 210 6642520, +30 210 6644771
email: info@vorresmuseum.gr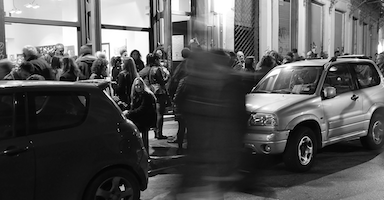 The Contemporary Space Athens is an exhibition space established in Greece by the Chicago Athenaeum, Museum for Architecture and Design in collaboration with the European Centre for Architecture, Art, Design and Urban Studies.
Primarily, the space hosts exhibitions on the awarded products presented in the Good Design, International Architecture, American Architecture, Green Good Design and 40under40 programs curated and organized by the Chicago Athenaeum and the European Centre.
Contemporary space also gives room to the artistic community worldwide, presenting emerging artists while being an active observer of the new age of art and design. Its annual activity includes the organization of cultural seminars and workshops. It is committed to raise awareness on the artwork of major renowned artists, trends and new media and to set out firm collaborations with other cultural organizations and institutions that promote fine art.
Set in an area of 270 sqm, holding an exhibition space on the ground floor (170sqm) and on the loft (100 sq.m), the Contemporary Space is located on 74 Mitropoleos Str. in the historical center of Athens, right beneath the Acropolis. Tel: +30 210 3428511 E-mail konstadina@europeanarch.eu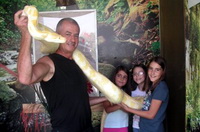 The Greek Reptile Center offers one of the largest collections of reptiles in all of Europe. The center hosts live snakes and lizards from all over the world including 6 types of pythons (up to 6 meters in length!), 3 types of boas, 7 types of rattlesnakes, 6 types of cobras and king cobras, black mambas, anacondas, iguanas, and dozens of other reptiles. The only poisonous snakes in Greece, vipers, are also on display. A trip to the Greek Reptile Center is a special treat for children. The center provides an opportunity for children to experience the world of snakes first-hand and learn from an expert who has been caring for the snakes for over 30 years. The center is located just outside of Athens in the in Antonis Tritsis Environmental Education & Sensitization Park and is open daily from 8am to 10pm. It is kind of hard to get to unless you take a taxi but you could do a half day trip with George the Famous Taxi Driver that goes here and the Attika Zoological Park. For more information and directions call 2102312057, 6937280427.
Antonis Tritsis Environmental Education & Sensitization Park
23 Spyrou Moustakli
13121 Ilion
Athens Greece
Don't forget the Children's Museums on Kydatheneon street and Voulis streets. Especially if you have children. Also the Metro stations at Syntagma and the Acropolis have archaeological displays worth visiting. be aware that sometimes the hours change with the seasons. You can also find the hours in the Athens News.
The Athens Planetarium is billed as being one of if not the best digital planetarium in the world. I don't know what astronomers would say but the general consensus has been one of surprise that such an impressive planetarium is in Athens. Shows are presented from Monday to Friday from 9.30 until 14.30 and 10.30 until 16.30 on Saturday and Sunday. A normal ticket cost 6 euros. The Athens Planetarium is at the bottom of Syngrou on the left just before you get to the sea. You can email the planetarium for additional info on this address: public@eugenfound.edu.gr
For private tours of Athens be sure to visit George the Famous Taxi Driver who will pick you up at your hotel, the airport, the port or anywhere you like and show you the city in style in his luxury Mercedes visiting as many museums and archaeological sites as you can fit into a day.