"Greece is not the land of the hearty American-style breakfast. Most Greek's breakfasts consist of coffee and a cigarette."- Matt Barrett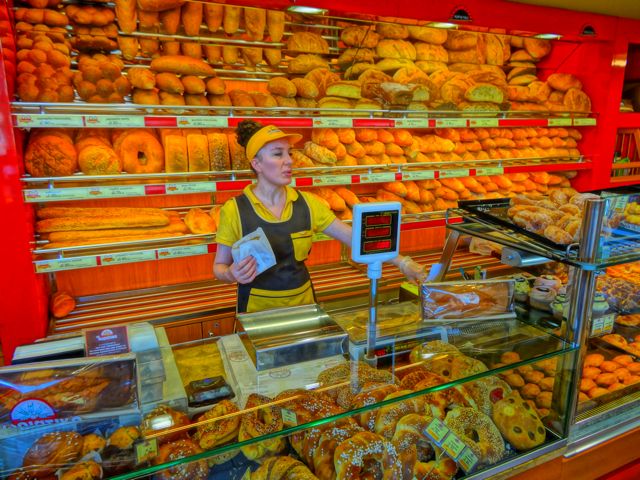 An Athenian may eat a piece of hard crusty bread (paxamadia) to fill the gaping hole in their stomach though this has little to do with nutrition. But we American travelers know better. After all it is no secret that breakfast is the most important meal of the day and if you just have a couple cups of coffee and a piece of bread you may find yourself on top of the Acropolis, staring at the majestic beauty of the Parthenon and thinking about nothing except food.

If you are staying at a fancy hotel like the Grande Bretagne or the Electra Palace you will be quite pleased when you see their breakfast buffet table, piled high with croissants, fruit, yogurt, eggs, bacon, sausage, cheeses, cakes, pastries, cookies and more, constantly being refilled. You get what you pay for and these are high end hotels which take pride in their ability to make their customers happy at the breakfast table. But if you are staying at an inexpensive hotel then breakfast may be at the subsistence level with coffee just strong enough to get you to a real cafe, paximadia, maybe some yogurt and a boiled egg. So after gazing at the table at the piles of pre-packaged butter, honey and marmalade you may want to go and search for greener pastures.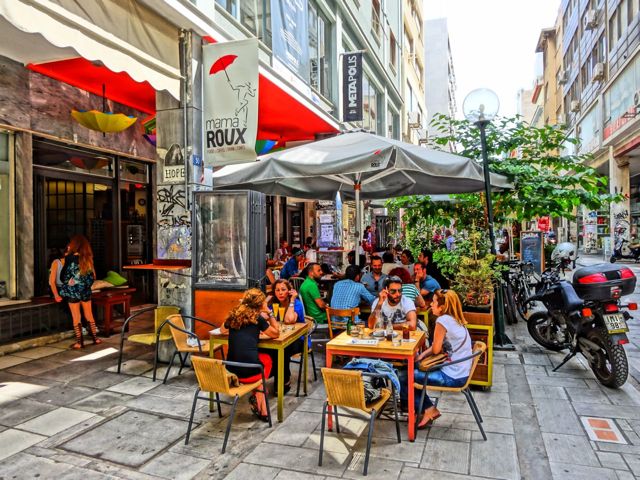 I sometimes have a coffee at the Hotel Attalos where I usually stay. Their breakfast is pretty good for a budget hotel and so is their coffee. But if I need a serious caffeine buzz to overcome jetlag and whatever mischief I have gotten into the night before, I know I am going to pay at least 2 euros for a shot of espresso and since I need two that's 4 euros just to get into gear and that's a lot of money to spend for breakfast without eating anything. Right up the street from the Attalos on Aeolou Street is the Pera Cafe at #57 on the corner of Bissis Street. It looks like just another cafe but it is owned by a family from Istanbul and besides having excellent coffee, teas, deserts, breakfast and the usual salads and toasts you will find in a Greek cafe, they have a varied menu of Middle Eastern dishes including laxmatzoun, tabouli, hummus and deserts. If you wake up late it is a good place to come for coffee and stay through lunch. They also have yogurt with fruit, honey, nuts or any combination. The Noel Bar at Kolokotroni 59B, will be one of the most beautiful cafe/bars you will ever go to, and features breakfast, including omelets, scrambled eggs, bagels with cream-cheese and smoked salmon, yogurt and honey, oatmeal and croissants and different coffees, though they don't open until 10am.
There are a number of good coffee shops on Aeolou Street which is a pedestrian only street, and also in Agia Irini Square which is right behind the big yellow church on Aeolou. In Koukaki the Little Tree Cafe and Bookstore is across the street from the Herodion Hotel. Also some of the tourist restaurants on Makrianni like Arkadia and God's Restaurant serve breakfast.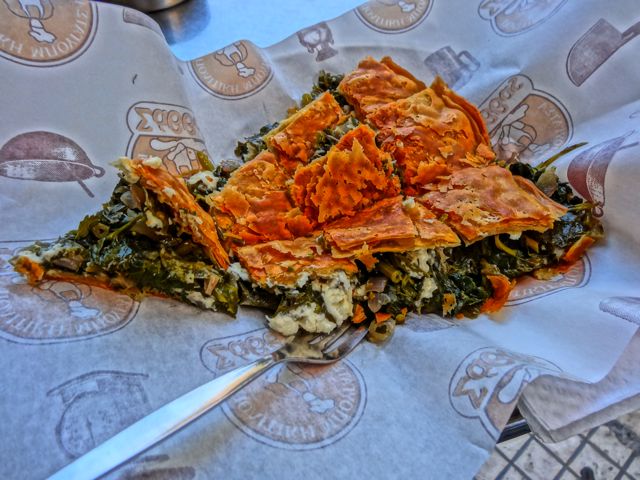 In Psiri there are a few cafes scattered around which have some nice pastries and strong coffee. If you are paying 2 and up euros for a single espresso it may as well be good. Some cafes serve Greek coffee the old way in a little vriki (Greek coffee pot). Psiri is quiet in the morning, mostly people on their way to work but if you walk down Ag Anargiris street from Iroon Square there are several cafes just before you meet Sari street. Zampano at Sari 18 is a Paris style bistro that serves breakfast including Eggs Benedict, French Toast, and and is open every day at 8:30am. They have a live jazz brunch on Sunday. iFeel Cafe at Kariaskaki 33 serves breakfast, brunch and every other meal and features a dozen or more egg and omelet dishes, pancakes and waffles, yogurt and fruit, bacon, sausages and lots of other breakfasty things. In Iroon Square is a popular bougatsa shop with tables and chairs in the square. Bougatsais about as close as you can get to American apple pie. They also have cheese pies and a number of other things that can pass for breakfast. Psiri is an ever-changing neighborhood and if you wander around you will find other places for breakfast.
If you wander towards Omonia Square try Stani, a breakfast favorite of famous chef Peter Minaki, located at Marikas Kotopouli 10, for among other things fresh sheep's milk yogurt with honey and nuts, bougatsa, rice pudding, coffees and loads of traditional Greek sweets which many traditional Greeks eat for breakfast before ending up on dialysis. But for a holiday why not? This is what is called a galatopouleio, (milk bar). There used to be many in Athens but Stani is one of the last ones remaining.
If I am on the move I can go get a cheese-pie(teeropita ), or spinach-pie (spanakopita ) from one of the small shops or bakeries nearby. There's a great one on Voulis Street, two blocks down from Syntagma called Ariston where you can get pies with many different things baked into it from zucchini to artichokes or versa-visa. But these shops are all over Athens now and though Ariston has the most impressive collection of any of them you can usually find something right around the corner from where you are. Or you can just get a tiropita from a stand if you are not choosy and don't require variety. Personally I think the best breakfast you can get in Athens is a fresh spanakopita with plenty of spinach and cheese. Since they are displayed in the shop windows look for the ones that are the thickest and cheesiest. You won't find thicker or a larger variety than you will at Ariston though.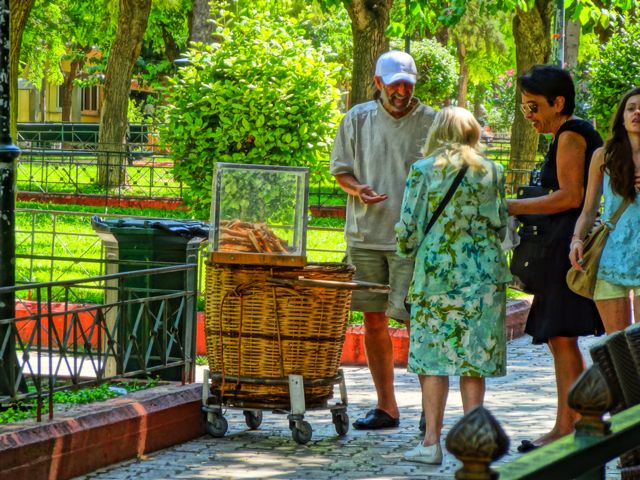 The only businesses that seemed to be making money during the crisis, with more opening every day, are the souvlaki shops and the bakeries. Most of the bakeries have all sorts of break-fasty pies and cakes, tiropitas, spanakopitas, baklavas, cookies and just about everything on the gluten intolerant's avoidance list. Keep your eyes open for the guys who sell koulouria, which are like skinny doughnuts except they are not sweet. There is a koulouria factory in Psiri on Kariaskaki Street about a block from the square, where they bake these things 24 hours a day and the street venders come and pick them up and spread out around the city. The closer you are to the factory the fresher the koulourlia will be but were are usually talking about a difference in minutes rather than hours or days. In Fokionos Negri the koulouria guy shows up at the same time every day and the people in the cafes come out to get their morning meal. Koulouria are to Greeks kind of like croissants are to the French. Sort of boring but some people love them and you can eat them on the run which most people do.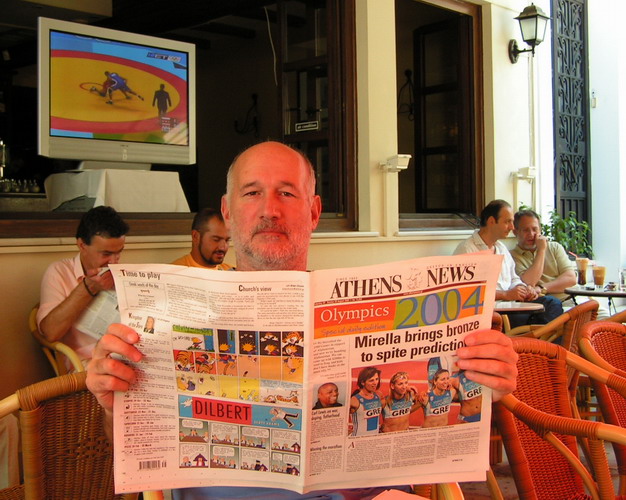 The Oinas Cafe also on the main square in the Plaka on Kydathioneon street makes terrific coffee and was my headquarters for the 2004 Olympics. I would read all the papers, drink coffee after coffee and watch some of the events on their big-screen TV before picking myself up and walking to Syntagma Square to go to an actual event, usually baseball or basketball. Many of the cafes in the Plaka will have quiche and stuff like this on the menu. There must be a couple dozen little pastry shops within two blocks of Syntagma Square, all serving espresso and displaying beautiful cakes and pittas. The Melima Mercouri Cafe at Lisiou 22 is a traditional style French Bistro with coffees, omelets, and crepes and even though there are not a lot of options for breakfast it is a cool place to hang out and start your day. A frequent breakfast stop for us, also mentioned in my important Coffee and Cafe Guide, is the Diodos Cafe on Adrianou street across from the entrance to the ancient Agora between the Stoa of Attalos and the Temple of Hephaestos. They make good coffee, are in a great location for morning and early afternoon sun and you feel like you are out in the countryside, almost.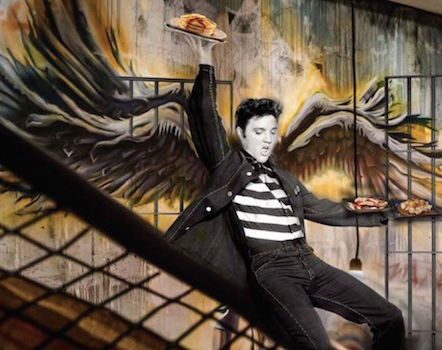 In Kolonaki you can go to Melinikon, the first original pancake house in Greece where they create homemade pancakes in a variety of styles and of course all sorts of coffees. With offerings like the Pizza Margarita Pancake, the Brunch Pancake with sausage and eggs, the Club Sandwich Pancake and the Smoked Salmon Pancake, they are making the statement that pancakes are just not about breakfast anymore. But if you are here for breakfast you won't be disappointed with the selection, and if you are looking for something more like desert, well, you will probably think you are in heaven and your kids will for sure. You can probably use this places as a reward for them doing things they don't want to do like going to the Acropolis or to museums. Melinikon is owned by a Greek-American who knows pancakes in case you are worried about authenticity, and is located on 37 Skoufa Street which runs parallel to Akadamias Street.
Waffles are a big deal now too. They call them Baf-les and most of them are more like deserts than breakfast. Many places that serve them will have a sign up or a stand-up card on the tables with an amazing looking photo that looks very fattening.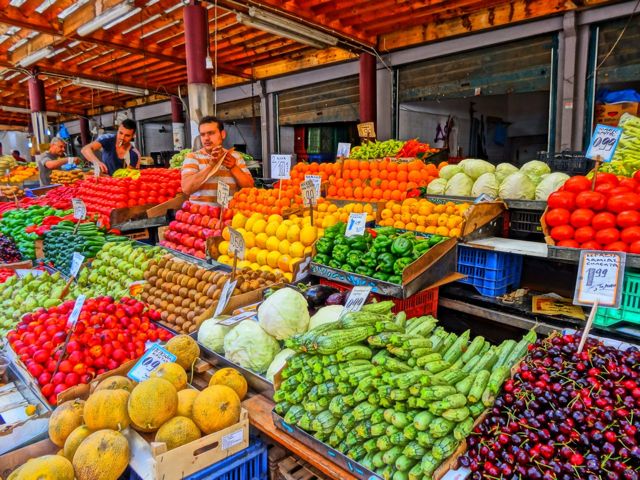 The Cafe Centrale which is right next to the cathedral on Metropolis street makes excellent coffee and has a large menu of cafe food, sanwiches and salads as well as deserts. The Grigoris chain of fastfood joints make a decent espresso-capuccino and also serve Greek coffee heated in sand, or at least the one on the corner of Ermou and Athinas did. They are cheap too. Their selection of pitas (spanakopita, tiropita etc) make it a good stop for a quick breakfast for not much money. But there are loads of other shops and chains where you can get something that will make you feel like you are eating breakfast. Recently some of the cafes in the tourist areas have been advertising breakfast and a big thing is waffles which they call Baff-less which is a kind of cute name. Usually they are loaded with ice-cream, chocolate syrup, sugary fruit toppings and maybe if you are lucky real fruit. You can also find places that sell yogurt with fresh fruit, honey and nuts, though you will probably find that at your hotel breakfast buffet too. You can always supplement what they have at the hotel breakfast buffet by going to the Athens Market and buying fresh fruit, cheese, and whatever else is not provided by the hotel. Actually if your hotel has a fridge (most do these days) you can go shopping and eat breakfast on your balcony, or even in the breakfast room and not pay the extra money for the breakfast. Or just wake up late and go out for lunch.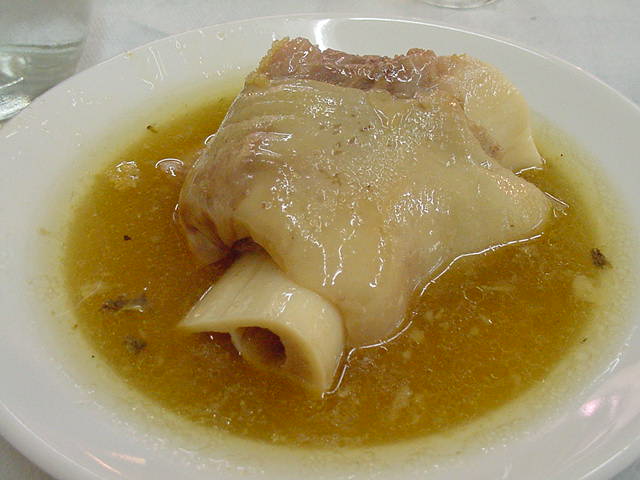 If you want to be like the working class Greeks why not go down to the meat market to one of the restaurants there for a nice steaming bowl of patsa, made from the innards of sheep and famous for it's life-saving properties in the event of a serious hangover, or I suppose even jet lag. What could be more invigorating than a ladle full of intestines and other animal organs before you begin the climb up the Acropolis. Or Podi, which has similar healing properties but is made from the foot of a cow, or some other large animal. (For more on Patsa and Podi click here.)
But taking for granted that you are probably not going to start your day with a steaming bowl of tripe let me just say that with the Europeanization of Athens, anywhere you are staying you will find a cafe with good coffee, croissants, pastries and cheese and other pies, as well as sandwiches and probably if you ask nicely you can convince someone to fry you an egg or two (with a side of bacon of course)