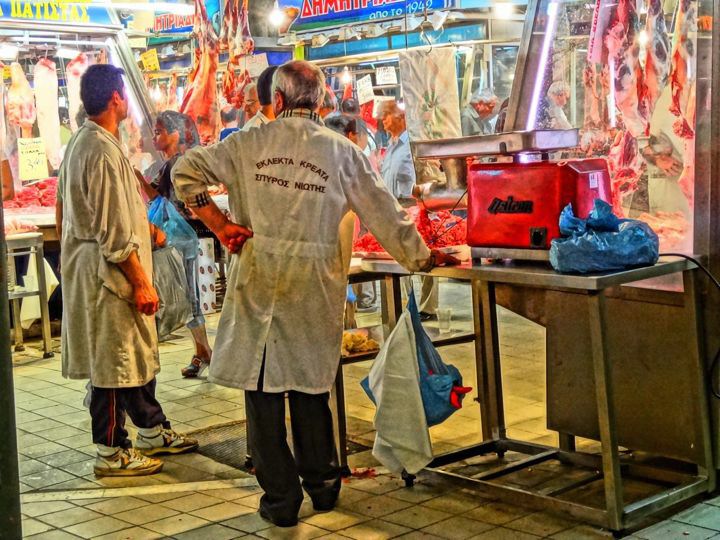 Let's take a walk through one of my favorite areas in Athens, Greece, the Central Market or what the Athenians call the Dimotiki Agora (Public Market) or Varvakios Agora. Actually what the Athenians call the Central Market is the place where the trucks come from all over and it is the wholesale market which is in between Athens and Pireaus and if you get in a taxi and say "Take me to the Central Market" you may end up there instead. But The Dimotiki Agora, which is the place I am talking about, and in fact most guidebooks are talking about when they say 'Central Market' is on Athinas Street, half way between Omonia Square and Monastiraki Square and if you are staying just about anywhere in downtown Athens you can easily walk to it. If you are coming by metro get off at either Monastiraki or Omonia Stations. The best time to go is in the morning from Monday through Saturday. It is pretty much closed on Sunday though the restaurant in the meat market is usually open. (I recommend it. It is cheap and good). There is a meat section, a fish section, a fruit and vegetable section and then all around are shops with all different kinds of foods from cheese to herbs and spices and processed meats, olives and oil and more.
By the way, the market is named for Ioannis Varvakis, also known as Ivan Andreevich Varvatsi, who was a national hero of both Russia and Greece. He fought in the war for Greek Independence against the Turks and invented a way to transport Russian cavier from his fisheries on the Caspian Sea, to Europe and Greece. He was a great benefactor to both the Greeks and the Russians. The 2012 film God Loves Cavier is about the life of Varvakis.
You will need to wear shoes that are easily cleaned or sneakers that you don't care about, especially in the fish section because it can get kind of slimey. But you won't find a more exciting and lively place to explore in Athens so let's go check it out....
Help Support Matt's Greece Guides
Do you enjoy using my site? Have you found it entertaining as well as useful? If so please show your appreciation by booking hotels through the travel agencies and the links found on my Hotels of Greece site. The small commission I make on the bookings enable me to keep working and in most cases you won't find them any cheaper by searching elsewhere. You can find hotels in Greece by location, price, whether or not it has a swimming pool, and see photos and reviews by using this link to booking.com which also contributes to my website when you book. If you are appreciative of all the free information you get on my websites you can also send a donation through Paypal or Venmo
Join Matt Barrett's Greece Travel Guides Group on Facebook for comments, photos and other fun stuff. If you enjoy this website please share it with your friends on Facebook and other social media.