The Islands of the Saronic Gulf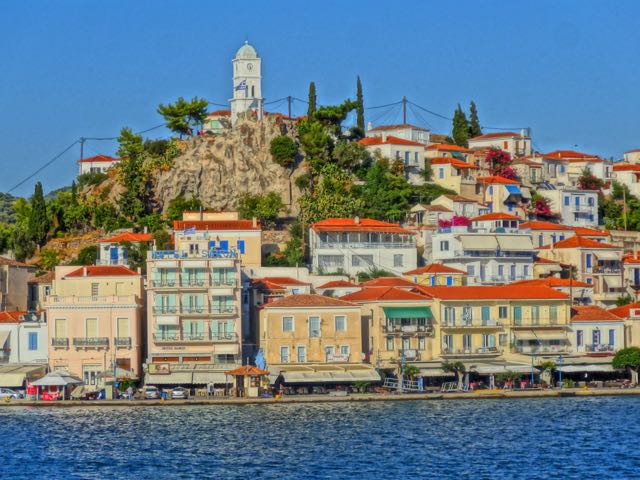 The Greek Islands of Aegina, Angistri, Poros, Hydra and even Spetses are close enough to Athens to go to for the day either by car ferry, highspeed catamaran, flying-dolphin or on the popular Saronic Island Cruise which goes 364 days of the year. These islands are sheltered from the north winds so it is very rare that the seas are rough and the boats get cancelled. It also means they are warmer than the other islands during the winter and have year round tourism. The ferries to these islands leave frequently from Pireaus starting at 7am and you can spend the entire day and return in the evening. Those who prefer to stay on an island and visit the sites of Athens in the daytime can take an early boat in and be back in time for dinner. It is even possible to stay on one of these islands and be back in Athens early enough to catch an early afternoon flight home.
Aegina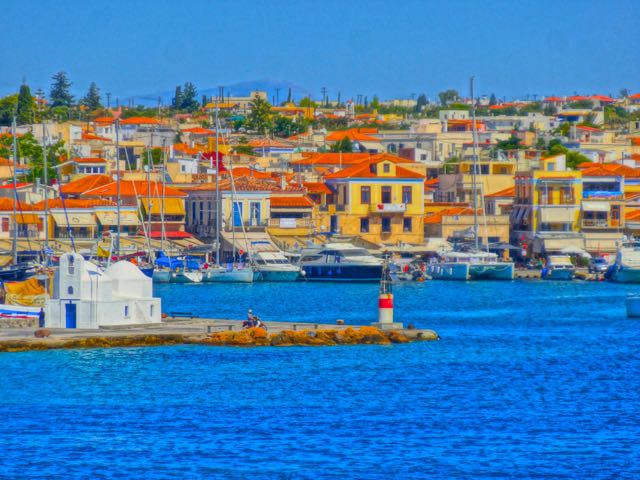 If you stand on the Acropolis or the roof of your hotel and look towards the sea you will notice an island a few miles off the coast. That is Aegina, a city state in it's own right in ancient times and at times a visible thorn in the side of classical Athens. To get there take the metro to Pireaus and cross the street. Walk to your left past the buildings on the peninsula that juts into the harbor until you come to the boats that look like D-day landing craft painted white. Find the next one to Aegina. They run very frequently. It will take you to the main town on the island, or you can take one of the boats to Agia Marina on the other side of the island. When you get off the boat just take a walk around and get to know the place. there are lots of places to eat and drink and there are beaches at Agia Marina and on both sides of the port. Go in the morning, have lunch, swim and explore in the afternoon, have dinner and take an evening boat back. Don't forget to see the ancient Temple of Aphaia, one of the most important archaeological sites in Greece. See My Guide to Aegina for more detailed information or click here for Aegina Hotels.
For my step by step introduction to visiting a Greek Island from Athens, where I have just by chance used Aegina as my sample island go to How to Visit A Greek Island
Poros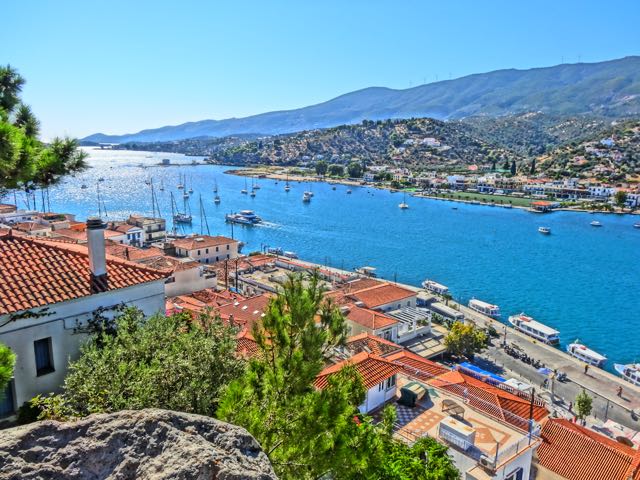 If I as going to live in Greece and had to work in Athens, this is where I might make my home. By the same token, if I was going to visit Athens and wanted to see the sites and do the things one is supposed to do when visiting Athens, but I did not want to stay in the city, I would stay here. Poros is simply beautiful, with pine forests that come right down to the beaches, excellent restaurants, cafe life, and really nice hotels that won't break your budget. The island is about 45 minutes from Pireaus by high-speed with frequent ferry and Flying Dolphin service so you can easily make connections to other islands or come into Athens for the day. You could leave your hotel and be walking on the Acropolis in less then 90 minutes. There are days in Athens where it takes longer to get there from the Hilton. Poros is also a 3 minute boat ride from the Peloponessos with a small car ferry going back and forth every 15 minutes and small taxi boats that go back and forth 24 hours a day across a strait of sea that looks more like a river. If the idea of commuter tourism appeals to you then take a look at my Guide to Poros. This is one of those islands that people go for a visit and never leave. Click here for Poros Hotels.
Hydra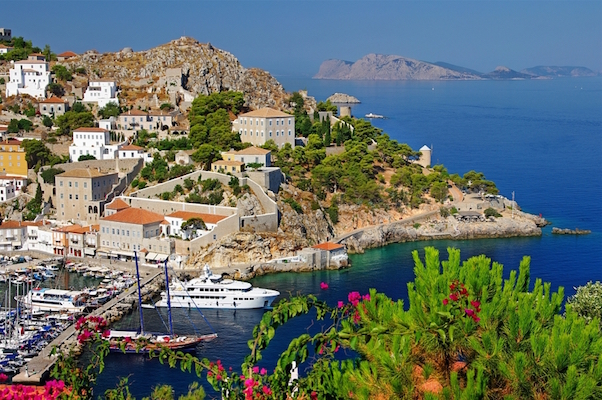 You can spend the day on the beautiful island of Hydra, in a class of its own as far as the islands go, particularly those close to Athens. There are no automobiles on Hydra, only donkeys for hauling luggage, food, supplies and building materials up the stepped streets of an amphitheater like village that capitivated Henry Miller when he visited here during the Second World War and wrote about it in his Colossus of Maroussi. Hydra is the former home of Leonard Cohen and fans come to pay their respects, though he has not lived here in decades. Few quality beaches but who cares since there are stone platforms on the rocks, with ladders that make it like swimming in a big pool. Cafes on waterfront are for people-watching. It is a jet-setter haven and one of the more likely places in Greece to run into Mick Jagger. For good inexpensive food search the back-streets or walk down the coast. To go there wake up early and take a cab to the Flying Dolphins dock in Pireaus. Buy your ticket either in advance or through your travel agent, or from the ticket booth in Pireaus. They run fairly frequently, usually one every hour or two. Be sure to look at the schedule and buy your return ticket when you arrive in Hydra if you haven't gotten it in advance. See My Guide to Hydra for more detailed information or Click here for Hydra Hotels.
Spetses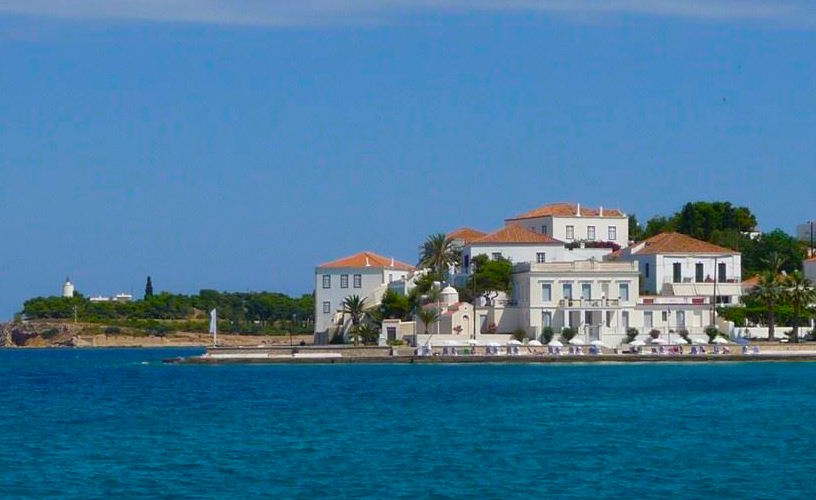 The island of Spetses is a little further but if you leave early enough you can still do it as a day trip though in my opinion you are better off staying the night. This island was made famous in John Fowles' classic The Magus. Beautiful beaches and pine forests, and like Hydra, no cars allowed, but unlike Hydra they do allow motorbikes and that is one of the drawbacks of Spetses, unless you are riding one of course. The highspeed boats to Spetses take about an hour and a half. You can also drive to Porto Heli or Kosta in the Argolis and get there via a short ferry ride. But since it will take about 3 hours to get to those 2 ports in the Argolis this only makes sense if you are coming from Nafplion, or happen to be doing a private tour of the Argolis, or you hate ferries and want as short a trip as humanly possible. For more on information see Spetses by Diana Farr Louis or Click here for Spetses Hotels
Angistri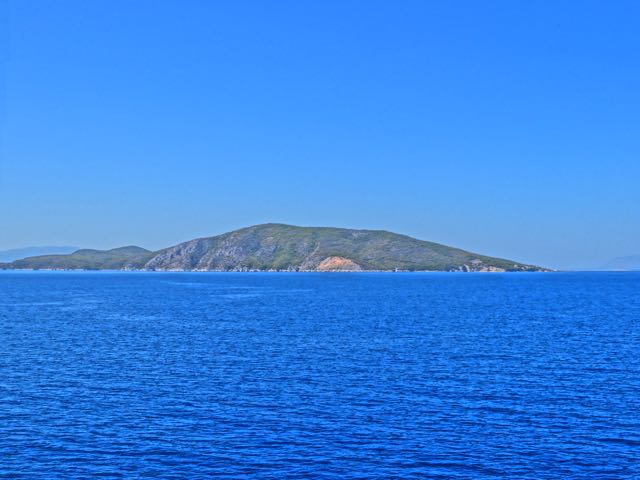 Angistri is a small island near Aegina with beautiful sandy beaches and a devoted following. Famous for being one of the first places in Greece to experiment with naturalism, or in plain English it was one of the first islands to have a nudist beach, and in fact it still does. Some nice tavernas and the famous Agistriclub Hotel, a favorite for people who have made a career of visiting Greece every summer, make Angistri an excellent place to stay and still be able to zip into Athens to see the Acropolis. The far side of the island is mostly agricultural and in the village of Limineria, named after its lake, the inhabitants devote themselves mostly to farming and fishing. Like The other islands near Athens, Angistri is a good destination for the winter months when weather is unpredictable and you don't want to be too far from Athens.
See my Review of Angistri or Click here for Angistri Hotels
Methana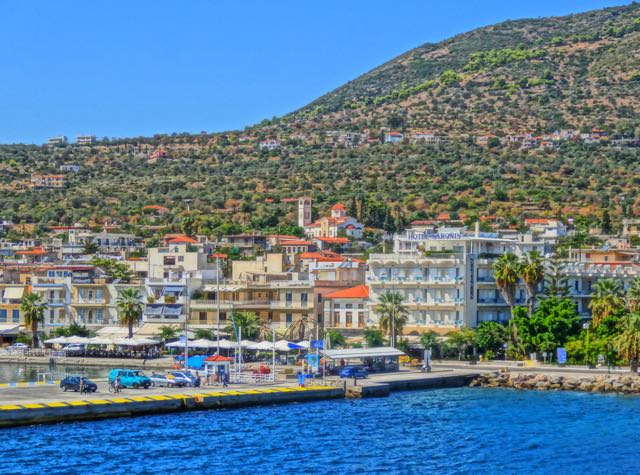 No this is not actually an island but it may as well be. The town of Methana is located on a peninsula that juts out from the Argolis in the Peloponessos and because the easiest way to get here is by boat, the ferries to the Saronic Islands also stop here. It is actually on a volcano that last errupted in 230 BC and it is believed that it will erupt again in the not to distant future. The peninsula actually has 32 separate volcanoes and a popular hike is to the largest. Along with volcanos you also get hot springs and has been a spa, attracting old people who want to soothe their aches and pains since 1870. There are volcanic beaches, ancient archaeological sites, fishing villages and plenty of restaurants and cafes, and hotels if you decide to stay the night. This island that is not an island is best seen by car or taxi. You can take the early ferry here and then drive back to Athens through the Argolis, stopping at Epidavros and/or Myceneae and Nafplion on the return. Click here for Methana Hotels
Salamina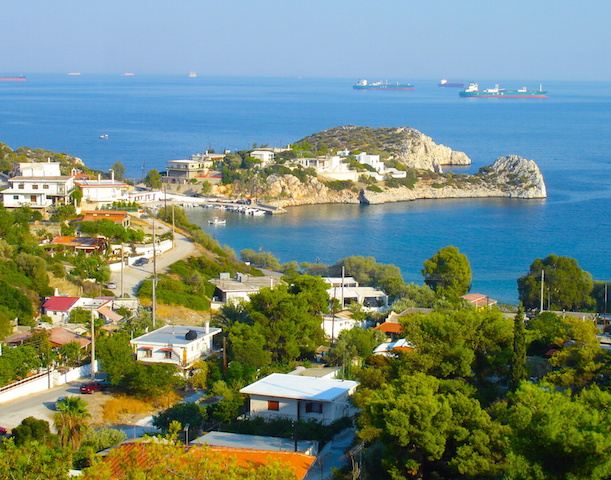 This island is not on anybody's list of islands to visit besides a few people who are interested enough in history to know that the entire fate of western civilization hinged on a battle that took place here over 2000 years ago when the Greek fleet defeated the Persians in the narrow straits that separate Salamina from the mainland. Interestingly, Salamina was the location of the first Club Med, though now it is almost an extenstion of Pireaus with small car ferries going back and forth continuously. There are a few OK beaches in the southern part of the island where the sea is clean, and the friends who have inherited summer homes here tell me there are great tavernas and Salamis is under-rated and popular with the Athenians who have been coming here for decades. But chances are unless you have been to Greece countless times and are running out of islands to go to, you probably have no interest in visiting Salamina. But if you do, you will want to have a car to explore the island since the main port of Paloukia and the main city of Salamina are just about all you will see without one and it is a large island with ancient archaeological sites, historic churches and an amazing house sculpture in the village of Peristeria that must be seen to be believed. Click here for Salamina Hotels
Saronic Island Cruises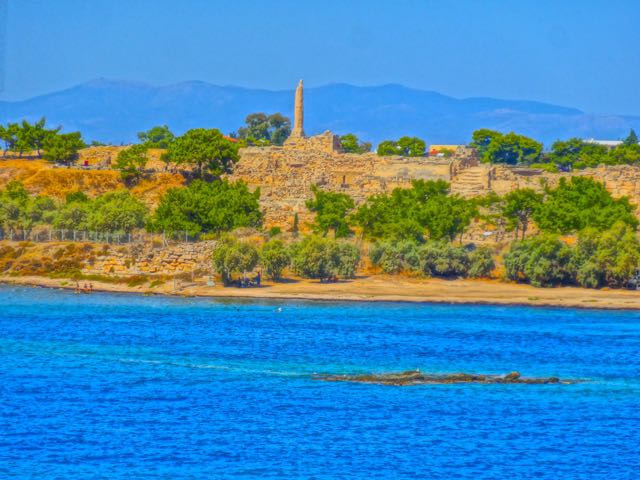 You can make it easy on yourself and do the Saronic Gulf Day-cruise which is very affordable. This way you will stop at all the islands and your only responsibility is getting on the boat. The boat has a bar, food, music and you will most likely make friends on board. The Saronic island cruise is the most popular cruise in Greece and they pick you up and drop you off at your hotel and it comes with lunch. You stop on the islands of Aegina for 2 hours, Poros for 45 minutes and Hydra for an hour and a half and it only costs 99 euros which is almost as cheap as taking the boat to Hydra and back. See My Saronic Cruise Page or go directly to Fantasy Travel's Saronic Cruise Page for more detailed information. Fantasy Travel also offers One-day Yacht and Sailboat Charters to the Saronic Gulf Islands which are like mini-cruises.
The Island of Kea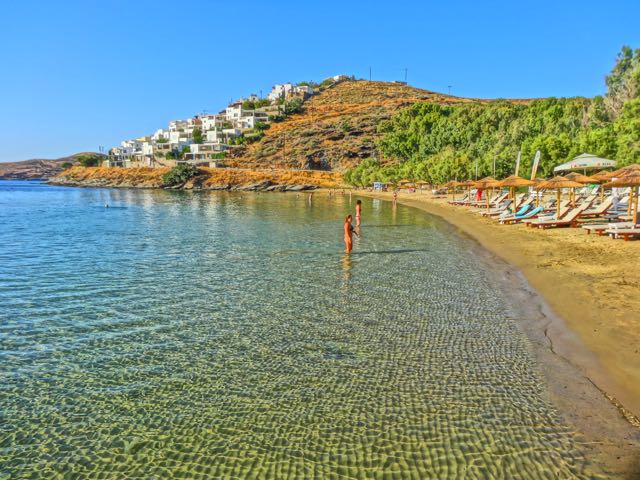 The closest of the Cyclades islands to Athens is the island of Kea which you can get to on a one hour ferry ride from the port town of Lavrion which is close to Sounion. Unlike the Saronic islands, Kea will give you the feeling of being much further away. It is a traditional island where people are still farmers, but close enough for Athenians to have their summer homes. It also has the best beaches of any island close to Athens. The hora, or the main village, is in the mountains and has no automobiles within the town, which has several excellent restaurants. You can take a KTEL Attika bus to Lavrion from Pedion Areos Park, or catch it at the airport. It is about a 2 hour trip though and for that reason many people hire a taxi and go there for the day since it is only a 45 minute drive. See my Guide to Kea for more information or Click here for Kea Hotels
Sailboat and Yacht Charters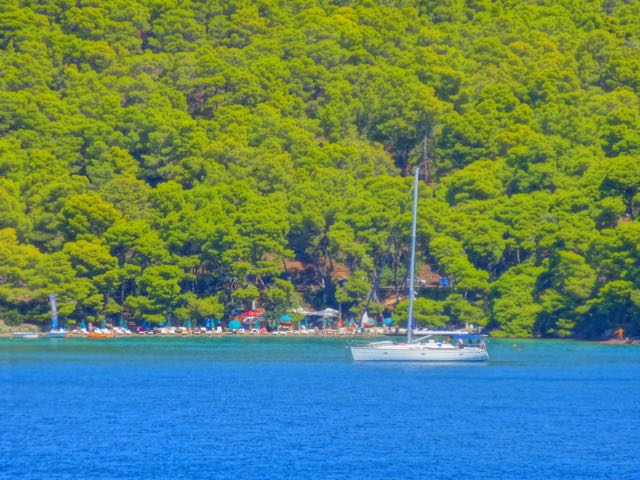 One of the best ways to the see the Saronic Gulf islands, the western Cyclades and the coast of mainland Greece is by sailboat or yacht. These islands are close enough to Athens to make sailing there easy and close enough to each other and the mainland so that you don't have to spend all day getting from one place to another. You can also explore the Peloponessos and find some amazing undiscovered beaches that can only be reached by boat and tiny ports with small family owned fish tavernas who are happy to cook the fish you have caught. Prices have come down and in many cases chartering a sailboat for a week will cost you the same as a hotel, depending on the size of the boat and how many people you have sailing with you. For more information see my Sailing in Greece page
Help Support Matt's Greece Guides
Do you enjoy using my site? Have you found it entertaining as well as useful? If so please show your appreciation by booking hotels through the travel agencies and the links found on my Hotels of Greece site. The small commission I make on the bookings enable me to keep working and in most cases you won't find them any cheaper by searching elsewhere. You can find hotels in Greece by location, price, whether or not it has a swimming pool, and see photos and reviews by using this link to booking.com which also contributes to my website when you book. If you are appreciative of all the free information you get on my websites you can also send a donation through Paypal or Venmo
Join Matt Barrett's Greece Travel Guides Group on Facebook for comments, photos and other fun stuff. If you enjoy this website please share it with your friends on Facebook and other social media.