A Trip to the Argolis with George the Famous Taxi Driver
It is easy when you spend time in Athens to get lazy, but there is nothing like a tour to Myceneae, Epidavros, Corinth and Nafplion with George the Famous Taxi driver to get me feeling like I am a real travel writer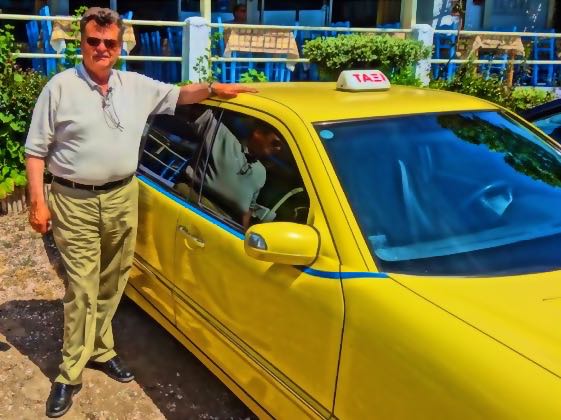 There is nothing like a trip with George the Famous Taxi driver to shake me from my torpor and rescue me from my bad habits. If it were up to me I would hang out in cafes all day and take a nice siesta in the afternoon to store up my energy to go out at night with my friends, eating, drinking and conversing 'til the wee hours of morning. For me this is life at it's finest and if it were not for the fact that after awhile this lifestyle seems to run me down I think I would do it all the time. But luckily for me I know George and when I see myself falling into familiar patterns I can call him up and if he has no customers that day I ask him if he wants to go for a ride. He always says yes. Why shouldn't he? He is my friend and he also knows that if I happen to write about a journey and it ends up on my web site it will mean more customers for him. But I think he actually enjoys taking trips with me. He knows that I know Greece and it gives him an opportunity to show someone who knows Greece, how much he knows about it. Plus I think he is really proud of the way he does his job and likes to show off a little bit, and I know he likes to show off his Mercedes.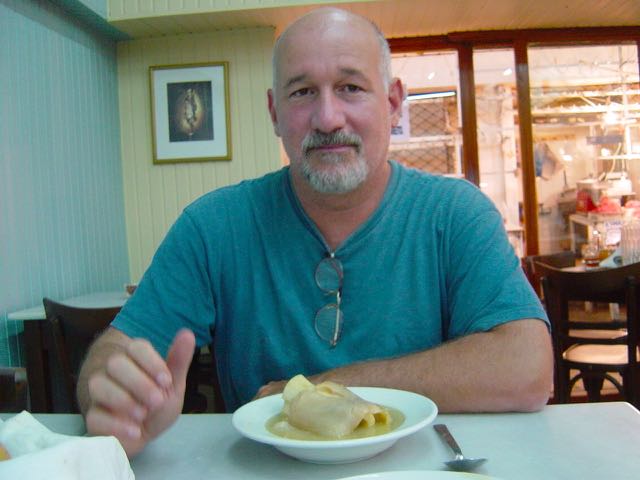 The only problem with me calling George about doing a trip the next day has to do with the transitory nature of human consciousness. Am I losing you? Well, when I call George up from some taverna because I am suddenly inspired that I have to see Myceneae tomorrow because the weather man promises a beautiful sunny day, there is a part of me that is sort of hoping he says he is busy with a customer. Because even though at that moment I can think of nothing more wonderful than climbing through the ruins of Agamemnon's palace, the realist in me knows that some of this romanticism is the wine talking to me and come tomorrow that same wine may be saying something different, like stay in bed or I need coffee. The longer I stay out with my friends, the less chance I will be happy, running carefree among the ancient stones. The more I drink tonight, the more of a chore tomorrow will be.
But, George had no plans for the following day and agreed to meet me at the Attalos Hotel at 9am so I was committed. I hung up my cell phone and the next time my glass of wine emptied I filled it with half wine and half soda water. I did this for the rest of the night and went to bed thinking I would be in good shape for the trip if I could stop burping long enough to fall asleep.
And if I felt a little ragged I could wake up a little earlier and go to the restaurant at the Meat Market and have a bowl of patsa or podi like the real working class people do when they need to recover.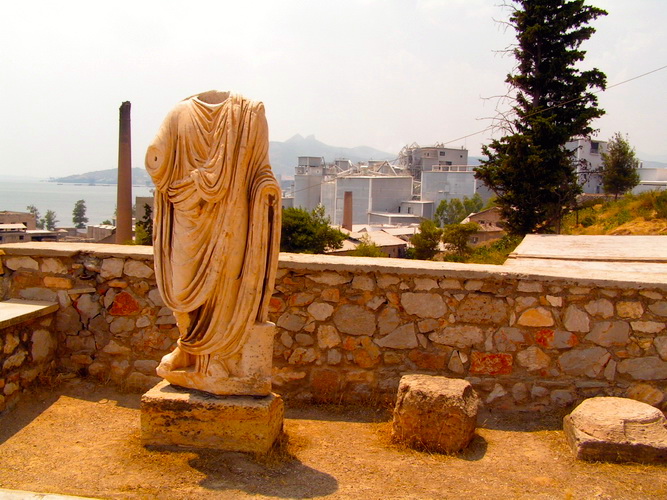 I was up at 8:30 feeling energised and adventurous, had a cup of Attalos coffee and was on the road with George by two minutes after nine. There was hardly any traffic and in no time at all we were out of Athens and passing the shipyards and refineries of Elefsina, location of the Ancient Elefsinain Mysteries, one of the most important archaeological sites and museums and now home to an unfortunate population forced to breathe the foulest air in Greece in an area that makes Linden, New Jersey look like Yellowstone National Park. Further on we pass the town of Megara, the chicken capital of Greece with thousands of abandoned hen-houses. I am falling asleep but I try to pretend I am just looking out the window and when George talks to me I respond as quickly and as accurately as I am able so he does not think he is the only one enjoying the trip.

First Stop: Corinth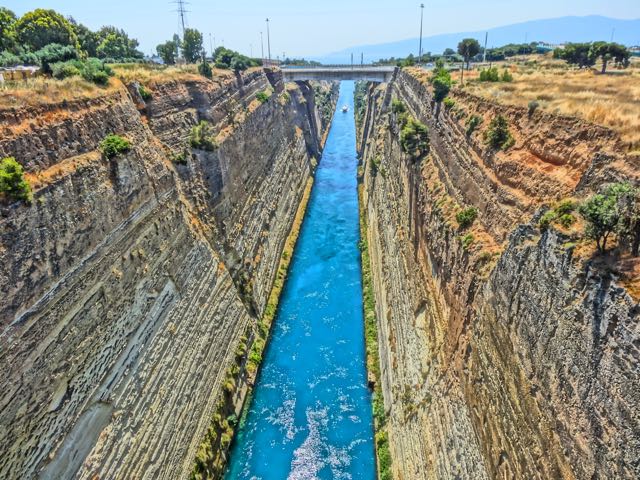 It is difficult for me to go over the Corinth Canal and not stop to walk across the old bridge and look towards either end. To me the canal is no less an amazing feat than the Parthenon. Started by the Emperor Nero in 67 AD and completed by a French company in 1893, the canal is 6 km long and cut through solid rock. If I am lucky there is a ship passing through while I am on the bridge. This picture is taken from the old bridge that George uses because you can stop and get out and walk across it, unlike the National Road bridge that most people use and don't even know they have gone over the canal. It is off this bridge that people now bungee-jump. You can see posters for the company that does it when you stop here. There are also some cafes and tourist shops that have seen better days since once they built the National Road and the new bridge most of the tourist and long distance buses have stopped coming here.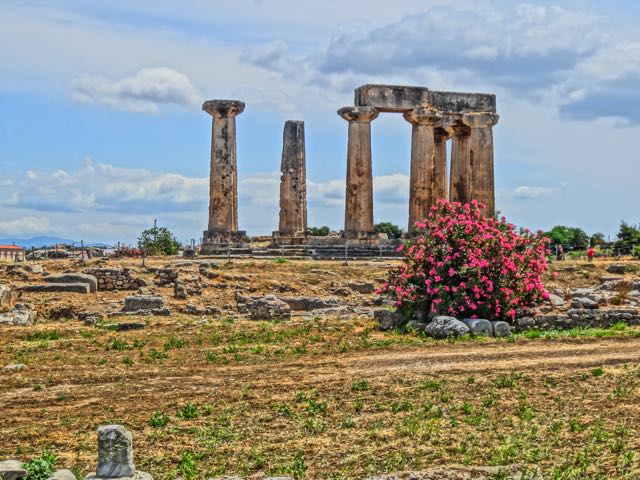 From the canal we drive through the ruins of Ancient Corinth. I get out of the car and take a couple pictures, just like I did when George and I went to Nafplio for the day last Easter. One of these days I really must walk around the site and get to know it a little better. This point is driven home to me when I realize I took the exact same photo from the same spot last year. But it was taken with a different camera. For those of you who read The Bible, as you know Corinth is where Saint Paul spoke to the Corinthians and it is for that reason many Christians have it on their places to visit list. There is a pretty good museum and the ruins are interesting but if you are coming to Greece to see the place where Paul spoke to the Corinthians you may be a little disappointed since it will take you about 20 minutes to see everything. Luckily there are more ruins in Ancient Isthmia, which also has a nice museum and George is happy to stop there too.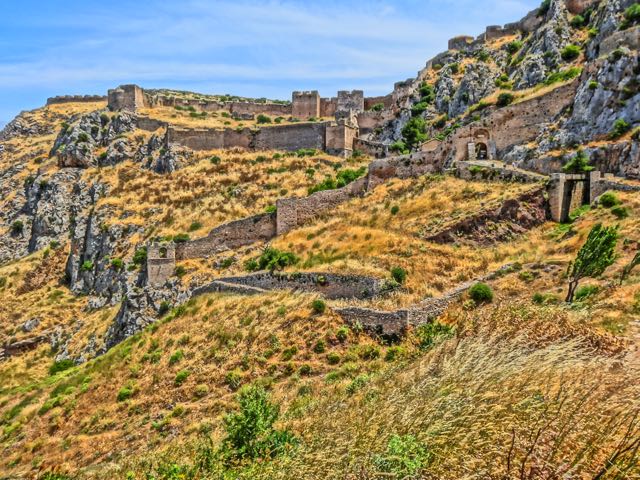 The ruins of Acrocorinth, the Acropolis of Corinth, can be seen from miles away and is the favorite archaeological site of my archaeologist friend Stuart Thorne and climbing to the top is one of my objectives of the day. But when we get to the small parking area in front of the entrance I realize that George has no intention of climbing with me.
"Are you crazy, Matthew? Do you know how many times I climb this thing?"
So I set off alone, through the impressive gates and up as high as I can go before I start feeling like last night's retsina is re-entering my bloodstream and last night's kokoretsi feels like a piece of lead that has somehow become lodged in my digestive system. I climb high enough to see a beautiful view of the Peloponessos but I know that if I want to see the entire isthmus of Corinth I am going to have to climb a lot higher. It is a perfect situation for taking pictures. I am the only person on the mountain. The sun is shining and the grass is green so I really should take advantage and keep going, but now my heart is starting to beat faster and I am feeling more mortal than usual.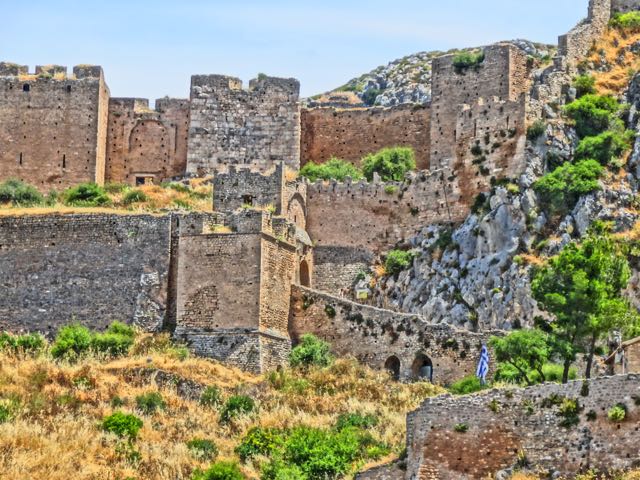 Luckily I am saved from my uncertain destiny by the arrival of a tour bus full of Romanian high school students who begin walking up the path to the fortress. I realize that if I want to take any photos without Romanians in them I have to take them now and put my climb on hold for the next time I visit Acrocorinth. There are ruins of an ancient temple of Aphrodite at the top but the most impressive thing about the site besides the fantastic views is the gate. So don't feel like you have to climb to the top of Acrocorinth. Take a look at the gate, get a few pictures, climb high enough to see the view and then move on.

George and I drive back down the mountain, past an old Turkish fountain and through the village of Archaia Corinthos, eventually getting on the road to the Argolis, an area known for being the Florida of Europe because of all the oranges it exports.
Ancient Myceneae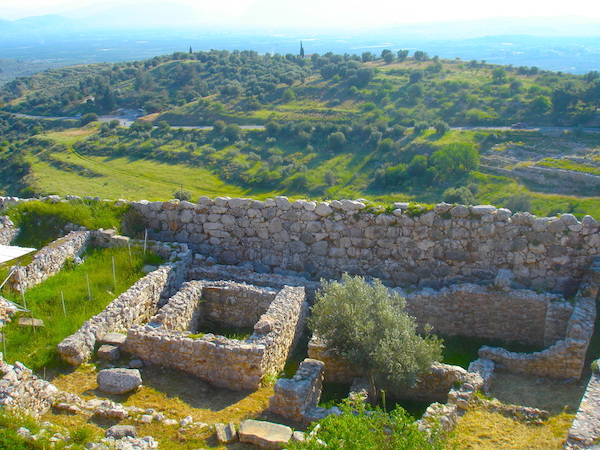 After about half an hour we come to the turn off for ancient Mycenae, passing first through the modern town of Mycenae with its tourist shops and restaurants with giant parking lots to accommodate tour buses, all empty since few tourists come to Greece in January. But when we get to the ancient site there are two buses. One group is a Spanish tour and the other is an American high school. People are spread all over the ruins and I feel self conscious standing there waiting for American students to get out of the frame for a good shot. But even with the people there Mycenae is impressive, especially at this time of the year with the grass growing and the winter wildflowers in bloom and green everywhere you look. It is like finding Roman ruins in Ireland. In the summer the grass will be gone, dried to death by the sun and trampled by thousands of foreign feet.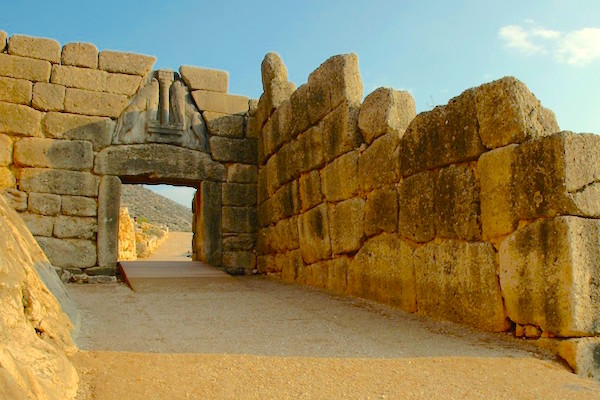 Like Acrocorinth the most interesting part of Mycenae is the gate, here known as the Lion's Gate because of the relief of the two lions above the entranceway and said to be the insignia of the Royal House of Atreus. To the right is an impressive big circle with the unimpressive name of Grave Circle A which were excavated in 1874 by Henreich Schlieman and the treasures put in the National Museum of Athens. This was where he found the ancient mask which he called the Mask of Agamemnon but turned out to be the face of an unknown king from a period 300 years earlier . But romantic that Schlieman was, he sent a telegram to the king of Greece that said "I have gazed upon the face of Agamemnon." That mask is probably one of the most recognized ancient artifacts in the world and is still unofficially known as the mask of Agamemnon while the ancient king whose face is now known to millions is as anonymous as the guy who picks up the litter around the site.
The rest of Myceneae is interesting if you know what you are looking at but if not it looks like a bunch of rocks and walls and floors. So take the time to read some of the material available in guidebooks or sold at the little shop on the site. They give away free brochures that tell you what it is you are looking at, or what it was. There is also a plan of Mycenae that you can buy that has a reconstruction of the site and if you have that you will be pretty impressed. But even if you don't the view is spectacular and climbing to the top of Mycenae is nowhere near as difficult as climbing Acrocorinth.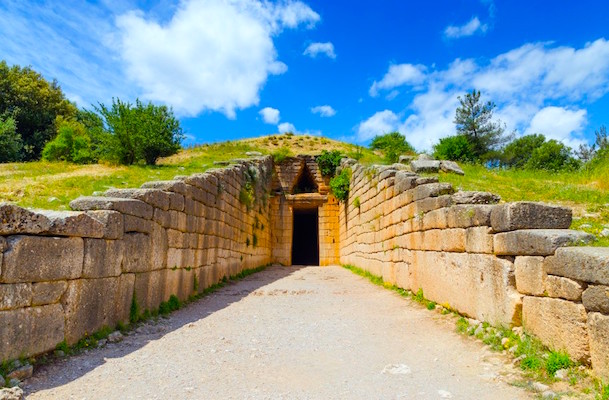 Down the road from Mycenae is the Treasury of Atreus or Tomb of Agememnon which I found to be the most impressive part of ancient Mycenae. You walk through a passageway into an enormous bee-hive tomb dug into the ground. This is known as a tholos tomb and this was the way the ancient Mycenaeans began to bury their dead after the 15th century BC. Further down the road is Grave Circle B and the tholos tombs of Aegisthus and Clytaemnestra. The modern town of Mycenae is pretty much of a tourist trap but George had his heart set on taking me to the enormous Kolizeras Restaurant to see pictures of famous Americans posing with the owner, a Greek-American I assume named Mr. Kolizeras. George had a frappe while I walked from photo to photo, a who's-who of people I would never vote for including Dan Quale and my own former home state senator Jesse Helms. It was hard to tell whether these people all came to Mycenae or were these pictures taken at a Republican fundraiser? And where was Mike Dukakis and Paul Tsongas? I mean some things should go deeper than party affiliation. But if you are a Republican and want to see some of your heros and you happen to be in Mycenae then stop here, though I would not make a special trip here just for that reason. If you are a Democrat there was a picture of Bill Clinton in Tom Mazarakis Flokati shop in Athens but it closed.
Argos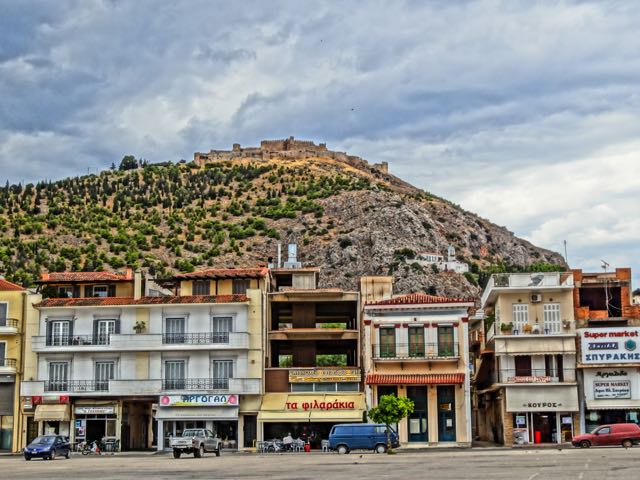 Our next stop was the modern town of Argos , the regional capital. It was not a planned stop. I got us lost by making George take a turn so I could get a good photo of the ancient citadel without having to climb it. But we found ourselves in the middle of a gigantic open-air market full of farmers and Gypsies selling vegetables, clothes, toys, kitchen utensils and just about anything you would find in Walmarts. I jumped out of the car and ran around taking pictures. Some people hid their faces, not wanting to be photographed because they may have been illegal immigrants or maybe they just didn't like the way they looked that day. But some people were very obliging, in particular a group of Gypsy women selling bananas in the town square. Argos has a museum and some archaeological stuff and some good restaurants though it is not on the beaten tourist path. But they have a great micro-brewery called Zeos and in the area called Neos Keos there is a river where all the fishing boats dock and if you cross the metal bridge there is a great fish taverna there.
Nafplio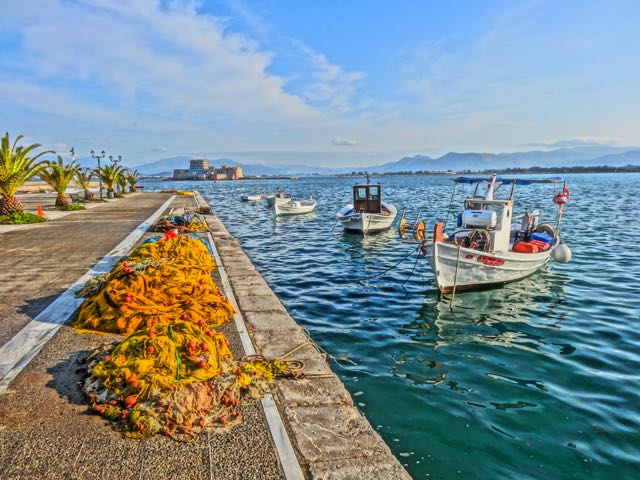 When we got to the beautiful historic city of Nafplio, the Renaissance cruise ship was visiting and the harbor was crawling with Americans. (I mean that in a nice way) I was sure George and I would be recognized and mobbed and even though we had planned to stop for a coffee, we decided not to stay and jumped back into the car and sped away. Don't misunderstand me. I like fame and recognition as much as the next guy. But I was starving and I also wanted to get to Epidavros while the theater was in full sun. I didn't have time to sign autographs and answer questions about Greece or turn down offers of ouzo. I was trying to be purposeful and to stick to a plan. I was surprised at the number of cargo ships at the dock that were being filled with oranges and would have enjoyed spending more time gathering information about where all these oranges were going. (Anyway because I go there fairly often Nafplio has been covered in detail on my Nafplion page so just go there if you want to read more and see a lot more photos)
Epidavros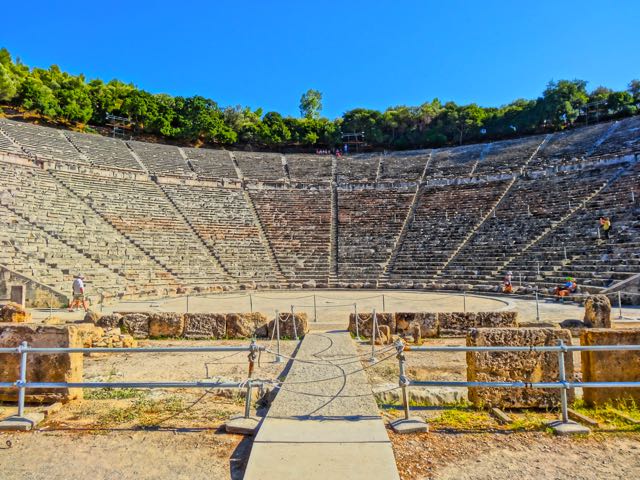 Unfortunately despite not sticking around long enough to eat or find the secret of the oranges by the time we got to Epidavros the theater was in half sun which meant I could only photograph half the theater. I could shoot either half but if I took a picture of the sunny half the shady half would not come out and if I shot the shady half the sunny half would not come out. But besides a Greek American couple that seemed like either newlyweds or a couple having an affair, I was the only one in the theater and in the end it did not matter because I came back again and took lots of photos. The theater of Epidavros is the most perfect and best preserved of the ancient theaters and if you stand where the actors would have stood and drop a pebble, you can hear it on the top row, provided that the place is not full of tourists. It seats up to 14,000 people and is still used in the summer for the Epidavros Festival in July and August.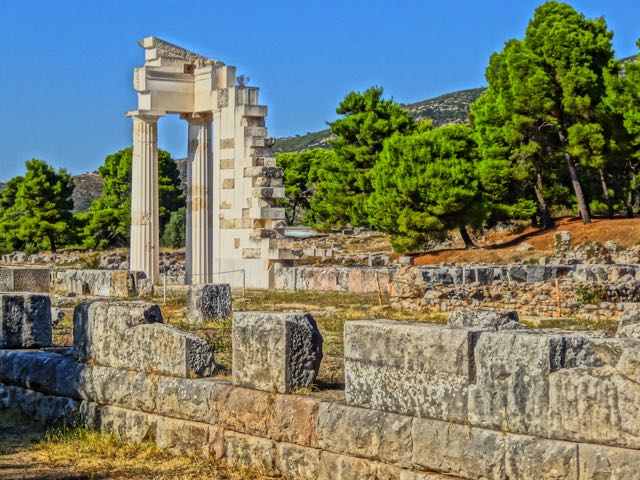 The site of Epidavros was a sanctuary to Asklepios, with a healing spring and was one of the major healing centers of the ancient world. The ancient site is fairly extensive and dates from around the 3rd and 4th Century BC. There are ruins of several temples, a stadium and buildings from ancient Greek and Roman periods.

The museum was built in 1905 and houses some of the artifacts found on the site including statues and pottery and reconstructions of the pediments of the ancient Asklepios and parts of the temple. There is even a showcase of medical instruments found on the site and inscriptions of the accounts of miraculous cures.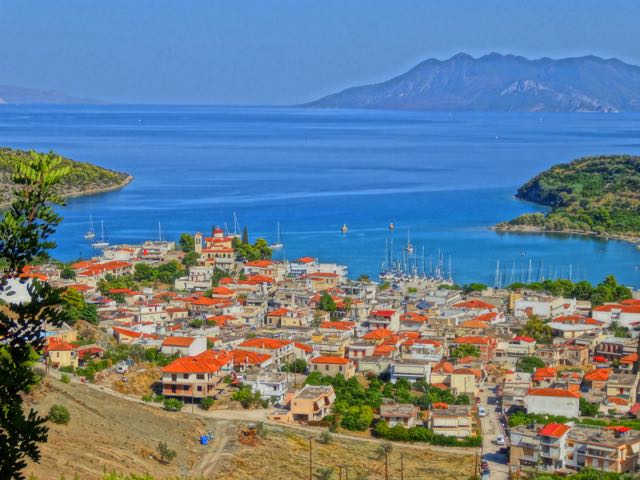 By this time I was starving. It was partially my fault because I insisted on having lunch in a quiet little seaside taverna in the town of Palea Epidavros , rather then somewhere along the way. By the time we got to the small port, it was partially in shade and we had to sit inside. But we had a great late lunch of fried kalamaraki, bakaliaro me skordalia and since George was the designated driver I allowed myself a glass of ouzo and then I drank another one for him. The town itself was very pretty but dead quiet in the winter. I could hear a soccer game in the distance and every so often a car would pass by but besides some fishermen bringing in their catch or working on their boats the place was empty. Like the ancient Greeks I feel much happier when I can see the sea.
The road back to Athens (and hopefully the evening's festivities) follows the south coast of the Saronic Gulf and the sea is almost always in sight. We stop on a hilltop cafe that over looks Palea Epidavros so I can take a photo for my wife, Andrea, who lived here when she was a hippie migrant worker in the seventies, sharing a shack with her boyfriend and picking oranges to survive. In those days the village was just a couple small huts on the beach in a valley of olive groves. Now it is a real town. In the summertime there are boats that bring people for the festival in the ancient theater.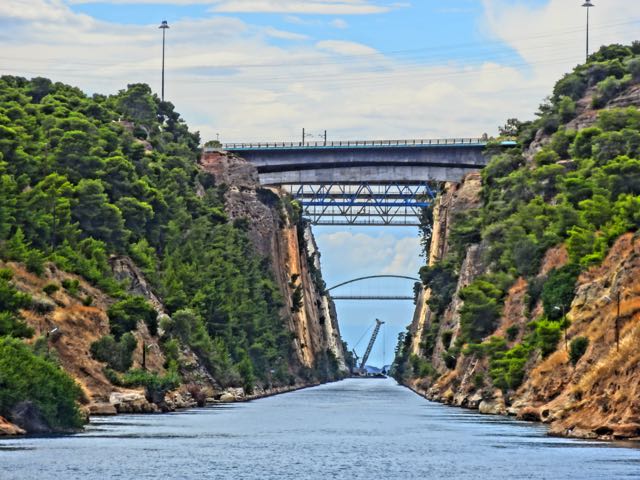 We had one last stop and that was at the eastern entrance to the Corinth Canal, just beyond the small town of Isthmia. There is a very old submergible bridge there and George dropped me off so I could walk across and he would meet me on the other side. It was there that I saw the most perfect cafe-ouzerie. This was the kind of place where someone like me could sit all day and all night watching the ships and yachts enter and leave the Corinth canal, starting with coffee in the morning, a late afternoon ouzo and some retsina at night. Maybe that will be my next trip with George. But if you stop here and are lucky enough to see a ship come through, this bridge is one of the wonders of engineering. And this view of the Corinth Canal is pretty amazing.
The remainder of the trip was a blur as I kept dosing off, even though we were only about an hour from the Hotel Attalos. George dropped me off, I went inside, took a shower and went to meet my pals at a taverna in Psiri. Just another day in Greece.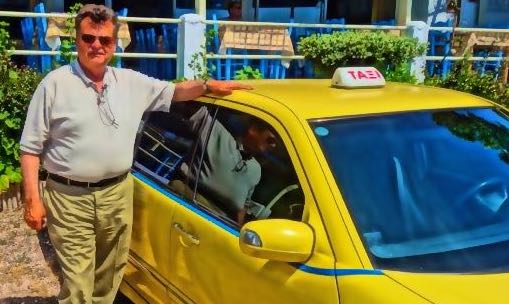 Useful Greece Information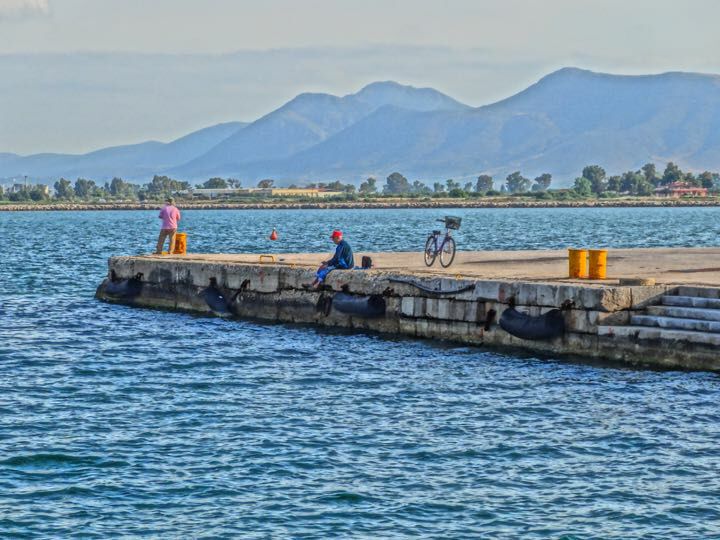 For information on booking George the Famous Taxi Driver visit his website. You can also do this trip as an overnight and George will make all the hotel arrangements. Or you can do a multi night tour and visit Olympia, Delphi, Meteora, or all over the Peloponessos and Greek Mainland.

You can also visit the Argolis on a tour which can be arranged with your Athens Travel Agent which is probably more economical if you are only one or two people. See Fantasy Travel's Tour Page

Try to visit Nemea where there are some fantastic ruins and the famous wine-roads where you can stop and sample some of the best wines in Greece from the wineries. See my Nemea Page

For more on the Argolis see Matt's Nafplion page and Matt's Argolis Page

For more daytrips from Athens see Athens Day Trips

Another excellent daytrip from Athens is Delphi and George can take you there too.
For groups too big for a taxi see Billy's Bus Tours and Dennis's Limousine Tours. They are George's sons!