The Athens Metro makes getting around the city easier than ever including to and from Eleftheros Venizelos Airport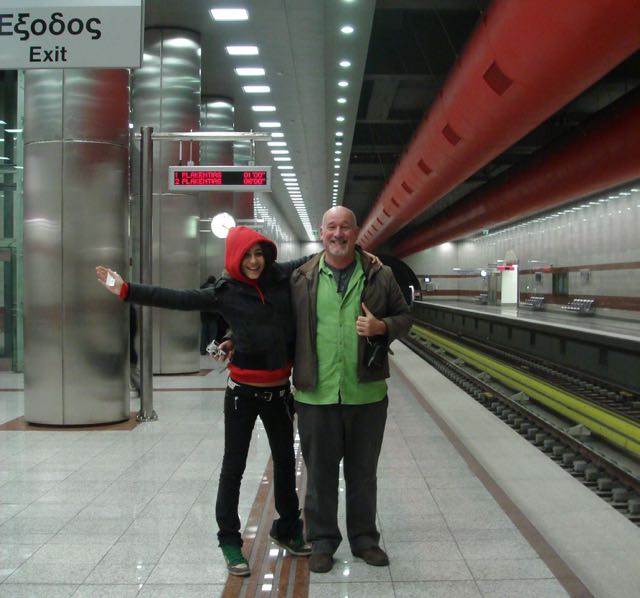 As my pal Harry of Harry's Greece Guide said: "It took 2000 years but Athens finally has a metro". And not just any metro, the Athens metro has to be the most beautiful system in the world and should stay this way until the graffiti "artists" get a hold of it. In the meantime even if there is nowhere you need to go with the new metro, it is worth visiting it and even taking a ride a few stops (you can visit the Hilton and the American Embassy). As you may have heard, work on the metro was slow because of all the antiquities they discovered. Every time they dug a new hole they would find a grave, or a wall or an urn or something and would have to put down their picks and shovels and call in the archaeologists who would do their digging with toothbrushes, which is a bit slower. Meanwhile deep below the surface, the giant metro mouse is churning fossilized dinosaurs into microscopic chips as it tunnels it's way through the city and hopefully coming to my neighborhood one day.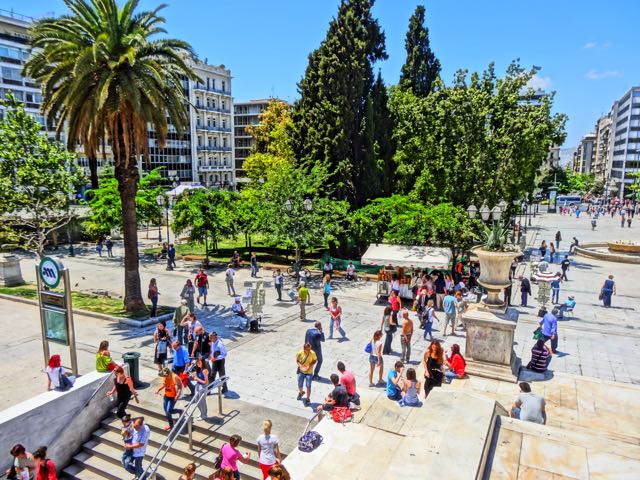 So the main problem was not having to dig through rock, but having to sift through history. But this was worth the time spent because Syntagma square is more than a metro station. It's a museum. In the entrance are photos of Athens from 100 years ago when it really was one of the most beautiful cities in Europe. The Syntagma Square station is the crowning achievement in the marriage between high-tech transport and archaeology. You walk down some marble steps and find yourself in a modern universe. The tickets are sold on your right by humans or by machines. The escalators take you down to the lower lobby and the trains. But don't go down right away. There is much to see.

To the right, on the balcony that surrounds the lower lobby encased in glass is the stratified excavation where you can see artifacts from different periods of Athenian civilization from Byzantine through Roman to classical Greek, and pre-historic. There is a grave, cisterns, portion of a wall, an ancient road, clay drainage pipes and more. Around the corner in glass display cases are ancient pots, columns and many of the artifacts that were found while digging the station.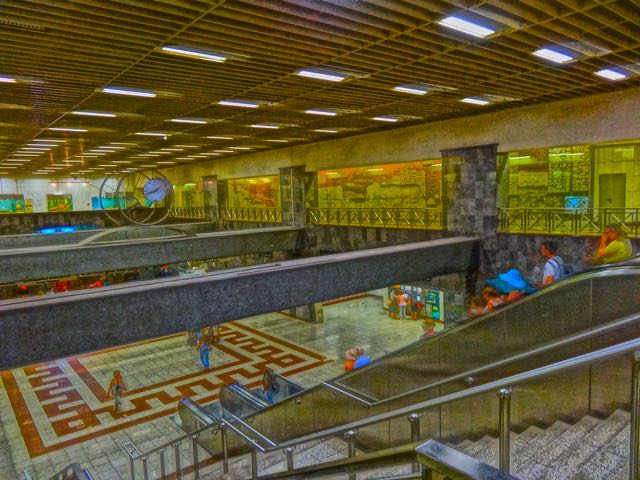 The lobby is a museum and while most people made their way through the station with the determination of seasoned commuters, many people were wandering around examining the exhibits. An escalator takes you down to the lower lobby (behind the urn) where there are ticket machines and automatic ticket-stampers that take your ticket and spit it right back at you. Then there are long marble halls and more stairs and escalators which lead to the trains below. There is also a display of umbrellas in an air or light shaft perhaps created by a modern artist with a facination for Seattle or places with more rainfall then arid Athens, where umbrellas in summer are as common as bikinis in Antarctica.
The long marble halls have no advertising and reminded me of what I always imagined heaven to be like when I was a child. I had to stop the inner voice that kept interrupting my thoughts, telling me, "walk towards the light, Matthew. " By the time I reached the final steps I was expecting to be greeted by my father and deceased friends and relatives. Later, one afternoon in Psiri, my friend Nikos reprimanded my friend Ana who works for the Metro on this absence of advertising. "If you sold ads you could bring down the price of the tickets!" Personally I think they should keep the halls ad-free and let the metro continue to be a religious experience.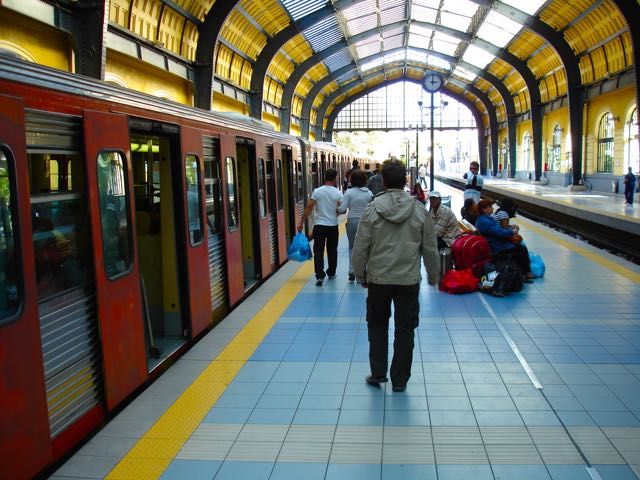 The trains themselves are not the super-high-tech streamlined ones I had expected to see. In fact they look like the old trains, only newer, cleaner, smoother and faster. They are fully automated and a woman's voice tells you which stop is coming next and to get out of the way if you don't want to hurtle through the tunnels of Athens with half of you hanging out the subway door. The stations were packed with people as were the trains and in fact on my way back from Rafina one day with George the Famous Taxi Driver , the heavy traffic of Athens suddenly stopped at Holargos, where the metro begins and it was smooth sailing all the way to the Attalos Hotel. Even in Syntagma square I noticed as I was going to cross the street, there was less traffic, which I attribute to the metro.

So does this mean the metro will change Athens for the better? I think so. I believe it is all part of a plan that will make Athens one of the most enjoyable and pedestrian friendly cities in the world.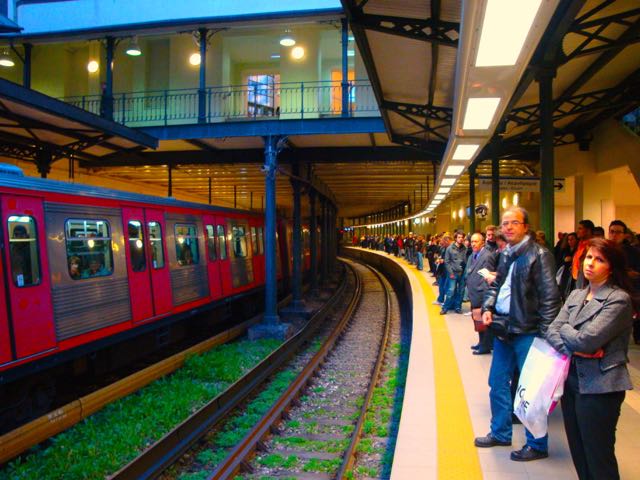 Oh yes...there is no smoking allowed on the metro or in the stations. Also some of the old problems still exist. Watch out for pick-pockets. Keep your wallet and passport in your front pocket with your hand in it. Ladies carry your handbags zipped if possible and close to your chest. People with backpacks are an easy target. If you think you are safe with cargo pants with zipped side pockets, forget it. These guys are so adept that they can cut through any pocket and you won't even know until you put your hand in and find everything gone. They also use confusion as a weapon, for example stumbling into a crowded car or bumping into you.
If you want to be safe make photo copies of your passport and your driver's license and leave the originals and all but one credit card in your safe in your hotel room when you plan to use the metro or buses or really, anytime you go out in Athens because you never know when you may be in a crowd and that is where these guys work. Hold your money and credit card in your hand in your pocket. If you get pick-pocketed don't expect much help from the police. You will just end up wasting your time. Go straight to your hotel and cancel your credit cards that were stolen. (That's why you should only carry one with you).
You can also read my article Defeating the Pickpockets and Crime in Athens and they will tell you how to fearlessly ride the metro.
Don't forget to buy and validate your metro ticket before you get on the train. If you are caught with no ticket or an unvalidated ticket you have to pay a hefty fine.
Chances are if you are staying in or around the Plaka you should not have to use the metro at all except to get to the port or the airport if you don't take a bus or taxi. Most of everything you want to see in the way of archaeological sites, museums, restaurants and shopping are all within easy walking distance of the hotels featured on my hotels page. The only museum that is not close to this area is the National Museum and that is not on the metro line either.
See Also: Information on tickets and bus passes, Athens Metro Map and Airport Information as well as the true story of two undercover travel writers in The Secret of the Athens Metro