Athens Airport Arrival
Flying into Athens is easier than ever and now so is getting into the city. The Eleftherios Venizelos International Airport is state-of-the-art and very user-friendly. This page will give you information on getting into the city or getting to the Greek islands.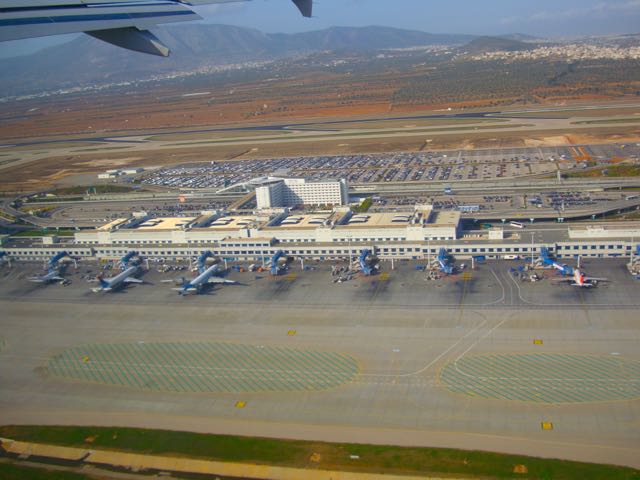 The Eleftherios Venizelos International Airport in Spata opened on Wednesday March 29th 2001. It is big, modern and beautiful and I think it is one of the best and least complicated airports in the world. The new roads leading to it allow you to make the trip into Athens in about 40 minutes to downtown though if there is traffic it may take an hour. Direct flights from the USA arrive early in the morning but if you are connecting or coming from an airport in Europe you will probably arrive later. It is a five minute walk from the plane to passport control and the sooner you get off the plane and the faster you walk, the shorter the line will be when you get there. But the lines move quickly and it takes about five seconds for the official to leaf through your passport and stamp it and from that point you are free to get your luggage and go, unless you love hanging out at airports. If you have someone coming in on a later flight that you have to meet there is a cafe just to the right of the baggage claim exit A into the arrivals terminal. If you are being met by your travel agency or your taxi driver this is where you should see someone holding a sign for you to recognize. To your left are toilets and the place to leave luggage. (If you use Exit B the toilets are to the right). There are also toilets in the baggage claim area if you can't wait. There is a travel agency that sells ferry tickets, money exchanges, banks and even more stuff upstairs in the departure area if you plan to hang out for awhile. If you blew out your headphones on the flight or need a plug adapter there is a Germanos Electronics shop in the airport.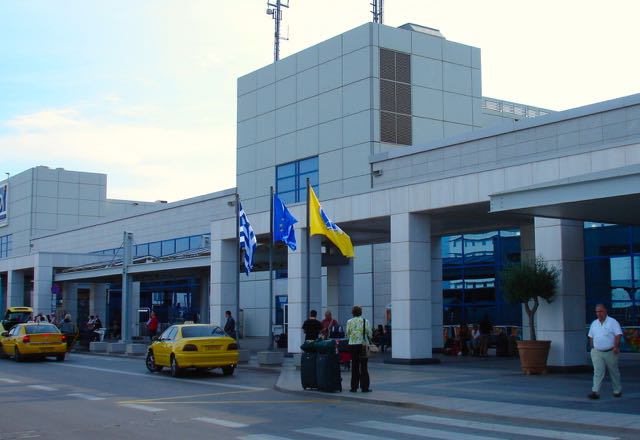 The whole thing is pretty well organized and unless you happen to arrive at the same time as bunch of other flights you should be through customs and out the door within 20 minutes of your arrival. Taxis, limos and buses are right outside the door. If you are planning to fly to Athens and then fly to an island then I suggest doing it that day if possible and don't go into Athens until the end of your trip. But your best bet would be to fly to Athens, spend a day or two there and than take the ferry or highspeed boats to get to your island since it will be easier to get to the port of Pireaus then it will be to get back to the airport. If you arrive late and have a flight to the islands the next morning then the Sofitel Hotel is about as convenient as you can get to the airport and you can stay there and get to the check-in counter without even waking up. It is about 100 meters from the terminal and there are signs directing you to it. It has a spa, pool, restaurants, bars and the rooms are beautiful and comfortable. There is also a Holiday Inn which is a little less convenient but has free shuttles to and from the airport which makes up for it. Both can be booked through any of the travel agencies I recommend on this website. But unless all you want to do is sleep and watch and listen to planes I suggest staying in the city because it is a lot more fun even if it means waking up a half hour earlier to get a taxi to the airport.
If you are stuck in the Athens airport because of a delay or a missed flight or because it is easier to hang out in the airport than do anything else you will be happy to know that the food at the airport concessions is great and there are plenty of choices of things to eat as well as drink. There is a pizza stand, a Japanese restaurant, a salad bar, McDonalds (or maybe it's Burger King now. Anyway who cares?), a pretty nice Greek restaurant and lots of cafes where you can get tiropitas, coffee, and even imported beer and drinks. There are now some outdoor food stands which were added because of covid which may or may not be permanent. Like most modern airports it looks a lot like a mall and you can wander around and buy stuff you may or may not need. There is a small museum upstairs and a few statues and things they discovered when they built the airport. You can also grab a cab and go to the beach or the zoo if you have several hours to kill and you don't feel like hanging out in an airport. (see below). If you have an early morning flight and want to wander around Athens, show up at the airport around midnight and then sleep for a few hours, chances are nobody will care and your ticket gives you a right to be there. If your flight arrives late and you plan to take an early morning ferry to the islands just hang out, take a nap (set your alarm clock for 4am) and catch an early bus to Pireaus. The first Proastiakos (Suburban Railway) leaves at 6:12 am from the airport and arrives in Pireaus just in time to watch the first ferries of the day sail away. So if you are taking one of the earlier boats take the 5am X96 bus.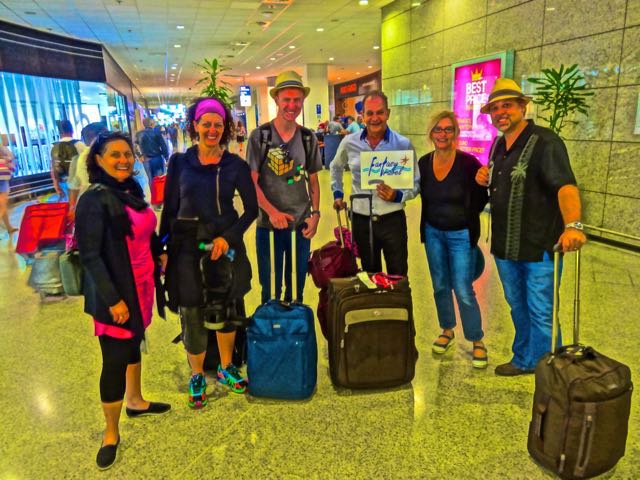 If you have followed my advice and booked with a Greek travel agency then you will be met at the airport by their representative who will have all your tickets and hotel vouchers and instructions and will then either bring you to the check in counter for your flight to the islands or drive you back to Athens and make sure you check into your hotel and get settled in. You will either be driven into Athens in a nice minivan or a luxury Mercedes taxi, and it does not matter if your flight is delayed, they will still wait for you. The trip into Athens is pretty interesting especially after you have been looking out the window staring at clouds or the seat in front of you for 10 hours. It's a nice introduction to the city and there is a lot to see along the way. If your driver takes the Hymettos Ring Road you will get a spectacular view of Athens and you can even ask him to stop so you can take a photo. Once you get into the city itself you will be amazed at your driver's ability to avoid scraping parked cars on the narrow streets or running over pedestrians. Your first introduction to driving in Athens may make you never want to try it yourself, but there is a method to the madness and easy to do once you get used to it.
Getting into Athens from Venizelos Airport

The Athens airport authorities have been working overtime on ways to get passengers and their luggage into the city as quickly and efficiently as possible. Most Athenians now agree that they have done a great job and the airport connections are perhaps among the best in Europe. These are the suggested methods for getting into the city.

Taxis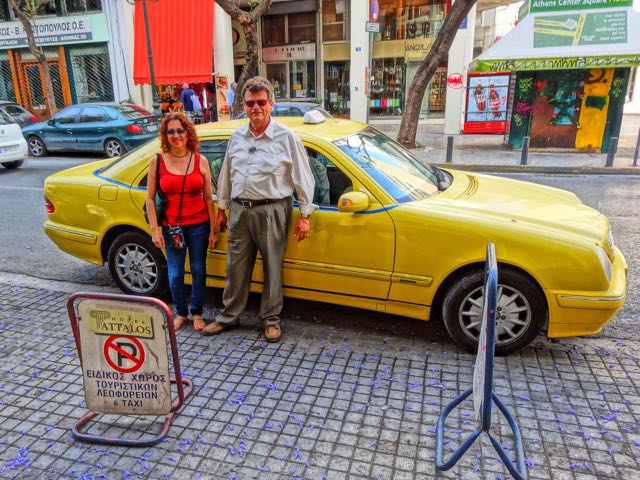 The regular taxi queue will start from Door 4 of the Arrivals Level and extend up to Door 1. A taxi should cost you a flat rate of 38 Euros to the center during the day and 54 euros after midnight. If there is a disagreement over the price you settle it at your hotel in the presence of the concierge. They will tell you if you are being overcharged. It is luck of the draw and when you stand in line, whatever taxi you get when it is your turn, you have to take. Taxis fit 4 people plus the driver so if you are more you either need a limousine, a mini-bus, or two taxis. If you are going somewhere other than Athens it may require some discussion about the price. If you want to go a very long distance, like to the Peloponessos for example, the driver has to take into consideration that he will have to drive all the way back without a passenger and will want to make it worthwhile. In this case you may be better off arranging a taxi transfer in advance and agreeing on a price before you get in the car.
George the Famous Taxi Driver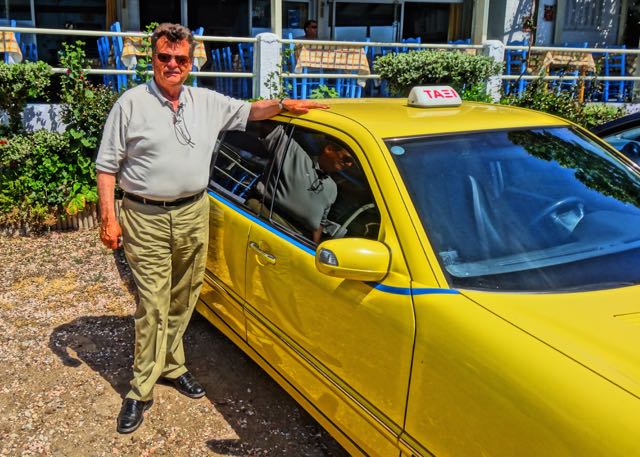 When I first get to Athens, after a 10 hour flight I don't want to have to deal with any more then I have to. For this reason I use pre-arranged taxi transfers rather then go outside and wait on line to hail a taxi. What this means is that for 50 Euro I am assured that someone will be waiting for me at the airport who will help me with my baggage, speaks English and get me to my hotel. I know that if my plane is delayed he will still be there. I use George the Famous Taxi Driver of Greece and have found him to be very reliable and excellent company. He fills me in on what has happened in Greece since my last visit. If the weather is nice we go to the beach on the way into the city and I start my holiday with a swim instead of a shower and a hotel room. If you plan to use George you need to contact him in advance by e-mail, phone because if you just show up at the airport and call him he may be busy. From the USA call (01130)693-2205887. From Europe:0030 693-2205887. Within Greece dial: 693-2205887. But it is easiest to e-mail him at georgetaxitours@yahoo.com
Be sure to consider George for tours of Athens and to places like Delphi, Meteora, Olympia, and anywhere on the Greek mainland. These are the reason he is famous.
You can see his praises sung by his many fans at www.greektravel.com/testimonials/taxi.html
Limousine or Mini-Bus from the Airport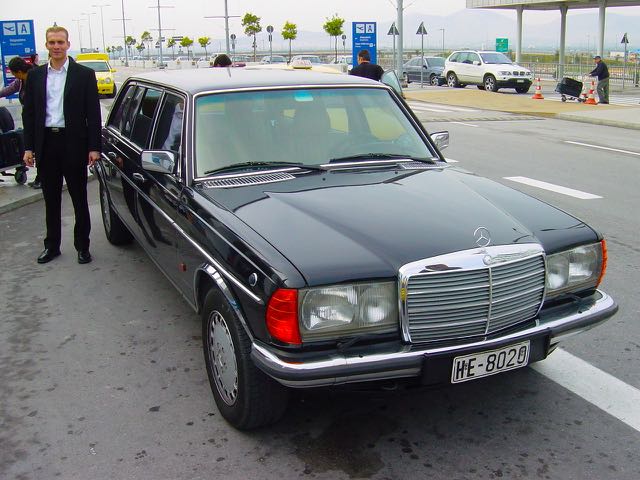 For families or groups of 8 or more people another option is Billy's Bus Tours which can provide transfers from the airport to hotels in Athens, the ferry boat ports, or anywhere else on the mainland. He also does tours to Delphi, Nafplion, Olympia, Meteora, Athens or anywhere else you would like to go. Billy is George the Taxi Driver's oldest son, born in the USA and educated in Italy as an economist, so he speaks fluent English, Italian and Greek of course. If you are too many for a taxi, which seats 4 plus the driver, and to few for the minibus bus then there is George's second son Dennis who drives a luxury limo which can seat as many as 7 comfortably. Dennis is trained as a physical therapist but joined the family business because he likes meeting new people every day and showing them his country, and let's face it, when you are a physical therapist pretty much everyone you meet is going to be complaining about something. So if you need a limo for transfers or tours or someone to drive you around while you do business in Athens you can visit the website of Dennis's Limousine Service
Transfers through a Travel Agent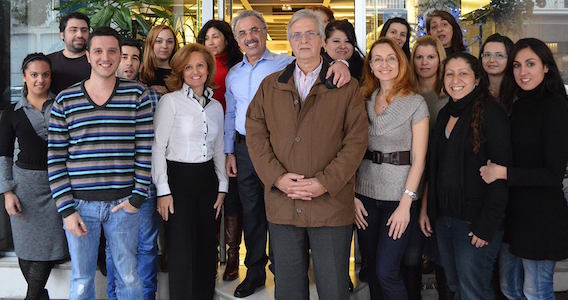 When you book a package through a Greek travel agency it includes hotels, tours, cruises, ferries, flights and transfers. This is the way to go for people who have never been to Greece or those who are nervous about strikes. First of all packages are not tours, they are programs. So if you and your family do a program of Athens-Mykonos-Santorini you are not part of a group. You may be part of a group for say a day-trip or overnight to Delphi or Meteora, but a package is an itinerary that the agency has put together and sells to individuals, couples and groups, and very little can go wrong. Included in the package are transfers to and from the airport, ferries, hotels and the cruise ship if that is part of the package. When you arrive in Athens the first day or night you are met by a representative of the agency and a driver. The representative gives you all your hotel vouchers, tickets, and any other information you need and gets you checked into your hotel. In the past summer when there was a taxi strike the travel agencies on my website found ways to get their clients from the airport to their hotels. I don't foresee another taxi strike but it is good to know that if there is one you won't be stuck at the airport. For this and other reasons I am a big fan of travel agencies in Greece. People who booked through travel agencies had few problems last summer due to strikes and demonstrations. See Athens Travel Agencies
Other Ways to Get into Athens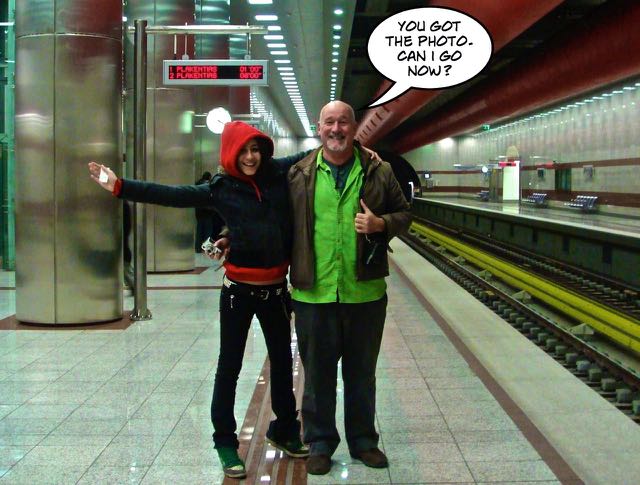 I am all for public transportation and I think it is great that Athens has such a good system of getting people to and from the airport. It makes me proud in a way. But I am going to be totally honest with you. I have never taken the bus or the metro from the airport into the city, nor would I ever. Why is that? Because I think it is ridiculous after paying thousands of dollars to fly to Greece to go through the inconvenience of lugging my family and my bags to the bus or train, possibly have to stand if it is crowded, and then get off and drag my family and luggage through the streets of Athens to my hotel. And I know Athens. I won't get lost. Most travelers who come to Athens for the first time who get off the metro or the bus have no idea where they are or how far they have to go. And then there are the pickpockets you have to watch out for. You have to be a pretty low form of life to work the metro, stealing the wallets and passports of newly arrived visitors, and in defense of Greece, these are not Greeks who are doing this. They are professionals from Eastern Europe who know a goldmine when they see it. Yes you can take precautions which I mention in my article Defeating the Pickpockets which will make it impossible for them to steal from you. But who wants to even worry about that kind of stuff when you get to a new country? And for what? To save a few euros? The metro costs 8 euros. We are a family of four and that makes 32 Euros. For 6 more euros I can take a taxi that will take me from the door of the airport to the front desk of my hotel! I would have to be either an idiot or the world's biggest cheapskate to take the metro. The bus is cheaper but it goes to Syntagma Square and I am pretty certain that nobody staying in a hotel on the square took the bus or the metro since they are paying about 300 euros a night for a room. So because I want to be thorough I am including information on public transport to and from the airport. But if you want my advice either ask your travel agent to provide airport transfers, arrange a pick-up with George, or walk outside the terminal and take a taxi.
Metro, Proastiakos (Suburban Rail) and Tram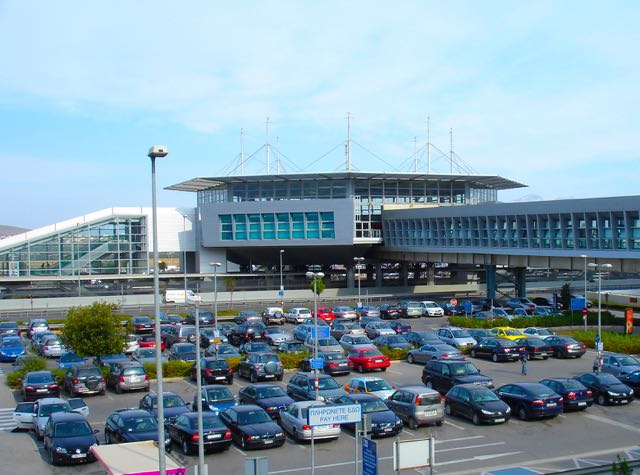 The Athens Metro and the Proastiakos (suburban rail) from the airport is right across the street from the terminal in the building that looks like a poorly made flying saucer. There is a walkway leading to it. The ticket costs about 10 euros and the train goes to Monastiraki, hitting all the metro stops in between which included Syntagma (where you have to change if you are going to Omonia Square or Makriani-Acropolis).
The first train from Airport is at 06:30, the frequency of routes is every 30 minutes and the last one from Airport is at 23:30. The first train from Monastiraki to is at 5:50 am and the last one from Monastiraki station is at 22:58. Actually the train goes several stops beyond Monastiraki but chances are you need to get off in Syntagma or Monastiraki. Make sure you validate your ticket after you buy it. If you are caught with an un-validated ticket or no ticket at all it is a big fine. If you do get caught just speak English and start crying and most likely you won't have to pay.
By the way, there has been some grumbling that the ticket machines don't give change so if you don't have exact change go to the ticket booth and deal with a human. Plus they speak English and can assist you. See the new information on tickets and bus passes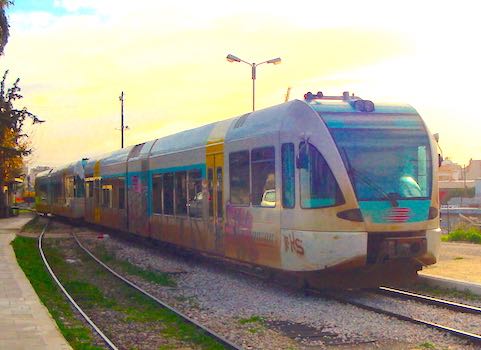 Athens International Airport is connected via the Proastiakos-Suburban Railway to Larissis Station (Athens Central Railway Station) with stops at Koropi, Kantza, Pallini, Doukissis Plakentias (Connection with Metro Line 3),Kifissias, Nerantziotisa (Connection with Metro Line 1), Iraklio, Aharnes Railway Junction (S.K.A) and Larissis Station (Connection with Metro Line 2 and trains to Northern Greece). Trains depart from the Airport every 15 minutes. The journey time from Athens International Airport to Larissis Station is approximately 38 minutes. The first train from Athens to the Airport is at 06:11 am and the last one is at 19:44. The first train from the Airport to Athens is at 06:48 and the last one is at 20:14. The Proastiakos runs 3 times an hour from the airport. At XX:11, XX:26 and XX:44 each hour. The XX:11 and XX:26 trains only go as far as Ano Liosia, a northeast Athens suburb. The XX:44 train goes beyond Ano Liosia and through Corinth and all the way to Kiato in the Peloponnese and is a very scenic ride. The journey time is 1 hour and 20 minutes to Corinth.
You can take the Proastiakos-Suburban Railway from the airport to the port of Pireaus. Trains leave starting at 6:12 am at the rate of 3 an hour and the trip takes about an hour and a quarter. I think. The website for the trains says "frequent daily schedules every hour." I am not sure exactly what that means.
Starting in June 2017 a direct train connection brings travelers from Athens Airport to Piraeus (and vice versa) in 45 minutes. The train leaves every hour. Maybe. Once again they say "frequent daily schedules every hour". What does that mean???!!!! The Trainose.gr website is kind of confusing. Maybe you can figure it out. But from my understanding it leaves from the airport at 9 minutes after the hour and leaves Pireaus for the airport at 44 minutes after the hour.
The train station in Pireaus is right across the street from the ferry boats. The price is 10 euros per person. The last train is at 23:12 pm though there is rarely a boat after 10pm. Still if you don't mind roughing it you could hang out at one of the 24 hour cafeterias in the port.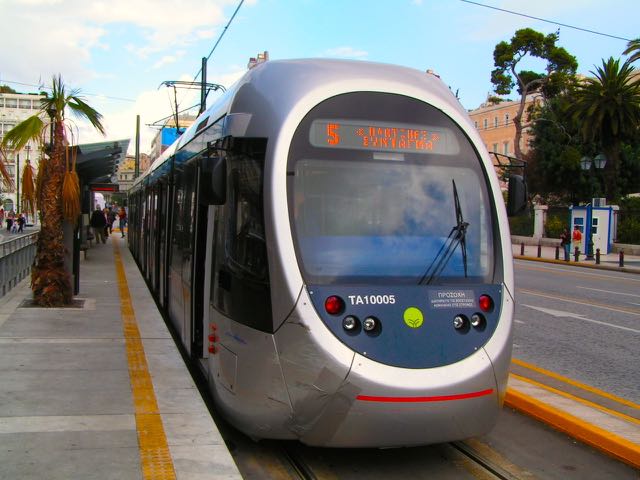 At Syntagma Square you can connect with the Coastal Tram, though you will have to leave the metro station and go upstairs to find it on Amalias Avenue. Just walk up the steps and turn right and after the next street you will see the tram station sort of in the middle of the street. The tram can take you through Nea Smyrni, Faliron and along the coast through Kalamaki, Glyfada and terminates in Voula. If you came on the X95 bus to Syntagma Square it stops just below the tram station on Othonos Street which borders the square.
Note on Metro Safety: Pickpockets work the metro and the train to and from the airport and I have even received an e-mail from someone pick-pocketed in the airport while looking at the flight board. Keep your wallet and passport in your front pocket with your hand in it on crowded trains and buses. Ladies carry your handbags zipped if possible and close to your chest. People with backpacks are an easy target. If you think you are safe with cargo pants with zipped side pockets, forget it. These guys are so adept that they can cut through any pocket and you won't even know until you put your hand in and find everything gone. They also use confusion as a weapon, for example stumbling into a crowded car or bumping into you or three or four of them surrounding you and making you push your way out of the circle.
If you want to be safe make photo copies of your passport and your driver's license and leave the originals and all but one credit card in your safe in your hotel room when you plan to use the metro or buses or really, anytime you go out in Athens because you never know when you may be in a crowd and that is where these guys work. Hold your money and credit card in your hand in your pocket. If you get pick-pocketed don't expect much help from the police. You will just end up wasting your time. Go straight to your hotel and cancel your credit cards that were stolen. (That's why you should only carry one with you). Then send me an e-mail and tell me how they did it so I can warn others. You can also read my article Defeating the Pickpockets which will show you how to not be a victim of thieves while using public transportation.
If you are arriving at the airport and plan to take the metro or the bus into town use a security wallet you like that fits under your clothes. Once you get through passport control put your passport, credit cards and money in this wallet and keep only as much cash as you will need to get to your hotel. If you do this you will be perfectly safe on the metro.
About Strikes: Yes they do occur but not as often as you would think if you watch CNN. But it is good to have a back-up plan if you plan to get into Athens on the metro.
Buses to and from the Airport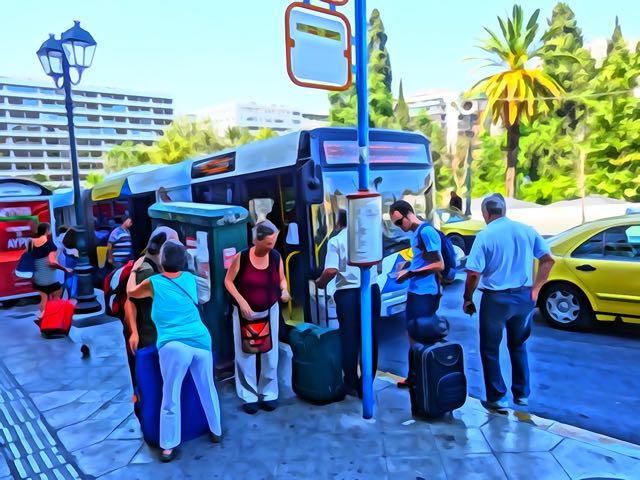 There are several of the Athens blue bus lines to and from the airport. All buses depart from the designated area on the inner curbside of the arrivals level of the Main Terminal Building right outside the Exit (doors 4-5).
X95 Syntagma Square- Airport Express has its departure point at the center of Athens (Syntagma Square across the park from the Grande Bretagne) and via Vas. Sofias Avenue, Mesogion Avenue and Attiki Odos terminates at the airport. Every 10-30 minutes, 24 hours a day. (Watch for pickpockets when you get off the bus here). This bus is convenient if you are staying in or around Syntagma or the Plaka. Anywhere else not so much. You will probably have to take a taxi if you are staying anywhere else but there is a taxi stand right there.
X96 Pireaus- Airport Express starts from the Northwest Corner of Pireaus main harbor and goes past Karaiskaki Square (which is almost right across from the metro and where the ticket offices are) and via Posidonos Avenue, Varis-Varkizas, and Varis-Koropiou Roads terminates at the airport. Both the Syntagma and the Pireaus buses run for 24 hours, generally every twenty minutes but every 40 minutes after midnight. If you are staying in Voula, Vouliagmeni, Glyfada or Faliron chances are good that this bus will go by your hotel.

X93 connects the Airport (door 5) with the bus terminals at Kiffissou and Lliosson streets. The interval is generally 35 minutes (65 at night).
X92 goes to Kifissia, or it did until they canceled it. Now you have to take the Proastiakos to Neratziotisa and from there take the metro to Kifissia.

X97 goes to the Dafni Metro Station. (Not the Dafni Monastery... this area is on Vouliagmenis Avenue and connects with Line 2 of the metro.
For Express Lines the ticket costs 6 Euros and is good for one trip to or from the airport. You can buy tickets from the driver or at the metro stations or at Public Transport Ticket Offices. See the new information on tickets and bus passes
Buses to the Ferry Ports of Rafina and Lavrion

A bus route linking the Athens International Airport at Spata to the port of Rafina in eastern Attica is operated by the KTEL intercity bus system and is called "Athens Airport-Rafina Port." It functions daily from 4:45 a.m. to 10.20 p.m. with buses leaving every 40 minutes and making a stop in the seaside resort of Loutsa. There are also regional buses to Lavrion, Markopoulos, Keretea and Kalyvia. Buses depart from the Arrivals Level (close to Door 3) of Athens International Airport. Ticket prices for one-way trip is €3 for all services except for the port of Lavrio (€4).

Arriving buses disembark passengers at the designated area of the departure level of the Main Terminal Building. They are orange.
Just a note about the Rafina buses from the airport - they depart not from near Arrivals Gate 3 but across that road and about 100 metres along the outer access road, to the left, the bus stop being right opposite the Sofitel hotel near the foot of an outside staircase. Unfortunately the walking route is not signposted. Also worth noting that the ticket booth for the Athens buses does not sell tickets for Rafina - you just pay your 3 euros on the Rafina bus.
A point for the return journey - the bus stop adjacent to the square/plateia in Rafina is only served by the Athens buses. If you want the airport bus you must descend the steps to the port road at the other (seaside) end of the square and the shamefully graffitied and damaged bus stop next to a little newspaper shop is where the airport bus picks you up as it leaves the port.
Renting a Car
If you plan to rent a car and drive north or south and avoid Athens altogether this is now much easier to do with the new Attiki Odos which connects to the Ethniki Odos (National Road) enabling you to avoid the traffic of Athens altogether. Just leave the airport and follow the signs for Elefsina if you are going to the Peloponessos or get off at the Lamia exit if you are going to Thessaloniki or anywhere north. Swift rent-a-car in Athens has great rates and will pick you up at the airport. If you decide to stay in Athens for a day or so they will deliver the car to your hotel and even drive you out of the traffic to the National Road.
Baggage Storage at Venizelos Airport

The airport does have a luggage storage facility. It is located on the ground floor of the International Arrivals terminal. As soon as you exit the luggage claim area you should turn left and go all the way to the far end of the terminal building. There you will find the "Luggage Storage" facility. They are open 24 hours every day but unless you plan to go back to the airport everytime you need a change of clothes you may want to ask your hotel in Athens about storing anything you are not bringing to the islands, or pack lighter. It is also not a bad place to meet someone coming in on a later flight because you can ask anyone and they will tell you where it is. The rates at the airport facility depend on the size of the item. To get an idea a large suitcase will cost you 7.50 euros for 6 hours, 8.50 euros for 12 hours and 13 euros for 24 hours. For longer periods the rates continue to go down so for a week the price is 44 euros. Smaller items are cheaper. They will also store canoes, kayaks, bicycles, anvils, and other bulky items if there is space at a rate of 15 euros a day. They won't take dogs, cats, birds, rhinos, poisonous snakes or any other kinds of snakes. For more information about what is acceptable to leave you can e-mail them and they may respond. They will also wrap your bag to protect them from damage and infuriate customs agents and they can ship your bags anywhere in the world. It costs 6 euro per baggage of any size. This facility is located at the Departures next to Gate 2, Gate 3, Arrivals Gate 1 and operates 24hours.
Luggage Storage in Athens
For those arriving in Athens who want wander around and explore between ferries and flights there are several luggage storage services in convenient locations. Athens Lockers is located in Syntagma and Monastiraki close to the metro and features lockers, a laundry service and even small cabins where you can shower and change clothes. No, you can't use it as a hotel. Athens Left Luggage has similar services and is located in Makrianni near the Acropolis Metro Station and is affiliated with Athens Studios Hotel/Youth Hostel. Many hotels will allow their guests to store luggage after checking out, some for as long as you are in Greece if you ask.
You can USE BOUNCE to find places to leave luggage in Athens and on the islands, and all over the world actually. You simply type in the city, a map appears with the locations, you find the easiest one to get to, and book it, drop your stuff off and go about your business. If you are a regular traveler it is a good service to know about. They claim to be half the price of normal luggage storage places but you will have to check that out for yourself.
The Matt Barrett Way to Arrive in Athens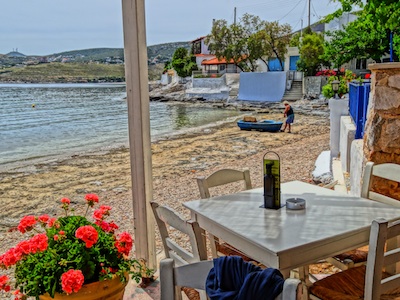 Most people who arrive in Athens will get a cab or public transport and go right into the city to get rid of their bags and recuperate from their flight. But that is not what I do. If you are arriving in the morning or early afternoon there is plenty of time to go to your hotel but the best way to recuperate is to go to the beach. So what I do is contact George the Famous Taxi Driver and arrange a transfer but tell him we don't want to go right into Athens. We want to go to the beach. I pack my bathing suit and a beach towel where it is easy to get to and we head for a nice little beach near the airport. Daskaleio is very close and has a Greek island feel to it, plus there is a nice little fish taverna called Litsa's which is a good introduction to Greek food, in particular fresh fish. You will be surprised at how good you feel after a nice swim, a good meal and a glass of ouzo. You can always see the Acropolis later when you are up for it. And take a look at the photo. Wouldn't you like this to be your first impression of Greece? You can also have George take you all the way to Sounion to see the Temple of Poseidon, have a swim and lunch and then go to Athens having gotten one important archaeological site out of the way.
Hotels Near the Airport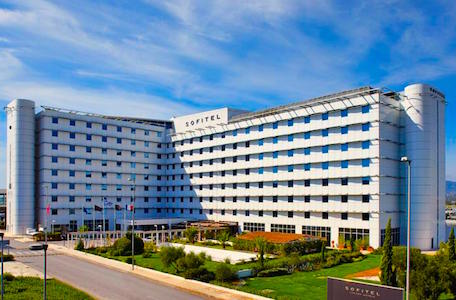 The Airport's Airport Sofitel, is classified as a four star international standard and lies within walking distance from the Main Terminal Building. The hotel has 346 rooms, incorporating en suite bathrooms, radio and television units and refrigerators. Restaurants include a snack and breakfast restaurant and a panoramic restaurant. Additionally, a conference room and meeting rooms with computers, facsimiles and assistance, make the hotel a great business center in the heart of the Airport. Hotel quests can enjoy a health and fitness center, a covered swimming pool, steam and sauna rooms and hair and beauty treatment. Many people who are just passing through and are looking for a hotel for one night near the airport gasp when they see the prices at the Airport Sofitel. They shouldn't because you can't get any more convenient since all you have to do is walk out of the terminal and cross a small parking lot and you are in the lobby. Sure hanging out at the airport when you could be wandering around the Plaka may seem kind of boring but with restaurants, satelite TV and a nice big IKEA down the street you can find something to do besides sleep between flights. The Holiday Inn Attika Avenue is a 5 minute taxi ride to the airport and is in the price range of the Sofitel. They also advertise a free shuttle to and from the airport. If you want to book these hotels for a night without going through a travel agency you can use the above links. If you are working with a Greek travel agency you can book through them as well. The nearest cheap hotel is the Hotel Pantheon on the outskirts of Markopoulo though without a rental car you may find yourself hotel bound with not much around but highway. You will also need a taxi each way so factor that in to the price and the fact that your airport taxi may not be happy about having a customer that is not going all the way into Athens. The Athens Airport View features accommodation in Koropíon with free WiFi and city views and is just 9 kilometers from the airport. The 4 Seasons Deluxe Suites is about 15 minutes drive from the airport as is Hotel Pantheon which offers a bar and a breakfast buffet, air-conditioned rooms with free Wi-Fi and views of the mountains. Set in Markopoulon, Sea & City is 7 minutes from the airport and offers garden, free WiFi, a shared kitchen, and a shared lounge. If you click on any of these hotels and pull up the map you can find dozens of hotels, apartments and holiday homes near the airport.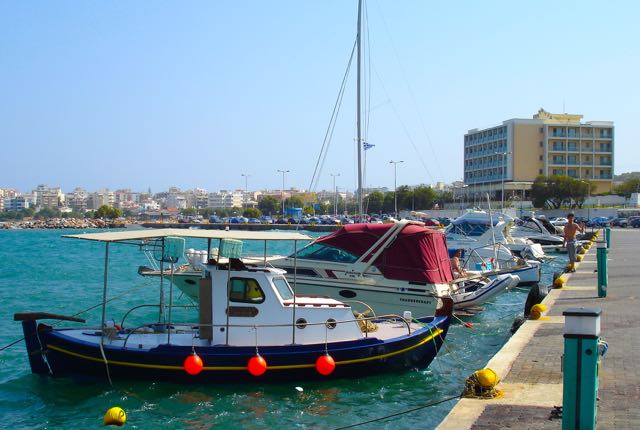 The Avra Hotel in Rafina is now advertised as the Avra Airport Hotel and it is closer to the airport than Athens, maybe a 20 minute taxi ride on a good day but a taxi won't be much cheaper than one from central Athens and if you are using a transfer it will cost more. However they do have a free airport shuttle which makes it a moot point. What makes it really convenient is that you can stay there overnight and the ferries to many of the Cyclades leave from the port. But don't be fooled into staying here because they include the word 'Airport' in the name of the hotel. They might as well call it the Avra Eiffel Tower Hotel. But if you want to be close to the airport (but not close enough to be bothered by the sound of jets) in a place that feels like a Greek island where you can eat seafood and watch the boats, swim and be on the first boat to Mykonos stay there. There are some nice little seafood restaurants in Rafina too.
The nearest coastal hotel to the airport is the Sea Sight Boutique Hotel on the beach at Porto Rafti which is a seaside town east of Athens. It will take you about twenty minutes to get there and it only has 11 rooms so you may want to book it now. Getting in and out of Athens will take you about an hour or so by taxi or bus. The Mare Nostrum Hotel Thalasso is a large 4 star resort hotel that is even closer and overlooks the beach in Vravrona Bay. Otherwise if these are beyond your budget the 2-star Minavra Hotel and Villa Orion Hotel in Voula are across Posidonas Ave from the beach and right on the X96 bus line that goes between the airport and the ferry port of Pireaus as are the two non-smoking Parthenis Hotel and the Plaza Hotel. These hotels are also close to bus stops to Athens and Glyfada as well as the coastal tram. If you want to really splurge than go to the The Westin Athens Astir Palace Beach Resort and be right on the beach and you may not even feel the need to go to the islands and you will still be within an hour of downtown Athens by bus, though if you can afford to stay here you will probably not mind the price of a taxi or limo. For those looking for something cheaper and less airport-like there is the Hotel Les Amis in Vari, just 12 kilometers away. But this is not a recommendation, just a fact. For more comfort and convenience stay downtown at the Attalos and splurge on a taxi in the morning which may cost you about 10 euros more than a taxi from Vari. Plus if you are leaving for the islands the next day from Pireaus you are better off staying in Athens.
For a listing of recommended hotels see Hotels in Athens
Changing Money in Athens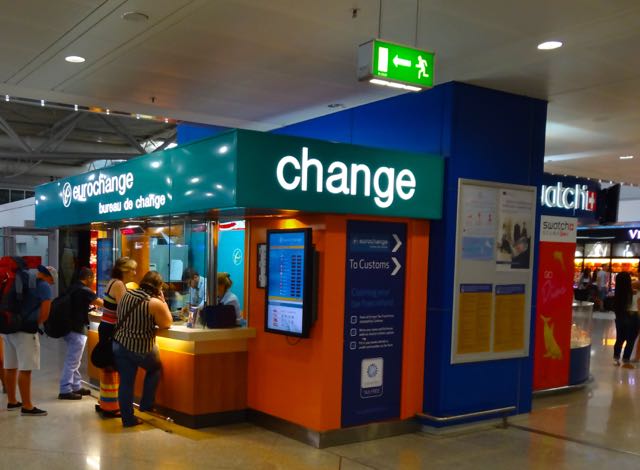 In case you have not figured it out yet Greece uses Euros. If you were able to change money in the states, then there is no point in hanging out in the airport when Athens awaits you so move on out. I usually only change about $100 in JFK. If you are using a pre-arranged taxi transfer you won't even need to change any money until you get into the city. If you didn't change money in the states, don't worry. You can change it at the airport. If there are two of you, one can change money while the other gets the luggage. The rates seem pretty much the same whether you are in the airport or downtown. I usually change $100 for starters and check rates at banks and currency exchange stores when I get to the city. There is even a currency exchange in the baggage carousel area and several once you get through customs. Most people use ATM machines now and those in Athens and the islands have instructions in English and are easy to use. They accept VISA, Mastercard and AMEX. But not all machines are the same and have your best interest at heart so read this section all the way through.
When you get to downtown Athens you can change money at the banks and money changing shops around Syntagma and the Plaka and other tourist areas. The rates are usually posted at each location along with commission rates and you can also google euro exchange and get the rates up to the minute. That doesn't mean those are the rates you will get but you will at least know if you are in the same ballpark.
According to Tom Mazarakis, the Greek guru's guru...
You will always get a better exchange rate here in Greece over what you will get in the U.S. But, of course, the commission that banks charge usually wipes out that difference, unless you exchange over $3,000.00 each time you go to the bank. On the other hand, if you buy Euros traveler's checks, then the bank will charge you a fee for cashing them. It's all a "lose-lose" situation. The only way to beat them is to come to Greece with cash US Dollars and exchange them for Euros at "Cambios" that often do not charge any commission. These exchange offices usually post lower exchange rates than most banks, but the fact that they don't charge a commission more than compensates for the slightly lower exchange rate. Note that not all "Cambios" are "commission free". The ones at the airport all charge hefty commissions. You will find the "no-commission" exchange offices in the center of Athens and in most major tourist destinations such as Mykonos and Santorini.
American banks charge their customers rather hefty fees for the privilege of using their Visa or Mastercards for the purpose of making cash advances through ATM machines in Greece. This is why you should avoid making many withdrawals of small cash amounts like you may do at home. It is best if you make a relatively large cash withdrawal of about Euros 1000 in one ATM transaction rather than 10 withdrawals of Euros 100 a pop! You must remember that you typically are charged an "International Withdrawal Service Fee" by your bank and then the local Greek bank charges an additional local service fee on top of that.
This tip comes from a reader: When traveling from the US, you can get a visa/atm card from AAA. You "put money down" on it and you use it as a regular credit card. When used at an ATM, you receive local currency. There is the usual ATM charges, but it much less than trying to exchange money. Also, it is not tied to your bank account or other credit cards.
Another IMPORTANT Tip from someone in my Greece Travel Facebook Group is: When having a foreign credit card and withdrawing money in an ATM in Greece, there are 2 options; without/decline conversion and with/accept conversion. If you choose with/accept it will cost you more because its the ATM's rate instead of without/decline which is your bank's actual rate. See this video for more information
As for other methods of money carrying according to Tom Mazarakis on the subject of debit cards "I believe that most North American debit cards will work in Greece. However, you absolutely MUST inform your bank of the fact that you will be traveling to Greece and that you would like to be able to make use of your debit card in Greece. Some debit cards will not work in Greece at all, but in any case, most North American banks have a default setting for all their debit cards that blocks "International Usage". This is done so as to protect their customers from international fraud. The bank must remove this block from your account so that you will be able to use the card."
The Greek Islands: To Fly or Not to Fly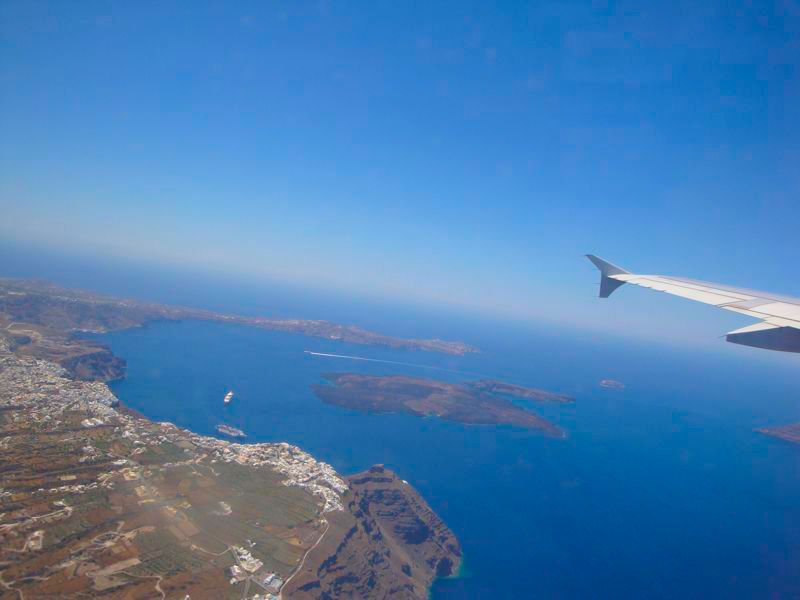 If you are trying to decide whether to fly straight through to the islands or take a ferry to the islands the next day this may help you. You will need at least 3 hours between your arrival in Greece and your island departure. This is not because the airport is large or confusing. It isn't. Once you walk out of international arrivals it is a 5 minute walk to domestic departures. But you have to plan for the possibility that your flight may be delayed, in which case you may miss your island flight and then you will need a hotel in Athens for that night and you may be charged a cancellation fee for your hotel on the island. (Using a Greek Travel agency to book hotels and flights will be helpful in this situation because then you just phone them, explain what happened, and they find you a hotel in Athens and hopefully convince the island hotel that it was not your fault that you missed the flight to the island.)
Keep in mind that if you are coming from the USA after a 10 hour flight you may not want to hang out at the airport for 2 hours or more and then take another flight, even if it is just an hour. You may want to go into Athens and spend the first night there and take a ferry the next day to the island when you feel like a human being again.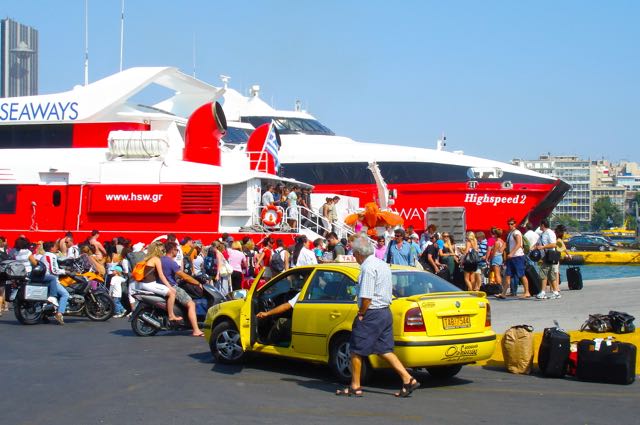 Once you are in Athens it is easier to take a ferry to an island than it is to fly, mainly because you don't have to go all the way back to the airport and go through the lines and check-in situations that are required of flying. If you are going to Mykonos for example it is a 30 minute flight. But it may take you an hour or more to get to the airport if traffic is bad, plus you need to be there an hour before your flight to check in. Then provided there are no delays when you land in Mykonos you have to get into town or wherever your hotel is which will take another 30 minutes including getting your bags. Total time: Three and a half hours.

If you take a highspeed ferry it will take you 15 minutes to get by taxi or the metro to the port and in about two hours you are on Mykonos and right in town. Total time about two hours and fifteen minutes. Even the slowest ferry will take you less then 5 hours and will be a lot more relaxing and interesting then what you will have to go through to fly there.

Santorini is a longer trip and may be a toss-up but even so, for me the pros of ferry travel outweigh the cons of flying, especially since the Highspeeds can get you there in about 5 hours or less and are a lot roomier and more comfortable than an airplane.

So... if you are making a connecting flight to the island on the day you arrive from Greece then make sure you have plenty of time between flights in case you are delayed. But if you are planning to spend the first day or so in Athens take ferries or highspeeds.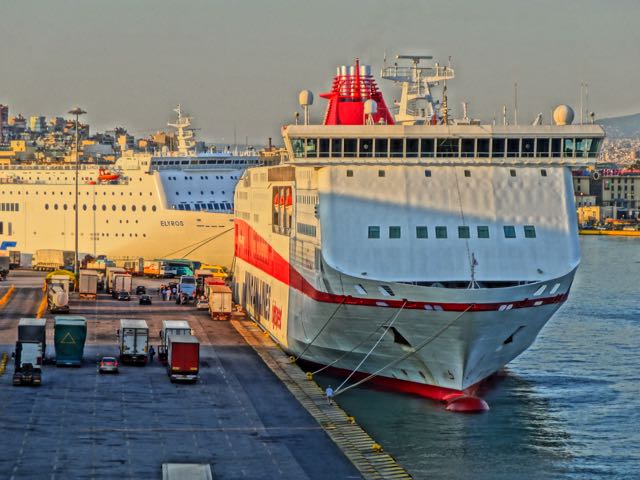 If you arrive in the morning or afternoon and are going to Rhodes, Crete, Lesvos, Chios or one of the islands that have overnight ferries that leave in the late afternoon or early evening you can take your bags to Pireaus and check them in one of the luggage storage facilities in the port and then take the metro to Thission or Monastiraki and visit the Acropolis. These facilities are in the cafe-restaurants located behind the ticket offices and the bus terminal. I don't recommend leaving your bags at the airport luggage storage and coming back for them unless you have another flight. Its a long way to go.
Or what some people do is arrange a taxi transfer and combine it with a tour of Athens that leaves you at the ferry. Then you just put your luggage in the trunk and visit the sites of Athens, have a late lunch and then catch your ferry. I recommend booking a cabin.
Another valuable piece of advice is to save the Athens portion of your trip for the end. That way you give yourself a buffer to protect you against missing your flight home in case your ferry is delayed due to weather or a strike. (It happens). You can spend that first night in Athens and see the Acropolis and then save your shopping, museums, and other archaeological sites in and around Athens for the last 2 or 3 days of your trip. I suggest at least two nights in Athens at the end. Three nights if you plan to visit Delphi or other destinations on the mainland.
Meeting in Athens at the Airport
If you are looking for a meeting place for friends and family arriving on a later flight the perfect spot is the Kafeneo, the cafe just to the right of the exit when you leave the international baggage claim. (It may have changed names but the location is the same.) Its just across from the Greek National Tourist Organization's Desk where you can get ferry schedules and free brochures on the islands and other destinations in Greece. You can get free maps too. Another place to meet which is more pleasant, especially if you have a long wait, is the Olive Tree Restaurant which is by the McDonalds, up the escalator from the main shopping area. There is a wireless cafe next door and the food at the Olive Tree is surprisingly good.
There is a lot of info here and some of it may be confusing so if you have any questions just e-mail me at matt@greecetravel.com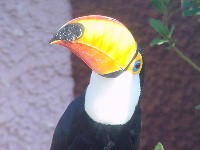 Got time between flights? Go to the zoo! The Attika Zoological Park opened in May of 2001 and next to the Acropolis it is probably the most interesting place in Athens. If you have a layover in Athens before your flight to the islands or home, why sit around and look at stressed people when you can see one of the happiest collections of animals in the world. The zoo in Spata is one of the most humane and is the third largest bird collection in the world! It is a short ride from the airport and if you are traveling with kids it is a surefire way to keep them happy and interested in what would normally be wasted time. For more information see www.athensguide.com/zoo
Another great option are the wineries of Attika. In fact with a taxi tour you can do both if you have enough time. Check with George the Famous Taxi Driver