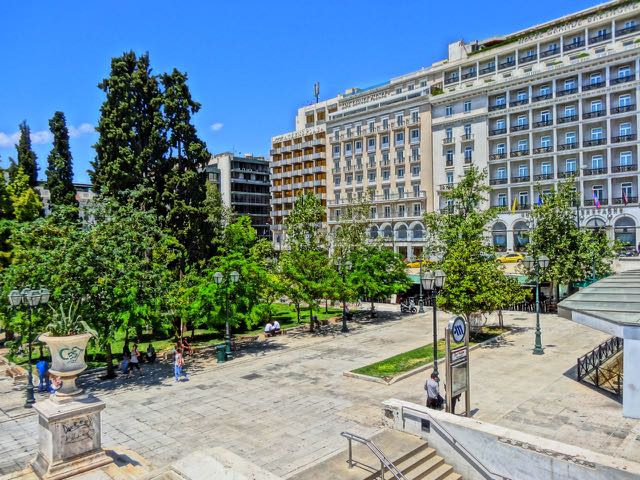 This page will help you find a hotel in Athens and give you tips on where to stay and how to book. In the summer the best hotels do fill up quickly, especially ones in the choice locations like Syntagma, Plaka, Monastiraki, Makrianni and Koukaki. By the way, the way I support this website is through the links to the hotel booking pages so if you appreciate my work please save the page of the hotel you found on my site and come back to it and book there rather then on some other site. My info and services are only free because I am able to make a small commission on hotel bookings and for the most part you won't find them cheaper by searching elsewhere. Furthermore if you find a hotel you like and it has availability you should probably book it. It may not have availability an hour from now. Most of the links go to the travel agents on my website and some go to the hotels themselves and to automated hotel booking sites. Be aware that the hotel booking sites don't reserve a lot of rooms so when they say it is full it may not be but they will still try to get you to book another of their hotels that has a room. So if you want a particular hotel the best way to get it is through the Greek travel agency.
General Athens Hotel Information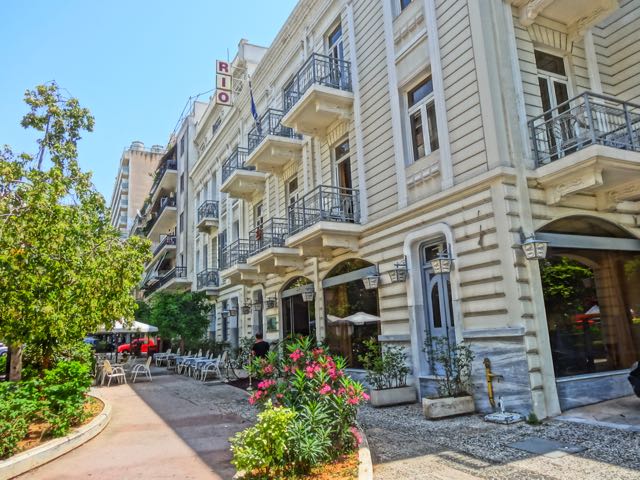 Hotels in Athens come in several categories with 5-star being the most luxurious. 4-star corresponds to A-Category, 3-star to B-Category and so on. But the difference in categories does not always have to mean that a hotel is better than another. That is because there are different degrees within a category. Not officially but this is how it works. A travel agency will describe a hotel as a high C-Category or B-superior. That is because you can have a C-Category that is a better quality than a B. (In some of the Greek islands you can find C-Category hotels that are as good or better than A). So what are the categories for? I don't know. I think it has to do with a number of variables such as size of the lobby, breakfast room, maybe room size too. Of course the price depends on the category but you can find B hotels that are cheaper than the most expensive C hotel. All this does not matter really because what you are looking for is something clean, friendly, centrally located and with AC should you need it, and you want the best hotel for the price. The hotels on this page are the ones that I have stayed at that I think are the best. You can book on this page or by following the links to the hotel or booking through one of the travel agents. I recommend the agency because chances are you are going to need to at least speak with an agency at some point, if not rely on one for hotels on the islands and ferry schedules. But if you are a backpacker on a budget and winging it then book directly with one of the C-category hotels I list. I strongly suggest booking your Athens hotel even if you are not planning to book any hotels until you get to Greece. Why not book in advance and stay in a pretty decent economy hotel rather then arrive in Athens, wander around for a couple hours and end up in a dump?
Anyway if you are like me, the older you get, the less you feel like wandering around looking for a hotel after you have just gotten off a 10 hour flight. When I get off the plane I want to know that there is a bed somewhere with my name on it. Also I have info from reliable sources (the hotels and travel agents), that hotels fill up fast in Athens. Even now the Adonis, Attalos and the Electra Palace are booked full many nights during periods you might not expect because there are times when people from the islands and villages or other cities in Greece, come to Athens to do business, see relatives or have a holiday themselves. So if you are planning on getting off the plane and wandering around until you find something you may want to reconsider, especially if you are going in July, August and September.
These hotels I list below are the best hotels for the money that are in good locations, within walking distance of just about everything. You may find better hotels for less but you may not like your surroundings or find that the money you save is being spent on getting to and from the archaeological sites, shopping and dining areas. There is information below about what areas to stay in and what areas to avoid because they are unsafe or too far from the center of Athens. You will most likely find that many of the hotels in the best locations are full between the months of June and September. If you have searched and searched and not found anything Use this form and under comments let them know which hotel you are interested in if there is one in particular. Sometimes the Greek travel agencies have reserved rooms at hotels and will still have availability even though the hotel booking websites say it is full.
Apartments: The trend seems to be people wanting apartments because if you are coming with your family the cost of rooms can get high. The problem is that many apartments are not within walking distance of the sites. But there are a few and you can find them on my Athens Apartment Pages.
Important Note: There is a lot of information on my website and it is all free to anyone whether you booked through the travel agents, the hotels or Air BnB. But it is the commissions I get from hotel bookings that supports this website and enable me to continue doing the work I enjoy. So my request to you is that if you are using other sites to book hotels and apartments and using my websites for everything else and are thankful for the information you have received from it please think about donating whatever you can afford so I can continue to be creative. If you are appreciative of all the free information you get on my websites you can send a donation through Paypal or Venmo
Questions about Hotels in Athens? You can e-mail me. See also Cheap Hotels and Youth Hostels
The Best Economy Hotel in Athens
Hotel Attalos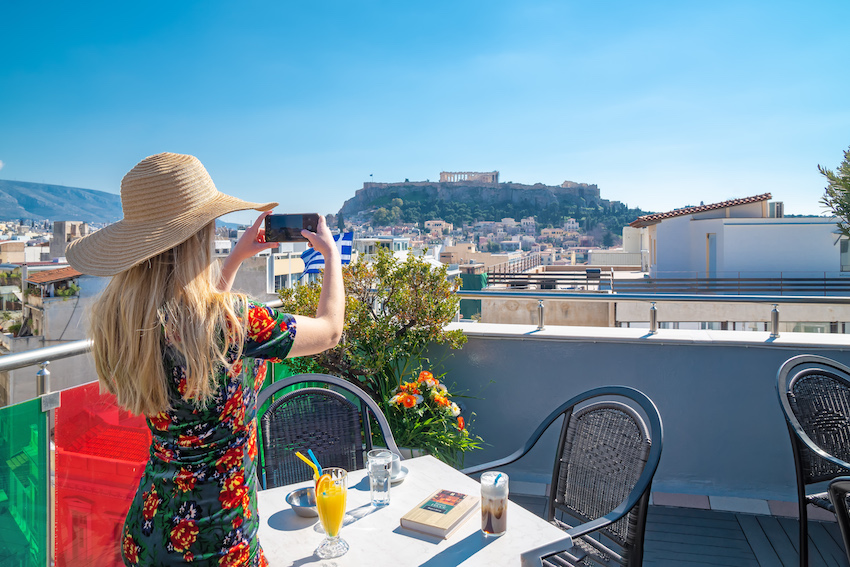 The Attalos was recently upgraded to a 3-star hotel but even though it went up in category they did not raise their prices and I don't want budget-conscious travelers to think they can't afford it. So I continue to list it with economy hotels because it is the best economy hotel in Athens for location, cleanliness and service.
I can think of several reasons to stay at the Hotel Attalos. OK, so it's not in the Plaka. (It's a five minute walk). It is next to the Monastiraki Flea Market and Metro Station for getting to the boats to the islands and to and from the airport. It is a fifteen minute walk to the Acropolis and it is a block from Psiri, the hippest part of Athens with great cafes, ouzeries and restaurants at night. You can walk to the National Archaeological Museum in twenty minutes, to Syntagma Square in fifteen, to Ermou Shopping Street in five, to the Central Market in about two minutes. You can even walk to the nightlife of Gazi in fifteen minutes and the Jewish Synagogue and Keramikos in ten. So if you stay here you should never have to take the metro, a bus, taxi or trolley except to get to and from the airport or the ferry. It has a rooftop cafe with a spectacular view of the Parthenon, and it is a great place to make friends because many people come up for a drink before going out or even order takeout from one of the many nearby restaurants and eat it while watching the Acropolis in all its glory.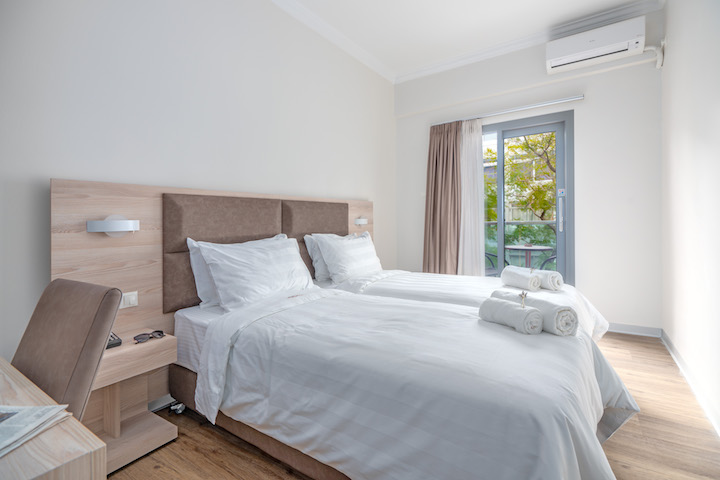 Many of the rooms have Acropolis view. All rooms have air-conditioning, fridges, big closets, and the showers are great with good pressure and hot water right away, and cold water that you will find refreshing after marching around Athens all day in the hot sun. The breakfast room serves decent coffee, as much as you want, as well as toast, butter, marmalade, yogurt, cereal, cheeses, juices and teas, which will enable you to have the energy to climb the Acropolis and visit the other sites of Athens. The Attalos is a family owned hotel and is a bargain recommended by travelers and professional travel writers, being one of the top rated hotels in most of the guides and travel sites like Expedia and Tripadvisor.
Probably the thing that will impress you most about the Attalos is the level of professionalism in the staff. In my opinion, Kostas Zissis and his crew, particularly Sakis, Kostas, and Maria could run the Hilton hotel, the Grande Bretagne or any of the expensive luxury hotels in Athens. But here they are at the little old Attalos. Take advantage of quality service at a very low price and the best rooftop bar view in Athens! This is where I stay when I come to Athens unless it is full (which it often is, even in winter, so book early). If you need even more reasons to stay here they have free internet from computers in the lounge and free wireless internet throughout the hotel so you can use your laptop to get your e-mail and if you are booking as you go you can book the rest of your trip from here. There are safes in every room too so you don't have to carry your valuables around.

The Attalos fills up quickly so if you know that this is where you want to stay you should book it. You won't find cheaper rates for this hotel than what they offer on this secure booking page. For more photos and information see the Hotel Attalos web page
C-Category (2-star) Athens Hotels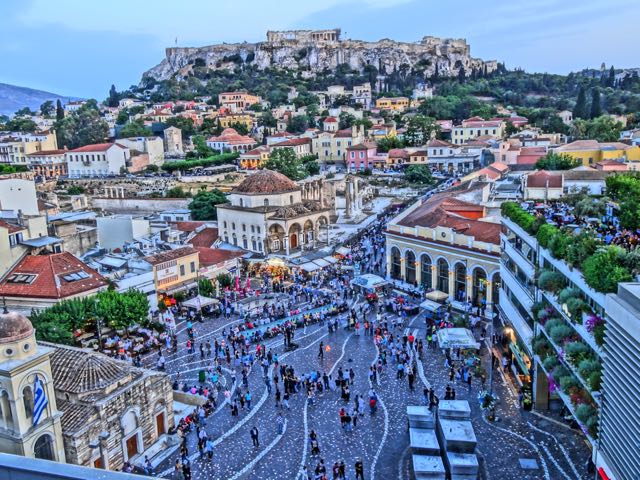 Though not officially designated a two star hotel, A is for Athens has prices in that range during certain seasons and a variety of rooms and suites. I would probably call it a B-category and give it extra points for it's cafe bar and amazing views and location. Right next to Monastiraki Metro Station, A for Athens features a rooftop bar with a stunning view of the Acropolis. Nightlife districts of Psirri, Monastiraki and Plaka are a 5 minute walk away though really the hotel is right in the spot where all three neighborhoods converge.. The stylish rooms feature a modern bathroom, a flat-panel TV and designer furniture. The large windows allow for plenty of sunlight and stunning city views, while some rooms face the Acropolis. Wi-Fi is free in the entire property. Guests can eat breakfast on the panoramic terrace with Acropolis views. The rooftop bar is open until the early morning hours serving refreshments and cocktails. You can book directly with the hotel or Contact Fantasy Travel.
Cecil Hotel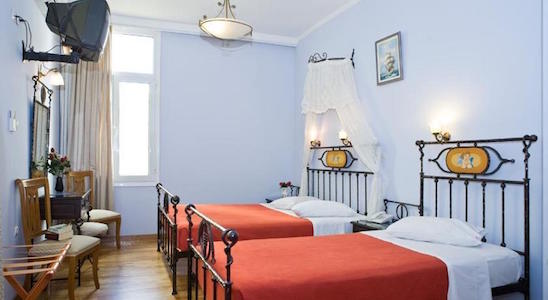 If you arrive in Athens and did not book your hotel in advance and the Attalos is full, a block away the Cecil Hotel occupies a beautifully renovated neo-classical building in the heart of old Athens, close to the Ancient Market and the New City Market. It is located near the most central pedestrian street of Athens and it is 20 minutes from the airport, and 20 minutes from the Piraeus port. The Acropolis, the Lycabettus hill, the Philopappus hill, the Syntagma square and other monuments, museums and galleries are some of the countless sights that are very close to the Hotel Cecil. The peaceful picturesque neighborhoods of Plaka and Psiri are only a short walk. The post office, the National Telecommunication Company and the metro station in Monastiraki are also very close to the hotel. Furthermore, Cecil Hotel offers easy walking access to numerous tavernas, restaurants and many places like cafes, nightclubs and cinemas, offering all forms of daytime and evening entertainment for which Athens is famous. Very economically priced too. It is a block away from the Attalos. For more info and booking click here.
The Best of the Rest....
As for other 2-star hotels that are in good locations I recommend the Hotel Byron which is right below the Acropolis, in the Plaka, and owned by a Greek-American baseball player.(Really!) Also right in the Plaka are the Hotel Adonis, which occasionally has a room available and the Hotel Nefeli where my parents best friends always stay and who will probably get mad that I put the hotel on the site when they show up and it is full. Though I have never stayed at the Acropolis House, like the others it is on a pedestrian street right in the Plaka and is inexpensive for a hotel in a good area of Athens. The Hotel Tempi is a nice little hotel on Aeolis street, just a block or two from Monastiraki Metro station. In fact the 2-star hotels I have listed above are all reasonably priced when you consider that you won't need to use the metro or take taxis home at night after dinner or bar-hopping because they are within walking distance of everything. If there is no availability at A is for Athens then try 360 Degrees Hotel which is right across the square. The view is not as spectacular but it will do. For more hotels see Matt's Best Hotels in Athens
If you are looking for something cheaper than a C-catagory in Athens like a pension or youth hostel for example see my Budget Hotels Section. Most of the really cheap hotels are cheap because they are in neighborhoods that nobody wants to stay in, either because they are not particularly nice(safe) areas or are too far from the sites. But as Athens becomes more popular these areas become better and safer. See also Cheap Hotels and Youth Hostels
B-Category(3-star) Athens Hotels
Athens Cypria Hotel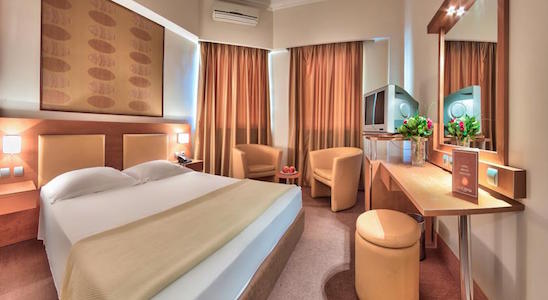 This is a very nice but not very well known hotel in downtown Athens. Formerly the Diomias Hotel it has been totally renovated and is a modern B category. It is on a very small street a couple blocks from Syntagma square and half a block from the pedestrian shopping street of Ermou and quite close to the Plaka and the archaeological sites. A year years ago Andrea and I arrived in Athens from Kea on a humid August night and called George at Fantasy Travel for a hotel. He put us here. I proposed to her in that room while the rest of Athens was watching the World Cup Football match. Thankfully she seems to have forgotten though for how much longer I don't know. I suppose eventually something will remind her. In the meantime I have been steering clear but there is no reason for you to. The views are not spectacular but the rooms are clean and attractive, the location is great and the price is good. For booking and more information click here.
Hotel Central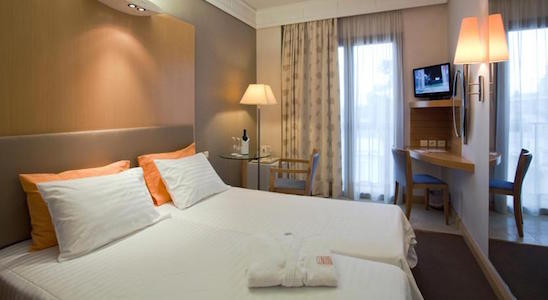 One of the best kept secrets in Athens, the Hotel Central is a renovated 3 star hotel in the heart of Athens, close to the shops and tavernas of the Plaka on tiny Apollonos Street, just two blocks from Syntagma Square and a 15 minute walk to the Acropolis. The Hotel Central has a breakfast room, two conference rooms and a roof garden with a bar, jacuzzi and a brilliant view of the Acropolis. All eighty-four rooms are modern and easy on the eye with telephone, air-conditioning, colour TV, hairdryer and mini bar. There are several categories including rooms with a balcony or Acropolis view. The family rooms, rare in Athens, are great, two separate double rooms with a little connecting corridor and some of these rooms even have a view of the Acropolis. Non-smoking rooms are also available. The hotel has wireless internet and a low-key atmosphere and because it is so close to the Plaka, right in it actually, it is perfect for families and people who prefer to walk everywhere, because you can walk everywhere from here. For booking and more info click here.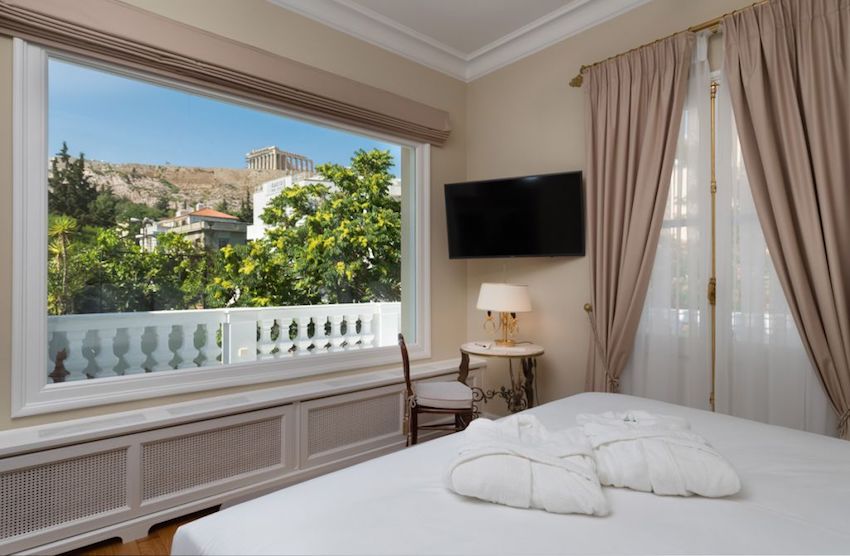 This beautiful hotel located in the neighborhood of Koukaki right by the Acropolis and the Acropolis Museum is in a Neoclassical mansion built in 1901. With suites that are perfect for families of 4 and a neighborhood that is full of pedestrian streets and park areas you are an easy walk from The Plaka in one direction and Thission, Monastiraki and Psiri in the other direction. Renovated in 2018, the building has been converted into 4 luxurious, spacious suites that feature wooden floors and bathrooms covered with refined Greek Dionysus marble. Elegant design concept enhances the homely atmosphere which makes a guest feel wholeheartedly welcomed. Unique pieces of fine furniture enriching the rooms present a handwork by the world-famed designer Alexander Theodore. Elegant suites, encompassing classic style and timeless beauty, marvelously blended with modern conveniences in the most exciting backdrop of central Athens in one of the most fun areas of Athens. You can Book this Hotel Directly or you can Book with Booking.com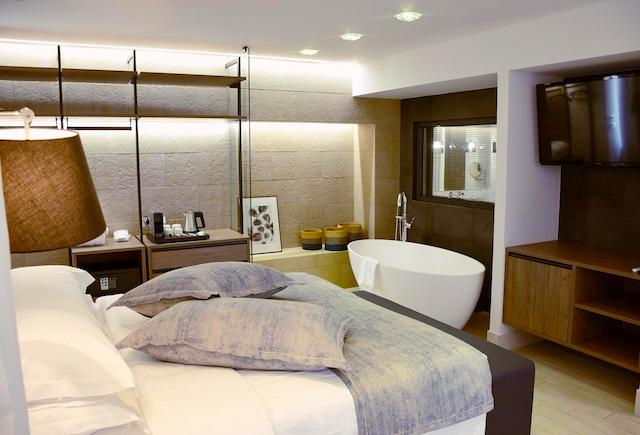 In the heart of Athens, between the Acropolis and Monastiraki, a breath away from Constitution or Syntagma Square and Plaka, in a quiet alley is a small hotel, which is nothing more than a sweet home. Sweet home hotel, combines beauty and endless luxury, care and relaxation with top quality services. An old building with many neoclassical elements, which was lovingly renovated by its current owners, and with particular emphasis on decoration, turned into a boutique hotel room. Geraniums and cyclamens in Plakiotica balconies, marbles and tiles, a wooden staircase 100 years old with handcrafted details, neoclassical plaster work, all heritage of old Athens, kept there to connect us to the old city and its past, along with a collection of old mirrors, gramophone, cameras and other antiques. Book Directly with the Hotel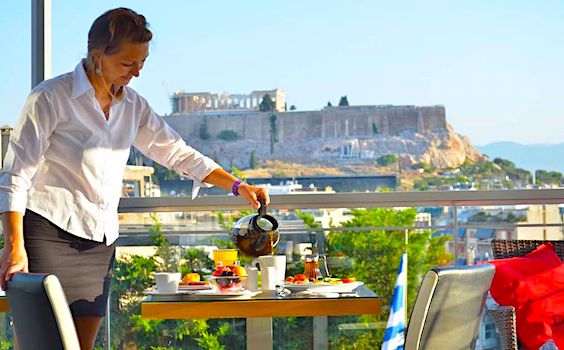 The Acropolis Ami Boutique Hotel is ideally situated in a peaceful setting and only 15 minutes walking distance from the Acropolis and the New Acropolis Museum. Combining stylish and classic décor, the hotel is near all major Athens' attractions such as Plaka, Monastiraki, Panathinaikon Stadium and the Temple of the Olympian Zeus. The nearest metro station (3' walk), Syggrou Fix, makes all of Athens' attractions even more accessible and it's the most fast way for you to find us from the airport. The roof garden offers you a beautiful panoramic view of Athens and the Acropolis itself. What else can you ask from your vacation in Athens if not a breakfast, a glass of wine under the view of the Acropolis! All the rooms at the Acropolis Ami Boutique Hotel are air-conditioned, come with a flat screen TV with a substantial number of national and satellite channels and free Wi-Fi access. Some of the rooms offer spacious balconies and view of the Acropolis. Book Directly with the hotel or see photos and more info.
The Best of the Rest....
Other recommended 3-star hotels are the Hotel Adrian which is located right in Monastiraki by the square and metro station, and the Best Western Hotel Amazon which is in between Syntagma Square and the Plaka. Also nearby are the Omiros Hotel and the Hermes Hotel both with good locations on Apollonos Street in the Plaka. The Plaka Hotel is actually closer to Monastiraki but it does not matter because it is a great location. On the other side of the Acropolis, close to the Acropolis Museum and metro station the Philippos Hotel is very popular as is the Acropolis Select. You can find more hotels on Matt's Best Hotels in Athens
A-Category (4-star) Athens Hotels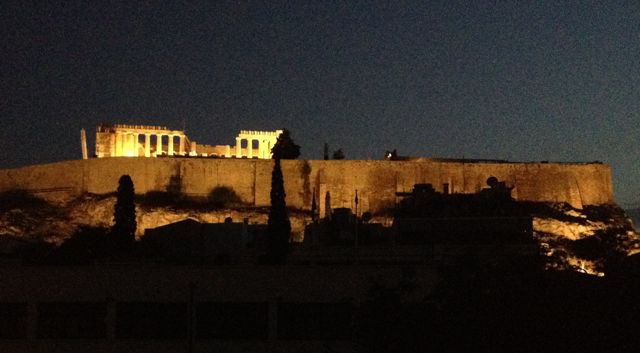 The Herodion is one of the most popular hotels in Athens due to its location, one block from the Acropolis Museum and a five minute walk to the Acropolis. Make sure you request a room with Acropolis view and you will be able to fall asleep every night gazing at the Parthenon as in the photo taken from my room (412). There is no swimming pool but there are two Jacuzzis on the roof, with Acropolis view as well. There is a nice restaurant with reasonable prices, a large lobby and a very nice bar as well. The rooms are a good size and everything works so what more would you want? Oh yes, large modern bathrooms and a helpful friendly staff. My only complaint is that the wireless is not free but if enough people complain maybe that will change. I think the Jacuzzi should be free too but if it were people would spend all day in them zoning out on the view. The neighborhood is a good one too, with restaurants and cafes on Makrianni Street and the Plaka is about a two minute walk from there. For more info, photos and booking click here.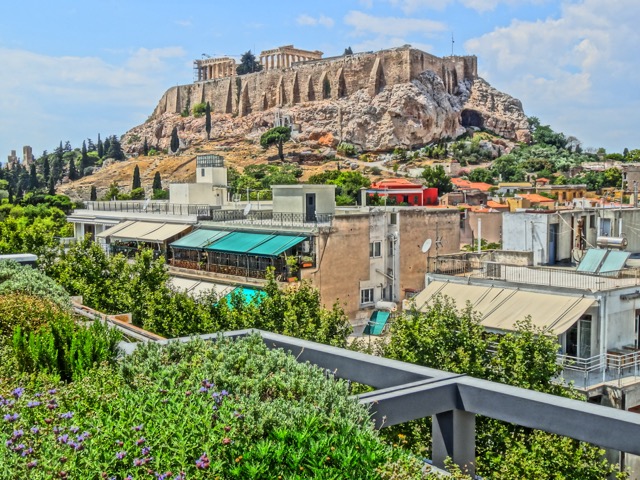 When this hotel first opened and we passed by it one day while walking on the pedestrian street that rings the Acropolis we joked about the name. Athens Was What? But when I showed up in Athens one night unannounced and the Hotel Attalos was fully booked, as was every other downtown hotel, I asked George from Fantasy Travel if he could find me a room somewhere. Anywhere. He found a room here, at the Athens Was. It was one of the best hotels I have ever stayed in. We had a room with a view of the Acropolis and Mount Lykavettos and as it was right on Dionyssiou Areopagitou, it was not only connected to every archaeological site by pedestrian only roads, it was in the neighborhood of Makrianni, full of sidewalk cafes, restaurants and shops, perhaps 50 meters from the entrance to the Acropolis Museum. The Plaka was exactly across the street. The Acropolis metro station was a block and a half away. Psiri, Monastiraki, Thission and Gazi were a half hour car-free walk. The hotel itself was modern without being pretentious and our room came with a Nespresso Maker! There was a gourmet restaurant and cafe/bar on the roof with one of the best views in Athens. And the young staff were helpful and friendly. Free wi-fi too. It is a small hotel and fills up quickly so if you are interested you can Book with Fantasy Travel.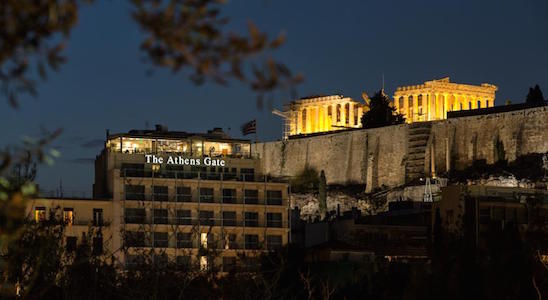 The newly rennovated Athens Gate Hotel is an A Class hotel operating all year round located in the heart of Athens just a few blocks from Syntagma Square. With modern rooms that are tastefully decorated the hotel boasts two of the best views in Athens. Guests in the front have a view of the Temple of Olympian Zeus and Mount Lykavettos. Guests on the top several floors of an unimpeded view of the Acropolis. From the rooftop garden you have a view of just about everything. Clean and well managed with helpful and friendly service this is one of the best hotels in the best locations just a short walk from the Acropolis Metro Station and all the important sites in Athens. For more info, photos and booking click here.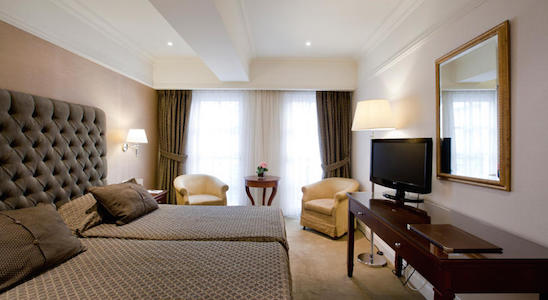 This small (38 rooms), family run hotel in Makrianni, just a short walk to the Acropolis and the Plaka is Rick Steves' hotel of choice for his tours even though he stays at the Hotel Attalos (sorry Rick). The Hera hotel re-opened in 2004 after a long, thorough and very expensive renovation that won it a category upgrade. The hotel features very elegant and fully equipped rooms, featuring private bathroom with bathtub and shower hose, magnifying mirror, hair dryer, tissue box, bathrobes, slippers, and toiletries; satellite and pay TV, music, A/C (self regulated), mini bar, coffee and tea making facilities, laptop size safe deposit box, direct dial phone with data port and Internet access. On each floor of the first four floors there are four rooms facing the street and have a slightly bigger balcony, and four are looking at the back, and do not have a balcony. All rooms on the 5th floor (6 rooms) are facing the street and are superior rooms as they are larger in size, with a small sitting area (couch and coffee table), a larger balcony and a very nice view of the Acropolis. General facilities: 24-hour reception; small bar in the lobby; a very pleasant breakfast room under a glass dome (with natural light) that also operates as a restaurant (rich American buffet breakfast is served); a beautiful roof garden restaurant & bar with splendid view of the Acropolis; meeting room with business facilities. Other services: laundry service (on request), room service. For rates and booking information click here.
NLH FIX | Neighborhood Lifestyle Hotels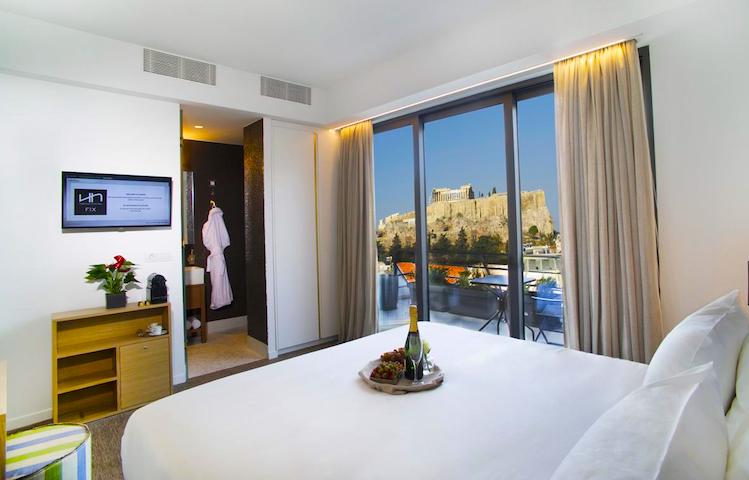 NLH FIX | Neighborhood Lifestyle Hotels is located just steps from the National Museum of Contemporary Art in the old FIX Beer Brewery and a short walk from the New Acropolis Museum. Syggrou-Fix Metro Station is at a distance of 300 feet. It offers modern and elegant suites with free WiFi , air conditioning and views over the surrounding area. Fitted with Coco-mat mattresses, every suite at NLH FIX includes a 40'' Smart TV with satellite channels, a Nespresso coffee maker, a laptop safe and a working desk. Each unit also includes a private mosaic bathroom with rainfall shower, hairdryer, slippers and free toiletries. Some suites also consist of a kitchenette. Guests can choose among a 9-option breakfast menu that comes to their suite in a box at extra charge. The options include vegan, vegetarian, gluten free and a kid's menu. The staff of NLH FIX will offer you local tips, so that you can experience the city of Athens like a local. The scenic district of Plaka lies within a short walking distance of NLH FIX, while Syntagma Square can be reached within a 10-minute walk. You can Book Directly with the Hotel
The Best of the Rest....
As for the rest of the 4-star hotels that I recommend by location and quality the newly renovated Hotel Amalia is right on Amalias Avenue across from the National Gardens and a couple blocks from the Plaka and Syntagma Square. The Hotel Electra on Ermou Street, in Athens main shopping district is between Syntagma Square and the Plaka and has a lot of reasons to recommend it, including the fact that guests have access to the Electra Palace Hotel's swimming pool just 2 blocks away. The Hotel Astor is a block from Syntagma Square and has come a long way since I last stayed there, having been totally renovated. The New Hotel is actually a new boutique hotel located a on Fillelinon Street between the Plaka and Syntagma Square. The Hotel Fresh in between Psiri and the market is a modern style hotel with the narrowest hotel pool I have ever seen, on the rooftop which has a great view of the Acropolis. The Hotel Titania is located in between Syntagma and Omonia Squares and has a great rooftop restaurant-bar with a beautiful view of the Acropolis. The recently re-opened (after 100 years) Emporikon Athens Hotel, in Agia Irini Square, is a 19th century neo-classical building in one of the most lively neighborhoods in the city. You can find more hotels on Matt's Best Hotels in Athens but for quality and location these are the best in my opinion and also the most likely to fill up. If you can't find anything downtown try contacting Fantasy Travel and they may have rooms.
Luxury (5-star)Hotels in Athens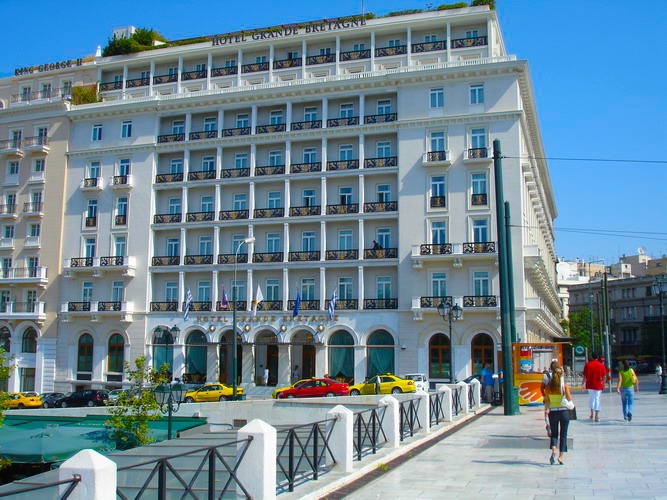 I don't care what anyone says. The Grande Bretagne is the best hotel in Athens. Best staff, best service, most impressive building, and yes.... I actually stayed at the Grande Bretagne. The Grande Bretagne, for those of you who don't know is the oldest and most elegant luxury hotel in Athens and one of the finest and most well-known in the world. A room there will cost you several hundred bucks a night at least, but if you have the money it is well worth it. Even if you don't have the money it is well worth it. I didn't have the money but because the GB has such an amazing history, my friend George at Fantasy Travel put me up there so I could write an article about it. I don't know if the staff knew who I was or what I do but they sure treated us nice. In fact for the three days we were there I did not want to leave the hotel. And then the day we were supposed to leave we were wait-listed and our flight was full so we had to stay another night. I was very happy.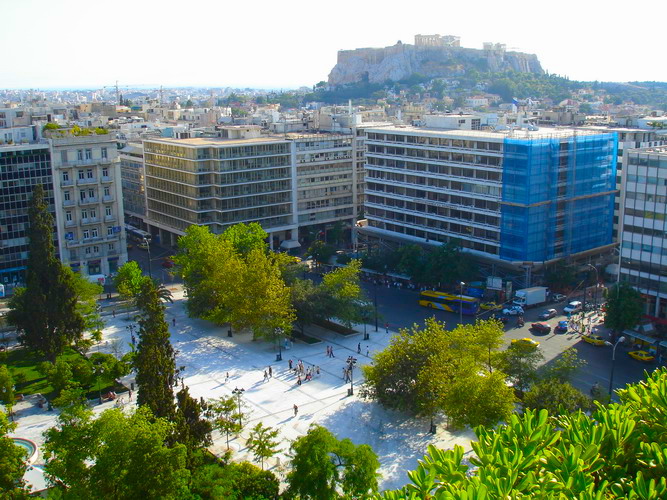 There are other luxury hotels but they are new, modern and can be miles away from downtown. The Grande Bretagne (and our room) overlooks Syntagma Square and you can watch the changing of the Evzone guards from your balcony. We had a view of the Parthenon, tons of channels on the TV, a fridge full of booze and snacks and a room service menu about 8 pages long. Incredible breakfast buffett. There is a pool on the roof with a snackbar and at night one of the best hotel bars and restaurants with a terrific view of the Acropolis and Syntagma Square. Great food. The Alexander Bar off the main lobby is a classic European John Le Carre kind of hangout. Check out the tapestry of Alexander the Great behind the bar. You never know who will be standing around in the lobby when you come down in the morning. Anyone from the Prime Minister to your favorite movie star. In the basement is another swimming pool and a state-of-the-art health spa which is probably better than the one you belong to. I could go on but I need to save it for the article. If you are luxury minded this is the best. I almost forgot... the staff are terrific. Friendly, helpful, happy and personable, from the doorman to the concierge all the way to the maids and busboys and girls. For information and to read my review of the hotel visit my Grande Bretagne Hotel website
By the way. The Grande Bretagne was chosen as one of the 100 Best Hotels in the World by Conde Naste Traveler. That being said, The GB, the King George and the Plaza are all right on Syntagma square which is the staging area for demonstrations against the government since it is right across the street from Parliament.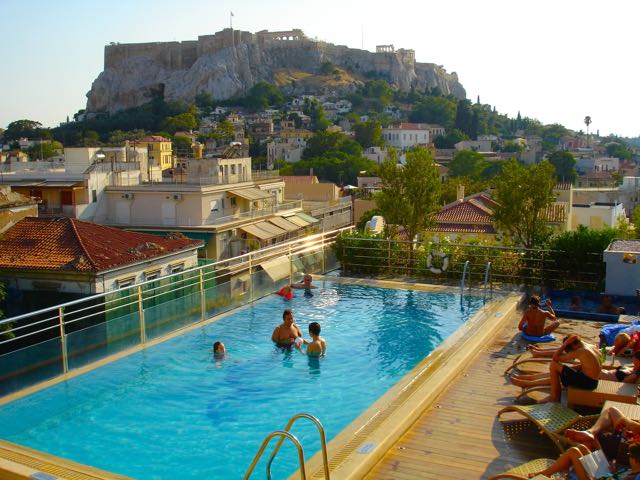 The L-Catagory Electra Palace is newly rennovated, double in size and now looks like a smaller version of the Grande Bretagne. There is an indoor pool and another outdoor pool on the roof. Big beautiful lobby, comfortable rooms with views of the Acropolis, fully air-conditioned and.... what else am I forgetting? Oh yeah. The best location of just about any hotel on this page, right in the Plaka and just 2 blocks from Syntagma Square and the Metro. The hotel has always been popular with businessmen and the reason they doubled the size is because it was so tough for people to find rooms there. Not any more. Plenty of parking too. I stayed here for a few days during February of 2006 and I loved it and stayed here again a few years later and loved it even more. It is a smaller version of the Grande Bretagne. I never used the downstairs swimming pool, sauna or exercise room, but I meant to and I felt healthier just knowing they were there. See the Electra Palace Hotel and if the Electra Palace is full check out the brand new 5-Star Electra Metropolis just a block or so away.
The Best of the Rest....
The Royal Olympic Hotel is another really nice hotel with a pool. It overlooks the Temple of Olympian Zeus and rooms also have a view of the Acropolis. It is within walking distance of just about everything, has a couple nice bars including one on the roof with a fancy restaurant. Great location too just five minutes from the Plaka and the Acropolis Museum and a twenty minute walk to the Acropolis. The Hotel Athens Plaza is one building away from the Grande Bretagne and also right on Syntagma Square. Highly recommended if you have the money or your company is paying the bill. If the GB is Old World Elegance then the Plaza is the modern world. The King George which is between the Grande Bretagne and the Athens Plaza is a good choice too unless there is a noisy demonstration going on in which case you may rather be elsewhere. Anyway there have not been that many demonstrations lately so staying in Syntagma is a great idea if you want to be in the middle of everything and these three hotels are the best or among the best in Athens. The Saint George Lykabettus is the highest hotel in the city in the upscale neighborhood of Kolonaki where there is great food, great cafes and great views. It is a 20 minute walk to the Plaka but it is all downhill. You can find more hotels on Matt's Best Hotels in Athens but quality and location these are the best in my opinion and also the most likely to fill up. If you can't find anything downtown try contacting Fantasy Travel and they may have rooms.
You can now book directly with many hotels, apartments and villas in and around Athens by going to my new Athens Hotels Direct Booking Page
Apartments in Athens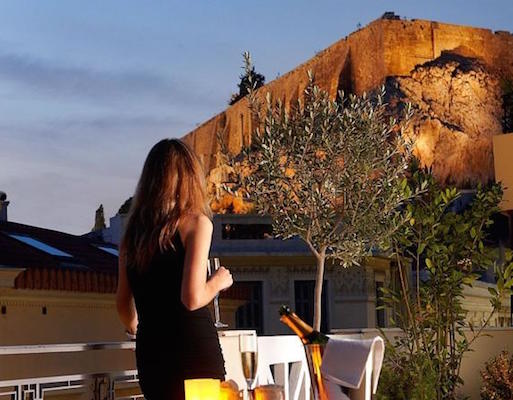 Staying in an apartment in Athens is the latest trend and the fact that many Athenians who are suffering due to the economic conditions happen to own several apartments with nobody to rent to makes things very convenient for travelers, at least at first glance. The problem is that most of the apartments are in areas that are not exactly ready for tourism (to put it nicely) or are far from the archaeological sites, museums, shops etc and yet they describe themselves as centrally located, downtown, or convenient location. Oh. And many of them are illegal. But these are centrally located, so much that you may have to be lucky to find availability. But it can't hurt to try and you may get lucky.
Bill and John Apartments and Homes include several villas, holiday homes, and beautiful apartments in downtown Athens and scattered around the city and coastal suburbs. They also provide different services for their guests so it is not like someone just hands you the key and you never see them again. They can assist you with other aspects of your travel and are a phone call away if you need assistance.
For more hotels and apartments see Matt's Best Hotels in Athens and Matt's Villas of Greece Athens Apartments Page
Hotels Out of Central Athens (Like at the Beach)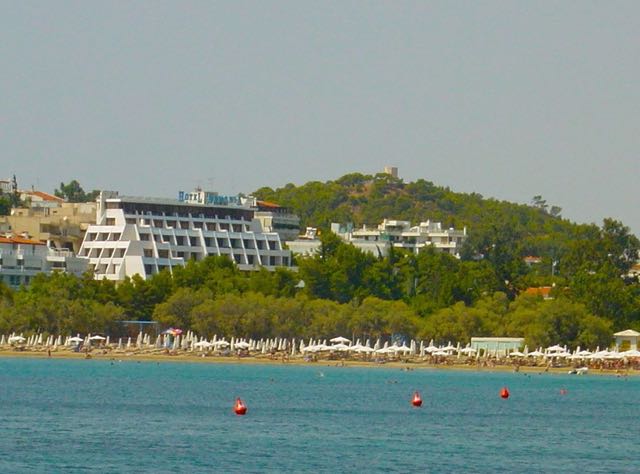 If you want to know about the resort hotels by the sea, there are several very nice ones that are only about a 45 minute taxi journey to Athens. The 4 Seasons Astir Palace Resort in Vouliagmeni is several hotels and it is the kind of place you could spend your whole holiday at and not go to the islands (not that I recommend doing that but you can and people do). No more than 100 meters from the sandy beaches of Vouliagmeni and 20 minute drive to the city centre, The Plaza Vouliagmeni Strand is the ideal place to relax and to conduct business. The location means you are near the centre of Athens, as well as being very close to the airport (ideal for stopovers) - all while staying in a resort area. Further out is the Lagonissi Grand Resort which is said to be the best hotel in Greece and supposedly has some suites that cost about twenty thousand euros a night. This is where zillionaires and famous people stay but there are rooms that are comparable in price to the other luxury hotels. For those who want self-catering on the coast the The Plaza Resort is a 5 star hotel in Athens most exclusive area, where leisure and business mingle successfully. This luxurious and cozy hotel with its amazing setting on the sandy beach of Anavyssos offers a winning combination of hospitality and facilities of a city hotel in a resort location. The Margi Hotel offers high quality accommodation all year around. All the suites and rooms are exclusively furnished and comfortable, as well as offering a level of service which anticipates individual or professional needs. The Margi hotel has 110 double rooms and 10 suites. Set in the town of Vouliagmeni, the most attractive sea side suburb of Athens. The Aegeon Hotel is in a magnificent location, one of the most beautiful in Europe -at Cape Sounion- below the Temple of Poseidon, god of the sea, right on the seashore. Built to blend with the natural environment with sober lines and earth colors, the Aegeon hotel is the ideal place for those who wish to combine luxurious living with a peaceful and quiet stay far from the turmoil of the city.
You don't have to stay downtown if you don't want to. From the Athenian Riviera you can stay at the beach and commute to the Acropolis by bus, taxi or coastal tram. See Coastal Athens: Faliron, Glyfada, Voula, Vouliagmeni, Varkiza where I have hotels listed for each town.
The Northern Suburb of Kifissia is a great place to stay if you don't want to be downtown. There are trees and parks, great restaurants and lots of shops and you can take the metro right to Monastiraki and Thission and walk to the Acropolis, or all the way to the ferry boats in Pireaus. And climate-wise it is cooler than Athens which is why the upper classes have traditional had their summer residences there.
For more hotels and apartments on the coast or outside of central Athens see Matt's Best Hotels in Athens Suburbs and Coast
Booking Hotels in Athens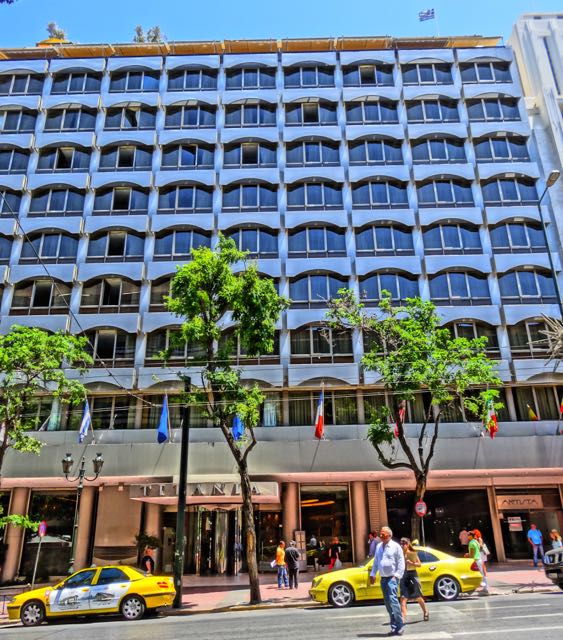 I recommend getting in touch with Dolphin Hellas Travel or Fantasy Travel or Aegean Thesaurus Travel. They can send you a list and do your bookings for you and make sure everything runs smoothly. I suggest finding hotels either in or within walking distance of the Plaka. If you are staying at a hotel further away, you can always find a taxi at the front entrance. Some hotels have shuttle service to Syntagma so ask your travel agent. The prices you get from a Greek travel agency should be cheaper then what you will get directly from the hotels. Because these agencies send the hotels a high percentage of their business they get reduced rates which they can pass on to the customers.
There are other reasons to use an Athens based travel agency to book your hotels besides the discount. The first has to do with scheduling. Because the agency has ferry schedules at their disposal they can book a room knowing you will be able to make your connection. You may do your own bookings for Athens or the islands and find that because you misread the schedule or your boat was delayed you are unable to use the room you have reserved and paid for, and you need a room for the night on the island you are delayed on. Unless you want to deal with all this yourself it is better to have the agency deal with it.
This leads to why a Greek agency rather then your local agent: If you should find yourself in a situation where you need help, your US travel agent is not exactly in a position to assist you. The time difference is an obvious problem as is the cost of long distance calls. A Greek travel agent who has a relationship with the hotels can solve any problems before they start and should you find yourself stranded on an island far from the hotel that has been booked for you, a call to Athens will get you off the hook and get you a room for the night.
If you are booking hotels on your own and you just want to book a night or two in Athens in a cheap hotel you will be better off booking directly with the hotel through Matt's Hotels in Greece. The reason is that for bookings which don't total $300, many agencies must add a $50 service charge to pay for their work since commissions are low. Of course a couple nights in a high category hotel will come to well over the minimum. But if you want a couple nights at the Attalos or a c-category hotel, then book directly with the hotel unless you are using the agency to book your hotels in the islands as well as ferries and flights. If you are backpacking on the islands or island hopping without booking in advance I definitely recommend booking your Athens hotel before you get there. If you get to Athens and realize that you would rather book the rest of your trip with an agency I suggest contacting one of the agencies I recommend rather then putting your faith in a taxi driver, hotel concierge or some 'friendly guy on the street'.
If you are having trouble finding availability for the hotels you want try contacting Fantasy Travel. They buy rooms in advance and when the hotels and other agents have nothing left they may still have availabilty. Use this form and under comments let them know which hotel you are interested in if there is one in particular.

Many people find bargains on websites which book hotels all over the world or through package deals. The problem is that in many cases the reason there are such great deals on these hotels is because the hotels are empty because nobody wants to stay there. Either it is in a bad location or the hotel is lousy or it has a bad reputation from a previous owner and has not recovered. Since the hotel mega-sites deals with thousands of hotels worldwide and the package tour agent is just trying to get the price as cheap as he can to make the offer attractive, they may be ignorant or not care about the quality or location. You have to balance price vs risk. In almost every case you can get as good a deal from a Greek travel agency and have them at your service for advice.
For those traveling solo and booking single rooms here's a little tip. The single rooms in many hotels are very small. But chances are if you are traveling in the off season the hotel will not be full and there may be empty double rooms. Many hotels will offer you a free upgrade because it is good business and does not cost them anything since the room was going to stay empty anyway. But if they don't, and you find yourself in a room so small that it causes you psychological damage, ask for a free up-grade. People who use Greek travel agents often find themselves upgraded because the agency can look at a chart and know the hotel is empty and request the upgrade for their client before you even arrive. You don't have a chart but you can still ask and if they have empty rooms you may find yourself in a nicer one than the one you had.
Hotel Booking Sites

You can find hotels in Athens by location, price, whether or not it has a swimming pool, and see photos and reviews by using Matt's Hotels of Greece where I have done the work of finding the best hotels by category, location and price with many hotels you can book and then cancel with no cancellation fee. For those who want to book without using a travel agency this is another way to do it. Be aware though that hotel booking sites don't book the entire hotel. They have a specific number of rooms and when these are sold the hotel is listed as full and they try to get you to book at another hotel. If a site shows no availability try contacting one of the travel agencies on my website and they may have rooms and you will at least be able to talk to a human being.
You can also go to my Hotel Booking Assistance Page and I will help you find what you are looking for.
Where to Stay in Athens (Is it Safe?)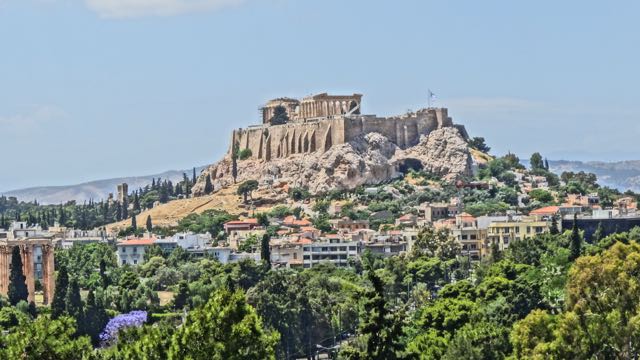 When in Athens the desirable areas to stay in are the Plaka, Makrianni, Koukaki, Thission, Syntagma and Monastiraki. These areas all border the Acropolis and the archeological park around it. Everything you need including shops, restaurants, the metro to the ferries, buses, taxis and nightlife is within walking distance and many of the streets are pedestrian only. If you are booking through a US-based travel agent in many cases they may know the classification of the hotel but be totally ignorant of the location, which is very important. Some of the nicest American style hotels have lousy locations and in most cases there is a comparable hotel within walking distance of the Acropolis. If you are booking by price with one of the giant automated hotel booking sites be aware that an A-catagory hotel with C-Category rates may be in an F-Category neighborhood and the money you saved by staying there may end up in the pockets of some criminal, along with your passport, camera and other valuables. (Some of Tripadvisors highest ranked hotels are in terrible areas). If you are wondering about a location of a hotel, whether it is in an undesirable neighborhood you can e-mail me. I don't want to write on my website not to stay in a hotel in a particular area because it tends to make enemies, just as it would if I wrote on my site not to stay in a particular hotel because it is a bad hotel. But if you are wondering about location I can give you my opinion on whether you may be happier elsewhere. But the rule of thumb for families is to stay in or near the Plaka. If a hotel says on their website 'centrally located' that does not necessarily mean near Syntagma or the Acropolis. If you are unsure about the location e-mail me.
For those who don't care about location as long as its cheap see Budget Hotels and some of these are between Omonia Square and the train station, not a very desirable area, though there is a metro. I would suggest that if you are a couple, a family, solo or other women travelers you should not stay down there. But there are also hotels on that page that are in good areas so try those first.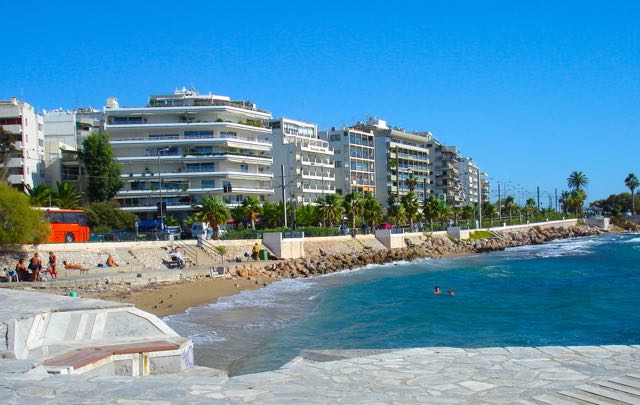 Some of the hotels near the beach provide transportation to the sights of the city, but ask just to make sure. The coastal tram runs from Glyfada to Syntagma Square and it is a fine ride through neighborhoods most travelers never see. But if you are going back and forth several days in a row it can get old because it makes a lot of stops and takes a long time. Still some would say it is a small price for staying on the sea. If you go to my Coastal Athens page I have listed the hotels at the bottom of each section. Also you can go to my Hotels of Greece and click on the link for Athens Suburbs and Coast.
If you are looking for hotels within walking distance of the ferry boats in the Port of Pireaus see my Pireaus Hotels Page though if you stay in or near the Plaka or near any metro station it should only take you about 15 minutes to get to the port and you will probably have a lot more fun. But if you are arriving late and catching an early boat there are some nice hotels of all categories in the port of Pireaus.
Airport Hotels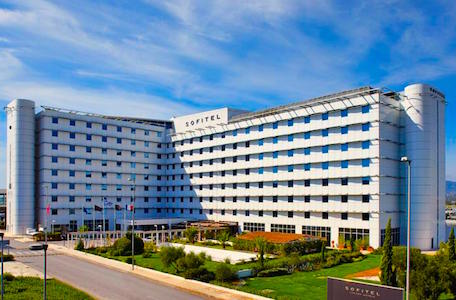 Many people who are just passing through and are looking for a hotel for one night near the airport gasp when they see the prices at the Airport Sofitel. They shouldn't because you can't get any more convenient since all you have to do is walk out of the terminal and cross a small parking lot and you are in the lobby. Sure hanging out at ther airport when you could be wandering around the Plaka may seem kind of boring but with restaurants, satelite TV and a nice big IKEA down the street you can find something to do besides sleep between flights.
The Holiday Inn Attika Avenue is a 5 minute taxi ride or on their free shuttle to the airport and is in the price range of the Sofitel. If you want to book these hotels for a night without going through a travel agency you can use the above links. If you are working with a Greek travel agency you can book through them as well.
These airport hotels are expensive and you are out in the middle of nowhere with nothing to do unless you like watching planes take off and land. My recommendation though is to stay downtown at the Hotel Attalos and splurge on a taxi in the morning.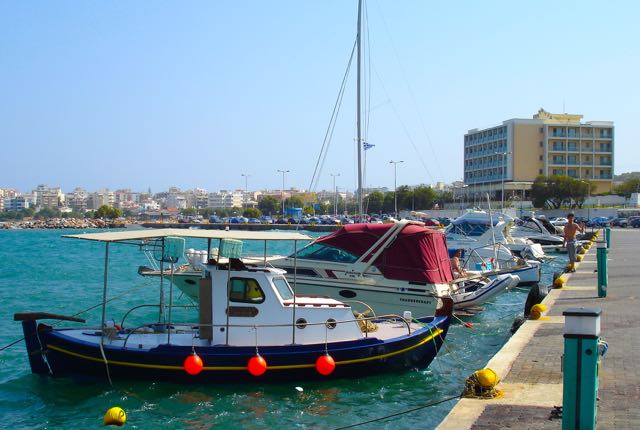 The Avra Hotel in Rafina is now advertised as the Avra Airport Hotel and it is closer to the airport than Athens, maybe a 20 minute taxi ride on a good day but a taxi won't be much cheaper than one from central Athens and if you are using a transfer it will cost more. But they often advertise that they have an airport shuttle and if it is free or even cheap this is a good place to stay because you are on the sea close to a beach and lots of restaurants and shops in the important port of Rafina. What makes it convenient is that you can stay there overnight and the ferries to many of the Cyclades leave from there.
If staying really close to the airport is important or if you are between flights or ferry then splurge on the Sofitel which is right at the airport. It is cleaner, better, well-run and you will save at least 100 euros in taxis you would have taken back and forth to the city even if there is nothing to do but eat, drink, watch TV or watch the planes. OK, they have a pool but it is indoors and that always seems weird to me.
You can book any of these hotels through Dolphin Hellas Travel , Aegean Thesaurus Travel or Fantasy Travel . You can find hotel descriptions, photos and booking information at Hotelsofgreece.com and on my Booking.com Athens Hotel Search Page or you can go to my Hotel Booking Assistance Page and I will help you. What is the best way to book your holiday to Greece? Can you really save by using auto-booking systems or by booking directly with the hotels? Are Travel Agencies a thing of the past? Read my article Endangered Species about the internet and the disappearance of the small personalized service travel agency.
See Athens from Kea, Poros, Aegina or Angistri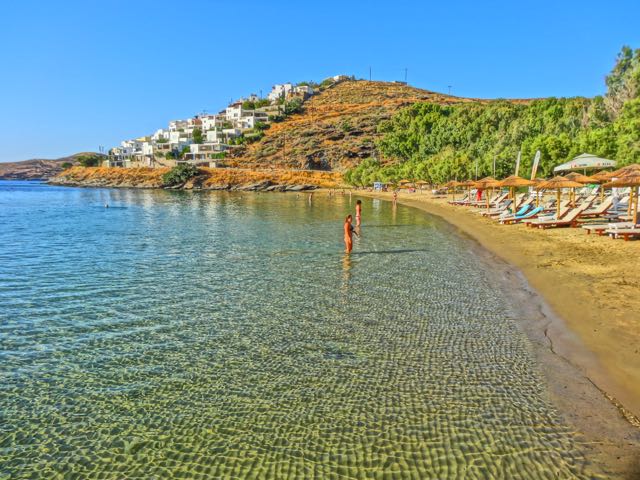 Who says you have to stay in Athens to see Athens? OK. Cities are not for everyone. So why not stay on an island that is one hour from Athens? You can be on the Acropolis in and hour and a half! (Sometimes it takes that long from the Hilton). The island of Poros is a sensible option to city life and it is also a 3-minute boat ride from the Peloponessos. Base yourself there and see the sites and be home in time for a swim before dinner. Other islands close enough to commute to Athens are Angistri and Aegina. In Aegina, the village of Agia Marina is about a half hour trip on the Flying Dolphins. Another option is the island of Kea (photo). You can take the first ferry to the mainland and the last one back, though you may need to book a taxi to do it unless you have a rental car. Kea is very close to Cape Sounion and the town of Lavrion which are about an hour from Athens. From there it is a one hour ferry ride and you are on an island that feels and looks very traditional where they still use donkeys to transport goods. It also has beaches as lovely as any you will find in the other Cyclades islands. See Saronic Gulf Island Hotels
Bedbugs and other Horrors!!!!!!!
Though I have seen occasional complaints about bedbugs in hotels in Athens, so far it has not reached the epidemic proportions that it has in the USA. That is not to say they don't exist. Bedbugs can be anywhere and they don't care if the hotel is a 2-star or 5-star. They are spread by travelers and the more you travel, the more possibility there is that you will one day run into them. Many think that the reason there are bed bugs in hotels is because of a lack of cleanliness, but this is not true. Bedbugs are brought in by guest staying at a hotel, not by any sanitation issue at a hotel. They are not just in beds either. They can live in seat cushions on your flight home or the ferry boat or even in your own bed if you are not careful. Personally I have only experienced them once and that was in a cabin on an old ferry. Hotels spend a lot of money to keep out these nasty little creatures and they do take bedbug sightings very seriously. Because of the social stigma these little creatures cause when they get loose on the internet travel boards, when they are reported to a hotel, the management's first reaction is to say "We don't have bedbugs." Then they fumigate the room to make sure they don't have bedbugs. So if someone stays in a hotel and says it had bedbugs, that hotel is no more likely to have bedbugs than any other hotel, in fact less likely because the bedbugs that the guest is complaining about are long gone. What you should worry about is whether you are bringing bedbugs home with you because probably you can't spend the kind of money the hotels do to eradicate them. As a rule you should not keep luggage on the floor or against the wall and on a rack if possible. Pull back the sheets and look for rust colored stains that the bugs leave and check the pillow and headboard too. Unfortunately it is the stuff you can't see that can do the most damage so bringing a bottle of disinfectant that you can use on the phone, the TV and AC remote and even the faucets and doorknobs reduces the chance of you getting something left behind by the last guest. Of course most hotels do disinfect after each guest and some every day, but why take chances?
Getting to Your Hotel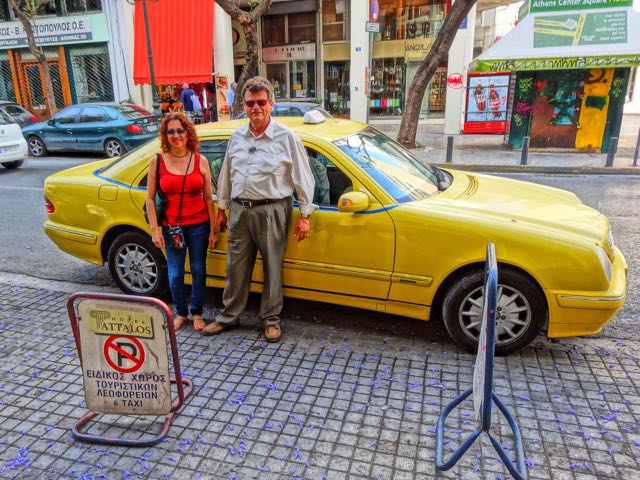 For most people arriving at the airport who have booked their hotels through a Greek travel agency there will probably be a driver waiting for you at the airport. For those who booked the hotels on your own you have a few options as I mentioned on the airport page. If you are staying in a higher class hotel you will probably want to take a taxi and there are many waiting at the airport. For those who want to have a driver waiting for them, who speaks English, knows where you are going, and will take you there without any monkey business I recommend George the Famous Taxi Driver and his sons. He won't cost much more than a street taxi and after midnight will cost about the same.
If your hotel is on the metro line you can get to it as long as you don't arrive after 11pm. If you miss the last metro you can take the X95 bus which runs 24 hours, to Syntagma which is useful if your hotel is within walking distance of there. If not you will have to take a taxi from Syntagma or walk which you probably won't want to do after a long flight. When arriving late beware of overly friendly helpful people on the street near Syntagma helping you with your luggage or trying to make friends with you. They may be after your wallet. My advice is that if you are not staying on the bus line or the metro then take a taxi from the airport, especially at night. Actually with the number of pickpockets on the metro I would say that taking a taxi from the airport is a good investment.
If you are going to your hotel after arriving in Pireaus from your Greek Island holiday you have the option of taking the metro and also many, many taxis line up there now for passengers. The 040 bus runs from Pireaus to Syntagma and the 049 buse runs from Pireaus to Omonia. The Syntagma bus runs 24 hours. If you are staying on the coast in Voula, Glyfada or Faliron the X96 airport bus to Pireaus probably passes right by your hotel and runs 24 hours.