When to Come to Athens
When to come to Greece depends on the type of person you are and also when you are able. I am one of those people who thinks that anytime is a good time to come to Greece. Every seasons has its charm and every season has its drawbacks.
July and August are fine if you are prepared. This is the time most people come to Greece because this is when most people have their holidays and what could be better than to be close to the sea during the hottest months of the year? It's more crowded and rooms on the islands are harder to find, but the island nightlife is jumping and the beaches are lively. Face it: Greece is fun in the summer. More fun than most people can handle and many people who have spent a summer here have become spoiled....I am one of them. Athens can be pretty hot in the day but mornings and late afternoons are fine and the nights in the Plaka and Psiri are wonderful if not a little crowded. Athens empties in August especially the week of the 15th which is the Saints day of the Panagia (Virgin Mary) and this is a great time to be in the city if it is not too warm. You can get good deals at many Athens hotels in August. If you plan to be in Athens during these months make sure you stay in a hotel with air-conditioning. If you are traveling to Greece in July-August make sure you book hotels and ferries in advance, not only if you plan to go to the popular islands of Mykonos, Santorini, Crete, or Rhodes but even the small less-known islands because they get crowded too and have fewer hotels. You can also stay on the Athenian Coast, known as the Athenian Riviera which has a number of really nice beach hotels and surrounding nightlife and getting into city is easy from most of them. You can use my Create an Itinerary form to get help or information from a reliable Greek travel agency.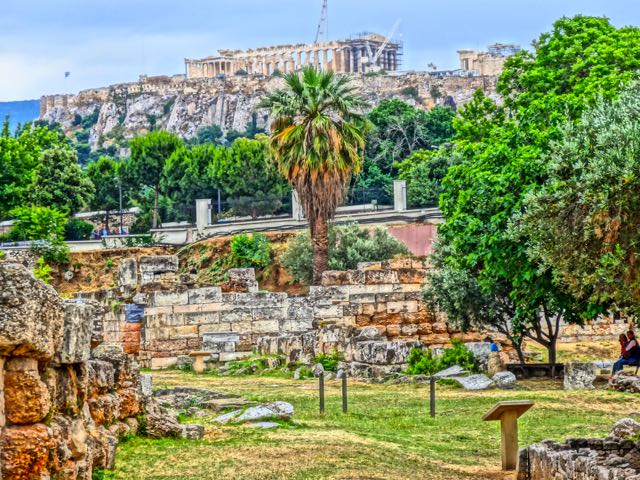 May-June and September-October are my favorite months (now that I am older and more mature). The weather is perfect and the college kids are in school so it's quieter on the more popular islands and there are fewer people in the museums and archaeological sites. There is still some nightlife but the beaches are almost free of people on the less mainstream islands. You may get a day of rain but it is unlikely and when it does happen it usually adds a little excitement. This is a time to go to the islands like Mykonos, Santorini, Crete, or Rhodes because most of the tourists are gone. If you go early in the spring or late in the summer then bring a windbreaker and a warm sweater. You probably won't need more then that. The weather in Athens is perfect for lunches and dinners in outdoor restaurants (most restaurants in Athens are outdoors), hanging out in cafes, going to the local beaches, climbing the Acropolis and exploring the city and the countryside. Usually the weather stays pretty warm at least until the beginning of December and sometimes it stays warm with periods of rain here and there for most of the winter.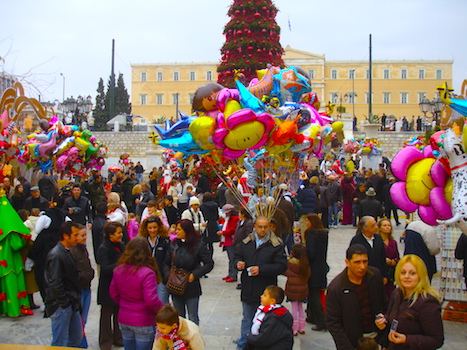 November to March can be cold and rainy but it can also be like Indian Summer. Athens comes alive during these months and there is nothing like a night out in the city or wandering around all day shopping, going to museums or hanging out in cafes and restaurants. It does snow in Greece. Not more then once a season in Athens or the islands, in fact rare enough for it to be a major event. However it does snow in the mountains so much that you can ski there. The last few years I have gone to Greece for Christmas, January and February and some days the weather was beautiful. There were even people swimming in Faliron. Maybe they were crazy but it was warm enough for me to be on the beach in a T-shirt watching them. There were a few days when my Greek friends were complaining about the cold but it did not seem cold to me (and I live in North Carolina). January of 2002 we were there when it actually snowed for three days! The biggest snowfall ever in Athens and the first in about ten years. We loved it! See Snow and Christmas as well as my page for Traveling to Greece in the Winter and Off-Season Travel in Greece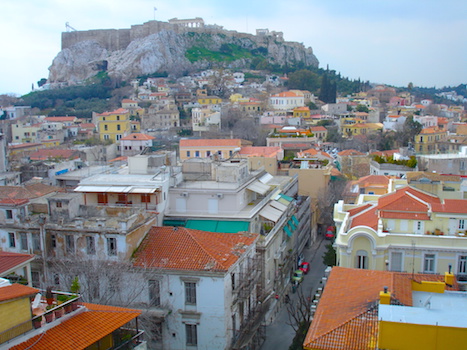 February can be cool with periods of rain but it can also be what they call the halcyones which is an extended period of spring-like weather when even going for a swim is a tempting idea. It is worth the risk because even if you don't get the halcyones weather, the winters are still mild and nightlife is at its peak, especially during Apokreas which is the equivelant of Carnival or Mardi Gras. The last two weekends are the best. The Plaka, Psiri and Thission are full of merry-makers, blowing horns and throwing confetti like it is New Year's eve. There are parades in the area of Moschaton and in the city of Patras there are enormous parades and celebrations. Tavernas are full and open late and the bars, clubs and cafes are thriving. When Apokreas ends, 40 days before Easter, things get a little quieter as people begin their fasting. But it is during this period that spring begins and there is a procession of trees, plants and wildflowers in bloom that make the archaeological sites of Athens and the surrounding countryside look like the Garden of Eden.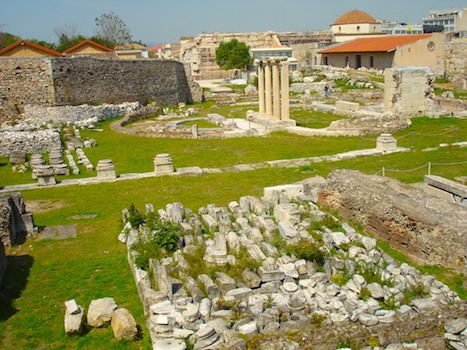 April is usually Easter time which is magical. If you are lucky enough to be on an island during Easter when all the wildflowers are in bloom and the smell of lamb roasting fills the air you will know what I mean. It is also a great time to be in Athens because there is no traffic since most people are out of town and everything is green, flowers and trees are blooming or in the process of blooming. The Church bells ring, there are ceremonies and processions which peak at midnight of Saturday-Sunday when there are fireworks, a cacophony of sound as every church in the city seems to be ringing its bells. Most people go to the islands or to the country for Easter Sunday but many people stay in Athens to celebrate with their family, eating lamb and kokouretsi, taking walks in the Plaka and around the Acropolis. You really get the feeling that after the long winter life has begun again. People greet each other on the street saying Christos Anesti(Christ has Arisen) and answering Alithos Anesti (Truly He Has Arisen). To me it feels like Ola Elada Anesti (All of Greece has arisen). See my Greece for Easter page. It is also high-season on the islands which means like July-August you should book hotels and ferries well before you come.
Generally between April and November expect sun in Greece. Between June and September expect nothing but sun. In the winter expect a mix. So when is the best time to come? Anytime!
| | |
| --- | --- |
| | Conversion Chart |
Packing for Greece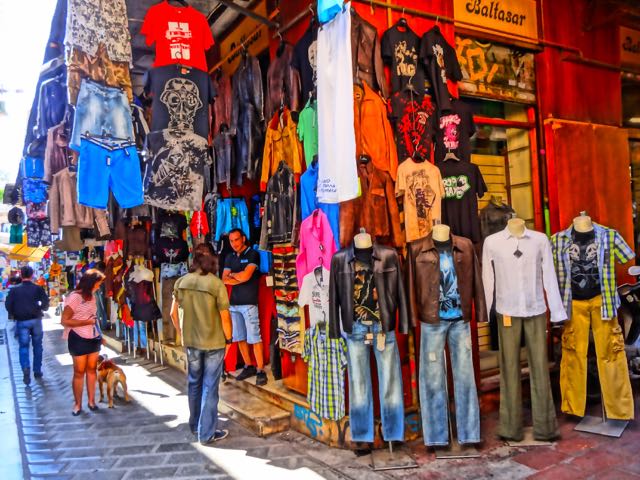 My motto is pack light or not at all. Because of the economy in Greece many shops are selling clothing for very low prices. In many cases much lower than cost because if you have to pay the rent, the gas and electric bills or your taxes, having a lot of inventory and no cash is impractical. So instead of shopping at home for clothes for your trip to Greece just bring the bare minimum and do your clothes shopping in Greece and help out the struggling shops in Athens. You will be surprised at the variety and the styles, and probably find stuff that is nicer than what you can find at home and for a lot less. There are hundreds of clothing shops on Ermou Street, Athinas, Aeolou, in The Plaka and Monastiraki and all around central Athens and what better way is there to get to know a city than by shopping for necessities?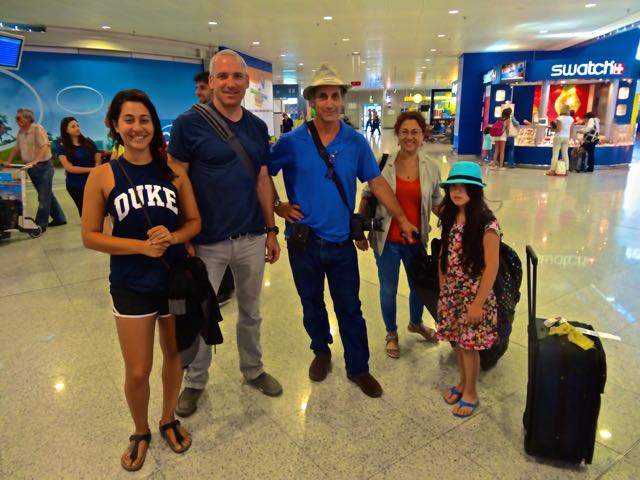 Traveling light in Greece requires no great sacrifice. You don't need lots of clothes, no matter who you are or what your lifestyle is. The heaviest thing you need in the summer will be a wind-breaker and chances are you won't use it. If you need a heavy sweater for early spring or late fall, buy one in Greece. They are cheap and beautiful and they last. You will need a couple bathing suits. 3 T-shirts. 2 pants (one for comfort, one for dinner) a couple pairs of shorts. A couple skirts. Underwear. Towel. Sneakers and personal effects. If you can live without a blow dryer, electric razor etc. leave them behind. Most hotels have hairdryers in the rooms these days and not shaving makes you look cool and relaxed. You can buy flip-flops or leather sandals in Athens and most likely these will be your feet apparel of choice. If you can keep it down to one bag, you will be in and out of the mass of disgruntled baggage seekers before you know it, and you will find traveling to be a very simple affair. Like anything, the more pieces involved, the more complicated the game. If you are coming in the winter buy a capaline thermal undershirt by Patagonia from your local trail shop and bring a parka in case it rains and you will be prepared for the worst Athens weather. If you plan to go into the mountains or be on a boat in the winter you should buy or bring a wool sweater. If you are worried you may be too wimpy even for Athen's mild winters then bring a warm coat but don't get carried away and bring something bulky and more suited to the North Pole. Anyway if you need to buy a coat there are some great shops and in January they have sales all over Athens and also in August. Don't worry about how to dress or not wanting to stand out. People in Greece dress just like we do.
Suitcase, backpack or combination?
Rick Steves has a backpack with wheels too that is a sensible size and can be stowed in the overhead compartments on an airplane. But the most important thing is that you want your luggage to have wheels. Until they invent luggage that defies the laws of gravity and flies or floats, wheels are the best option.
Be sure to visit my website Off-Season Travel in Greece which has winter itineraries and links to other pages of interest. Also speaking of clothing have a look at my Greece Travel T-shirts which will enable you to be recognized by other people who use my website and also get discounts in shops and restaurants.