Learn Greek in 25 Years by Brian Church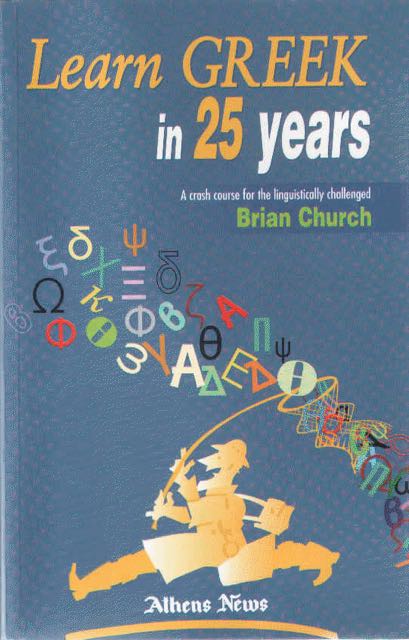 Perfect Greek by 2029. . . or your money back! (This offer doesn't apply to people who bought the book.)
Trying to learn Greek but finding it far too hard? Just arrived and wondering where your suitcase has gone? If you have tried, tried and tried again to learn Greek--and always failed miserably--then this is the book for you. In 25 humorous yet helpful lessons, Brian Church takes you through the minefields of modern Greek and gets blown up by every single one. Learn Greek in 25 Years helps the reader understand even less of this beautiful language. Each lesson ends with a helpful table of WORD I REALLY MUST LEARN THOUGH I KNOW I WON'T.
"Unique. The author openly admits he doesn't speak, write, read or even remotely recognise the language he's trying to teach. And yet, somehow, it works!"--Romol Gandolfo
"If you are feeling like a total loser because of your inability to grasp the modern Greek language then this book is for you. You may not speak Greek any better after reading it but you will be happy knowing you are not the only one having a hard time."--Matt Barrett
About the Author
A columnist with the Athens News, Church was born in England, in 1965, and came to Greece several years ago. The politics graduate plans to leave in 2023 when his now famous lessons, published every Wednesday, have finally finished.
This book is out of print but you can google it and find it somewhere or you can google Brian Church and maybe he can send you one. But you probably won't learn any Greek from it.