You don't have to go all the way to Edipsos or Lesvos to find healing mineral springs. There is one right in Athens, called Limni Vouliagmenis, or Lake Vouliagmeni.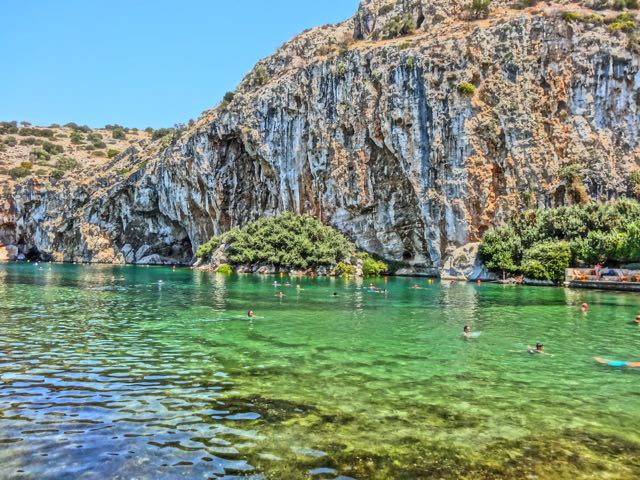 Landing in Athens was always a thrill for me back in the days when the airport used to be right in the city. I really loved flying over the islands as we make that big turn to come in from the south. For about 30 years I had noticed what looks like a volcanic crater filled with the bluest water I have ever seen, which comes into view outside the right window about a minute before the wheels touched ground. It is called Lake Vouliagmeni and it is a mineral spa that is reported to have many healing properties for such ailments as eczema and dermatological diseases, neuralgia, headaches, disfiguring arthritis, chronic gynecological diseases, lumbago, sciatica and other problems. It was also a mysterious place because popular urban mythology said that some American scuba divers from the US Airbase nearby, disappeared while exploring the undersea caves that fed the lake in the late sixties. Then a couple years ago their bodies were discovered, more than 35 years later!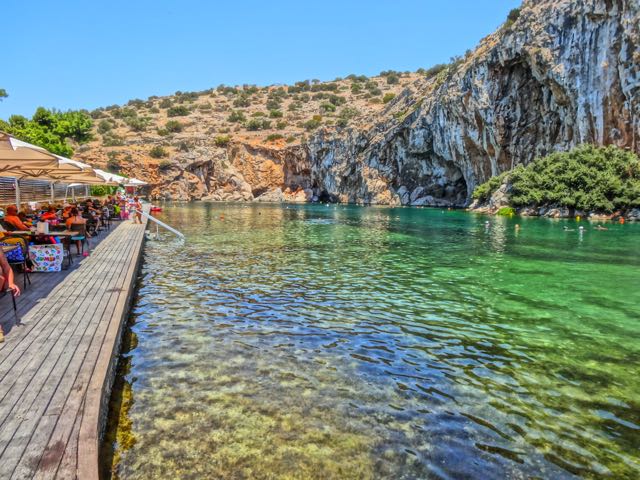 The lake is about 50 centimeters above sea level and so it is constantly overflowing and being replenished by the hot springs beneath it. The composition of the lake is brackish and full of such minerals as potassium, natrium, lithium, ammonium, calcium, ferrum, chloride, iodine and is slightly radioactive (the good kind, I guess). These minerals are known for giving relief to bone and muscle problems as well as those listed above. The lake is recognized as a wonder of nature because of its unique appearance and the surroundings. Scientific research and studies have discovered that millions of years ago, where the lake is now, there was once a large cave with a large number of hot springs. Eventually the high temperature and moisture of these springs caused the roof to collapse. The underwater cave at the edge of the lake has never been fully explored. Among the 14 tunnels which make up the cave there is one which at 800 metres is the longest in the world.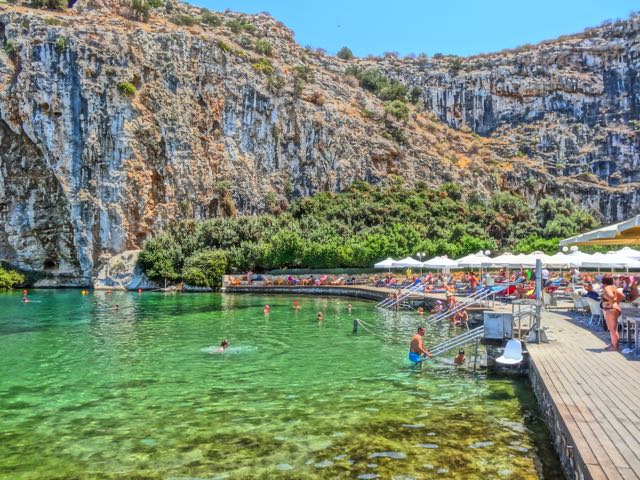 The lake is surrounded by beach chairs and umbrellas and there is a cafe-bar-restaurant that serves excellent food and hosts various events. The lake is fine for swimming and snorkeling for therapy as well as for pleasure and there is equipment for helping those who find it difficult or impossible to get into the water on their own. During the summer Lake Vouliagmeni offers hot-spring baths, hydrotherapy and physiotherapy as well as a number of other services. It is also open in the winter for year round swimming. English is spoken as are other languages. Children are welcome, in fact there is a playground and they host children's parties. A path that begins above the Lake leads to Faskomilia Hill, a natural area spread over 296 acres, which is perfect for hiking or cycling and overlooks the Attica coastline and Lake Voulaigmeni. The Lake organises group tours and walks on the Hill. They also are able to host various events. For more information on parties, events, wine tastings etc you can e-mail info@limnivouliagmenis.gr
More Lake Vouliagmeni Information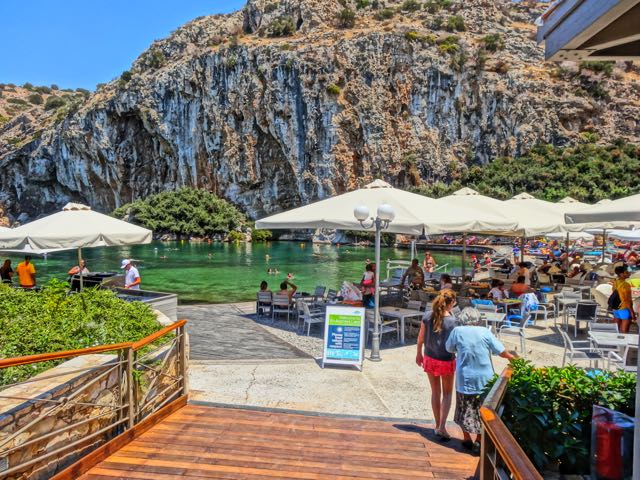 The Lake is across the street from the very popular Vouliagmeni beach, one of the best in the vicinity ofAthens.
There are many hotels in the area including the 5-star luxury resorts Divani Apollon Palace and the Astir Palace Hotel. You can find more hotels of all prices and categories at Athens Coast Hotels. There are also plenty of cafes, bars, tavernas and restaurants nearby.
From Athens the lake is about a half hour drive. If you require assistance contact George the Famous Taxi Driver. (We stopped on the way back from Sounion.)

There are also several buses that stop at the entrance of the lake and you can find these in my Athens Bus Schedules or take the KTEL bus that uses the coast road to Sounion which stops in Syntagma and Fileninon Streets in Athens. You can also take the metro to Ellinikon and catch the 122 Saronida Express there. A regular street taxi should cost about 20 euros from downtown Athens.
The lake is open year round. In the winter season the hours are from 8am to 5pm. In the summer from 6:30am to 8pm. For more information you can call them at (210) 896-2237, 896-2238, 896-2239 or Fax 896-2351 or e-mail info@limnivouliagmenis.gr
See Also: Greece for the Disabled, Christianakis Travel for the Disabled, Spas of Lesvos, Spas of Edipsos, George the Famous Taxi Driver, Beaches of Athens, Information for Wheel Chair Users, Hotels in Athens/Vouliagmeni and my Guide to Coastal Athens
Help Support Matt's Greece Guides
Do you enjoy using my site? Have you found it entertaining as well as useful? If so please show your appreciation by booking hotels through the travel agencies and the links found on my Hotels of Greece site. The small commission I make on the bookings enable me to keep working and in most cases you won't find them any cheaper by searching elsewhere. You can find hotels in Greece by location, price, whether or not it has a swimming pool, and see photos and reviews by using this link to booking.com which also contributes to my website when you book. If you are appreciative of all the free information you get on my websites you can also send a donation through Paypal or Venmo
Join Matt Barrett's Greece Travel Guides Group on Facebook for comments, photos and other fun stuff. If you enjoy this website please share it with your friends on Facebook and other social media.