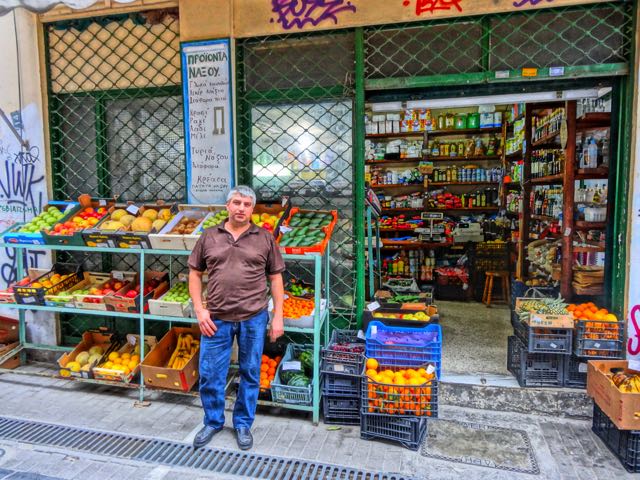 There is some kind of weird connection between Naxos and Psiri. At least three of the best ouzeries are from Naxos. And there is a Naxos Social Club in one of the buildings on Christokopidou street. And there is also the Geniko Emborio Eklekton Proionton Naxos which is known far and wide to the Psiriotes. So what's the deal with the island of Naxos and this little neighborhood in downtown Athens and what exactly is the Geniko Emborio Eklekton Proionton Naxos? I found out one day as Peter and I were wandering around the area. It was the Thursday before Easter and Psiri was alive with people buying lambs, which were lined up in racks (skinned and quite dead), up and down the Miaouli street and into Platia Iroon. Each lamb booth (for lack of a better word) was also selling big wheels of kefalotiri. We stumbled upon the Geniko Emborio Eklekton Proionton Naxos or in English: The General Commerce Exceptional Produce of Naxos, which was what we would probably call a grocery store. But this store specialized in products from Naxos, in particular their incredible cheese, the previously mentioned kefalotiri.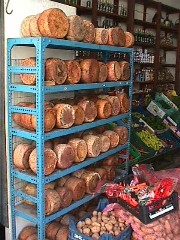 We walked in and were greeted by a big friendly guy named Kosta. I asked him, "What's the deal with all the Naxos places in Psiri?"
"My friend", he said as he began to ring up another customer. "Wait one minute and I will tell you everything !"
In the meantime we wandered around the store and examined the rack of cheese near the front door the bottles of ouzo on the shelves and the assortment of vegetables that looked like they would be at home in a gourmet grocery in the USA. Some of them anyway.
Kostas introduced himself to us. "Yes there are many people from Naxos here. They came to work in construction and are known for their skill in demolition of old buildings and streets. You see outside with the lambs in the street. 10 years ago people came to Psiri to buy the lambs alive. They would bring them from the villages and you would pick the one you wanted to buy. They would take him away and in ten minutes he came back skinned and ready to take home to cook on the souvla. But now this is not permitted. The lambs must be killed first". I noticed that every so often someone would walk by carrying a blue hefty bag over their shoulder. Lamb for the Easter Sunday feast after a month of fasting for lent.
"And what about these?" I asked him, pointing to the shelves full of brown cheese wheels.