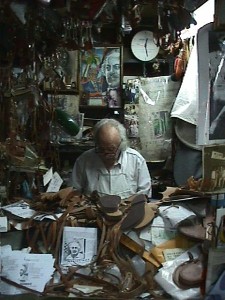 The shop of The Poet has attracted some of the biggest names in art and culture of the last half century including the Beatles, Sophia Loren, Rudolph Nureyev, Margo Fontaine, Jackie Onassis, Anthony Quinn, George Pappard, Ursula Andress, Joseph Cotten and Gary Cooper who have all worn the sandals of the poet.
When asked by Canadian writer Jason Schoonover why such a reknown poet would continue to work a regular job as a sandal maker, he replied " A writer who does nothing but write is like the moon, which gives off some light, but borrowed from the sun. A writer needs first-hand experience, which only working in another field can give him. Otherwise he is rewriting what he has read in other books."
The designs of his sandals, like his poetry which is influenced by Greek mythology and history, is based on the footwear of the ancient Greeks who once walked the streets of the ancient agora, in the very place his tiny shop is now.
He tells of the first of many visits by the Beatles in 1968.
"First of all one of them comes, the intellectual one...Lennon. He told me he had found my works somewhere. Then they all came in, like the seven dwarfs. There were bodyguards too and we had to close the shop because their followers would have wrecked the place. They all bought many pairs. Later my children asked why I did not ask for their autographs. Why did they not ask for mine? I will be around long after the Beatles".
It seems he was right.
From the 1920s the small shop at 89 Pondrossou street has been the workshop of Stavros Melissinos, the Poet-Sandalmaker of Athens. Before Stavros his father had worked here. Because of the Olympics, Melissinos, an Icon of Athens, was evicted by the new landlords who wanted to get more money out of the space. Olympic Greed was a disease that infected the whole city but this was an especially disturbing act. Melissinos is a national treasure. But Monastiraki's loss is the gain of Makrianni. To find Stavros shop, now run by his equally talented son Pandelis, a poet-playwright-musician-painter-philosopher take the metro (or walk) to the Acropolis Station which is next to the Acropolis Museum at the intersection of Makrianni Street and Diakou Street. Walk down Diakou and you will see it on your left at the intersection with Tzireon. If you have Google maps handy it is at 16 Tzireon.