Artist Sandal-maker Puts Art on Your Feet
Meet the Son of the Poet, Pandelis Melissinos: Playwright, Artist, Designer, Sandalmaker... and one of the Coolest Guys in Athens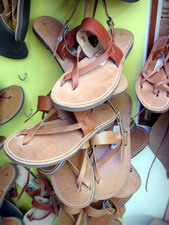 In a colourful Athenian shop, tucked away at the intersection of Daikou and Tzireon, just a block down from the Acropolis Metro Station, a Greek Renaissance man talks to a Canadian journalist about his on going research on Oedipus while crafting a unique pair of leather sandals for a full of beans Texan lady. Meet Pantelis Melissinos, son of Stavros Melissinos –the celebrated Poet Sandal-Maker of Athens-. In 2006 the German ladies magazine "PETRA" named Pantelis as one of the best traditional shoemakers in Europe and so did the Italian "PANORAMA" and the French "GLAMOUR" magazines. Pantelis, after his father's retirement in 2004, took it upon himself to keep his family's sandal making tradition alive. It all started in 1920 when his grandfather Georgios started his shoe business in the Monastiraki area, in Athens; the rest is history. The Melissinos sandals have long been sought by the rich and famous.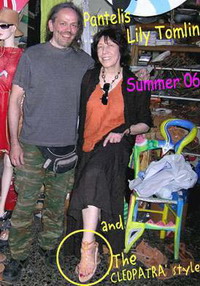 Celebrities like: Jackie Onassis, Sophia Loren, Anthony Quinn, Garry Cooper, Rudolf Nureyev, the Beatles, Barbra Streisand have all worn the celebrated Melissinos footwear. And they keep coming; the Queen of Spain paid a visit in 2005 and Lily Tomlin, in the summer of 2006 -not to mentionthe 2004 Olympic athletes, coaches and notables. Pantelis studied Illustration and Painting at Parsons School of Design in New York, where he also wrote plays to entertain his colleagues and professors. An artist, playwright, poet and composer –a true renaissance man- he has many successful one man shows to his credit and has made his own name in the local art scene. His latest play Bacchus played for two consecutive years and critics consider it one of the finest Modern Greek comedies. The walls of his shop are hung with hand made leather sandals, bags, books of his father's poetry and copies of his own plays and art works. What's more, framed letters from famous people like the Prince of Wales and Glenda Jackson together with letters from universities and libraries congratulate him on his latest play Bacchus. The walls are also covered with framed newspaper clippings from around the world that exalt the famous Melissinos sandals. Many merchants, in the area, may try to mislead you in order to sell you their own (Chinese, Indian or whatever) sandals reassuring you that they are the Melissinos originals –it happened to friends of ours- but the original ones are found only at Pandelis' store at 16 Tzireon.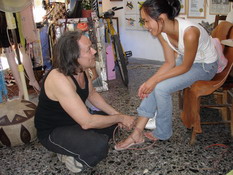 Pantelis is always researching another play or an idea for a painting or a new sandal model but how he finds time while plying the sandal trade is anyone's guess. There are about 28 different sandal styles to choose from and if you don't find a pair in your size or style Pantelis will make it on the spot. And oh yes, there are sandals named after the celebrities who acquired them, so you could be wearing a Jeremy Irons or a "Jackie O" pair. The great thing is you don't have to be a celebrity to afford his sandals. I paid 23 euros for an adult male size and 21 for my wife's pair. If you give him some time he can even create your own highly personalized style and, maybe, name it after you. Some of the sandals are hand painted and they look like true works of art. You almost feel they should be framed and put up on the wall. My friends and I watched him create a beaded variation of a "Jackie O" pair for our friend Clair (a fashion victim). The sandals are elegant and simple and some of them are dutifully named after ancient Greek philosophers and notables. To wrap it up, Pantelis' talent and design background enables him to create chic and artistic styles that can be either dressy or youthful and casual. Whether it's writing plays, painting canvases or making sandals, Pantelis knows how to keep his Greek and family tradition alive.
To find Pandelis and his shop take the metro (or walk) to the Acropolis Station which is next to the Acropolis Museum at the intersection of Makrianni Street and Diakou Street. Walk down Diakou and you will see it on your left at the intersection with Tzireon. If you have Google maps handy it is at 16 Tzireon.
For more information e-mail: info@melissinos-art.com
or phone him at these numbers:
PHONE /From USA dial: 01130 2103219247
MOBILE PHONE /from USA dial: 01130 6944 597307
PHONE /from Europe dial: 0030 2103219247
MOBILE PHONE/from Europe dial: 0030 6944 597307
Within Greece just dial the last 10 digits
Help Support Matt's Greece Guides
Do you enjoy using my site? Have you found it entertaining as well as useful? If so please show your appreciation by booking hotels through the travel agencies and the links found on my Hotels of Greece site. The small commission I make on the bookings enable me to keep working and in most cases you won't find them any cheaper by searching elsewhere. You can find hotels in Greece by location, price, whether or not it has a swimming pool, and see photos and reviews by using this link to booking.com which also contributes to my website when you book. If you are appreciative of all the free information you get on my websites you can also send a donation through Paypal or Venmo
Join Matt Barrett's Greece Travel Guides Group on Facebook for comments, photos and other fun stuff. If you enjoy this website please share it with your friends on Facebook and other social media.