A short drive from Athens is the town of Megara, famous as the chicken capital of Greece and the fact that it was at one time a powerful city-state of Ancient Greece, and the port town of Pahi which is about as close as you can get to feeling like you are on an island and still be on the mainland.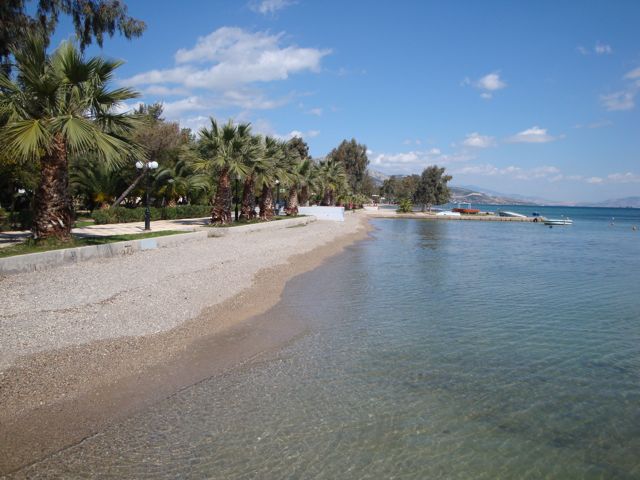 Monday was spectacularly beautiful (actually so was Tuesday and it looks like today is too damn it) and so Andrea and I decided to take the car out of the city. Its good to use your car at least once a month to keep it in running shape and to justify the fact that you are paying 170 euros a month for a parking space. We were not sure where to go but decided that the real purpose of our drive was to find a way out of the city from Kypseli that was not too stressful and time consuming. Andrea had done a little recon with her father and gave me some pretty good directions that brought us down to the Larissa Railway Station and out Athinon Avenue and within half an hour we were passing Elefsina and the bay of Salamis. We got off the highway at a beach town called Nea Peramos which had a waterfront and some beaches, cafes and bars, mostly closed still. Considering its proximity to the refineries and shipyards of Elefsina it was an attractive little place, sort of like some of the coastal towns of southwestern Evia, at least the beach areas were. The town itself was made up of small apartment buildings and shops as well as a couple enormous buildings, one 11-stories high which must have put it in the top twenty in Attika. We parked the car and walked around a little but decided a town called Pahi looked more promising. We had to go inland towards the Chicken-farming capital of Greece, the town of Megara and then follow the signs.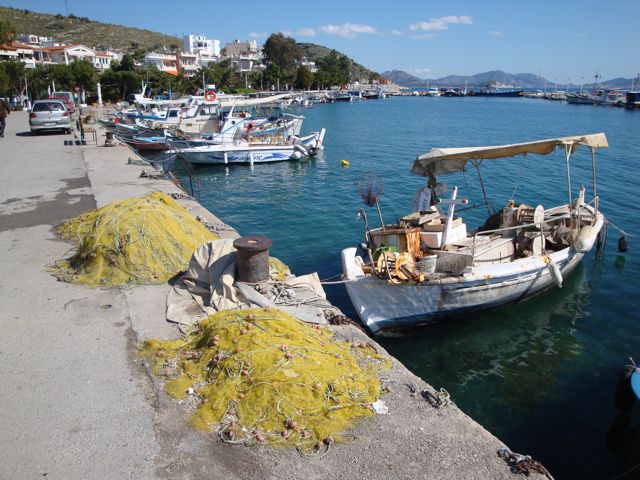 Pahi was much more attractive than I expected and even had a bicycle lane on the coastal road. We drove past some kind of military sea rescue base with noisy helicopters hovering above the landing area, ready to go out and rescue some fisherman or a boatload of Afgani refugees who had somehow made it this far. We entered the village and parked on a concrete dock near the Paxaki Fish Taverna which was full of people and explored the town. Pahi is very much like being on an island. They have landscaped the harbor to create a park where a row of restaurants have their tables with a view of the sea. The harbor is full of small fishing boats and one or two larger ones with Egyptians fixing the nets. In Greece many of the fishermen on the bigger boats come from Egypt since there is very little work for them at home. If you want to know which restaurant to eat in you ask one of the Egyptians because not only do they know who bought the freshest fish, but they are not related to anyone who owns a restaurant so their advice is less tainted by nepotism. The young fisherman in the North Carolina Tarheels hat sent us back to Paxaki, which was the only restaurant that had any customers though several were open. It was noisy, full of people from Megara who had come their for lunch, most drinking ouzo. Besides the old couple next to us we were the only ones not drinking. We ordered some fried shrimp, a feta, a lachano-carotto salad (lettuce-carrot) and a grilled fish called kokala which is supposedly related to safrida but looks more like a gopa and despite its name, kokala means bones, did not have too many. The meal cost us 19 euros. The restaurant is decorated with giant photos of Pahi starting from 1925 up to a few years ago. All the tables were decorated with old maps of Greece, the kind that they used to have in school hanging over the blackboard that the teacher would roll down. They covered these with clear plastic tablecloths so you could have fun looking at the map while you waited for your fish. Pahi is famous for its kakavia, a hearty fish and vegetable soup, that people come all the way from Athens for.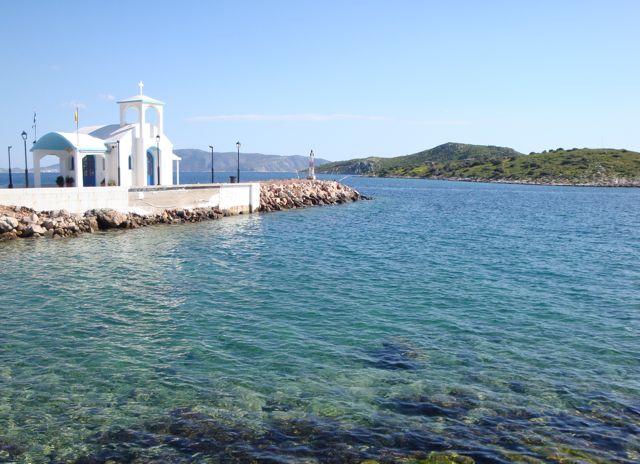 I met an old man on the pier. I forgot his name of course even though I repeated it about fifty times so I wouldn't forget it. He saw me taking pictures and asked me if I were German. When you go to these off-the-beaten-path places they always assume you are German. When I told him I was American he spoke to me in battered English which was hard to understand at first and even harder when he started mixing it with Greek but he told me he had lived in Ohio for many years, working on ships in the Great Lakes. He had been on ships in the USA for over thirty years and came from Inousses, the small island off the coast of Chios, next to Turkey, where many of the Greek ship-owners are from and have their summer houses. He was now 82 and living in Megara. I wanted to take his photo but he would not let me. "Look at this..." he showed me a photo of a handsome young man he kept in his wallet. "This is me when I lived in America. Now I am a wrinkled, toothless old man. Why would anyone want to see a picture of that?"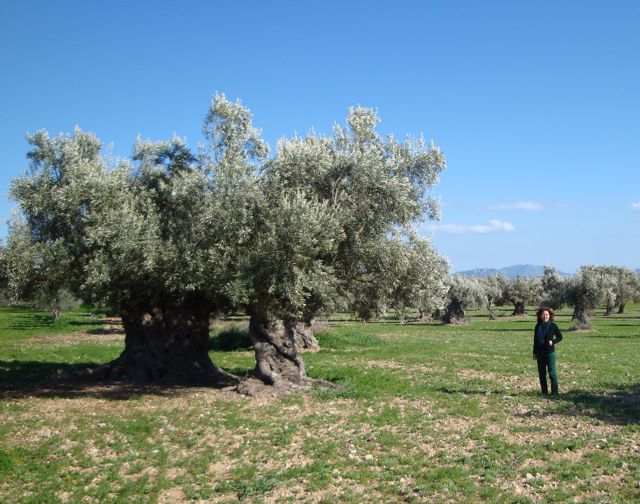 After lunch we drove into Megara and somehow out the back way without really finding the center of town where we thought we would have a coffee. Instead we followed the road into the valley between Mount Pateras and Mount Gerania through hills and ravines and miles and miles of olive groves, some ancient with gnarled trees as wide as my car was long. There were fields of arugula, some domesticated and some wild from the fields that had gone to seed. When we walked and stepped on the wild arugula the leaves would release their scent and it was like walking in a giant arugula salad. There were also fields of wild horta, beets, and yellow fields of flowering clover. We stopped in a tiny church of Agia Paraskevis, very old and probably on the site of some ancient temple, with faded frescoes behind the alter. It was in a shaded courtyard, the perfect place for a panagiri or a picnic. Actually the whole area was the perfect place to lay out a blanket and eat some olives, feta and bread and drink some wine and spend a lazy sunny afternoon far from people.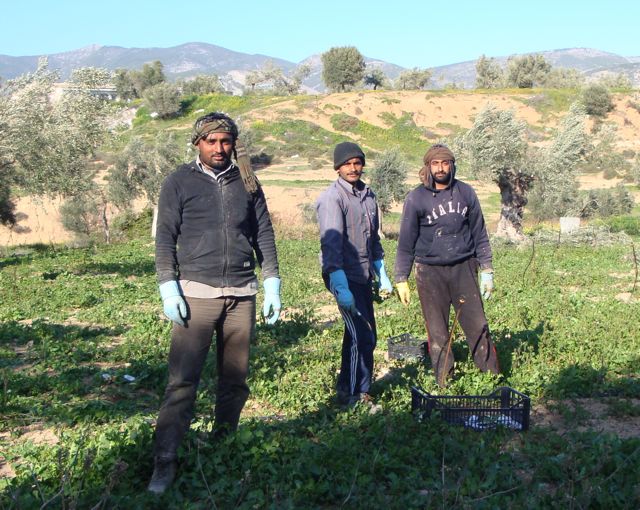 The only people we saw were three Pakastanis, so Afgani looking they must have been Pashtoons, gathering arugula in bunches for the farmer they worked for. We stopped to talk to them and they asked if we wanted some rokka (arugula) and were ready to give us enough for a month, but we asked them for just enough for a salad. They let me take their photo. If I go back there I will make some copies for them. I really feel for the Pakistanis. I meet so many of them and when I say I am American its like they have never seen one up close before. But the only time you see Pakistani's when you live in America its on TV and they are yelling and burning an American flag. Then you meet these gentle soft-spoken refugees who have gone through hell to get to Greece where it is slightly less fucked up for them than it was at home in Pakistan. Some do well. Those that go to the farming villages find work, because as Andrea puts it "The Greeks don't want to do hard work anymore." Those in the cities have a more difficult time but even washing windshields of captive motorists at traffic lights earns them enough money to survive, and many move up the ladder, opening shops and small businesses and eventually owning apartments. Still many Greeks are racists. Yesterday Andrea had to get a police stamp and the official behind the desk called her up even though she was standing behind a Pakistani who was next in line. He then allowed another Greek to come up before finally dealing with the Pakistani.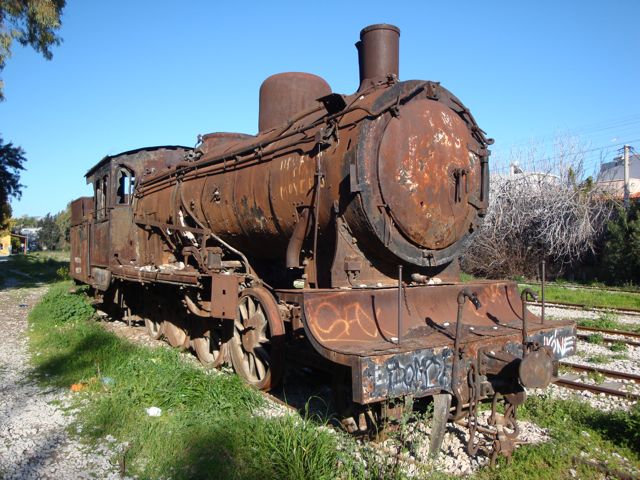 We went back and passed through Megara several times without finding the town center though I did find an old railway yard with an old rusted out locomotive that must have been a hundred years old. We found ourselves crossing over the tracks of the Peloponessos railway and we never saw a train. In fact the tracks looked like they had not seen any trains in awhile either. Now that the relatively high-speed Proasteos (Suburban) Railway goes all the way to Corinth there is no point in using the narrow gauge Peloponessos Railway in Attika. Its sort of a shame. They really could have developed it into a tourist attraction, maybe offering an all day trip around the Peloponessos and back, stopping in a few places for lunch and coffee along the way. Maybe some visionary in EOT will realize the possibilities in the not too distant future, maybe even before they tear up the tracks like they did with the trains to Lavrion before realizing that they needed a train to Lavrion again.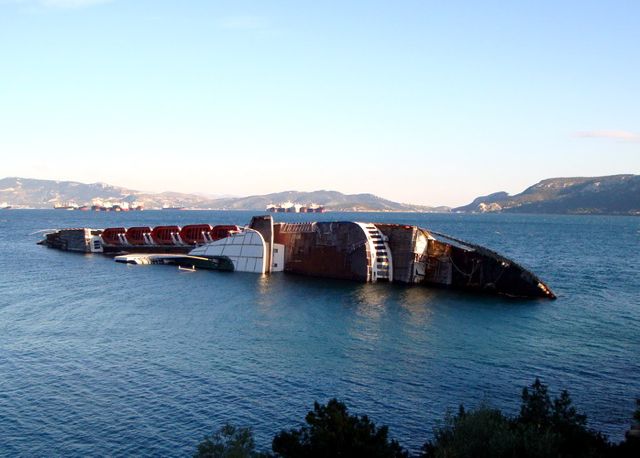 On the way back from Megara there is a curve in the road and down below is a passenger ship laying on its side. There is a road to a small church but there is a fence and a gate and a sign that says No Entrance-No Trespassing, but at times like these being a foreigner who does not read Greek (supposedly) has its benefits. So I walked down the hill to as close as I could get to the ship and took some photos. A few kilometers later, or maybe it was before, I forget, there is an area that has two or three fish tavernas near the town of Loutropirgos in an area called Nerida or something like that. Along the side of the road are these stands which sell shellfish. They have mussels, a couple varieties of clams, a kind of a scallop and some variation of an oyster which on the outside looks like a cross between a scallop and oyster shell and inside looks like a cross between an oyster and a clam. We bought a couple kilos, sort of reluctant to buy anything that comes from the sea so close to Elefsina but in such denial that we were willing to risk our lives to eat linguini with clams tonight. We did. They were delicious and of the batch only one was bad, though for all I know they could all have been toxic. But what does not kill us only makes us stronger (or raises our own toxicity level).
Megara Practical Information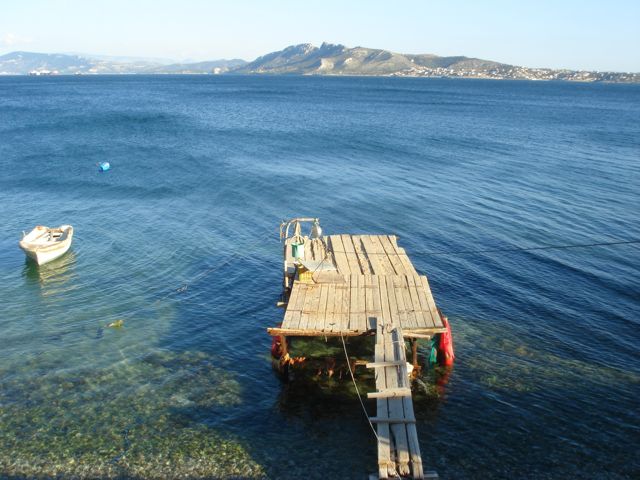 Megara's location on the Isthmus of Corinth made it an important ally in ancient times and they fought alongside of the Athenians and the Spartans against the Persians in the Battle of Salamis and the Battle of Platea. You can get there by train, bus, or car pretty easily. In fact the bus leaves from the bottom of Ermou street just down from the Thission Train Station near Ag Assomaton Square. There is an Archaeological Museum full of prehistoric and classical antiquities from ancient Megara and at the Skironio Museum Polychronopoulos you can see the works of renowned Greek sculptor Kostas Polychronopoulos. Most of the antiquities lay buried beneath the modern town and are unlikely to be excavated anytime soon. But people don't come here for the antiquities. They come here to eat fish and to swim. There are a few hotels in the area, including the Hotel Cokkinis and the Sun Hotel, both on the beach at Kineta which is as close to a tourist resort as you will find between Megara and Athens. Most people who stay there are coming back from the Peloponessos and decide on the spot that they just can't deal with Athens at the moment and most are surprised at how nice the area is and how clean the sea is. If you are looking for a cheap hotel on the sea close to Athens then these are a good choice. When you return be sure to take the old road and stop and buy some shellfish, if you have somewhere besides a hotel room to eat them in.