Churches in Athens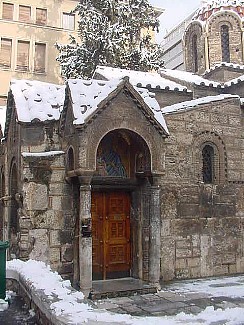 CHURCH OF LATER DAY SAINTS:16 Elefterotrias Frisilis, Halandri. Open throughout the week. Sun 11:00-12:00 Special musical presentations. Tel. 210 6251976.
ANGLICAN CHURCH ST. PAUL: Phileninon st., Syntagma. Tel. 210 3234790.
FIRST GREEK EVANGELICAL CHURCH: 5 Amalias Ave. Most Reverand Panayiotis Kantartzis(Pastor). Open every Sun. from 11:oo am. to 7:oo pm.
ARMENIAN CHURCH (Catholic) OF ST. GREGORY: 2 Rene Pio, Neos Kosmos. Reverend Nisoin Karaheyan. Open every day from 9 am. to 1 pm.
ARMENIAN METROPOLIS OF ST. GREGORY THE ILLUMINATOR:10 Kriezi st. Psyrri. Reverand Sahag Ayvazian. Open Mon. to Fri. 9:30 am. to 2 pm.
BIBLE BAPTIST CHURCH: 14 Kourtesi, Halandri. Tel. 210 6012054
CALVARY BAPTIST CHURCH: MESOLOGIOU 8 DAFNI, ATHENS GREECE after Agious Iouanis Orthodox Church & at the back of Marinopulous Supermarket Vouliagmenis Avenue. Telephone number: 210-97-00-374/ cellphone#:693-0413264 & 693-0442627. Ttimes of services:SUNDAY Tagalog Service 11:30-12:30; English Service 12:30-1:30 Wednesday 7:00-8:00 Prayer Meeting. e-mail: jim_vren_j@yahoo.com
ROMAN CHURCH OF ST. PAUL THE BAPTIST: 11 Panepistimiou, Psychico. French Mass on Sundays at 6 pm., Spanish Mass on the first Sun. of every month, at 6 pm.
ROMAN CATHOLIC CHURCH OF St. PAUL: 4 Kokkinaki, Kifissia. Father Paul Buhagiar. English Mass on Saturdays at 7 pm. and Sundays at 8:30 & 11 am. Come early if you want a seat.
ROMAN CATHOLIC CHURCH OF CHRIST THE KING: 51 Timotheou, Pagrati. Father Ioannis. Services every Sun. 8 am. to 10:30 am. From the second sunday of June to the second Sunday of Sept. at 9:30 am. Also Mass every Tue. at 7 pm.
ROMAN CATHOLIC CATHEDRAL OF St. DIONYSUS: 22 Panepistimiou and 9 Omonia. Father Apostol Varthalitis. Daily Mass from 7 am. to 8 am. ; Sunday from 7 am. to 11 am. (one service per hour) and at 7 pm.
SYNAGOGUE BETH SHALOM: 5 Melidoni, Athens. Tel. 210 3252773
INTERNATIONAL CHRISTIAN FELLOWSHIP OF ATHENS: Aiolou 68-70, 7th floor. 9:15 on Sunday morning. info@icfofathens.com. Visit their website at www.icfofathens.com

Glyfada Christian Center: English/Greek services on Sunday mornings at 10:30, with children's services provided. Saki Karagiorga 117, Ano Glyfada 16561. www.gccenter.gr
Agios Andreas Church Services in English
Greece's Orthodox Church will begin holding regular services in a modern Western language to cater to English-speaking churchgoers. The Orthodox liturgy hails directly from the Byzantine church tradition and is held in third-century Greek. The hymns will be still in Greek, otherwise the music would be destroyed. But all plain texts and the sermon will be in English. The service will be from 7.30-10.30 a.m. in the Chapel of Aghios Andreas in Plaka (19 Aghias Filotheis St). "This is the first time the Greek Orthodox Church has organized an English-language service on a regular basis," said Father John Raffan, an Orthodox priest from Scotland who will conduct the weekly service.
St. Andrews International Church is an evangelical, inter-denominational, multi-national church serving the English-speaking, foreign community in the greater Athens area. Over twenty nationalities are represented within their two congregations. Worship services on Sunday are at9:00 AM in Kifissia and 11:30 AM in Athens at Sina 66, Kolonaki, Athens 106 72 Athens.(11:45am). More information, along with maps to services, can be found on their web page: www.standrewsgreece.com
Omonia Church of Christ:
We would like to invite you to worship with us. The English speaking service meets at 6:00 PM. Our address is PIREOS 28, ATHENS. The Omonia subway station is very close to the Church building. For further information, call Alexandros Melirrytos 011-30-6944-836-579 or 011-30-6944-014-385. Email:
amelirry@aol.com
THE GLYFADA CHURCH OF CHRIST: We are happy to know that you plan to travel to Greece we would like to invite you to worship with us in ENGLISH at The Glyfada Church of Christ. ALL NATIONALITIES ARE WELCOME. We meet on Sunday evenings at 6:00 PM and our address is: CHALDEIAS 59, ELLINIKON, Athens 16777. TEL 011 30 6944344167 Email: dinoroussos@gmail.com
Life of Christ Church (Penticostal/Charismatic Christian Church)
English and Greek spoken! (translation available)
Lenorman 82, 3rd floor (Near the Railway Station)
Tel.0030 6936970493
website:www.faithchurchgreece.wordpress.com
Pastors Lymberis and Kathy Siologa
Services: Sunday morning 10:30
Sunday evening 19:00
Wednesday evening 19:00

The Athens Mosque is still under construction according to the latest sources from the Ministry of Culture. The long delayed Islamic Center should be completed within the next few years; however I have found that there are alternative areas of worship and meditation, albeit they are rather makeship. Those of the Islamic faith may try the CULTURAL OF ISLAMIC DEMOCRACY OF IRAN in Philothei. Tel. 210 6818154. The Caravel Hotel has allocated an area for this purpose, however days and hours are subject to change at any given time without prior announcements, so it would be best to contact the hotel at 210 7253770.
AA (Alcoholics Annon)
156 Ippokratous St. Athens 210-645-2972. Daily meetings in English 6:45 Mon. to Fri. weekend at noon.
AA Voula group Vasiliou Pavlou, Voula; 210-961-0470 MEETINGS Mon. Wed. Fri.6:45 PM.
Compiled by Dorian Kokas