Lately people have been asking me what gifts they should bring back for their friends and relatives to show that they have been somewhere, and even for themselves. Athens is a shopper's paradise and looking for the perfect present can be as much fun as going to the Acropolis, and some people would say even more. But if you are the type who needs help making decisions then print out this page and take it with you. When it is time to shop you will be totally prepared and actually I imagine it would be fun going around Athens looking for these things as if you are on a scavanger hunt. For gifts to bring for friends, relatives or your favorite travel agent or taxi driver in Greece see below.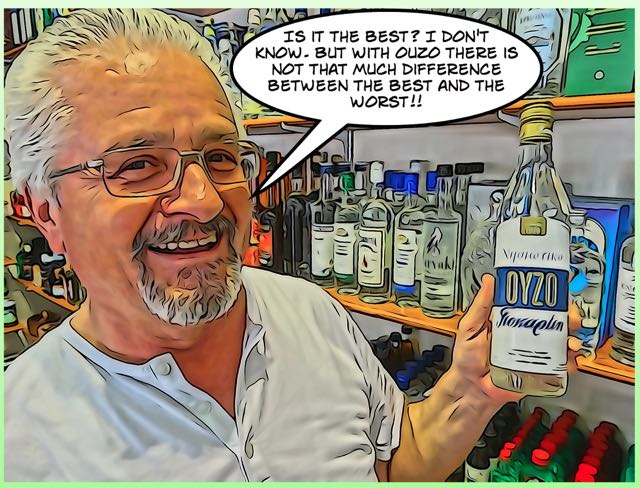 Angelos the Ouzo King of the Plaka has more varieties of ouzo than probably any shop in Athens. If you want to bring some ouzo home and you don't want to be limited by the meager selection at the airport then visit his shop at 120 Adrianou Street (or somewhere near there) just up the street from Byzantino Jewelry. He also sells all sorts of traditional items like herbs, olive oil, vingear, and a variety of Greek wines. Also he is quite proud of the different raki, tsikoudia, souma and other moonshine-type regional drinks which are really ouzo without the anise. So if you want to bring back something like ouzo for someone and you know they don't like licorice you can sample whatever Angelo has and hopefully not get so drunk that you can't decide and have to come back the next day andstart over again. ask Angelo about his barrel aged tsipuro from Ipirus. It is expensive but not as much as good Scotch and to me this tastes even better. See Angelos the Ouzo King's website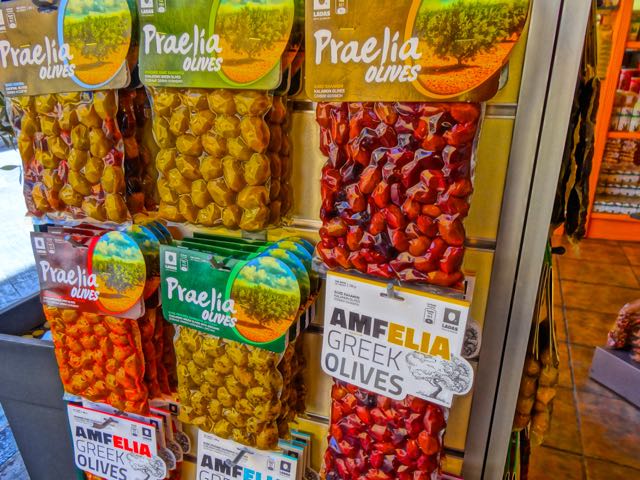 Olive oil, olives and products made from olive oil like soaps, shampoos, body lotions and more have become the most popular item for tourists since worry-beads and there are a number of shops selling them in the Plaka and Monastiraki. Evonon at 124 Adrianou call themselves a traditional Greek Products shop. They sell all sorts of food, herbs and spices but their main emphasis is on Greek olives and extra virgin Greek olive oil which they sell in all shapes and sizes. They also have a large selection of olive oil soaps, lotions, shampoos, body butters and face creams. The actual olives that they sell are packaged for traveling and for those who love loukoumia they have a large selection of the popular candy from Smyrna, now sold mostly on the island of Syros. They also carry a number of other traditional sweets as well as a nice selection of wines including some of your favorite Santorini Asyrtikos in case you end up drinking the bottles you bought in Santorini.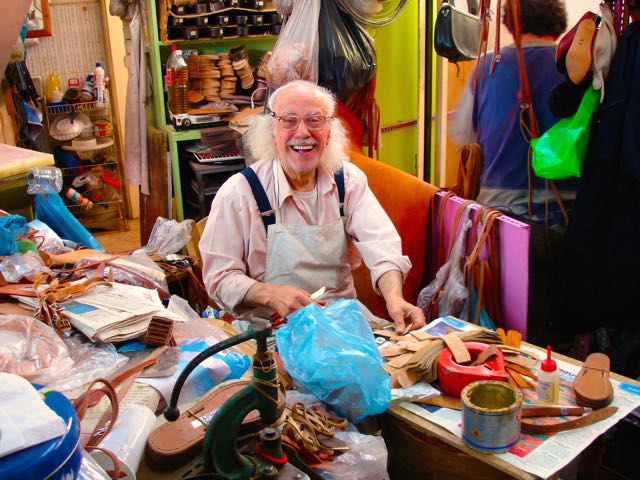 Sandals from the Poet! Stavros Melissinos is not just a great sandal maker but he is also a wonderful poet. I have his Rubiyat which is a poem in praise of wine and spirit. I have been buying my sandals from him (and only from him) since 1969. Even the Beatles and Jackie O bought his sandals. To find Stavros shop, now run by his equally talented son Pandelis, a poet-playwright-musician-painter-philosopher take the metro (or walk) to the Acropolis Station which is next to the Acropolis Museum at the intersection of Makrianni Street and Diakou Street. Walk down Diakou and you will see it on your left at the intersection with Tzireon. If you have Google maps handy it is at 16 Tzireon. You never know who you will meet in his shop. Nobody spends more time looking at feet than Pandelis and you will be amazed at the care he puts in to make sure the customer will be happy with his sandals. Visit the Poet-Sandal-maker of Athens
Greek T-Shirts: You can't leave Greece without an Athens 2004 T-shirt even though that was many years ago. If you are lucky you may even find an Athens 96 Olympic T-shirt which is now a collector's item since the Olympics ended up going to Atlanta that year. You can get many other unique styles of Greek t-shirts, hats and other tourist stuff at George Dolkas Shop at 107 Adrianou street on the corner where Hill and Kekropos and Hatzimichali streets all meet. See their website. Just down the street is Remember, the first punk-fashion store in Greece and an institution. Run by designer Dimitris Tsounatos this boutique has been visited by your favorite rock stars, actors, fashion designers and models and there is a photo album full of them to prove it. If you are looking for unique designs in clothes, jewelry and art, or if you just want to see something different from the typical tourist shops then stop in at #79 Adrianou in the Plaka.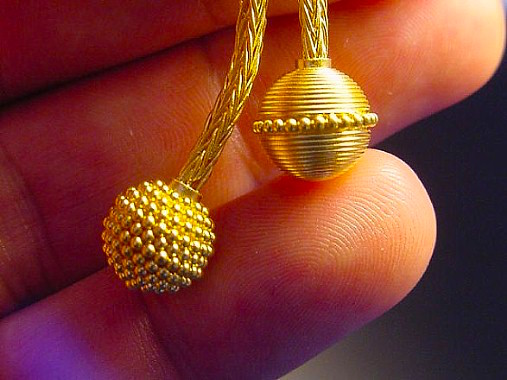 Hand Made Gold Jewelry: Gold is always a good thing to buy in troubled times, right up there with alcohol, and Greece is a good place to buy gold. Not because it is any cheaper since gold is the same price everywhere but because the labor is cheaper. Unlike most jewelry stores which buy from factories Byzantino is owned by the artists themselves so the work is original and the workmanship is better than the factory made stuff, most of which is not even made in Greece. You can see some of their work by going to the Byzantino website. Or you can visit their shop at 120 Adrianou street in the Plaka, next to the ice-cream shop. They have a second shop on Pondrossou Street in Monastiraki. Go and ask Kosta for a free massage with your jewelry. For more modern style Greek jewelry check out Olympico, right next door for jewelry that is totally different but more modern and just as beautiful. And if you want to see jewelry made by a former child protégé and current master craftsman go visit Stefanos Dimos at Dimos Jewelry. There are directions to his original store and contact info on his website. But you can also find him at his new easy to find location at 87 Adrianou Street in the Plaka. It is right across from the Historical Neo-Classic Elementary School.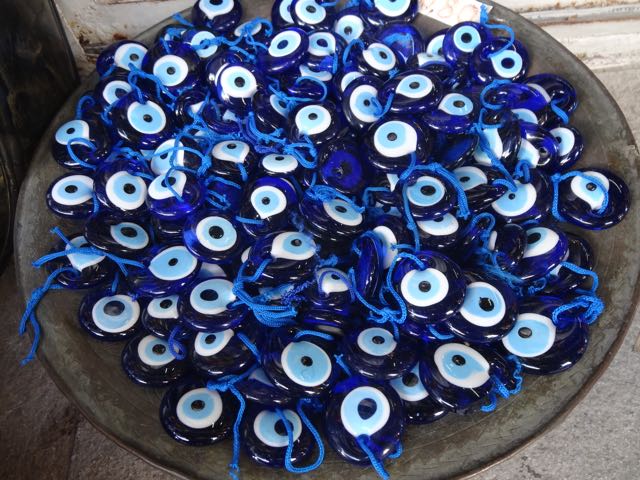 Matia (Evil Eye): You can never have too many of these. They ward off the evil-eye. If you have been having bad luck lately that may be the problem and one of these may help. You can find many different styles of these at just about any tourist shop in Athens in all shapes and sizes and if they didn't work you would not see them in every Greek household. At the intersection of Pondrossou and Aeolou Street in Monastiraki is a small shop called Tzamala which is one of the last of the original Greek tourist shops where you can find all the things that tourists used to buy fifty years ago before the commercialism that made every Greek tourist shop the same set in. It is owned by two very nice women. For more about the Evil Eye read the Teresa Mitsopoulou article The Color Blue for Repelling Evil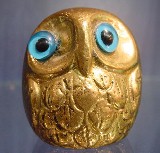 I bought one of these little creatures and gave it to my daughter and she loves it. Who wouldn't? It's an owl, the symbol of the Goddess Athena. This is just one of many styles and in fact this is the one I bought. Now he's a star! You can find his brothers and sisters at some of the tourist shops in Plaka on Adrianou Street and in Monastiraki but you may have to really search for them. Check out the eyes. Recognize them? Exactly. This little owl also wards off the evil eye. Actually this one's eye was put on a little sloppily but I think it adds charactor.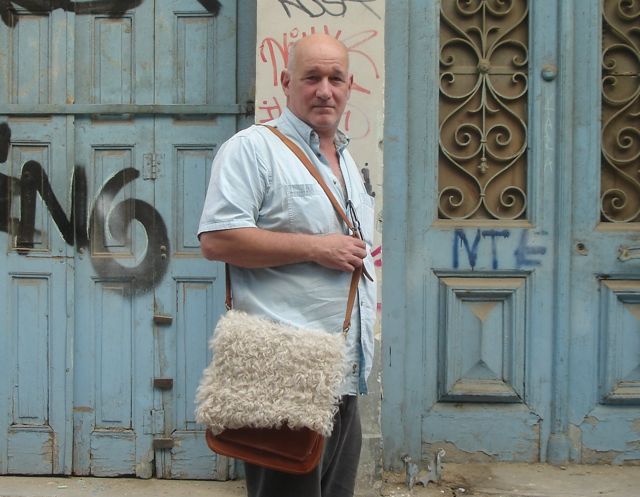 We all know the ancient Greeks were smart but did we know they were this smart? A unique gift that will have everyone at the office green with envy is this Ancient Greek Computer Bag, the creation of Pandelis Melissinos, the son of the Poet-Sandalmaker. Made of tough leather and sheep's wool, not only will it protect your computer like no other but when it rains it will actually smell like a sheep. What could be better? Unless of course you run into a sheepdog that feels compelled to herd you back with the rest of the flock. But this can be easily remedied with the non-sheep smelling ancient Greek computer bag which is made from a synthetic sheep also developed by the ancient Greeks and kept secret until now. These are made to order so if you go to Melissinos when you arrive in Athens you can pick it up when you leave. The Poet-Sandalmaker moved his sandal shop from the Monastiraki area where it had been for 100 years, to the corner of Daikou and Tzireon Streets just two blocks down from the Acropolis Metro Station and museum.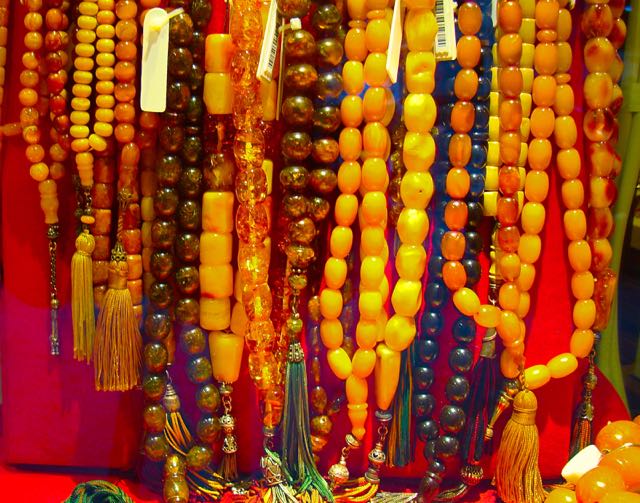 Of course you have to come back with a set of worry beads, or what the Greeks call komboloi. A set of komboloi used to be the essential gift for someone special who did not come to Greece with you, particularly the one who is terrified of flying. These are real stress reducers which people have been using long before the invention of Prozac and other anti-anxiety medications. But any old worry beads won't do. You don't want something made of plastic from China. You want the real thing. Glass worry beads that feel good in your hand and won't fall apart during your next emotional crisis. Go to The Komboloi Museum, a colorful store on Ag Anargiron street just a block west of Iroon Square where you can buy real worry beads like the old Greek men use. It is a couple buildings down from the El Hababero Cigar Shop. If you turn left there is an amazing soap shop at 19 Takis street called Babouki with some of the best smelling natural soaps and beauty products in a very colorful setting. Also see the two shops that sell copper pots and pans and all sorts of interesting things where Takis Street becomes Navarchou Apostoli and you can buy a still for making your own ouzo and raki at home.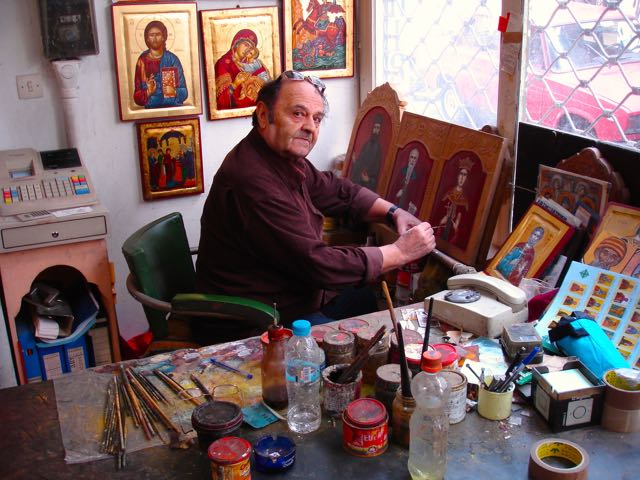 Hand painted Byzantine Icons: No, not the fakey ones they sell everywhere in Monastiraki and the Plaka but actual hand-painted religious art, painted by actual religious artists like what is on display at Zazanis at 13 Agias Theklas Street in Psiri/Monastiraki just down the street from Melissinos, the Poet close to the intersection of Kariaskaki Street. Oh wait... He retired? OK, never mind. Instead check out the Athens Gallery owned by the famous sculpture artist known as Apostol. Located at 14 Pandrossou Street the Athens Gallery contains examples of all major Greek arts, crafts and ceramics and maybe he has some icons too.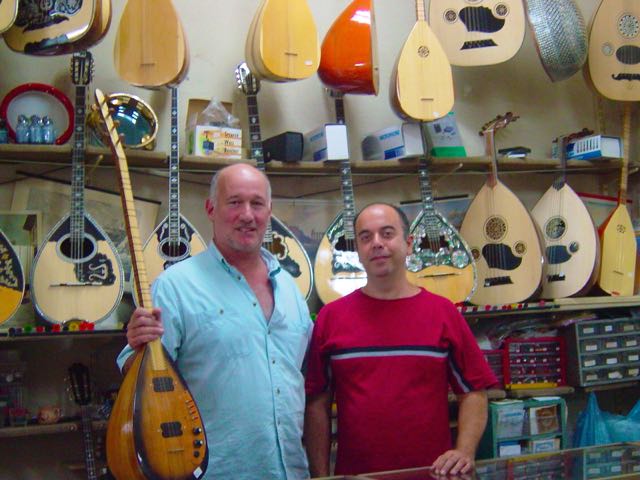 Buy a bouzouki, an aoud or a baglama to take home and learn to play. These are handmade and can be bought at Mousika Organa at Hfaistos 36 in Monastiraki just beyond the train station on your right. If you are traveling and you don't want to bring your 40 year old Martin Guitar or your 1956 Les Paul with you then come here and buy a cheap copy that looks like the real thing that you can carry with you to the islands to serenade the girls with and leave it with the last one you sleep with. He has all sorts of musical instruments, strings, Greek music songbooks, and even amplifiers if you want to come to Greece and start a band. You can call 210 3212433 or e-mail Yannis Samoyelian at samoueli@hotmail.com. Another good place to buy guitars, bouzoukia, baglama, Cretan lyras and all kinds of acoustic and electronic stuff is Diatoniko Music at 143 Third of September Street about 3 blocks past Victoria Square. The owner is George Zikos, a terrific guitarist who performs around Athens with his band Zero-Zero.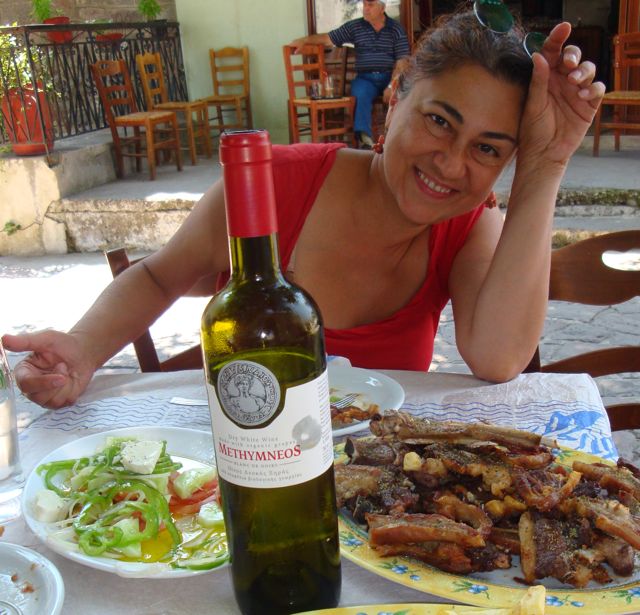 Organic Wine from Lesvos and Limnos: One of the best wines I have ever had, especially the white, this comes from the area of Lesvos that was once a giant volcano, from ancient grapes grown in some of the most mineral rich soil in the world. I drank 3 bottles one day and the next day I felt fine. Really! It is called Methymnaos and you can buy it at the Lesvos Shop (not the official name but everything comes from Lesvos and Limnos. The real name is Pantopoulio Peri Lesvou) which is on Athinas Street right next to the Hotel Attalos. They also carry wines from Limnos, and lots of varieties of ouzo that you won't find anywhere (except maybe at Angelo the Ouzo King's shop). Lesvos is also famous for its sardines so of course you can find canned sardines and their local anchovies and mackerel. Many different cheeses and all sorts of pastas, cookies, cakes and traditional goods, many of which come from the women's cooperatives in the various villages of Lesvos. This is a great place to go gift shopping or shopping for yourself. It's at 27 Athinas Street. If you need to know more about which wine to get see my Guide to Greek Wine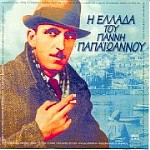 Greek Music CD's! If you have not been turned on to Laika and Rembetika music yet then you may have to do it yourself. It's the Greek popular music of the 20th Century and is to Greece as Blues/Jazz is to the USA. If you don't know where to begin when it comes to Greek music Click here for my choices. If you are looking for just Greek rembetika, laika and Cretan music, in the Stoa Pezmazoglou at 39 Panepistimiou, right across from the University, there is a very interesting little music shop called Nikos Xilouris. Xilouris is to Cretan music as Hank Williams is to country music and this tiny store is full of his CDs, DVDs, books and memorabilia plus music by other Cretan, Rembetika and Laika musicians. The shop is owned by his son Giorgos Xilouris and is a great place to buy Greek music or just to stop in and say hello if you are a Xilouris fan.. If you want to narrow it down to one album it would be the one you are looking at called The Greece of Yannis Papaioanou. For more about Laika and Rembetika see Matt's Guide to Greek Music.
Carpets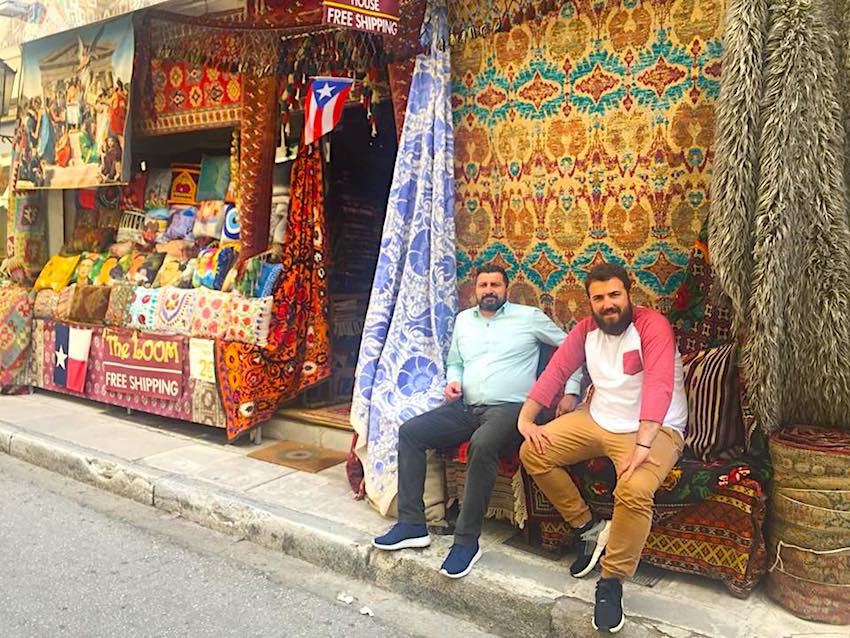 In the old days people would come to Athens and buy flokati rugs by the ton. Now it seems like the flokati age is over. I guess they are too hard to clean and if you have a cat or dog that sheds you don't know which hair is which. But carpets from Turkey, Persia, Armenia and yes, Greece (including flokati), are still something that many people have on their things to buy list and the fact that the carpet shops will ship them home for you, (who wants to carry a carpet around?) makes them a great gift to yourself or someone you care about. Vahan and Theo at The Loom at 94 Adrianou Street in The Plaka are the kind of guys who make carpet shopping a fun experience. Those of you who have been to the Grande Bazaar in Istanbul know what I mean. You come into the shop, they offer you tea or raki and give you a tour of the world of carpets. You sit back and enjoy the show as they unroll carpets not just from Greece and points east but from all over the world. They also feature antique carpets, pillows, tapestries and embroideries. To find them just walk down Adrianou Street in the Plaka and they are on the left. You can't miss the shop. It is covered in carpets and if the weather is nice and there are no customers Vahan and Theo are usually sitting outside. But if you need directions call 21 0323 8540. They offered to give a 15% discount to any customer who mentions my name.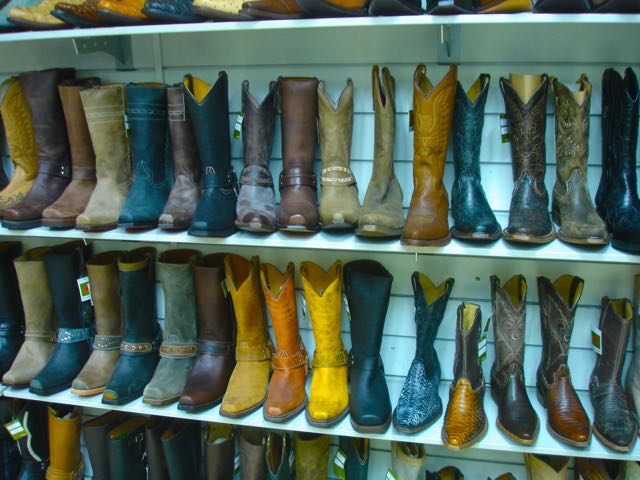 Clothes and Shoes: August-September and January-February are the big sale months when you can find bargains on the finest Italian shoes and clothing among other things. You can literally pay for your trip by shopping for your wardrobe in Athens during these months. Spiliopoulos at 63 Ermou and 50 Adrianou in Monastiraki have an amazing selection of shoes and I bought a very cool leather coat there too. Zara is the best place to buy inexpensive 'cool' clothes. Yes it is a Spanish company, not a Greek one but if you go there during the sales you won't care. Also there are a lot of clothing shops and shoe stores on Athinas Street where you can find things you won't find at home including some very funny t-shirts. Not the kind that are trying to be funny, but misspelled University shirts, non-existent sports teams and stars, and random designs or sayings that make no sense whatsoever. See Shopping in Athens.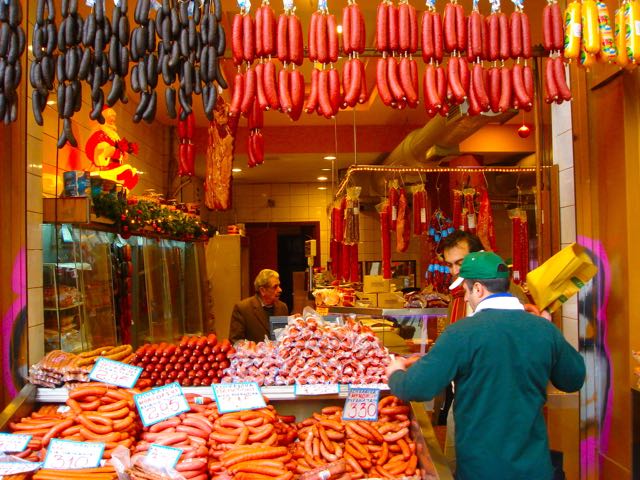 Sausages and Smoked Meats: Imagine the look of joy on a family members face when they ask what you brought them from Greece and you pull out a big loukaniko (sausage) or a package of soutzouk (Armenian beef sausage). Then imagine the happiness you will feel when they tell you that while you were away they became a vegetarian, and now it belongs to you. Yes, loukaniko, soutzouk and pastourma make great gifts, especially to yourself and you can get them in packages or you can ask the shop to vacuum pack them for you. They will go great with the ouzo you brought home for your Uncle that you never managed to give to him and has been sitting in your liquor cabinet since your previous trip to Greece. Get them from the little butcher shop at Evripidou 41 called Arapian which has been there since 1922. It is right by the Athens Market.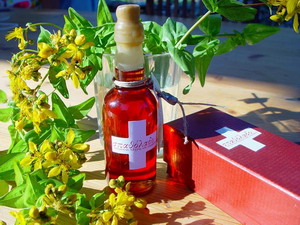 Spatholado or Saint John's Wort Healing Oil is an ancient remedy known to the Greeks and the Crusaders for it's healing properties. Spatholado means sword-oil because it was used to heal sword wounds. I have never seen it in America and I used it when I cut my foot and had to get stitches and I was pretty impressed. It also works on burns, surgical scars and is especially effective on deep wounds. It comes from the island of Kea but can be found in the herb shop called Elixer which is on Evripidou Street near the corner of Ag Dimitriou Street, just a block from Athinas Street and the Central Market. You can also order it by mail from marulis@otenet.gr. Also on Evripidou Street are several shops that sell flower and vegetable seeds. I don't even know if it is legal to take them home to your country but they have some varieties of seeds that you may not find in your local garden shop.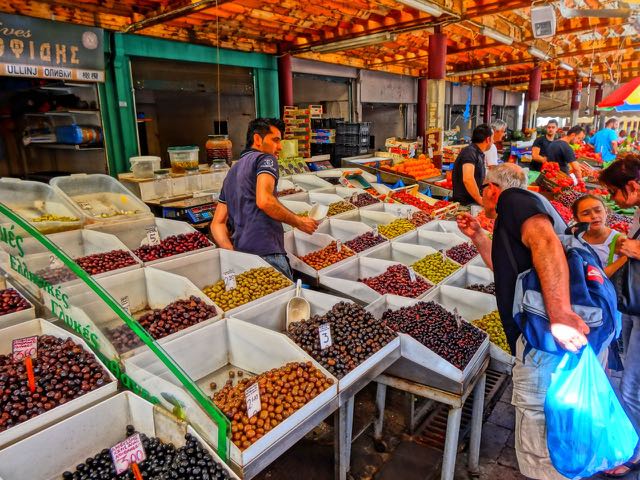 Olives and other pickled things: I go to the Athens market and sample olives until I find the best tasting, then buy a couple kilos and wrap them up well so they don't destroy my clothes. Then I divide them up in America as gifts or else I go to the supermarket and buy some kalamata olives and pretend I gt them in Greece and give them as gifts and save the ones I brought home with me for myself. Go for the big fat olives from Agrinion or the olives from Amfissa which are hard to find outside of Greece. There are a number of olive shops in the Central market just below where the vegetable stands. These olives in the photo are from the Athens Market where there are a number of stands and shops and you are allowed to taste them until you find the ones you like. There are other interesting pickled 'gifts' you can buy in the market. I bought a pickled skoumbri, a whole mackerel back with me to the USA and ate the whole thing and drank a bottle of ouzo with my friend Lee who picked us up at the airport, the night we got home. See their website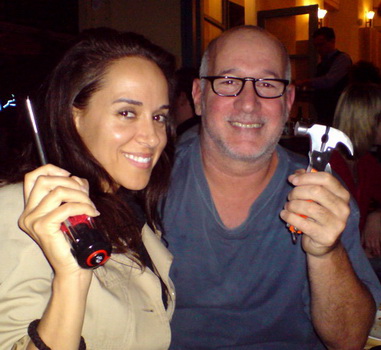 Miraculous Utensils that do strange things to vegetables. Zuchinni Hollow-outers. Grape-leave Stuffers, Cheese-pie makers... you name it and it can be found on Eoulou Street at demonstration tables or at your cafe table being sold by wandering Pakistani and Bangladeshi salesmen. Also visit some of the kitchen stores near the Central market and see if you can find stuff they don't have at home. You can probably find something that has not even been invented yet in the USA and you can take it back and patent it and give it a new name and make a million dollars and then come back to Athens and find the guy who sold you the original one and buy him a house. That's what I would do anyway. If I had to choose one tool it would probably be the 8 in one screwdriver-flashlight which I have sitting on my desk right now. (Somewhere, on my desk. I can't seem to find it it at the moment because it is kind of a mess). But you can read about it in my article Brigitte Bakko and Screwdrivers in Athens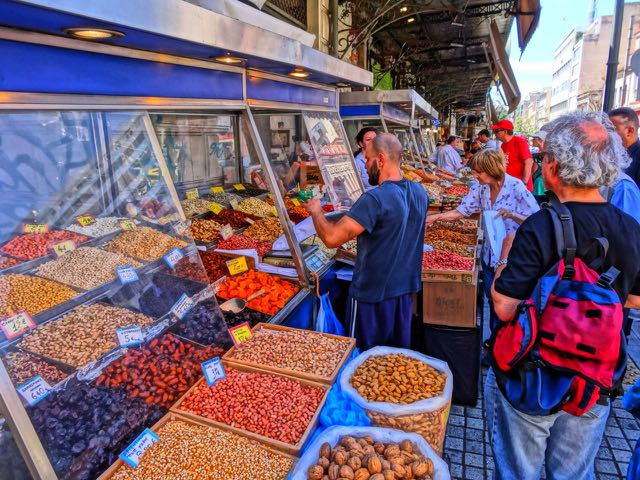 Pistachios and other dried goods: A practical gift for anyone. I have always preferred Greek pistachios to American. They come from the nearby island of Aegina where they claim the pistachios are the best in the world and I agree with them. You can find Aegina Pistachios at any nut shop in the Athens Market or in any neighborhood in Athens. But don't stop with pistachios. Get the salty peanuts in the red skin that are the best thing in the world to eat with beer, called arapika. Or get pasetempo, which are pumpkin seeds which you eat the nut and spit out the shell which you will see a lot of people doing in Greece. Almonds and cashews are really good too. Tell the shopkeeper you are going to bring them home so he double wraps them and if you put them in the fridge they will stay fresh for months. Of course you will probably end up eating them all on the flight home but that's OK too.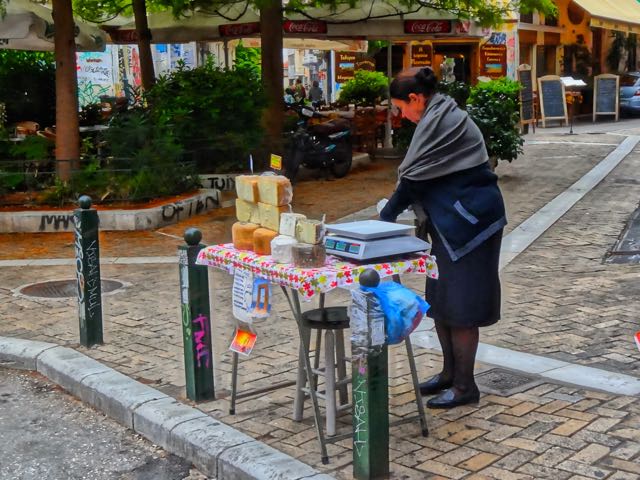 Kefalotiri from Naxos and other Cheeses: Available at the Geniko Emborio Eklekton Proionton Naxos in Psiri. (This is what I brought home last trip and it lasted for a year.) The store is down from Platia Iroon (Iroon Square) on Agia Theklas Street just off Kariaskakis street and the owner's name is Kostas, or it was. Kostas has gone away and nobody seems to know where. But no matter. Anyone there can sell you a wheel of cheese. Just ask for the freshest. There are often people from Naxos selling cheese in the square in Psiri, especially around Easter. There are also cheese shops in the agora where you can buy feta from every part of Greece, not to mention, mizithra, kefalotiri, kasseri, and lots of other local varieties. Try the cheese from Vatousa or Xidera in Lesvos, which you can also get at the Lesvos shop on Athinas street right next to the Hotel Attalos which sells all sorts of traditional foods from Lesvos.
Have fun finding this stuff. Some of the shops have promised to give a 15% discount to anyone who comes from my website so tell them you found them in my Athens Survival Guide or print this out and show them. Even the ones that don't even know they are on this page might give you a discount if you ask. Even if they don't, if enough people ask they will probably give me one next time I go in. (Last time I went to the CD store I told them who I was and they let me pick out 10 CD's for free!) So if you like my Athens Guide you can show your appreciation by asking these shops for a discount. What a great deal!
Gifts to Bring TO Greece
So what if you have relatives, or have been working with a Greek travel agent for so long they have become like family and want to bring them something to show how much you appreciate them? What I do is find things they can't get in Greece. These are becoming increasingly rare because of the global marketplace that enables you to find just about anything in a place where peanut-butter and ketchup used to be as valuable as gold. T-shirts and local products from your town are good gifts. If you live in the Pacific-Northwest one of those packages of smoked salmon is a good choice though by the time you have flown 13 hours and presented it to them, and then it sits on their desk until quitting time it probably won't be any good for anyone except maybe the neighborhood cat. If you are working with Uli at Dolphin-Hellas she loves beer-she's German, so if you have a micro-brewery in your town and you don't mind bringing a couple bottles that is a good gift. I live in a town where every other person is in a band or is a solo artist and has a CD and for awhile this is what I was bringing as gifts. Now my Greek friends are pretty hip to the North Carolina music scene and when local groups like Squirrel Nut Zippers and Ben Folds made the big time they brag that they'd heard of them years before. You can also bring local canned or packaged foods that may not be found outside of your area. In Raleigh-Durham airport they sell cans of boiled possum and road kill but this may be tongue in cheek and maybe the person you buy it for won't get it. If you don't mind spending a little money a bottle of Don Eduardo or Tres Generationes 100% Agave Anejo Tequila will be very appreciated since it is more like a fine Scotch than the tequila they may be familiar with which is pretty low grade at every bar and liquor store in Greece. Any other alcohol is easily available in Athens and even on the flight going over except real Southern Moonshine if you can find any. Chocolates and stuff like that it goes without saying are appreciated gifts.
Honestly? Go to Greece gift-less, take a photo of yourself with your travel agent, taxi driver, relative or friend and when you get home send them a nice photo suitable for framing with a note of thanks. That will be appreciated more than anything. For family members in Greece just stop at a zacharoplasteion on your way to their home and buy some pastries or baklava and they will be just as happy as they would be with something you lugged all the way from another continent.