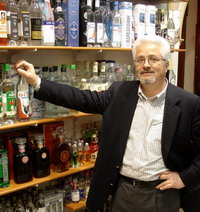 There are few merchants in the Plaka who have been there as long as Angelo or have been involved in as many aspects of the tourism business in Athens most popular neighborhood at the foot of the Acropolis. From gift shops to gold and silver jewelry Angelo has seen the fortunes of the Plaka rise and fall with the whim of the tourists who one year are buying Greek necklaces and the next only souvlakia. But visitors will always buy Ouzo and Angelo happens to be one of the most knowlegable people on the subject of Greece's most popular drink.
"People think all ouzo is the same, but that is a popular myth", says Angelo from his shop at 120 Adrianou Street. "You have many different varieties and flavors. Some sweet. Some soft. Some quite strong and some so pleasant that you don't even need to add water, as many people do."
Angelo has collected as many varieties as he could find. Some popular varieties like Mini and Plomari from Lesvos and some obscure varieties like Plomari's Giannatsi and BabaTzim from Serres, which some say is the best of all.
"Come to my shop and tell me about yourself and I will find an ouzo for you".
If not you can buy a dozen of his small bottles, take them home and try them all and most likely you will finds a favorite.
Besides ouzo Angelo's shop carries many traditional and natural products from Greece including olive oil, vinegear, wine, figs, herbs, spices, loukoumia and other traditional sweets.
To find Angelo's shop walk up Kydatheneon past the movie theater and turn right on Adrianou. It is just past Byzantino Jewelry on your left. If you are coming from Monastiraki walk up Adrianou and it is about half a block from where it becomes a pedestrian street, just beyond the old demotiko school (with the columns).
Be sure to visit Matt's Guide to Ouzo and if you really want to make me happy send a bottle of Babatzim to me at 102 Old Pittsboro Rd, Carrboro, NC 27510 USA