Demonstrations and Strikes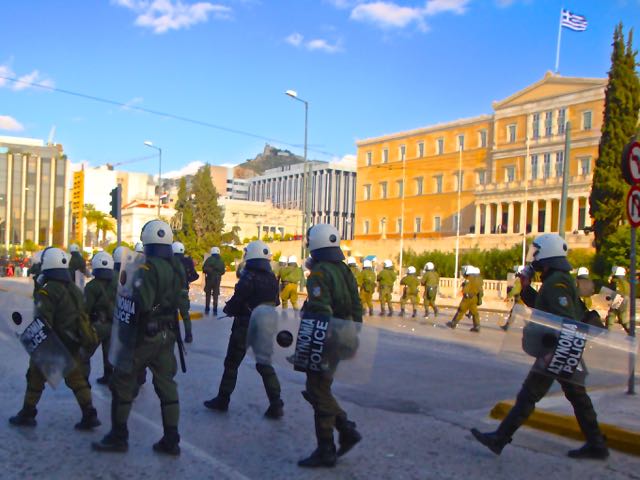 As for the demonstrations which seem to be on TV every other week, they usually last a couple hours and take place in Syntagma Square in front of the Parliament building, and so are easily avoided. When they are over everyone goes home to watch themselves on TV or Youtube, the city cleans up the square and the cafes fill up and life goes on as normal.
Strikes are a nuisance and if they take you by surprise can mess up your plans. But those people who book with a reliable Greek travel agency, barely know there is one going on since they are announced at least a week in advance and the agency will arrange the itinerary in a way so that their clients won't be affected by a strike or if they are, their needs are taken care of. If you have a flight that arrives in Athens on the day of a general strike you will probably get to spend the night somewhere else. If you arrive the day after a general strike you won't even know there was one. You can even set up your trip so that you don't stay in Athens, either going right to the port from the airport or getting a connecting flight to an island, or staying on the coast outside of Athens for example in Fantasy Travel's Far from the Maddening Crowd. Strikes, demonstrations, slowdowns and other disruptive tools can be a nuisance and cause us to change our plans. But that does not have to be a bad thing and it may not be worth throwing out the baby with the bathwater and canceling a holiday.
But this is just talking about Athens. There is nowhere safer in the world than a Greek island, regardless of what is going on elsewhere. My American friends who happened to be in the Cyclades during and after the events of September 11th told me that the worst part was that they felt they should be in America going through the angst and fear that we all went through instead of being on a beach and in tavernas talking about the tragic events as if they happened in the latest Steven Spielberg movie. The islands are so removed from our reality that they render these tragic events as irrelevant to the present moment, just food for philosophical conversation or far-away events whose aftermath we will deal with when we eventually get home.

So if you want to know my opinion if Greece is safe for Americans I say yes it is. If world events are making everything seem insecure then there is an island for you. And if things get really bad just buy a one-way ticket.