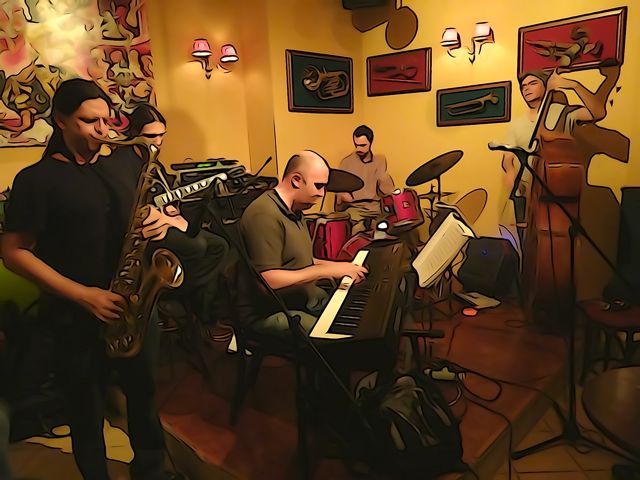 Athens is an entertaining city, some would say on a par with the great entertainment centers of the world. A common query I get from my friends in Greece who love to go out is "OK...which is better in terms of nightlife... Athens or New York?" This is a more difficult question than it would seem because Athens Rocks! On any summer night there are outdoor concerts from your favorite rock stars to classical music, ballet, Byzantine music, and the Dora Stratou Dancers. There are giant indoor-outdoor discos and clubs where the most famous Greek singers perform nightly to packed houses. In the winter Athens club scene comes alive with shows ranging from blues-rock-jazz to traditional Rembetika, laika and of course punk-rap and whatever is happening in the west. The clubs are located around the city with many of the bars in Psiri, Gazi and other central areas. In the summer all the big clubs by the sea open up. These are discos and giant progressive techno clubs that hold thousands of people mostly outdoors where you can enjoy the night though some are indoors in giant converted warehouses.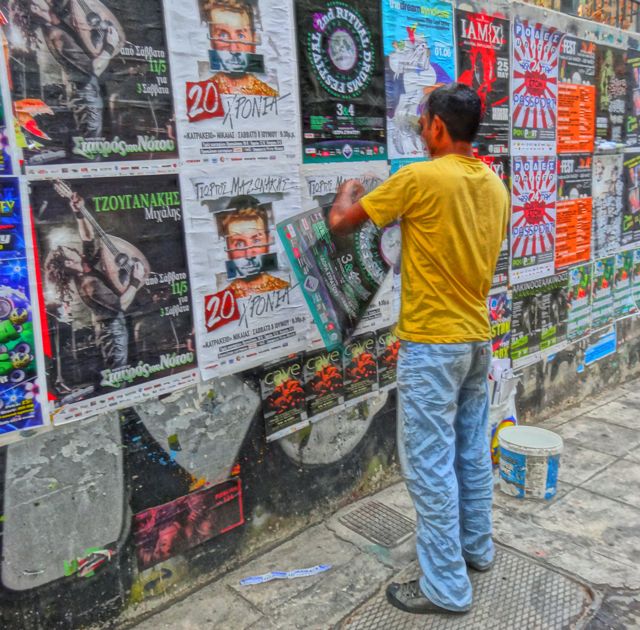 Two of the best places to see a show are at the Herod Atticus Theatre next to the Acropolis which shows mostly classical, ballet and theatre, and the Lykavettos Outdoor Theater on top of Lykavettos mountain where stars like Ray Davies, Leonard Cohen, Peter Gabriel, James Brown, Roy Harper, Nikos Papazoglou and many others have played. If there are major concerts going on you will know about it because posters will be everywhere, in fact by the time I get from the airport to my hotel I pretty much know what is going on in Athens just from looking at the posters affixed to the light poles or on the facades of empty buildings and walls in Psiri and other hip areas of Athens. Artists of the magnitude of the Rolling Stones, Springsteen and Pink Floyd usually play the Olympic Stadium. Megaron is the primary classical music venue, a state of the art concert hall with its own metro stop and a wide variety of performances of all styles of music and dance. The Badminton Theater, one of the few Olympic buildings put to good use after the games, also has a wide array of performances, good sound and not a bad seat in the house. Come here for the Broadway Musical you could not get tickets for in New York, or the best in Greek laika, international jazz and pop and dance and theater groups. The Fiminoi Theater Group performs Oedipus Rex in English at the Athinais Cultural Centre 34-36, Kastorias St in Metaxourgeio. See the info at the bottom of this page.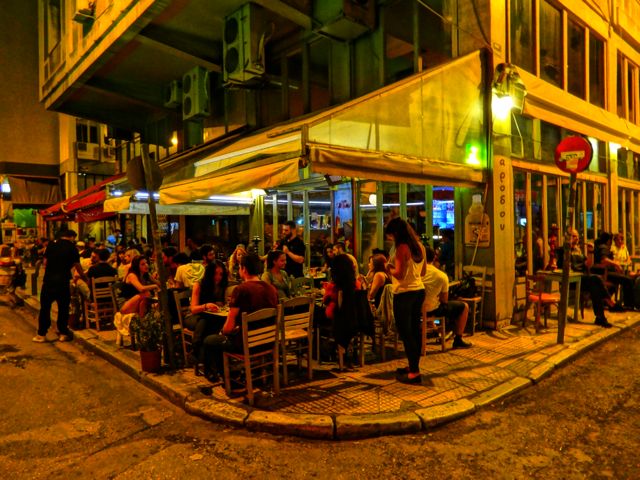 There are excellent ouzeries and cafes all over the city where you can quietly drink, snack and talk all night long. The neighborhood of Psiri has lost market share to Gazi but you can still go there and find good food, conversation, ouzo, tsipuro and beer and conversation. In fact on a weekend night the streets literally buzz with conversation as students, former students, and young people in general fill the cafes on Miaouli Street, puffing on hookahs, nibbling at meze and making a drink last as one does when one is unemployed. If you are a night owl, a night in Psiri, beginning at a quiet ouzerie like Cafe Evi or Mavros Gatos or a less quiet place on Miaouli like Arodou, great for people watching, or any of the other former ouzeries, now cafe-bars, on Maiouli. The 7-Times Club at 13 Maiouli Street right by the Monastiraki Metro Station in Psiri plays international music, a mix of live and DJ. Their house band plays everything from Elvis to Depeche Mode and you can hear anything from rock and roll, to swing, different varieties of jazz, pop, funk, bozza-nova, sixties and even Irish music on St Patrick's day. For latin music, often live, Dos Gardinias is known for making excellent cocktails and delicious tapas, at 17 Navarvhou Apostolis right at the intersection with Evi Street.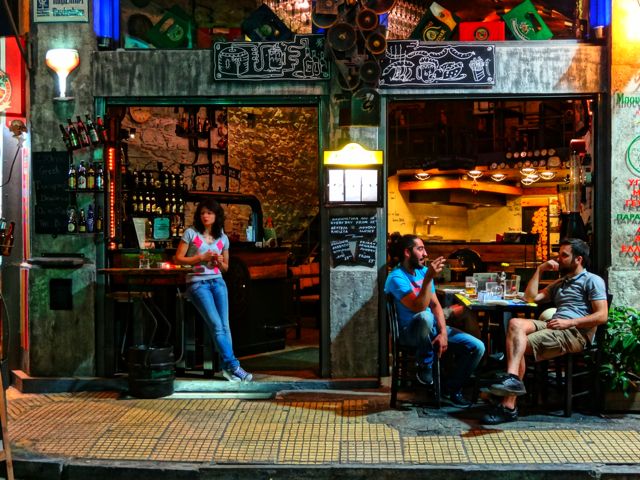 You can still get traditional snacks with your ouzo and tsipuro as well as Greek craft beer at Iliosporo and serious beer fanatics can cross the street to Beer-Time and get your Fix of most of the Greek craft brews as well as the best Belgians, German, British, Irish, and other international brews, including American. Afterwards you can hit the bars and clubs in the area like Thirio, which has outlived most of the others or walk down Ermou street until it ends and keep going until you come to the smokestacks and industrial buildings that tell you that you are in The Gazi neighborhood where there are lots of bars, clubs and live music places and plenty of ouzeries and restaurants. You can also get Gazi to by taking the metro from Monastiraki and getting off at Kerameikos, the next stop. Just wander around until you find a place that is playing the music you like or the clientele look like people you would like. The ouzeries in Plaka are a mixture of older Greeks, a smattering of youth, and adventurous foreigners, but are a bit more sterile than those in Psiri. If you are young you are better off staying close to Monastiraki and Psiri, and if you are your parents you may be happier near the Plaka. Just as each neighborhood has a favorite taverna the same goes for ouzeries. If you want to find a cool place to hang out, drink and eat mezedes, and you are not within striking distance of these places just ask everyone from the concierge at the hotel, the waiter at lunch, the guy at the jewelery store or the woman at the bank or exchange shop and they will tell you where to go because it is their favorite place or their friend owns it.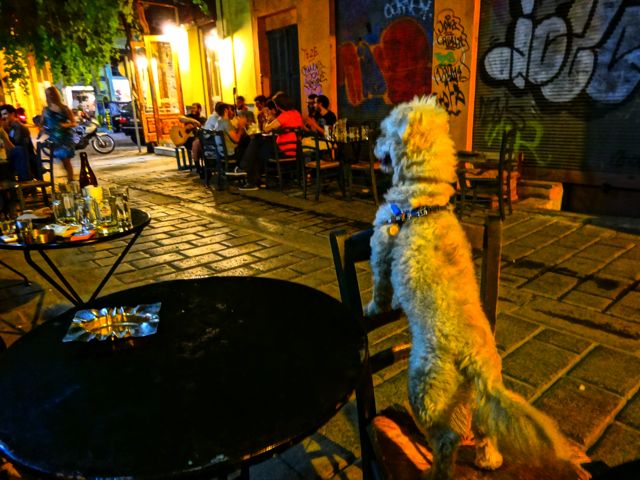 There are some clubs and restaurants on Misicleous Street where you can see Rembetika and Laika stars during the winter like the Misikleous Music Club on the corner of Lysiou. There were a number of rembetika tavernas and clubs in Kypseli, like Pondiki, Taxidi Tis Anatolis, Ambelofillo, usually open only on weekends in the winter though. They started at around 11pm and it is a good idea to have a reservation. Probably you will need directions too though once you get to Kypseli you can usually ask. Pondiki and Taxidi are in the vicinity of Platia Agios Georgios and Ambelofillo is close to Fokionos Negri, a large pedestrian avenue lined with cafe-bars and restaurants. These places come and go now because of the economy so you may want to check Athinorama weekly music and culture magazine. Yes it is in Greek but you can find someone to help you read it. But really if you wander around Psiri or go to Adrianou Street in Monastiraki, right next to the Ancient Agora and them metro tracks, you will find restaurants and ouzeries with a couple guys playing what you would call 'Greek Music'. And if you go to the hipper ouzeries like Kafeneion to 111 at 111 Ermou Street(photo), kids often show up with bouzoukia and guitars to play and sing and there is nobody to stop you from dancing in the street.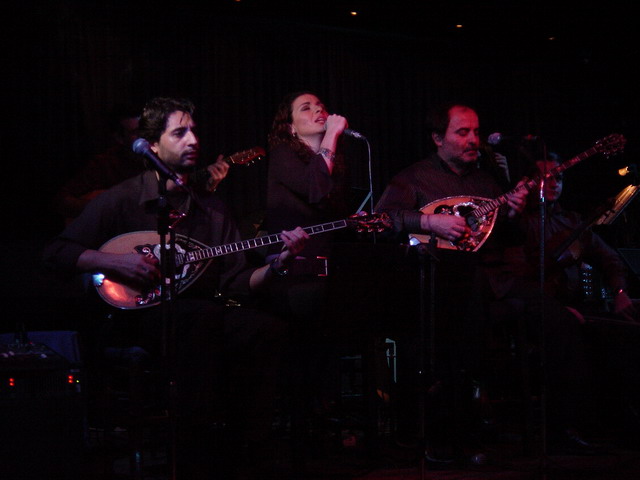 A good choice for where to go to hear good Greek music is the conveniently located Perivoli T Ouranou Club at 19 Lysicratus in the Plaka where Babis Tsertos used to play. You can check Athinorama to see who is the current musical resident. The phone number for the club is 21O 3235517. Tsertos in my opinion is the finest Laika and Rembetika singer in Greece with a captivating and beautiful voice and good taste for the finest material from the last seventy-five years of Greek popular music. His album Erotopoleion is a near masterpiece. His rendition of the old song Pino kai Metho(I drink and Get Drunk) is the national anthem of Psiri or anyone who lives life for the enjoyment of it. If you are looking for authentic, quality Greek music this is the guy. If Tsertos has moved on to another club you can find him in Athinorama where there will probably be an ad for him as there are for any major singers playing the clubs. One of the more fun places that won't cost you an arm and a leg is the Rembetiki Istoria (tel 210 6424937) at 181 Ippokratous street in Exarchia where they play live rembetika, laika and Smyrnaika and serve mezedes. If it is full just go down the street and around the corner to Mpoemissa (tel 210 0383779) at Solomou 13-15 and hear Dimitris Lembesis and his band. Keep in mind that most of these clubs are not open in the summer. The season is usually from the beginning of October until late April and then everyone goes to the sea. So call first if you are unsure. Some of these places are only open during weekends too.
Here is a list of places to hear rembetiko music from Lifo Magazine. It is in Greek. But if you can't read it or take the time to decipher it you probably won't fit in.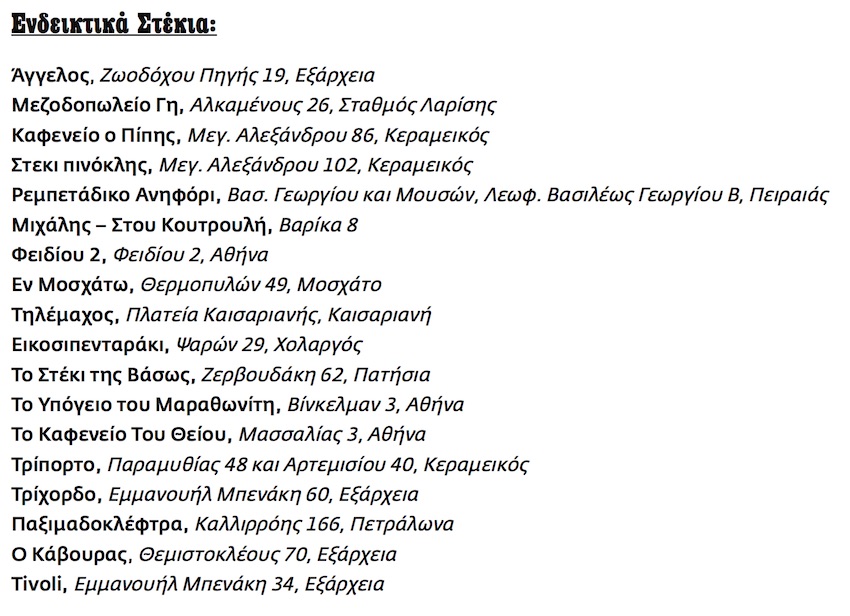 Also they have started doing live rembetika on weekend nights in the Meat and Fish Market on Athinas Street.
Jazz, Folk, Rock and Blues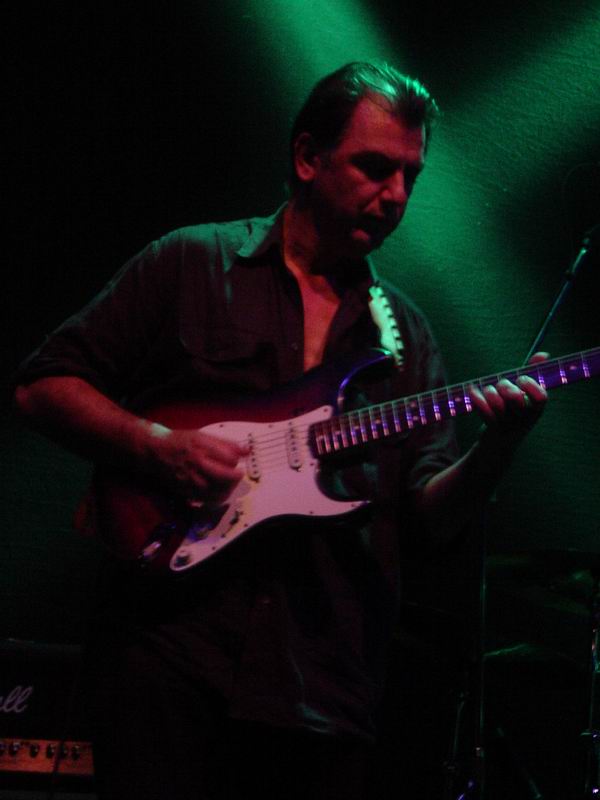 Rock clubs like An Club at 13-15 Solomou street (Tel 210-330-5056) are close to the Polytechnic University in the area called Exarchia, the wild west of youth culture where young people fill the cafes and bars and they even have rock concerts in the square which sometimes end up as battles with the police, which may deter most people my age but attract many of those of college age looking for a good time.
Mike's Irish Bar in the basement of the Athens Tower in Ambelokipi has a smoky college town bar atmosphere and features bands like Johnny Vavoura and the Cadilacs who have been playing traditional Chuck Berry-style rock and roll for the last 20 years and play it well. They also have karaoke nights, stand-up comedy and DJ's. Mike was recently killed during an argument with a bouncer, well I can't say he was killed because I think he had a heart-attack during an argument a few moments before he might have been killed. Anyway he is gone but that should not keep you from going there if you miss that kind of atmosphere. The Half-Note Jazz Club in Metz, across from the First Cemetery, brings name acts from the USA and Europe who usually do a week there to make enough money for airfare home. Those who don't make enough end up staying in Athens forever. If you go into Psiri on a weekend night there will be live Greek music coming from many of the restaurants. The Party at 31 Kariaskakis Street in Psiri, has live rock and pop music just about every night of the week and on Wednesday nights there is a live jazz jam that goes on well into the morning hours. Very easy to find, just half a block from Iroon Square.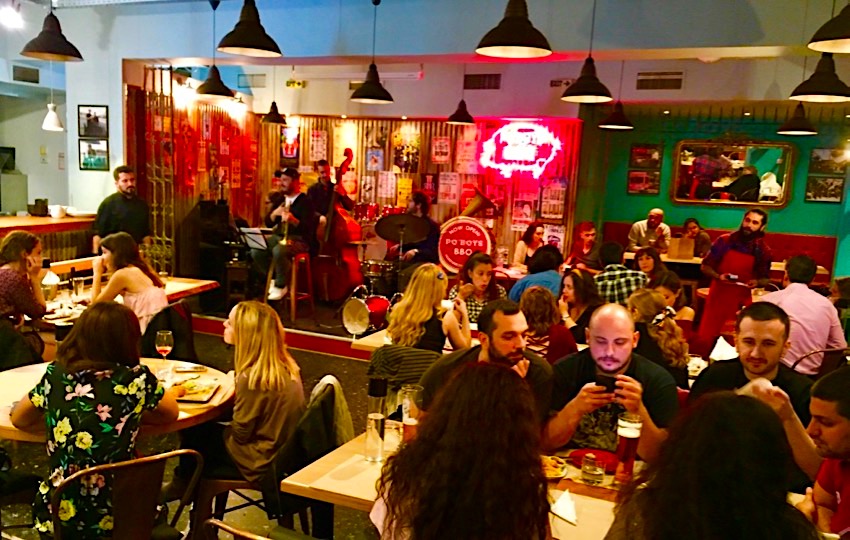 Po Boys BBQ on Agatharchou Street which is just off Takis Street in Psiri has real honest to goodness live blues, jazz and RnB and has the best selections of Greek microbrews that you will find in Athens and they also have very good, very authentic southern cooking. Not southern Greece. Southern USA as in Memphis, New Orleans, North Carolina, Texas and places that have ribs, wings and other classic American dishes. Jazz in Jazz is a cozy bar at 3 Deinokratos Street in Kolonaki, that plays classic jazz (obviously) and blues and has a nice selection of whiskeys.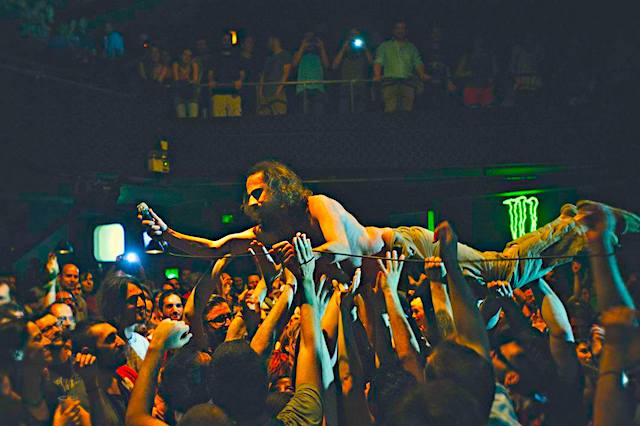 Check out who is playing at Gargarin 205 Live Music Space by keeping your eyes open for posters which are placed all over Athens and especially in Psiri. The list of famous people who have played there continues to grow. It's a little off the beaten path at 205 Lliosion Street (tel 210-854-7600) in Kato Patission so you will need to take a taxi or walk from the Attiki Metro station. It's in a converted warehouse and like your favorite club back home is painted black and has a has a PA that will satisfy the visiting heavy-metal bands and their fans. Many Greek rock and folk acts as well as a smattering of international bands passing through town including Vanilla Fudge and Mark Lindsay of Paul Revere and the Raiders.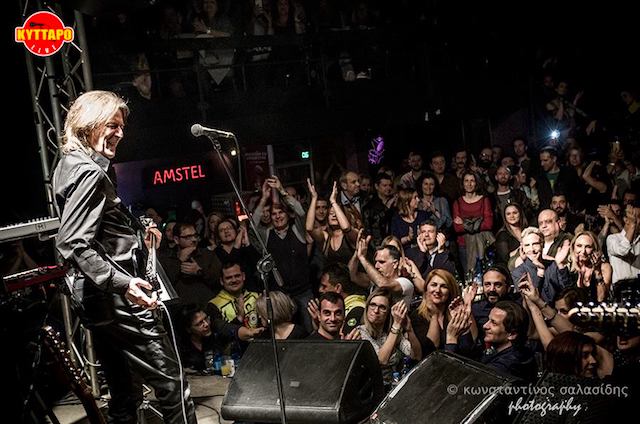 Kittaro is a longtime club on Archaonon and Epierou streets near Platia Victoria (tel 210-822-4134), Look for posters or check Athinorama magazine. Savopoulos and Socrates both had residence here in the early seventies and if you are lucky you may see them here again. That is Kostas Tournas in the photo. Rodeo is right off Platia Victoria at Heydon #34 (tel 210-881-4702) and is another rock club which also has live Greek and foreign bands. In Vivo at 79 Harileos Trikoupi and Methonis street in Exarchia has live jazz, rock and blues bands on weekends. Blueswire play no-nonsense blues and sound like they could be from Chicago or Memphis instead of Athens or Thessaloniki. There are dozens, hundreds, maybe thousands of Greek bands, plus lots of foreign bands based in Athens. Rockwood which is right next to the National Archaeological Museum has live music on Wednesdays and some weekends, American food and lots of different beers.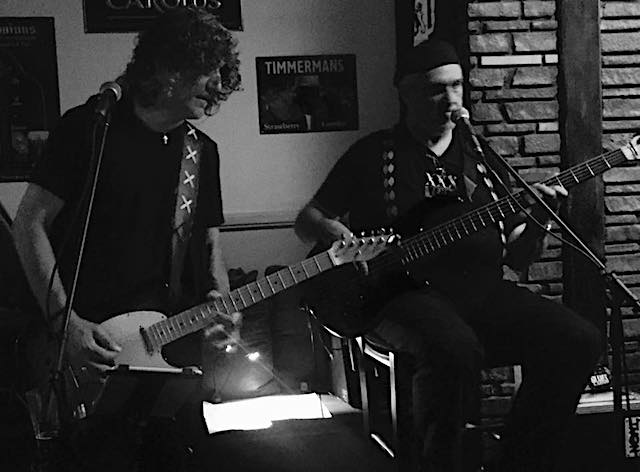 Beer Tales at 72 Fokionos Negri has live blues, rock and folk on weekends. Kristian Fjellstad is an extraordinary singer with a voice like Joe Cocker or Van Morrison (depending on how many cigarettes he has smoked that evening) and he and his pals play at Beer Tales at least once or twice a month doing a a large selection of classic rock, blues and soul songs. Guitar hero George Zikos and his band Zero-Zero sometimes play at Foka Negra and he also does a blues show at Beer Tales with Dimitris Ioaniou of Blues Cargo(photo). Orfeas at 25 Fokionos Negri has been known to bring in some name acts of all types of music from blues and jazz to rembetika and laika. Actually if you walk up and down Fokionos Negri just about any Friday or Saturday night there will be live music coming out of several bars. Check out Suzie Q and Beetle Bar, next door to each other and both play good music. Also Fabrica Wine Bar is right next door and is one of the best wine bars in Athens.
After Dark at 31 Didotou and Ippokratous Street(tel 210-360-6460) is just a short walk from Panipistimiou Street and has the best bands for the money according to knowledgable rocker-journalist Perri Pagonis of the Athens News. The Texas Necropolis Club at Themisticleous and 5 Gamvetta (tel 687-280-2171) near Omonia Square has goth, industrial and metal. Fuzz Music Club in Metz at 22 Vouliagmenis Ave (210-922-4641) features metal, including some touring name acts, DJs, worldbeat and rap. Music House Diavlos at Drakou 9 in Koukaki is more arty, has great sound and nice waitresses and bartenders and is the easiest place to find if you are escaping from your parents while they are having dinner in the Plaka.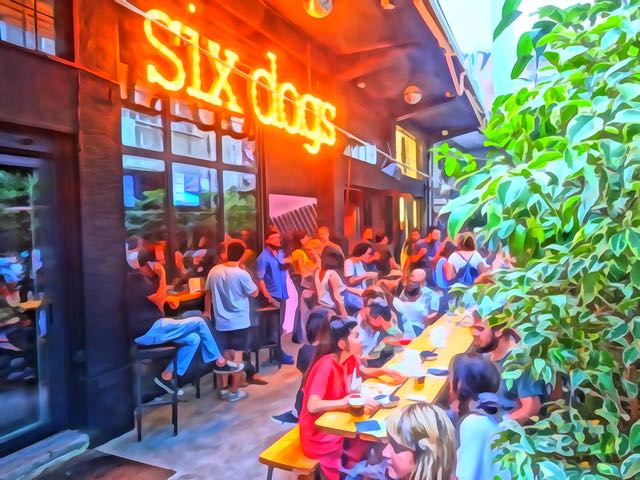 One place to find cool indie bars, where you would least expect them is near the intersection of Praxitelous, Lekka and Kolokotronis Street between Karitsi (Ag Giorgos) Square and the National Historical Museum(Old Parliament building). There are a number of cool bars close to each other, often packed with people spilling out into the sidewalks and narrow streets. Some bars have DJs and others have live bands. Key Bar at Praxitelous 37, Pairidaeza at Parnassou 3, Seven Jokers at Voulis 7, Toy Cafe at Karitsi 10 and Use at Karitsi 5 are all close enough so that if you don't like one or it is too full, you can just move on to the next. If you continue down Kolokotronis towards Athinas street and follow the path of on-coming cars, right before you get to Athinas is a small street called Avramitiou where there is a very cool collaborative collection of bars and cafes called 6 D.O.G.S. usually with at least one or two live bands playing. On weekends the street is packed with young people but even during the week there is life here after 11pm. Right around the corner around Agia Irini Square next to the historic Athens church that used to be the center of Athens religious life, the square and adjoining streets, including Aeolou street, are now home to a number of restaurants and cafe bars that are full day or night. You can find the square blindfolded just by following the buzz of voices. If you go to Athinas Street and walk down Protogenous Street into Psiri you will see on your left the popular Barrett Bar. No it is not named after me, at least I don't think it is. But one of the bartenders is Marcos, the lead guitarist of the band My Excuse who were famous for using Kickstarter to finance their US Tour. If you are a musician go in and say hello.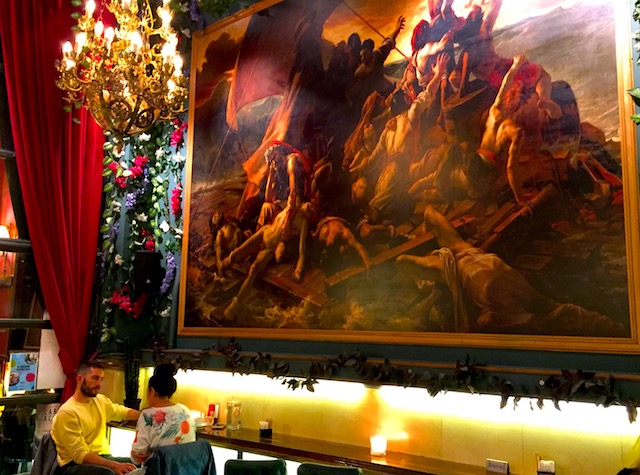 About half way between Syntagma Square and Athinas Street in between Perikleous and Kolokotronis streets is a tiny street called Romvis. At he intersection of Romvis and Klitiou there are several bars including Baba Au Rum, which was identified by the NY Times as one of the 50 best bars in the world. I don't know who gets to decide what are the fifty best bars or if it is even possible to know, but this bar will not disappoint and they have a large selection of rums and rum based cocktails. It is a small place but once the shops close they pretty much take over the entire street. Another great bar a few blocks away by the intersection of Kolokotroni and Limpona streets is called Noel and It is one of the best bars I have ever been to. It is actually a small arcade that has been turned into a thrift-shop elegant Victorian era restaurant bar, well several bars actually, with beautiful paintings, chandeliers and a young hip clientele, with a few old guys like me thrown in for authenticity.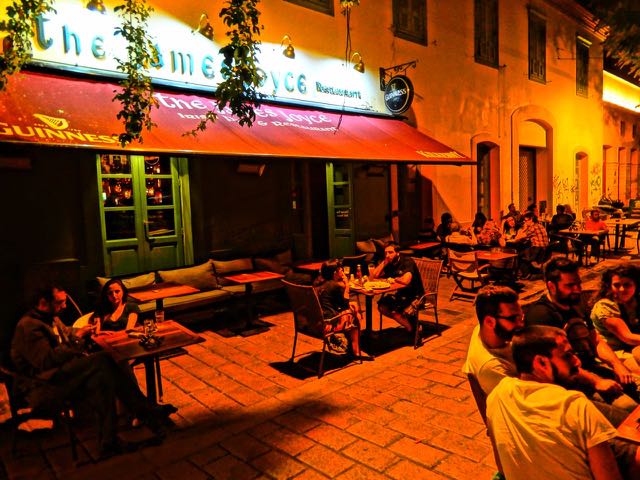 One of my favorite hangouts is the James Joyce Pub at Astiggos 12 in Monastiraki. With an extensive bar menu, lots of imported beers, great music and lots of energetic X-pats who seem to be mostly Irish and Greek-Irish. They open at noon daily and stay open late. Their bigscreen TVs show sports from all over the world including NFL Football, Major League Baseball and NBA Basketball as well as Cricket, European Football and whatever else happens to be on. Some nights they have live music. To find it from Monastiraki just walk down Hepheston or Iphestos (next to the old metro station) to the end. Turn right and then left and it is half way down the block across from the big hole the American School of Archaeology left. A couple doors down is the Kallipateira which has some nice mezedes and there are often guys playing rembetika music on the street. Its got a great town square feeling and the food is pretty good as is the music.
Euro Jazz Festival Technopolis Athens: Let's get… jazz
The European Jazz Festival in "Technopolis", Athens welcomes some of the most creative European musicians. Artists of the European Jazz scene and many promising young musicians will perform for the biggest jazz event of Athens. See their website
Cafe Boheme at Emmanouil Benaki 94 in Exarchia is a bistro-style restaurant (maybe the best in Athens) with a great little bar, interesting patrons and a DJ with terrific taste in music. Listen to cool traditional jazz and blues as well as stuff like Frank Sinatra, big band and music that your parents might have listened to if you don't. Cassandra Wagstaffe is the owner and host and is the daughter of the drummer of Wishbone Ash. Wonderful ambience and attentive and beautiful bartenders make this a place to go anytime. If you are looking for a small, intimate bar to make your home this is it. On weekends it usually turns into a party and gets a lot louder. Walk up E Benaki from Panapistimiou street and keep going. Or take a taxi. Tel. 210 3608018.
Allotino is for those who like to listen to sophisticated jazz in a small classy bar while drinking fine scotch and whiskies, a dozen different high-end tequilas, and hard to find imported beers on tap. A hangout for the actors and actresses who live in Kypseli, its an intimate place, hard to find but once you do you will probably come back. The owner is Andreas, a very nice guy with a firm knowledge of good music and spirits. They also have a small menu of salads, sandwiches and tapas to go along with their drinks. In the warm months people sit outside and watch the neighborhood pass by. This is my favorite hangout in Athens. It also has the best beer-nuts I have ever eaten in my life. Its at Eptanisou 16 in Platia Georgiou, Kypseli. If you walk down Patission past the National Archaeology Museum and cross Alexandras Ave, keep walking a few more blocks and turn right on Ithaki Street you will come to it. Tel 210 8215331. Its at Eptanisou 16 in Platia Georgiou, Kypseli. Across the park is the popular It's a Village Cafe/bar which stays open late and often draws hundreds of young people to the small square.
Outdoor Cinemas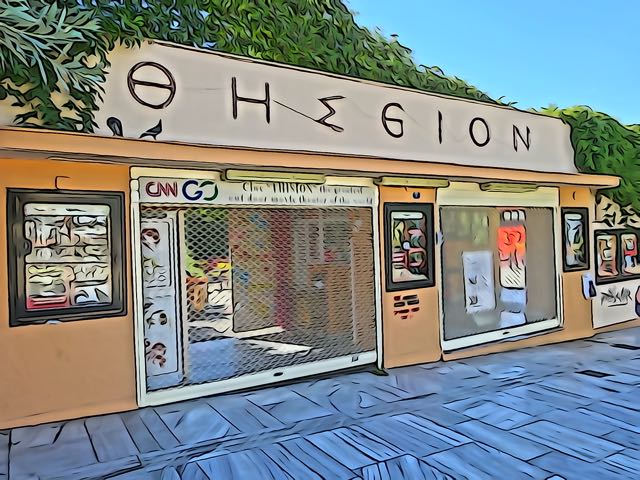 One of the most enjoyable and unique ways to spend an evening in Athens is by going to one of the outdoor cinemas like the Cine Paris in the Plaka. There are others around the city, some on rooftops and some in parks and some on valuable pieces of property in the center that make you wonder how they could hold out so long. Most of the cinemas show films in their original language which 90% of the time happens to be English. Unlike other European countries Greece does not dub foreign films into Greek. They just have Greek subtitles at the bottom of the screen. Unlike theaters in other countries Greek cinemas have a bar and sell beer, brandy, ouzo and of course snacks to go with them. Usually there is a man with a cart selling hot nuts in the vicinity of the Cine Paris and I buy a variety to eat in the theater. Greek Cinemas also have an intermission and you can go out and buy some more if you run out. (Hold on to your ticket stub). When the movie is over you are right by the cafes of the square where you can discuss the film while watching people. The movies used to change every couple days but in the last two years the theaters have been forced to sign contracts with the distributors and keep the films there longer. If you are only in Athens for a couple days this won't bother you but if you live there and you are stuck with The Mummy Returns for a month, life can seem cruel. In the off-season there are plenty of movie theaters downtown. Another easy outdoor theater to get to is in Thission right on Apostolou Pavlou, the pedestrian road that faces the entrance to the Acropolis.
Here is some more Helpful Athens Nightlife Information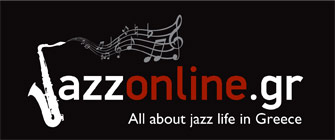 Jazz-Online is a Greek site that will tell you everything there is to know about Jazz in Greece including concerts, festivals and the clubs that play jazz. There is also a page that introduces you to Greek jazz musicians, articles, interviews and everything you need to know about jazz in Greece. Of yes, I forgot to mention that it is in English.

The Athenoroma magazine has a listing in Greek and there is one in this guide as well but you may want to call and make sure a club is open before you go since many of them are seasonal.

Many restaurants and ouzeries in Athens have live music, sometimes impromptu. If you walk around Psiri and Monastiraki you will probably come across them. See Athens restaurants

In the daytime go to Kapni Karea Cafe which is between Metropolis and Ermou Streets in this little alley a block down from the small church of Kapni Karea in the middle of Ermou street. There is usually good music going on there in the afternoon that lasts until the early evening.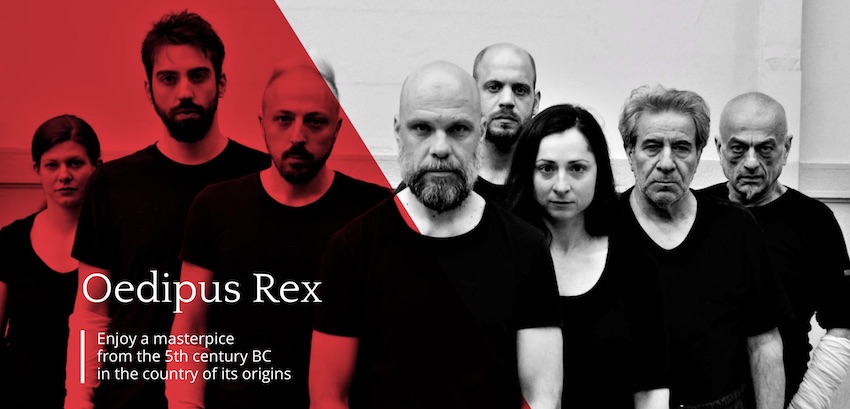 The Fimonoi Theatrical Group is a professional theatre group performing Oedipus Rex in English. Oedipus Rex has been an archetypal play in the world classic literature for nearly 2,500 years. Long considered the greatest Greek tragedy, it has a sympathetic protagonist, a crushing climax, inspirational poetry, and a wealth of meaningful themes. The play remains on the very short list of exceptionally and undeniably great world literature masterpieces and is taught all over the world. The play is shown at the Athinais Cultural Centre 34-36, Kastorias St, which is a few blocks from the Metaxourgio Metro Station and the Kerameikos Metro Station. The Athinais Cultural Center is a unique multipurpose venue, where business conferences, social events, corporate presentations, fine art exhibitions and live performances are taking place. There is also a bar-restaurant. For more information see their website. Performances are every Thursday at 8:30pm from June to October.
"Atreides-Ancient pathos" Based on ancient Greek Tragedy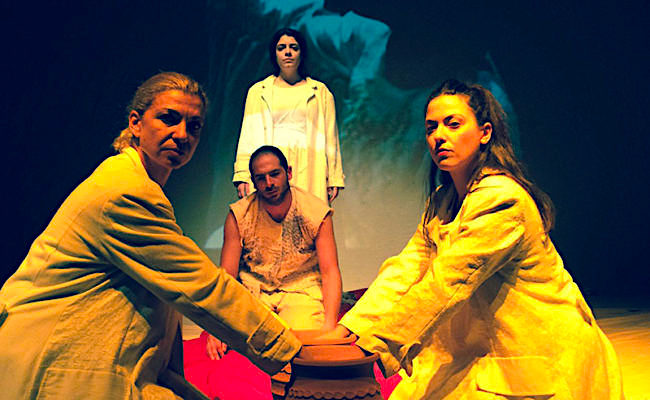 A performance based on the House of Atrides in Ancient Greek Tragedy in English . From Iphigenia's sacrifice and Agamemnon's murder, to Clytemnestra's doom and the trial of Orestes in the court of Areios Pagos. The performance is not a classic tragedy as we know it but a compilation of many scenes from well-known tragedies by Aeschylus, Sophocles & Euripides, revolving around the heroes of the house of Atrides such as Clytemnestra, Electra, Iphigenia, Orestes, e.t.c. The performance is filled with action and conflict. It will combine modern elements and it shall bring the characters close to today's world and the modern day spectator. The acting will be accompanied by video projections and music. The ancient and the traditional will coexist with the contemporary elements making this a unique theatrical experience. The audience will be witness to the most characteristic scenes, relations, and conflicts of the protagonists in Greek Tragedy. For more information see their website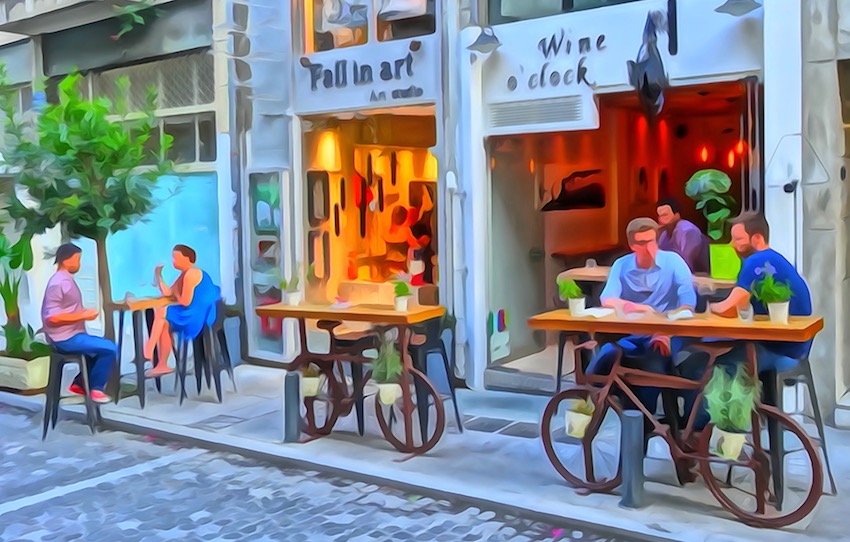 Athens Wine Bar-hopping
A night out at four of the best Athenian wine bars. We will taste two samples of one Greek variety at each wine bar and we will accompany them with a matching dish at each place. Your guide will take you through the history, characteristics and potential of the wines and will help you explore them through tasting, while enjoying the vibrant and cool ambience of some of the best wine spots in Athens. This is a great way to not only introduce yourself to Greek wines but also to get a taste of Greek nightlife. Click Here for more information. For more info on Athens wine bars and Greek wines see Matt's Guide to Greek Wines and the wine bars are at the bottom of the page.
If you want a nice quiet adventure follow Adrianou street towards Monastiriki and take a left on Misikleous street and continue to the top of the stairs until you come to the road that rings the Acropolis. You will know you are on it because there will be woods and the Acropolis on your left and a view of the city on your right. Keep walking past the last shops and cafes until you come to a big rock on your right, the hill of Aeropagus. When your eyes have grown accustomed to the darkness find the stairs cut in the stone. You may want to take off your shoes because it's a little slippery. Actually better yet, take the brand new stairs they built which are easier and safer since to break an ankle so early on your trip would be unfortunate. Climb the steps to the top and find a seat on the rock. In front of you stretches Athens. Behind you is the Acropolis. Enjoy the moment. To get home walk on the small road with the Acropolis on your right and the Panorama of Athens below on your left until you can't go any further. Walk down the steps and make your first right where you can follow Tripodon Street, back through the Plaka to the statue of Lysikratos.
With all the new pedestrian streets and squares that surround the Acropolis you can walk for hours in the evening and when you get tired there is always a cafe-bar or restaurant to take a break at.