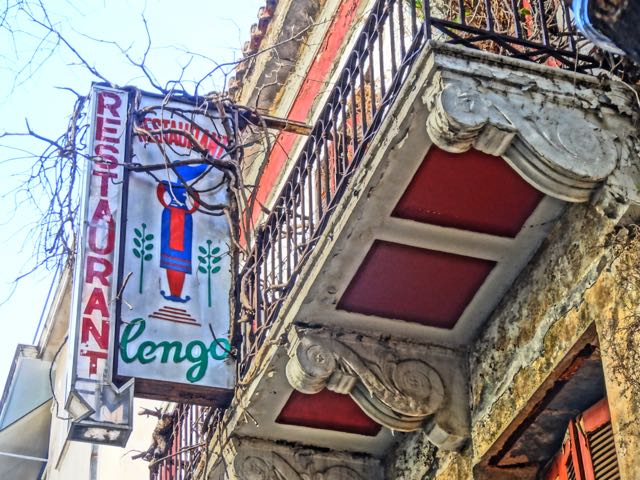 Between Syntagma Square and the Plaka are two streets that host some of the most interesting new businesses in the city as well as some older businesses that have managed to hang on through the hard times. Nikis Street and Voulis Street run parallel to each other starting a block below Syntagma Square and intersecting Ermou Street, Athens main shopping street. In the old days Nikis Street was one of the centers of Greece's tourist industry with small travel agencies, ferry ticket offices and the famous Delphi Restaurant which was one of the most popular old restaurants in Athens. Eleftherodakis Books was on Nikis Street as well as Compendium Books which were the largest English language book shops in Athens. A small alley off Nikis was the home of Mr Jung's Chinese, the first Chinese restaurant in Athens. Mazarakis Flokati Shop on Voulis was a gathering place for American X-pats who would come in to play backgammon and catch up on the news from host Tom Mazarakis. Later he and his brother Steve opened the first pizza-by-the-slice restaurant next door. Across the street was one of the first Internet Cafes in Athens, at a time when few in Greece knew what the internet was. Apollonos Street, which connects Voulis and Nikis had the first sushi restaurant which had moved there from the big beautiful mansion on Kydathineon where it began. Quantas Airways had their shop on the corner of Nikis and Metropolis in the days when people used to go to a ticket office to buy airline tickets. There were even a couple 'guest houses' where you could get a dormitory bed or sleep on the roof for about a dollar. (I'm thinking less but does that even seem possible these days?)
Nikis Street and Voulis Street went through some rough times as the Greek economy collapsed and restaurants and shops closed or moved to where the rents were cheaper. But in the last few years there has been a renaissance as hip new businesses have opened, joining those that were able to survive. Nikis and Voulis Streets are no longer just paths from Syntagma to the Plaka. They now host some of the best shops, restaurants, cafes and places to hang out in Athens.
I can't begin to count the e-mails I get from people who are on strict vegetarian diets or are worried that they won't be able to find the food or supplements they need in Greece. They can rest easy because at 4 Seasons at 37 Nikis Street they will find everything they would find in their local health food supermarket and more. They have a lot of organic traditional Greek products as well as fruits, vegetables, vitamins, teas, wines and even Greek made miso paste! This store alone is a good reason to move to the neighborhood if you are planning to live in Greece. If you are on holiday and going to the islands and worried that you may not find what you need there then stop in and look around. I think you will be impressed. I was and I have worked at, managed and shopped at Health Food Stores for over 40 years! Owned by brothers Vassilis and George Souvatzoglou who know the neighborhood well since their father is the artist Yiannis Souvatzoglou whose gallery on the corner of Voulis and Nikodimos right next to the Electra Palace has been well known to artists and art lovers for years.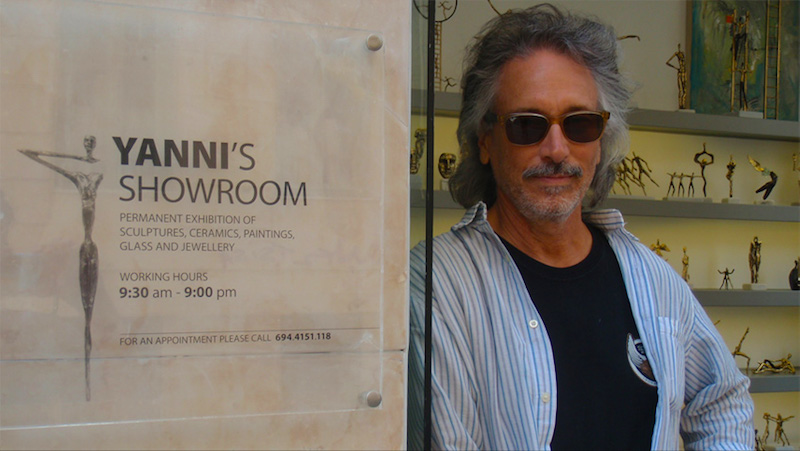 Yanni's Showroom is the gallery of internationally renown and award-winning artist Yannis Souvatzoglou, known for his scultures and his painting which are influenced from the Minoan and Cycladic era. Along with numerous exhibnitions in Greece he has done shows in the USA, Great Britain, Germany, Japan, France, Denmark, South Africa and Australia among other countries. Despite his fame he remains very accessible and can be found in his gallery at 44 Voulis Street usually after 7pm and is happy to answer questions about his beautiful and very affordable art.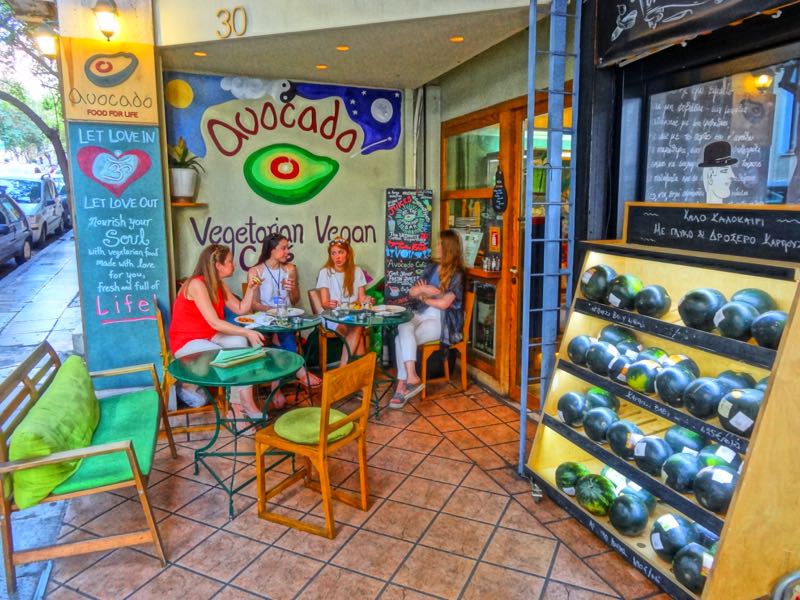 Right next door to Gr-eatings is Avocado, a vegetarian-vegan restaurant owned by the people who have NYSY Yoga and Pilates Studios, just across the street at Nikis 25. They serve high-quality, flavorful food, aromatic coffees and teas, and freshly-squeezed juices using local, seasonal, and organic produce whenever possible. Serious vegans and vegetarians who discover this restaurant may not eat anywhere else until they leave Athens.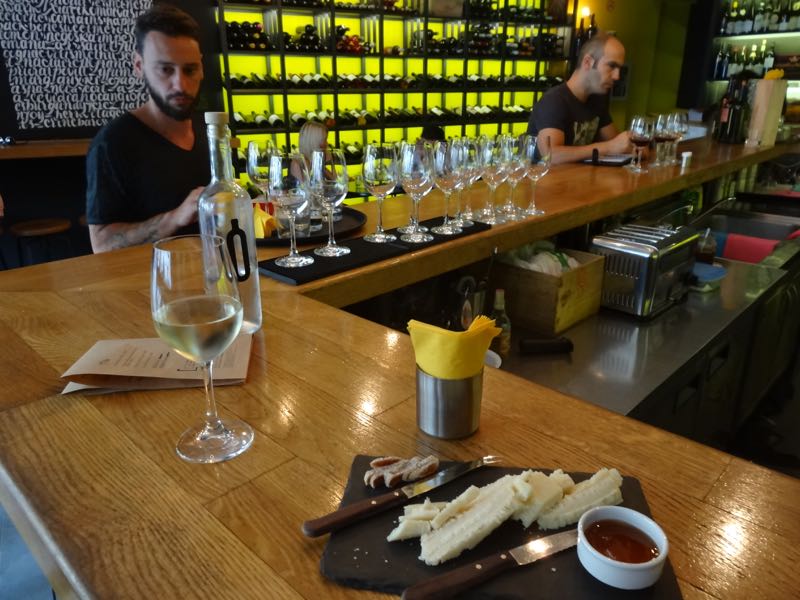 How could we not go into a wine bar with the name Oinoscent? Especially since it was right around the corner from the Electra Palace where we were staying. We just came out for a drink to kill a little time before meetings friends for dinner but we ended up spending hours here. I have to admit that I started with a craft beer, only because they had a bottle of Septem 8th Day IPA and I could not resist. But I soon joined Andrea in tasting a number of wines, some that I had never heard of and sampled their delicious food and would probably still be sitting there if we had not changed hotels and moved to another neighborhood. They have over 700 different bottles of wine and a new wine by the glass list every week. If you are a wine person come here and sit at the bar. Don't be afraid to ask questions. Their young and knowledgeable staff speak English and probably several other languages as well. Nelly Paraskevopoulou of USA Today named it the best wine bar in Athens. I would be surprised if there are better. It is at 45-47 Voulis Street. Serious wine and serious food equals a lot of fun.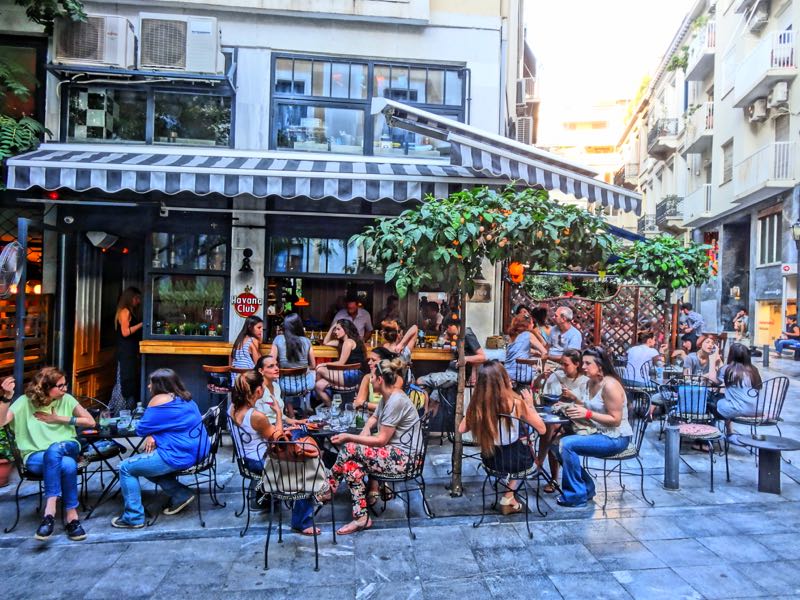 Iritou Street is a small pedestrian street right off Voulis that was known mostly because of the University of Indianapolis campus which rented several buildings for classrooms and storefronts as offices. The university closed down a few years ago and I was one of the people very upset about it. I should not have wasted my time. The main building was taken over by Webster University and the storfront offices were taken over by young visionaries who opened several cafes and restaurants, a hip gourmet coffee shop and turned the street into a little bohemian playground. Serious coffee drinkers should go to Lacandona, a hole-in-the-wall cafe that reminds me of the first cool coffee shops in New York's East Village. Kymolia Art Cafe at Iperidou 5, just off Nikodimos Street is also a nice little hang out. There are new cafes opening all the time.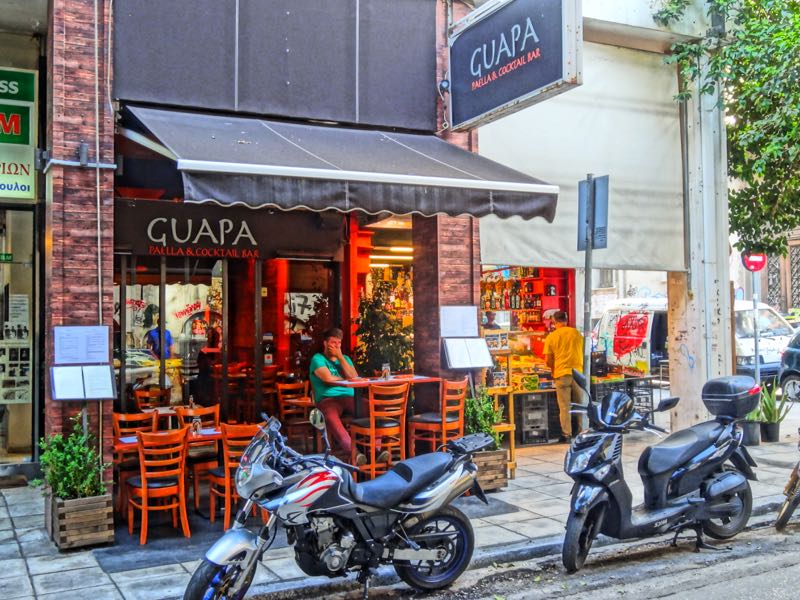 What would Spanish people do if they came to Greece and their country's cuisine was not represented? They would all have to eat Greek mezedes instead of tapas. Guapa Paella and Cocktail Lounge solves that crisis, if it is actually a crisis. No, I have yet to eat here. But how could I not mention it? It is at 17 Nikis Street.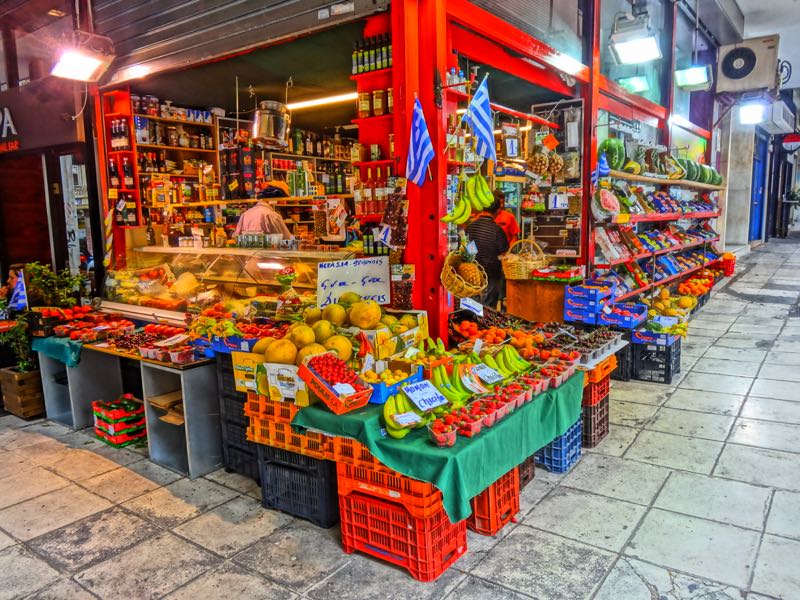 Next door to Guapa on the corner of Xenofontos is the gourmet grocery store that took the place of the Ecletic Deli which was on Voulis but closed a number of years ago. If you are staying in a hotel in or around Syntagma this os one shop you will want to know about.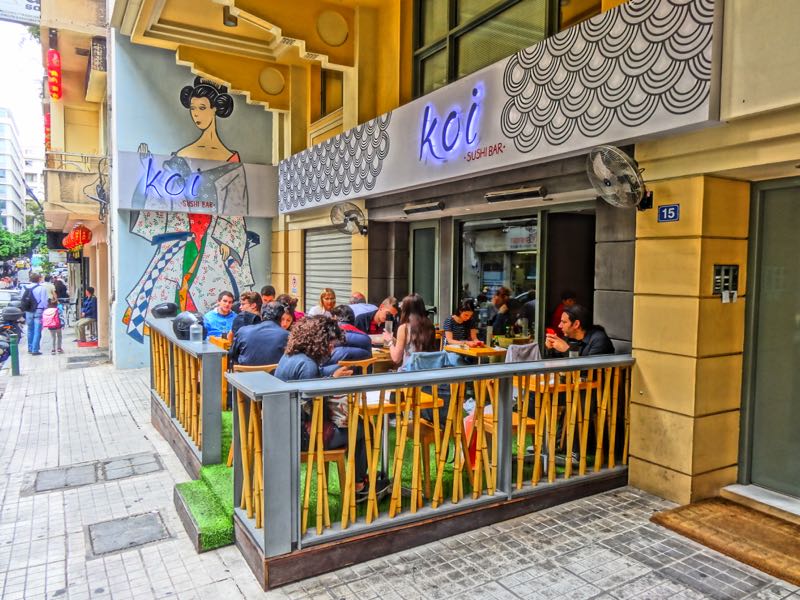 In the opinion of both my wife and daughter, whose expertise on the subject has taken a huge chunk out of my finances, Koi is one of the best and most affordable Sushi restaurants they have ever been to. And why not? With all the fish in the Mediterranean, including the fresh tuna that is frozen and shipped to Japan, sushi should be cheap and good. Koi is at the intersection of Nikis and Apollonos Street which has become a sort of little Asia with a Chinese restaurant, another Sushi restaurant, a Korean restaurant and an Indian restaurant and even a dim sung restaurant called Pink Flamingo on Skofou.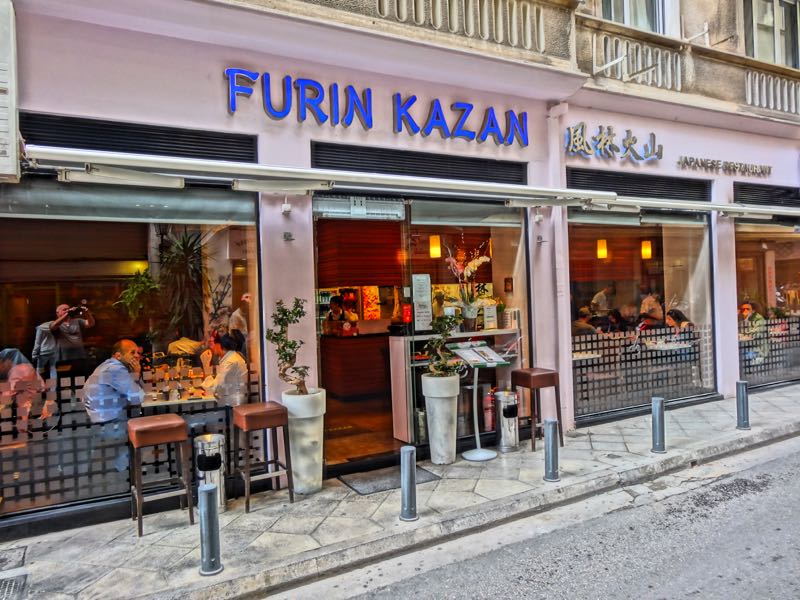 Furin Kazan was the first Japanese restaurant to come to Apollonos Street almost two decades ago. Before that it was in a beautiful old mansion with a big garden on Kydathineon Street in the Plaka. It has been replaced by yet another Japanese restaurant but now there are sushi joints all over the place, some good and some not so good. I have not had sushi in Greece that I thought was any better than the most run-of-the-mill sushi place in my town but supposedly there is a place called Sushi Mou that is like the documentary Jiro Dreams of Sushi where you spend a small fortune for custom made sushi specifically for you. The good news is that the small fortune is smaller than you will pay in the USA or Japan. People say that East Pearl is an excellent Chinese restaurant, also on Apollonos Street. They also have a tiny sushi restaurant on Nikis Street that we had dinner at, ordered a ton of food, and were mildly surprised at how cheap it was, even though it was twice as much as a meal in a Greek restaurant.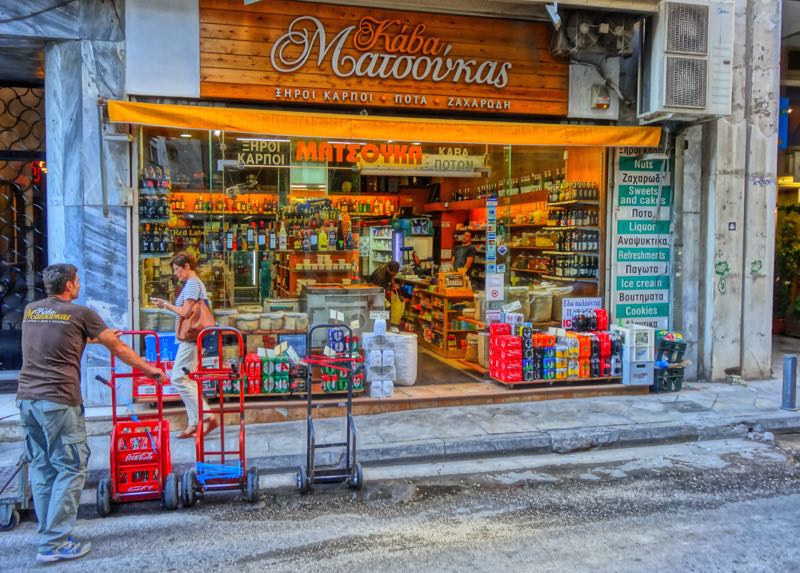 One of the last holdovers of the old neighborhood Kava Matsoukas on Apollonos Street sells wine, spirits, dried fruit and nuts and candies and is actually more of a grocery and dry-goods store than a kava which is a place you can sample and buy wine and liquor. Other survivors include the souvlaki shop across the street which has been there since I was a kid and the grocery store.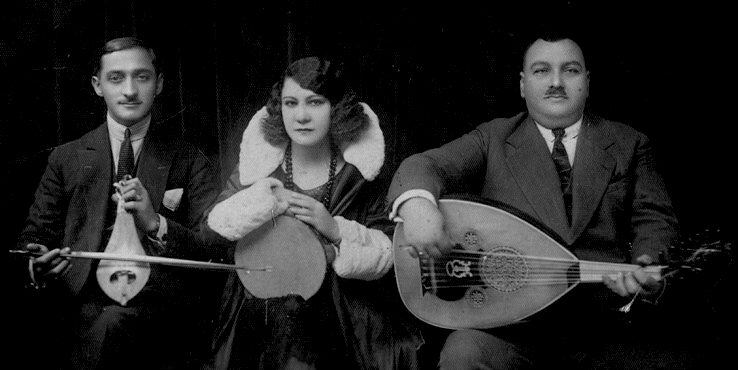 The Jewish Museum of Greece: Established by my high school history teacher (and my occasional ride to school), Nicholas Stavroulakis, this museum has gone from a one room exhibit next to the Jewish Synogogue to become one of the most important museums in the city chronicling the history of the 23 century old Jewish Community of Greece. Located in a Neo-Classic Mansion at 39 Nikis, the museum is open Monday to Friday from 9.00-14.30 and Sundays from 10.00-14.00 and is closed on Saturdays. Admission is 6 euros and students pay 3 euros. Guided tours for groups are available. See their website for more information.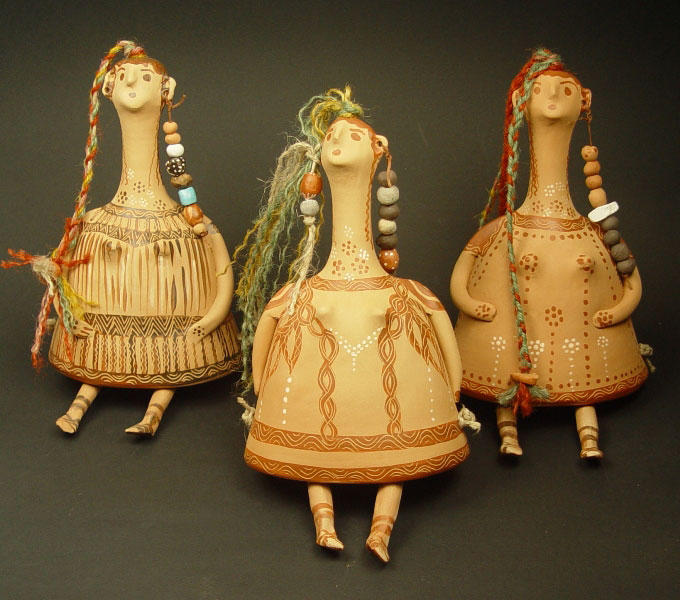 Specialising in the production of ceramic artifacts, The Attic Black Shop is the retail store for the THETIS Authentics workshop in Athens who have preserved an almost lost Athenian tradition of black glazing, producing identical replicas of ancient ceramic pieces. Their workmanship has become renowned throughout Greece. The shop includes ancient toys and figurines, tableware and other glazed pottery inspired from Attic pottery of the 5th and 6th centuries as well as other prehistoric artifacts from Thessaly and the Cyclades. They are located at the intersection of Nikis and Kydathineon Streets. A couple doors down is a nice little craft beer shop called Brew Str where you can even sample Greek micro-brew on tap and probably find something that tastes just like your favorite beer at home, maybe even better. (See also Drinking Beer in Athens)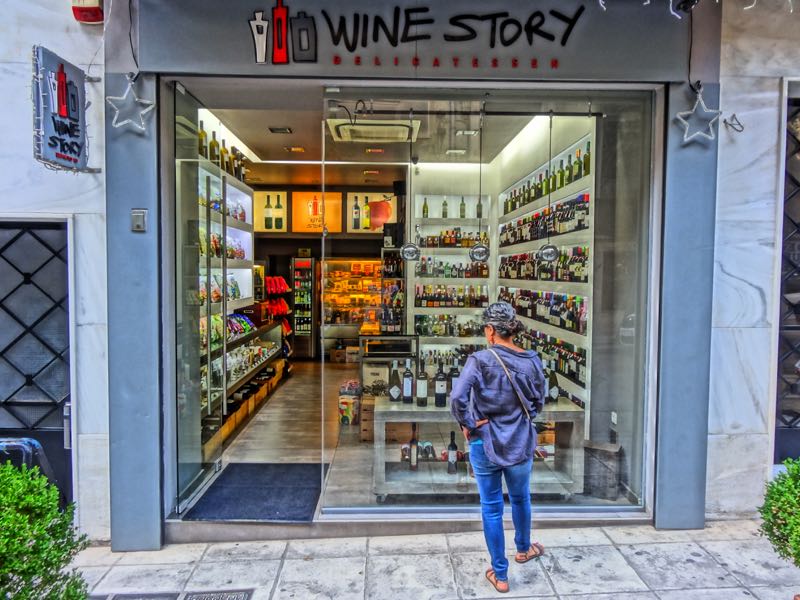 This small wine store at 21 Nikis street has special meaning for me being the original office of my pal Elias of Swift Rent-a-Car. It is now a combination wine shop and convenience store called Wine Story. Along with Greek and imported wines they also sell Greek micro-brew beer and a number of interesting European beers. (See also Matt's Guide to Greek Wine)
You might be forgiven for not noticing the shop of Haris the Beltman because there is nothing but a small sign in the doorway of the apartment building next to Wine Story. Haris is part of that vanishing breed of tailors, shoemakers and seamstresses whose small shops and workshops were a vital part of Athens. If you are looking for interesting hand-made belts and other leather goods or have an idea for a belt that you would like someone to custom make for you visit his shop.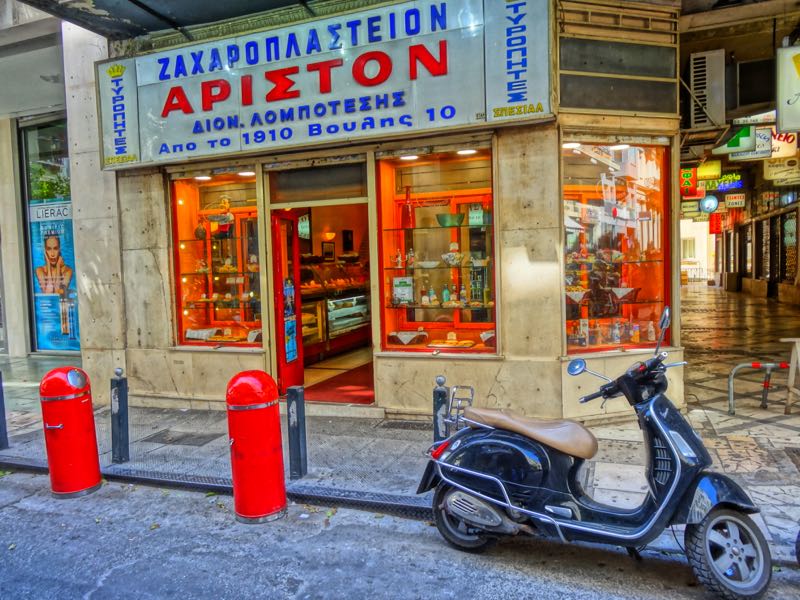 Ariston Tyropita Shop at 10 Voulis Street has been supplying Athenians with Cheese pies (tyropita), spinach pies (spanakopita), leek pies (prasopita), zucchini pies (kolokithopita), chicken pies (kotopita) and just about anything you can stick in between layers of filo dough. For those on a budget who want to fill up for under 2 euros this is the place to go. There are loads of other small bakeries and sandwich shops on Voulis but for pitas that are pretty much always good and filling as well this is a good place to know about. If you have computer problems or need to buy cables or whatever Plaisio is across the street and is sort of like the Best Buy of Greece.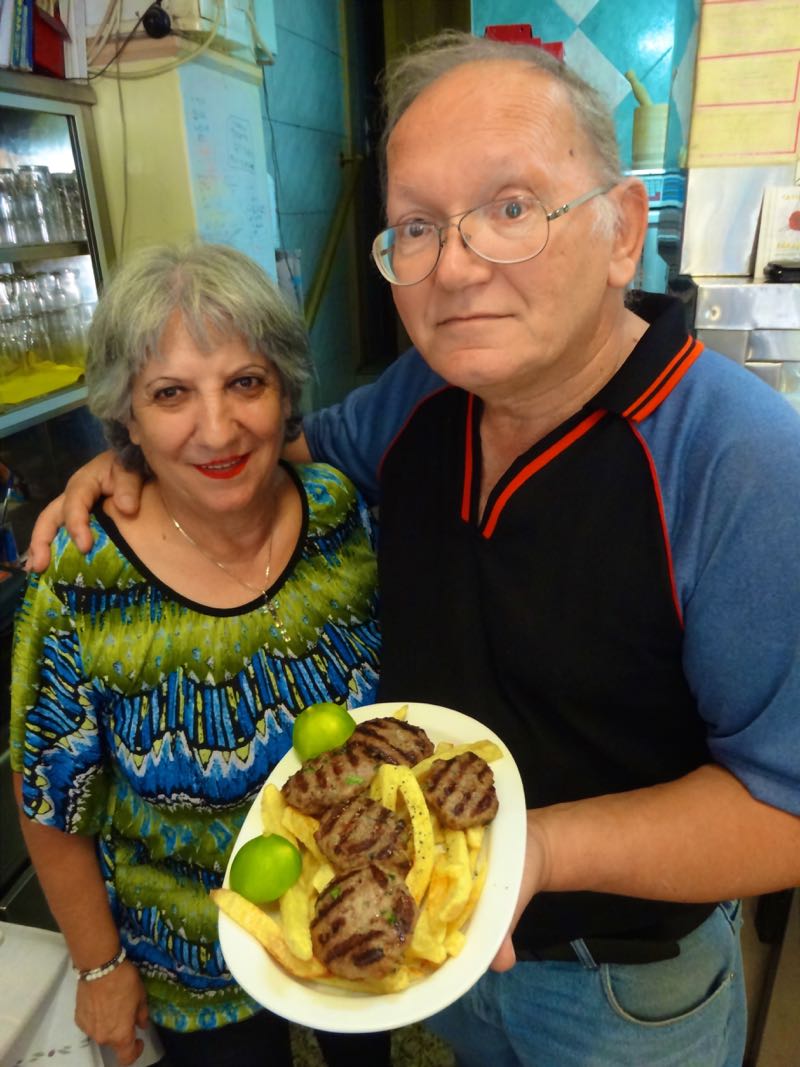 One of the best restaurants in Athens is Evegenia, formerly known as Paradosiako Cafeneon and to the many locals who eat here still called that. This combination Ouzeri-taverna on the corner of Voulis and Nikodimou is not exactly quiet, in fact its a lot like sitting in the middle of a traffic jam. But the food is great and the people who own it, Dimitris and his wife Eugenia are entertaining and fantastic cooks! Well, actually she is the cook and Dimitris is the waiter. See a review in my Athens Restaurant Guide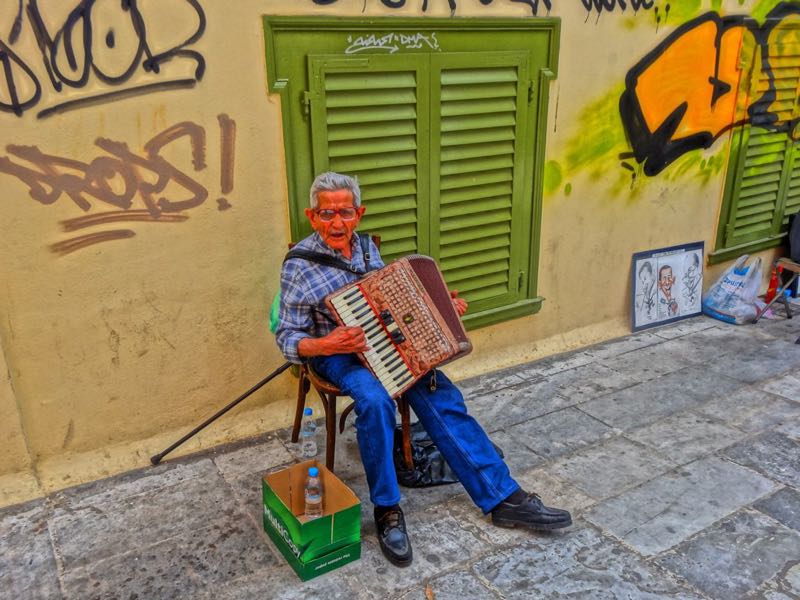 If you keep following Voulis Street it comes to a dead-end at Kydatheneon Street where this old guy has been playing in front of the Museum of Folk Art for the last twenty years. Take a right and you will be in the heart of The Plaka. If you enjoyed this page leave him a euro.
There is a terrific map store on the corner of Voulis and Apollonos Streets called Anavasi Travel Bookshop which also has the most popular guide books and local guidebooks too.
Neighborhood Hotels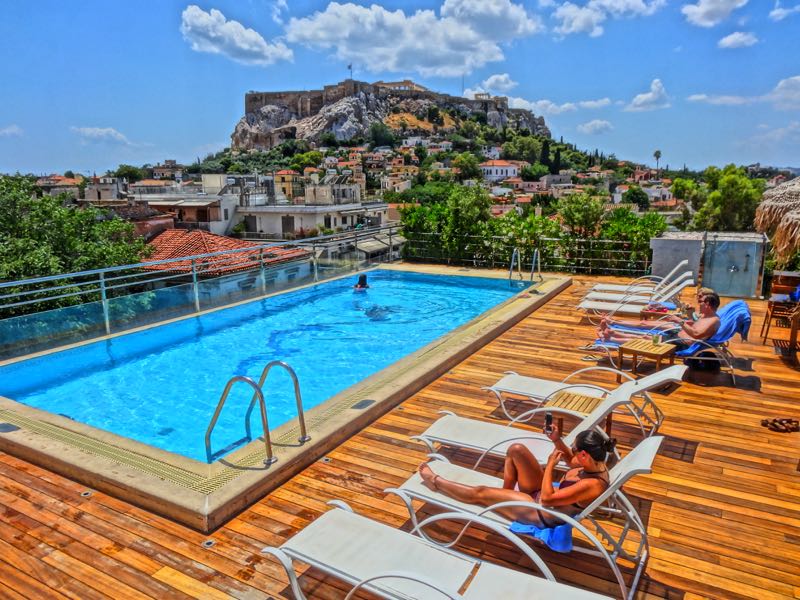 There are a number of hotels in the neighborhood, the best among them being the 5-star luxury Electra Palace on the corner of Voulis and Nikodimos Streets with its swimming pool, bar and restaurant and amazing view of the Acropolis. The Niki Athens Hotel is a nice 2-star hotel right on Nikis Street. The 3-star Hotel Central is one of the most popular hotels in Athens and is located on Apollonos Street, as is the 3-star Hotel Hermes and the 3-star Hotel Omiros. The 2-star Hotel Adonis is one of the most popular economy hotels in Athens because of its location right in the Plaka. The 4-star Electra Hotel in on Ermou Street, Athens largest pedestrian shopping street, in between Nikis and Voulis Streets. The Athens Diamond Homtel and its mpre upscale sister property Athens Diamond Plus are both on Voulis Street a few steps away from Syntagma Square. The 3-star Best Western Amazon Hotel and the 3-star Arethusa Hotel are both just steps away from Voulis and Nikis Streets as is the popular Athens Cypria Hotel. Actually all these hotels and the apartments in the area are all very popular and unless you book early or get lucky chances are good that they will be fully booked. If so your best option is to contact Fantasy Travel, who are on Fileninon Street, a block away from Nikis Street, and ask them to find you something in the neighborhood.