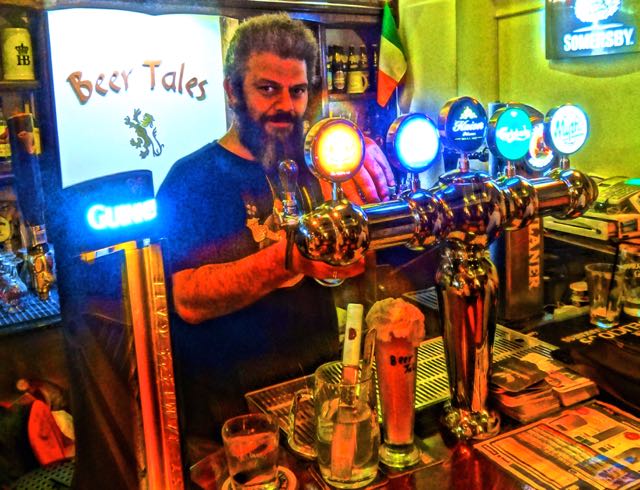 In the Plaka on Nikis Street there is another place that prides itself in selling all the Greek microbrews as well as some popular and obscure European beers, formerly called Athens Beer and now called Athina's Cook. If you make it as far as Kypseli and want to check every cafe on both sides of Fokionos Negri you will find that most of them have one or two interesting beers that you may not have seen elsewhere in Athens. Or you can go right to Beer Tales at #52 Fokionos Negri where they have a large assortment of Greek, Belgian, European and international beers and has the best setting of any of these places, being basically in a park. They also have special music nights, for example Rory Gallagher Night, which does not mean that he played there but they played his music. Every beer place should have a Rory Gallagher night. Which of course brings me to the James Joyce Pub, an Irish pub owned by Irish people at #12 Astigos Street in Monastiraki, carries Guinness, Kilkenny, Fosters, Carlsberg, and Heineken on draft and Buckler, Bud, Stella Artois, Corona, Coor's Lite, Pilsner Urquell, Warsteiner and Magners Cider in bottles. Vini Pub at 10 Drakou Street in Koukaki right by the old FIX building has 65-70 imported beers, mostly Belgian. If you have a long wait for your ferry in Pireaus then make your way to O'Connell's Pub, another Irish flavored and Irish owned pub with a nice selection of beers (and a larger selection of whiskeys) and a large menu too. It is across from the cruise ship terminal at Akti Miaouli 79. Maybe the best place to try Greek Microbrews is at Barley Cargo, located at 6 Kolokotronis Street just up from Lekka Street, a few blocks from Syntagma Square. They have over 200 beers from all over the world and promote local craft beers with beer tastings and other events. They also serve food. The Local Pub at Chaimanta 25 in Halandri is considered by many to be the best beer hall in Athens. You can take the metro to Agia Paraskevis and walk or take a taxi from the metro station but you may as well just take a taxi from downtown if that is where you are staying. (It will cost about the same as 3 beers.) If you want to buy some interesting beers to take to your hotel room try Beer Corner at Perikleaous 12 just a block or two down from Syntagma Square. On Nikis Street #50 there is a brand new beer store called BREW STR where you can buy, drink or sample lots of Greek and foreign microbrews.
For decades beer in Greece meant run-of-the-mill lager beers and nothing else. Initially Fix was dominating the market, followed by Amstel and Heineken. At some point, a new series of greek lager beers entered the market and slowly seeped through the locals' preference (mostly by aiming to their sentiment of patriotism market wise) in the names of Mythos and Alfa, followed by the revival of Fix. Today, none of these beers are Greek any more. Mythos and Fix are now a subsidiary of Carlsberg, while Alfa is a subsidiary of the Heineken group.
Personally I find all of the above of exceedingly low quality, (especially since I've tasted actual quality beers), but they are cheap, easy to find everywhere and served always iced cold which helps mask their piss poor taste.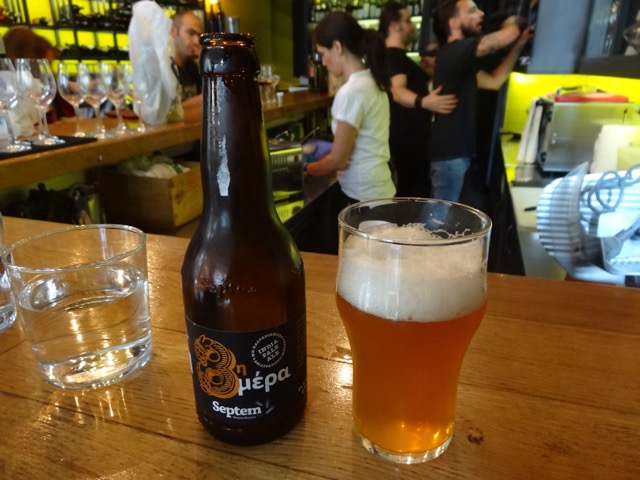 In the last decade the greek microbreweries have bloomed producing fantastic and high quality beers, some of which can rival famous international quality beers.
Now, nobody can claim in any country what the "best" beer is, because the style of beer as the beer itself is a subjective matter of taste. But if you want to try actually Greek beers, here are a few suggestions (though you might have to search a bit to find them, most probably in beer restaurants or establishments that respect their customers' palate and they are a bit more expensive than the ones you find at street kiosks).
If you are into Lager beers try: Vergina Lager, BIOS5, Magnus Magister, Eza, Corfu, Zeos Blue Mak, Theta, Volcan Black, KEO, Berlin, Blue Island, Brinks Blonde, Brinks Dark (dunkel), Zika, Zithos Bap
If you're into Weiss beers try: Vergina Weiss, Magnus Weiss, Brew Wolf Weiss, Alli Weiss and Amorosa
If you're into Pilsners try: Zeos Pils, Septem Monday's Pilsner, Z, Ionian Pilsner, Volkan Blonde, Nisos, ORA Pils, Voreia Pils, Canal Dive Pilsner, Corfu Ionian Gold, Corfu Ionian Pilsner, Magnusand Delphi, Dioni, Theta, Solo Sinergatiki
If you're into IPA beers, there's a boatload to try with new ones coming out on a monthly basis. Try: Septem, Kirki, Voreia, Spartan, Sknipa, Solo Psaki, Solo Fouriaris, Volkan, Crazy Donkey, Molotov, ORA, Contessa, Corfu Real Ale Bitter, Brew Wolf IPA, Alli IPA and more
For Ales/Stouts try: Alexander the Great, Solo, Canal Dive Brown Ale, Chios House Ale, Mary Rose, Yellow Donkey, Argo Golden Ale, Vergina Porfira, Solo to Skotadi
For smoked ones try: Voreia Smoked Amber Ale, Chios Smoked Robust Porter,
For Porter ones try: Septem Porter, Solo o Askianos,
Other specialty beers: Corfu 1842 Ginger Beer, Marea (specialty grain), Zeos Orange (fruit beer), Solo Xoriatiki, Solo 13os Apostolos (spiced Belgian brew), Solo Protagonistis (15% Alc)
For Radler/Shandy ones, just get any lager and add lemonade and/or Sprite.