Byzantino Jewelry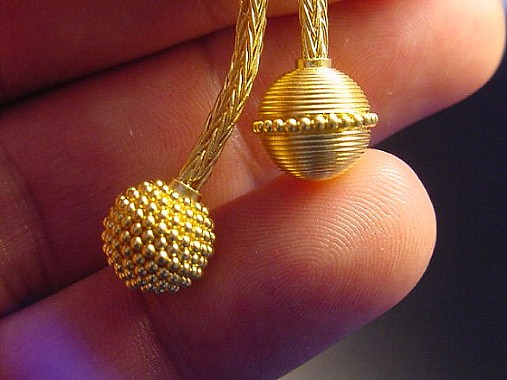 Hand-crafted Gold is inexpensive. It's not that gold is cheaper in Greece, which is what some people believe. Gold is the same price everywhere. But labor in Greece is cheaper and there are terrific bargains to be found if you know where to look because Greek goldsmiths are among the best in the world. My wife Andrea, makes Greek-style 22k gold and hers is as nice as anything you can find in Athens with the exception of a couple of the better shops in Athens including BYZANTINO at 120 Adrianou on the Plaka. Their work is so good and so inexpensive that Andrea, (who is considered one of the finest goldsmiths in America), even buys from them. If you are a lover of Gold jewelery don't buy anything until you have seen their work. (The detail of their granulation is incredible. See the Byzantino Jewelry website for examples)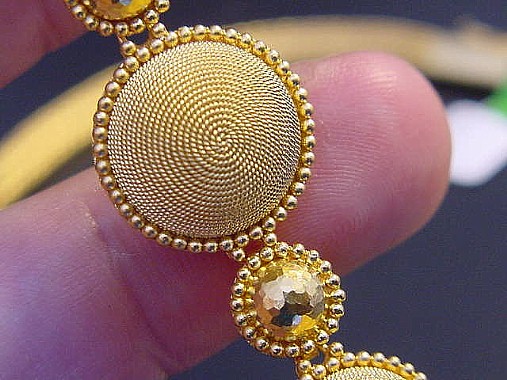 I may not know much about jewelry but Andrea certainly does and I have to drag her out of Byzantino on a regular basis before she spends all her money that she makes from her own jewelry business. Her new strategy is to buy several pieces because she is going to sell them to her clients in the states. Guess what. Not only does she not sell them, but she doesn't even try. She wears a piece to a party and one of her clients will ask her if she made it and she will tell them that she bought it at Byzantino. Now I am not much of a businessman but shouldn't the conversation continue with her telling the client that the piece is for sale? I don't know if she planned on selling the piece and then fell in love with it and could not part with it, or she loved it from the start and had no intention of selling it but knew that was the only way she could get it without a struggle. Whatever her motive, the point is Byzantino's jewelry is high quality, excellent craftsmanship and maybe even addictive.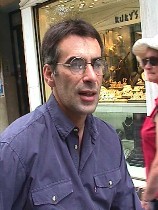 But if you would like even more of a reason to go there to see their jewellery, look no further then Kosta aka The Doctor, the most interesting and knowledgeable man on the planet. Ask him anything about music, philosophy, science and yes, even jewelry, and he will give you an explanation with charts and diagrams that will make a strange world suddenly make sense....sort of. And if that is not enough, one day an older gentleman from America came into the shop looking for Kosta. He was buying a ring for his wife and claimed that Kosta stopped the pain from his carpal-tunnel syndrome by pressing two acupressure-points. He was returning to the shop to see if Kosta could do something about his back. (When he was paying for the 22k ring Kosta joked "the ring is free, the treatment is $100.")

If you walk down Adrianou Byzantino is on your left at #120. There are a number of stores at the same address so be sure you are going into Byzantino. It is right next to the ice-cream shop. For directions you can call them at (01130) 210 324-6605 or fax 324-7079. Let them know I sent you.
Olympico Jewelry
"Some of the most beautiful jewelry I have ever seen in my life was in this little shop in Athens, Greece called Olympico. I think I spent 5 hours in this shop trying things on and my husband drank so much coffee with George and Markos while I was shopping he just told me to buy them all so we would have time to see the Acropolis!"- Famous American actress who wishes to remain anonymous.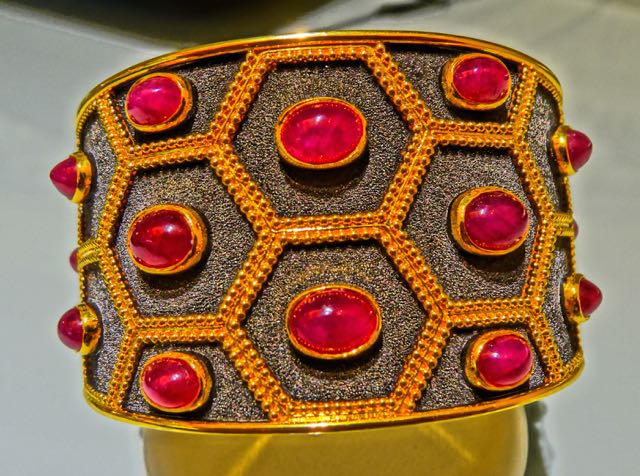 Two doors up from Byzantino is Olympico Jewelry which specializes in 18k Gold (white-pink-yellow), Silver and rather than traditional Greek, specializes in modern Greek jewelry made by contemporary artists. It is very different from Byzantino, despite the fact that they are cousins and come from the same village in the Peloponessos. Olympico is at 122 Adrianou Street and you can e-mail them at olympico122@yahoo.gr or call them when you get to Athens if you would like to make an appointment. (tel 210-3248697 mobil 693-6994803). Of course you can also just drop in and ask for George and Markos and they will probably treat you to a coffee or whatever you want to drink while you are shopping and can also tell you the best places to eat in the neighborhood. In the meantime visit the Olympico Jewelry website so you will have something else to talk about when you come to visit.
Both Olympico and Byzantino have gorgeous jewelry, nicer than 99.9% of what you will see on the islands and around Athens so try to make time to stop in for a visit to both places since they are practically right next door to each other.
Dimos Jewelry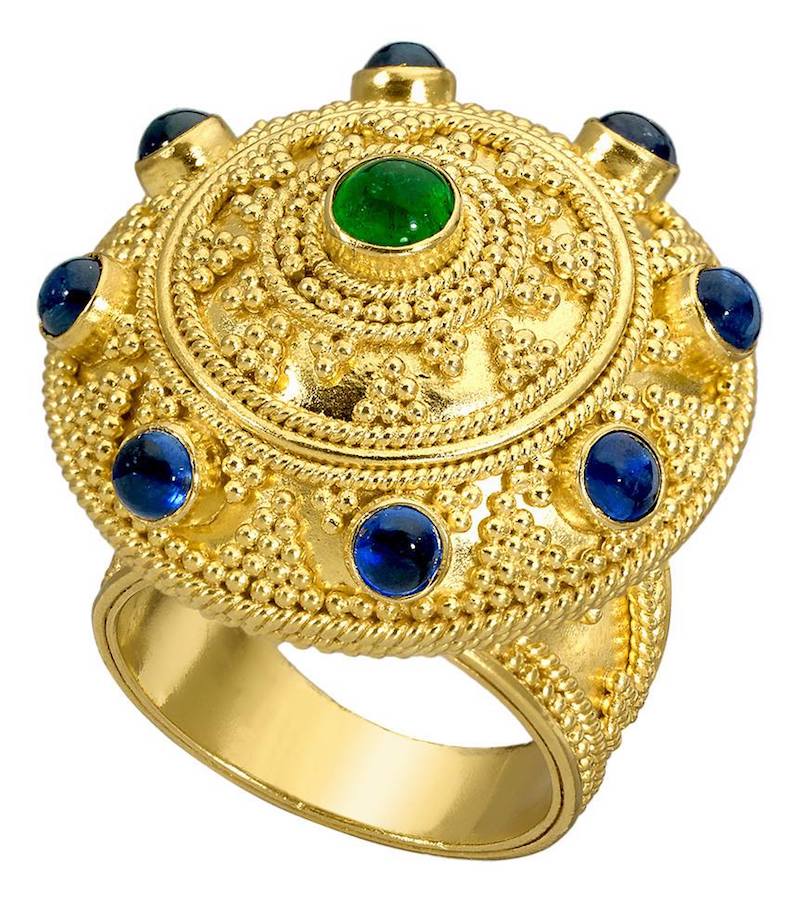 When Wolfgang Amadeus Mozart was 5 years old he had already composed several musical pieces. In fact when his father saw what talent his son had he gave up composing himself. By the time he was 8 years old he had written his first symphony and toured Europe, performing for the Royal Courts in Vienna, Prague, Paris and London. As we all know he became the greatest composer in musical history and had he not died at a young age who knows how much more great music he would have composed. So where am I going with this?
In 1968 jeweler Sotiris Dimos opened his first shop in Athens and focused on recreating historical pieces from 4th century BC, Byzantine period and museum treasures, using centuries old jewelry techniques. His son Stavros was born several years later and grew up in the shop where his family worked, and began making jewelry as soon as he was able to hold the tools. By the time he was a teenager he had won several prestigious awards for originality and his talent for merging the old (Ancient Greek and Byzantine) with the new (his own designs), while still making jewelry the traditional way.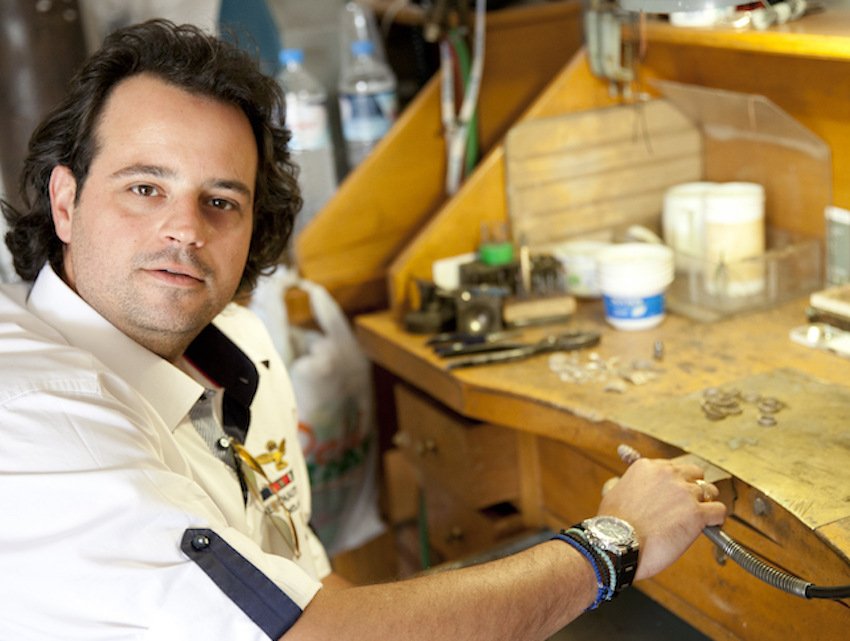 Today the former child prodigy Stavros (Steve) Dimos is known world-wide for his innovative and detailed work. If you love jewelry and fine craftsmanship visit his original shop conveniently located at Mpenizelou Palaiologou 3 which is in both The Plaka and Monastiraki neighborhoods of Athens. The street is right off Adrianou Street which is the main shopping street of The Plaka. If you are coming from the Monastiraki direction turn left and if you are coming from the Plaka direction turn right and the shop is less than a block away. You can also find it by going to the big square where the Cathedral of Athens is located on Metropolis Street. If you come up the famous Pondrossou Street from Monastiraki Square you can't miss it. Next to the Cathedral is a small Byzantine Church called Agios Eleftherios and Mpenizelou Paliologou Street begins right there. You can also e-mail Stavros and he will guide you from your hotel or send someone to bring you to the shop. Or phone him at +30 2103 2143 02 or +30 6974 3175 07. Tell him you found him through Matt's Athens Survival Guide and ask to see stuff from the secret vault. Visit Dimos Jewelry Website to see a few of his beautiful pieces.
Come see Steve at his new easy to find location at 87 Adrianou Street in the Plaka. It is right across from the Historical Neo-Classic Elementary School.
See also Gifts for some other ideas of what to buy in Athens. You can see Andrea's jewelry at www.byzart.com
Help Support Matt's Greece Guides
Do you enjoy using my site? Have you found it entertaining as well as useful? If so please show your appreciation by booking hotels through the travel agencies and the links found on my Hotels of Greece site. The small commission I make on the bookings enable me to keep working and in most cases you won't find them any cheaper by searching elsewhere. You can find hotels in Greece by location, price, whether or not it has a swimming pool, and see photos and reviews by using this link to booking.com which also contributes to my website when you book. If you are appreciative of all the free information you get on my websites you can also send a donation through Paypal or Venmo
Join Matt Barrett's Greece Travel Guides Group on Facebook for comments, photos and other fun stuff. If you enjoy this website please share it with your friends on Facebook and other social media.