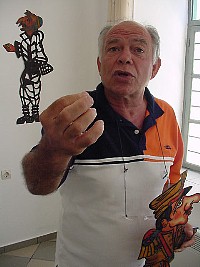 Before there were movies and television there was Karaghiozi and traveling theaters would announce the show times in the main squares upon arrival in the villages and cities of Greece. Of course like silent films, the Karaghiozi died out as people embraced newer forms of entertainment until finally even the Haridimos Shadow Theater in the Plaka by the Lysikratou monument could no longer survive and became a cafe. But Karaghiozi still exists through traveling performers like Mr. Haridimos, who is not just a master of the art but a teacher and historian. His shows are put on with the help of his students, and the Greek Ministry of Culture sends them all over the country to ensure this form of entertainment and social commentary does not disappear completely.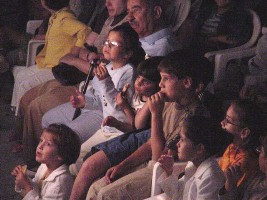 The show itself is entertaining, more so if you are fluent in Greek. But even a child with no knowledge of the language will enjoy it. In Kea the platia was full of children and adults, in fact pretty much the entire village was there. Even the restaurants around the square were full of people who watched the performance as they ate and drank. Naturally the show could not begin until the sun had set and as it became darker the characters and scenery looked better. The puppets themselves are made from flat pieces of leather or cardboard with movable joints fastened to sticks with which the puppet-masters control the movements. They are painted on both sides so they can be reversed and go in different directions. The puppet-masters stand behind the lights which illuminate the action and they do all the voices and sound effects.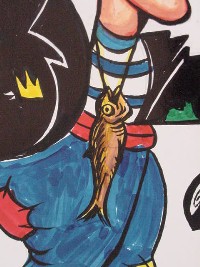 The following day Mr. Haridimos invited the villagers and particularly the children, to a workshop and demonstration which took place in the music school. He had on display characters and props from the different periods of the shadow theater's history and spoke about the symbolism. Apparently everything is symbolic even the colors on the clothing.
Will Karaghiozi make a comeback? Well, in the nineteen-sixties they thought Rembetika music was dead and since then there have been millions of dollars worth of old recordings and new sold, and a popular movie too and you can't walk through Psiri without hearing the old songs being played by young rembetes in every restaurant and ouzerie. The Karaghiozi is something entirely different but as a form of social commentary that is participatory, in contrast to watching the news on a 26 inch screen, there are possibilities as long as people like Mr. Haridimos continue to keep the embers alive by traveling around Greece, and maybe the world, performing and educating people about the art and history of Karaghiozi. Keep your eyes open. There may be a performance near you.
Oh yes, and by the way Amarandi liked the show.
The work of Sotiris Haridimos