Living the Good Life in Athens
By Alexia Amvrazi
Overview
Since my late teens I became fascinated by the power on the human mind, body and spirit of plant medicine, meditation, aroma essences, the effect of food on energy, massage therapies and yoga. So I made it my goal to study, learn, practice and research all of these and more, to find out where they came from, how they affected those who used them, to meet the teachers and healers. I've always aimed to live life doing things I love, so when I reached the point that I started thinking in a more long-term, pragmatic way about my path, many, many moons ago, I came up with the idea of creating a business that would generate a movement amongst alternative health practitioners, centres and retreats in Greece, like a dynamic holistic network of sorts. I remember like yesterday sitting before my parents and some other family members during a casual afternoon gathering and very with momentous focus delineating my strategy. There was an awkward silence when I finished talking after which I was met by a barrage of 'sober' yet caring comments from each of them as to why this was an idea that would never offer me a living of any sort.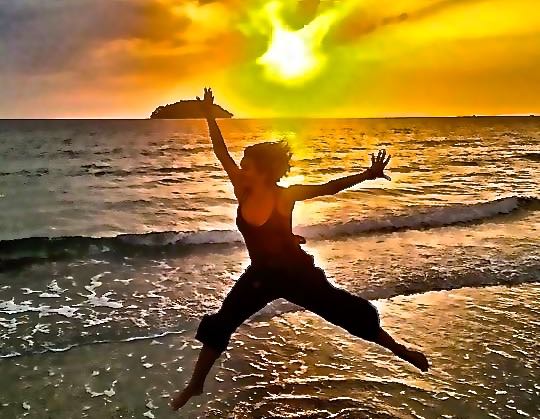 So I just got on with being a writer, which felt satisfying enough and put aside my passionate dreams of creating a fantastic eco/holistic healing community that would spread throughout Greece's incredible destinations, drawing in tons of visitors from across the nation and the world who would all have enjoyed an amazing, enlightening time while I too achieved a successful existence.
Oh, how I regret having been so immature and insecure to not honor my visionary, intuitive thinking at the time. Because over the last few decades (and especially during the last 5 years) Greece has indeed followed the example (a little late, as usual) of more 'advanced' nations and blossomed into a land where wellness tourism and healthier, more authentic and a more spiritually inclined lifestyle is one of the prime travel trends.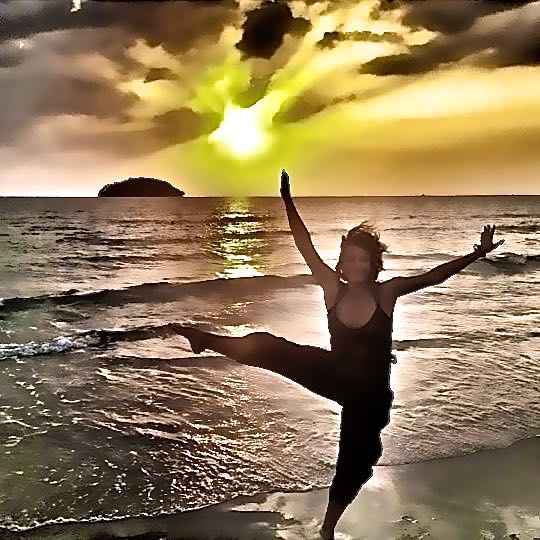 In an age when the average person is addicted (knowingly or not) to electronic gadgets, computers and virtual worlds, high stress working rhythms and juggling a multitude of real or imagined duties, not to mention having to face realities such as wars, daily horror reports, ecological disasters and an overall bleak future for humankind, it comes as no surprise that a deep part of us craves peace, stillness, recovery, escape and well being. As a result, an endless array of spas, yoga and Pilates schools, dance studios of every kind, creative courses, meditation retreats and a growing tendency toward conscious, purer, spiritually awake and more sophisticatedly healthy eating has risen like a swelling wave that promises to ride us into the sunset. The New Age has come, and it does not look like a passing fad as it has been developing consistently over a number of years, and is becoming more firmly set by the day.
Huge corporations are investing in health foods, cosmetic nutrition powders, drinks (look at Coca Cola's $90 million investment in juice company Suja for a nearly 30% stake and an option to buy all of the company after three years) leading luxury hotels worldwide are making all-inclusive wellness an undisputed part of their facilities, and wellness retreats and centres are springing up all around. In Greece you can now find a plethora of retreats based solely on or including various disciplines of meditation and yoga, cuisine such as raw, Aurvedic, vegan or macrobiotic, and more.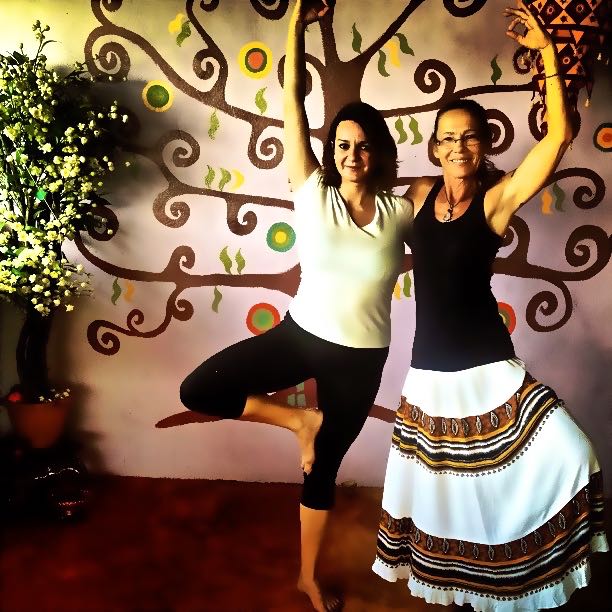 Athens has transformed from a city where residents said things like "Oh I wish they had that here!" to "Wow, there are so many I don't know what to choose!" The crisis has acted like an irritating kick in the head especially to young, entrepreneurial and open minded Greeks who have travelled either as part of their studies or because they felt the urge explore what the world has to offer and returned home to create higher standards in services, products and ideas.
One result of that is bringing over fashions, trends and ancient ideological practices as the ones I'm writing about here, catering to a dawning awareness among Greeks of varying generations that if you eat better, work out in a fulfilling way, learn to breathe and create, you live better, despite the seemingly endless drudgery of dire financial woes. And most importantly, those things can now be achieved in an affordable, approachable way; you can find an abundance of organic produce sold in shops that are mushrooming around the capital with produce sourced from small farmers (several of whom now deliver fresh, seasonal, bio fruit and vegetables to your home every week for a small fee).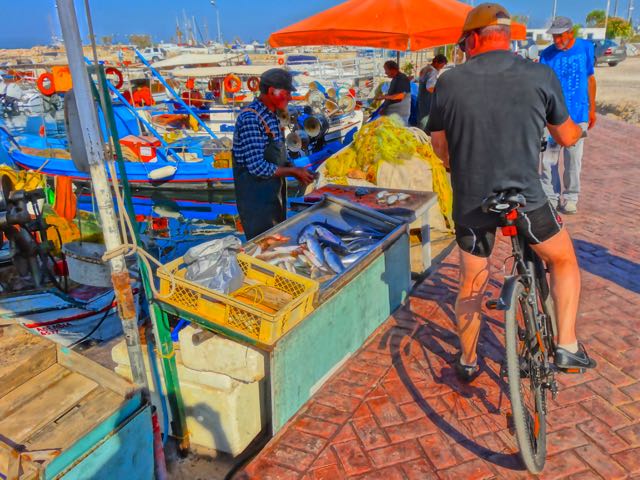 Urban juice bars selling cold-pressed, organic juices and smoothies with added superfood powders are readily available. Vegan / vegetarian restaurants inspired by Ayurveda, gourmet gastronomy, raw cuisine and Asian minimalism are slowly but surely being recognized as a great option to greasy factory-farmed meat. Spas are everywhere, some with therapists who are not particularly talented or experienced others with practitioners who have trained at exotic schools around the planet. Yoga teachers are running outdoor classes in places like the National Gardens, and attracting colourful crowds - and not only standard yoga but even Laughter Yoga has become popular among a group that meets in Thisseio park once a week to giggle, chortle and clap. Bicycle lanes are being created (recently a huge one starting from Gazi and ending in coastal Paleo Faliro) to accommodate the growing number of cyclists in the city, and joggers can be seen in the tens running around Acropolis and Lycabbettus ring-road daily - not to mention the crazy fitness-fuelled action you'll see on Mt Parnitha on the weekend, with crowds of climbers, hikers, mountain bikers, runners and picnic-ers of all ages at every turn.
Yes, Greece is still a conservative, and to some extent, close-minded country, and many still laugh heartily in the face of Om-chanting yoginis and sprout-eating ecologists, yet from my experience of attending workshops where you now can now also meet a square-brained businessman, a 75 year-old traditional housewife or a body building taxi driver all there because they're seeking a higher truth, or ways to learn how to breathe to detoxify their body, I know that something has shifted in Greek society on a significant, and profound level.
Which makes perfect sense, not just for the reasons I listed above, but because for Greeks it is a direct return to their roots - to the holistic ideas of Hippocrates, Aristotle and Socrates, to the wisdom of the Hellenic world, or the mystical meditation practices of the Greek Orthodox church and the sophisticated bond with nature and its health benefits that villagers held onto for millennia before "science based" packaged life became a common commodity. Here I've selected some favourite places and people related to the New Age movement in Athens right now.
Top Yoga Schools in Athens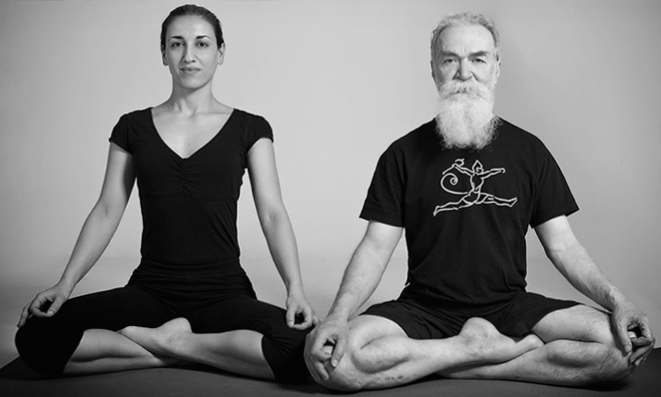 Shakti Yoga Studio: Modeled on the teachings of Indian yoga guru BKS Iyengar, who is said to have brought yoga to the west in the 1950s, and run by Haris Lyroni, the school, in the Mets neighborhood, centers exclusively on Iyengar's precision-oriented teachings. The use of bricks, ropes, belts and bolsters helps students achieve the best possible alignment. There are classes for all levels of experience as well as a weekly kid's class. The studio also runs Sanskrit language and philosophy classes and intensive workshops.
NYSY Studios: A yoga and Pilates studio teaching several yoga disciplines, mainly focusing on Abaya yoga designed by its owner, Vivi Letsou, which aims to encourage courage and facing your fears. The studio runs several workshops, teacher trainings, guest classes by international teachers and summer classes out of Athens, including a yearly course with co-founder Rusty Wells who created Bhakti Flow yoga which is taught at the studio.
Athens Yoga Studio (Panormou): Various yoga disciplines, prenatal yoga, yoga for mom & baby, meditation and 'lucid relaxation'.
Swaha Yoga & Pilates Center (Makriyanni): Hatha, Vinyasa, Gentle and Aerial yoga, Pilates for all levels, and massage therapies (need to be booked).
Bhavana Yoga Center (Monastiraki): Pilates, Yoga Swings, various types of yoga such as Ashtanga, Vinyasa Flow, Kundalini, Restorative, Yin. Meditation, Yoga Nidra and Prenatal. Also Ayurvedic Nutrition consultations and massage therapies.
Yoga House (Psyrri): Hatha, Prenatal, Prana, Yin and Theme yoga (the latter is a yoga class that changes each lesson depending on the theme). Also Yoga Nidra.
Healthy Food & Drink in Athens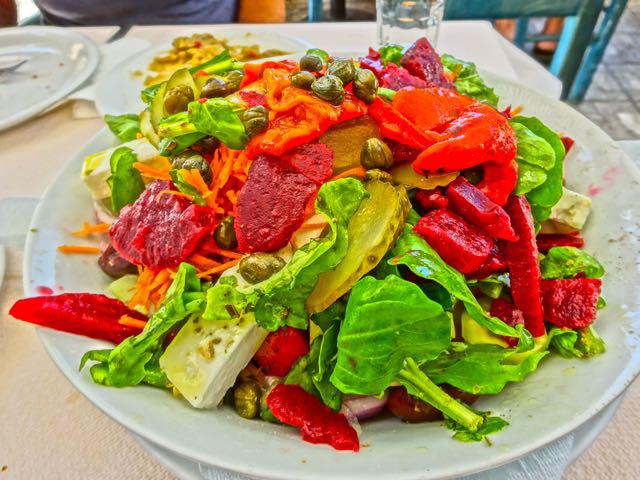 Raw cuisine is not yet exactly popular amongst Greeks, but Yi, a completely raw restaurant in Glyfada is gaining a following, as people discover that raw cuisine is not just chopped vegetables, it can be about sophisticated and highly flavoursome dishes, and amazing desserts that offer tons of nutritive value in its most vital "activated" form. Taking a few "raw un-cooking classes" with Troo Food Liberation, the city's guerrilla foodistas whose group has educated a lot of people on the benefits and pleasures of healthy eating (and who now produce a series of dehydrated kale snacks), I learned that although I will always love some cooked foods, raw-vegan food has a multitude of regenerative, fortifying and detoxifying benefits (unlike a piece of cooked meat that can rot in your gut for years). Vegan food has really started to take off, with Avocado at 30 Nikis Street in Syntagma, gourmet-style Rosebud at 42 Skoufa in Kolonaki, ethnic Mama Tierra at 84 Akadimias St, and the fanatical Ikologoi Elladas, the first ever eco-thinking vegan/vegetarian/bio/health-freak restaurant to open in Athens, on Panepistimiou 57. All of the above use mainly organic, fresh, local, seasonal ingredients in their cooking. Peonia Tea House at 21 Amphiktionos Street & Poulopoulou Street in Thissio close to Monastiraki is also very charming in its tranquil décor and ambience while selling a huge selection of high quality teas, bio products and snacks, as well as Chinese and Ayurvedic herbal medicines.
Healthy Shops in Athens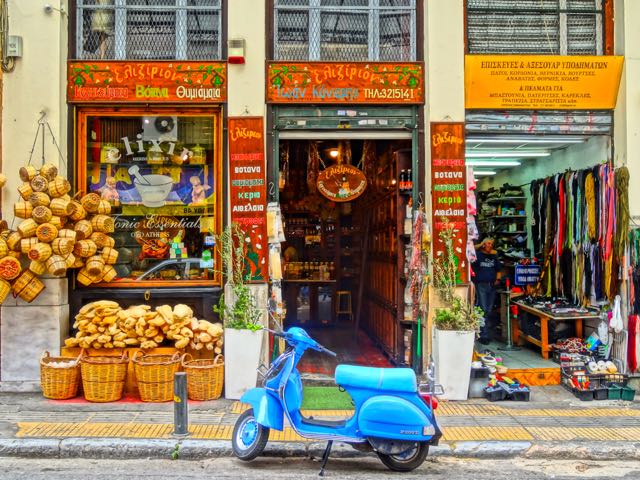 Hand in hand with the healthy restaurant scene is the food shopping scene, with bio shops popping up left, right and centre in the capital, some selling mainly health-oriented ingredients, others authentic, pure and often organic Greek products sourced from small producers around the country. There really is a great selection to choose from, but my favourites are GR-Eatings at 37 Nikis Street near Syntagma, because it has a vast Greek and global range of products at good prices, including ethically produced cosmetics and house cleaning products, plus its owns really know their stuff and are happy to help; and also Ellinika Kaloudia at Chatzichristou 8, behind the Acropolis Museum, which sells a very eclectic choice of products that the owner has sought out himself by researching, travelling and listening to what's being made by small producers, and each product has its story. I would be remiss if I were not to mention the world famous Elixirion, an herb and spice shop at 9 Evripidou Street right off Athinas Street in the Athens Market which has been around for decades. Peri Lesvou at 27 Athinas Street, right next to the Hotel Attalos, has all sorts of natural and organic products from Lesvos including their famous olive oil, olives, cheeses, pastas, figs, ouzo and wine.
Juice Bars in Athens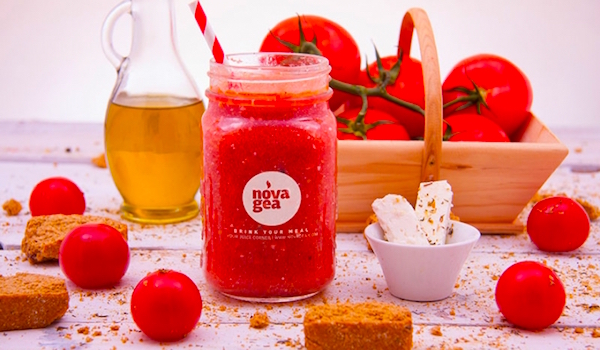 Novagea at 6 Vironos Street in The Plaka is singular in that it's menu is written out like a list of medical prescriptions: 'Smoker's drink', 'diabetic's drink' and 'nervous system tonic' are but a few of their specialized potions. They also stand out from the rest with their 'Dakos drink', a liquid Cretan salad with Dakos rusk, feta and anthotyro cheese, tomato, throumba olives, pepper and capers. To Vazaki at Aristotelous 33 in Halandri uses only organic products and boasts the use of a Norwalk juicer, (the first in Greece and to produces cold-pressed juices, which retains most nutrients) as well as serving salads, soups, sandwiches and light desserts. It also runs offering meditation, yoga and other seminars in their space. The previously mentioned Avocado at 30 Nikis Street in Syntagma was among the first to enlighten Athenians on the joy of juicing. It has a vegan/vegetarian menu, with a slant toward Ayurvedic and Macrobiotic eating and serves a refreshing variety of juices, smoothies and Kombucha tea to go, as well as a raw-base chocolate tart and spinach pie that are to die for. Froots at Athanasiou Diakou and Porinouin in the maze of streets behind the Acropolis Museum is a large, sunlit cafe comfortably near the metro station with a pretty garden, serves a choice of invigorating juices, smoothies and shots like wheatgrass made from organic produce and including superfood ingredients. They also serve raw and healthy snacks. Himopeio in Monastiraki Sq has a grocery-store vibe and giant blackboards listing their drinks of the day, this place serves freshly squeezed juices, smoothies and seasonal soups bang in the tourist heart of Athens, all made with seasonal, local products that satiate a foreign as well as a growing Greek clientele.
Alternative Healing Therapies in Athens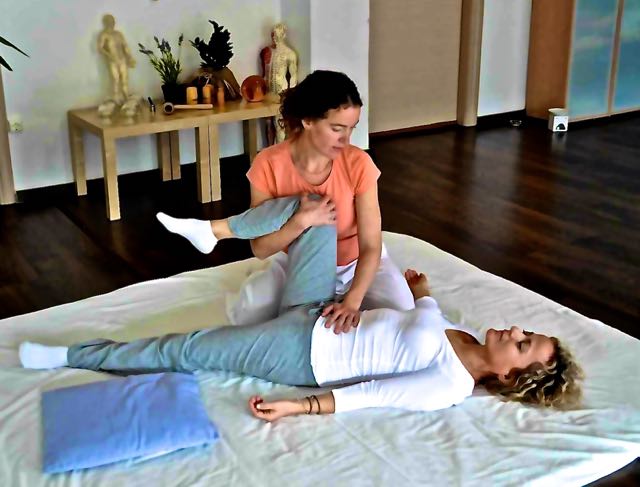 Acupuncture & Shiatsu: Ilaira Bouratinou founded the Oriental Medicine Training Centre at Ermou 86 in Monastiraki in 1994. The center is a combination school and therapy clinic offering workshops, seminars and professional courses in shiatsu, acupuncture and many other therapies. She teaches Shiatsu and Acupuncture as well as treating clients in both. In recent years she's also one of the very few in Greece to offer cosmetic acupuncture, the non-chemical, cell regenerating rather than muscle-freezing, alternative to Botox, collagen injections & face lifts, something the smarter A'list Hollyood celebs who don't want to look like a shocked duck-faced Barbie are opting for nowadays. They also offer various massages as well as Re-birthing and other classes and treatments.
EFT & Energy Healing: Birgit Rudolph is a skilled, charismatic and experienced physiotherapist, teacher and practitioner of healing arts such as Reiki, Emotional Freedom Technique (known as tapping and now widely used by alternative and traditional physicians as an effective healing method), clairvoyant communication, kinesiology, meditation, crystal therapy, Quantum Matrix Healing and Expansion Method. She offers private healing sessions, and runs several workshops per year in various disciplines.
Theta Healing: Constandinos Dendrinos practises Theta healing, a meditational therapy that uses the Theta brainwave, which is the one you are most tuned into when you're just about to fall asleep, to help the client 'travel' into various levels of their subconscious almost like in hypnotherapy to reverse and remove beliefs, memories and feelings that are causing blocks, illness or unhappiness. He uses a system called 'muscle testing' which like a truth test in the body itself, garners a response from the client's body rather than mind as to what the client really feels, believes and wants.
Ancient Greek Massage: Elly Tsouknaki is a physiotherapist and massage therapist who came up with the Ancient Greek Massage, a style of massage that has now been trademarked and franchised to top spas around Greece. It all happened after Tsouknaki realized that there was no massage style actually based on Greek therapy principles. SNuad Thai Massage is a place of wellness and relaxation, inspired by the colors, aromas and harmony of the exotic Thailand.
Nuad Thai Massage: Upon entering Nuad Thai Massage, you are in a small oasis of tranquility with skilled and qualified staff who understand your needs, guide you in selecting the proper service which will help you redefine your concept of well-being, health and beauty for body and spirit. Nuad Thai Massage may prepare for you personalized treatments, tailored to your needs and performed in a sophisticated and serene environment with candles and soft, relaxing music, combined with sweet aromas of essential oils and perfumes. Located at 11 Thissiou street near the Monastiraki & Thision Metro Stations.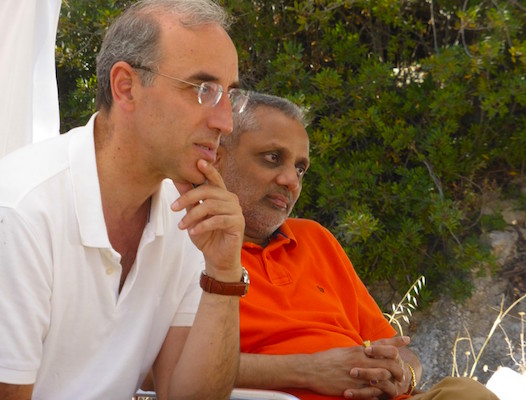 Holistic Health Center: Greece's heading Aurvedic practitioner, homeopathic and traditional doctor Dr Nikolaos Kostopoulos has gained a solid reputation for his work at the Holistic Health Center based in the northern suburb of Kifissia. Holistic Health Centre also organizes every year a series of seminars and retreats, both in English or Greek, devoted to the basic principles of Ayurveda and the practice of Yoga. The seminars are conducted by Dr Nikolaos Kostopoulos and Vaidya Asvin Barot. The seminars are open to everyone who is interested in Ayurveda, Yoga and Meditation. Dr Kostopoulos (M.D. Athens - M.F. Hom UK) sees patients who come from all over the world. He advises and treats the person as a whole combines orthodox medicine with Ayurveda, as well as Acupuncture, Homeopathy, Herbalism, Nutrition and Yoga depending on the particular needs of the person and his state at the time. In addition to running his medical practice, Dr. Kostopoulos is involved in ongoing research within the field of psychosomatic disease and stress management through Ayurveda.
Top Spas in Athens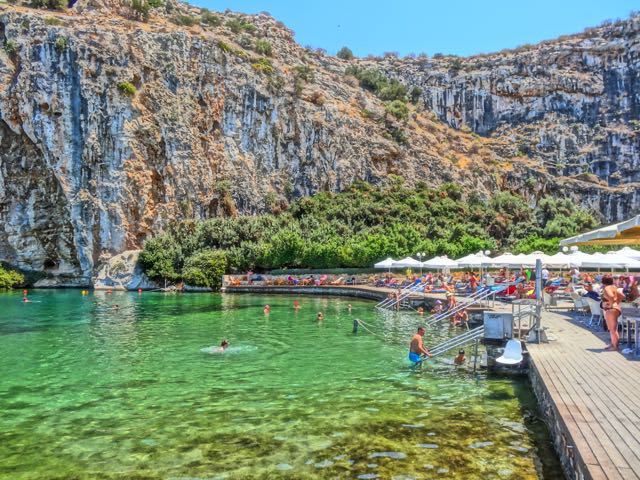 If you're planning to splash out big time to resuscitate your aching body, try the Hiltonia at the Athens Hilton Hotel, or the GB Spa at the Grande Bretagne Hotel. Top of the league too, is the highly accommodating and professional Aegeo at the St George Lycabettus, which at least leaves you enough change to get your pampered body home in a cab. In fact many of the luxury hotels in Athens and its suburbs have some kind of spa for their guests. Le Hammam at Agiou Trifonos 8 in Kifissia offers a wildly dreamy series of exotic therapies and packages inspired by Polynnesia, India, Hawaii and Morocco while the Hammam at Ag. Asomaton 17 right by the Kerameikos Archaeological site between Psiri and Thission steams you, lathers you up and travels you to a traditional Turkish bath house in the heart of the historic centre. The most impressive spa, at least in terms of setting is probably Vouliagmeni Lake which offers various treatments, not least among them the healing mineral waters and the nibbling fish, just like the ones who give pedicures at the Fish Spa at 45 Aeolou Street in Athens.
Holistic Holiday Retreats in Greece
Lesvos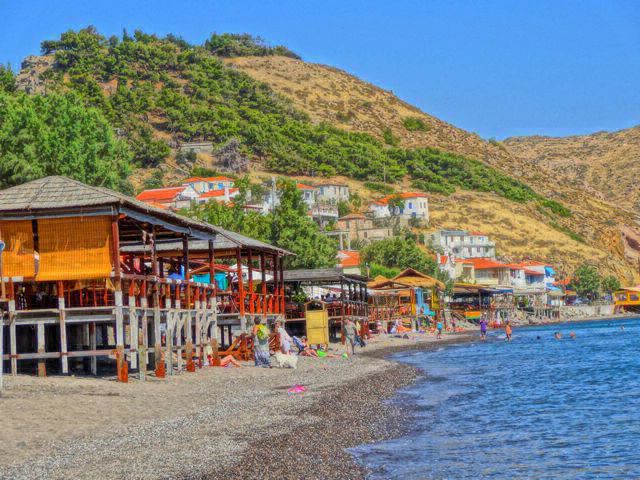 The beautiful beach town of Skala Eressos on Lesvos, one of Greece's most beautiful islands, has been a spiritual Mecca for years. A long time favorite destination of gay women the town hosts an Osho-Rajneesh Center where you can learn to do the active meditations which were inspired by George Gurdjieff, a Georgian-Greek, one of the first 'enlightened' westerners to develop a practical spiritual program in the early part of the 20th century. The center hosts a variety of spiritual/psychological workshops and has a popular restaurant called Zorba the Buddha. There are also various people in the village who do massage, Reiki, and various types of spiritual/psychological therapies. And of course there are yoga and Pilates classes. The town of Molyvos has a large yoga community as well, centered in the valley of Eftalou around long time practitioners Angela Farmer and Victor van Kooten. Nearby the Milelja Retreat Center offers classes and workshops in yoga and other spiritual/physical/psychological practices. The island of Lesvos is also known for its hot mineral bath spas which have been used for healing for centuries. For more about Lesvos see Lesvos: More Than Just Another Greek Island
Seliana, Peloponessos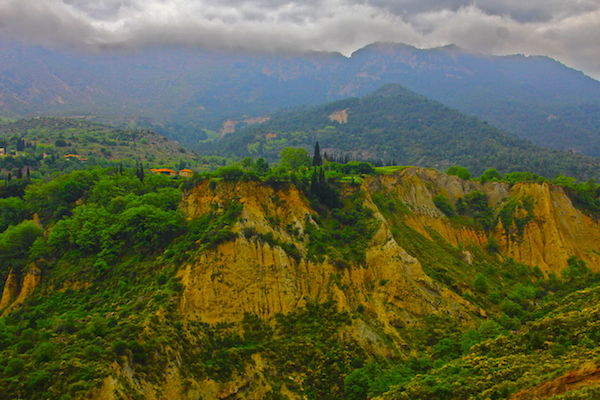 Regreen Ecoculture Center: A self-sufficiency Permaculture course, Detoxifying Herbsalism and Shamic Saunas are just some of the things you can experience at warm and welcoming Regreen, a lush complex of cob houses, a common area, main house and permaculture farm just outside scenic Seliana village in the mountains of Akrata. They also offer seasonal retreats that combine the ancient practices of Yoga along with the rediscovered practices of Eco-living, living in harmony with the earth and the season. Seliana is in Ahaia of the Peloponessos on the way to Patras.
Paros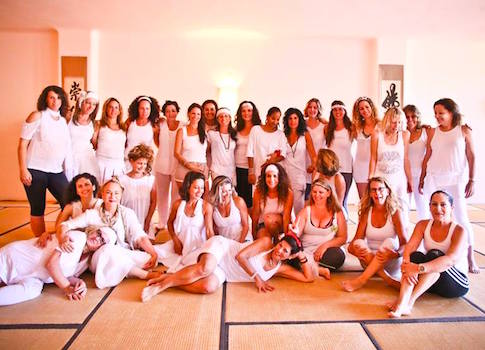 Tao's Retreat and Meditation Center on the island of Paros, offers daily classes, therapies, workshops, retreats and long-stay programs, dedicated to the practice of awareness and wellbeing including yoga, meditation, Chi Kung, mindfulness, movement, dance, creativity, healing, treatments, music, Osho/Rajneesh/Gurdjieff active meditation, Pilates, A Course in Miracles, and activities for children. Tao's Center offers various massages, therapies, healing and personal counselling sessions. All are given by Tao's home teachers and therapists as well as by visiting high-level professionals. These include Holistic treatments, Acupuncture, Ayurvedic and Thai massages, Healing, Reiki, Aromatherapy, Astrology and many more. The center also has a very good Asian restaurant. There are other classes, teachers and therapies on the island which you will see advertised in posters, cards and brochures left in your hotel and cafes and shops. For more info see Matt Barrett's Guide to Paros
Kalikalos Network of Holistic Centres : With three centres located in the idyllic sea & mountains landscape of Pelion, the Kalikalos network is made up of several teachers and therapists coming from around the world to teach there during the spring and summer months, mainly on a volunteer basis. The centres run a mix of workshops from filmmaking and fun sustainable cooking to Vipassana meditation and eco-building.


Symi Yoga Retreat
SYMI YOGA RETREAT: 10 days on a tranquil island, surrounded by ancient history and turquoise seas, delicious food, yoga and mindfulness, cooking classes, hiking, snorkeling, dancing, and more…. Sounds heavenly, doesn't it? Come to Symi Yoga Retreat, Greece and leave your worries behind. Set sail on a journey with purpose and passion, to a hidden island gem in the Aegean for a holistic yoga and wellness retreat designed to restore and revitalize your spirit. Reconnect with yourself and those around you on the beautiful island of Symi, Greece. You'll join fellow adventurers and yoga enthusiasts of all levels for a once-in-a-lifetime opportunity to reflect and renew away from the hustle and bustle of daily life. They offer a 20% discount to anyone who mentions Matt's website.
Visit Their Website
The Healing Waters of Edipsos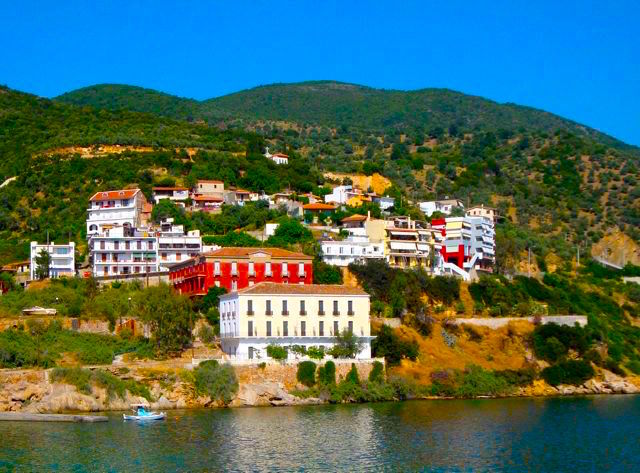 Edipsos has to be one of the most amazing resorts in the word when it comes to healing mineral baths. There are more than eighty individual springs with waters ranging from 28 to 86 degrees centigrade, which can be quite hot. These springs which have been in use for at least since Roman times, are said to be effective in curing problems such as rheumatoid and inflammatory arthritis, degenerative arthritis, spondylo-arthritis, myalgia, neuralgia, lumbago, neuritis, backaches, tendonitis, vessel diseases, diseases of the endocrine cycle and post traumatic inflammation. A number of gynecological complaints can be remedied such as salpigitis, endometrititis infertility, and ovarian deficiency. They also say it can cure men's potency problems. There are also many privately owned spa facilities, baths and pools, some of which belong to the hotels. Nature has also chipped in for a rare combined experience where the warm water gushes from the sea bed, a rare phenomenon that is difficult to find anywhere else in the world. See Matt Barrett's Guide to Edipsos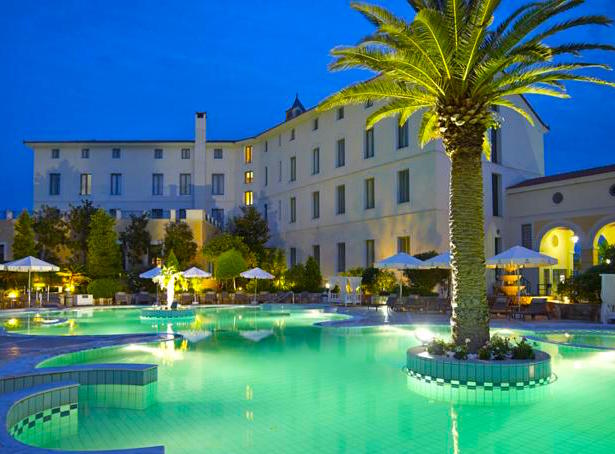 Thermae Sylla Spa & Wellness Hotel: Right on the coast of Edipsos, this 5-star hotel and spa features 2 gourmet restaurants and 2 thermal-water pools. Thermae Sylla Spa is included among the 10 best Thermal Spas worldwide, according to the Conde Nast Traveler. The Spa Hotel offers a selection of rejuvenating treatments for men and women. Available treatments include thermal water hydrotherapy, mud therapy, inhalation therapy, massage and reflexology among others. The hotel's luxurious rooms and suites have marble bathrooms with bathtubs. They are all fully air-conditioned and also feature a satellite TV and minibar. Courtesy cosmetics, bathrobes and slippers are included. The 2 restaurants, Edipsos and Mesoghios, serve Mediterranean dishes prepared by using fine, fresh ingredients and traditional recipes, all produced in the hotel-owned farm; all dishes are prepared using pure virgin olive oil produced on site. The Thermae Sylla Spa Hotel is a 2 hour drive from Athens.
See Alexia's blog: I'M VERY WELL, THANK YOU! Perfect getaways, amazing therapists, health products, all-round WELLBEING…in Greece & beyond!