by Maria Verivaki
The tourist image of Athens is that of a tightly packed city full of boxy apartments piled over shops, all cascading down the rock of Acropolis as the pride and centerpiece, with sidewalk cafes and the bubbly atmosphere of a city that does not sleep. Despite the development of public spaces away from the city centre, there are still some parts of Athens that, due to a misunderstanding of their nature, are never considered noteworthy to visit, so they remain a mystery to the uninitiated.This means that there are still some awesome places in Athens which, once you get to know them better, have the power to transport you, even in our modern times, straight back to the time when the ancient Greeks walked those same paths, performing the tasks involving their daily routine and their traditional rituals.
Ditiki Attiki, the collective name of the less salubrious and somewhat problematic western suburbs of the Athens sprawl, conjure a negative image, exacerbated by the lethal floods in Mandra in 2017. Few people realise that the west Athens suburbs are actually the most historically significant parts of the city after the area around the Acropolis, with numerous significant archaeological as well as historical sites that shaped Athens as we know it today. Ditiki Attiki is now very easy to get to from central Athens, thanks to the extension of the Athens metro and the suburban overground, none of which existed before the 2004 Olympic Games.
The western suburbs first caught my gaze when I lived and worked in the region on my arrival in Greece, and after a quarter of a century, they still hold a special place in my heart. Ditiki Attiki may seem scary at first sight: the unbearable traffic, the industrial noise, and the scarred surroundings of the urban wasteland will shock you to the core. Your first thought will be to turn back and run away. You may be asking yourself what on earth could be so interesting to see here. You need to keep a very open mind: by going west, you will eventually end up at Eleusis, the mysterious home of the unknown afterlife, where death was celebrated in ancient times. If you have a fear of death, then Eleusis is the place for you. It is at Eleusis that you will overcome that fear. (Are you still there? Please stay. You will have much to lose if you do not.)
Let's start the journey facing death itself with a visit to the Kerameikos cemetery, the second stop of the ancient Greeks who would make the annual pilgrimage to Eleusis some time in late September of every year. (The first stop was inside the Acropolis where the pilgrims would meet up.) You have landed yourself at the beginning of Iera Odos, which means 'Sacred Way' in Greek – and to this day, it is still known as Iera Odos.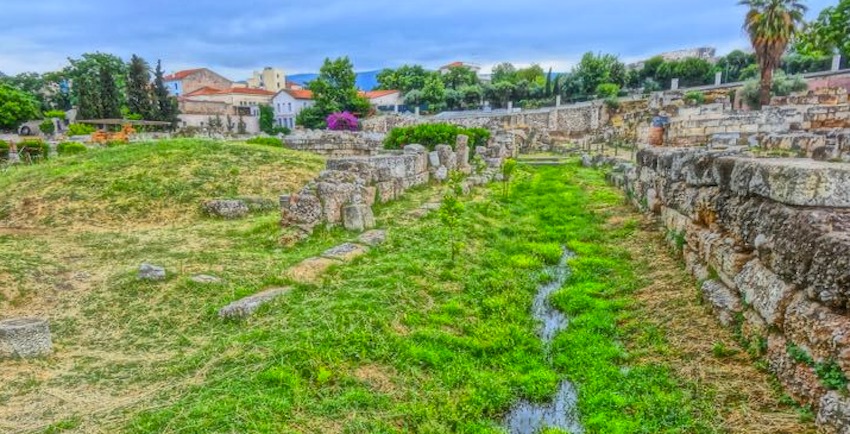 Kerameikos
At this point, you can visit the ancient Kerameikos cemetery, although it will take up some precious time in your day, and you will need a lot of time if you want to get to Eleusis with stopovers at all the points of interest. (You can do this on your return to Athens centre – you'll probably have a greater appreciation of the site.)
Ιera Odos feels rather stifling on a hot summer's day from the roars and fumes of car engines forming an endless stream of traffic. Then there are all those old decrepit buildings that look like they are about to fall down in the next earthquake. Whether you are walking, driving or being driven along Iera Odos, you will feel like you are taking the road to hell. It will be hard for you to believe that you are heading towards your salvation. Be brave. Stay. Remember that you are searching for the answer to life itself, and it will only come when you get to Eleusis.
A bit of history: Iera Odos is the oldest road in both Ancient and Modern Greece. And for 2,500 years, it was the only national road in Greece, ie the first road in the country to connect Athens with other parts of Greece, both north and south. Iera Odos was asphalted in 1928, and continued to remain the only Greek national road until 1956 when a new national road was carved out parallel to the Sacred Way, which meets up with Iera Odos at a later point. So there was literally no avoiding Iera Odos if you were traveler in ancient times.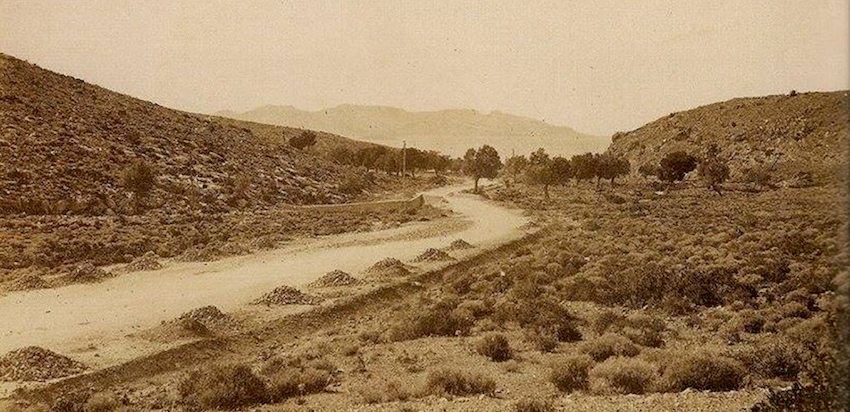 Iera Odos
And where there is a road, there is growth: in the early years of the Greek state, Athens began to grow from the west. What may seem like uncontrolled town planning and tightly packed living/working space is actually a consequence of the city's modern growth trends. Ditiki Attiki is the most industrialised part of Athens, an understandable consequence of its origins and development in the history of modern Greece, a country that is not even 200 years old.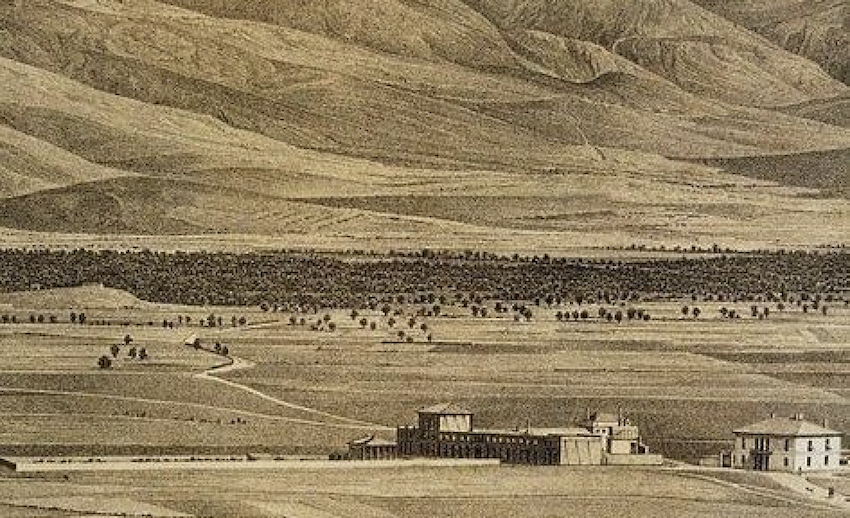 Metaxourgeio 1835
So what was Iera Odos and Ditiki Attiki like 200 years ago? Without a doubt, as attested by old photos of Athens, it was one of the most beautiful areas of the wider area. It is very difficult to imagine this, but there are still some signs which symbolize what was once there. What existed in ancient times on Iera Odos will blow your mind: just a few metres west from the historic centre of Athens is where the largest olive plantations in the country existed, extending over an area of 10 kilometres. Not only is it hard to imagine that this concrete mass was once a thickly set forest, but it is even harder to imagine that it existed until the mid-19th century! This is how the suburb that runs through Iera Odos close to Athens got its name: it is known as ELAIONAS, and it is also now one of the metro stops; in Greek, ΕΛΑΙΩΝΑΣ means 'olive grove'.
Not a single one of those olives from the grove remain, but there are some interesting finds along the way, like the ancient bridge that was built above the Kiffisos river which is no longer visible above ground.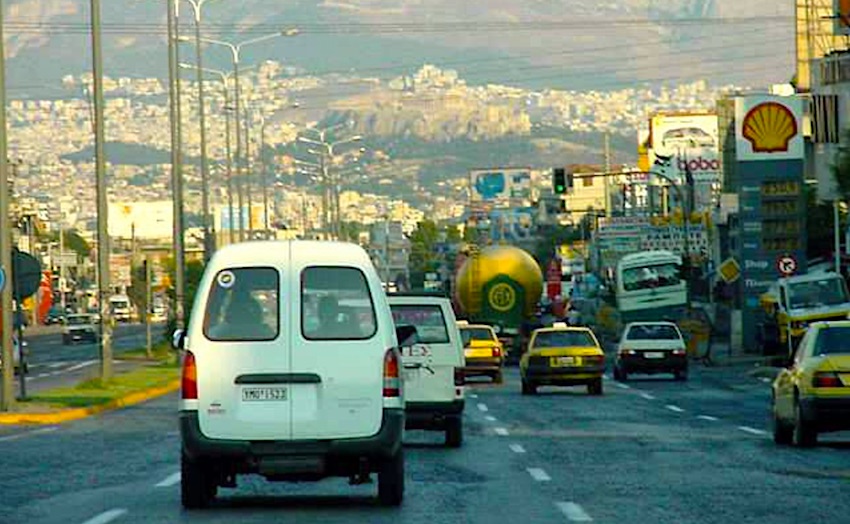 Iera Odos
Somewhere among these olive groves, the philosopher Plato ran his academy, which operated for 10 whole centuries until the Christian era, which did away with a lot of the ancient Greek rituals and religious rites. No trace of the olive grove exists in present times, but the area now hosts the Agricultural University of Athens, where the last stump of some very old olive trees survived until 1976 when a bus crashed into it - perhaps that is a good reminder for our times: nothing lasts forever.
Continuing along Iera Odos, light industry starts to give way to small businesses: shoe shops, clothes shops, bag shops, nail bars, hairdressers, barbers, electronics stores, phone companies, bike shops, groceries, supermarkets, all interspersed by numerous eateries and cafes of all kinds of big stores and small stores, with a dazzling array of goods. You are in Egaleo, a well-kept secret shopper's paradise. Here, you will not find international brand clothing and shoe labels. It's all Greek stuff, made somewhere in the country, and sold to local people. Take a browse; you'll be surprised at the prices and the quality. Shopping in Egaleo feels a bit like the Sirens calling; don't be tempted to linger - it will detract you from your main purpose, which is to get to Eleusis.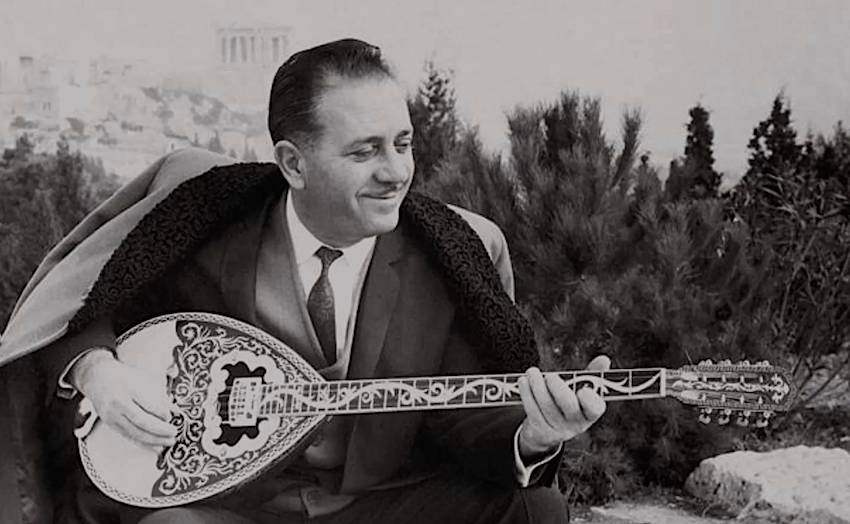 Giorgos Zambetas
It was in Egaleo where the late great Giorgos Zambetas began his musical career. Zambetas set up his music club in this working class suburb during the war. If you are wondering what Zambetas has to do with ancient Greece, the answer is of course nothing; Egaleo is the star here. Standing in front of the Egaleo metro stop, you will see a part of the original Iera Odos, the Sacred Way, that 2,500 year old road, which was unearthed when the metro was being built. A number of segments of the original Iera Odos have been uncovered, but the part in Egaleo is the most accessible, so it's worth stopping here to see it.
So, now it hits you: you are literally walking the same path as those devotees of goddess of Demetra whose sanctuary is based in Eleusis. Demetra's daughter Persephone is why Eleusis exists: When Persephone was snatched away by Hades to live with him in the underworld, her mother turned summer into winter. Everything dies then, until springtime, when Persephone is excused by her husband Hades and returns to Earth to spend time with her mother, Demetra. As autumn takes over summer and the first wind and rain storms arrive, you know what just happened: Persephone left Earth to go back to Hades, and Demetra flew into a rage. And so it goes on, just like they told us the story from ancient times.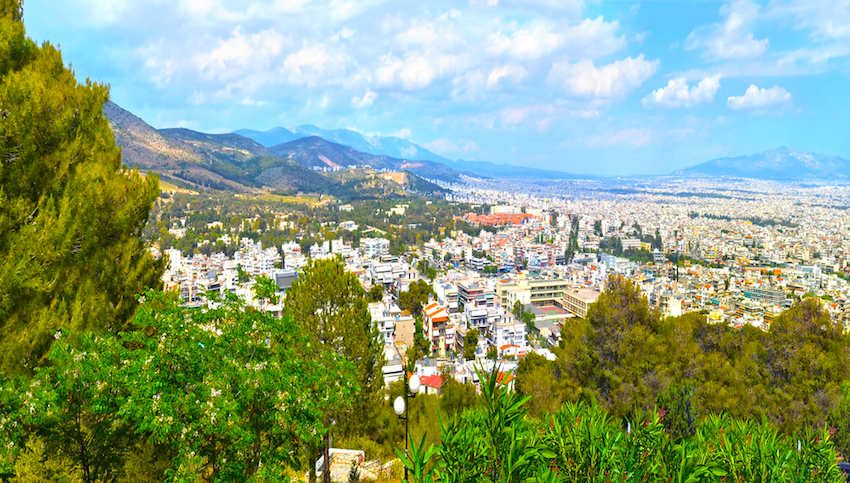 Haidari
After the excitement of seeing the original Iera Odos, the road will now seem long to you, too boring to continue to walk it. At this point, take the A16 bus which is not very frequent, unfortunately, but well worth the wait. Driving along on the left-hand side, you will get a glimpse of 'Diomedios', in the leafy suburb of Haidari (the west's answer to the north's Kifissia). This refers to a botanical garden (a gift to the state by a Greek citizen called Diomedios) containing over 3000 species of flora, including plants appearing in ancient Greek texts, connected with Greek mythology, and mentioned in the Bible. The sacred nature of this industrial road has not been lost. It is still there, constantly being uncovered, and the residents of the area are not immune to a sense of pride knowing that they live amidst an unbroken historical connection spanning many centuries.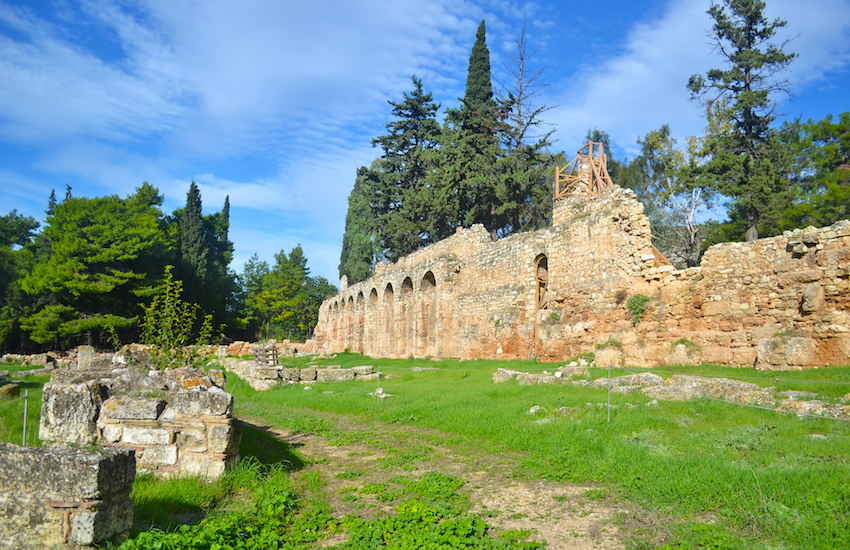 Byzantine Monastery of Daphni
From here, it isn't far to the point where the old Iera Odos links up to the newer Athens motorway. On the corner where these roads meet, you come across the remains of the Byzantine monastery of Daphni, which is free to enter with limited opening hours (see http://odysseus.culture.gr/h/2/eh255.jsp?obj_id=1514). The monastery was originally built in the 6th century AD. It is not a coincidence that the monastery was built here - it was built on the site of the ancient sanctuary of Apollo Daphnaios (where it gets its name) which was destroyed during the invasion of the Goths in 395 A.D., and later ransacked by the rogue that removed half the Acropolis: Elgin took everything he could get away with.
If you are already feeling overwhelmed with all these sites, bear in mind that you have completed just one third of the whole tract to Eleusis, and the road will now seem truly ugly. But don't give up: you are in for more treats. Change your seat to the right hand side of the bus, and look out for the bus stop named 'Aphea'. Hiding in Mt Egaleo is more of the original road of Iera Odos, together with a rocky temple dedicated to the goddess Aphrodite, which is highly visible from the road. Various shrines dedicated to various deities were located along the route to keep the ancient pilgrims' minds on the job. This is one of the very few remaining ancient sanctuaries, most of which have been lost to time.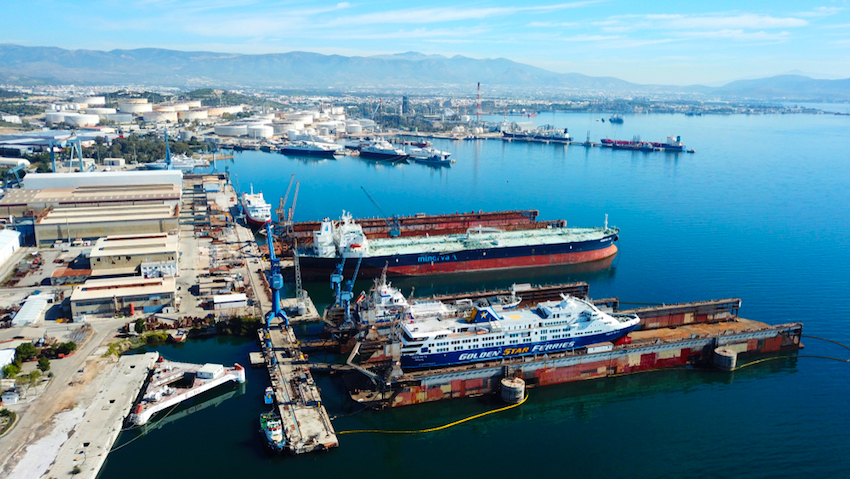 Skaramanga Shipyards
Look out for the sign at the bus stop that tells you that you are at Skaramangas, which hosts a shipyard. There's a stretch of road here behind the hills that forms the original Iera Odos. Think about the millions of people that have passed through this area on a daily basis. Few know what lies behind those hills. Some information is best kept secret. But here's a hint: if you're a James Bond fan, the name Skaramangas will probably sound familiar. Scaramanga was a nasty character, wasn't he? His connection with the Greek Skaramangas is not a secret (you can look that up in your free time - Google is your friend).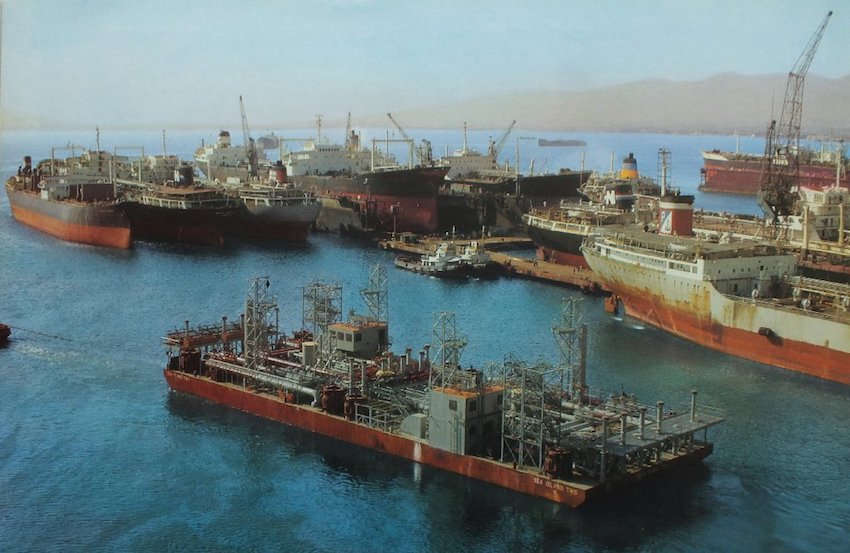 Skaramanga 1965
You are now close to the sea. If you didn't have a choice, you might choose to refresh yourself with a dip in the sea here. But you DO have a choice, and anyway, swimming is not your priority at this moment. The unknown depths of the Mediterranean have a knack of enveloping all aspects of Greek life: "Listen to that bitch, the sea," Zorba once said, "that maker of widows." The Skaramangas area was once a kind of ship cemetery with a mass of rotting metal in the sea (I remember seeing this). But it has thankfully been cleared up and it now looks like an industrial port. As you drive by now, the scenery will get boring, so you might like to try to catch the names of the bus stops as people get on and off: Lusitania, Petrogaz, Chalyps, Phoenix, Paradise - could this place have ever looked like the Garden of Eden? (The names of the bus stops are also clearly mentioned on the electronic board which shows you the bus route and tells you which is the next stop.)
You are now approaching Eleusis, but you may feel that you are drowning in a tangle of metal, concrete and glass. This jungle is the last place you would expect to pass the remains of a Roman bridge.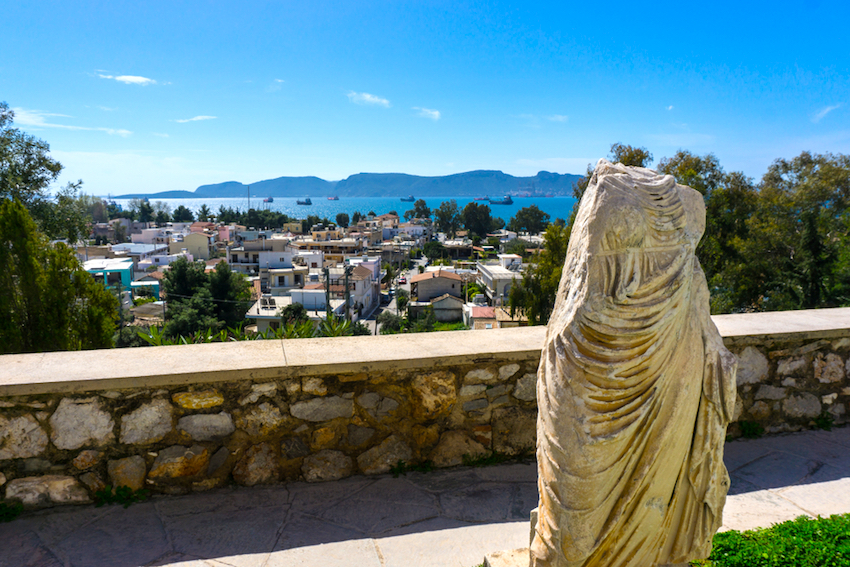 Elefsina
Did you catch the signs? You're back on the original Iera Odos! You're in Eleusis, which is now known as Elefsina in modern Greek. Get off at Plateia Elefsina (Elefsina square) and walk along the path between the palm trees which leads to another square.

Walk through Plateia Iroon (Heroes' Square). When you come out of the square, turn left at Nicolaou St and then left again at Gkioka St. You have arrived. Eleusis no longer eludes you. Its mysteries will unfold before your eyes. But they will still be mysteries: no one ever knew what really went on here. And those who did find out never told.
When you have finished your visit to Eleusis, you will probably be quite hungry. Pop into Athivoles restaurant for Cretan cuisine, with a wonderful view of the ruins, located on the pedestrian zone behind the site.
TIP: Buy an ATH.ENA day card from a metro stop, so that you can have the flexibility to hop on and hop off the buses, if you want to walk part of the way.
BONUS INFO: If you happen to be in Elefsina on Monday morning, don't miss out on their extraordinarily large laiki (street market), showcasing Greek products from all over the country.
Maria Verivaki trained as an English teacher in her birth country of New Zealand where her Greek parents emigrated from Crete in the 1960s. She has been living in Greece since 1991 and currently works at the Mediterranean Agronomic Institute of Chania. Her husband Dimitris conducts specialised taxi tours in Western Crete, and they are the owners of Zamboli Apartments tourist accommodation in Chania.