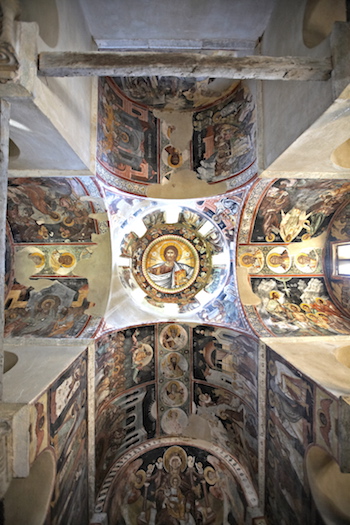 The original eleventh century church houses some beautiful frescos, most of which date from the late seventeenth century.
There are rules for the position of painted subjects in the Orthodox church, and this church follows them strictly. Christ is in the dome; the prophets are around the windows, while the mother of god is enthroned in the apse with the angels and apostles below her.
Possibly, the name "Kaisariani" comes from the spring (part of the river Illissos) that still runs from an ancient spout on the monastery's grounds. Legend has it that a Roman emperor deemed the spring to be 'imperial' or kaisairan (from Caesar).
Myths abound round this ancient spot, and many believe that Aphrodite herself blessed the stream. In fact, Greek brides who wished to become pregnant often journeyed here to drink, as the waters were believed to speed conception. Nowadays, however, this romantic notion is dampened by a sign from the ministry reading, "Non Potable Water".
It's well worth mentioning that if you visit Kaisariani in Spring, early Summer or Autumn it's a great idea to bring a picnic and walking shoes. The surrounding area up the slopes of Mount Hymettos is truly beautiful, offering a great deal of shade and many handy picnic areas. There is also a nice little cafe that is in the forest right by the monastery.
Getting to the monastery from the centre of Athens takes about ten minutes by taxi. If you are doing an Athens tour with George the Famous Taxi Driver this is a nice place to stop for a respite from the city. Adventurous types can try taking the 224 bus from Syntagma Square, but remember to check the bus number and route as these can change!
Opening hours: Tuesday-Sunday 9:00-15:00
Contact details: 210 7236619