In Search of Old Athens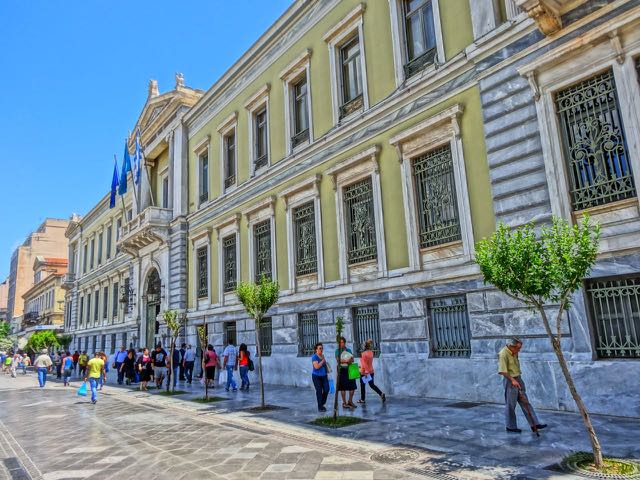 Many people say that besides the Acropolis and the major archeological sites, there is little of architectural substance in the city of Athens. I completely disagree. Those who explain Athens away as merely a concrete jungle are guilty of not having their eyes open when they walk the streets of Greece's capital city. Actually there are many distinguished buildings scattered throughout the city, most built before the 20th century in the neo-classic style. Many of these have been restored and some of those that have not are in the process of being restored. You could compare it to New York City because many of the old beautiful buildings and homes were knocked down in the name of 'progress' (or greed) and replaced with apartment buildings. If you can find an old postcard of Athens from the late 19th century, you can wander around and find the buildings which are still in existence. (See Athens: The Way It Used to Be)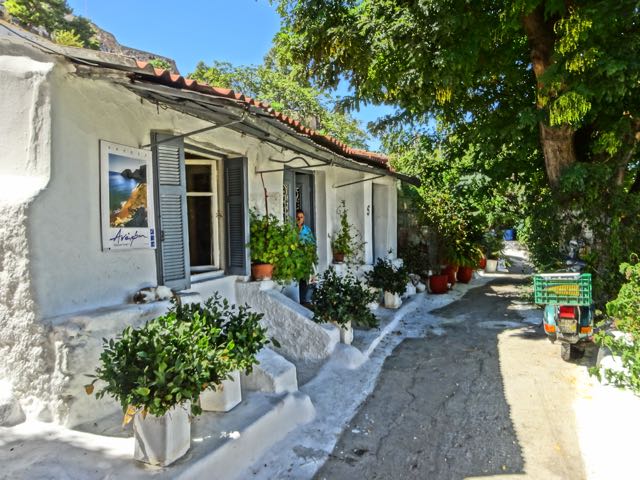 Athens is no Vienna or Paris in the respect that there are no large sections of the city that have remained intact for hundreds of years (except the Plaka). But Athens is a new city compared to all of those cities, even more new than New York. Before the late 1800's Athens was basically a village, and that village still exists in the Plaka and Anafiotika neighborhoods where you can still walk around and feel like you are on a small island village rather then a big city. Even the noise of the traffic finds it difficult to make its way through the winding streets and stairways. There are other similar areas, though not as extensive, at the base of Lykavettos and in Galatsi though old houses are few and far between, most having been torn down and replaced with apartment buildings in the sixties and seventies when Athens was growing at a maddening pace. Even in dense apartment-filled neighborhoods you can still come across an occasional house that is a hundred years old or more and looks like something you might find on an island.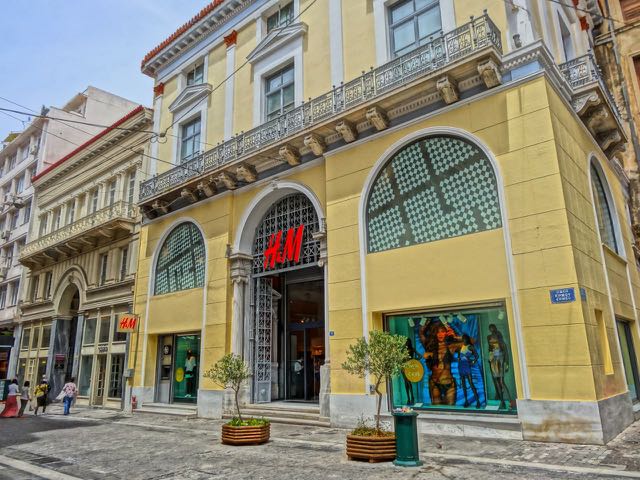 In Athens it's a matter of taking the time to distinguish what is distinguishable. Even the most visually unsightly neighborhood full of polikatikias (the most hated word in my wife's vocabulary. It means apartment building), will have some gem of an old home tucked between characterless concrete monstrosities. The downtown area is full of great old buildings and churches. Nothing compares to the Acropolis of course but what does anywhere? Right now there is a process going on which is being labeled as the Vienafication of Athens: the pedestrian streets, the restoration and floodlighting of the old public buildings, restoration of the main squares and the sinking of some of the major avenues to create a giant green archeological area that will spread from Philippapos Hill to the Stadium and all the way to Patission, maybe as far as Kypseli. There are even plans to raise the river that used to flow through the city and is now underground.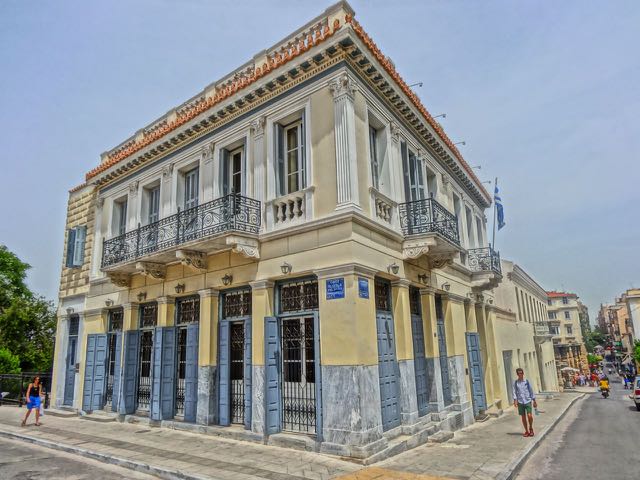 Architecturally and visually I agree with those who say that parts of Athens can be a nightmare for someone with refined architectural tastes, but it is that juxtaposition of the profound to the profane that makes Athens interesting. (Did I say that right?) It's easy to see the ugliness, but you don't notice it anymore when you are looking for beauty. You want something interesting to do in Athens? Go out and keep your eyes open for the old Neo-Classic buildings and turn-of-the-century homes. They are everywhere and unless you are looking for them you may not even notice them. There are also many examples of Art Deco apartment buildings, and beautiful examples of Art Nouveau wrought iron. You may notice some amazing old buildings from the early part of the century, locked up but surrounded by scaffolding so they look like they are about to be renovated. Unfortunately most of these are owned by the Greek version of our IRS or the Church and the scaffolding is only to protect pedestrians from chunks of stone that might fall from it. You might ask why they don't sell them and fix them up, or fix them up and sell them. Apparently there is no mechanism for this or else there is no interest. But if I ruled Athens I would auction them off with the stipulation that if they were not renovated in 2 years they would be repossessed and auctioned off again. It's better then having them just sitting there deteriorating like an old Pontiac in some redneck's driveway.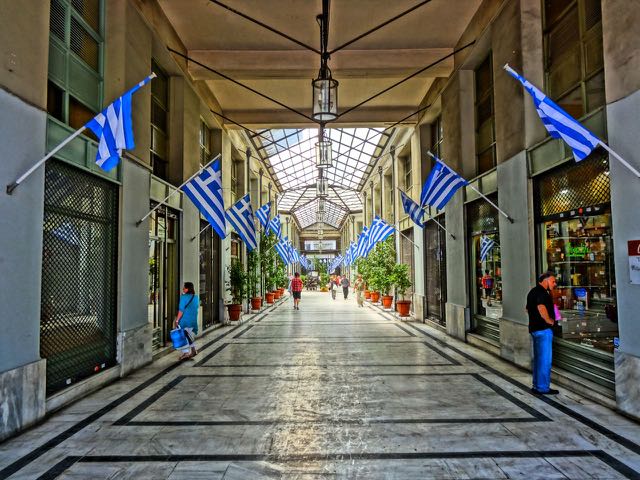 My sister-in-law is a historic preservation architect in New York who restored Frank Lloyd Wright's Falling Waters House in Pennsylvania and she and my wife taught me to appreciate the turn of the century architecture in Athens. Now I see beautiful buildings everywhere I look. It definitely adds substance to any walks around the city. It is also sad because you can imagine what the city looked like 50 years ago before they tore many of the old buildings down. Even some of the early and mid twentieth century buildings can be amazing like the Printer's Arcade in the Arsakion building that spans an entire block between Panapistimiou and Stadiou streets. This is one of several impressive arcades in Athens, called stoas in Greek, which used to be among the most prestigious places for shopping. Unfortunately now many of the stores are closed as the commercial areas spread away from the center and towards the suburbs.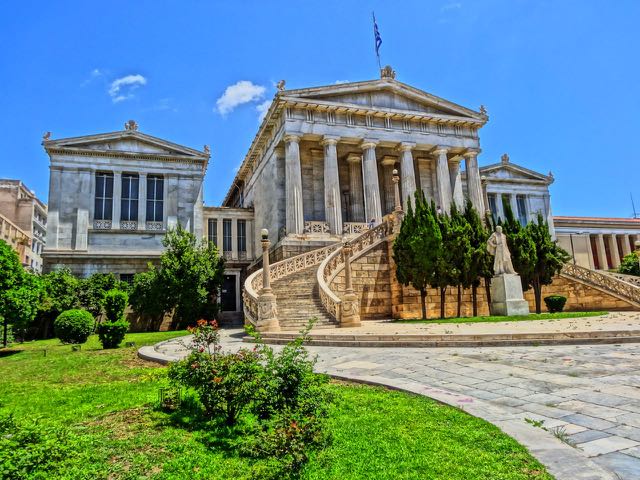 If you really want to see some beautiful examples of Hellenic style architecture go take a walk around the University of Athens. It's like a re-creation of Classical Athens and you almost expect to see Socrates, Plato and Aristotle walking around with their students. Who wouldn't feel proud to go to school in a place that looks like this? Well actually the buildings behind it are a little more run-down and graffiti scrawled but like anywhere, the main buildings are impressive. Be sure to visit the library and go inside for a peek. Also interesting is the Old University, now a museum on the road that rings the Acropolis where the highest level of Plaka houses are. Many of the neo-classical buildings of the last two centuries in Plaka and Psiri have been restored and turned into museums, galleries or private homes.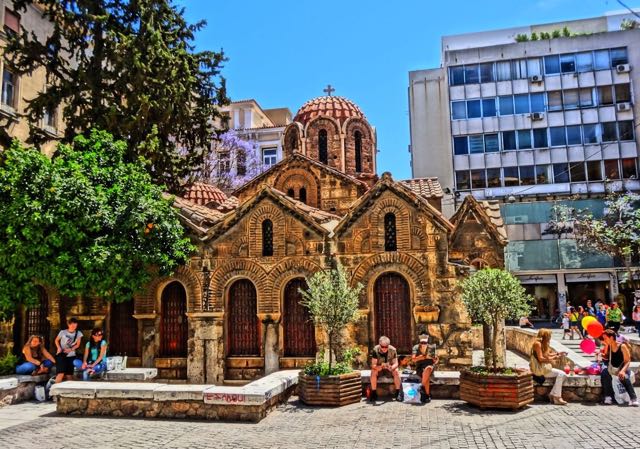 I could do an entire website on the Byzantine churches which are all over Athens. Some are tucked away in little courtyards with beautiful gardens, walled in by five story concrete buildings while others like the beautiful 11th Century Church of Kapni Karea on Ermou Street, have once again become the center-piece of a pedestrian walkway, after being an impediment to Athenian drivers for the last twenty years because they had to drive around it. Or the larger churches that were built in the 19th and early 20th centuries such as Agia Irini, one Aeolou Street which used to be the main cathedral of Athens until they built the Metropolis on Metropolis street which is so damaged by the last earthquake it has been covered in scaffolding for the last 20 years, perhaps proving that older is often better.
So when it comes to architecture and buildings with personality don't sell Athens short. The concrete jungle you see is merely a facade that hides numerous treasures. Don't blink. You might miss one.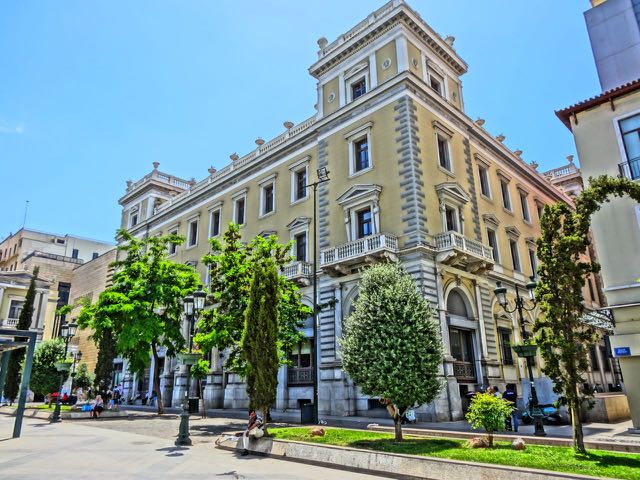 The National Bank of Greece owns many of the most impressive historical buildings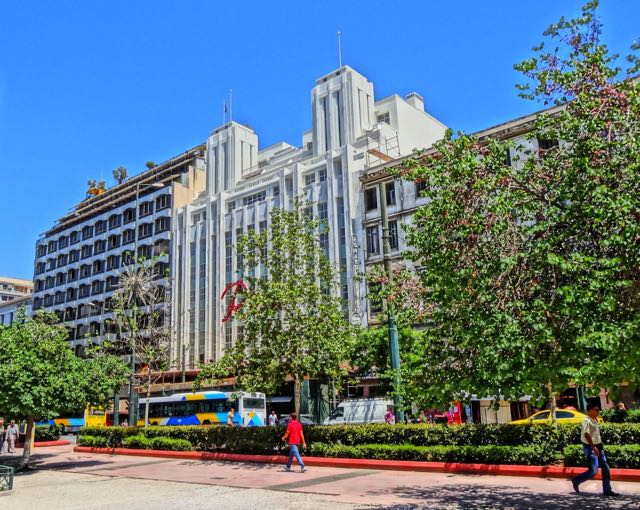 The Art-Deco Rex Theater on Panapistimiou Street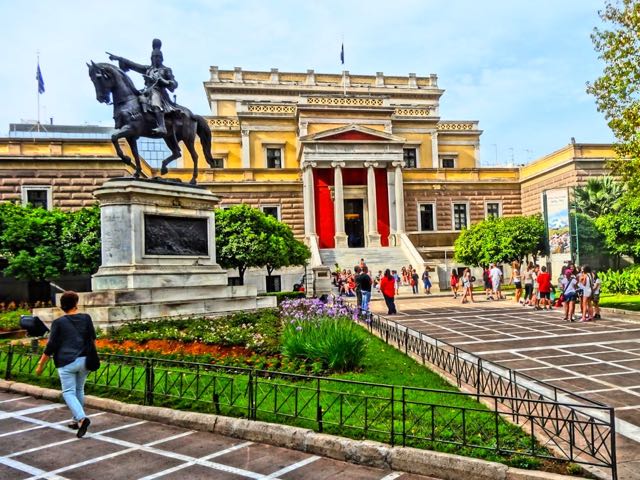 Old Parliament Building on Stadiou Street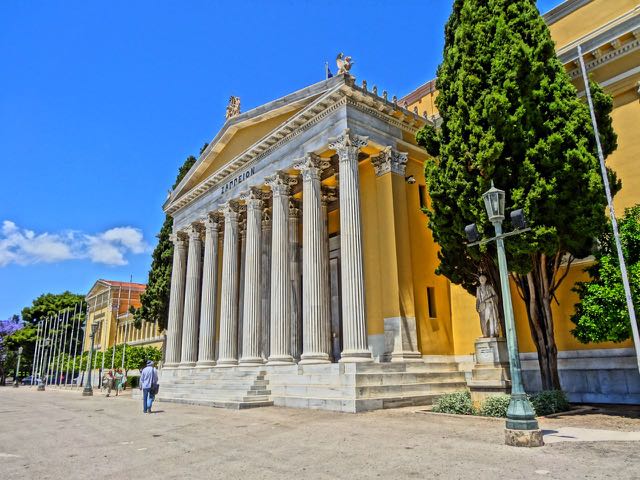 The Zappion Building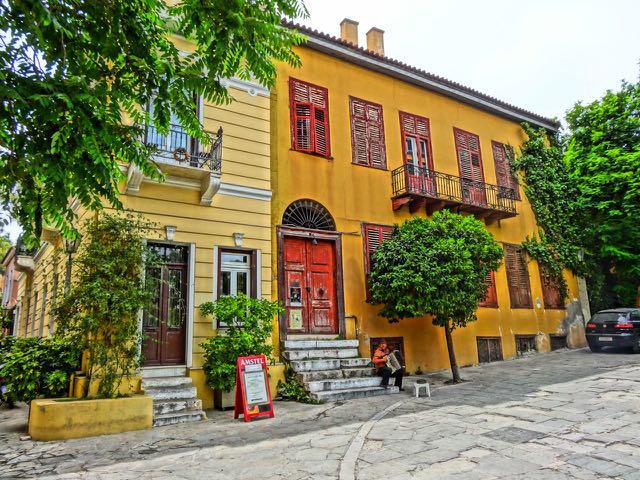 Plaka Houses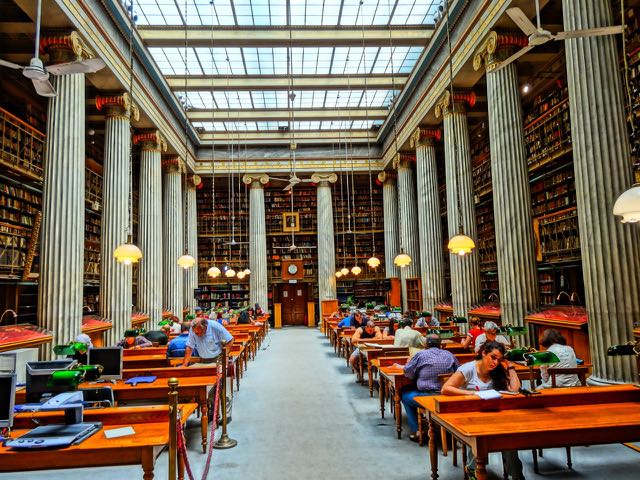 University of Athens Library
See my Photos of Old Kypseli Architecture and Athens: The Way It Used to Be