Nea Smyrni (New Smyrna), as the name implies, is an area of Athens that was settled and developed by the immigrants of Smyrna (Izmir today, in Turkey) after the Greco-Turkish war of 1919-1922 which resulted in the "Asia Minor Catastrophe", as the Greeks call it. It brought an end more than 3000 years of Greek civilization in Asia Minor and sent approximately 1.5 million Greeks from Turkey to Greece in an exchange of populations. Located about 2 miles from the center of Athens, Nea Smyrni is the second most densely populated area of the city after it's neighbor Kalithea across Syngrou Avenue.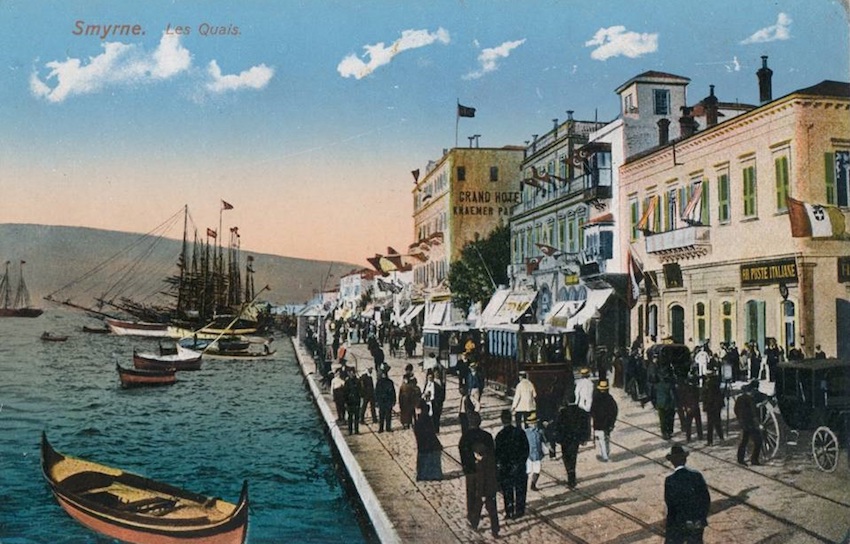 The Asia Minor Catastophe
Greek people had been living in Asia Minor for thousands of years. Even long before Christianity. It is interesting to know that nations are a very recent creation, so people were living in vast empires together. Greek Christians, Turkish Muslims, Armenians, Bulgarians, Jews, Syrians and many others were living together in the Roman Empire and even earlier, during the time of Alexander the Great!. Afterwards came the Byzantine empire and finally the Ottoman Empire. When the Ottoman Empire started collapsing in the beginning of the 20th century, many nations were suddenly created. One of them was modern Greece. Another one was modern Turkey. Bulgaria, Albania, Sevia, Armenia and others are also countries that were created during this period. So, we had many different nations but the various groups of people continued to live everywhere, regardless of the new name of the country. Many Albanians, Bulgarians and Turks lived in Greece, even more Greeks lived in Turkey, and many Bulgarians and Armenians lived in Turkey as well. It was not easy to have countries with uniformity of people within their borders. Nobody wanted to leave their homes and change their lives just because their homeland has a new name! Exchanges of populations only happened by force, during or after a war. And there were many wars in the area in the end of the 19th Century and the beginning of the 20th. To make a long story short, after WWI Greece tried to include the Asia Minor coast within its borders, taking advantage of the victory in WWI, since Turkey was with the defeated side. However an unstable political situation in Greece and capable diplomacy from the Turkish side resulted in the Turks gaining the support of European powers and 3 years after the Greek army had occupied Asia Minor, the Turks under Mustafa Kemal, known as Atatürk, not only defeated the Greek army but also burned Greek cities, towns and villages that were thousands of years old. That is why the Greeks call this the "Asia Minor Catastrophe" of 1922. Smyrni, one of the most important cultural and commercial cities in the Mediterranean was burned and its Christian population fled to Greece, Europe and America. (For more information see Matt's History of Greece: Venizelos and the Asia Minor Catastrophe)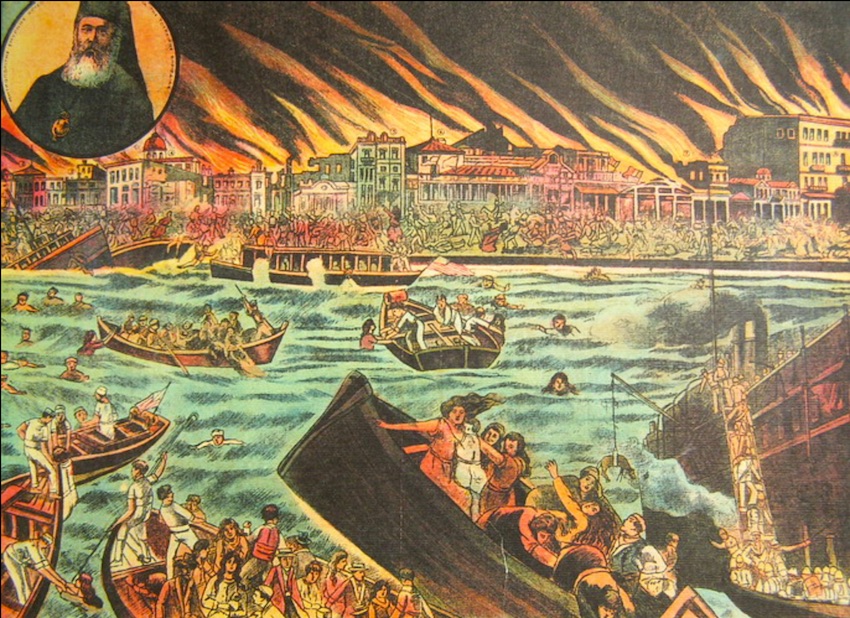 The influx of Greeks from Asia Minor, many who were more cultured and better educated than the Greeks living in what we think of as Greece, settled in areas that were then on the outskirts of Athens, and created neighborhoods named for the towns and areas they came from in Asia Minor. Apart from Nea Smyrni, you can find Nea Ionia, Nea Philadelphia and many other areas populated by refugees from 1922 and their descendents. After Athens grew into the modern city that it is today these refugee settlements became part of the city but you can still see many of the original houses and apartment buildings that were built during this period.
Estia Neas Smyrnis
The Greek millionaire ship owner Aristotle Onassis, one of the most well known of all Greeks, was from Smyrna. His family came to the "old Greece" (as Greeks called the Greek mainland back then) during the Asia Minor Catastrophe. Because he was fond of Nea Smyrni he donated money for its development. Entering the neighborhood you can find the Estia Neas Smyrnis, a foundation supported by Onassis to preserve and present the cultural heritage of Smyrna. This impressive neoclassical building at 1 Konstantinou Paleologou hosts museums and an art gallery. The Estia was originally a club founded in 1930 to revive the cultural life the newly arrived Greeks were accustomed to in the city they had left. Their goal was "the collection, study and salvage of the national, intellectual, historic, folk and linguistic diversity of the Greek Communities of Asia Minor, Pontus, and Thrace" and to become the greatest cultural center of the Greek Community of the East. Besides classes and lectures the center was the home of the Onassis School of Naval Engineering, now known as the Night School for Naval Engineering. The Museum of Byzantine Art and the Museum of Asia Minor Campaign are well worth a visit from anyone with roots in Asia Minor as is the Art Museum which is a collection of furniture and silverware from the 17th and 18th centuries, silver miniatures, China art objects and Delft china from the Netherlands, from the collection of Charilaos Chiotakis who brought these artifacts with him when he came as a refugee after the destruction of Smyrna. The Art Gallery is housed in a special area of the House of Estia and includes an impressive collection of portraits and paintings covering a wide range of topics and painting styles, mostly by Asia Minor artists, such as Prokopiou, Kaltsonakis (Nakis), Ioannidis and many others. For more information see the Estia Neas Smyrnis website.
The Platia of Nea Smyrni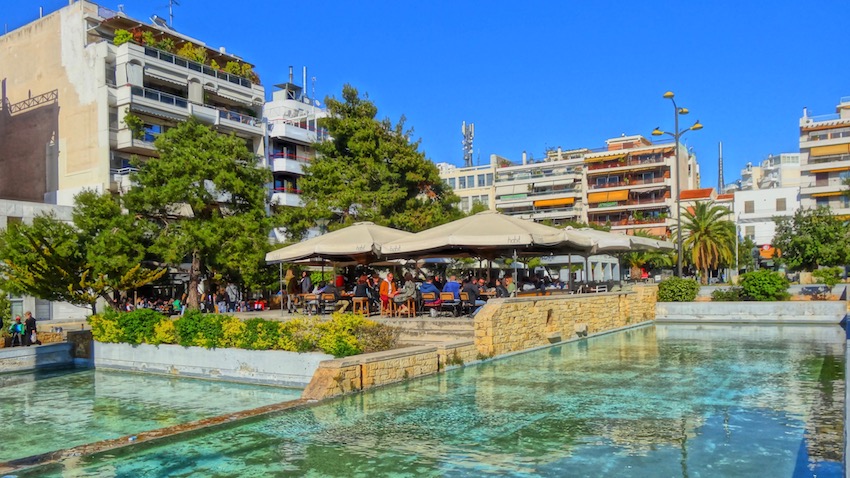 The main square of Nea Smyrni is said to be the largest square in the Balkans. It is very lively, full of people every afternoon and all day in the weekends. Many cafes, restaurants, shops concentrated in this nice pedestrian environment, make this square attractive to many non-residents of Nea Smyrni, that come from the neighboring areas of Faliro, Neos Kosmos, Kallithea and others for coffee, drinks or food. There are several man-made lakes/pools and fountains and the Athens Tram stops right at the top of the square. Apart from the Platia (main square) the main roads of commerce are Omirou street (Homer st.) which runs parallel to the square a block south, Eleftheriou Venizelou street, at the top of the square where the tram runs, and Paleologou street which intersects with Omirou just west of the square. All 3 of them are worth a visit if you want to walk a little.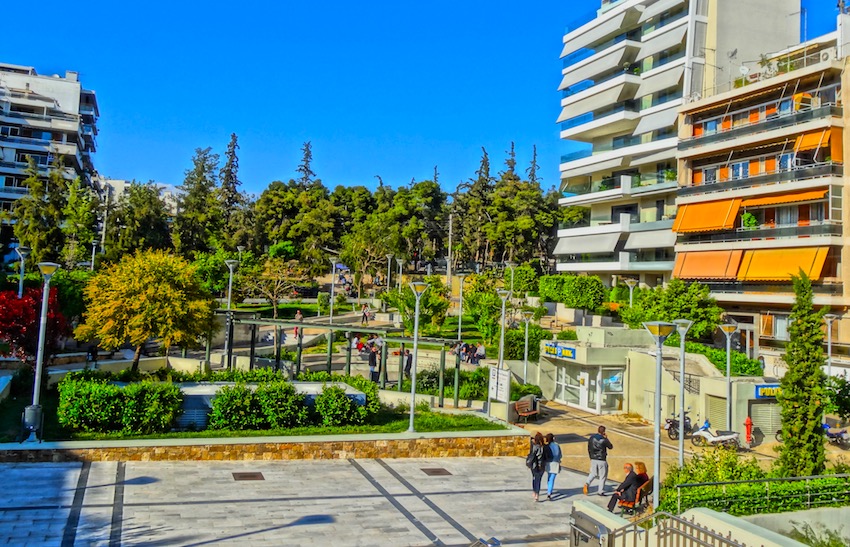 Not to be confused with the platia of Nea Smyrni is the large central park called Alsos which is quite large where people go jogging. It also has an open air cinema and events during the summer. Much of it is wooded with paths and trails and full of ornamental plants and shrubs. You can get to the park from Platia Nea Smyrni by two connecting square by crossing the 35 March pedestrian street which borders the square, to Platia Karilou, then to Platia Vassileos Konstantinos, after which the Alsos begins.
Chrysostomou Smyrni Square is close to Syngrou Avenue and contains statues in honor of the victims of the Asia Minor Catastrophe including a large one of Bishop Chrysostomos of Asia Minor who had been lynched by a Turkish mob.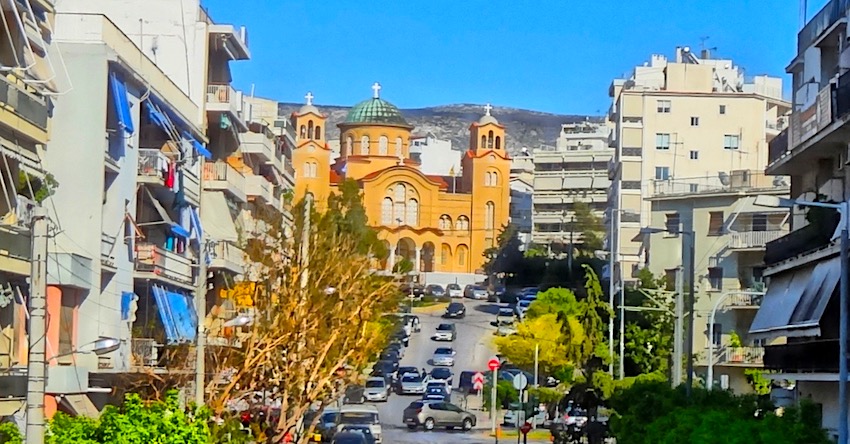 The Church of Agia Fotini is dedicated to the church of the same name in Smyrna which was considered the most beautiful church in the city. Its bell tower is an exact replica. Many of the icons and frescos were rescued from Smyrna. Besides the architecture, which is about as impressive as Greek church architecture can be, Agia Fotini sits in a wooded park on a hill just east of the tram stop of the same name, across Eleftherios Venizelos Street.
Nea Smyrni is full of small parks and squares, usually at intersections where streets converge at odd angles. Because the area was outside of the city of Athens they had room to work with and made it as green and as open as was possible. It is for this reason that Nea Smyrni is considered one of the best urban areas in Athens.
The Phillip Cinema is an outdoor theater at 40 E Venizelos Street and like others like it around Athens it is only open in the summer. It is easy to find just a block from the top of Nea Smyrni Square.
Nea Smyrni is the home of the Panionios Football Club, the oldest in Greece, founded in 1890 in Smyrna, Ottoman Empire. They were also responsible for introducing basketball and volleyball to Greece. They play their games at Nea Smyrni Stadium which was built in 1940 which is also used for Track and Field and was the site of Metallica's first concert in Greece on June 27, 1993. The stadium if part of a huge complex of sports facilities, schools and the Church of the Metropolitan of Nea Smyrni
Restaurants, Bars and Cafes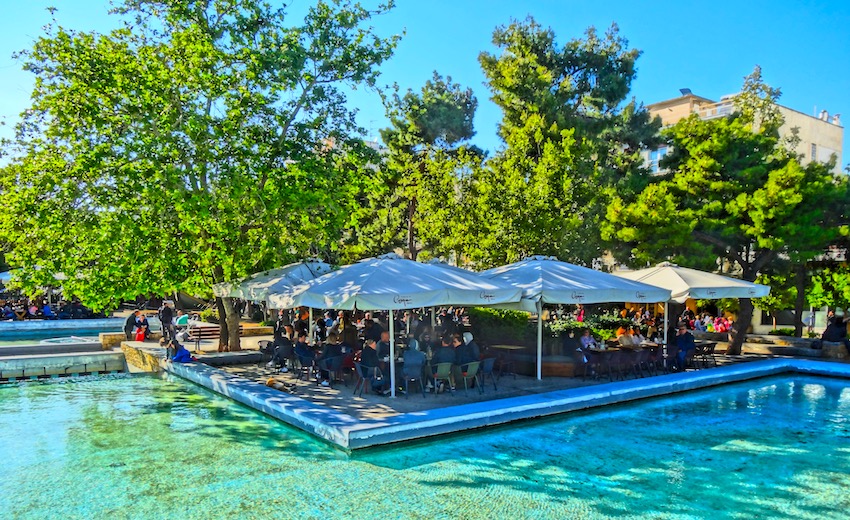 On the Square...
Chatzis is a pastry shop (ζαχαροπλαστείο) on the square of Nea Smyrni, close to Eleftheriou Venizelou street. Chatzis may be the best place to try oriental Greek sweets, like Baklava, Kataifi, and other deserts from Asia Minor. On the square, next to Chatzis, there is also a Starbucks, for those who prefer it.
Savvas apo to Monastiraki is next to Chatzis from the other side. You know the name because it is a souvlaki place with a long history. The first one opened in Monastiraki area in Athens sometime in the 1920s. Today it is a chain.
Lefteris and Giorgos are also places for souvlaki on the square. They have been in these locations for many years and the locals know and trust them. They can be considered almost traditional! To "go for souvlaki on the square" means to go to one of these two places!
Bar Aroma is a nice café/bar on the square with good coffee, drinks, sandwiches and other easy food and live music some nights. They normally play a selection of jazz, rock and blues.
Pizzoteca is a hip pizzeria on the square which also has some Italian dishes and deserts
Zuccherino is an elegant gelateria with great ice-cream and sweets that are difficult to resist!
Kenko Modish Sushi Bar at 22 El. Venizelou Ave at the top of the square and close to the Agia Fotinis Tram stop is a hip modern Japanese restaurant considered by many locals to be one of if not the best sushi restaurants in Athens. If it is closed try Koi Sushi Bar, a few blocks away at 71 Meg. Alexandrou, and like Kenko you should find the prices cheaper than those Japanese restaurants that are in the center of Athens.
Habit is an all-day café/bar on the square. Although it is open from the morning for coffee, its real face is revealed after 11 pm and even later, when it becomes Ellinadiko (like a disco that plays loud Greek contemporary music). Until 2-3 am or later it will be the only place around full of people. You can't imagine what it is like if you go for a tranquil coffee in the morning with easy listening music, but late at night it will probably be packed with people, music playing full volume!!
Around Nea Smyrni...
Byzantio is a traditional kafenio on Eleftheriou Venizelou street across from the square. Go there for ouzo and meze or tsipouro if you prefer. Even a little house-wine with some meze will give you the essence of the Greek 50s!!
Bar Epitokio. Classic Rock Bar that has dedicated local customers as it has been open since 1987. It is located at the corner of Paleologou st and 60 Megalou Alexandrou st. One of the most popular hangouts in Nea Smyrni they play old style rock. There is a famous coffee shop called Nikos, open since 1976, just across frrom the Epitokio bar, and it is known for its meat pies and croissants.
Classic Nuveu is a Jazz Wine Bar with nice atmosphere, traditional jazz music and a rich wine list with gourmet snacks. You can find it on Eleftheriou Venizelou st across the square a little to your left (towards Neos Kosmos). The owner is Takis who also owns Epitokio.
The Café/Bar Aplika is a very nice chill out café with a cute garden and homemade sweets. It is open all day for breakfast or a snack anytime. It is located at the corner of Paleologou st and Megalou Alexandrou street across from Bar Epitokio.
On the corner of Venizelou and Omirou streets there is the Attika Bakery with the best bread you will ever eat as well as cakes and pastry and the usual stuff you will find in a Greek bakery. As in other neighborhoods there are bakeries all over and it is not out of the question that you will find one you like better. But this one is a good one to start with. It is part of the Attika Bakery chain but I believe this is the first one so this is where it all began.
If you are in the mood for Mexican food there is Amigos on the corner of Megalou Alexandrou st. and Korai st. Very nice place, some say authentic, with live Latin music some nights of the week.
Getting to Nea Smyrni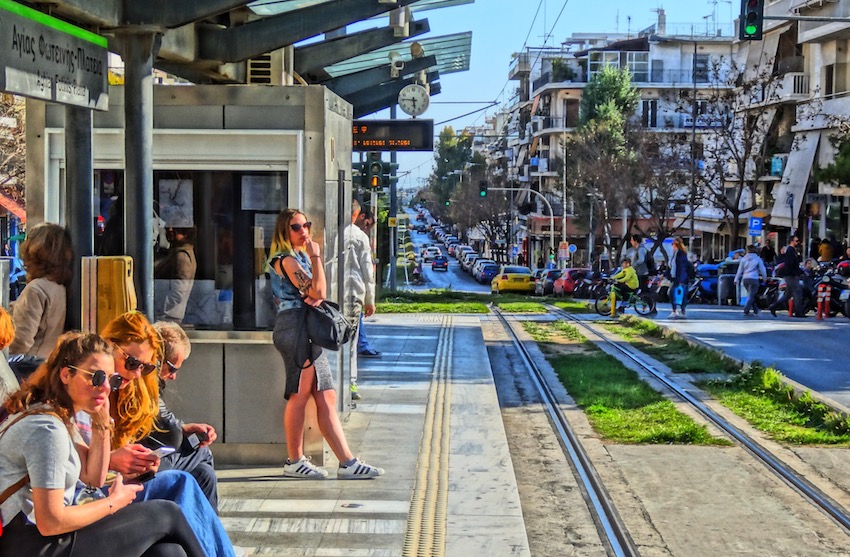 The Northwest border of Nea Smyrni is Syngrou Avenue, one of the largest in Athens which runs from the Temple of Olympian Zeus to the sea in the Bay of Faliron. You can take just about any bus that runs down Syngrou and get off at SKRA and go west on Charioupoleios which turns into Kidonion and then Melitios before it becomes Omirou Street, one of the main commercial streets in Nea Smyrni, which runs parallel to the platia. The buses which stop there are the #10 Trolley, and the public buses 106, 126, 550 A2 and B2. You can also take the Tram and get off at Agias Fotinis. But the easiest way is to take a taxi to Platia Nea Smyrni.
Hotels and Apartments in Nea Smyrni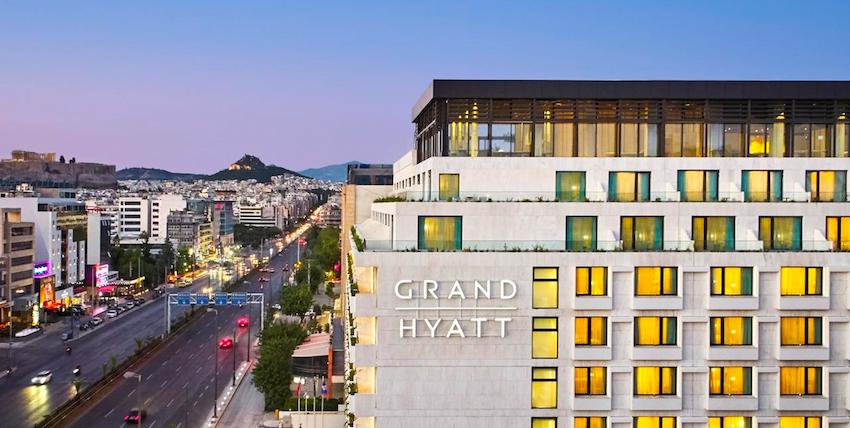 There are few, if any hotels in Nea Smyrni. The closest are the Athens Atrium and Jacuzzi Suites, the Athinaium Smart Hotel, the Grande Hyatt, and the Athens Marriott Hotel, all of which are just outside the borders of Nea Smyrni and a 10 to 20 minute walk to the square. However within Nea Smyrni there are a large number of apartments for short-term rent. Sheer Urban Luxury Apartment Next to Tram features air-conditioned accommodations with a balcony very close to the square. The Grove House has air-conditioned accommodations with a terrace and free WiFi. Mari-Emma City Apartment is composed of 3 separate bedrooms, a living room, a fully equipped kitchen with a dishwasher and microwave, and 2 bathrooms. Alma Apartments South has 2 bedrooms, 2 bathrooms, a flat-screen TV, a dining area, a fully equipped kitchen, and a balcony with city views. There are several other apartments in Nea Smyrni and if you click on one of the above and use the map you can find them or else go to Matt's Athens Booking page and type Nea Smyrni into the search.
---
Thank you to Salvador Levy for writing much of the information on this page. Salvador is a resident of Nea Smyrni, a fine musician, and the founder of Athens Jewish Walking Tours. Also thanks to my food guru Elias Manoua for some of his favorite restaurants and hangouts. Elias is the owner of Swift Car Rentals and also lives in Nea Smyrni.