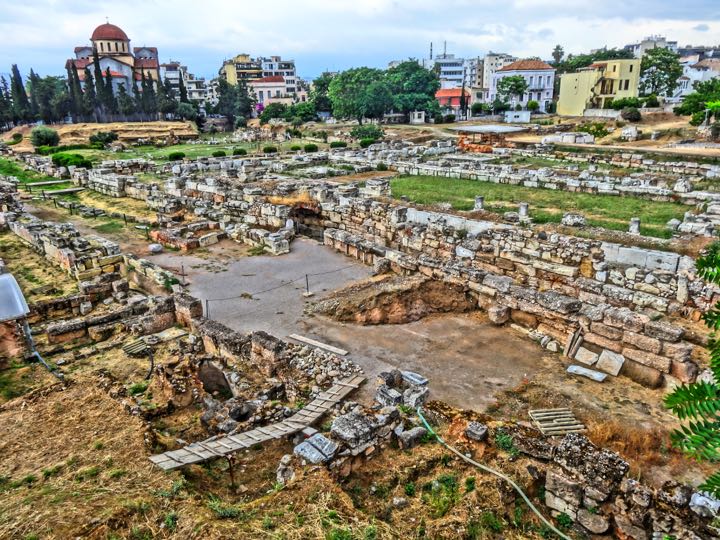 Kerameikos, the ancient cemetery of Athens, is probably the least visited of the ancient Athenian archaeological sites. It is a shame too because it is one of the most beautiful and perhaps the best organized. Kerameikos is named after Keramos, son of Dionysios and Ariadne, hero of potters. The area was used continuously for burials from the twelfth century BC for a thousand years. Located at the very bottom of Ermou Street where it becomes a broad pedestrian avenue and park just beyond Monastiraki, it is an easy walk to reach and almost impossible to get lost. The site is under the supervision of Dr Jutta Stroszeck of the German Archaeological Institute who has done a wonderful job of excavating, organizing and explaining what it is you are looking at through the signs posted around the site, written in English and Greek. For those who have more than a day to see Athens, wake up early and make your way to Kerameikos and you are likely to have the whole place to yourself, give or take an archaeologist or two.
Help Support Matt's Greece Guides
Do you enjoy using my site? Have you found it entertaining as well as useful? If so please show your appreciation by booking hotels through the travel agencies and the links found on my Hotels of Greece site. The small commission I make on the bookings enable me to keep working and in most cases you won't find them any cheaper by searching elsewhere. You can find hotels in Greece by location, price, whether or not it has a swimming pool, and see photos and reviews by using this link to booking.com which also contributes to my website when you book. If you are appreciative of all the free information you get on my websites you can also send a donation through Paypal or Venmo
Join Matt Barrett's Greece Travel Guides Group on Facebook for comments, photos and other fun stuff. If you enjoy this website please share it with your friends on Facebook and other social media.