The Laiki markets are the equivelant to what we know in America as a farmers market. But there are few that can compare to the markets in Athens that travel around to different areas of the city on different days. These pictures are from the market in Kypseli, close to Fokinos Negri, a popular pedestrian walkway lined with cafes.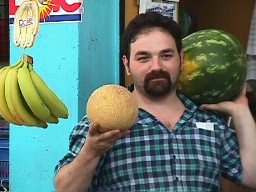 We had avoided coming back to Athens until the day before our flight because of a heat wave which was disappointing to me because I wanted to take some more pictures of the city and we had a million things to do, including a visit to Andrea's old aunts. Luckily Thursday happened to be the day for the market to be in their neighborhood of Kypseli and I wandered around taking pictures while telling the merchants that they were going to be on the internet. I only wish this page had sound. (The photo on the left is Yannis who had the grocery store in the Kypseli market when I took this photo in 1998. Click here to see him in 2009.)

Probably the most impressive thing about the market were the fruits and vegetables themselves. They were bigger and brighter and healthier looking then anything I have ever seen or grown. Whether this had to do with the quality of the soil or fertilizers, I don't know. I am sure that some farmers use traditional methods and some embrace the wonders of agricultural technology but everything looked and tasted (free samples were everywhere) delicious.

There were not only fruits and vegetables but there were olive sellers with a wide selection of products including several varieties of olives and oil. There were tables that sold fabric, tables that sold socks and underwear and even a table where a man demonstrated different utensils and kitchen tools such as a tiropita maker, a dolmada roller, a cucumber corer and a garlic de-skinner for making sadziki.

As for finding out which neighborhood is having a market on what particular day, you can check the list below and one you get to the neighborhood ask around or follow people who are pulling empty shopping baskets, or walk in the direction that people with full baskets are coming from. My advice is when you meet someone, find out what part of the city they live in and ask them which day is their laiki market. If you come up empty you can always go to the main city market on Athinas street between Monastiraki and Omonia, which is open every day except Sunday.

The Demotiki Market in Kypseli at Fokinos Negri has been immortalized in the movie FOR THE LOVE OF BENJI! It was later closed and the City of Athens tried to tear it down to build a parking garage. The people of Kypseli occupied it and it is now a community center with cultural, political and social events, exhibitions, Free Greek Language classes, a cafe, concerts and every Saturday hosts an Organic Farmer's Market! For more see my Guide to Kypseli.
There is a large farmers market just off Syngrou avenue on Saturdays, in Nea Kosmos... this one has everything from food to curtains to clothes... if you go towards Faliron on Syngrou Avenue its on your left hand side after the FIX metro station. There is also one in Nea Smyrni on Wednesdays on Omerou street, which is one street after the Nea Smyrini Platia.You would get off the tram stop at ( AGIAS FOTENIS ) which is the Platia of Nea Smyrini.
Other Laiki Agoras include these areas on these days:

Monday: Goudi, on Papadiamantopolou near Agia Thomas, Patissia and in Holargos
Tuesday: Zephyri Pangratti, Hatzikyriako in Pireaus and in Kypseli
Wednesday: Peristeri, Gyzi, Kolonos, Ag Andreas,
Thursday: Kypseli, Petralona, Thission, Glyfada, Kato Patissia, Sepolia, Pandionis, Nea Psyhico(Katehaki)
Friday: Koukaki, Ag Stefanos, N Iraklion, Kolonaki, Xenokratous, Palio Psyhico(Ag Dimitrios)
Saturday: Ambelokipi, Platia Attikis, Panormou, N Kosmos,

On Fridays in Platia Dexamani in Kolonaki from 9am to 1pm is an Organic market.


Imagine setting up this display of potatoes


Yes these are tomatoes and where have you ever seen them so red?

Unlike a supermarket where you can get just about any fruit or vegetable at any time of the year, the laiki agora will be seasonal and what you see in the market in June won't be the same as what you see in February. For those who are just visiting Greece and like to eat only seasonal food a trip to the market is a good way to know what will be fresh in the restaurants.
---
Help Support Matt's Greece Guides
Do you enjoy using my site? Have you found it entertaining as well as useful? If so please show your appreciation by booking hotels through the travel agencies and the links found on my Hotels of Greece site. The small commission I make on the bookings enable me to keep working and in most cases you won't find them any cheaper by searching elsewhere. You can find hotels in Greece by location, price, whether or not it has a swimming pool, and see photos and reviews by using this link to booking.com which also contributes to my website when you book. If you are appreciative of all the free information you get on my websites you can also send a donation through Paypal or Venmo
Join Matt Barrett's Greece Travel Guides Group on Facebook for comments, photos and other fun stuff. If you enjoy this website please share it with your friends on Facebook and other social media.