Guide to Athens, Greece for 2015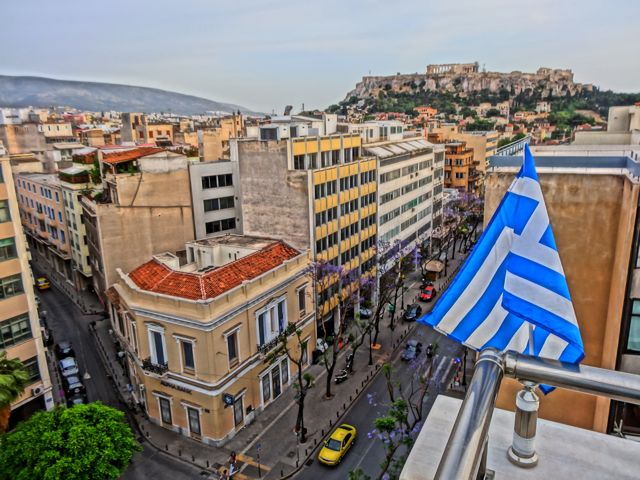 This is the index page for all my Athens Survival Guide which I began in 1983, before the internet existed, and have been adding to it and updating it ever since. My Athens Guide will give you the tools to survive and thrive in Athens, Greece and enable you to have as much fun as I do and feel as comfortable as if you have been here before. You can read about hotels, restaurants, archaeological sites, nightlife, beaches and daytrips to nearby islands and beaches and towns on the mainland. My Athens Guide may not be as fancy as some of the other travel sites but I think you will find it to be the most fun to use and probably find it to be at least as helpful as the popular guide books, except this is free. You can print out the pages you need and when you are done with them leave them for others to find. It also looks pretty good on ipad and iphones and other hand held devices. For those who are wondering, I started the actual website in 1995 and I update it continuously so if you are looking for good information about where to eat, sleep, swim, shop and educate yourself you have found it. I know you will enjoy it. Use the menu below that will lead you to the various sub-menus on this page. This site is entirely hand-made and contains no cookies or sneaky pop-ups. I have put ads at the bottom of the pages to not be a distraction and only ads for my own pages or businesses I know and trust. By supporting them you not only support me, but you will probably have a safer and happier trip to Greece.
If you are worried about the current situation in Athens? Read About Athens. Questions about Athens or Greece? You can e-mail me. If you like this site please share it with your friends on social media. There are Facebook and Google+ buttons at the bottom of this and other pages. If you need assistance with putting together an itinerary try using my Create-an-itinerary Work Page. Looking for something in particular? Search Matt Barrett's Greece Travel Guides

Basic Athens Information

This section will get you started. It includes practical information like arriving at Venizelos Airport and getting into the city, to finding hotels in the best areas of Athens where you can walk to all the sites. It also includes recommended travel agents, using the metro and finding a good restaurant as well as the major reasons you are in Athens, which include the Acropolis, the museums and the most important archaeological sites as well as nightlife.

When To Go:
The weather for Athens by the season and what to pack

Getting to Athens:
Tips on flights for bargain hunters and info on ferries from Italy

Arrival in Athens:
What to expect when you get off the plane including changing money and getting to the city

Hotels in Athens:
Where to stay and how to stay there cheaply

Travel Agents in Athens:
In my opinion these are the best

Athens Restaurants:
A helpful Guide to good eating

Athens Photo Tours
Get to know Athens Before You Go

Museums of Athens:
Listing and Descriptions

The Acropolis
You can't miss this

Staying in Contact:
Internet Cafes and Phones

Breakfast in Athens:
If there is no room service there are options

Crime and Scams
No need to fear. You just have to be smart

George the Famous Taxi Driver:
Athens most valuable asset

Late Night in Athens:
What to do when dinner is over

Buses:
Instructions and variety

Matt's Tips
for Jetlag and Insomnia

Beer in Athens
This is Important to some people

Athens Maps: Restaurants and Hotels and some other stuff that I did with Google maps, an ongoing project.

You can find hotels in Athens by location, price, whether or not it has a swimming pool, and see photos and reviews by using this link to Booking.com. Excellent prices and many hotels you can book and then cancel with no cancellation fee. For those who want to book without using a travel agency this is the best way to do it.
Where to Play and Stay in Athens

This section will tell you where to stay, where not to stay and why, and how to make your way through the various neighborhoods and districts of downtown Athens. It also includes important archaeological sites and parks, shopping areas and more.

Athens Plaka Guide:
A village below the Acropolis

Syntagma Square:
It's Back!

Makrianni and Koukaki
Home of the Acropolis Museum

The Acropolis
You can't miss this

Monastiraki Flea Market:
Ever on Sundays

Kolonaki and Lykavitos:
Greece's answer to Park Ave

Ermou Street
Athens Shopping District

Psiri
Cool Center of Athens

Kerameikos
Ancient Cemetery of Athens

Omonia and Beyond
Help!

Exarchia
Scary to some, home to others

The Athens Market:
My favorite place

Aeolou Street
Cafes, Shops and Car-less

Athinas Street
My kinda street

Thission
A pretty cool place to Be

The Gazi
Food, art and culture in the old Athens Gas Works

Kypseli
A Real Athenian Neighborhood

The 1st Cemetery
Maybe the most beautiful place in Athens

Ambelokipi
The Ultimate Guide

National Gardens:
The Amazon rainforest in downtown Athens

The Great Outdoors:
The Greenery is plentiful and expanding

A Walk Around Athens with Matt: Join me on a quick tour through Athens to some popular tourist areas and some places tourists never go. A great way to get to know the city.

Strollering Through Athens: A true adventure story about a brave couple who take their infant daughter on a stroller journey from central Athens to Kypseli that is required reading for parents

Coastal Athens: Faliron, Glyfada, Voula, Vouliagmeni, Varkiza You don't have to stay downtown if you don't want to. From the Athenian Riviera you can stay at the beach and commute to the Acropolis by bus, taxi or coastal tram

Kifissia: The Cool Northern Suburbs: There is a reason the wealthy people of Athens have their summer houses in Kifissia. A milder climate and still within driving distance of downtown. Nice hotels and the metro goes all the way through Athens to Pireaus

Athens Hotel Search: Find hotels by neighborhood, category, price, or popularity with photos and reviews
Services in Athens

This section includes recommended hotels and travel agents, taxi drivers and other businesses in Athens. The hotel section tells which areas to stay at and which to avoid. I included a few interesting tours as well.

Travel Agents in Athens:
Only the Best

Hotels in Athens:
Where to stay and how to stay there cheaply

Villas in Greece
Apartments in Athens too

George the Famous Taxi Driver
Transfers, Tours and Hospitality

Limousine Service
Airport-Business and Tours

Billy's Bus Tours
Transfers and Sightseeing

Gold and Jewelery
Where to buy

Melissinos:
The Poet-Sandalmaker of Athens

Pandelis Melissinos:
Playwright, Artist, Designer, Sandalmaker, and one of the Coolest Guys in Athens

Jewish Walking Tours
Historic Sites and Museums

Athens Walking Tour
Includes the Acropolis, Agora and more

Art and Artists
In Athens and Around Greece

Athens Sightseeing Tour
with Acropolis Museum

Assistance for Foreigners
Residence permits, employment, weddings, education, immigration and more

Schedules and Fares
for Trains, Buses and, Airport Shuttles

Athens By Night
The Plaka and Taverna Dinner

Car Rentals:
Driving out of Athens

Bringing A Group? Helpful work-page for Churches, schools, cultural organizations coming to Greece

Visit my Greece Travel T-shirts Page where you can buy your souvenirs before you visit Greece. Not only will you get discounts and gifts from restaurants and shops for wearing them, and not only will you be able to recognize other people who use my websites and become instant friends, but all proceeds go to helping the needy in Greece. And the designs are way better than anything you will see in the tourist shops in Greece. See Greece T-shirts and Athens T-shirts.
Getting Out of Athens

Most people come to Athens because they are going to the Greek Islands and this section will tell you about the islands near Athens and how to get to them and those further away. It also has sections on mainland day-trips and overnight trips, and various services who can get you out of Athens. For those of you who are going to the Greek Islands I suggest you visit my Greek Island Guide too.

Rafina & Other Day-Trips:
Beaches too

Aegina, Poros and Hydra:
The nearby Islands

How to Go to Greek Island
Step by Step Directions

The Argolis
Mycenae, Epidavros and Nafplio

Fantasy Travel of Greece
Mainland , islands, cruises and More!

Beaches of Athens
Where to Swim

One-Day Saronic Islands Cruise
Aegina, Poros and Hydra

George's Taxi Excursions:
Get out of town the fun way

Greek Island Programs
The easy way to Island-hop

Evia:
An island almost as big as Crete and you can drive there in 45 minutes!

Kea
A Remote Greek Island an Hour from Athens?

Travel Agents:
My Recommendations

Ferry Boats in Pireaus:
Helpful map and information

Pahi Megara
It's Nicer than you would Expect

The Curse of Eleusis
Did the theft of a statue 200 years ago curse the land of Eleusis?

Lake Vouliagmeni
Natural healing springs

Winter Packages
Recommended off-season Programs

Car Rentals:
The Best agencies in Athens

Coastal Athens: Faliron, Glyfada, Voula, Vouliagmeni, Varkiza: From the Athenian Riviera you can stay at the beach and commute to the Acropolis by bus, taxi or coastal tram and you can get to Pireaus to get the ferry just as easily

The New Attika Zoological Park: The 2nd largest bird collection in the world and lots of new and exotic animals that you might not expect to see in Greece
If you find my Athens Survival Guide useful and you would like to show your appreciation why not let people know about the site on the numerous travel boards on the internet or linking to it from your blog or website. Because I don't have the big advertising budgets of the major travel sites many people don't find me until after they have made all their plans and wish they had found my information sooner. Help spread the word about Matt Barrett's Greece Travel Guides. If you found my guides helpful and want to help me continue my work, please support the services I recommend. Without their help these pages and this website would not exist. You can also help by liking me on Facebook and sharing me on Google +
If you wish there was some simple way you could donate, well, there is and all donations small or large are appreciated and they don't go to me. They go to helping the needy in Greece. See www.greecetravel.com/donations
You can keep up with my day to day activities and thoughts in and out of Greece as well as current events and updates at www.greecetravel.com/matt-blog
Links Exchange Page
(Yes I will link to you if your page has value but if it is totally irrelevant please don't bother me)
Return to Top
The Athens Survival Guide is Copyright 1995-2014 and updated continuously by Matt Barrett, most recently probably today!