The Gazi is the new cool place to be in Athens, full of restaurants, cafes, music, and art by the old city gas-works which has been turned into a museum-cultural center that may be unique in all of Europe.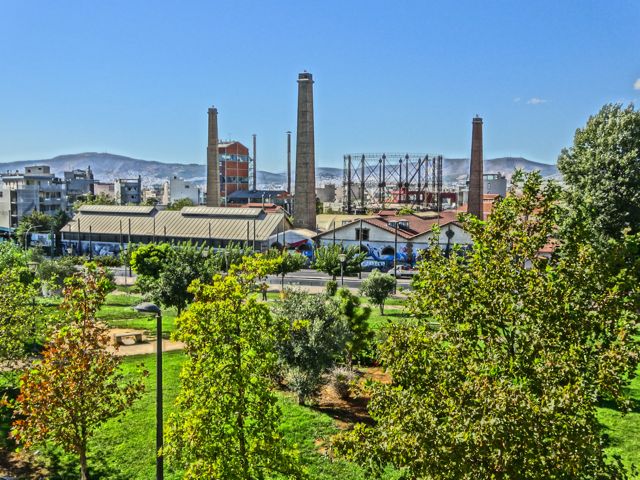 Normally I would consider it a kind of defeat for a New York Times Travel writer to beat me to the punch and write about an up-and-coming neighborhood of Athens before I did. But in the case of Gazi I had plenty of opportunities to 'scoop' the NYT and chose not to. Why? Because often in Greece 'up-and-coming' actually means 'not there yet' as in the case of the Gazi, the neighborhood around and including the former gas-works of Athens. And though it was not there yet when the Times article was written, it is certainly now, eclipsing Psiri as the best place to be at night.
First Visit to Gazi
Common sense dictates that its not a good idea to have a big natural gas depot in the middle of a cosmopolitan city so in 1984 they moved the gas works out of town and the property stood empty. I mean what can you do with an ex-gas works? Anyone driving up the Jersey Turnpike has seen the refineries and natural gas depots which are sort of the negative icon for New Jersey and in the mind of most people who have not ventured beyond the highway this is what they think all of New Jersey looks like. But in Athens the gasworks were built in the 19th Century and the stone buildings left behind are actually quite attractive and kind of interesting. Even the old storage tanks were recognized for their potential and in the late 20th Century the buildings were restored with even the tanks taking part in a vision called Technopolis: City of Technology. I found a brochure for it that I planned to translate and use for a section in the Athens Guide but I never quite got around to it. By the time I visited the Gazi in October of 2003 the space was hosting a giant art exhibition and the time seemed ripe to introduce it to the travelers who use my site. I stood at the entrance and took a photo of a giant sculpture when a thug of a security guard began yelling "No Photo!" as if I was taking pictures of a cop beating up a demonstrator or a top secret military base instead of a giant golden turtle.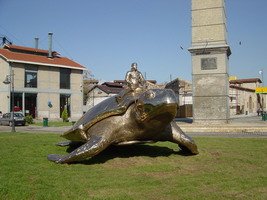 "Dimosiografos" I yelled holding up one of my business cards that had nothing to do with being a journalist. He looked at it and then told me to wait while he got someone from the office. I stood under a big water tank with holes in the bottom that leaked water like rain. Supposedly it was mimicking the actual weather in Ireland at that very moment and was obviously part of the exhibit. It made me want to go to Ireland. It made me miss rain especially after a summer without it. A few minutes later a beautiful girl in a mini-skirt and tight leotards came down to meet me and give me a pass and show me around. I instantly fell in love and kept asking questions so she would stay with me as we looked at all the exhibits.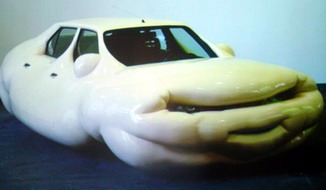 Besides the turtle and the Irish rain there was a giant video of a talking car, another video of an Albanian kid giving a history of Tirana and some gruesome photos that looked like they came from a police forensics lab. Every exhibit was chocked full of meaning even if some of the art was pretty bad. The talking car was certainly the star of the show, its image plastered all over Athens advertising the exhibit, but the most interesting thing to see was the permenant exhibit, the equipment of the old gas works which was being restored.
My tolerance for even really good art being low (I raced through the Louvre once in about an hour), I took a few photos and left after realizing that by the time I got around to making a website for the exhibit it would be long gone since it was ending the next week. But Technopolis is used for a variety of events including the European Jazz Festival held in May-June every year and is certainly worth a visit in the daytime to see the buildings, machinery and furnaces.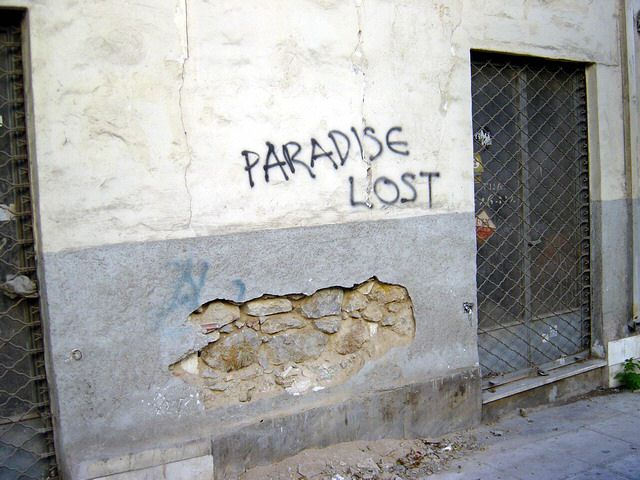 I walked up the street from the factory and into the neighborhood to look for the new restaurants that were supposedly popping up. It was pretty discouraging. The metro station that was supposed to be opening soon was a giant hole surrounded by wood and corrugated steel. The streets and empty lots were strewn with garbage and there was depressing graffiti on the walls of houses that looked like they were ready to collapse. There were a couple pioneering restaurants that were closed during the day but for sure it was not an area I would feel good about sending tourists. Even if they were able to find it they would probably curse me for recommending they visit such a desolate place. If something is 'up-and-coming' it should be at least half-way-there before I start writing about it and sending tourists wandering off into the wilderness.
Next Visit to Gazi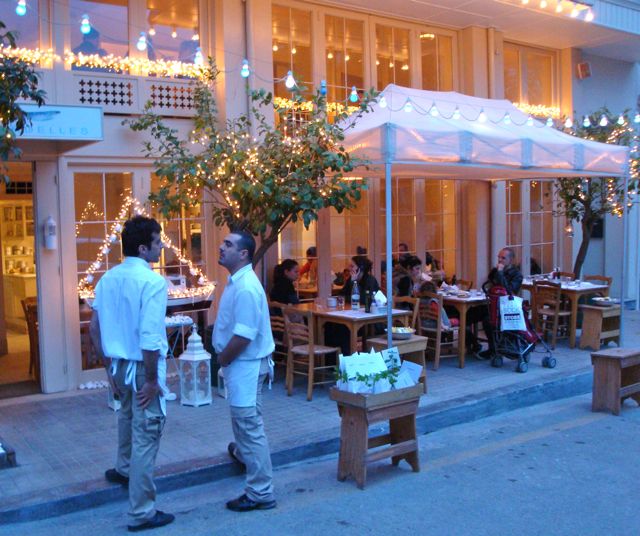 Two years later I returned to find the same scaffolding around the future metro station. "What's the deal" I asked Ana, my friend at the Metro. "How can a construction site be the coolest area of Athens?"
"Be patient", she told me. They discovered so many antiquities in the digging of the tunnel that it has taken years to excavate and catalog them but when its done you will see. It will be beautiful. I have seen the plans. In the meantime there are a few really nice restaurants there." But for me it was hard to break out of Psiri, especially since I lived at the Hotel Attalos which was just half a block away.
Sometime after that the NY Times article came out while I was in the USA. "Curse my luck. Scooped by the Times", I thought. I could only hope the restaurants they chose to review were crummy so my better-late-than-never article would have some value.
Unfortunately the heat of the summer of 2007 kept us holed up in the islands where the sea and the breeze made life bearable. When we finally got to Athens it was August and half the country was in flames. The temperature dropped to the mid-nineties after the sun would set. We ate our meals at the closest air-conditioned restaurants we could find to our hotel, including the one in the hotel. "Tomorrow it will cool off " the weather report would say, but tomorrow never came for us and we were down to our last night. Despite the heat we had to go to Gazi.
Last Night in Gazi
Getting to Gazi from central Athens is easy and enjoyable, even in the heat. If you are starting at Syntagma Square you walk down Ermou, the main pedestrian shopping street that begins at Syntagma. Just before the intersection at Athinas Street and Monastiraki Square Ermou becomes a traffic street again for several blocks until it stops at the Byzantine Church of Ag Assomaton. But though Ermou has stopped we continue down what used to be the rest of Ermou and is now a park that parallels the metro tracks on one side and the Keramikos Archaeological Site on the other. A little further is the garage for the electric trolly buses which have some spectacular graffiti murals on the walls. When the park ends you are at the Gazi, the old gasworks itself.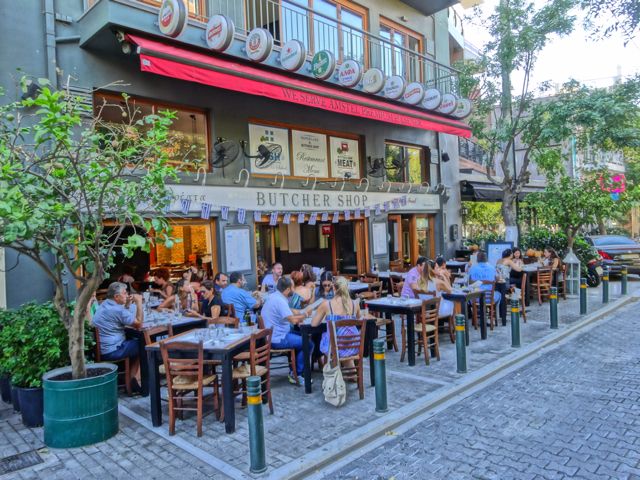 If you cross the always busy Pireaos Street and go up Persefoni Street which borders the gasworks you will find yourself in the heart of the Gazi neighborhood, with more restaurants and cafes than you could possibly need for a 2 week holiday in Greece. Walk past Sardeles, a highly rated seafood restaurant, and The Butcher Shop, certainly my favorite psistaria (grill house) in central Athens. Both have tables on the street which is empty of cars, at least at night. To our glee the Butcher Shop had air-conditioning and we sat inside. (You can read my mini review on the restaurants page). When we left the waiters gave each of us a small live olive tree to plant, very helpful with the forests of Greece in flames that night of August 24th 2007.
Other Restaurants and Cafes in Gazi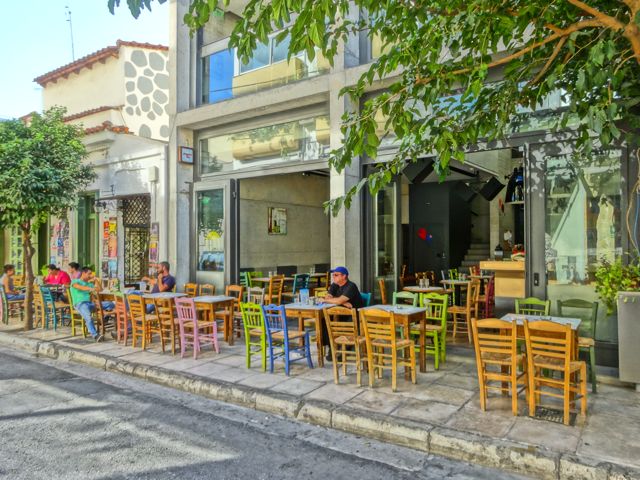 If you continue down Persefoni you will come to the metro station and the big beautiful square compete with grass and happily sleeping dogs. If you are staying near Monastiraki, Psiri, or Syntagma getting home will be easy as long as you are done eating before midnight when most Greeks are just getting started. (By the way, if you don't want to walk there take the metro Blue Line and get off at Kerameikos and you will be right smack in the middle of the Gazi). As for some of the other restaurants in Gazi, the seafood taverna Thalata which we had visited a couple years ago was good, more like a restaurant you would find in NYC than by the sea in Greece and certainly worth a meal though on the expensive side by Greek standards (not by NY standards if you try to imagine the euro and the dollar as being equal which helps somewhat).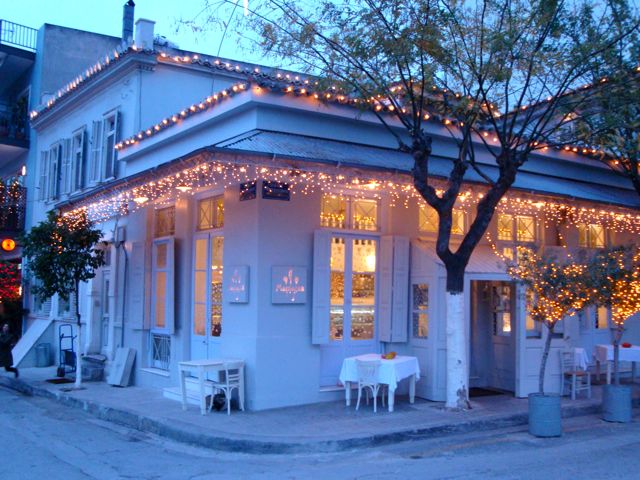 Mamacas, one of the earliest restaurants to open in the Gazi has also been recommended by friends who have eaten there. There are a number of other restaurants and cafes in Gazi though which are worth going to your guess is as good as mine until my next trip. But you can't go wrong with the two I have mentioned above. Many of the restaurants in Gazi are considered modern tavernas which means a little upscale in price. But usually the dishes are based on traditional recipes with a bit of improvisation and imagination added by chefs who may have learned to cook at a culinary school instead of on a ship or in the army or in their uncle's restaurant. Athiri answers the age old question: Can we find gourmet cooking in Athens for 25 euros a person? Yes, we can. Athiri offers on weekdays a surprise 7 COURSE MENU and a BOTTLE of the famous robust wine Paraga kiryianni (bottle for 2). The restaurant has been winning gourmet food awards since 2005. Alexander and his kitchen staff do not use cooking powders, canned food or a microwave oven. All desserts are made at Athiri in collaboration with pastry chef Theodore Moysides. They bake their own bread. The olive oil is organic, from Crete. The sunflower oil is refined and demargarinated. All meats, seafood and fish are fresh. "Alexandros Kardasis is always looking to broaden his repertoire with new wave Greek specialities, which breathe new life into the national culinary corpus." (Athinorama MAGAZINE). Athiri is at Plateon 15, Keramikos off Pireos Street across from the Keramikos archaeological site. You can e-mail them for directions from your hotel.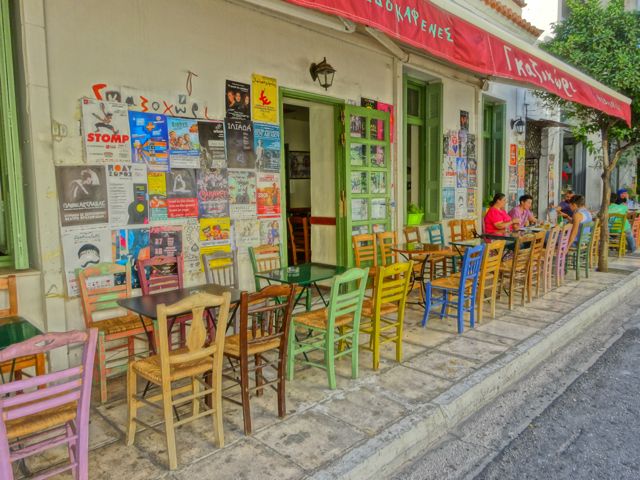 Christmas of 2007 we returned to Athens and Gazi was at the top of my list. Our first opportunity was a meeting with Yiannis Lambrou, the owner of Methymnaos Winery in Lesvos who makes an excellent organic white and red on the island that was known from ancient times for having the best climate and the best soil for grapes. Yiannis had a case of the new white so what better place to drink it than Sardelles, the seafood restaurant right next to the Butcher Shop? Andrea and I went early and stopped in an ouzerie called Gazohori, just off the bottom of the square where the Keramikos Metro station is. She had a glass of tsipuro, I had a bottle of the most obscure distilled ouzo they had on the menu which was Dolki from the island of Ikaria and we had a couple simple mezedes and a salad. Definitely a place worth returning to, with a bohemian atmosphere. If you can imagine an ouzerie in a University town you have the picture. Sardelles was an upscale place in appearance though not in price. Excellent service, more like a fancy restaurant than a laid back taverna. Delicious fried baby koutsomoures, a kind of red mullet, the first cousin of barbounia and eaten whole like gavros or maridthes. Excellent grilled thrapsalo (cuttlefish) which was also available fried. Speaking of fries, amazing fried potatoes, just like next door at the Butcher Shop. Lots of other fish mezedes and main dishes (grilled sardines for instance), salads, and complimentary mastika and tsipuro at the end of the meal. By the end we had also finished the case of wine (photo) and amazingly I was not even hung over the next day.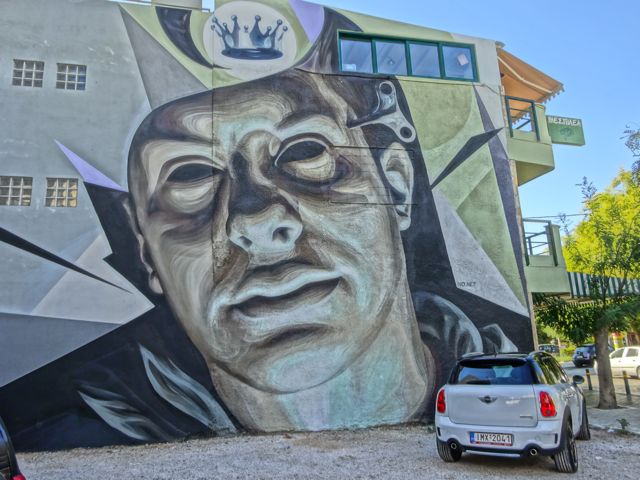 A couple days later I was wandering around taking photos when I was suddenly aware of how good some of the graffiti art was. I began following it through back streets, deserted buildings and alleys and found myself back in Gazi. I called my friend Elias at Swift who had invited me for lunch and sugested he come down to the Butcher Shop which was open and almost empty for lunch. While waiting for him I photographed every bit of graffiti I could find (See my Athens Graffiti page). Lunch at the Butcher Shop was a lower-key affair than it was during the forest fires and heat wave of August but a very pleasant way to spend the afternoon. They had a really nice red wine what went well with all their meat dishes. I shared a brizola (grille beef steak) with my friend Ana and it was more than enough for us. Amarandi had the Yida which is a beef soup popular in the winter. After lunch (4 hours later) we just hopped on the metro and in 5 minutes we were back in Syntagma with all its Christmas festivities.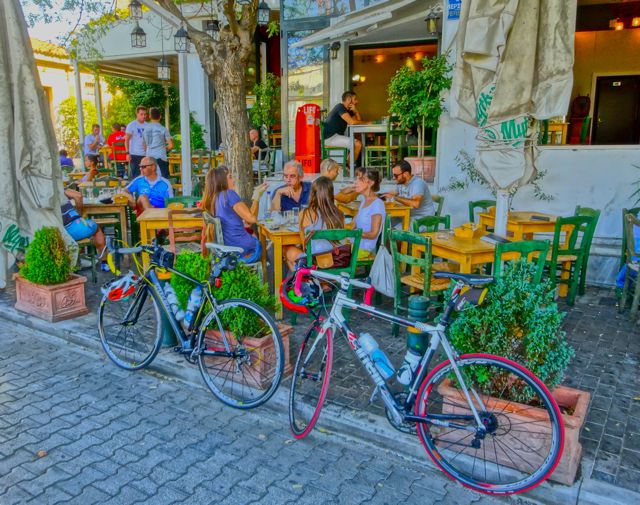 Night time is the happening time though Sunday is fun as well. Take the metro from Syntagma or Monastiraki and get off at Keramikos or just walk down to the end of Ermou and keep walking. You can't miss it. Headbangers check out the Intrepid Fox and if you are lucky you may catch local hero Philip La Vere playing there. Since this article was written I have been to Gazi a number of times and I am often surprised at just how popular it is, even at a time when the whole country is in an economic crisis. There are more restaurants and cafes and clubs than ever and some weekends you can barely walk down the streets there are so many people. Young people should come late, like after midnight, unless you want to hang out at a cafe waiting for things to heat up or have dinner. Middle aged people can come in the daytime, even during the week there are restaurants, cafes and ouzeries open, though if you come early in the evening you should be able to find a table for dinner just about anywhere. The funny thing is, that by the time you have read this article, there will be another area of Athens that is the next up-and-coming neighborhood. But in Athens even last years cool neighborhood is probably better than whatever cool neighborhood you last went to.