Travelers to Athens can't help but notice the amount of graffiti in the city. Any surface that can be sprayed upon is covered with a maddening number of signatures and designs. Beautifully restored neo-classic houses from the late 19th Century usually have a few days or weeks before they are covered in graffiti and owners find themselves in a war that they eventually lose and surrender to the kids.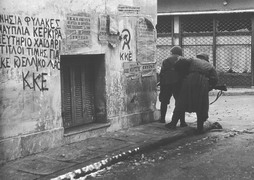 Graffiti in Athens is as old as the city itself. In ancient times graffiti was carved into buildings, in fact the word comes from the Greek graphi which means to write. During the Nazi occupation, the Civil War and the 1967 Junta political graffiti was common in Athens and served a purpose. Nowdays it is mostly the work of frustrated kids whose signatures all over the city seem like a cry for help to a world that does not notice that they exist. But there is also a large amount of graffiti that is good art and walking around Athens looking for it is as fun a way to spend a day as any. The best is probably on the ILPAP Building where the pedestrionized bottom of Ermou Street meets Pireos in front of the Gazi. This is the building that houses the city trolley buses and the graffiti was painted by a group of well known international graffiti artists. It has not been kept up and could use some restoration but is impressive for its size, design and colors. Other areas popular with graffiti artists are the Plaka, Gazi, Psiri and Exarchion neighborhoods as well as along the lines of the Pireaus metro.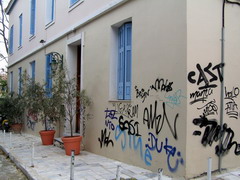 The most disturbing aspect of the graffiti besides the volume of it, is the way some of the kids whose artistic ability begins and ends with their names (tags), have defaced some of the real works of art. It seems that for those who feel compelled to put their 'tag' all over the city that nothing is sacred, not even the works of the graffiti artists, much less a newly restored neo-classical building or an ancient stone in the agora. So what can the city do about these kids who deface every surface in sight? I have an answer. Send them to art school. You can't stop them so why not train them to be artists and let them express themselves that way instead of the mindless 'tags' that are all over the city? I am sure a kid feels proud having his name spread from Ano Lliosa to Pireaus but what if he was doing it artfully, making graffiti that people actually admired? It would be something he could be proud of ten years down the road instead of something he will one day be ashamed of like a bad tattoo. Rather than be an eyesore Athens could be known for its beautiful graffiti.
I suppose I am dreaming. These kids have no desire to make art and the city has no desire to make them artists. But for those true graffiti artists this exhibition is for you. I may not have agreed with some of the canvas used but it was some of the coolest artwork I have ever seen. If you like this page please share it with your friends on Facebook and Google+ using the buttons at the bottom of the page.