Jazz, Folk, Rock and Blues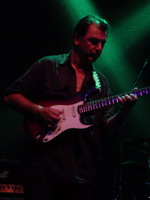 Rock clubs like An Club at 13-15 Solomou street (Tel 210-330-5056) are close to the Polytechnic University in the area called Exarchia, the wild west of youth culture where young people fill the cafes and bars and they even have rock concerts in the square which sometimes end up as battles with the police which may deter most people my age but attract many of those of college age looking for a good time. Mike's Irish Bar in the basement of the Athens Tower in Ambelokipi has a smokey college town bar atmosphere and features bands like Johnny Vavoura and the Cadilacs who have been playing traditional Chuck Berry-style rock and roll for the last 20 years and play it well. Mike was recently killed during an argument with a bouncer, well I can't say he was killed because I think he had a heart-attack during an argument a few moments before he might have been killed. Anyway he is gone but that should not keep you from going there if you miss that kind of atmosphere. The Half-Note Jazz Club in Metz, across from the First Cemetery, brings name acts from the USA and Europe who usually do a week there to make enough money for airfare home. Those who don't make enough end up staying in Athens forever.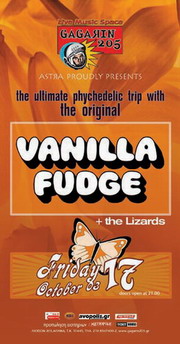 Check out who is playing at Gargarin 205 Live Music Space by keeping your eyes open for posters which are placed all over Athens and especially in Psiri. The list of famous people who have played there continues to grow. It's a little off the beaten path at 205 Lliosion Street (tel 210-854-7600) in Kato Patission so you will need to take a taxi or walk from the Attiki Metro station. It's in a converted warehouse and like your favorite club back home is painted black and has a has a PA that will satisfy the visiting heavy-metal bands and their fans. Many Greek rock and folk acts as well as a smattering of international bands passing through town including Vanilla Fudge and Mark Lindsay of Paul Revere and the Raiders.
Kittaro is a longtime club on Archaonon and Epierou streets near Platia Victoria (tel 210-822-4134), Look for posters or check Athinorama magazine. Savopoulos and Socrates both had residence here in the early seventies and if you are lucky you may see them here again. Rodeo is right off Platia Victoria at Heydon #34 (tel 210-881-4702) and is another rock club which also has live Greek and foreign bands. In Vivo at 79 Harileos Trikoupi and Methonis street in Exarchia has live jazz, rock and blues bands on weekends. The band Socrates Drank the Conium are a legend in Greece and if you like high energy rock music with a guitarist that even Hendrix would be impressed with keep your eyes open for posters of their shows. Blueswire play no-nonsense blues and sound like they could be from Chicago or Memphis instead of Athens or Thessaloniki. There are dozens, hundreds, maybe thousands of Greek bands, plus lots of foreign bands based in Athens. Rockwood which is right next to the National Archaeological Museum has live music on Wednesdays and some weekends, American food and lots of different beers. After Dark at 31 Didotou and Ippokratous Street(tel 210-360-6460) is just a short walk from Panipistimiou Street and has the best bands for the money according to knowledgable rocker-journalist Perri Pagonis of the Athens News. The Texas Necropolis Club at Themisticleous and 5 Gamvetta (tel 687-280-2171) near Omonia Square has goth, industrial and metal. Fuzz Music Club in Metz at 22 Vouliagmenis Ave (210-922-4641) features metal, including some touring name acts, DJs, worldbeat and rap. Music House Diavlos at Drakou 9 in Koukaki is more arty, has great sound and nice waitresses and bartenders and is the easiest place to find if you are escaping from your parents while they are having dinner in the Plaka.
One place to find cool indie bars, where you would least expect them is near the intersection of Praxitelous, Lekka and Kolokotronis Street between Karitsi (Ag Giorgos) Square and the National Historical Museum(Old Parliament building). There are a number of cool bars close to each other, often packed with people spilling out into the sidewalks and narrow streets. Some bars have DJs and others have live bands. Key Bar at Praxitelous 37, Pairidaeza at Parnassou 3, Seven Jokers at Voulis 7, Toy Cafe at Karitsi 10 and Use at Karitsi 5 are all close enough so that if you don't like one or it is too full, you can just move on to the next. If you continue down Kolokotronis towards Athinas street and follow the path of on-coming cars, right before you get to Athinas is a small street called Avramitiou where there is a very cool collaborative collection of bars and cafes called 6 D.O.G.S.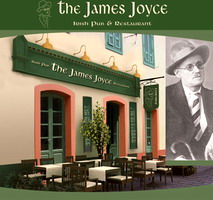 One of my favorite hangouts is the James Joyce Pub at Astiggos 12 in Monastiraki. With an extensive bar menu, lots of imported beers, great music and lots of energetic X-pats who seem to be mostly Irish and Greek-Irish. They open at noon daily and stay open late. Their bigscreen TVs show sports from all over the world including NFL Football, Major League Baseball and NBA Basketball as well as Cricket, European Football and whatever else happens to be on. In my opinion this is the best bar in Athens and over the Christmas holidays I ended most nights here. But I could easily begin my nights there too because they have great food. Introduce yourself to Diedra and Tom (the tall guy) and settle in for a night of beer and conversation with whoever happens to be sitting next to you since they will most likely speak English. Some nights they have live music. To find it from Monastiraki just walk down Hepheston or Iphestos (next to the old metro station) to the end. Turn right and then left and it is half way down the block across from the big hole the American School of Archaeology left. A couple doors down is the Kallipateira which has some nice mezedes and there are often guys playing rembetika music on the street. Its got a great town square feeling and the food is pretty good as is the music. For those who like the Blues check out Poikili Stoa at 14 Agiou Filippou Street right around the corner from James Joyce. Its easy to miss because the entrance looks like it's just a tiny cafe or snack bar but if you go inside you will find an endless series of rooms, all adorned with original paintings and antiques, with a piano as the centerpiece of the downstairs. But upstairs is a rooftop cafe with a spectacular view of the Acropolis, the Ancient Agora and the Temple of Hephestus. They serve ouzo and mezedes as well as coffees and all sorts of drinks. And if you want to talk traditional American blues and jazz, the owner, waiters and bartenders are happy to oblige. Open day and night.
Euro Jazz Festival Technopolis Athens: Letís getÖ jazz
The 12th edition of the festival will take place from May 23 to 27, 2012 - For twelve consecutive years, the European Jazz Festival in "Technopolis", Athens welcomes some of the most creative European musicians. Artists of the European Jazz scene and many promising young musicians will perform for the biggest jazz event of Athens. See their website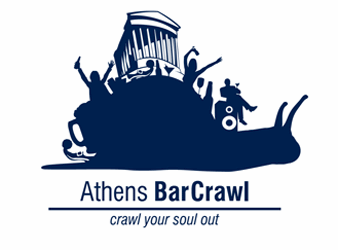 Athens Bar Crawl is a new service for up to date entertainment and fun opportunities in the city sort of an educational meze-platter of bars and entertainment and a great way to visit the best bars of Athens while bringing your own friends along for the ride. The party goes on a daily basis, all year round currently, visiting more than 20 bars and clubs in the city - most of them located in the historical centre of Athens. Every night of the week they cover a different itinerary depending on the clients desires and current events. Visit unique Bars, authentic Pubs, cosy Coctail Lounges and finish the night in some of Athens most happening clubs (a different one each night!).Your entertaining guides will tell you about Athens nightlife, interesting stories about the History of the place, and much more! For more information see www.athensbarcrawl.com
PARAFONO is a live-music club dedicated to jazz and blues - located near the center of Athens. For almost 25 years it has attracted a devoted following of music lovers that come to hear the most respected names in jazz and blues. Its cabaret setting, superb sound system and lively audience are what make Parafono the ideal venue in which to experience some of the very best JAZZ and BLUES entertainment offered in Greece. Sunday night is Dan & Katey's HOOTENANNY Country, Rock, Acoustic Jam so if you are a musician bring the tools of your trade. Parafono is on 1 S. Kirinis str & 130a Asklipiou str which is on the back side of Lykavettos. You can phone 210 644-6512 for directions or e-mail them at mail@parafono.gr
Cafe Boheme at 36 Omirou Street in Kolonaki is a bistro-style restaurant (maybe the best in Athens) with a great little bar, interesting patrons and a DJ with terrific taste in music. Listen to cool traditional jazz and blues as well as stuff like Frank Sinatra, big band and music that your parents might have listened to if you don't. Cassandra Wagstaffe is the owner and host and is the daughter of the drummer of Wishbone Ash. Wonderful ambience and attentive and beautiful bartenders make this a place to go anytime. If you are looking for a small, intimate bar to make your home this is it. On weekends it usually turns into a party and gets a lot louder. Walk up Omirou from Stadiou street across from Kolokotronis Statue and it is just past Akadamias Street. Tel. 210 3608018. Also check out Jokers, right down the street which attracts an older crowd and on some nights has live latin and jazz, excellent bands too.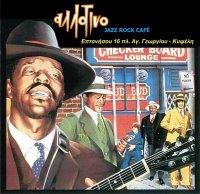 Allotino is for those who like to listen to sophisticated jazz in a small classy bar while drinking fine scotch and whiskies, a dozen different high-end tequilas, and hard to find imported beers on tap. A hangout for the actors and actresses who live in Kypseli, its an intimate place, hard to find but once you do you will probably come back. The owner is Andreas, a very nice guy with a firm knowledge of good music and spirits. They also have a very nice menu of salads, sandwiches and tapas to go along with their drinks. When you order a glass of Paulaner Beer from Munich it comes with a plate of kielbasa sausage. In the warm months people sit outside and watch the neighborhood pass by. This is my favorite hangout in Athens. It also has the best beer-nuts I have ever eaten in my life. Its at Eptanisou 16 in Platia Georgiou, Kypseli. If you walk down Patission past the Archaeology museum and turn right on Tinou you will come to it. Tel 210 8215331. Its at Eptanisou 16 in Platia Georgiou, Kypseli. If you walk down Patission past the Archaeology museum and turn right on Tinou you will come to it. Tel 210 8215331.