Getting into Athens from Venizelos Airport

The Athens airport authorities have been working overtime on ways to get passengers and their luggage into the city as quickly and efficiently as possible. Most Athenians now agree that they have done a great job and the airport connections are perhaps among the best in Europe. These are the suggested methods for getting into the city.

Taxis
The regular taxi queue will start from Door 4 of the Arrivals Level and extend up to Door 1. A taxi should cost you about 35 Euro to the center during the day but this doubles after midnight. Make sure the meter is on 1 in the daytime. If it is on 2, as it is after midnight, it goes twice as fast. He can charge you a couple euros for your bags but a trip from the airport to downtown Athens is not something you negotiate. It's whatever the price is on the meter. If there is an argument over the price you settle it at your hotel in the presense of the concierge. They will tell you if you are being overcharged. It is luck of the draw and when you stand in line, whatever taxi you get when it is your turn, you have to take. Taxis fit 4 people plus the driver so if you are more you either need a limo, or two taxis.
George the Famous Taxi Driver
When I first get to Athens, after a 10 hour flight I don't want to have to deal with any more then I have to. For this reason I use pre-arranged taxi transfers rather then go outside and wait on line to hail a taxi. What this means is that for 55 Euro I am assured that someone will be waiting for me at the airport who will help me with my baggage, speaks English and get me to my hotel. I know that if my plane is delayed he will still be there. I use George Kokkotos the Famous Taxi Driver of Greece and have found him to be very reliable and excellent company. He fills me in on what has happened in Greece since my last visit. If you plan to do this you need to contact him in advance by e-mail, phone or fax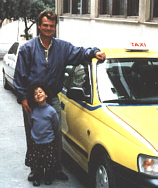 FAX
From the USA:(01130210) 9637029
From Europe: 0030210 9637029
Within Greece dial: 210 9637029

Phone
From the USA:(01130210) 9637030
From Europe: 0030210 9637030
Within Greece dial: 210 9637030
e-mail: georgetaxitours@yahoo.com
You can see his praises sung by his many fans at www.greektravel.com/testimonials/taxi.html
Note: If you are arriving after midnight it makes sense to use a pre-arranged taxi transfer. The street taxis double the rates after midnight and the transfers cost the same so you might as well use an English-speaking, driver with a nice car.
For groups of 8 or more people another option is Billy's Bus Tours which can provide transfers from the airport to hotels, the ports and tours as well. Billy is George's oldest son, born in the USA and educated in Italy as an economist, so he speaks fluent English, Italian and Greek of course. If you are too many for a taxi (it seats 4 plus the driver) and to few for a bus then there is George's second son Dennis who drives a luxury limo. Dennis is trained as a physical therapist but joined the family business because he likes meeting new people every day and showing them his country, and let's face it, when you are a physcial therapist pretty much everyone you meet is going to be complaining about something. So if you need a limo for transfers or tours you can visit the website of Dennis's Limousine Service
Transfers through a Travel Agent
When you book a package through a Greek travel agency it includes hotels, tours, cruises, ferries, flights and transfers. This is the way to go for people who have never been to Greece or those who are nervous about strikes. First of all packages are not tours, they are programs. So if you and your family do a program of Athens-Mykonos-Santorini you are not part of a group. You may be part of a group for say a daytrip or overnight to Delphi or Meteora, but a package is an itinerary that the agency has put together and sells to individuals, couples and groups, and very little can go wrong. Included in the package are transfers to and from the airport, ferries, hotels and the cruise ship if that is part of the package. When you arrive in Athens the first day or night you are met by a representative of the agency and a driver. The representative gives you all your hotel vouchers, tickets, and any other information you need and gets you checked into your hotel. In the past summer when there was a taxi strike the travel agencies on my website found ways to get their clients from the airport to their hotels. I don't foresee another taxi strike but it is good to know that if there is one you won't be stuck at the airport. For this and other reasons I am a big fan of travel agencies in Greece. People who booked through travel agencies had few problems last summer due to strikes and demonstrations. See Athens Travel Agencies
Metro and Suburban Train
The metro has reached the airport and costs about 8 euro and goes to Monastiraki, hitting all the metro stops in between which include Syntagma (where you will have to change if you are going to Omonia Square or Makriani-Acropolis). The first train from Airport to Monastiraki is at 06:30, the frequency of routes is every 30 minutes and the last one from Airport to Monastiraki is at 23:30. The first train from Monastiraki to Airport is at 05:50am and the last one from Monastiraki to the Airport is at 22:58. Actually the train goes several stops beyond Monastiraki but chances are you need to get off in Syntagma or Monastiraki. Make sure you validate your ticket after you buy it. If you are caught with an unvalidated ticket or no ticket at all it is a big fine.
Athens International Airport is connected via the Proastiakos-Suburban Railway to Larissis Station (Athens Central Railway Station) with stops at Koropi,Kantza,Pallini,Doukissis Plakentias (Connection with Metro Line 3),Kifisias, Nerantziotisa (Connection with Metro Line 1), Iraklio, Aharnes Railway Junction (S.K.A) and Larissis Station (Connection with Metro Line 2 and trains to Northern Greece). Trains depart from the Airport every 15 minutes. The journey time from Athens InternationalAirport to Larissis Station is approximately 38 minutes. The first train from Athens to the Airport is at 06:06am and the last one is at 19:36. The first train from the Airport to Athens is at 06:48 and the last one is at 20:14.
Athens International Airport is also connected via suburban rail to Korinthos. Trains depart every 2 hours and the journey time is 1 hour and 20 minutes.
You can take the Proastiakos-Suburban Railway from the airport to the port of Pireaus. Trains leave starting at 6:12 am at the rate of 3 an hour and the trip takes about an hour and a quarter. The train station in Pireaus is right across the street from the ferry boats. The price is 6 euros per person. The last train is at 23:12 pm though there is rarely a boat after 10pm. Still if you don't mind roughing it you could hang out at one of the 24 hour cafeterias in the port.
At Syntagma Square you can connect with the Coastal Tram, though you will have to leave the metro station and go upstairs to find it on Amalias Street. The 95 bus stops just below it.
Note on Metro Safety: Pickpockets work the metro and the train to and from the airport and I have even received an e-mail from someone pick-pocketed in the airport while looking at the flight board. Keep your wallet and passport in your front pocket with your hand in it on crowded trains and buses. Ladies carry your handbags zipped if possible and close to your chest. People with backpacks are an easy target. If you think you are safe with cargo pants with zipped side pockets, forget it. These guys are so adept that they can cut through any pocket and you won't even know until you put your hand in and find everything gone. They also use confusion as a weapon, for example stumbling into a crowded car or bumping into you.
If you want to be safe make photo copies of your passport and your driver's license and leave the originals and all but one credit card in your safe in your hotel room when you plan to use the metro or buses or really, anytime you go out in Athens because you never know when you may be in a crowd and that is where these guys work. Hold your money and credit card in your hand in your pocket. If you get pick-pocketed don't expect much help from the police. You will just end up wasting your time. Go straight to your hotel and cancel your credit cards that were stolen. (That's why you should only carry one with you). Then send me an e-mail and tell me how they did it so I can warn others. You can also read my article Defeating the Pickpockets which will show you how to not be a victim of thieves while using public transportation.
If you are arriving at the airport and plan to take the metro or the bus into town use a security wallet you like that fits under your clothes. Once you get through passport control put your passport, credit cards and money in this wallet and keep only as much cash as you will need to get to your hotel. If you do this you will be perfectly safe on the metro.
About Strikes: Yes they do occur but not as often as you would think if you watch CNN. But it is good to have a back-up plan if you plan to get into Athens on the metro.
Buses to and from the Airport

There are several bus lines to and from the airport. All buses depart from the designated area on the inner curbside of the arrivals level of the Main Terminal Building right outside the Exit (doors 4-5).
X95 Syntagma Square- Airport Express has its departure point at the center of Athens (Syntagma Square across the park from the Grande Bretagne) and via Vas. Sofias Avenue, Mesogion Avenue and Attiki Odos terminates at the airport. Every 10-30 minutes, 24 hours a day. (Watch for pickpockets when you get off the bus here)
X96 Pireaus- Airport Express starts from the Northwest Corner of Pireaus main harbor and goes past Karaiskaki Square (which is almost right across from the metro and where the ticket offices are) and via Posidonos Avenue, Varis-Varkizas, and Varis-Koropiou Roads terminates at the airport. Both the Syntagma and the Pireaus buses run for 24 hours, generally every twenty minutes but every 40 minutes after midnight.

X93 connects the Airport (door 5) with the bus terminals at Kiffissou and Lliosson streets. The interval is generally 35 minutes (65 at night).
X92 goes to Kifissia, or it did until they canceled it. Now you have to take the Proastiakos to Neratziotisa and from there take the metro to Kifissia.

X97 goes to the Dafni Metro Station. (Not the Dafni Monastery... this area is on Vouliagmenis Avenue and connects with Line 2 of the metro.
For Express Lines the ticket costs 3.20 Euros and is good for one trip to or from the airport. You can buy tickets from the driver or at the metro stations or at Public Transport Ticket Offices.
Buses to the Ferry Ports of Rafina and Lavrion

A bus route linking the Athens International Airport at Spata to the port of Rafina in eastern Attica is operated by the KTEL intercity bus system and is called "Athens Airport-Rafina Port." It functions daily from 4:45 a.m. to 10.20 p.m. with buses leaving every 40 minutes and making a stop in the seaside resort of Loutsa. There are also regional buses to Lavrion, Markopoulos, Keretea and Kalyvia. Buses depart from the Arrivals Level (close to Door 3) of Athens International Airport. Ticket prices for one-way trip is €3 for all services except for the port of Lavrio (€4).

Arriving buses disembark passengers at the designated area of the departure level of the Main Terminal Building. They are orange.
(Just a note about the Rafina buses from the airport - they depart not from near Arrivals Gate 3 but across that road and about 100 metres along the outer access road, to the left, the bus stop being right opposite the Sofitel hotel near the foot of an outside staircase. Unfortunately the walking route is not signposted. Also worth noting that the ticket booth for the Athens buses does not sell tickets for Rafina - you just pay your 3 euros on the Rafina bus.
A point for the return journey - the bus stop adjacent to the square/plateia in Rafina is only served by the Athens buses. If you want the airport bus you must descend the steps to the port road at the other (seaside) end of the square and the shamefully graffitied and damaged bus stop next to a little newspaper shop is where the airport bus picks you up as it leaves the port.)
Renting a Car
If you plan to rent a car and drive north or south and avoid Athens altogether this is now much easier to do with the new National Road connections from the airport that enable you to avoid the traffic of Athens altogether. Just leave the airport and follow the signs for Elefsina if you are going to the Peloponessos or get off at the Lamia exit if you are going to Thessaloniki or anywhere north. Swift rent-a-car in Athens has great rates and will pick you up at the airport. If you decide to stay in Athens for a day or so they will deliver the car to your hotel and even drive you out of the traffic to the National Road.
The Luggage Carousel
When you get off the plane you will most likely have your first experience with the dreaded 'luggage carousel'. It sounds like fun and with the right attitude can be but usually it's not, especially during the heavy season. When you come to the baggage claim area you will see a mob of people waiting as the luggage goes around. Chances are you won't see the luggage until you work your way to the front of the crowd and do battle with your fellow travelers. After a ten hour flight this is the last thing you want to be doing and for this reason I say travel light.

Important : If you can squeeze all your stuff into a carry-on bag then do it. Then you can just breeze right through like we always do.
When you get into position keep your eyes peeled for your bag. My mom always marks hers by tying a colorful piece of material to the handle, usually a pattern that the chances are a million to one that anyone else will mistake it for theirs in case they are using the same trick and have the exact taste in patterns as you. Your ability to react quickly to a glimpse of your luggage is key. If visibility is low on the carousel get yourself in a position where you can see the luggage a few yards before it gets to you. If you miss it you have to wait until it goes around again. If you are traveling with other people station someone in a prime vantage point who can signal you when the luggage is sighted. If you have a lot of luggage there are carts that you can use.
Actually if you are prepared and you have a sense of humor the luggage carousel is a fun experience. If you can remain calm while others are tense and annoyed and see their behavior as a form of entertainment while you await your bags, you may want to stick around even after you have gotten them. But don't do it. Get your bags and go.
You will be happy to know that the new airport has made this a less harrowing ordeal and though I will miss the entertainment and the thrill of battle, getting in and out of the airport quickly is worth it.
Unless you look suspicious you will be waved right through to the waiting area where if you have arranged for a transfer you should see someone holding a sign with your name or something that kind of looks like your name. Otherwise keep walking out the front door of the terminal to the buses and taxis.

When you get off the plane and into the terminal there are usually several lines for immigration, one for EU members, one for people needing visas and the other for everyone else. The EU line goes the fastest and then becomes another line for everyone else. The visa line is the slowest and chances are you don't need a visa if you are from most countries so avoid it unless the cop in the booth is there and the line isn't.
Baggage Storage at Venizelos Airport

The airport does have a luggage storage facility. It is located on the ground floor of the International Arrivals terminal. As soon as you exit the luggage claim area you should turn left and go all the way to the far end of the terminal building. There you will find the "Luggage Storage" facility. They are open from 6:00 AM to 2:00 AM every day and they charge a pretty hefty fee so you may want to ask your hotel about storing anything you are not bringing to the islands, or pack lighter. It is not a bad place to meet someone coming in on a later flight because you can ask anyone and they will tell you where it is.
| | | |
| --- | --- | --- |
| Storage time | 1-6hrs | 12hrs |
| Handbag | €2.35 | €2.93 |
| Suitcase | €3.52 | €4.40 |
| Bulky Items | €4.70 | €5.87 |