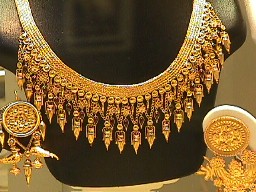 Hand-crafted Gold is inexpensive. It's not that gold is cheaper in Greece, which is what some people are led to believe. Gold is the same price everywhere. But labor in Greece is cheaper and there are terrific bargains to be found if you know where to look because Greek goldsmiths are among the best in the world. My wife Andrea, makes Greek-style 22k gold and hers is as nice as anything you can find in Athens with the exception of a store called BYZANTINO at 120 Adrianou on the Plaka. Their work is so good and so inexpensive that Andrea, (who is considered one of the finest goldsmiths in America), even buys from them. If you are a lover of Gold jewelery don't buy anything until you have seen their work. (The detail of their granulation is incredible. See the Byzantino Jewelry website for examples)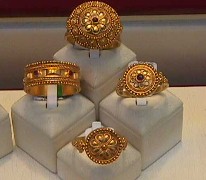 People sometimes ask me why of the zillions of jewelry stores in Athens and the islands do I pick this one little shop in the Plaka. The answer is very simple. Much of the jewelry you find in the stores come from workshops and are bought wholesale. Byzantino is owned by the craftsmen who make the jewelry and if there are better jewelers in Athens, I have not seen them. Because they make the jewelry and do not have to buy it from a wholesaler, their prices are cheaper since their costs are lower because they have no middle-man. You are buying from the artists themselves. They also stand behind all their work because it is their work.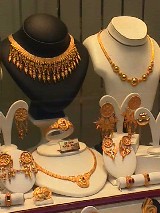 I may not know much about jewelry but Andrea certainly does and I have to drag her out of Byzantino on a regular basis before she spends all her money that she makes from her own jewelry business. Her new strategy is to buy several pieces because she is going to sell them to her clients in the states. Guess what. Not only does she not sell them, but she doesn't even try. She wears a piece to a party and one of her clients will ask her if she made it and she will tell them that she bought it at Byzantino. Now I am not much of a businessman but shouldn't the conversation continue with her telling the client that the piece is for sale? I don't know if she planned on selling the piece and then fell in love with it and could not part with it, or she loved it from the start and had no intention of selling it but knew that was the only way she could get it without a struggle. Whatever her motive, the point is Byzantino's jewelry is high quality, excellent craftsmanship and maybe even addictive.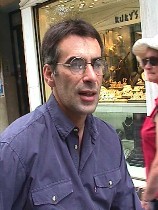 But if you would like even more of a reason to go there to see their jewellery, look no further then Kosta, the most interesting and knowledgeable man on the planet. Ask him anything about music, philosophy, science and yes, even jewelry, and he will give you an explanation with charts and diagrams that will make a strange world suddenly make sense....sort of. And if that is not enough, one day an older gentleman from America came into the shop looking for Kosta. He was buying a ring for his wife and claimed that Kosta stopped the pain from his carpal-tunnel syndrome by pressing two accu-points. He was returning to the shop to see if Kosta could do something about his back. (When he was paying for the 22k ring Kosta joked "the ring is free, the treatment is $100.")

If you walk down Adrianou Byzantino is on your left at #120. There are a number of stores at the same address so be sure you are going into Byzantino. It is right next to the ice-cream shop. For directions you can call them at (01130) 210 324-6605 or fax 324-7079. Let them know I sent you. Besides being great craftsmen, George and Kosta are epicureans and can direct you to the finest restaurants in Athens.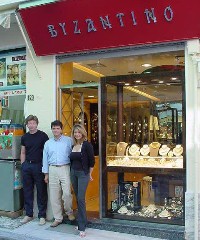 The Olympic Committee of Greece has employed Byzantino to make a line of jewellery that was shown at the closing ceremony of the Olympic Games in Australia in Sydney, worn on (24) women, ( bracelets, Earrings and Pendents) all hand made museum pieces. The women were lighting the flames wearing the original Greek togas. This was shown world-wide and this is a special honor since Byzantino was chosen to make these pieces instead of the more famous designers. Congratulations to the artists at Byzantino.

They have also introduced a line of Olympic Wreaths based on ancient pieces from the original Olympics in Greece which were very popular during the Athens 2004 Olympics. If you want to see these and some other examples of their jewelry click here.
See also Gifts for some other ideas of what to buy in Athens. You can see Andrea's jewelry at www.byzart.com