The Fruit, Meat and Vegetable Market of Athens
There are three Agoras in downtown Athens. One is the ancient Agora where the Thission building is, below the Acropolis and the hill of Areospagos. Then there is the Roman Agora near the Tower of the winds in the Plaka. Both have been closed for centuries. But the Agora on Athinas Street, otherwise known as the Athens Dimotiki Agora (Public Market) or Varvakios Agora is my favorite of the three and even when I am not shopping (how much meat and fish can you cook when you live in a hotel room?) I seem to get energized walking around. To me the Central Market is the most exciting place in Athens.
If you are coming from the Flea Market and continue from Monastiraki square down Athinas street towards Omonia you will pass the Hotel Attalos on your left and a block later the Hotel Cecil. When you get to Evripidou street you will find yourself at the Agora, Athens Central Market, bordered by Athinas, Evripidou, Eolou and Sofokleous Streets. Morning is the time to be here. It's a mob scene but lots of fun and a reminder that the true wonders of Athens may not be in the dead past but in the very alive present. Some of the butchers come from generations of butchers who have had stalls in the market for a century. In the last few years the EU has made the market comply with their standards and now meat is kept cool in refridigerators and the whole market got a facelift. But the atmosphere is still the same and the experience is certainly what shopping was meant to be.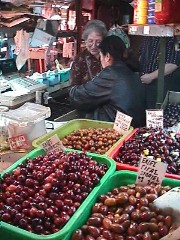 Check out the stores that sell olives. It's OK to sample. Find a type you can't live without and buy a kilo to keep with you on your journey. I like the big ones from Agrinion. My wife likes the shriveled oil-cured type. Taste them all. If you love olives this is your special heaven. You can buy a half kilo and take them back to your room to have as a snack or on the rooftop bar with your evening ouzo as you watch the lights brighten the Acropolis. There are also spice shops, cheese shops, canned goods, dry goods, live chickens, you name it. If you want to be creative with your shopping for gifts to bring back to family and friends, look around here. I usually bring back around ten giant cans of Mytilini sardines to go with my ouzo. This last time I brought back two big pickled fish called skoumbri (mackerel). Its probably not legal but if you get caught what are they going to do besides take it away? Anyway while homeland security is focused on terrorism people like you and I can smuggle in a skoumbri or two. Tour An Olive Shop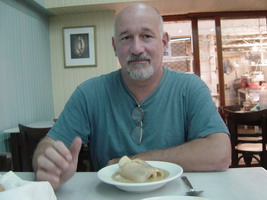 If you are hungry visit the two working class restaurants in the meat market and the secret underground restaurant at the bottom of the vegetable market by the olive shops where wine appears on the table whether you ask for it or not and the menu is in the guys head or you order by pointing on whats on the next table. There are several restaurants and fast food places in and around the market including some old ouzerie-cafeneons and an old Rembetiko cafe called The Stoa Athanaton where you can see Rembetika legends like Takis Benes and others at their afternoon matinees or at night. See clubs . The restaurants within the meat market are inexpensive and though you may be a little intimidated by the lack of a touristy atmosphere you will feel at ease when you are eating your roast lamb and potatoes, fricasse, bean soup, or a podi, the soup made from the foot of a cow which actually contains a foot of a cow. I go to Eiprus restaurant, sometimes even for breakfast. Nope you can't get eggs-over-easy or any eggs at all but you would be surprised how good a bowl of fish soup tastes early in the morning. Don't forget to try the Patsa a cure for hangovers, indigestion, bad blood or eating.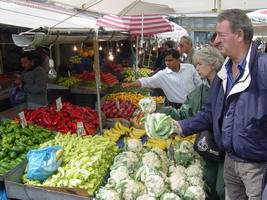 Across the street from the fish and meat market is the fruit and vegetable market where you will find the biggest lemons, peaches and some of the most colorful fruit you will ever have seen. There are also Russians and Greeks who have returned from the former eastern block countries selling cigarettes, tissue paper, lighters and just about anything. There is a Polish food shop, like a deli on the right hand side as you walk towards Sokratous Street. You will also pass shops that sell nothing but eggs, or feta cheese and some shops that have smoked meats and sausages. There are also people from the villages who don't have stalls, just sitting on a box, selling wild herbs, or wild greens from the mountains, or garlic. At the bottom of the fruit and vegetable market is the beginning of Athen's China town which is also India town, Pakistani town and also the Arabic section of the city. If you are a big goofy American in bermuda shorts and a camera that looks like the caricature of a tourist you may feel a little uncomfortable wandering around these back streets though the dangers are few and don't have anything to do with being kidnapped, murdered or worse.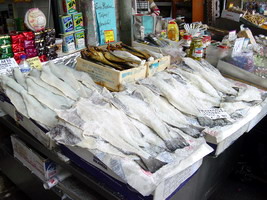 Evripidou Street is one of the most interesting and diverse shopping streets in Athens. There are plant and seed stores, the excellent herb and spice store called Elixer, where you can find herbs you have never even heard of as well as spatholatho, the oil the ancient Greek soldiers used to use to heal their wounds. There are many ethnic stores, barbershops, that cater to their clientele from the east. There are Indian restaurants and the famous Telis, which serves only grilled pork-chops, fried potatoes and salad. If you go back and cross Athinas Street you will come to the Echogram CD store where I buy all my Rembetika and Laika albums. If you continue past the side entrance of the meat market you will come to Eolou Street which is one of Athens' primary pedestrian shopping streets which can lead you to Omonia Square and all the way to the National Museum or back towards the Plaka, Monastiraki and the Acropolis. Going up Evripdou Street away from Athinas Street will take you to Klathmanos Square where you can go up Stadiou street to Syntagma.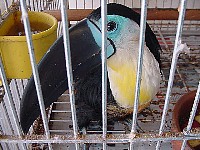 If you have kids or you are a kid yourself check out the two pet stores across the street from each other on Athinas between the market and The Dimarch Square (Platia Kotzia). Both have an amazing assortment of birds, especially parrots. There are usually one or two toucans, baby African Greys, exotic ducks, pigeons, chickens, monkeys, snakes (some really big ones upstairs), wallabees (like little kangaroos), dogs, cats, guina pigs, chipmonks all in a shop that seems more chaotic than a pet shop should be and just as noisy as the fish market but with birds squawking instead of humans. Don't buy anything until you know you can take it home with you and it won't eat your couch. And if you see an animal being mistreated or not looking so hot, be sure to tell the owner who has gotten complaints by some animal rights organizations but probably won't get the message until he is harassed by a few hundred tourists.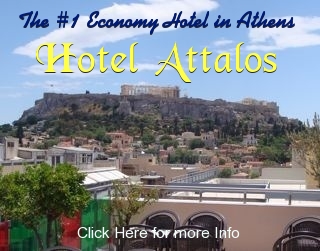 Check out the Egyptian supermarket in the small square next to the Dimarchio (City Hall). There are a couple interesting hotels in the area for example the ultra modern Fresh Hotel and a number of older buildings that are either refugee centers, bordelos or both. If you want to stay by the market your best bet is the Hotel Attalos because it is also convenient to Monastiraki, Psiri and the Plaka. The hotels on the backstreets and going towards Omonia are cheap but at night there is a lot of riff-raff and purse-snatching is not uncommon.
If you keep walking down Athinas street it will eventually lead you to Omonia Square .
See also: Photo Tour of the Athens Central Market and Matt's Guide to Greek Food

See my 2013 Photo Tour of the Athens Dimotiki Agora