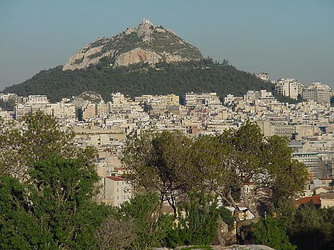 Sometimes the best things in life are free. Like a walk to the top of Mount Lycabettus in the center of Athens to see the view, one of the best ways to spend a morning or late afternoon in Athens.
When Christopher Wordsworth came to Athens in 1832 he wrote in his book Athens and Attika: Journal of a Residence There, that the mountain was known to the inhabitants of Athens, just recently liberated from the Ottoman Turks, as Saint George, because of the small church that still crowns it. It was Wordsworth who figured out that of all the mountains mentioned in the ancient descriptions, only Lycabettus seemed to be a name without a mountain. From a description in Plato and a fragment of Aristophanes Clouds he deduced that this mountain that overlooked the city must be Lycabettus. However on the mountain itself he discovered a marker which called it Dios Oros or Mountain of Jove, which was the ancient Mount Anchesmus as mentioned by Pausanias. Wordsworth came to the conclusion that Lycabettus was the older of the names for the mountain and it has stuck.
According to journalist Adrian Brettos "Lykavittos means "where the wolves go," but the modern ancient Greeks in the know call it "path of the wolves." It is said that in Periclean Athens, wolves roamed freely on Lykavittos as this was their last haven in the Attica basin."
The wolves are gone but the forests are still here and the view is fantastic. On a clear day you can see all the way to the Peloponessos. There is the popular Horizon Cafe-restaurant at the top and the small church of Saint George. For those who don't have the energy to make the climb they can take the Funicular Railway, the world's weirdest train which leaves at the top of Ploutarchou street in Kolonaki and costs 2 euro each way. The pictures were taken on two separate visits to the top of Lycabettus. You can click to see them full size.